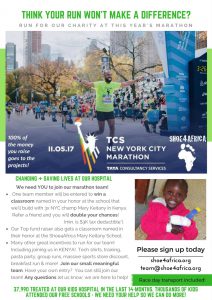 What we do: with Health we built East & Central Africa's 1st public children's Hospital.  It keeps us busy and we haven't finished, we are upgrading, adding equipment, building ancillary houses, playgrounds and the like.  With Schools we've built four public schools linked to famous Kenyan runners and are bringing quality free education to loadsa kids!  Then we have our empowerment program!  Learn more on this website about that amazing program that is changing lives.
We would love to have you with us!  All and any ability of runner – we've had NYC marathon race winners run and represent us and absolute first-time beginners all run with us.  (Hugh Jackman ran his first Half  Marathon with us…   Anthony "Goose" Edwards ran three Marathons and some Half's with us…


As an official TCS New York City Marathon Charity Partner  it is simple, you sign up to fund raise a minimum of $3,000 (tax deductible) to make a difference in Africa, and we get you into the race! Email for more details; toby@shoe4africa.org or text/call 646.932.1416
Your entry is thus guaranteed to run the greatest marathon of them all.
RUNNING BENEFITS — *Full Coaching from our qualified experts (See coaches below), *Mentorship, * Fund raising help, *Shoe4Africa dri-fit T-shirts, *Pasta party, *Meet-up runs, *Incentives, *Massive store discounts on running gear, *Top Fund raiser gets a classroom named when we build our #6 school.  *Raise over the minimum by just $10 and you will be entered in a drawing with other team members to see who also wins a classroom named in their honor – refer a friend and double your chances!!  *Access Kenya, with us as your insider running guides. *Weekly emailers and more…. Join us all the way to Kenya?  Why not.  Quite a few of our members have!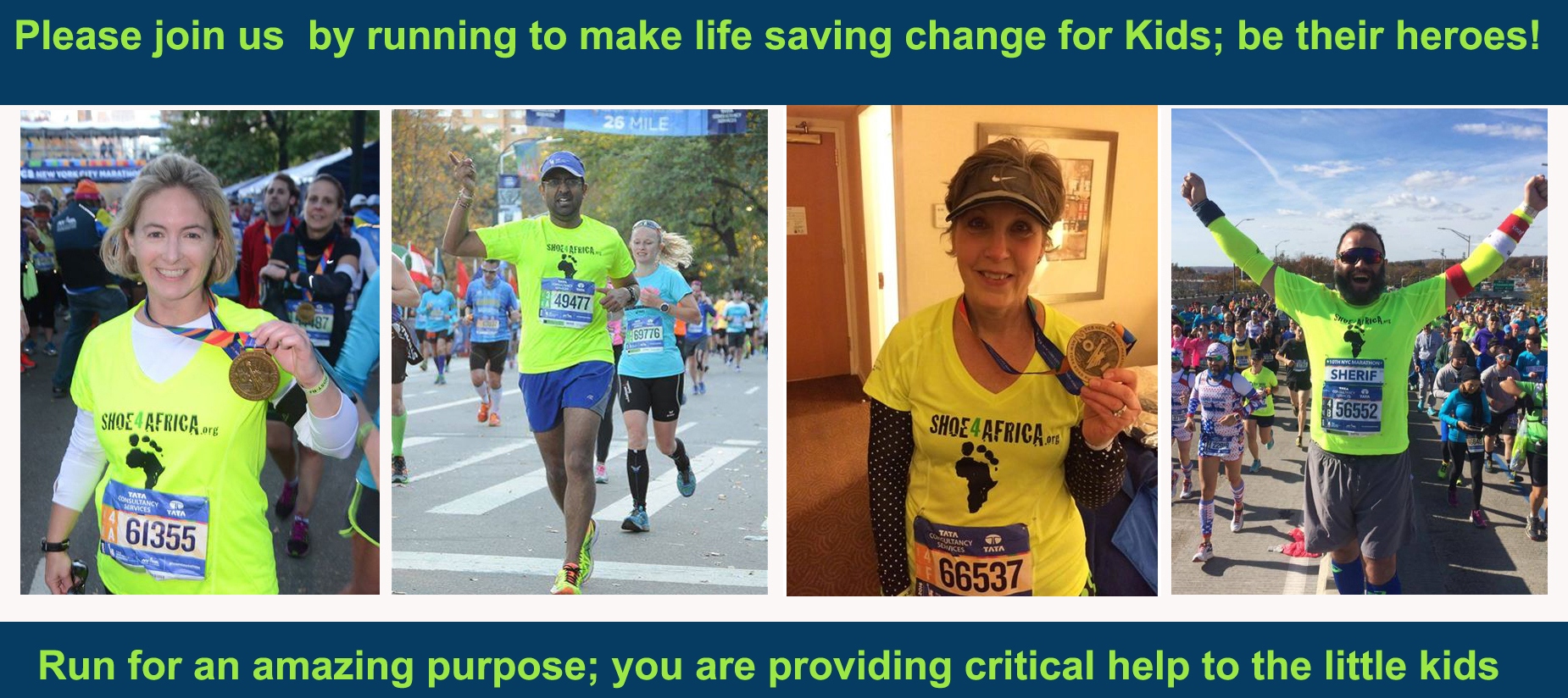 If you have your own entry and just want to help, or even if you want to run in any race and be a Shoe4Africa star please do get in touch and join our team.
We have a team of experts to join you–Meet our coaches: [Link] who will be proving you with….Tips to train better.  Strategies to get you to starting line healthy. Ideas and ways to fund raise in a fun, successful manner.  Of course constant access to coaches and mentorship.