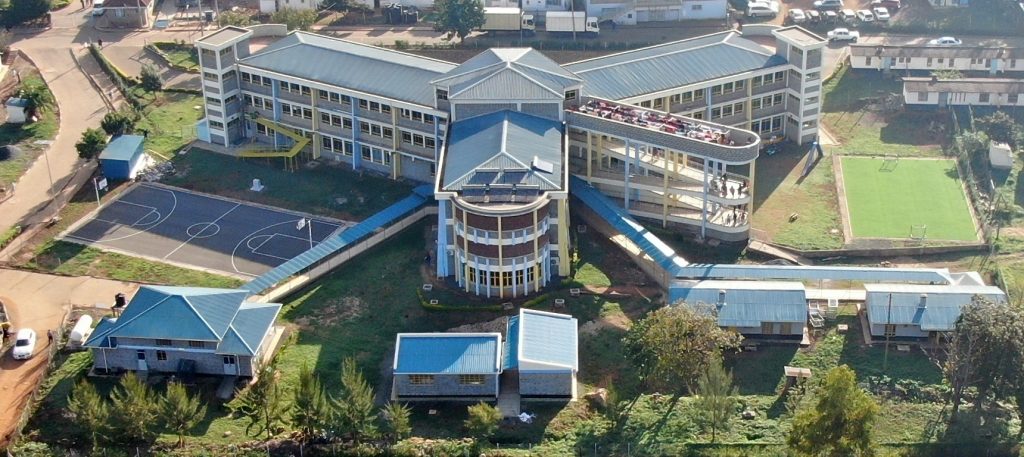 "Healthy citizens are the greatest asset any country can have."
Winston Churchill.
Currently we are treating over 400 in-patients and out-patients per day. [Recorded: SEPT 2022 daily average: 214 in-patients + 219 out-patients]. We are bringing vital public healthcare to a vast catchment area; in fact, being the only public kids hospital in the entire region of East Africa, means we are constantly running at over-capacity.
These kids deserve our greatest attention, born into dire poverty through no fault of their own; please join us in providing medical care to East & Central Africa's only public children's hospital. We have received patients from outside of Kenya, from the neighboring East African countries. Namely Tanzania, Uganda, Southern Sudan, Rwanda & Burundi. This hospital is, in addition, a teaching hospital partnering with Moi Medical School (Kenya's 2nd largest university).
Our services cover; *A Sick child clinic, *Emergency services, *Neuro services, *Surgical wards, *Medical wards, *Oncology wards, *A Burns unit*+, a number of Doctor's consulting rooms, Social workers offices, a fully stocked Pharmacy, Immunization out-patient center for the Healthy child, Child Life program, Student medical training program The Hospital has two dedicated theaters, and ICU, and an HDU. Two classrooms for onsite learning for patients. An ISO 15189:2012 certified Laboratory Department.
Clinics: Paediatric Outpatient Clinic (POPC) – Mondays and Thursdays, Paediatric Neurology Clinic – Thursdays, Paediatric Cardiology Clinic – Fridays, Paediatric Gastroenterology Clinic – Fridays, Newborn Clinic (NOPC) – Fridays
Paediatric Nephrology Clinic -daily,  Paediatric Oncology clinic, Paediatric HIV clinic, and Adolescent clinic
All our Doctors are fully qualified + certified, and are employed by the Kenyan Ministry of Health.  Our head pediatrician is Dr Mandi, a Gastroenterologist, the former head (and still with us) is Dr. John Chumba, then we have Dr. Cheptinga, Dr. R. Tenge, Dr. Tinina, to name a few of the others.  Dr. Festus Njuguna is our pediatric oncologist. Check with us for a full roster.
Shoe4Africa is part of the Moi Teaching & Referral Hospital campus, governed by the CEO Dr. Wilson K. Aruasa, (MBS), MBChB(MU); MMed-ObsGyn(UoN); MBA(USIU).
Our children's hospital sits on seven prime acres of land (with two riparian acres totaling 9), right in the heart of the city center of Kenya's fastest growing city (pop. 467,000 2019), where we are developing our Africa Children's Health Village. Kids can come and play at our playground, enjoying sports like basketball on our court and soccer. These sports help the kids forget they are sick, and help their sick bodies exercise when healing.
(*+ Post-Covid, the new Harry Dyer Burns Unit will be built next door to the hospital to upgrade our burns ward courtesy of the Sidekick foundation.)  See below for a site plan: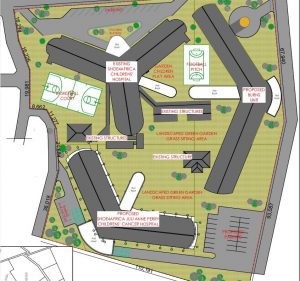 The Site plan for the 'African Children's Health Village.'
The drawing shows the existing Children's hospital, then to the right, the new Harry Dyer burns unit (not drawn to scale as this is a smaller building than the main hospital) which should be in construction mid 2023.
Down at the bottom of the picture is the placement of the new Shoe4Africa Juli Anne Perry Children's Cancer Hospital.
It will be a 152-bed public cancer hospital that will be one of the largest kids cancer hospitals in the world (double the size of St. Jude's) and it will be the only Children's Cancer Hospital in the entire region of sub-Saharan Africa.
"A specialist dedicated children's hospital will be a credible demonstration of the commitment of African leaders to place the rights of children at the forefront – nothing less would be enough." Nelson Mandela, 2005
Currently there are only three public children's hospitals in Sub Saharan Africa (pop. 1bn): Red Cross Memorial, Cape Town, South Africa, 1956, Shoe4Africa 2015, Eldoret, Kenya, and most recently The Nelson Mandela Children's, opened in September, 2017, in Johannesburg, South Africa. (NB, Gertrudes Hosp. in Nairobi is a strictly private facility).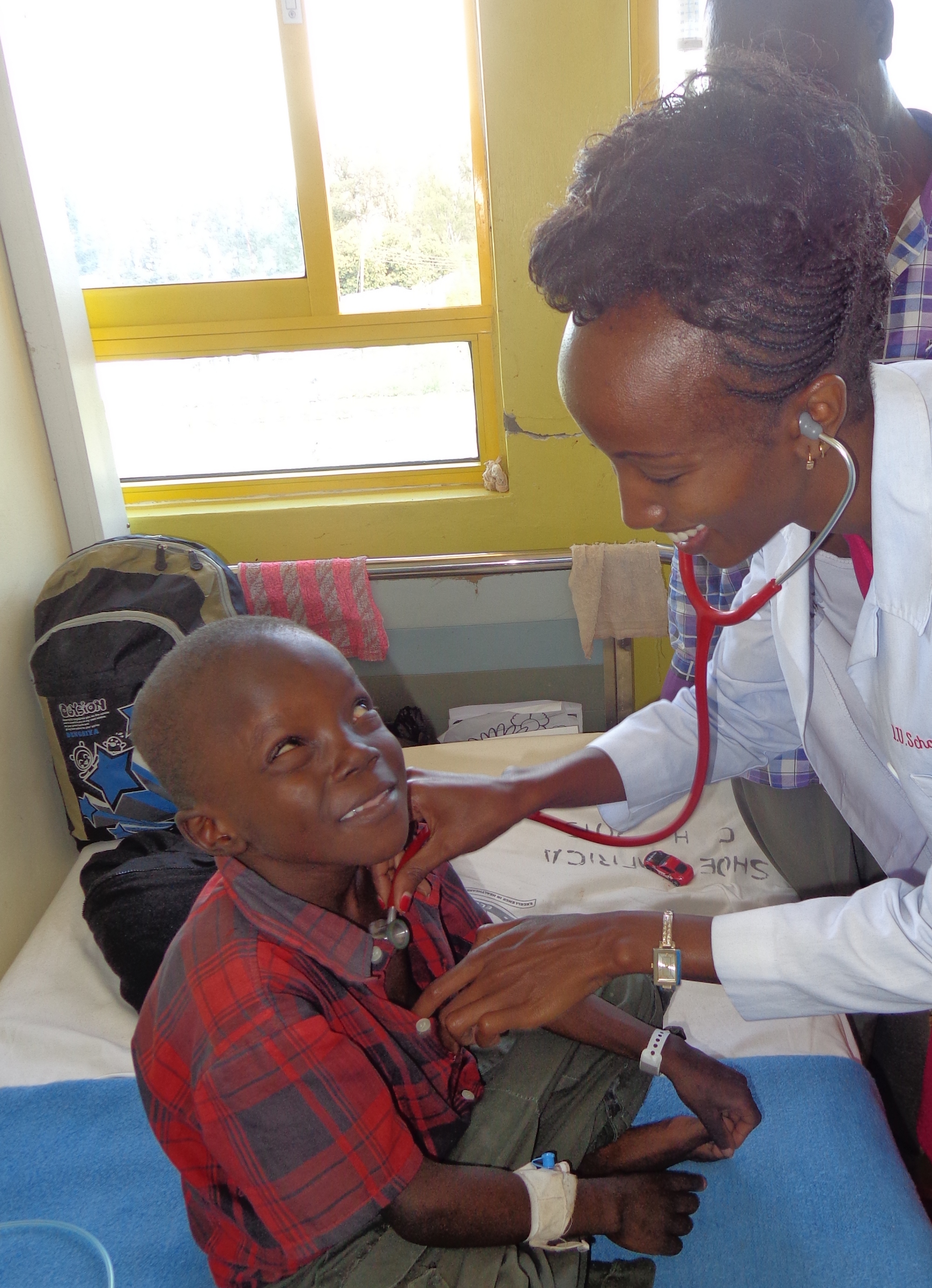 The mission of the Shoe4Africa Children's Hospital is to attain the highest level of advanced paediatric safe and effective medical and surgical care. A teaching hospital that will help empower, educate & enable the future of a healthy East Africa.
Little Titus gets a check up for his, now healthy, heart.
The Shoe4Africa Hospital was gifted to the people of Kenya on August 12th, 2015 from our foundation. On the 13th of August we already had over 68-patients. Today we a have a 200-bed capacity and have a wonderful team of Medics saving lives on a daily basis.
It is a general children's public hospital offering a wide array of services for many ailments and conditions. We are currently developing a 'children's health village' inside the large compound that surrounds our hospital. Learn more if you want to be involved in helping us with this ambitious goal. Email
We have two Operating Theaters, on two floors, stocked with state of the art equipment led by Dr. R. Tenge and two other pediatric surgeons, so we can perform life saving operations, we are also renovating the grounds to build a beautiful playground. Plus a Playrooms house to compliment the smaller playrooms we have on each floor inside the hospital. As you can read there is lots to be done and we would appreciate your help.
Access to healthcare is vital; there are over a billion people in Sub Saharan Africa. Clearly more needs to be done (England has 21 kids hospitals for a pop. of 51-million, about 5 million more citizens than Kenya, though a lower percentage under the age of 20. The USA has 157-kids hospitals).
To read a Parent's review that was published on Hivisasa click here: LINK
The Hospital is…
1. Creating a study forum for scientific exchange of medical knowledge and training for the next generation of medics between the medical professionals of the Hospital, visiting universities, lecturers, and healthcare professionals teaching the on-campus students of the Moi University Medical School.
2. Providing Infrastructure and equipment to enhance the quality of healthcare for the children of East Africa (to date kids from Kenya, Tanzania, Uganda, Rwanda and Southern Sudan have received treatments– we even had one child treated after being referred from Burundi).
3. The mission of the Shoe4Africa Children's Hospital is to attain the highest level of advanced paediatric safe and effective medical and surgical care.
4. A teaching hospital that will help empower, educate, & enable the future of a healthy East Africa.
5. Providing a secure source of employment and vast economic growth for the community; hundred of jobs have been generated by this hospital already.
6. The only Kids hospital in Eastern Africa with ChildLife trained staff and programs to help the child deal with medical procedures. Lean more
7. Why is a children's hospital so unique and needed?  Answered best by this article we copied from Georges Casimir
Health Care Information
To protect each child's privacy, only parents or legal guardians will be given medical information about a patient (photo Id required).
:::::::::::Shoe4Africa Customer service lines (24-hour): 0706-390391 / 0732-018387::::::::::::
NHIF ACCREDITED
MPESA services available in the rear of the main lobby.
Watch great 13-minute documentary filmed by Andy Arnold that explains and shows the Hospital, its concept, and design.
The hospital is strategically built less than 1 km from Kenya's main Nairobi-to-Uganda highway, it is 32 km (20-miles) from the
HATC
international sports camp in Iten ( a favorite of our visitors), and it is only 15 km from the Eldoret International Airport, and most importantly right next door to the
2nd largest adult's hospital in East Africa
, MTRH (of course, a public facility), and just 400-meters away from the Moi University Medical School campus.  The medical school sends its students to our hospital for training.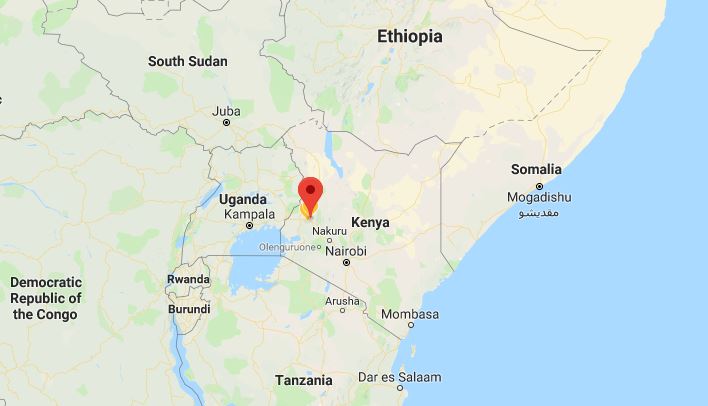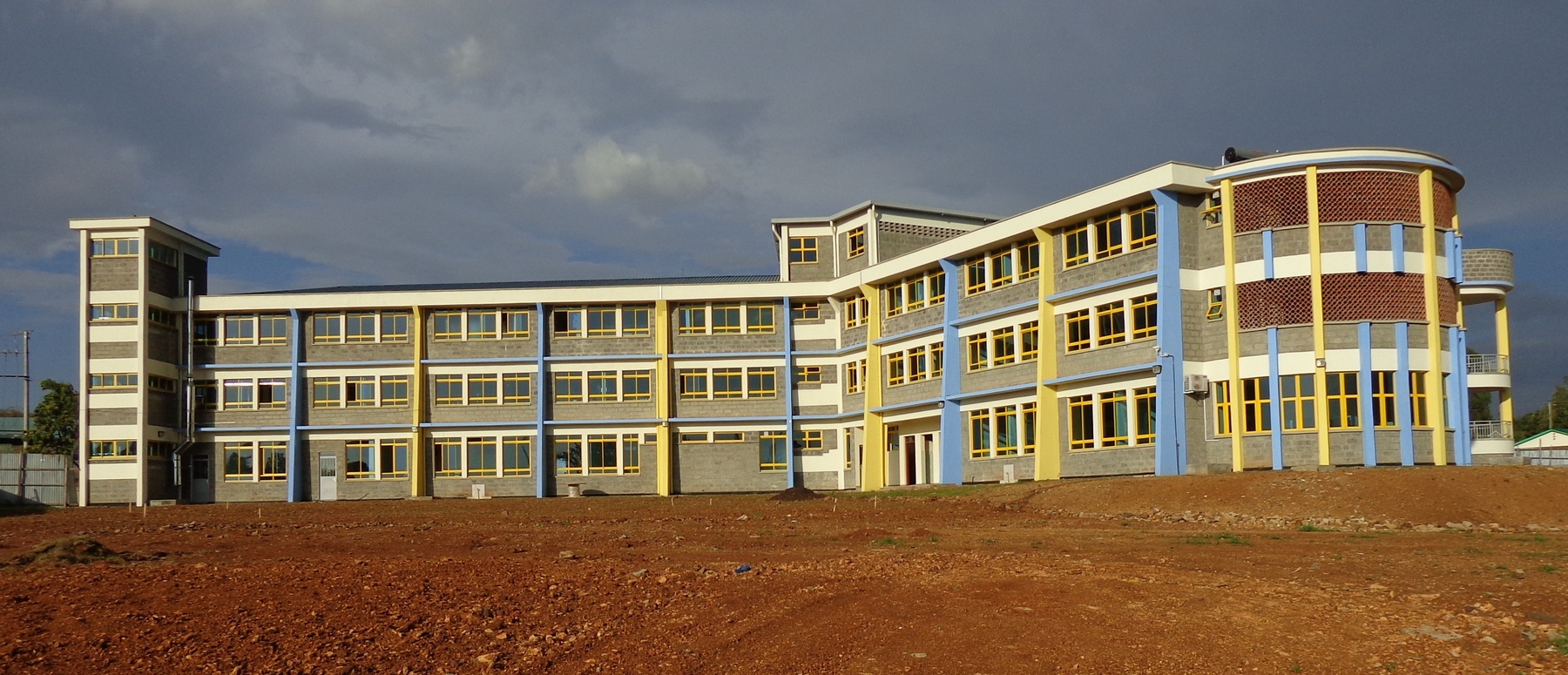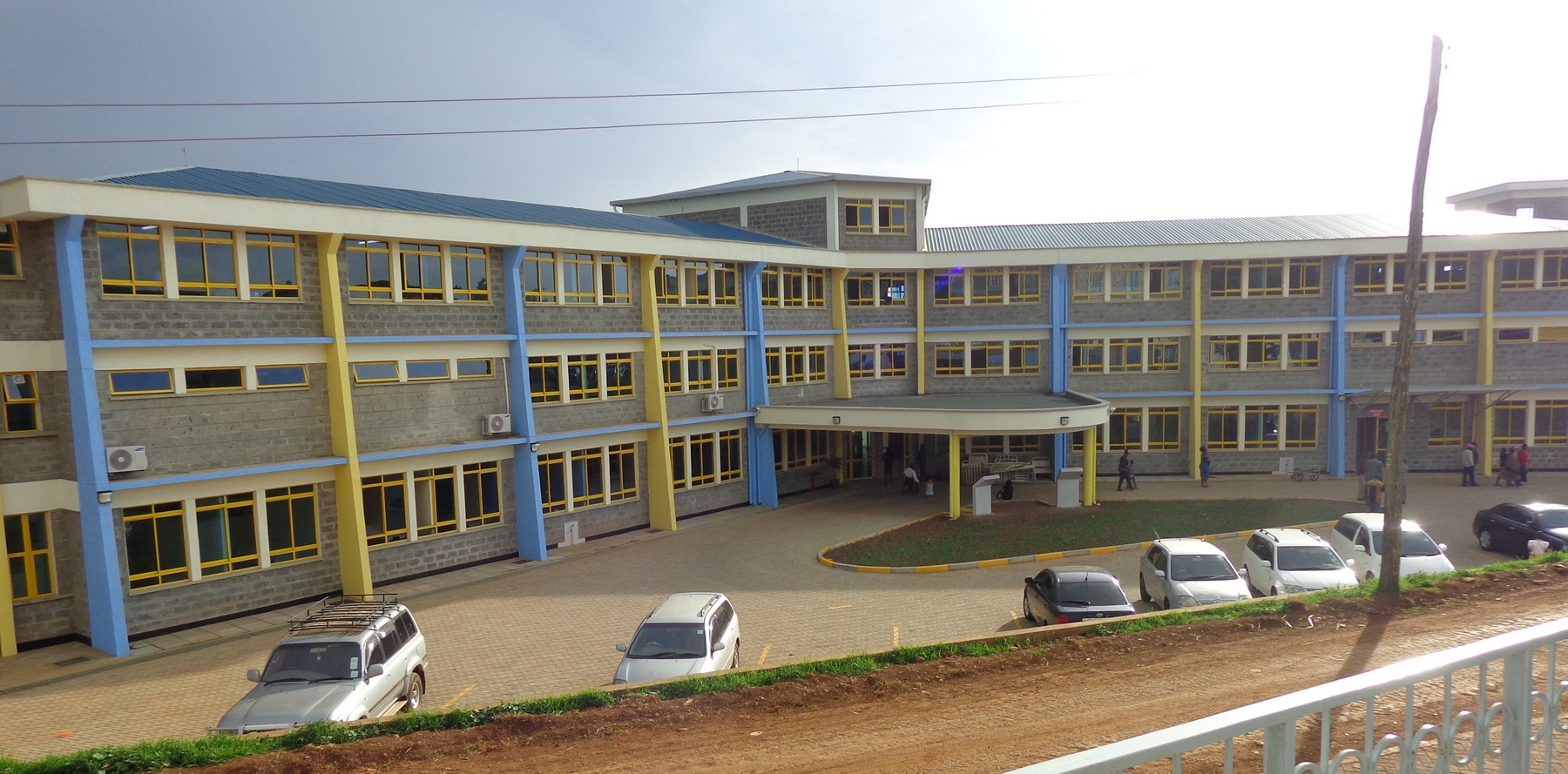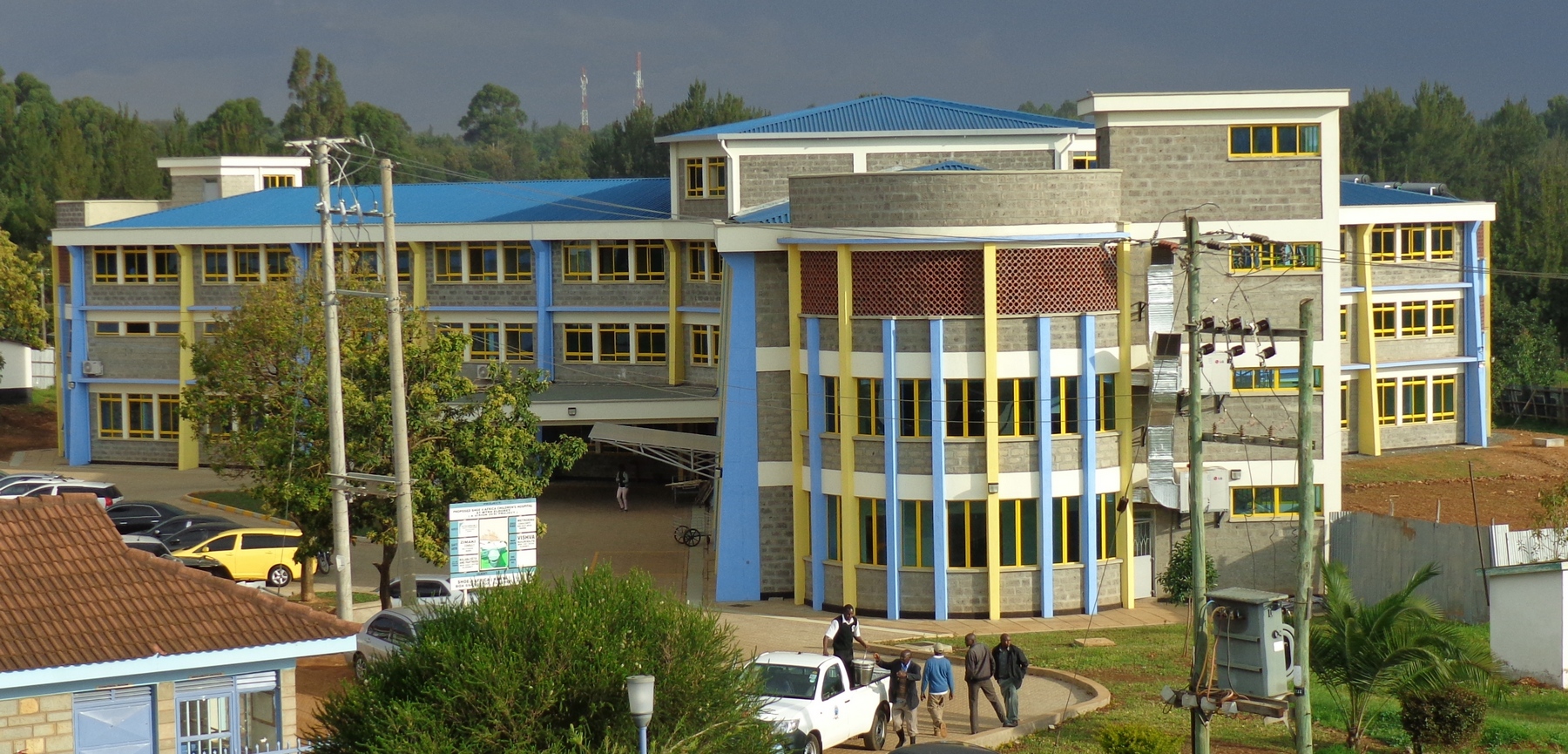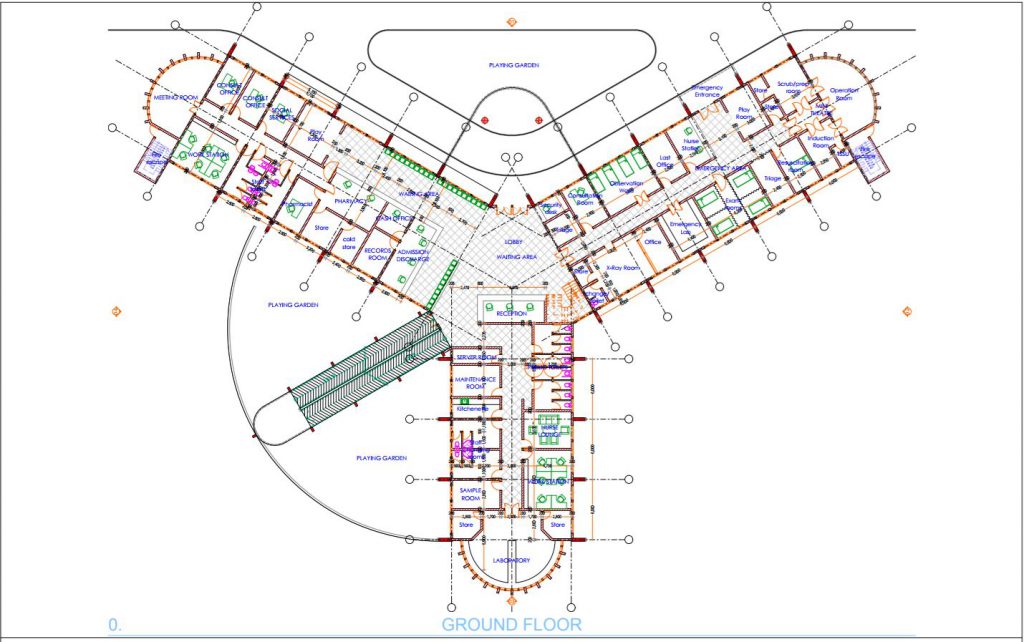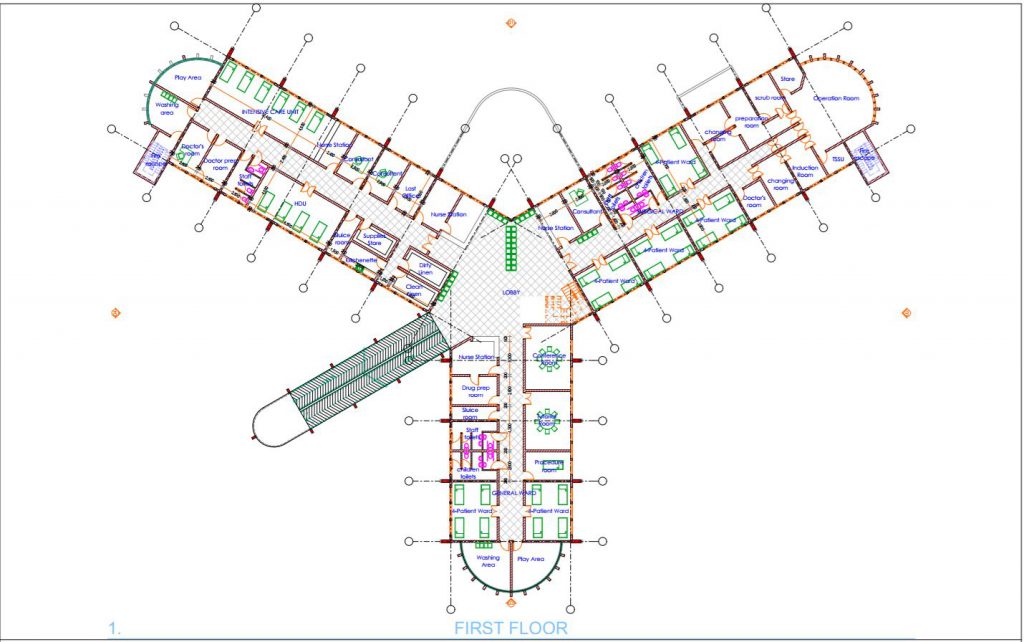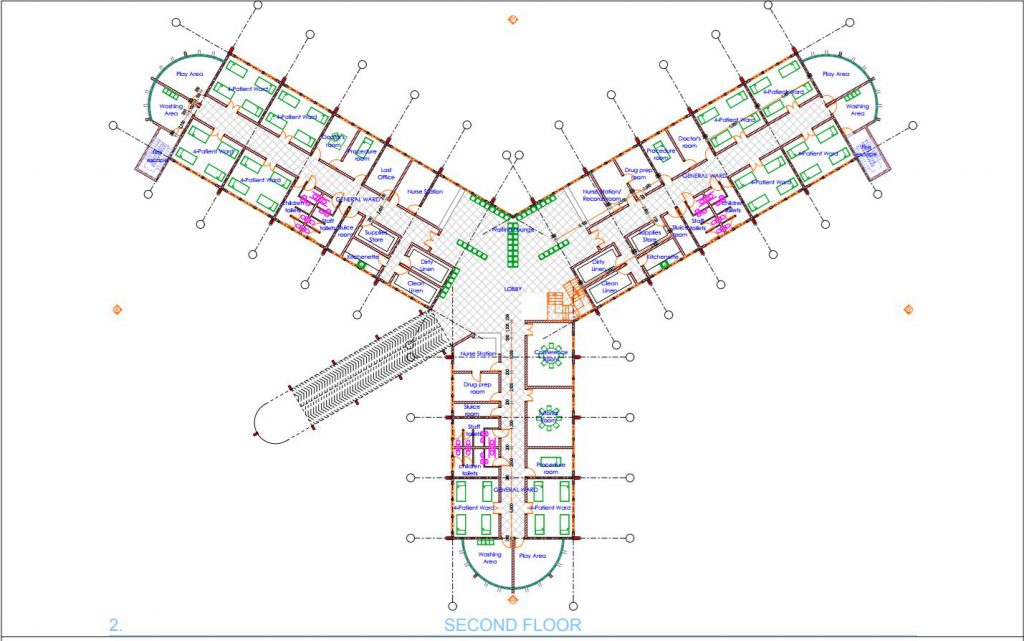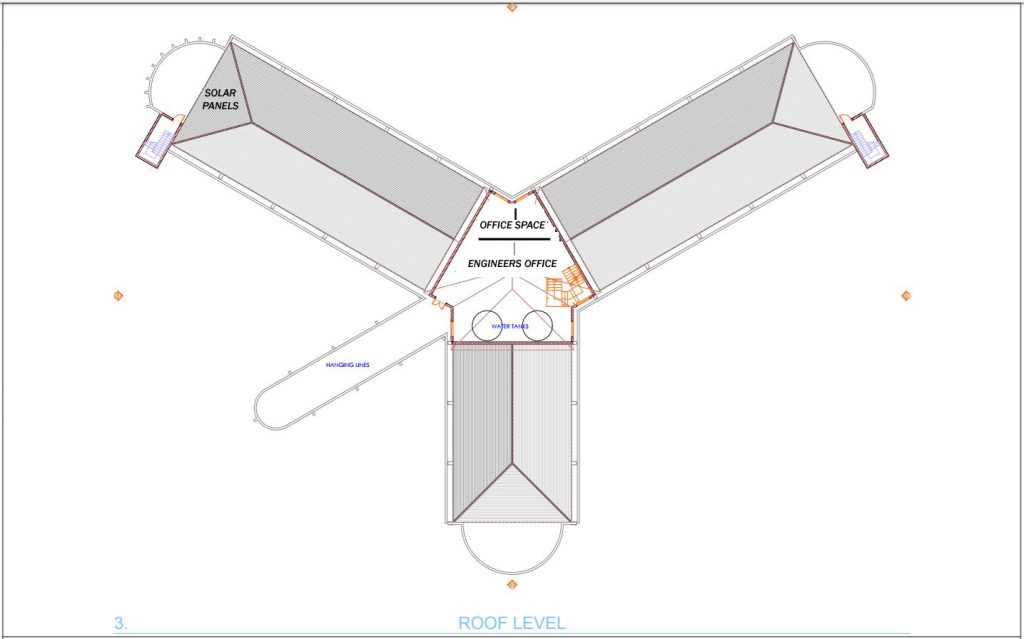 ABOUT OUR LABS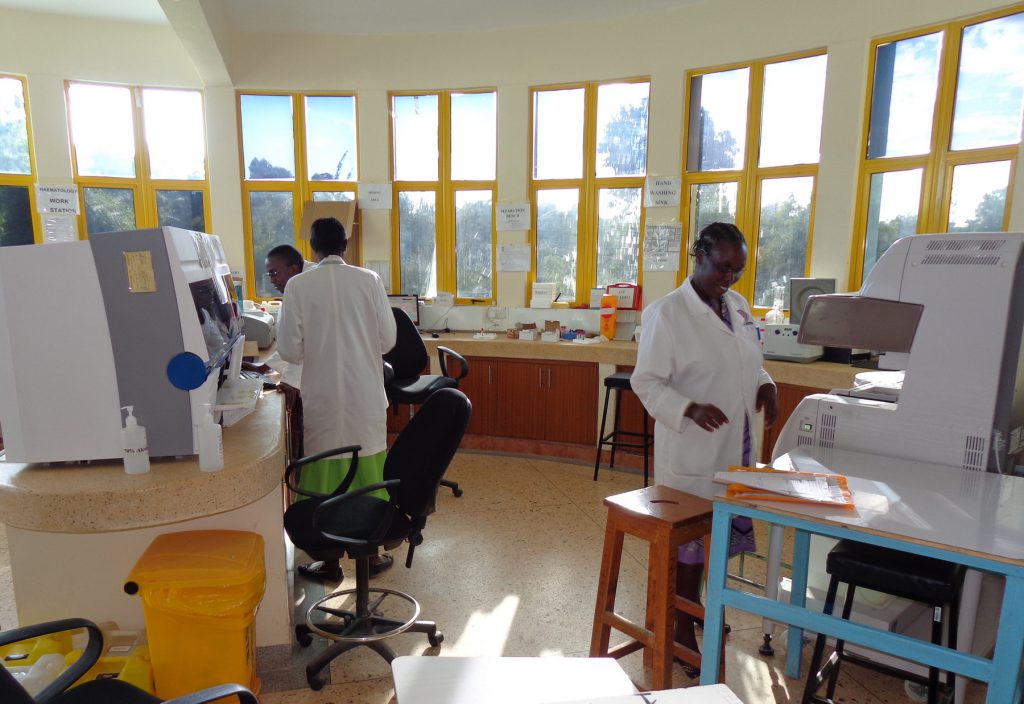 1. Our labs can test over 150 patients daily, in less than one hour test results turn around.
2. Most common illnesses for outpatients are typhoid (and infectious bacterial fever with an eruption of red spots on the chest and abdomen and severe intestinal pain) and malaria. About 40 of 150+ are complicated test cases, like cancer. These take two days (other government hospitals take 14 days for cancer test results).
3. 100% of all prescriptions are filled in The Shoe4Africa Public Children's Hospital pharmacy. We have heard reports of 50% and below for other hospitals in Kenya.
4. The Shoe4Africa Public Children's Hospital has a 100% success rate in mitigating medicine and medical supply theft internally and externally.
How it works: A system tags a patient with a number from triage all the way to discharge, governs all medications given to the patient. Example: John Smith is triaged in with code number 8080, all his medical supplies and medication cannot be signed out without that code. When John Smith is discharged, the attending Dr. and nurse go through John's chart crossing off and confirming all prescribed 8080 supplies and medications against the pharmacy bill. No supplies or medications can be given without a patient's code number against it.
SPECIAL PROJECT — Our Playgrounds.
Play is a funny word as it invokes a feeling of an afterthought, or lesser importance than, let's say, 'Equipment'. Yet can you imagine a children's hospital without a playground?
Right now we can! We need to build one!
We already have a full-sized regulation basketball court, and a 5-a-side astro-turf soccer pitch for our patients exercise. 11 a.m. each morning is sports time!
"Play is an essential, natural part of childhood, important in its own right. Play facilitates healing, coping, mastery, self-expression, creativity, achievement, and learning, and is vital to a child's optimal growth and development." ACLP http://www.childlife.org/child-life-profession/mission-values-vision
"Following a meta-analysis of 800 studies, Fisher concluded there was cogent evidence for the positive impact of play on children's development outcomes." -Evidence-Based Practice Statements on Child Life, Donna Koller, PhD submitted this paper, which was approved by the ACLP in 2008…… "(Play) reduces the need for potentially dangerous sedatives and pain medications and helps children heal faster with less long-term psychological effects." Dr. Abiodun Oyebola…… According to the American Academy of Pediatrics (AAP), "Play is essential to development because it contributes to the cognitive, physical, social, and emotional well-being of children and youth." https://pediaplay.com/category/play/
The Proposed Playground Plan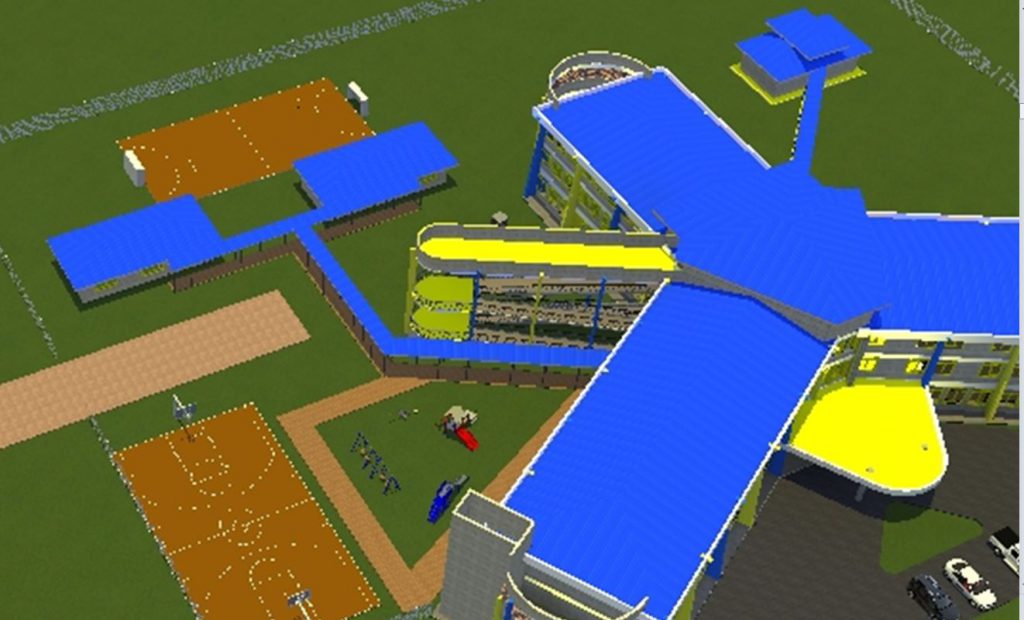 Quick Facts about the Hospital
The Shoe4Africa Hospital was opened on Aug 12th, 2015. The saying "Yes" to this project happened on March 17th, 2008.
Today the hospital has grown from 105-beds to 157, to over 200-beds.  On April 2nd 2019, we had 244-inpatients and 210-outpatients treated.  Our kitchens made 560 meals three times a day!
Every three months our average is growing! No child is turned away from this public facility thus overcrowding is a reality. (St. Jude's Hospital, the famous kids hospital in the USA has around 70-beds)
The catchment area is 20-million however kids from outside this area are starting to come to the hospital; we have received patients from as far as Southern Sudan, Tanzania, Rwanda, Burundi, and Uganda.
When it opened it was only the second public children's hospital in Sub Saharan Africa, which has a population of well over one billion people.
East Africa is home to some of the world's best endurance athletes. Two of the absolute most famous would be Eliud Kipchoge, Olympic Champion, world record holder, and "Mr. Sub2" and Mary Keitany, the Women's world record holder. Both are our Shoe4Africa Hospital Ambassador's and visited the hospital on Dec. 24th last year to hand out our 450 gifts to the patients.
The 2 Running Club, with well over 30-world famous athletes and Olympians have also supported, coming to greet the kids, and recently donating a TV and dish for kids entertainment.
Eliud opened our Astroturf soccer pitch, May 2019, and Mary opened our Basketball court, December 2018. We believe we are the only hospital in Africa to focus strongly on sports rehab, thus having such facilities.
The site was designed to be extremely accessible; there is an International airport 15-kilometers away, plus the main Nairobi to Uganda highway is 2km away. The hospital is in the center of Kenya's fastest growing city.
The Shoe4Africa Hospital is a teaching school. Each day, Monday to Friday, a large bunch of medical students from Kenya's second largest public university come and do the rounds as they study to become East Africa's next generation of medics.
Over half the population of Sub Saharan Africa is under the age of 20. Kids health needs to be a bigger priority to the region.
The first kids hospital was the Red Cross in South Africa. The Second was Shoe4Africa, and the third was opened in September 2017 and was the dream project of a man who stated his idea in 2005; Nelson Mandela. "A specialist dedicated children's hospital will be a credible demonstration of the commitment of African leaders to place the rights of children at the forefront – nothing less would be enough."
The Hospital has a very unique design, shaped like a flying Tristar. Although this design was far more costly than building the traditional Brick shape it is ideal for a medical facility as the air flows exceed twelve 'changes' per minute helping stop the transmissions of diseases. It also allows the use of more natural light aiding in the well-being of patients.
Why a Public Hospital, don't Private's run better? We built for the people of Kenya, not for the children of diplomats, UN workers, ex-pats, charity workers, and for the wealthy who can afford private services. A national public healthcare system, with public hospitals, will help uplift and build a healthy future for Kenya. Private hospitals, run on a for profit basis, make choices who they treat; we don't. Every child is treated.
Classrooms were opened on August 1st, 2019 to address the educational needs of patients. Some of our patients stay months and education is critical in an area of high unemployment.
Hundreds of jobs have been created by this Kenyan built, Kenyan run, Kenyan owned Hospital.
Feedback from a patient's father
Feedback, from one of our customers, at the Shoe4Africa Children's Hospital. Like most charities we are (super) good at pumping our stories, so it is nice to read from another person:
"In Kenya, stories emanating from national referral facilities especially public health facilities have not been encouraging. However, when you go to one facility and receive superior service without preference that is something to be appreciated.
I wish to share a different story of what I experienced on Tuesday 29th May, 2018 after visiting the Shoe for Africa Children Hospital at Moi Teaching and Referral Hospital, Eldoret.
I woke up a stressed man. My son was ill. He hadn't slept well the previous night. Since I didn't know what was wrong with him, I thought it was prudent for me to take him to a medical institution which most of my friends have always recommended for me.
I had gathered that the Hospital was fully equipped to handle all issues pertaining to children comprehensively. Here is my full account of what transpired on the day:
On my arrival at the gate leading to Riley Mother and Baby building, I bumped into two security officers manning the gate. All were looking serious with their work. Going by their looks, they were in their late 40s. One of the Officer approached me and greeted my son.
He asked me what was wrong with him and after few chitchat, he directed me to the Children Hospital, which could be seen from the gate where we were standing.
Upon my arrival at the building, I went straight to the customer care desk and was well received with a decently dressed lady. She introduced herself as Ms. Juliana Wanja. Upon exchanging few good-natured remarks, she informed me that I was in the right place and I will be accorded all the services to the best of their abilities.
She immediately directed me to a designated area dubbed "Triage Area". I waited for not more than five minutes. Then a lady dressed in a black hijab and whose name was inscribed in the name tag as : Najima Adan Ibrahim – informed me that my son was the next patient to be attended to.
With a radiant smile she took me through the steps she was going to undertake on my son referring it as 'checking of the basic vitals.'
Upon my granting her permission, she recorded my son's weight, blood pressure, pulse rate and body temperature. She did this meticulously as she kept talking tickling him a little bit making my son ,whose fear for injection was building up, relax a little bit. I was informed by Najima that all the vitals were okay apart from his body temperature that was above normal.
Najima directed me to the records departments where I was given a card to fill basic information and asked to pay Ksh 50. (fifty cents, in USD) Maureen Kipchumba, the lady that served me affably, informed me that details/information that I shall provide would be saved on the Hospital's system/database for future reference and treatment.
She went further to state that every patient, including my son, has a unique number and every time one is treated there, their medical records shall be captured and easily retrieved in future.
Thereafter, I was directed to meet a medical doctor, Dr. Irene Siria. I shared information regarding my son. She examined him and within no time she made some notes on paper and asked me to go to the lab to have my son undergo some tests. This was done as directed by the doctor.
Within no time, I was at the lab and immediately the needed samples were taken and I was told to wait for 30 minutes. Thereafter, my son's name was called out and I picked the results and returned them to the Doctor. On average, it took me less than two hours for my son to be fully examined and treated. I left the Hospital a very happy person.
I wish to express my gratitude to the management, nurses, doctors and the all team that assisted me on 29th May, 2018. I am humbled by your humility, professionalism exhibited and most of all, being humane. God bless you all in His own ways. — Kennedy Lesiew.
Client Feedback
"Great services. I used to take my daughter there." Joyce Joy. "Service is one of the best in Kenya and entire Africa." Johnson Kipyego. "Facility is great and helpful. I once benefited great from the service and care." EK Mare. "This hospital has been of great help to me." Irene Kisorio. "The most organized facility in the Region." Malik Malachi. "Nimewai kuwa hapo for three weeks even though my baby pass away, the hospital iko well organized." Jackie Saina. "Have benefited from shoe my babies call it Toby clinic and the services there is the best, kongoi" Daisy Chelagat.
Guiding principles
Winston Churchill, 1948: "The discoveries of healing science must be the inheritance of all. That is clear: Disease must be attacked, whether it occurs in the poorest or the richest man or woman simply on the ground that it is the enemy; and it must be attacked just in the same way as the fire brigade will give its full assistance to the humblest cottage as readily as to the most important mansion….Our policy is to create a national health service in order to ensure that everybody in the country, irrespective of means, age, sex, or occupation, shall have equal opportunities to benefit from the best and most up-to-date medical and allied services available."
Why Children's Only
If you go into a children's hospital in America, you would not expect to see an adult lying in a bed.
So why should it be different in Africa.
If you go to the Emergency waiting room in America kids and adults don't sit shoulder to shoulder. In Africa this is the norm.
Fact: A children's hospital, focusing on children only, allows you to better serve the kids and their families and vastly reduces the mental stress of a child.
Imagine how terrifying it is for a child to be in the hospital anyway, add the confusion of being thrown into an 'adult' world as a child. On the bed next to you is a man who looks old enough to be your grandfather writhing in pain, screaming and crying.
As a child how do you handle this?
Inside the Children's Health Village, we are building a site designed with the child in mind.
A Rotary member in Eldoret, George in 2017, "I am a wealthy man, I can afford to take my kids to a private hospital. But they are on strike! They insist on Shoe4Africa! They say they want to be in a hospital where there are only children."