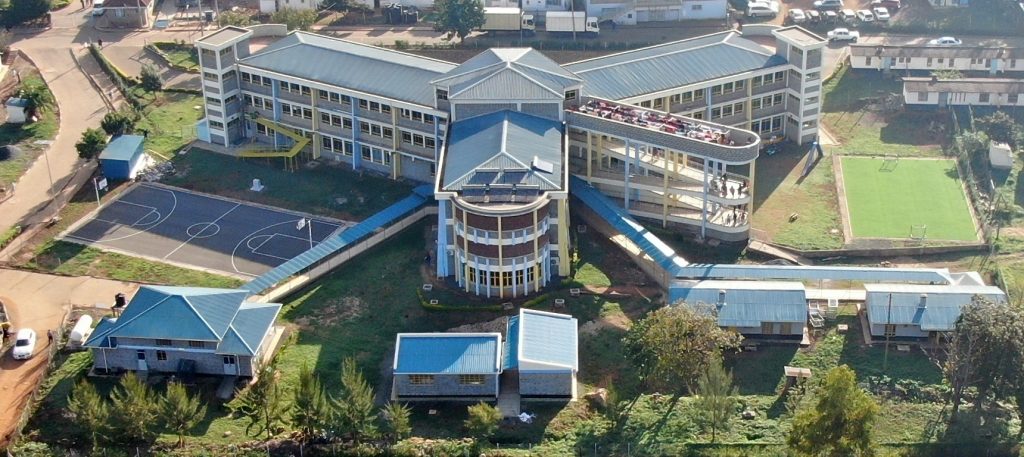 "Healthy citizens are the greatest asset any country can have."
Winston Churchill.
Currently  we are treating over 200 in-patients per day, and 200 out-patients per day April 2nd, 2019 – (244 in-patients and 220-out-patients).  We are bringing vital public healthcare to a vast catchment area; in fact being the only public kids hospital in the entire region of East Africa means we are constantly running at over-capacity. These kids deserve our greatest attention, born into dire poverty through no fault of their own; please join us in providing medical care to East & Central Africa's only public children's hospital.  We have received patients from outside of Kenya, from the neighboring East African countries. (Tanzania, Uganda, Southern Sudan, Rwanda & Burundi).
Our Children's Hospital opened on Aug 12th, 2015 and now has a 200+-bed capacity that is  spread over three floors and a sky unit. We have a large compound and have recently completed a new Kitchens unit in the grounds, and a Music Therapy building play center behind the main building, with a healthy child immunization temporary center, and for recreation, a basketball court.  The latest edition are two classrooms to help kids not fall behind with schooling when hospitalized.  With over 39% unemployment in the country, it is a must.
Our services cover; *A Sick child clinic, *Emergency services, *Neuro services, *Surgical wards, *Medical wards, *Oncology wards, *A Burns unit*+, a number of Doctor's consulting rooms, Social workers offices, a fully stocked Pharmacy,  Immunization out-patient center for the Healthy child, Child Life program, Student medical training program The Hospital has two dedicated Theatres, and ICU, and an HDU which we are currently fund raising for their equipping.  Two classrooms for onsite learning for patients.  An ISO 15189:2012 certified Laboratory Department.
(*+ In 2020 the new Harry Dyer Burns Unit will be built next door to the hospital to upgrade our burns ward courtesy of the Sidekick foundation.)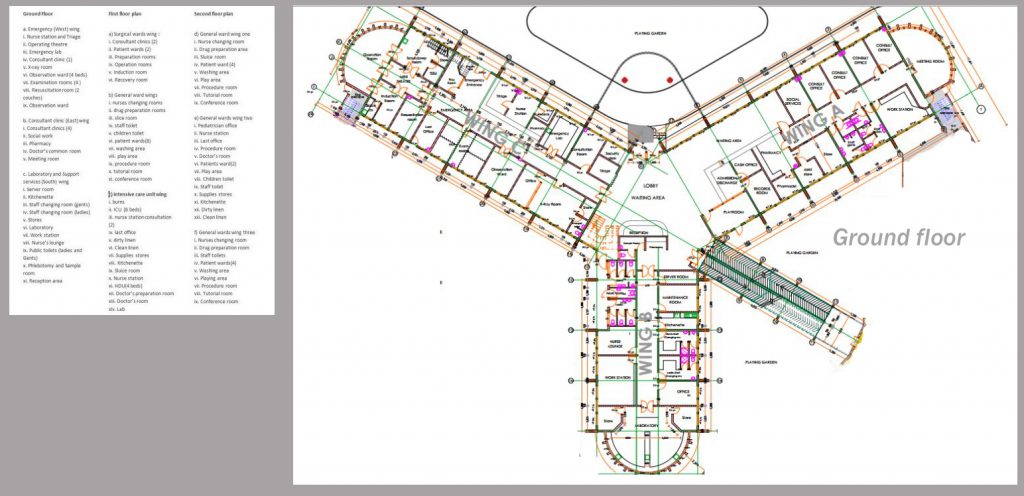 See Full floor plans below.
To read a Parent's review that was published on Hivisasa click here: LINK
Currently there are only three public children's hospitals in Sub Saharan Africa (pop. 1bn):  Red Cross Memorial, Cape Town, South Africa, 1956, Shoe4Africa 2015, Eldoret, Kenya, and most recently The Nelson Mandela Children's, opened in September, 2017, in Johannesburg, South Africa. (NB, Gertrudes Hosp. in Nairobi is a strictly private facility).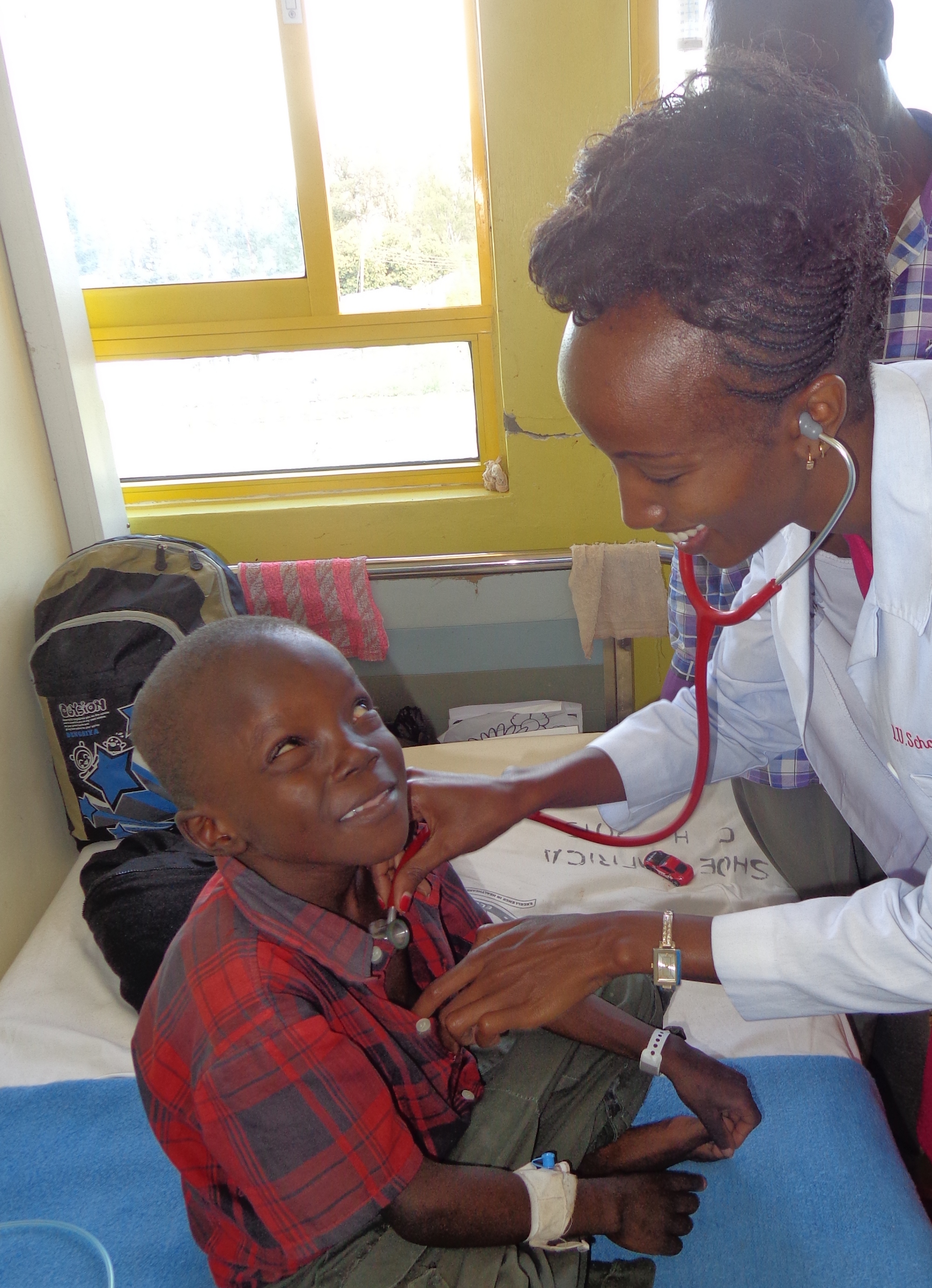 The mission of the Shoe4Africa Children's Hospital is to attain the highest level of advanced paediatric safe and effective medical and surgical care.  A teaching hospital that will help empower, educate  & enable the future of a healthy East Africa.
Little Titus gets a check up for his, now healthy, heart.
The Shoe4Africa Hospital was gifted to the people of Kenya on August 12th, 2015 from our foundation.  On the 13th of August we already had over 68-patients.  Today we a have a 200-bed capacity and have a wonderful team of Medics saving lives on a daily basis.
It is a general children's public hospital offering a wide array of services for many ailments and conditions.  We are currently developing a 'children's health village' inside the large compound that surrounds our hospital.  Learn more if you want to be involved in helping us with this ambitious goal.  Email
We have two Operating Theaters, on two floors, stocked with state of the art equipment led by Dr. R. Tenge and two other pediatric surgeons, so we can perform life saving operations, we are also renovating the grounds to build a beautiful playground.  Plus a Playrooms house to compliment the smaller playrooms we have on each floor inside the hospital.  As you can read there is lots to be done and we would appreciate your help.
Access to healthcare is vital; there are over a billion people in Sub Saharan Africa.  Clearly more needs to be done (England has 21 kids hospitals for a pop. of 51-million, about 5 million more citizens than Kenya, though a lower percentage under the age of 20.  The USA has 157-kids hospitals).
"A specialist dedicated children's hospital will be a credible demonstration of the commitment of African leaders to place the rights of children at the forefront – nothing less would be enough." Nelson Mandela, 2005
The Hospital is…
1. Creating a study forum for scientific exchange of medical knowledge and training for the next generation of medics between the medical professionals of the Hospital, visiting universities, lecturers, and healthcare professionals teaching the on-campus students of the Moi University Medical School.
2. Providing Infrastructure and equipment to enhance the quality of healthcare for the children of East Africa (to date kids from Kenya, Tanzania, Uganda, Rwanda and Southern Sudan have received treatments– we even had one child treated after being referred from Burundi).
3. The mission of the Shoe4Africa Children's Hospital is to attain the highest level of advanced paediatric safe and effective medical and surgical care.
4. A teaching hospital that will help empower, educate,  & enable the future of a healthy East Africa.
5. Providing a secure source of employment and vast economic growth for the community; hundred of jobs have been generated by this hospital already.
6. The only facility in Africa with ChildLife trained staff and programs to help the child deal with medical procedures.  Lean more
Health Care Information
To protect each child's privacy, only parents or legal guardians will be given medical information about a patient (photo Id required).
:::::::::::Shoe4Africa Customer service lines (24-hour): 0706-390391 / 0732-018387::::::::::::
NHIF ACCREDITED
MPESA services available in the rear of the main lobby.
Watch  great 13-minute documentary filmed by Andy Arnold that explains and shows the Hospital, its concept, and design.
The hospital is strategically built less than 1 km from the main Nairobi-to-Uganda highway, it is 32 km (20-miles) from the
HATC
 international sports camp in Iten ( a favorite of our visitors), and it is only 15 km from the Eldoret International Airport, and most importantly right next door to the
2nd largest adult's hospital in East Africa
, MTRH (of course a public facility), and just 400-meters away from the Moi University Medical School campus.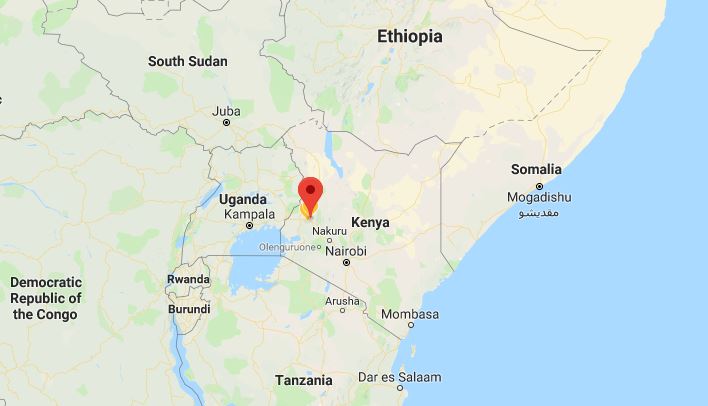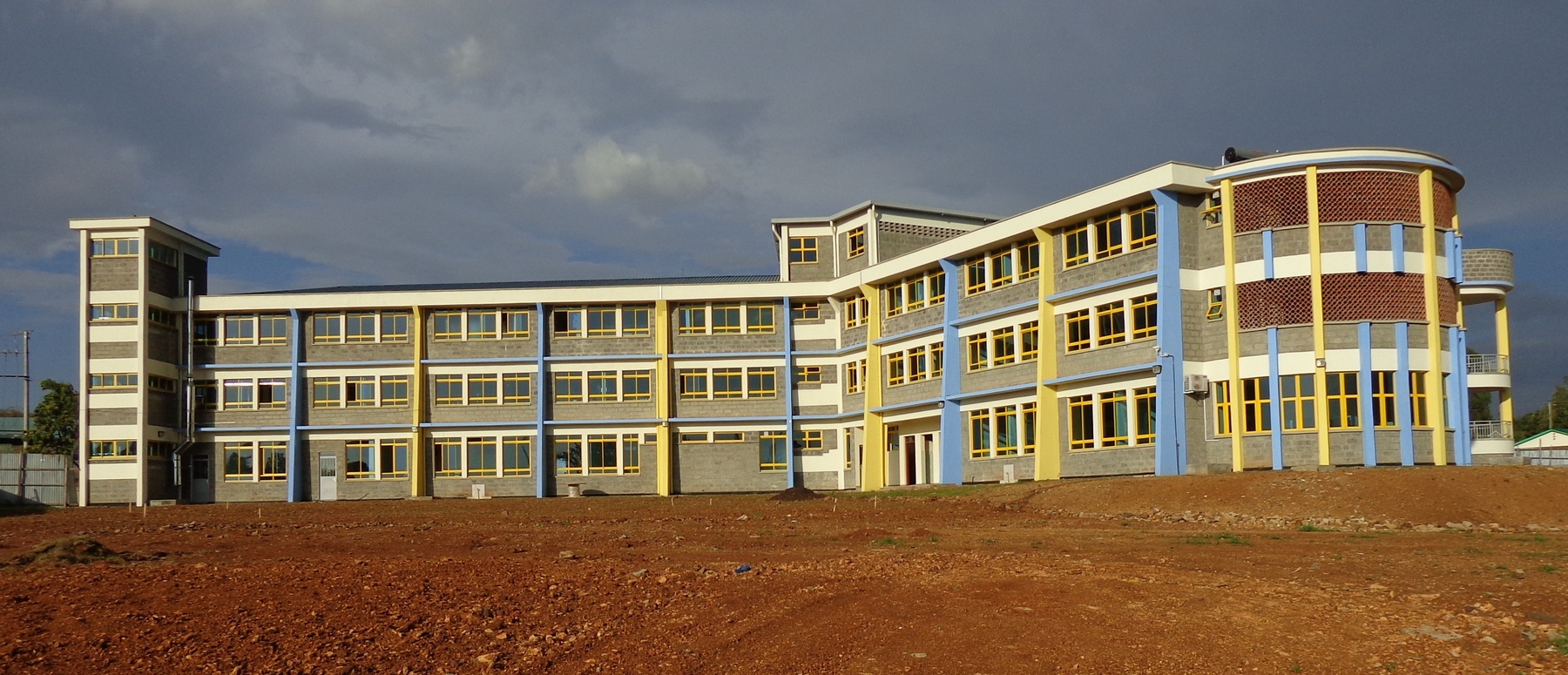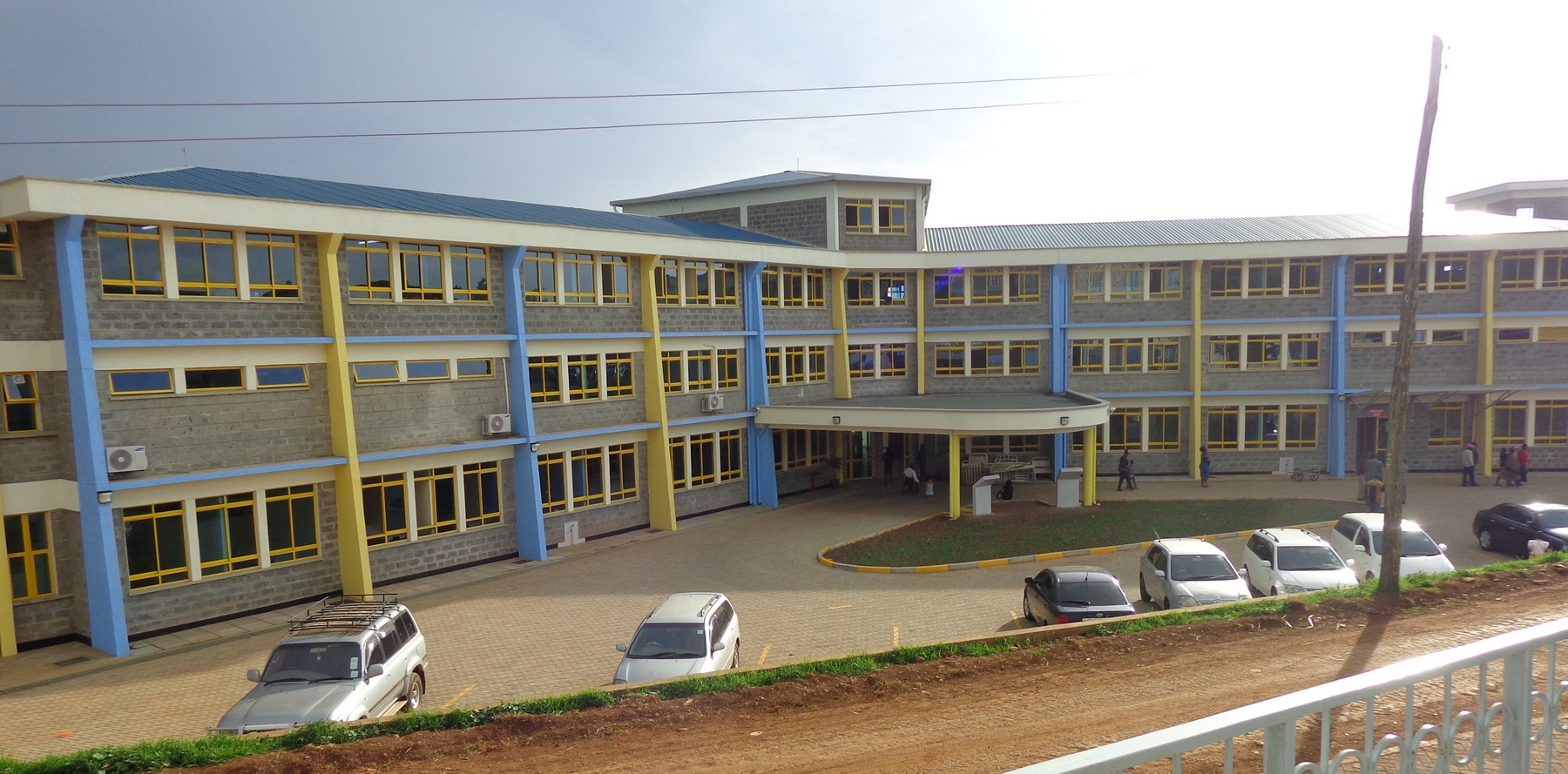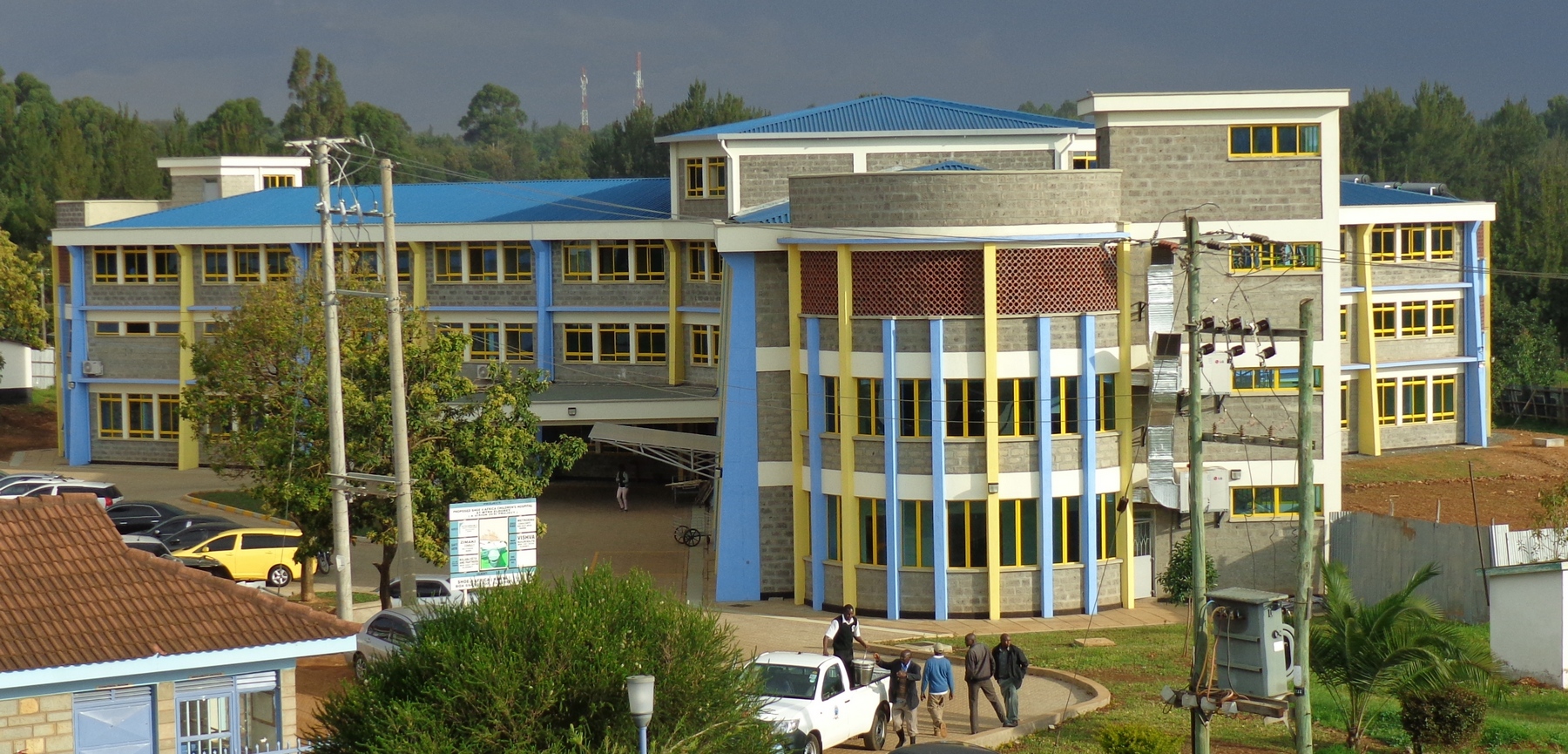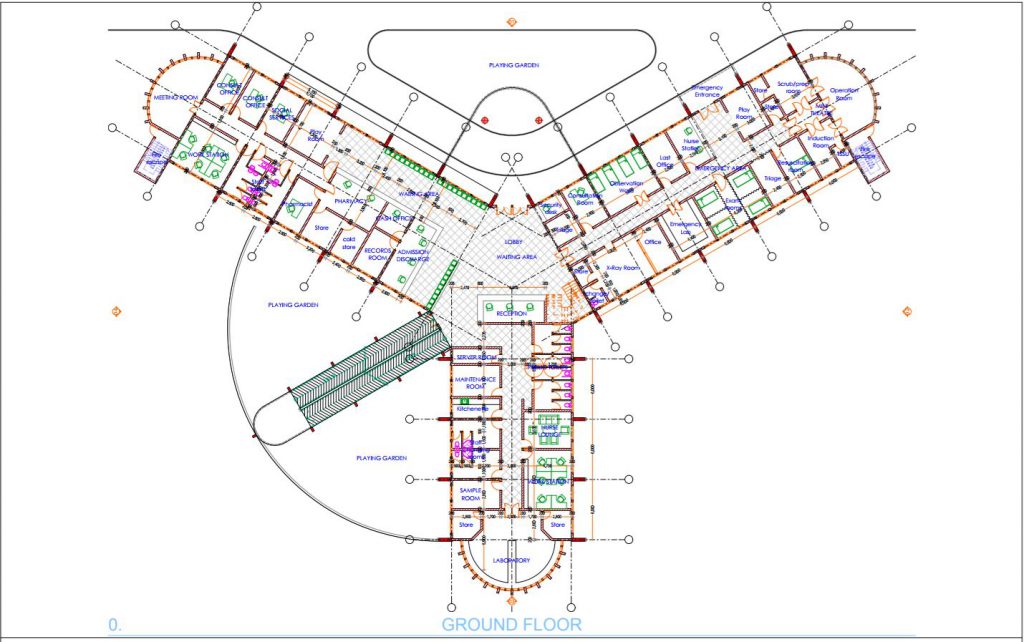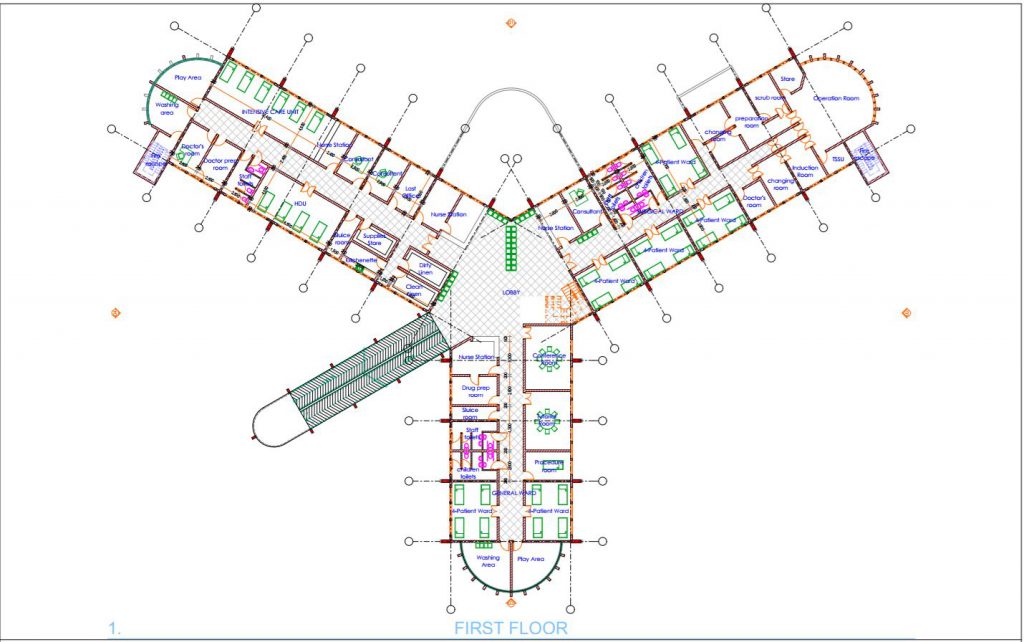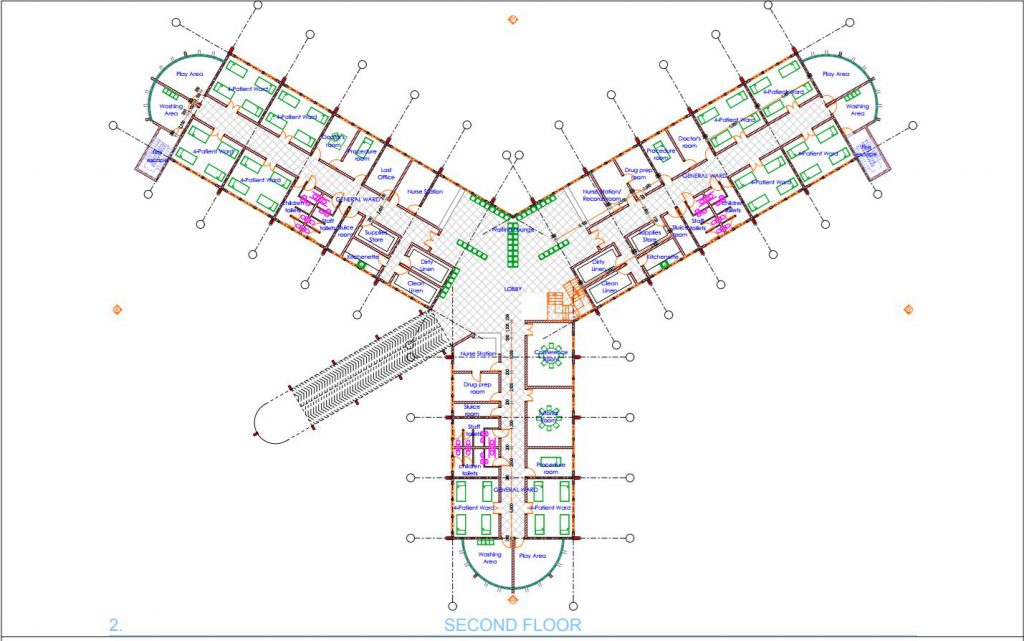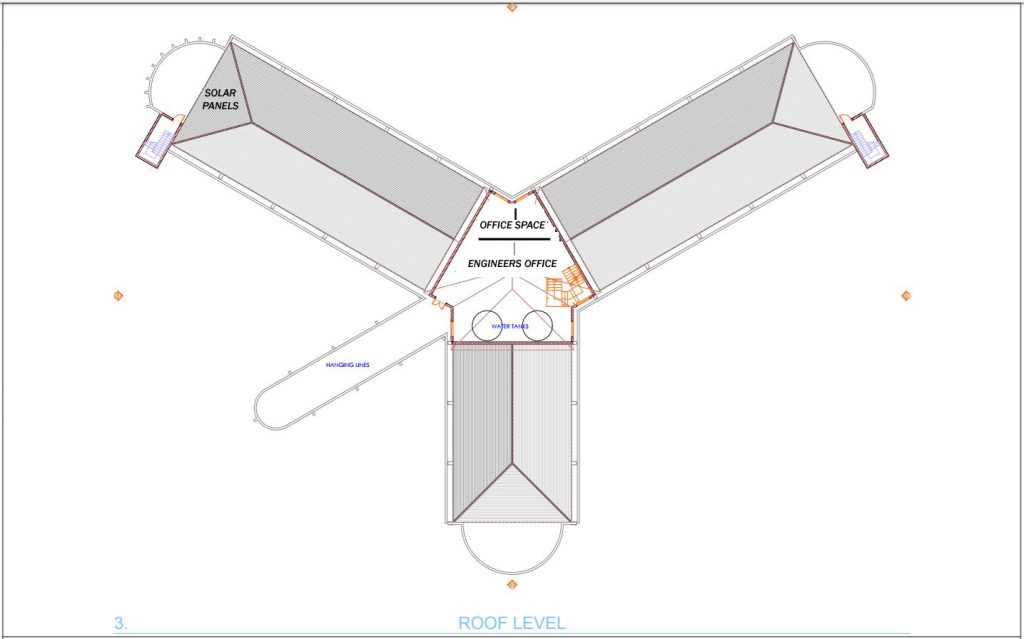 ABOUT OUR LABS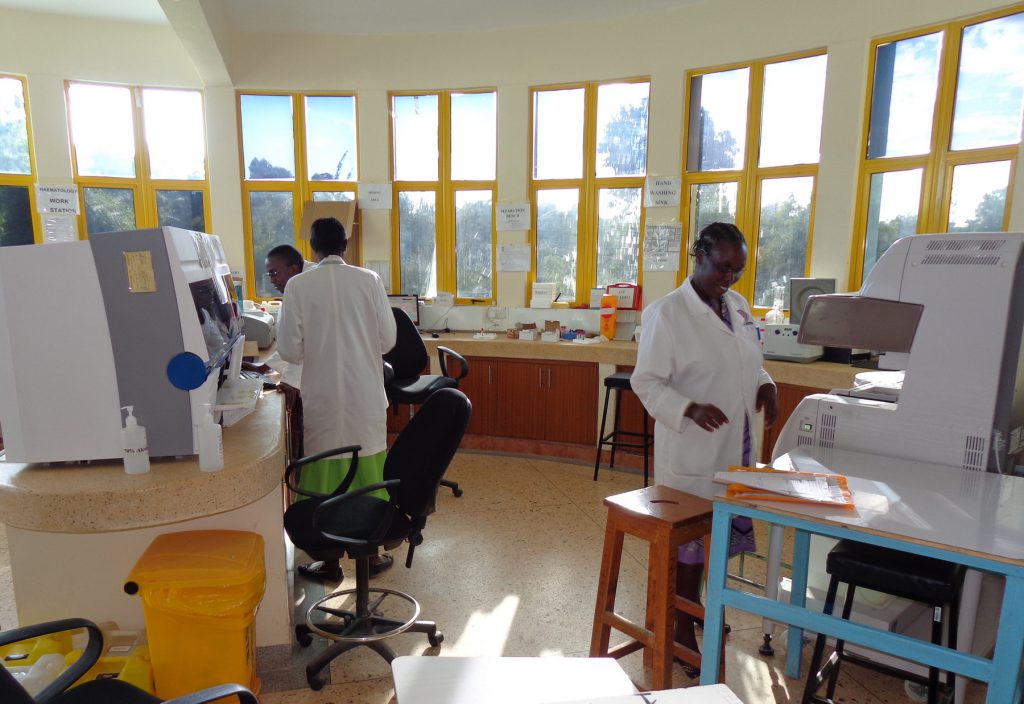 1.    Our labs can test over 150 patients daily, in less than one hour test results turn around.
 2.       Most common illnesses for outpatients are typhoid (and infectious bacterial fever with an eruption of red spots on the chest and abdomen and severe intestinal pain) and malaria.  About 40 of 150+ are complicated test cases, like cancer. These take two days (other government hospitals take 14 days for cancer test results).
3.       100% of all prescriptions are filled in The Shoe4Africa Public Children's Hospital pharmacy.  We have heard reports of 50% and below for other hospitals in Kenya.
4.       The Shoe4Africa Public Children's Hospital has a 100% success rate in mitigating medicine and medical supply theft internally and externally.
How it works:  A system tags a patient with a number from triage all the way to discharge, governs all medications given to the patient.  Example: John Smith is triaged in with code number 8080, all his medical supplies and medication cannot be signed out without that code. When John Smith is discharged, the attending Dr. and nurse go through John's chart crossing off and confirming all prescribed 8080 supplies and medications against the pharmacy bill. No supplies or medications can be given without a patient's code number against it.
SPECIAL PROJECT — Our Playgrounds.
Play is a funny word as it invokes a feeling of an afterthought, or lesser importance than, let's say, 'Equipment'.  Yet can you imagine a children's hospital without a playground?
Right now we can!  We need to build one!
We already have a full-sized regulation basketball court, and a 5-a-side astro-turf soccer pitch for our patients exercise.  11 a.m. each morning is sports time!
"Play is an essential, natural part of childhood, important in its own right. Play facilitates healing, coping, mastery, self-expression, creativity, achievement, and learning, and is vital to a child's optimal growth and development." ACLP http://www.childlife.org/child-life-profession/mission-values-vision
"Following a meta-analysis of 800 studies, Fisher concluded there was cogent evidence for the positive impact of play on children's development outcomes."  -Evidence-Based Practice Statements on Child Life, Donna Koller, PhD submitted this paper, which was approved by the ACLP in 2008……    "(Play) reduces the need for potentially dangerous sedatives and pain medications and helps children heal faster with less long-term psychological effects." Dr. Abiodun Oyebola……    According to the American Academy of Pediatrics (AAP), "Play is essential to development because it contributes to the cognitive, physical, social, and emotional well-being of children and youth."  https://pediaplay.com/category/play/
The Proposed Playground Plan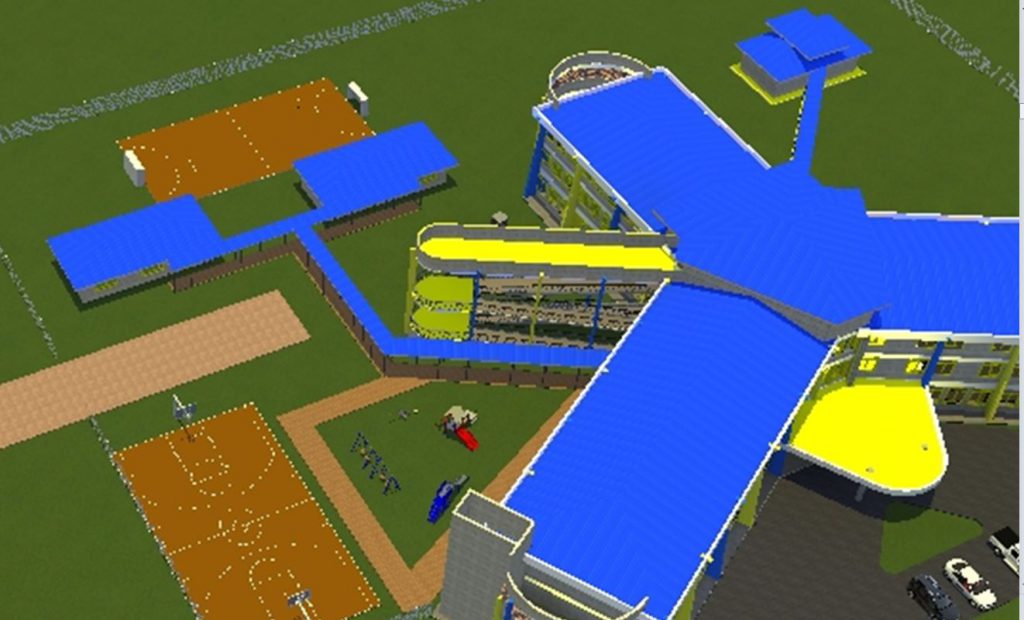 Quick Facts about the Hospital
The Shoe4Africa Hospital was opened on Aug 12th, 2015.  The saying "Yes" to this project happened on March 17th, 2008.
Today the hospital has grown from 105-beds to 157, to over 200-beds.  In May 2017 the hospital had an average of 221-inpatient and 98-outpatients per day!  Every three months our average is growing!  No child is turned away from this public facility thus overcrowding is a reality.  (St. Jude's Hospital, the famous kids hospital in the USA has around 70-beds)
The catchment area is 20-million however kids from outside this area are starting to come to the hospital; we have received patients from as far as Southern Sudan, Tanzania, Rwanda, Burundi, and Uganda.
When it opened it was only the second public children's hospital in Sub Saharan Africa, which has a population of well over one billion people.
East Africa is home to some of the world's best endurance athletes.  Two of the absolute most famous would be Eliud Kipchoge, Olympic Champion, world record holder, and "Mr. Sub2" and Mary Keitany, the Women's world record holder.  Both are our Shoe4Africa Hospital Ambassador's and visited the hospital on Dec. 24th last year to hand out our 450 gifts to the patients.
The 2 Running Club, with well over 30-world famous athletes and Olympians have also supported, coming to greet the kids, and recently donating a TV and dish for kids entertainment.
Eliud opened our Astroturf soccer pitch, May 2019, and Mary opened our Basketball court, December 2018.  We believe we are the only hospital in Africa to focus strongly on sports rehab, thus having such facilities.
The site was designed to be extremely accessible; there is an International airport 15-kilometers away, plus the main Nairobi to Uganda highway is 2km away.  The hospital is in the center of Kenya's fastest growing city.
The Shoe4Africa Hospital is a teaching school.  Each day, Monday to Friday, a large bunch of medical students from Kenya's second largest public university come and do the rounds as they study to become East Africa's next generation of medics.
Over half the population of Sub Saharan Africa is under the age of 20.  Kids health needs to be a bigger priority to the region.
The first kids hospital was the Red Cross in South Africa.  The Second was Shoe4Africa, and the third was opened in September 2017 and was the dream project of a man who stated his idea in 2005; Nelson Mandela. "A specialist dedicated children's hospital will be a credible demonstration of the commitment of African leaders to place the rights of children at the forefront – nothing less would be enough."
The Hospital has a very unique design, shaped like a flying Tristar.  Although this design was far more costly than building the traditional Brick shape it is ideal for a medical facility as the air flows exceed twelve 'changes' per minute helping stop the transmissions of diseases.  It also allows the use of more natural light aiding in the well-being of patients.
Why a Public Hospital, don't Private's run better?  We built for the people of Kenya, not for the children of diplomats, UN workers, ex-pats, charity workers, and for the wealthy who can afford private services.  A national public healthcare system, with public hospitals, will help uplift and build a healthy future for Kenya.  Private hospitals, run on a for profit basis, make choices who they treat; we don't.  Every child is treated.
Classrooms were opened on August 1st, 2019 to address the educational needs of patients.  Some of our patients stay months and education is critical in an area of high unemployment.
Hundreds of jobs have been created by this Kenyan built, Kenyan run, Kenyan owned Hospital.
Stories from the Hospital
In the Forward position for our soccer team at the hospital is Moira. A very thin (for obvious reasons), girl who's eight-years old. Moira is perhaps the one player that moves the slowest. The reason she does is mind boggling.  She, like most of the players, is one of our cancer patients. With a spirit of hope and resilience, Moira was certainly not about to be left out of the team.
She found a green shopping bag somewhere in the hospital, put her catheter inside as if it were a spare sweater, and lined up like a true soccer star! Tis the reason she moves slowly. Of course the doctors were shocked to discover Moira had given herself a clean bill of health and fit to play soccer.
Moira comes from a small town located in the northern part of Kenya. She started complaining of a very painful upset tummy about a year before she came to the Shoe4Africa Children's Hsp.
Her mother thought she'd eaten something bad and gave her traditional laxative to clean it out. But the pain increased and her tummy begun to swell. She also began to lose weight, becoming very withdrawn. Two months of trying many various local medicines, were not making Moira any better. Finally she was taken to the local dispensary where the clinician knew about Shoe4Africa Public Children's Hsp. Sadly at this point (as for many of our cancer kids), the cancer was now in stage three.
Moira was brought in by our ambulance and tests done immediately. Within four days she had abdominal surgery. It's been nine months since Moira was brought into the hospital. Her mother says the greatest thing that has happened to Moira is that she now has no pain. And no pain means something good is happening.
After fighting for her life, on team picture day, Moira's least worried about what's in her green bag, and she's happy to be part of our team and bonding with her friends.
While each of you continue to raise funds this week for Shoe4Africa; never forget, that even the smallest gift is changing a life. All these children would have a completely different story if our hospital did not exist – Asante sana (Swahili for thank you very much).
Samuel
It's well known that the role of a Striker in soccer is to score goals. Peeling off defenders and speedily weaving though tricky spaces, the team counts on them to score. Well….our Striker has broken his bones six times in two years! The Shoe4Africa soccer team is brought together by hope and a prayer! Samuel, who is 11-yrs old, is a boy of amazing energies.
When Samuel was nine, he broke his left leg just above his ankle jumping off a low bench. Something he'd done so many times. That same year, just after the first cast was removed he broke his right fibula. This happened while playing soccer with the neighborhood kids. Hopping around with a cast on his right leg, Samuel trips and falls; this time breaking his left arm. These random fractures happened for two years. Making Samuel a liability, yet he used to be the most athletic boy in his village among his friends.
Just before his 11th birthday, he started complaining of pain though out his body. He begun to lose excessive weight and could not sleep at night. He started hallucinating and passing out. A lady in Samuel's local church mentioned Shoe4Africa Children's Public Hospital. Isabella, Samuel's mother, with the help of the church pastor, called Shoe4Africa. At this point Samuel was in critical condition. The Shoe4Africa ambulance was dispatched almost 200 miles away.
Unlike the set up in America where ambulances are minutes away from the point of need, in rural Kenya the ambulance can be hundreds of miles from the point of need. Coincidentally most of our soccer team has been picked up hours away from the Shoe4Africa hospital. That in its self is a miracle made possible by every single one of you reading this story; helping the Shoe4Africa mission.
When Samuel arrived at the Shoe4Africa hospital, they immediately performed scans and tests. It was determined Samuel had bone cancer. Chemotherapy was immediately started and six-months later we have a Striker on our Shoe4Africa Public Children's Hospital Soccer Team. Doctors tell us Samuel arrived in a sorry state, and had he stayed without medicine for another couple of months, he would not be with us today.
Victor!
Victor is our star youngest member of the Shoe4Africa soccer team. At age two it's so hard to see him in pain. But you would never know it when he's dressed in team uniform; where the youth size XS soccer jersey hangs down to his ankles. The team soccer socks are longer than his little legs, but Victor insists on holding onto them. Shorts for Victor….optional.
Sharon, Victor's mother is just as special as her son. She's only 19 years old.  Yet she carries herself like a mother in her 30s and one with more experience than the teenager she is.
Victor formed a slight swelling under his right ear in 2017, his mother thinking it was a lymph node swelling, begun to treat him for a common cold. After one week of no change, Sharon took Victor to a local clinic. There he was treated for Malaria.
A month later, the swelling formed into a wound with puss. Victor begun having sleepless nights of pain. A church member suggested the Shoe4Africa Public children's Hospital. Sharon and her sister had planned to take Victor that weekend, but his illness became worse. When Victor started passing out, the local doctor from the clinic called the Shoe4Africa ambulance. 168 miles to where Victor's home was.
Victor, like almost every member of our little soccer team, had to be resuscitated several times on the journey to the hospital. He finally made it. His swellings were found to be cancer. Victor has been weak from chemo, but is slowly improving. Sharon says she had no idea Victor loved soccer but he will not leave his team mates for long without crying, as you can see with this picture.
He's in pain and he's too small; he barely understands the older kids and he cannot stay in the sun too long. But he's on the team and no one is going to stop him!!! That's our star youngest member.
Brian Kiprono
Brian is our soccer captain! He came to the Shoe4Africa Public Children's Hospital on April 5th, 2018. The ambulance arrived at 2:00 am after Brian had been resuscitated five times on the road as he was slipping from life. Brian is from a small village about 120-miles from the hospital. He is 10-years old and has six other brothers and sisters. They all live in small house with a tin roof and mud walls.
His mother tells us that Brian's symptoms stated with nausea and loss of appetite. They never really had much to eat as a family; but even the little he was given was too much for him to finish. The local traditional doctor told them that it was malaria. So, for eight months they were treating Brian for 'malaria' with traditional medicine with of course no improvements.
At this point they had sold their only two cows to pay for his treatment. His father then took Brian to the local clinic after he'd developed severe tummy aches. The doctor there diagnosed nothing and prescribed only anti-acids.
Finally, a visitor to the village from Eldoret town told them about the Shoe4Africa children's hospital.  They phoned and described his condition.  Immediately we sent an ambulance.  Brian was picked up in critical condition and brought to the hospital. There he was diagnosed with stomach cancer and has been getting chemotherapy treatment. He's been in the hospital a little over a year now; and is definitely the leader of the pack! Happy, positive and very smart.
Meet Beryl!
She's our vibrant eight year old goal keeper who was born to a 17 old mother (at the time), who had to drop out of high school due to the shame and stigma of teenage pregnancy.  Beatrice was never able to go back to school again and despite their struggles and simple life, Beryl was a healthy happy kid.
Till June 20th, 2018, when she was suddenly unable to come out of bed, too weak to sit up either. Beatrice says she could not keep any food down no matter how little it was. The first thing the family and neighbors' thought was maybe it was witchcraft. Beryl's sudden and acute illness had no other explanation. That same day they consulted a witch doctor whom believed he could cast the spell away and give a healing remedy.
Though Beryl only continued to get worse – going in and out of consciousness. Beatrice said to us; she knew this was happening because of the shame she brought on her family with the teenage pregnancy. When Beryl started going in and out of consciousness, a different remedy had to be found. Fortunately, a member of their church had heard about the great work Shoe4Africa Children's Hospital was doing. But the distance was far, four hour's drive, and with no money for transport and the very poor condition Beryl was in; it was not a possibility. Beatrice just continued praying for help.
Luckily the church member called the Shoe4Africa Hospital and immediately our ambulance was dispatched to travel from the hospital to Beryl's home. She was immediately given three pints of blood. She was resuscitated twice on the journey. On June 27th upon arrival Beryl was diagnosed with blood cancer.
She has been getting treatment since and she is now running around in the hospital at breakneck speeds and has made many friends. Beatrice, her mother, laughs as she tells us how Beryl was discharged a week before Christmas but she went on strike and refused to leave her friends staying an extra week.  Nowadays she returns for short stays as she continues to heal, never failing to pass by our office to pick up more toys.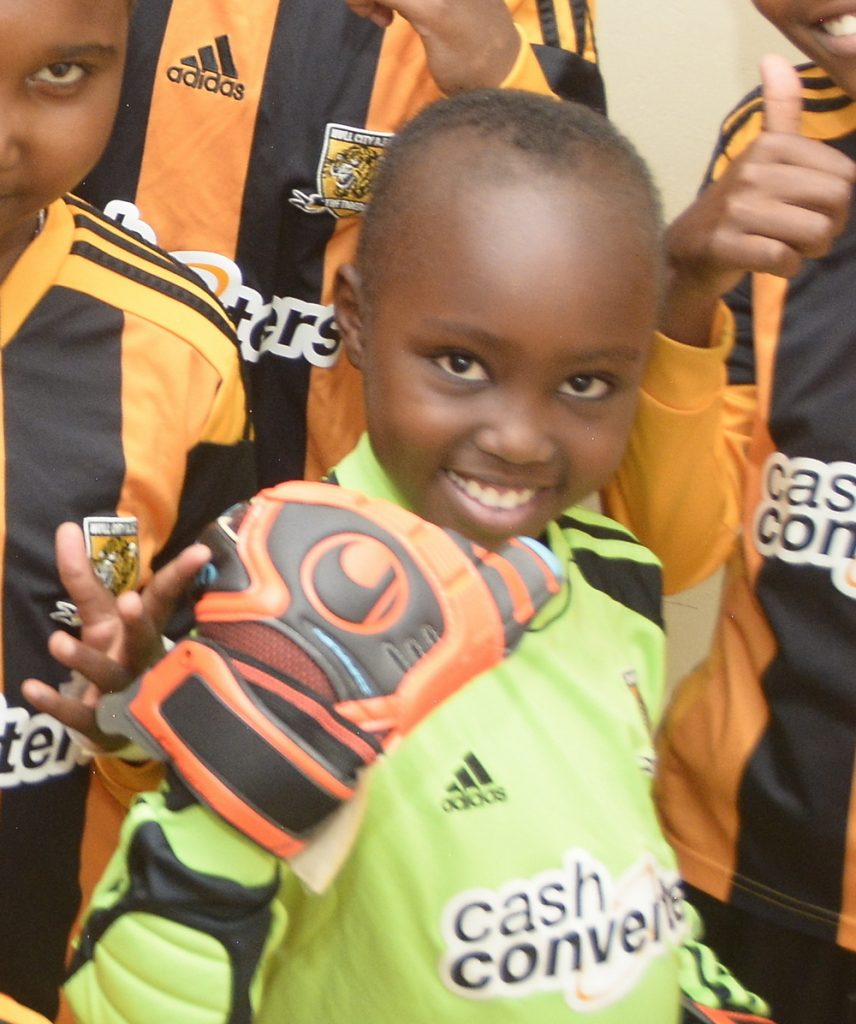 Beaming Beryl!
A little girl called Lodunga.
Lodunga means a beautiful fruit tree in the language of the Turkana tribe, people of northern Kenya.
Lodunga is a beautiful dark skinned and bright eyed 10-year girl. The daughter to Ekuno, a tall elegant 26-yr old mother who dresses in full Turkana traditional clothing. Ekuno had Lodunga at 16-yrs of age. Lodunga is the first of three children. (Ekiru a boy of 8-yrs and Egule girl of 3-yrs followed).
Ekuno and her three children live in absolute poverty. In the heat of 110-degrees in Northern Kenya, Lodunga can only scavenge for food in the cool of night. One night Ekuno put her three children to bed. An animal skin for a mattress in a mud hut 6ft x 8ft in size. One side of the hut was the cooking area while the other was the sleeping area. Ekuno set off with two other young mothers from the village. She had put out the wood fire… so she thought, before setting off.
The search for food would take all night; she often did this every few days. Ekuno had no fear leaving her three children sleeping; this was a survival trip she was making. When she was asked where she was going to find the food, she said in the bushes and along the road. Mushrooms, weeds, roots and herbs. She said the three young mothers used the usual route they had used for weeks. Then she said at about 3-am, she heard voices calling their names. Their baskets were almost full at this point. It was pitch dark, but it was clear the voices were mixed with cries. Finally they were met by a crowd of older women and young men. It was her name they were shouting out. Ekuno said she threw her basket as she immediately knew something was wrong.
(At this point she stopped talking for about 5-min as tears rolled down her cheeks and unable to talk any further through the Turkana translator next to her at our hospital).
Ekuno begins to talk again. She said she'll never know how fast she ran. But it was over 15-km at full speed; crying and shouting out for her children. As she approached the village she could smell the heavy smoke but couldn't see a fire. Held back by the villages, she somehow managed to fight them off and run to her hut. There was a reason they tried to pin her down. To save her from the horror that had happened.
The fire she thought was out was still burning. It flicked and caught the corner of the only blanket all three children shared. Within minutes the tiny hut, with grass thatched roof was in flames. Ekuno had locked the children in with a padlock from the outside. Thinking this was how to keep them safe – just like she always did. The children were unable to escape. The villagers battled the flames as they tried to break the door open. Finally the door burnt down and one villager was able to pull on whatever they could hold onto in the dark. It was young Lodunga's left leg. They pulled her out of the burning hut. Most of her body, legs, top of her head was completely burnt. Her younger siblings were burnt beyond recognition. Not a single bone was to be found of their tiny bodies.
Mother Ekuno begins to cry again….how could she not; this had happened three months ago. Three months ago, she was a mother of three. Today… a mother of one single child fighting for her life.
Good Samaritans brought them to Shoe4Africa Public Children's Hospital the next day. She does not know who the man was that paid to bring them; nor has she seen him again. She can't remember anything apart from arriving at our hospital after a long journey that took an entire day.
Lodunga was given little chance to live in Turkana but the doctors at Shoe4Africa worked through the night, the next day, and subsequent days to save her life… and they did.
Today Lodunga is still covered in bandages from head to toe. The Doctors at Shoe4Africa burns unit say she will be in hospital for at least one year. The mother says she has nothing to go back home to; Everything she has is with her – Lodunga.  She does not want to leave the hospital.
The Shoe4Africa hospital will not charge Ekuno a dime. She has none to give. But the hospital staff and doctors give them the best care. Ekuno says with a slight smile 'God is in this place, I have never been in a building this big or seen so many nice people'.   She reports, 'Every week, every week, I see my daughter heal.  She will pull me through, and I know if I had remained in Turkana I would be a broken woman with three dead children.'
Hope from such a tragedy, because of giving hearts around the world Lodunga will heal and live a normal life!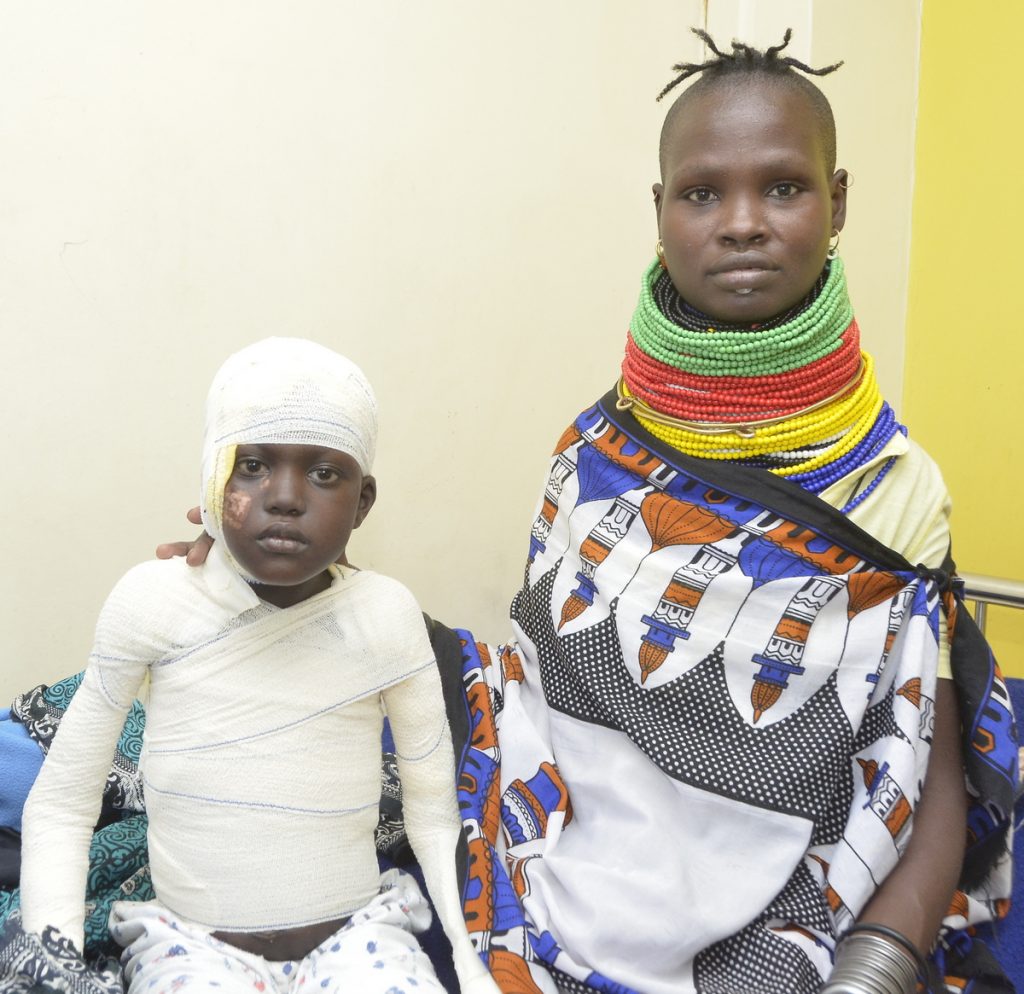 Charles* is a 13-year old resident of Lwandeti, Kakamega County. He is a standard 3 pupil. He has been raised by the grandmother, after the mother abandoned him as a little boy. There are two other siblings in the family.
He has been assaulted a couple of times before, even once getting involved in an accident. In another incident, he suffered second degree burns after the uncle tied him up and set him ablaze. He was quickly rushed to Kipkarren hospital and admitted for 2 weeks.
He was then referred to Shoe 4 Africa and admitted for septic burns on the left arm secondary to assault. Initially, he displayed signs of severe  shock for about a fortnight. However, after spending time with other children at the playroom and playground, Charles started being interactive.  Our social workers and staff are highly trained working with the local administration on his safety and protection.
Once fully recovered, he will be discharged through the children's department. It is hoped that Charles will not have to go undergo such inhumane treatment again. His rights are enshrined in the Children's Act and he is entitled to protection and safeguarding.
He has continued to show great signs of improvement while displaying great strength. Not only does he look forward to being discharged; he has also set his eyes on returning to school and working really hard. (name changed).
Grandma Jane.
Grandmothers are always everyone's favorite family member. Grandma Jane is definitely one. In fact she is her grandchildren's hope. In the slums of Kakamega, about 3-hours from the Shoe4Africa Children's hospital, the same sad stories are found; no different than the slums around the world.
Jane has four sons. All four sons took off to find a better life outside the slums. None of them ever returned to check on their mother Jane. As she tells the story, she says in a way she was happy for them. Assuming they had found a better life.  Unfortunately, whatever life her sons had chosen, was not better than the life they left behind. Grandma Jane tears as she begins her story.
In 2014, a very weak sick baby was dropped off at her door step. Grandma Jane took one look at the baby boy and knew he was her grandson.  While we looked at her wondering what she did next that day, she said two more children were brought to her hut by different women in the next coming years. All different ages and each woman fed up with her sons and their lack of child support. Thousands of women in Africa raise their own children in absence of their fathers, but when one is a prostitute (which these women were), motherhood gets in the way of the fast, dangerous lifestyle.
Feb, 2017 Luka (baby dropped off in 2014), died of HIV AIDS. Grandma Jane now had two grandchildren. Alex was dropped off at age 7. His mother could not take care of him anymore with his disabilities. Alex's only disability was being deaf and dumb. Eunice was 3-years, the other grandchild.  Everyday as Grandma Jane went out to look for food for the day, she'd leave Eunice with a neighbor and tie Alex to door frame. The rope around his ankle was long enough that he was able to lie down on twin bed in the single room house. This was Grandma Jane's secret for almost two years.
She would also leave Alex a cup of water and some groundnuts. Two years of daily movement allowed Alex to finally snap the frayed rope. Grandma Jane had just stepped out and supper was on the open fire.  No one knows what actually happened when the rope snapped. Perhaps he leaped with joy that he was now free. But jumping around in tiny space with an open fire can quickly become tragic.
In early 2017 Grandma Jane walked in to find Alex's body totally burnt except his head. Dr. John Chumba, one of Shoe4Africa's doctors, tell us it's a miracle he is alive.  Alex is now in a wheelchair unable to stand because of his burns.  Grandma Jane lights up with a smile at the end of her story and says, 'Look, we are here at the hospital with beds, three very good meals and doctors to treat Alex'. What resilience in Grandma Jane. Without Shoe4Africa Public Children's Hospital, there would be so many tragic ends to sad stories like Alex and his family. The social workers in the hospital are working with Grandma Jane to make sure her situation changes now Alex is on the mend!  We have also found Grandma a job at our Women's Empowerment Projects.
UPDATED AUG 2018 — Alex is now able to walk!!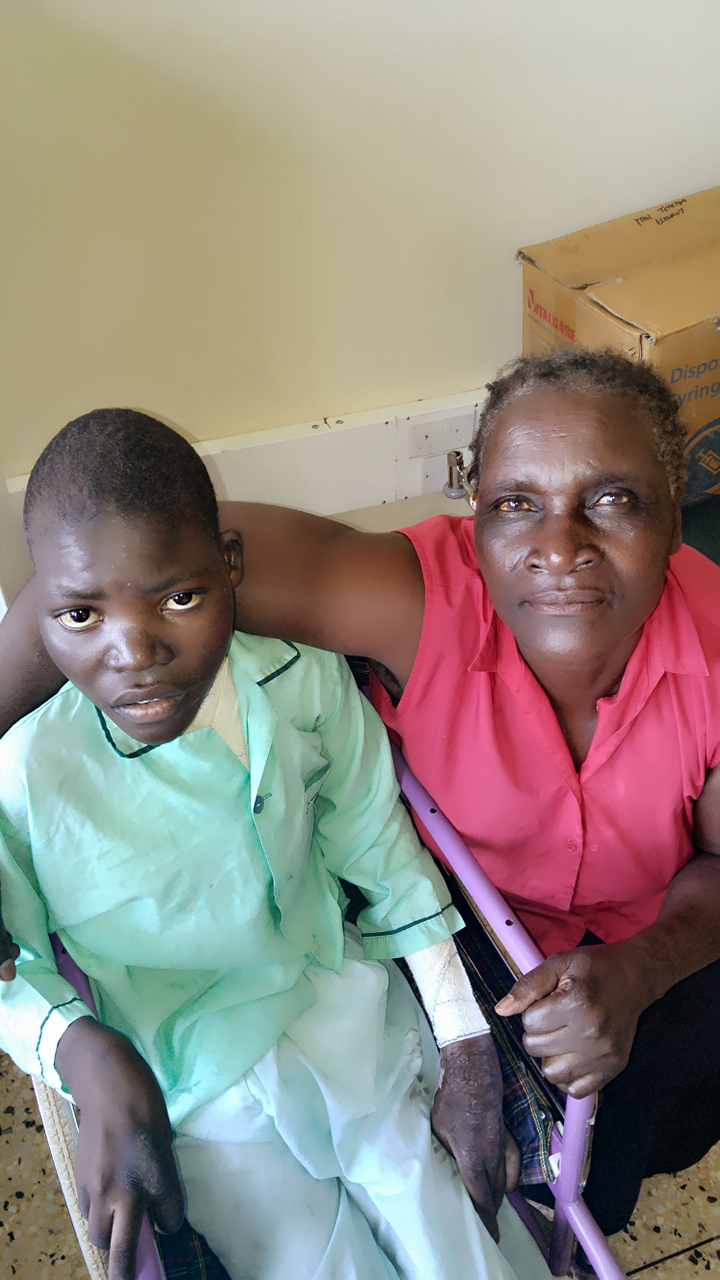 Grandma Jane and Alex
This is the story of Purity Chepkirui.
She's a three year old girl whose life has been saved because of the Shoe4Africa Public Children's Hsp. More importantly, she was brought to the hospital in critical conditions.
Purity was born with a rare condition. She was born without a nasal bone and without part of her nasal cartilage. Our understanding of what the doctors say is that massive amounts of fluid was sitting in the gap and flowing into areas that were causing damage in Purity's head. Naturally what should have happened would be a formation of cartilage between the tip of her nose to her brow bone to take the place of the nasal bone.
Purity was taken to several hospitals and she had episodes of unconsciousness and excruciating head pain. Each hospital visit was all in vain. 98% of the children brought to Shoe4Africa Public Children's Hsp live in abject poverty. Arriving at the Shoe4Africa Public Children's Hsp was Purity's mother's very last option. Her mother had no more money to travel to yet another hospital.
Like the medical staff does so well at Shoe4Africa's Public Children's Hsp, Purity was triaged in no time and wheeled into surgery. When she arrived she had been unconscious for a dangerous amount of time. The fluids were drained and preparations for subsequent surgeries are underway to build her nasal bridge and reconstruct Purity's face.
These are our stories of triumph, where parents who have lost hope or with very little hope, find it again at the Shoe4Africa's Public Children's Hsp. Purity, unconscious, was extremely close to death.  The reality was, and affirmed by the Doctors, Purity was only hours away from her death.  Today she is stable, healthy and on the road to recovery. Yet Purity was attended to because of runners and givers like yourself.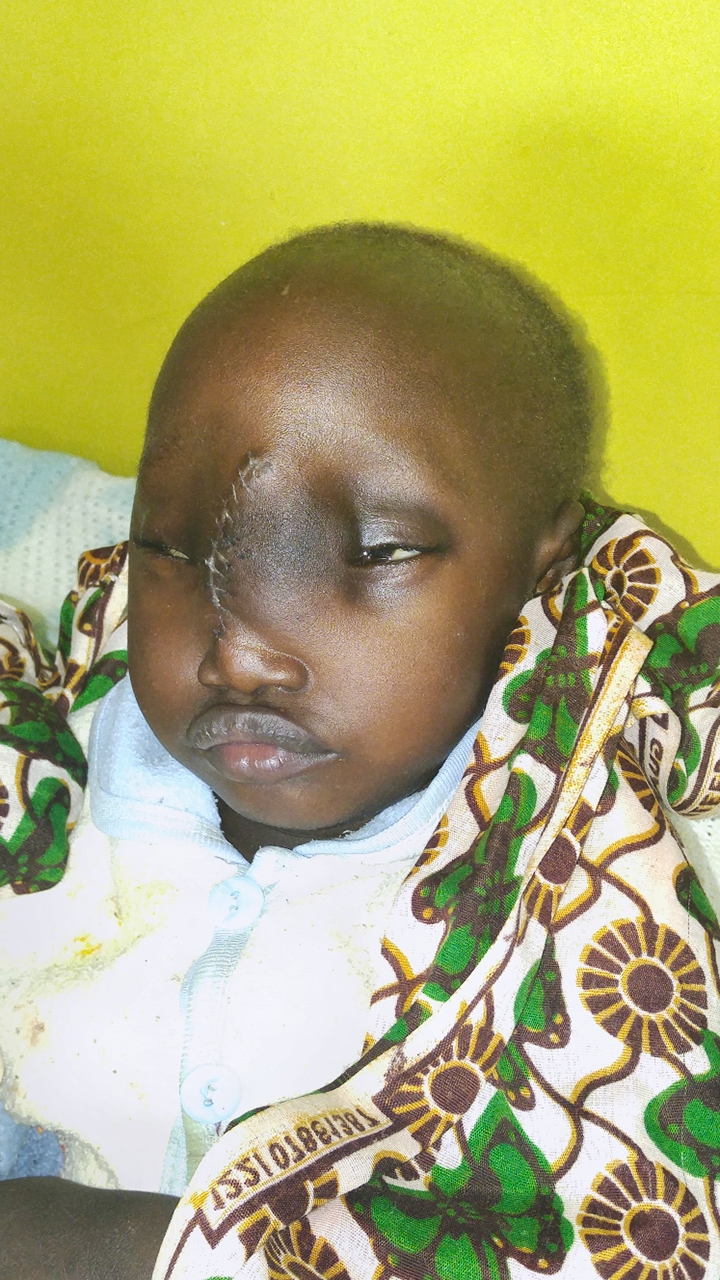 Purity
Next up a story about Precious, and since posting we can thank Tina & Michael for stepping in to help!
Precious is a one year old girl who truly is precious. Her mother Mary is a single mother. A result of an unwanted pregnancy in the midst of poverty. Mary had been looking for work for over a year and finally found a job as a house maid, 3 days per week. She did not tell her new employer that she had a one year old daughter because that would cost her the job.
Without money or willing relatives to watch Precious the three days she worked, she had to leave Precious at home. A nightmare situation for any parent. She rented a dark tin room in the slums of Eldoret. Everyday she locked the room with her baby girl inside, she'd pray that no one would hear and steal her.
Mary would wake up and give Precious a bath in a basin and feed her millet porridge. It was more hearty than breast milk and would keep Precious satisfied longer. Three months of work went by fast; three months of coming home and finding Precious' cloth nappy soiled and her cloths wet with seat from the heated tin room. But, that was all bearable because Precious was still in the room.
The fourth month came along, and Mary continued to go to work and continued to hide little Precious. Precious was growing and on one of the days her mother had gone to work; she began to crawl. A stage every parent welcomes. Sadly, Mary had not put out the cooking fire all out. It continued to burn lightly for several more hours. Little Precious perhaps fascinated by the flames, begun slowly crawling towards the fire. Their bed was on the floor.  She of course had no idea the danger before her. We will never know what exactly happened…or how Precious ended up in flames. What is evident is she suffered and perhaps tried to get away and her little body did not know how to crawl backwards or move away fast enough.
God is merciful. Despite her whole face and chest burning, she is alive. Mary fainted when she saw her baby Precious crying in pain and her face completely burnt. A neighbor happened to be passing by. News in the slums had spread about Shoe4Africa Children's Public Hospital and Precious was rushed there.
She is slowly recovering, in little pain and awaits more healing before a numerous amounts of skin grafting. The burn unit doctors are looking forward to give Precious her lovely face back.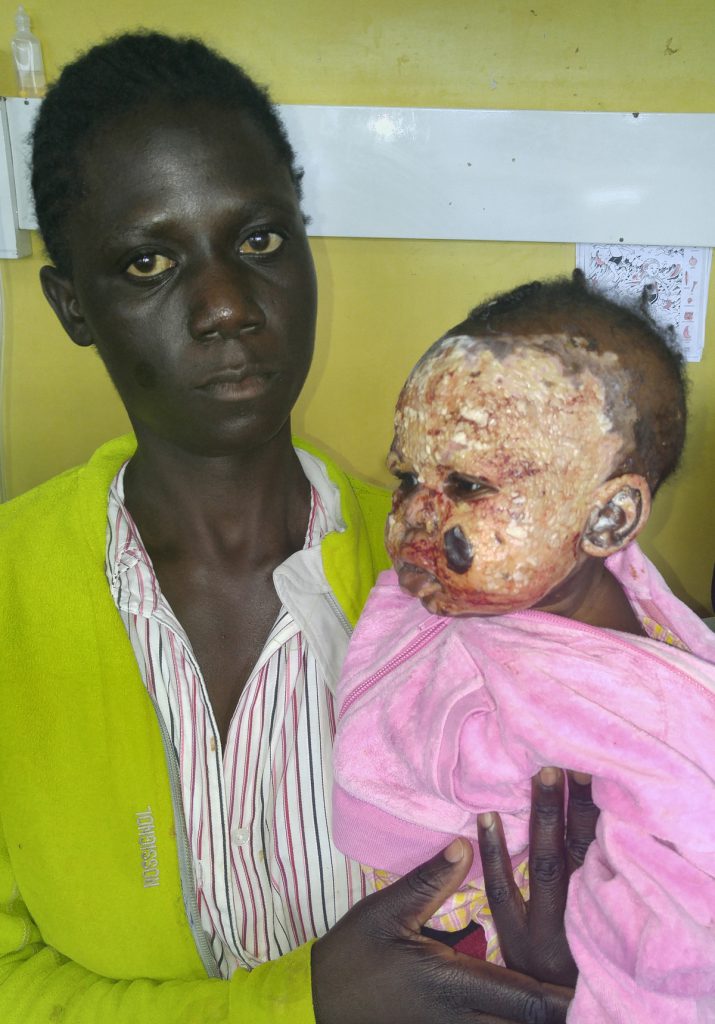 Little Precious
The story of Charles
This is a very sad story. Sad in how humans can be so barbaric to little innocent children.
Charles is an 8 years old and comes from the furthest corner of Kenya which boarders Tanzania. He's from the Kuria tribe, a very small tribe who live both in Kenya and Tanzania. These small tribes are very isolated and often still practice very dark rituals.
One of these rituals, are the practices that happen in search of wealth. Wealth to these people may not necessarily be a big bank account or a huge house. It often translates to spiritual powers or the level of fear the community has for a person and the number of wives and cattle. To get this 'wealth', involves human sacrifice.
It's hard to write this story in 2017 and imagine this happens today somewhere in world.
Charles and his two brothers were very close. Playing with the neighbors outside was an everyday way of life for him. Until one day when four men corralled the boys as they played. It seemed as if these men had been watching Charles and his brothers play daily and knew when Charles' mother left for work and when the boys were alone. The speed and strength of these men, left no time for the boys to run or scream for help. They were carried into the forest and into a shabby mud hut.
Here the unthinkable happened. Charles's big brother, only 11yrs was tired down by the men, while one of them begun to cut his whole genitalia off. Charles told us his brother passed out from the pain and bleeding and then died. Next was his 9yr old brother. Charles said at this point he was screaming at the top of his voice and so was his 9yr old brother…. but for only a little while before he too died. Then it was Charles' turn. He said he remembers screaming and asking God to save him. The cutting had just begun when a group of women broke down the door. He was saved, but very badly injured. Imagine the pain, the fear and the torment those young children faced that day.
The women were mothers of children who'd long gone under the same ritual and mothers who heard the boys screams. They were against this ritual. Charles' two brothers died.  He was taken to a nearby hospital, but they could not do the surgery Charles needed to 'put him back together'.
A local doctor asked them to take him to The Shoe4Africa Public Children's Hsp for two reasons. Charles would definitely get treated and definitely be safe from these men or any others. But The Shoe4Africa Public Children's Hsp was miles away. The women came together and raised enough money for Charles and his mother to travel to Eldoret where the hospital is located.
Charles underwent lifesaving surgery and was safe at The Shoe4Africa Public Children's Hsp. After several weeks, he was able to walk around slowly in the hospital with a limp as some nerves were beyond repair. When he heard Toby Tanser was going to be at the hospital he waited at the entrance with the security guard. He'd been told about Toby and how he saves children. When Charles saw Toby, he held Toby's hand and said 'please don't let me go back home'.
We, at Shoe4Africa, are able to save children because we have the support from everyone reading this article, everyone who's run NYC marathon for Shoe4Africa and everyone who has given to Shoe4Africa over the years. T H A N K   Y O U!!! Together we've built a safe house inside the hospital!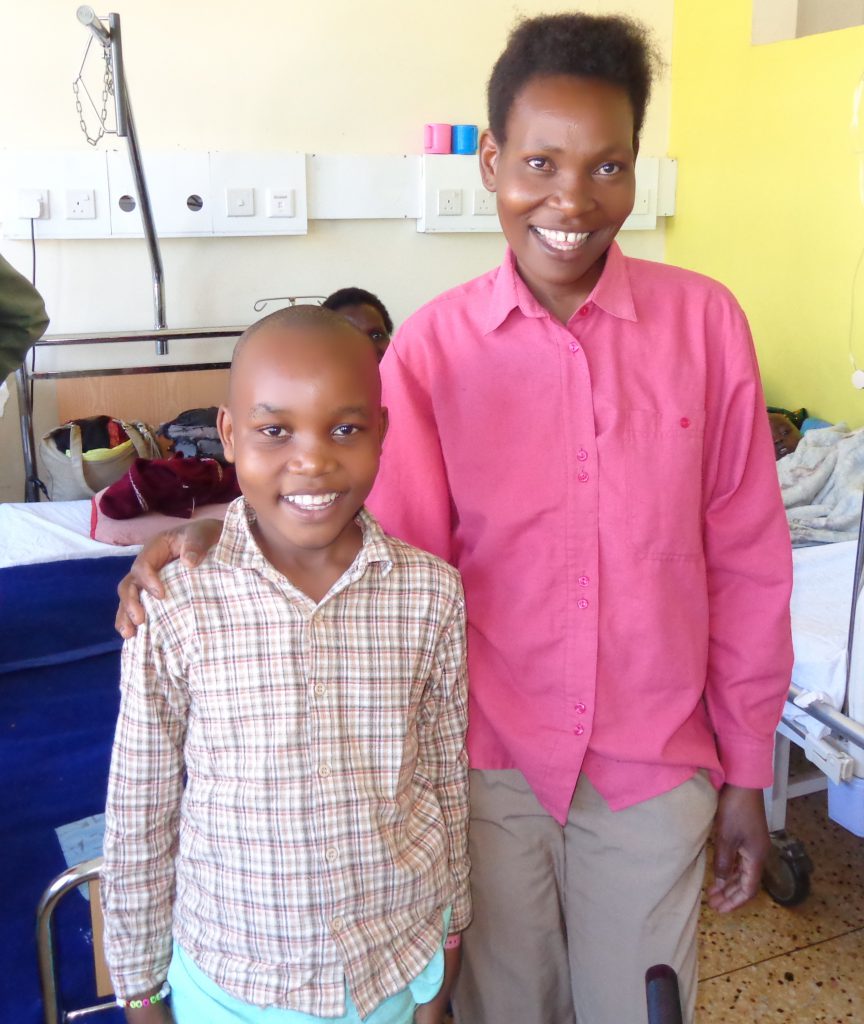 Charles and his mom
In the Neuro-Burns ward is Broton Rutto; he was burnt on a fateful afternoon on 245th August 2017. His mother, Nanjala, had left him sleeping as she had rushed to fetched food from the groceries stall. she got back and found her shack house burning up (the source of the fire is not yet known up today). She rushed in to save her son who was by then crying in pain and half of his body was already burnt.
Quickly she picked up her son and rushed him to Kapenguria district hospital using a motorbike and he was immediately transferred to Ortum hospital which is much better in terms of facilities but as the burns were so  severe, he was then transferred to Shoe 4 Africa Children's Hospital by ambulance. Here he was received well and has undergone surgery and is continuing with consequential surgeries which has greatly improved his condition.
Faith Nanjala is a single mother with two children.  Her first born is 2 and a half years old and Broton is second born at 8 months. She has no formal job and solely depends on odd jobs that come her way, mostly washing people's clothes in order to feed her children. Her first born now lives with the aunt who also has her own children to feed.  She too survives by the grace of god.
Nanjala has not been able to work for three months.  One of the many stories of struggles for a mother in poverty.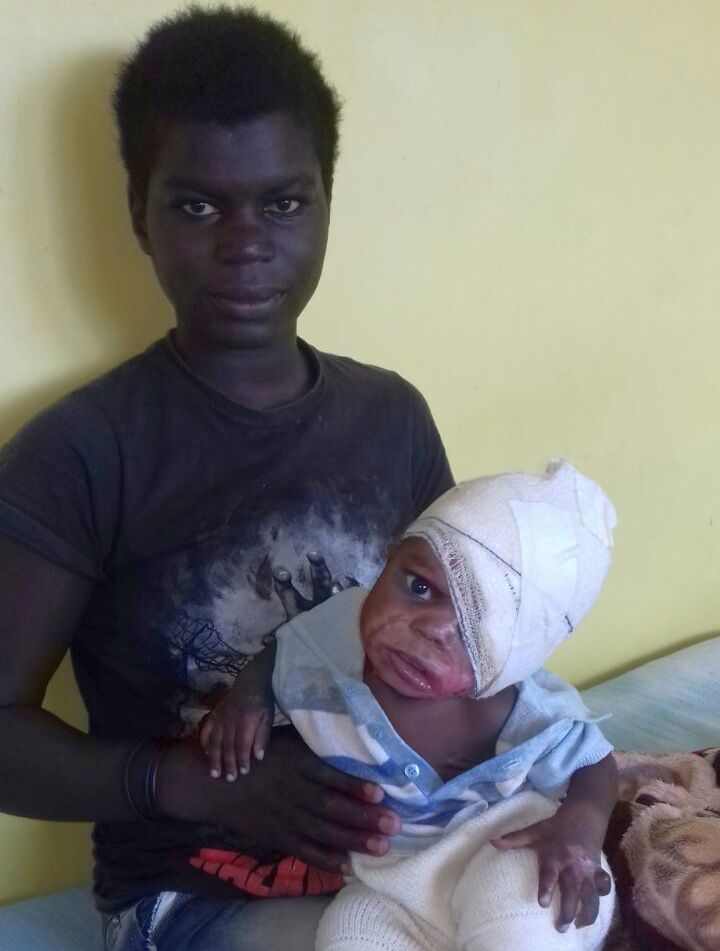 Broton Rutto, and his mother Nanjali
Caren Ekuon of Kakuma camp, Turkana is one of many patients we are helping.  She is just one year old.  The father rides a moped "taxi" to try and make money to support the family, the mother, Maureen has no job.  Caren has Hydrocephalus which started when she was three months old.  They went to a medical center in Lodwar, the closest town, and were referred to us.  I'm glad to say Caren is stable and improving.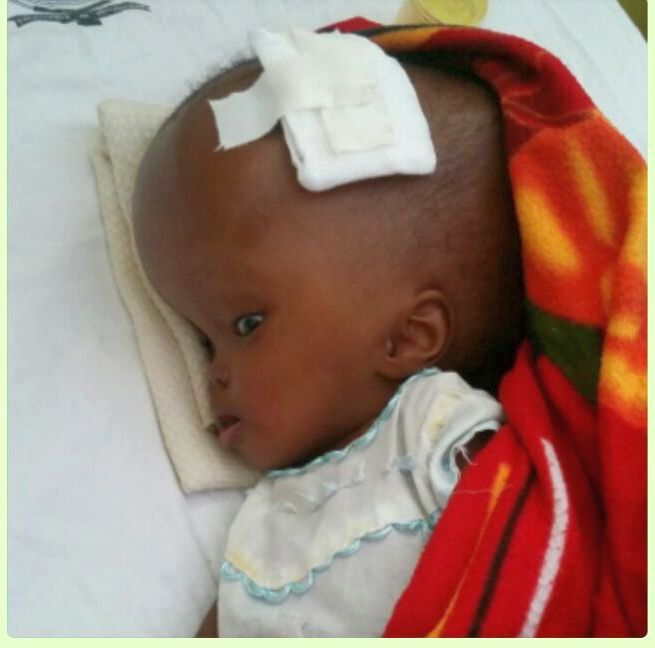 Caren Ekuon of Kakuma
This is Collins. In a remote part of Western Kenya about 170 miles from Shoe4Africa Hsp, Collins and his big brother Benson were out in the field herding their family cattle like they did every day.
This particular day, they spotted a thick wire hanging down from the high voltage lines that stretched across the fields. To Collins and Benson, this looked like a swinging rope. How fortunate, they thought; to break the monotony of herding in the hot sun all day.
The two ran towards the electric line and synchronized, both jumped and grabbed the line. Unfortunately it was a live high voltage line, burning the two boys. Benson died on the spot, while Collins whole left side was burnt. For hours the two boys lay there. Collins unconscious. They were found by their father as he wondered why the herd was not back.
Collins was taken to a mission hospital where he stayed for 3 weeks. His arm badly infected and slowly rotting. His father had to leave with Collins as they could not pay for the escalating charges. A month later, they arrived at the Shoe4Africa Children's Hsp. Collin's arm was now crawling with maggots and severe infection after his family tried traditional medicine and Collins was almost passing from this earth. Collins was examined and was on the operating table within a couple of hours of his arrival. His arm had to be amputated. In the coming weeks he received skin graphing to his left side.
As we interviewed his mother, she had a smile on her face….saying 'If we had not come to Shoe4Africa, Collins would not be here'. She also said, 'If we had come here sooner, Collins would not have lost his arm'. Collins too was smiling, glad that he was pain free. Which meant more to him than keeping his arm. Sadly, he still has not been told that Benson passed on. He thinks he is recovering somewhere else. His family have chosen to wait for his full recovery before revealing this to him.
On Jan 8th Dr. Nathan Mulure, from Novartis, came to visit the hospital and Collins Mum asked to give him an address, "I can tell you for a fact that if it were not for this Shoe4Africa hospital my son, would surely be dead today."  A powerful testament.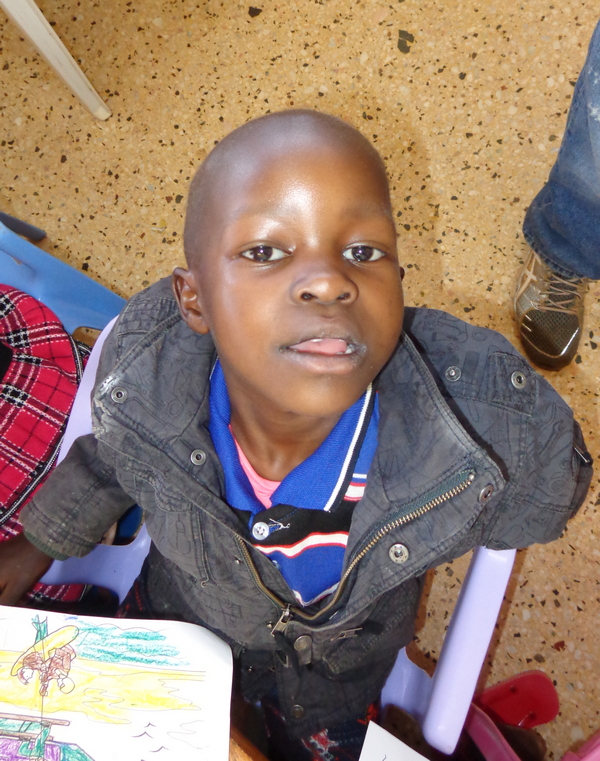 Story of Collins
Naretu, and her mother Priscilla from Samburu, is one of our favorite stories of (so far) a beautiful recovery.
Little Naretu was in a district hospital in Maralel.  For one month she lay on a bed with swollen glands, unable to eat and losing hair.  The medics did not have a clue what was wrong with her.  Her mother, Priscilla said, "There were no machines, they just looked at her."  Priscilla heard of Shoe4Africa.  It took her three difficult days on public transport.  She arrived and her daughter was immediately diagnosed with blood cancer.  After a couple of weeks the Doctor's told the mother "You have brought her too late, she is so sick, she is not responding to the medicine.  We think you had better prepare that this will be your daughter's last Christmas."
Priscilla had five dollars left between her and poverty.  She spent a couple of those dollars braiding her child's hair, "Let her be beautiful when she meets God; I leave all in his hands."
On Christmas eve the Olympic Marathon Champion Eluid Kipchoge came to visit the hospital with some other runners bearing gifts.  Eliud spent some time with Naretu, and the major newspaper caught the moment.  On Christmas day Naretu's picture was in the paper.  Priscilla noted, "She has been getting gifts like we have never seen before, she is meeting the famous marathoner.  Now she herself is famous!  Something is happening like I never imagined." She opened her bedside cupboard and displayed a full stock of supplies, books, gifts and new shoes.
 A few days after Christmas and Naretu was getting her checkup and the doctors were baffled.  Against all odds the prognosis was reversed.  Miracles were happening.  Naretu was responding to the treatment.
At the Shoe4Africa public kids hospital we are seeing miracles and we are treating thousands of kids.  We are a teaching hospital preparing the next generation of medics, we are a nutrition center, we are a therapy center and we are practicing healing through medicine and love.  Once upon a time there was a field and a dream… today there is a thriving hospital; only the 2nd public kids hospital in the entire region of Sub Saharan Africa.  With your help you can help us do more, heal more, save more – your donations will save and change lives to some of the world's most needy young citizens. (NB: Since this story was printed, Dec 2016, a 3rd public kids hospital has opened, down in Jo'burg South Africa, close to the 1st in Cape Town).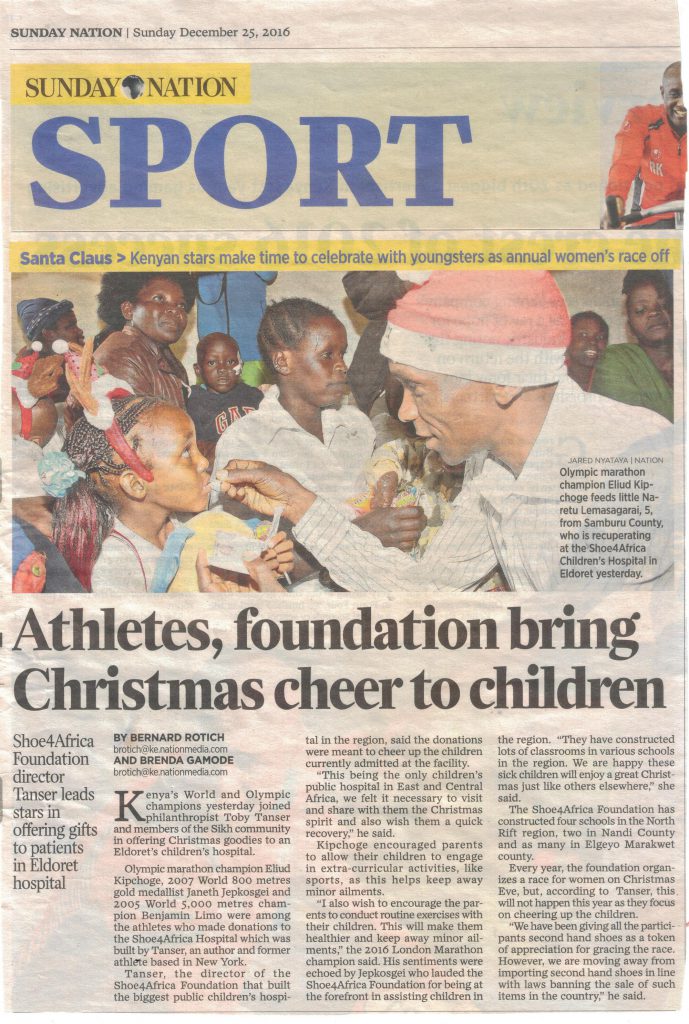 Below is Spenser Macobe whom you are helping, 13-years old, from Kisumu county.  He was referred from Jeramogi Oginga Odinga, a local medical center for treatment.  He had bacterial infections that were causing concern on his head as you might see.  Following surgery at our hospital he is now recovering.  We will keep him till he is safe as we have found discharging and expecting parents to keep infected areas clean often does not work as planned.  Better to take precautions and send them home fully healed.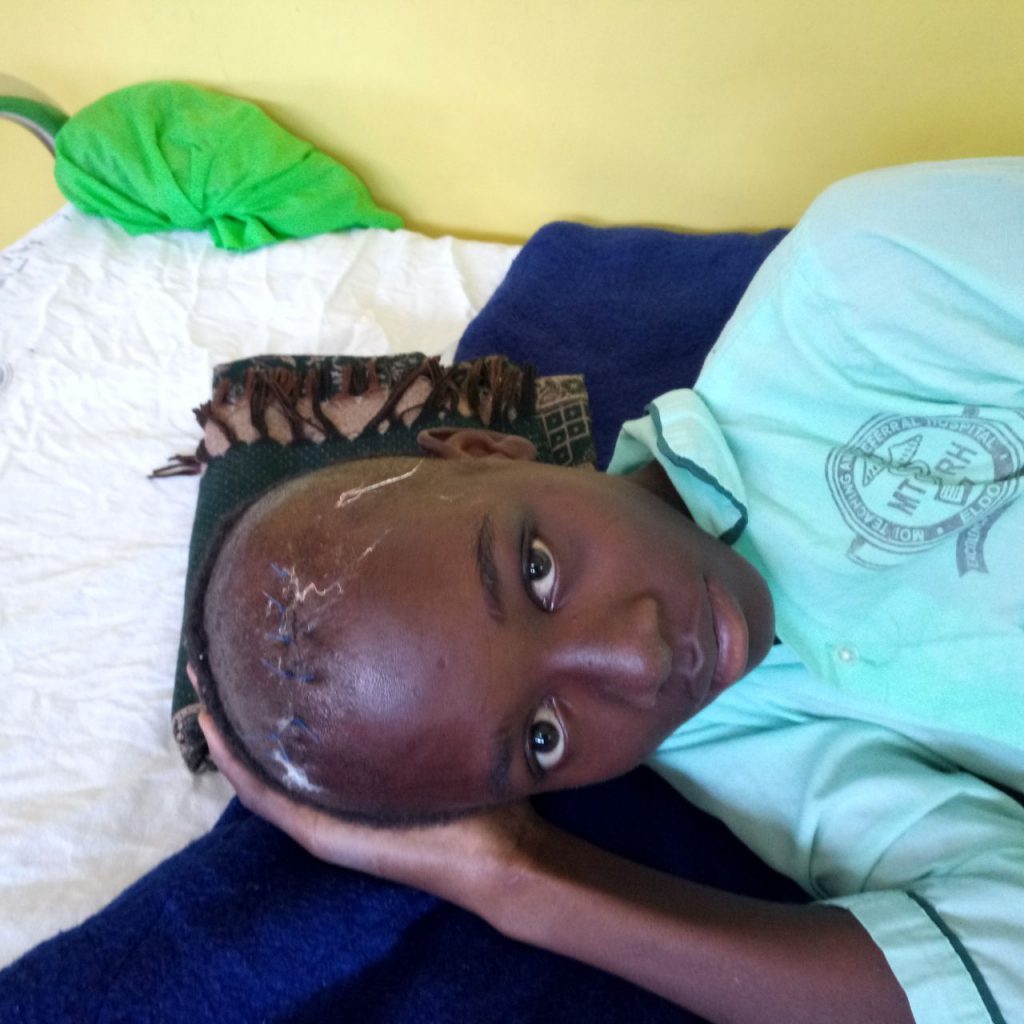 Spenser, healed and waiting for the wounds to properly seal up!
Millicent Cherono, 9, has been in the hospital now for two months.  She was diagnosed with plastic anemia.  Her bone marrow can't manufacture the needed blood, so she is totally dependent on blood transfusions.  Luckily we are able to provide.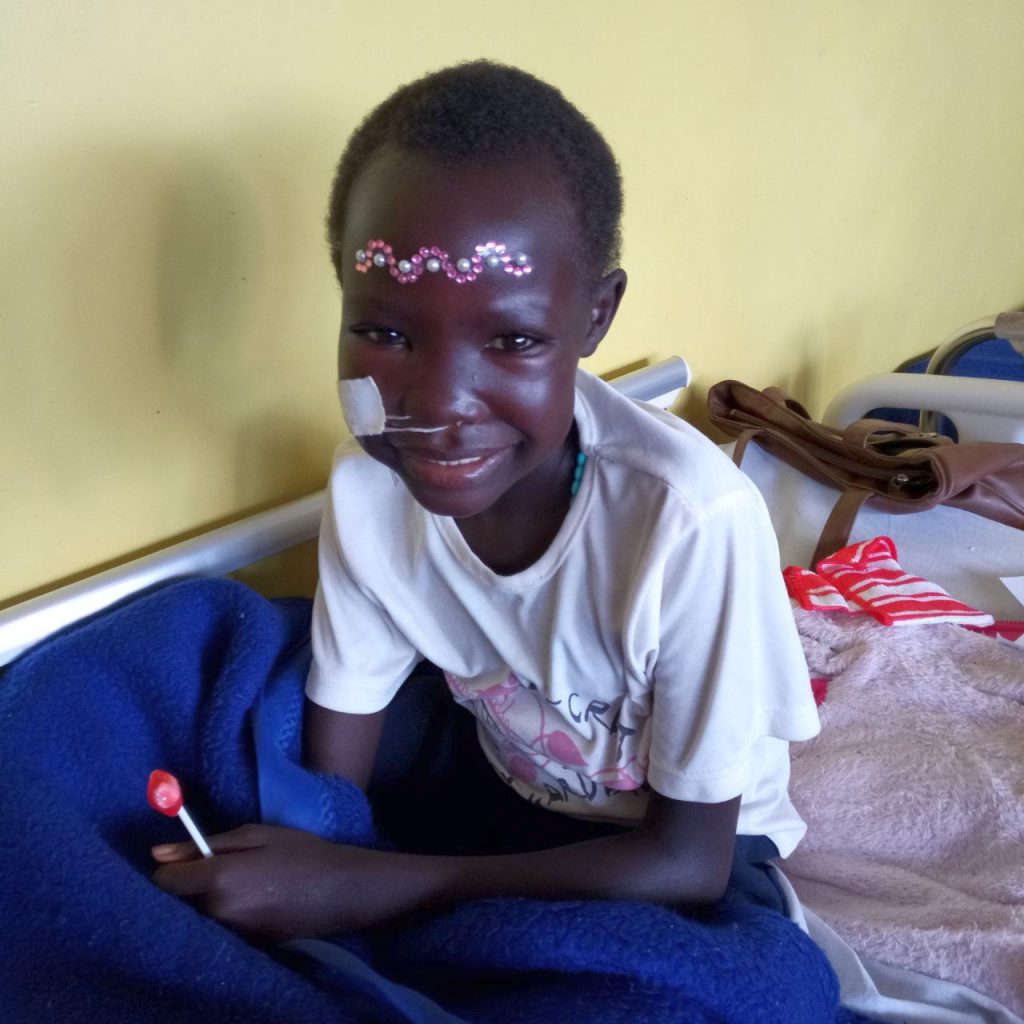 Millicent and her fancy 'head-stickers!'
Patients come to us from far and wide, see above a story of Burundi.  Now, meet Ruth Igesa who was diagnosed with mouth cancer.  She was referred to us from the neighboring country Uganda.  Ruth has been with us for two months now, and is going to be a long term patient, probably staying with us for at least a year.  As she has traveled so far she will be totally in our care and won't be home for quite some time.  This is one of the reasons why we try to make the 'home' as fun as possible.  And here's another patient, this one from the Masai tribe!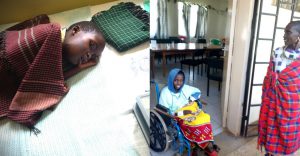 Ruth from Uganda – sending her our best wishes
Meet Delany Wafula, (see below) he is 13-years old.  He as out in a field playing when he was struck by an overhead electricity wire.  He was sent to Matunda district hospital where they sent Delany straight to us, and I am glad to say he is healing fast.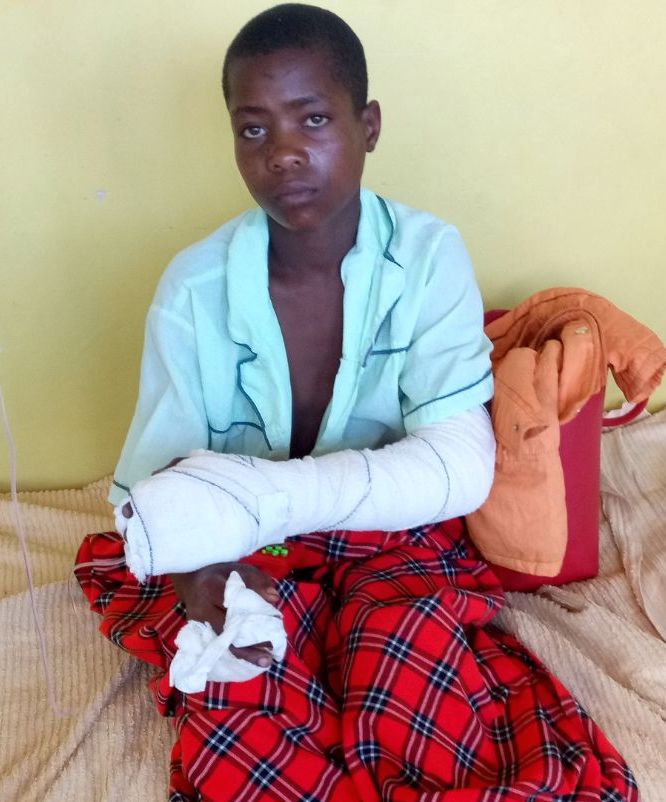 Feedback from a patient's father
Feedback, from one of our customers, at the Shoe4Africa Children's Hospital.  Like most charities we are (super) good at pumping our stories, so it is nice to read from another person:
"In Kenya, stories emanating from national referral facilities especially public health facilities have not been encouraging. However, when you go to one facility and receive superior service without preference that is something to be appreciated.
I wish to share a different story of what I experienced on Tuesday 29th May, 2018 after visiting the Shoe for Africa Children Hospital at Moi Teaching and Referral Hospital, Eldoret.
I woke up a stressed man. My son was ill. He hadn't slept well the previous night. Since I didn't know what was wrong with him, I thought it was prudent for me to take him to a medical institution which most of my friends have always recommended for me.
I had gathered that the Hospital was fully equipped to handle all issues pertaining to children comprehensively. Here is my full account of what transpired on the day:
On my arrival at the gate leading to Riley Mother and Baby building, I bumped into two security officers manning the gate. All were looking serious with their work. Going by their looks, they were in their late 40s. One of the Officer approached me and greeted my son.
He asked me what was wrong with him and after few chitchat, he directed me to the Children Hospital, which could be seen from the gate where we were standing.
Upon my arrival at the building, I went straight to the customer care desk and was well received with a decently dressed lady. She introduced herself as Ms. Juliana Wanja. Upon exchanging few good-natured remarks, she informed me that I was in the right place and I will be accorded all the services to the best of their abilities.
She immediately directed me to a designated area dubbed "Triage Area". I waited for not more than five minutes. Then a lady dressed in a black hijab and whose name was inscribed in the name tag as : Najima Adan Ibrahim – informed me that my son was the next patient to be attended to.
With a radiant smile she took me through the steps she was going to undertake on my son referring it as 'checking of the basic vitals.'
Upon my granting her permission, she recorded my son's weight, blood pressure, pulse rate and body temperature. She did this meticulously as she kept talking tickling him a little bit making my son ,whose fear for injection was building up, relax a little bit. I was informed by Najima that all the vitals were okay apart from his body temperature that was above normal.
Najima directed me to the records departments where I was given a card to fill basic information and asked to pay Ksh 50. (fifty cents, in USD) Maureen Kipchumba, the lady that served me affably, informed me that details/information that I shall provide would be saved on the Hospital's system/database for future reference and treatment.
She went further to state that every patient, including my son, has a unique number and every time one is treated there, their medical records shall be captured and easily retrieved in future.
Thereafter, I was directed to meet a medical doctor, Dr. Irene Siria. I shared information regarding my son. She examined him and within no time she made some notes on paper and asked me to go to the lab to have my son undergo some tests. This was done as directed by the doctor.
Within no time, I was at the lab and immediately the needed samples were taken and I was told to wait for 30 minutes.  Thereafter, my son's name was called out and I picked the results and returned them to the Doctor. On average, it took me less than two hours for my son to be fully examined and treated. I left the Hospital a very happy person.
I wish to express my gratitude to the management, nurses, doctors and the all team that assisted me on 29th May, 2018. I am humbled by your humility, professionalism exhibited and most of all, being humane. God bless you all in His own ways. — Kennedy Lesiew.
Guiding principles
Winston Churchill, 1948: "The discoveries of healing science must be the inheritance of all. That is clear: Disease must be attacked,  whether it occurs in the poorest or the richest man or woman simply on the ground that it is the enemy; and it must be attacked just in the same way as the fire brigade will give its  full assistance to the humblest cottage as readily as to the  most important mansion….Our policy is to create a national health service in order to ensure that everybody in the country, irrespective of means, age, sex, or occupation, shall have equal opportunities to benefit from the best and most up-to-date medical and allied services available."
Why Children's Only
If you go into a children's hospital in America, you would not expect to see an adult lying in a bed.
So why should it be different in Africa.
If you go to the Emergency waiting room in America kids and adults don't sit shoulder to shoulder.  In Africa this is the norm.
Fact:  A children's hospital, focusing on children only, allows you to better serve the kids and their families and vastly reduces the mental stress of a child.
Imagine how terrifying it is for a child to be in the hospital anyway, add the confusion of being thrown into an 'adult' world as a child.  On the bed next to you is a man who looks old enough to be your grandfather writhing in pain, screaming and crying.
As a child how do you handle this?
Inside the Children's Health Village, we are building a site designed with the child in mind.
A Rotary member in Eldoret, George in 2017, "I am a wealthy man, I can afford to take my kids to a private hospital.  But they are on strike!  They insist on Shoe4Africa!  They say they want to be in a hospital where there are only children."
Dr. Okwiya MD, Baltimore, remembers with scars, how he as a child in Kenya threw himself out of a hospital bed in trauma, down onto the floor where he crawled away, when the man in the bed next to him was dying.