The women's empowerment element of Shoe4Africa began right from the early days in the nineties. Immediately, the gifting of shoes was prioritized to Women and Children, and in the early 2000s Women's only running events were held that offered financial benefits, were free to enter, and launched the careers of several prominent athletes beyond empowering thousands of ladies.  Our largest event was the biggest gathering of women in the Nairobi slums, in 2008.  The event drew some of the Kenya's most prolific stars and reached almost 6,000 women. See Video of event.
The empowerment project at the Tansain farm started in 2013 when we first began to assist the same group of ladies, year in year out, and this involves a vibrant group of (now) power-women headed by Chelimo Saina.  We use a truly holistic approach using our 'tools' to break down the barriers of a woman's role in a male orientated society. We have found that rather than holding events, then moving on, basing ourselves with a 'home site' has vastly improved the way we can help these ladies.
Here using dance to learn to work and have fun, bonding together whilst starting a 'chicken project' come to life where they invest in a micro-finance style self-run group-funded project. ladies 'invest,' we match, the business grows, we provide the safe hen house, they, after one year get a 150% return.  It's our most easy and basic program.
Scale up–A number of our ladies have become land owners in their own right through our programs.  Once they get involved in the larger horticulture programs ladies now have become Area leaders, making change in their own communities.  Those who stayed in the three year program are now buying their own land!
The economic empowerment is crucial in all stages.  The old adage '(He) who has money has the power makes the decisions' is still true and must be used as a critical driver. SHE is now, with money, becoming the voice.  But know, when you become involved in Shoe4Africa programs, our holistic approach drives from the acorn to the oak with a multi-pronged approach.
Our Dairy college is the center meeting hub for this program:  This safe space has been created for our women's group to convene and learn critical life skills such as best agriculture practice, financial literacy with planning for effective and efficient strategic plans for their future, critical thinking and good health practices, build self-esteem, self-awareness, and develop leadership skills that will enable them to be confident, influential decision-makers among their peers, households, and communities. Dairy specific classes start with feeding, looking at zero-grazing benefits, fertility matching verses costs, cow 'weights' and vet measures.  Dairy hygiene and relation to milk production.
AVOCADO VILLAGE
This is where the ladies really step up.  We now have fourteen acres of Shoe4Africa Avocados that will be largely donated to our six schools and hospital (1,600 meals day per day for the hospital and over 2,000 meals per day at the schools), and we have five irrigated acres for local ladies to plant their own avocado tree and then we have the 19-acres of irrigated, fertilized, fenced soils for the ladies to plant their beans.  We have been offering 100% interest free.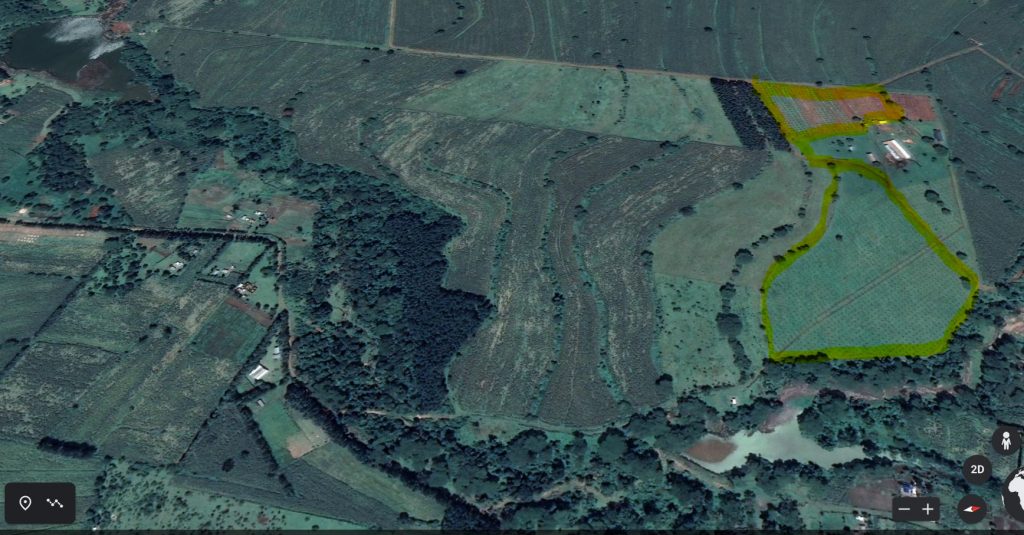 Here is our 140-acre, two dams, farm.  The highlighted area is irrigated Avos.
Our group is led by trained mentors, facilitators and local business folk who serve as positive role models. They play a critical role in our efforts to provide tailored support for ladies, most of whom are victims of domestic violence. We believe that the women in our program deserve to be physically, mentally and emotionally healthy and we have key elements to help them along life's journey enabling them to starting their own sustainable businesses, and becoming positive, influential leaders within their communities.
Learning course topics:
School drop-outs and girls' further education – what is locally available
Child Abuse – what should be done and when
Early marriage and pregnancy – pitfalls and plans
Women's unemployment – what jobs are best for your area
Land issues – how to own your land, what are your rights with land.
Healthcare – what is available
NHIF – what is this and why you should sign up
Preventative steps for better healthcare
Women's rights and where is your women's group
Leadership plans – united we stand and (women's) leaders we demand.
Divorce, legal issues, mentoring and helpline.
Avocado in a sack; no land no problem. no irrigation?  No problem!
Buy low/sell high finance program; how to 'beat the local market.'
Crop rotation, working with your soil, success stories for your area.
Hen course– full one year program.
'I want to own land'–full three year course.
Our empowerment program doesn't just stop with the ladies: Whether it is getting women (and men) to partake in health runs, building schools, employing construction teams, finding teachers new jobs,  Whether it is the massive team that built the hospital (all locals), or the fact hundreds of jobs have been created by this institution, whether it is our women's dairy farm project beginning with $3 startup plans, or us giving scholarships to bright young economically challenged kids, we are always working on empowerment.  We know what Africa needs is opportunities and business and we are creating them.  Every one who is employed on our projects is a local!

SHOE4AFRICA DAIRY PROJECT IMPACTING SCHOOLS
Head of the Women's Empowerment Project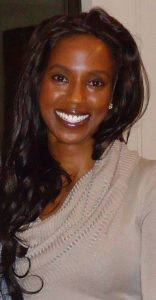 Chelimo was subject to Domestic Violence during her first marriage to a Zimbabwean citizen.  She knows firsthand the rough experience women often face at the hands of abusive/violent ex-husbands. Chelimo's ex was slapped with a Domestic Violence Order and restrained.  Often these measures are not possible for a rural Kenyan citizen with little finances.
When Shoe4Africa started the Women's Empowerment Dairy Project, we were targeting rural women, women who basically run the homestead. Often the ladies work 50% more than rural men; but see 80% less income. We knew that empowering these women, would by extension, build up the core of their families. This reality is nothing new to many third world communities and not new to donors who promote 'impact' funding. Yet each third world rural community is unique in what will culturally, economically and logistically, make a difference in each person's life.
Traditional cows are the center of Western Kenya's rural homesteads. Each family averaging one or two cows per family and each family made up of about twelve members. These 'traditional' cows (defined as traditional from lack of sophisticated breeding, feeding and upkeep), each produce an average of 2-lt of milk per day (daily 8 cups of milk for 12 family members as the only source of calcium and protein).
Naturally a dairy project then made sense to teach the women additional skills that would make an impact in their lives. While our women were learning new skills on our dairy, they in turn were improving the production of their traditional cows as two liters is a very low producing yield. This step-by-step plan caught the attention of neighboring schools. Each of these public schools all learn Agriculture as part of the national educational curriculum. Under which animal husbandry, nutrition, and production are a part. The gap that the dairy then fit into, was that these public schools did not have a location to practically learn these areas of dairy agriculture.
The Shoe4Africa Dairy Project has been a huge part of community learning and these are some of our success so far:
Feb we had our first students from Kibuswa St Mary's Primary School visit the farm. They were a class of 108 students and two teachers. Many of them had never seen a functional dairy with modern facilities even as simply as pipped water and salt licks.

We are now working with 6 different schools in the area and the students have not only benefited from comprehensive practical learning, but are able to schedule field visits throughout the year.
The students also have a fun filled experience on the farm.
July the dairy was visited by KCC (Kenya Corporative Creameries – a government dairy board) and was recognized as one of the best upcoming diaries in a 20-mile radius. It was at this visit that the KCC production team nominated the dairy to receive a cooler scheduled to arrive Dec for the community. This cooler would serve the nearby dairy farmers at no cost and make the Shoe4Africa Dairy a main collection hub.

The Shoe4Africa Dairy, has enjoyed many informational privileges. KCC have asked if the dairy can be used for mock demonstrations, thus benefiting in exposure it will draw.

With being a mock dairy, we want to introduce production of animal feeds and sell to local farmers. This will boost the women's group greatly as they become more and more self-sufficient.
September the area local Chief asked the Shoe4Africa dairy team if members of the community, other than schools and the women; would be allowed to have scheduled time to visit the dairy to also learn new practices.

We scheduled one Saturday of each month to have 'open class'. Anywhere from 5-30 community members would come and learn the same lessons we were teaching the women.
January the dairy gave away its first 2 heifers to two of the neediest women in the group.

The students that come to the dairy to learn, are children of some of the women in the empowerment group. These students will take their learning and practice them on both their traditional cows and those that their mothers will be awarded.
Although the calves are now 7-months old, in 16-months time, they will be old enough to be inseminated.
These heifers the women get are pedigree and will provide them with up to 18-Lt of milk each day, which is a difference of 16 Lt from their traditional cows. This also means they milk enough for their families and for sale.
April, we have been connecting with a number of experts in farming, asking them to come and talk to the local farmers on smart dairy methods (thanks to Smart Dairy for being one of the first to step up).

We will be the first dairy farm to grow some of the best grass for the animals that are leading in nutrients, energy and number of cuttings per year.
Westernforage will also be monitoring progress of the grass production and impact to overall milk increase.
We were honored that the Managing Director of the Kenyan Dairy Board, Maggie Kibogy (black boots), came with her staff to come and offer advises for the community dairies.
We have a long way to go and great intentions on making a tremendous impact to the community.
AVOCADO Projects
Fruits to sustain the women's project, and feed the children at the hospital.  Starting off the Summer of 2017 this project (stage one) was funded by Wendy & Ben Martin.  Furthermore on this cultivated, irrigated and manured field the women's group have planted three crops of beans.   Thank you to Wendy & Ben  for stage two of ten acres (3710), the avocados are crucially needed for our patients at the hospital as we provide around a whopping 750,000 meals per year, with a current diet void of healthy fats.  Avo's are wonder foods for sick kids. https://www.healthline.com/nutrition/12-proven-benefits-of-avocado (link)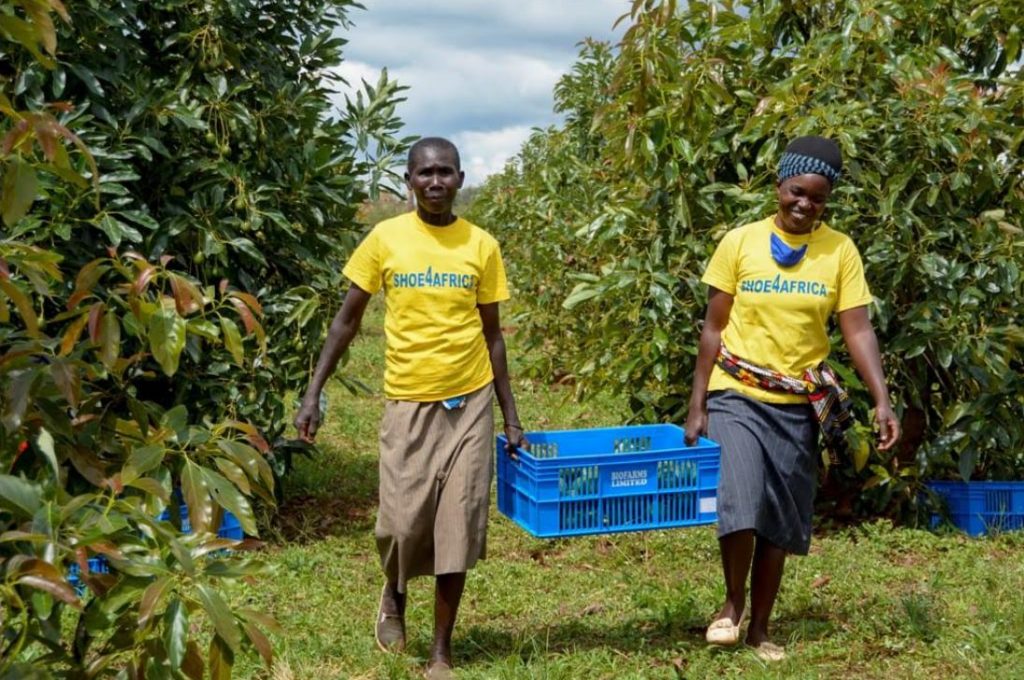 Ladies taking avocado's from our trees to take to the hospital.
The Fluffy project (Sheep Project) – One for one
We are aiming to build up a herd of 100 sheep.  You donate a sheep to our 'team'.  We will house and feed and vaccinate the sheep.  Your sheep will 'visit' Clyde the Ram and hopefully become pregnant.  When baby lamb is born we foster that lamb for six months then gift the lamb(s) to a lady in our Women's Empowerment Team! 
Fluffy – donated by Kaptiony community
Bonnie – donated by Amanda Burnette
Clyde – donated by Larry Wagner
Will – donated by William Gillies
Tom – donated by Tom Daly
to 17.  The 'flock of wool' – donated by Chelimo & Toby

18. Shorty – donated by Kevin Freeburn

19. Katie – Named for Katie Martin's graduation.

 Katie "KT" Martin Sheep!
Following KT we have struggled to keep track as sheep breed like rabbits! Needless to say numerous more sheep have left the flock!
SPOTLIGHT: Meet one of our Women from the program: Joshine is a widow and typical of the ladies in our group.