Background: In July, 1976, Brother Colm came to Iten, Kenya, from Caherduggan, Ireland, to teach geography at St. Patrick's High School. Few have taught more students, or hold a better insight to understanding school kids in rural Kenya, than Brother Colm who has devoted his life to service.
In 2023, we sat down with Brother Colm to ask, what is the best way—he believes—we could help uplift the community of Iten. Brother Colm leaned back in his chair, pondered, and after a few minutes, answered. "Too many kids are coming to school hungry each morning and they are not able to concentrate on their schoolwork. I think if you could provide a breakfast meal, set them off on the right foot for the day, and give them a chance to 'absorb the information,' you could change the trajectory of so many lives. There are many schools in Iten, but there are too many hungry kids who pass through school without being able to learn.'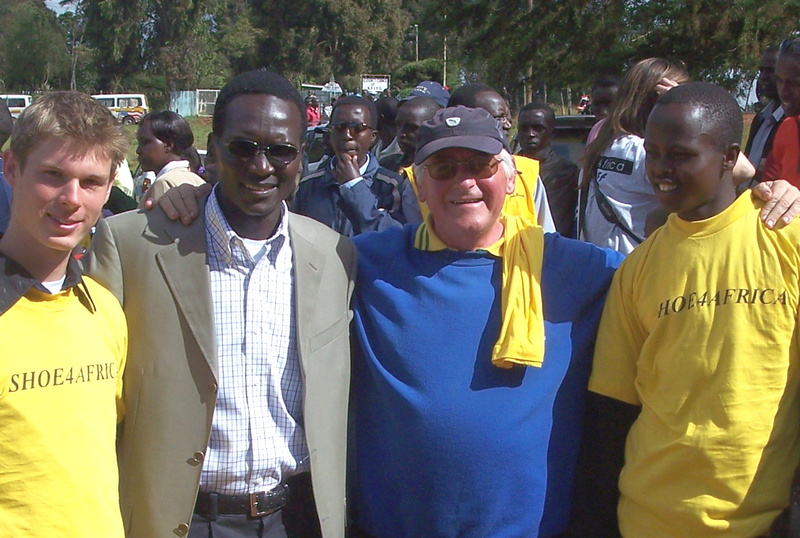 Center left, Paul Tergat (see below), and Brother Colm (who initiated the Porridge Club idea), at a Shoe4Africa event in Iten town, standing one hundred meters away from where the Porridge Club will be built.
We recalled an excellent article written by the World Food Programme explaining a World Champion's childhood problems. It is a common tale in Kenya, WFP wrote that, 'Paul Tergat and his family often lacked enough food for even just one simple meal a day. As a result, he rarely attended school: he just didn't have the energy to make the three-mile journey there from his home in the drought-prone Baringo county. When he did find his way, it was difficult for him to concentrate in the classroom on an empty stomach.'
However, the WFP started a feeding program, and this "changed the life" of Paul. He is quoted as saying, "The school feeding programme really played a major role in who I am today, I was able to get stronger."
Research has proven that if a child goes to school and tries to study without food they likely won't focus properly, will have an inability to concentrate, will lack motivation, will experience unnecessary fatigue throughout the day, suffer in any physical performance, and risk never fulfilling their potential.
So we asked other top athletes to recall their childhood memories. Most mentioned that they lived in a constant state of hunger. For us, as outsider's, it is a miracle these people, lacking basic food, water, and healthcare, survived and with little help, conquered the world. But the ones who made it, there are hundreds of stories of athletes who didn't succeed as their 'wall' was too high to climb. Here's some of the feedback we received:
World Champion, and the reigning women's world record holder in the marathon, Mary Keitany (who didn't put on a pair of shoes till she was 14 years old) recalls her childhood, "Normal was going to school without breakfast. Like it was normal to also miss supper. You could come back from school hoping for lunch just to find that nothing had been prepared that day, nothing since last night's food. You would return to school crying with an empty stomach."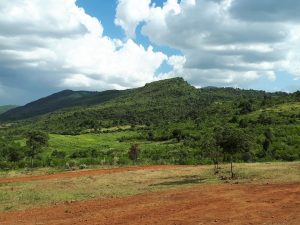 Mary was born and lived as a child at the top of the highest hill seen above. The hill was called 'mackalan' (the hill nobody could climb). The family lived on a small plot of unclaimed land and Mary would run—barefoot—over rocks and stones ten kilometers to school each day.
In honor of Mary, Shoe4Africa constructed a school where the photographer stands to take this picture.
"Concentration at school was not even there because the whole time I was thinking about when food will come." Marko Cheseto, world marathon record holder double amputee.
World Champion, Janeth Jepkosgei, the recipient patron of our second Shoe4Africa school, remembers many times going to school with no breakfast, and waking in the morning with a desperate hunger, "The first lesson at school you can manage but from 9.30 am all the concentration is shifted to your stomach feeling hungry and the noise of an empty stomach disturbs the whole class. Walking back home felt impossible."
"Class concentration was poor as you always feel hungry in your stomach." Abel Kirui, World 2x Marathon Champion.
"Yes, I went to school hungry. Hunger really affects one's concentration. You are dull, you don't have the energy to play. A lack of food affect the well-being of growing children." William Tanui, Olympic Champion.
World Champion, Sally Barsosio tells, "I did not miss breakfast alone, even lunch was missing. Concentration in class was nowhere because you are angry and stressed, yet it is not your fault. Our parents were not able to provide for us. Not just in school work alone but even in (running) training. Food is the key fact of life."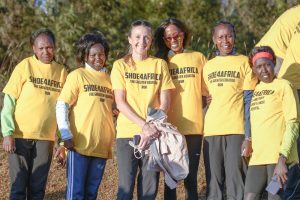 World Champ Sally Barsosio, World Champ Mary Keitany, World Champ Paula Radcliffe, National Champ Chelimo Saina Tanser, World Champ Janeth Jepkosgei, & World Champ Lydia Cheromei, ready to run to launch the Shoe4Africa Juli Anne Perry Children's Cancer Hospital.
When World Champion, Lydia Cheromei (above) arrived at Brother Colm's training camp in the 90s, she did not arrive like American kids with a sports bag full of her equipment, personal gear etc. She carried one tracksuit, a pair of running shoes, a change of clothes, and lugged a large 20kg sack of potatoes.
Ben Limo, World Champion, tells a similar story, "Missing breakfast was not alone. Sometimes as I walked home at lunchtime hoping for food there was none, and I would go back to school with an empty stomach having only taken a cup of water only. While in class, there was no concentration on learning. I sat feeling hungry and tired."
"(Did I miss breakfast?) Many times. Definitely affected concentration in class." Olympic and World Champ Silver, Patrick Sang.
"At school I had zero concentration. Breakfast for me was black tea without even sugar. There was no lunch at school either. One meal when I got back home in the late afternoon." Matthew Birir, Olympic Champion.
"I can't recall how many days I went to school hungry but many, many. It affected my self esteem leading to inconsistent academic performance and had to withdraw from participating in sports." World Marathon silver medalist, Simon Biwott.
"On a good day, I ate boiled weeds and a fistful of ground corn." Says John Kiptoo, Iten resident. "Every memory of my childhood is tarnished with the overwhelming memories of living in hunger and feeling weak. Although I had talent and won junior running races, I didn't have the energy for training and was forced to quit running through poverty."
"Did I go to school feeling hungry? Yes, Many, many times." Benson Kipruto, Boston & Chicago marathon champion.
Case Studies:  Two public schools polled in Iten: "90 percent did not have breakfast of solid food. 30 percent had a cup of tea for 'breakfast.'
How it works: Each morning, at 5 AM, two ladies from our Women's Empowerment Programme come to the Porridge Club and, using millet as the key grain cook up breakfast.
'Millets are high in nutrition and dietary fibre. They serve as good source of protein, micronutrients and phytochemicals. The millets contains;7-12% protein, 2-5% fat, 65-75% carbohydrates and 15-20% dietary fibre. The essential amino acid profile of the millet protein is better than various cereals such as maize.'
Millet is locally sourced and loved by the kids.
                             "Brilliant Idea!"  Governor of Elgeyo Marakwet, Hon. W. Rotich
Starting from 5:45 a.m. to 7:30 a.m., kids come to a serving hatch bringing their cup. They are given millet and a cup of milky, sugary, tea. Twenty meters away from the Porridge Club is the Shoe4Africa All4Running boys and girls club that has seating and toilets, and we also have an expansive outdoor area where kids can eat and chat before going on their way to school. The Boys & Girls club is located in the most central spot in Iten, serving all the major schools in town. Our site is just 390-meters (as the crow flies) to Iten Primary, the town's largest school.
The Building: The structure is basic allowing for the storage of food supplies, washing, and cooking.

Currently we are looking at innovative ideas for cooking that use sugarcane stalks and save trees.
Stage two: Iten is internationally known as the 'Running town of Kenya' largely due to Brother Colm's original school training camp which has brought droves of Kenyan and foreign athletes to the town (including international teams). Although many Kenyans become champions, the majority of Kenyan runners struggle to succeed as they try to establish themselves. Rent is a challenge, as is food and, like the kids, the athletes often live in a state of malnourishment. If we are able to cope with the numbers, the Porridge Club has the potential to start hosting after 'training runs breakfasts' for the athletes. The plan is to begin with a post run breakfast for Iten's famous Thursday fartlek where the champions are often first discovered.
"We must eliminate the shame of hunger in our country." President Ruto, following the launch of an improved kids' school feeding program in Nairobi.
Cost Analysis

The major cost to feed one thousand kids per day would be the Millet grains, at approx. $60-80 if each child is served 60-70 grams. Adding sugar, milk, water, cooking gas, staff, and site security expenses, we approximate $156 per day.
Given there are 36 weeks of schooling per year, this gives an annual approximate cost of $28,080 (minus water bills). Thus, the cost to provide a child a breakfast, so they can sit and study all morning, instead of suffering through the morning—unable to concentrate—is just 15 US cents per child!
Impact?  Five days a week in 36 weeks gives 180 days of feeding 1,000 kids = 180,000 breakfasts a year for under $30,000