2019 TCS NEW YORK CITY marathon SLOTS available. Run in one the most famous marathons on earth – the TCS New York City Marathon! And do it for the greater good.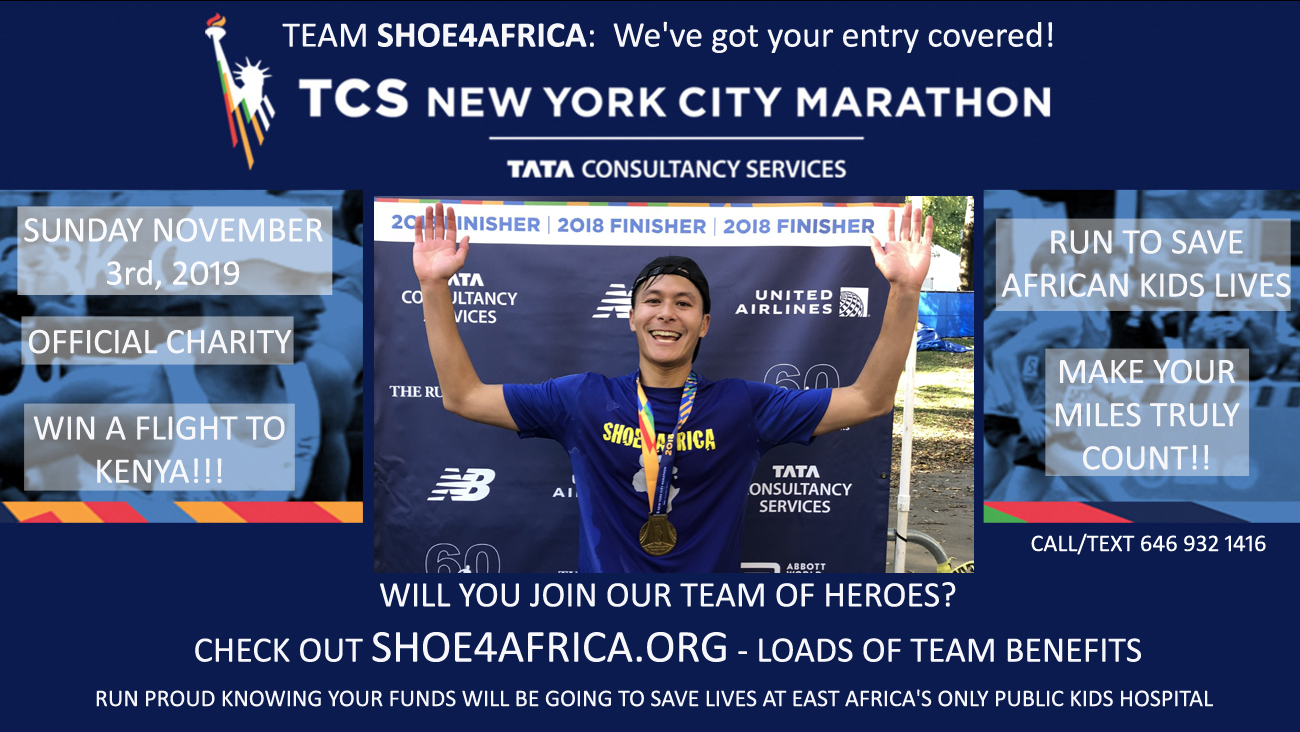 1. Fantastic Pre-race Pasta dinner for you and your family & meet our great ambassador Anthony "Goose" Edwards. 2. Cool tech Shoe4Africa shirt.  3. Great qualified coaching support by veteran coaches for all standards of runners, and day by day training plans to get you to the finish line.  4.  Shoe4Africa swag bag with goodies.  5.  Weekly emails where you get to learn about the kids you are saving,  and our charity and bond with our team.  6.  Group runs with our team.  7. A hospital bed named in your honor at our hospital raffled for a team member for an everlasting memory.  8.  Fundraising tips from our experts and 24/7 help/advice to get you to your goal.  9.  An invite to join us in Kenya for a once-in a lifetime trip and join some of the very best runners in the world as they hand out gifts, with you, at our hospital and visit one of our schools with our world champ ambassadors.  10.  And the knowledge that your fundraising is going to perhaps the most efficient of all charities in the TCS NYC marathon and you will help save the lives of kids born into poverty. (All funds raised go to programs:  we have no office expenses in NYC or Kenya, one staff member and great volunteers driving down all costs) 11.  BONUS Massive 30% running store discount on our team Breakfast run… and unconditional support!  All runners registered get official transport to the start line at no cost.  SIGN ME UP – email us right now; HERE
Raise the minimum pledge of $3,000 (tax deductible) and we have your guaranteed bib number to run the greatest marathon.  We have been an official marathon partner since 2009(see our testimonials below). Email for more details; toby@shoe4africa.org or text/call 646.932.1416 with any questions.  Have your own entry?  Join us for a low $250 fund raising minimum.
All and any ability of runner – we've had NYC marathon race winners run and represent us and absolute first-time beginners too.  (Hugh Jackman ran his first Half  Marathon with us…   Anthony "Goose" Edwards ran three Marathons and some Half's with us.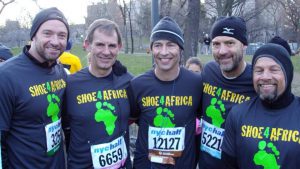 Actors…  Hugh Jackman, Tom Cavanagh, Anthony Edwards, James Legros…

Testimonials:
"Still taking in all of the excitement from race weekend! The whole season was so incredible and I am going to really miss your Thursday emails. I do look forward to hearing about the success of the hospital and please keep sending updates! I would love to come down and visit next year, could you send more info on how I could do so?
Thanks you so much for everything you do for NYC's running community and more importantly for the children of Kenya. It was a weekend I'll never forget and I truly think that last stretch through Central Park might have been my life's proudest accomplishment. I really hope there aren't any lingering photos of me crying my eyes out in the finish area!
Please do stay in touch, and I hope our paths cross again soon!"
Tim W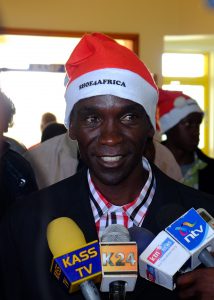 "Thank you so much for all you've done and continue to do. You are a true inspiration! Being a part of this team has been an absolute honor." Hadly O.
Recognize our Shoe4Africa Ambassador in the picture? He's run a marathon in 2:00:25!! Eliud Kipchoge.
"My donors just adored this cause. We fell in love with Africa with all your weekly emails and you putting us in touch with the Kenyan runners. We promise to visit soon. We will fund raise for life. Marathon day was the ultimate… I cried the entire way, with happiness." Anne F.
"Can't believe I saw Natalie Portman at our pasta party and she was so cool." Marius S.
"I wish I would have found your organization sooner, as it truly speaks to me as a person, however, I've found it now! Fundraising is arduous, yes, and surprising in many ways? People you thought would support you don't, and strangers change your life. Thank you for all of your support along the way. I'm so excited to meet everyone and have a wonderful race day!" Alexa P.
"What an event. I was so proud to be a part of this charity. Thanks for allowing me to participate. And of course, I am very proud on my finish." Gary W.
"Thank you so much. I had such an incredible time training, fundraising and running the NYC Marathon with Shoe4Africa! Truly such an amazing charity and I am proud to have been part of it and help contribute to the public children's Hospital in East Africa." Nicole L.
"I think the work you do is kick ass & felt very proud wearing that shirt today. Thank you so much for letting me be a part of it!" Amy G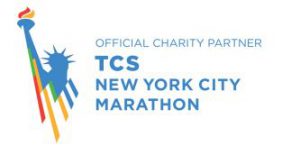 "Many thanks for the opportunity you gave us to run with the shoe4africa team. I had a (very) slow but ultimately happy marathon." F. Shiantarelli
"I look forward to meeting all of you on November 4th when we have a great carbo loading dinner and celebration! Good luck and have fun!" Anthony Edwards
"Thank you for the allowing me to run the marathon on your team, if was a great fun." Shaun D.
"Thanks sooo much for letting me be a part of your wonderful team. I felt so inspired the whole way, not only because I kept hearing cheers from the crowd for, "shoe4africa, yeahh!!" but also because I knew I was part of such a meaningful cause. I PRd by 20 min in my second marathon ever, and clocked a 3:19 even though I didn't think would make it past mile 23 when I started getting dizzy and lightheaded. Something "otherworldly' seemed to push me through those last three miles, and perhaps it was the sheer knowledge that I had the support of my donors, the team, and all the people we helped in Kenya. I pushed through that wall and collapsed at the finish line- probably the most emotional and physically demanding race I've ever run (heck, Thing I've ever DONE!). Thank you for letting me be a part of this team, and I will gladly race more in support in the future! All my best." Zoe J.
"I have to say, I am so happy I ran for charity. In many ways I feel like my run would have very little significance if I had not." Melissa E.
"Many thanks for the opportunity you gave us to run with the shoe4africa team. I had a (very) slow but ultimately happy marathon. I want to thank everybody who generously donated to Shoe4Africa for their initiative of constructing and equipping a children hospital in Kenya and to build the associated health and education programs. With your help I reached the 3000 $ mark." Fabio S.
Recognize our Shoe4Africa ambassador Mary Keitany? She's won the NYC marathon three times and London three times too… and holds the women's world marathon record of 2:17:01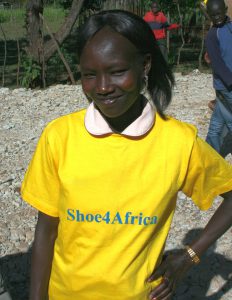 "What a beautiful run yesterday. Thank you so much for having me a part of the team. I felt so proud wearing the S4A jersey those 26.2 miles." Matt W.
"Sunday was so much fun! Thank you for the opportunity to run with Shoe4Africa. It was a blast. I had an absolutely perfect day and I would not have changed a thing. I planted myself at the start w/ the 4:30 pace group hoping I'd be able to hang with them for a while. My previous personal best time (Fargo Marathon, May 2011) was 4:35:48. 4:30 was a bit of a stretch, but with race day magic in NYC in play, I thought I might stand a chance. I had a few pangs of fear that I had started too fast and would burn out, but with my wonderful friends and family planted throughout the course and the amazing people of NYC along the way, I propelled myself to a 4:26:56 finish. A personal best by nearly 9 minutes and a faster pace than any of my long training runs!" Alison S.
"I got lots of shout outs along the way for Shoe4Africa including a finish line shout out by the announcers who called my name and mentioned the charity by name too. What a moment that was! The photo I sent of me just after the finish was just after that announcement. I wanted to memorialize that moment in a photo! Thank you again, so very much, for all your work in making Sunday the day it was. It has been a true pleasure to work with, and run for, you." Margaret W.
"Because of you, I did this. Thank you, thank you, thank you. I truly cannot express to you how thankful I am for your support. As for me? Ibuprofen, ice, gentleness. Love," Michelle W.
"Thank you soooo much for allowing me this opportunity! At around mile 24, as I was running though central park, I began to cry and my pain level was pretty intense. As tears rolled down my face, a lady by the name of Makia, from NY, came up to me and took me by the hand. She asked me, "Do you know what you're doing". I said, "Yes". She said, "You are running the NYC Marathon…you will not be doing this tomorrow…it will be over with". Together, Shoe4Africa finished strong. Together all NYC Marathon charities finished strong. Together our country will stay strong. Together, we can initiate global strength. TOGETHER. We can not do this life alone and I am happy to do life with all of you amazing partners in the race of life! Such an AMAZING life experience!!! Thank you!!!" Alison Y
"The experience of learning about Kenya, your organization, raising money, and meeting all of the special people involved this weekend made it an experience both of us will never forget. " Brett H.
"I'm honored to be a representative of the charity. Helping the less fortunate is how I keep grounded." Abena M.
"I am so happy to have been a part of the Shoe 4 Africa team. It was such an amazing experience. Running the NYC Marathon was one of the best days of my life! Pretty cool that we also got to meet the Kenyan Geoffrey Mutai just before he went on to win the race and break the course record at Anthony Edwards house pasta party!" Kelly D.
"It was fun, hard, and exhausting running the marathon but very glad I did it and to raise money for Shoe4Africa!" Ashlee R.
"Thank for you for the opportunity to run the NYC Marathon! Despite it not quite being my day, I loved the race and really enjoyed the experience. Great cause and happy to support all your efforts!" S. Ryeom.
"Last weekend was another amazing marathon experience and I'm so grateful to have been a part of the S4A team again. My biggest fundraising year yet! But 3:01-3:02 is really more what I was expecting, especially given the warm temps, wind, and rain. Thanks for organizing the party and getting such a great group of people together for this team. It's really very special!" Melina B.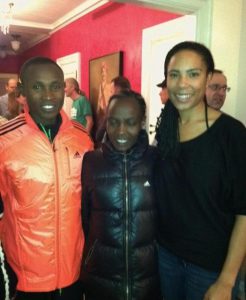 "THANK YOU for this amazing opportunity. I feel so fullfilled. I ran and it was a beautiful experience." Natalie A.
"I wanted to drop a note of thanks for the opportunity to run for and learn about S4A. I will never forget yesterday and look forward to more runs." H.M.
NYC marathon champion and course record holder Geoffrey Mutai, Caroline Kilel, Boston Marathon winner, at our Pre-race Shoe4Africa pasta party with team runner Melissa Evanson.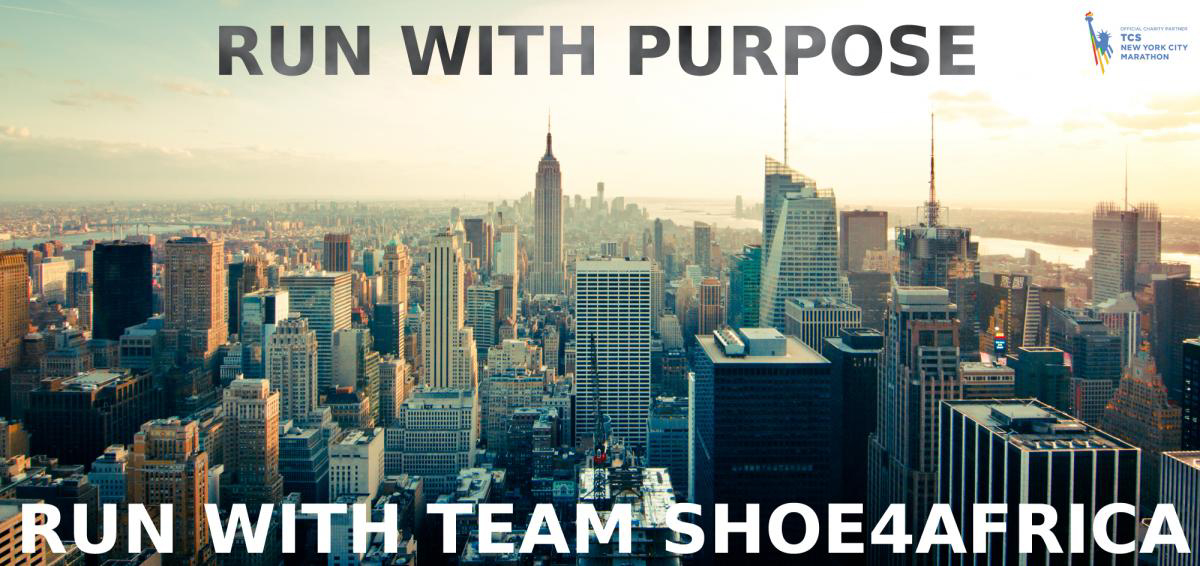 COACHING – team
We have a team of experts to join you–Meet our coaches: [Link] who will be proving you with….Tips to train better. Strategies to get you to starting line healthy. Ideas and ways to fund raise in a fun, successful manner. Of course constant access to coaches and mentorship.
new york marathons, london marathon, charity new York, city charity events,
new york charity search, half marathons for charity, new York marathon charity,
new york city marathon results, nyc marathon news, nyc marathon charity, run,