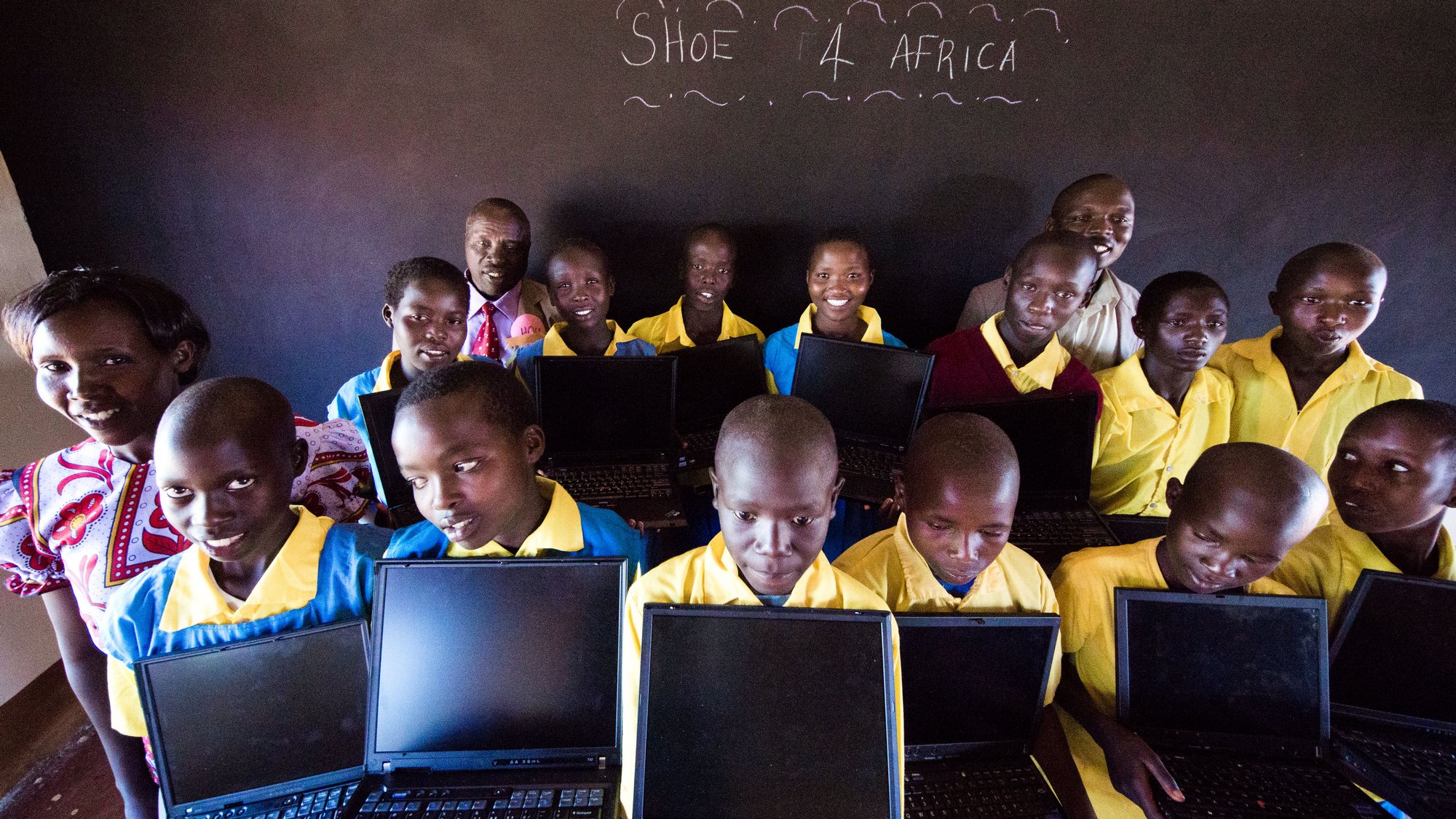 What is the solution for Saving and Empowering African Kids Lives.  Empowering Women.
Because Kids are dying from Treatable/Preventable diseases, and we saw that an answer was giving access to public healthcare for kids, we build East Africa's 1st public kid's hospital.
 Program Design and implementation; from the initial stage in 2008 to opening the doors in 2015 it was hands on the ground a 'Kenya project'. Local workers, local architect, local contractor, working for the Kenyan people.
 Program auditing; an independent Kenyan team, who had come to the US for training and with experience delivering projects for USAID and PEPFAR, carefully audited each step of the way. Constant monitoring and evaluating, careful on-going cost cutting following the research of four years project development before the implementation initiated.
Program Well-being; Kenyan Doctors and a Kenyan Shoe4Africa board work with Shoe4Africa USA to maximize improvements as we scale up to save more lives.
Charities are often Asked; "Is it needed?" Yes – The USA has over 150 kids hospitals with 320-million citizens. Why would Sub-Saharan Africa have only one public children's hospital for one billion people? Nelson Mandela (2005 statement) wanted his legacy to be to build a Children's Hospital.
"Is your model effective?" Yes – we are seeing over 100,000 poor patients per year, and impacting a far greater number, with jobs, training, and outreach.
"Can you scale?" We are; in our first year we were able to treat a far smaller number. We can also copy our model, that delivered under budget and on time and with two year project management fees including all travel for around $15,000 USD for a multi-million dollar project.
"Are you sustainable?" Well our sister hospital, that runs on the exact same system as ours with finances has been running since 1917, thus we can say Yes! Lastly,
"What is Shoe4Africa's exit strategy?" Every project we have done in Africa was built for us to exit and to be fully self-reliant; that is our model.
Our projects are 100% locally owned.  All the people who work with us on our projects in Africa are African.
We have a (very) strong presence on the ground based on trust on what we have done over a twenty year+ history. We believe in a holistic approach to solving issues that is flexible and changeable to the best and latest trends.
Health:  We were happy to read in print what we believed to be true:  Nick Kristoff noted that access to healthcare was the biggest disruption of addressing the trend of better mortality rates. (source).  There is an absolute health crisis in East Africa, rather than scream to deaf ears that 1 out of 8 kids is dying before their fifth birthday as has been the case for years, we are providing a solution.
The problem in our region was, in 2006-7, kids were going to East Africa's 2nd largest General public hospital where beds were at a 150+% occupancy.  With dire congestion choices were being made; the priority was to give the caregiver of the family preferred treatment.  Kids came in last.  We found Mothers were stopping taking children to the hospital ("Why, after three days we go home with our child untreated?").
We knew to make an impact we had to get the child through the hospital doors and be the priority.  With no public children's hospital for an area of over 250-million we knew a major problem.
The outcome – We built a public kids teaching hospital.  Now thousands of kids getting quality healthcare, mothers traveling from all over Kenya knowing that their child will be seen and treated in a timely, dignified, and respectful matter.  Today, on average 318 kids are being treated in our child-only public hospital per day — that is 318 x 365-days = 116,070 per year.  The first time in history this has happened in East & Central Africa.  Are child mortality rates changing for the better?  Yes!
Are we finished?  No.  Now we enter phase two, working on a swifter turnover of patients. Better equipment.  Improved services.  Teaching prevention, offering screenings.  Reaching kids in an earlier stage of their illness. Motivating Docs/Nurses to raise the bar.  Constructing ancillary buildings. Opening a Music Therapy House.  Initiating a child education unit in the grounds… and more.
Our Great Gregarious Goal? A huge problem is Childhood Cancers in East Africa.  We plan to replicate our success by building the first Kids Cancer Hospital in Sub Saharan Africa upon the same sustainable plan we used for our general children's hospital.  Our immediate impact will be at once saving 350 -kids lives according to Dr. T. Vik with our evaluation studies more than tripling this number within three years.
Great Gregarious Goal #2? A children's healthcare insurance fund for East Africa using the Telecommunications world. Giving greater access…
#3 Sustainable serviced rural medical centers that are stocked, not by the charity sector or donations but by profit. Giving greater access…
#4 building East Africa's Digital Health Center for Pediatrics to give greater access…
We focus on three pillars.  An overview of our work.
Hospitals: We're bringing life-saving medical care to a catchment area of over 10- million children in East Africa.
Built public children's hospital (only 2nd in Sub-Saharan Africa) – today running at full capacity.
An accredited Teaching Hospital, with ISO 9001:2008 certification and a partnership with Kenya's 2nd largest university.
Now planning to build the first public children's cancer hospital in Sub Saharan Africa
Our first hospital budget was slated at $6m+ and took seven years of planning, endless fund raising, and total commitment.  We opened its doors on August 12th 2015.  We started with nothing but a couple of donations that surmounted to less than $220 in the bank for the project in March of 2008, and had absolutely no employees but through sheer determination and will, we overcame tremendous odds, stayed the course, and built this new top-notch hospital and staffed it with a great medical team so that an immense area of covering millions could receive the healthcare they need.
Next project:  We're initiating an exciting project to build a public Children's Cancer hospital; this critical project needs to happen. 9/10-kids diagnosed with Cancer in Kenya are tragically dying.  This is a travesty that needs to be addressed.  The total cost is expected to be $3m+
Future:  Upon completion we intend to build the 2nd  public kids hospital in East Africa by 2022 so that we can serve another 6-8 million Africans.  Design work is just beginning; donations will be sought after we've completed fund-raising for the cancer hospital..
Schools: We're educating the future leaders of Africa, helping them thrive in new schools
Built 4 new Government accredited public schools, with the next 3 in planning stages
Providing top-tier teachers, books, and materials needed to learn
Helping children develop a global perspective with computers and internet
Shoe4Africa's humble beginning's started with the belief that anyone is capable of anything if they have the opportunity.  It started with the idea that shoes were a basic necessity to avoid disease and to walk to school.  The problem we found was that schools were either dilapidated or non-existent so we began to right this wrong too.  In 2010 we opened our first school and we now have around 1,500 kids getting free quality education in our Shoe4Africa schools. Each school is brand new, staffed with great teachers, and is hooked with a local world class mentor.  We also introduce laptops and e-readers so these beautiful children learn in a traditional sense as well as keep pace with the developing world.
Next project: We have 2 more schools slated; funding for the first (number five overall) is completed but funds are still needed for the 6th.  Donate here to this cause (DONATE button)
Future: We are focusing on building schools within the hospital catchment area so that our brothers and sisters can take the Big Steps Forward to a healthier, more educated, and self-sustaining community.  Dr.Kibosia, who helped revolutionize public health in Kenya, states that early education is critical and the basics of health education can be immense in saving lives; we listened and want to bring all our students to the Hospital for early training!
We expect to build 10 additional schools between now and 2025.  Donations, from small to a (complete) school, will make this dream happen.
We invest the money we raise into projects that we ourselves oversee and direct- we never pay another "team" of partners on the ground (that doubles the costs). Our team thus makes sure, firsthand, that every dollar is accounted for and we audit, and are audited, every step of the way.
Where our projects are:
The Needs – Our Focus:
Healthcare: In 2013, an estimated 6.3 million children under five died, 2.9 million of them in the WHO African Region. This is equivalent to five children under 5 years of age dying every minute. Two thirds of these deaths can be attributed to preventable causes. (world health 2013)
Education: Half of the youth in Sub Saharan Africa are out of school (worldbank 2015). And an estimated 31 million girls of primary school age and 32 million girls of lower secondary school age were out of school in 2013 according to UNICEF 2013.  Clearly education is the foundation of progress and it is sorely needed.
Empowerment: Most of the billion+ people in Africa have never seen the outside world nor been influenced by its progress. We focus on creating new knowledge AND belief in one's ability through programs that empower Africans to learn and take greater control of their lives to make a better future for them, their families, their community, and the world.  See more….
Our Project Makers Are Our Heroes – Thank You!
There are tons of ways you can get involved with our projects, from holding a lemonade stand (thanks Miss Sharp), to a basketball tourney (thanks Alex Sweeney), to running with us (thanks Team Shoe4Africa!), to playing tennis with us (thanks Zee), to a simple $10 donation (that's three school books!), to knitting teddy bears for patients (thanks Loredana)… and the more  You, the kind donors, have made Shoe4Africa happen… and with you we can make miracles happen.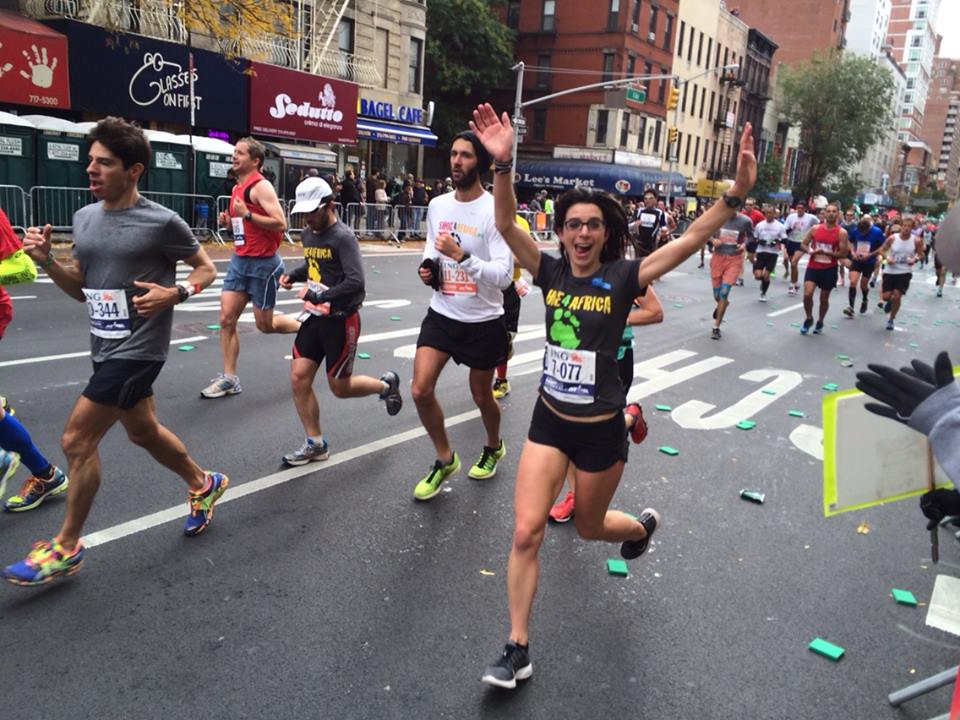 Melina Buck who has ran for Shoe4Africa seven times in the NYC marathon; thank you!
Check out our wall of donors; linked here
Stories about who we work for;
Grandma Jane.
Grandmothers are always everyone's favorite family member. Grandma Jane is definitely one. In fact she is her grandchildren's hope.
In the slums of Kakamega, about 3-hours from the Shoe4Africa Children's hospital, the same sad stories are found; no different than the slums around the world.
Jane has four sons. All four sons took off to find a better life outside the slums. None of them ever returned to check on their mother Jane. As she tells the story, she says in a way she was happy for them. Assuming they had found a better life.
Unfortunately, whatever life her sons had chosen, was not better than the life they left behind. Grandma Jane tears as she begins her story.
In 2014, a very weak sick baby was dropped off at her door step. Grandma Jane took one look at the baby boy and knew he was her grandson.
While we looked at her wondering what she did next that day, she said two more children were brought to her hut by different women in the next coming years. All different ages and each woman fed up with her sons and their lack of child support. Thousands of women in Africa raise their own children in absence of their fathers, but when one is a prostitute (which these women were), motherhood gets in the way of the fast, dangerous lifestyle.
Feb, 2017 Luka (baby dropped off in 2014), died of HIV AIDS. Grandma Jane now had two grandchildren. Alex was dropped off at age 7. His mother could not take care of him anymore with his disabilities. Alex's only disability was being deaf and dumb. Eunice was 3-years, the other grandchild.
Everyday as Grandma Jane went out to look for food for the day, she'd leave Eunice with a neighbor and tie Alex to door frame. The rope around his ankle was long enough that he was able to lie down on twin bed in the single room house. This was Grandma Jane's secret for almost two years.
She would also leave Alex a cup of water and some groundnuts. Two years of daily movement allowed Alex to finally snap the frayed rope. Grandma Jane had just stepped out and supper was on the open fire.
No one knows what actually happened when the rope snapped. Perhaps he leaped with joy that he was now free. But jumping around in tiny space with an open fire can quickly become tragic.
Grandma Jane walked in to find Alex's body totally burnt except his head. Dr. John Chumba, one of Shoe4Africa's doctors, tell us it's a miracle he is alive.  Alex is now in a wheelchair unable to stand because of his burns.
Grandma Jane lights up with a smile at the end of her story and says, 'Look, we are here at the hospital with beds, three very good meals and doctors to treat Alex'. What resilience in Grandma Jane. Without Shoe4Africa Public Children's Hospital, there would be so many tragic ends to sad stories like Alex and his family. The social workers in the hospital are working with Grandma Jane to make sure her situation changes now Alex is on the mend!  We have also found Grandma a job at our Women's Empowerment Projects.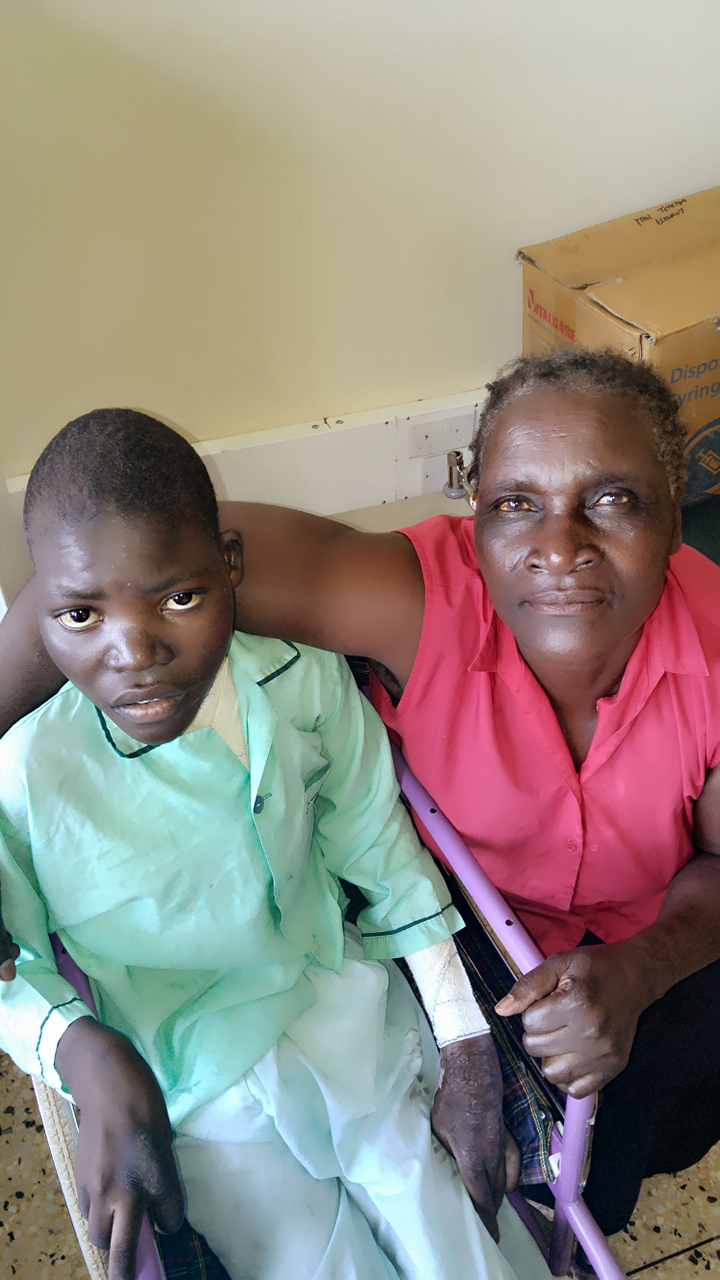 This is the story of Purity Chepkirui.
She's a three year old girl whose life has been saved because of the Shoe4Africa Public Children's Hsp. More importantly, she was brought to the hospital in critical conditions.
Purity was born with a rare condition. She was born without a nasal bone and without part of her nasal cartilage. Our understanding of what the doctors say is that massive amounts of fluid was sitting in the gap and flowing into areas that were causing damage in Purity's head. Naturally what should have happened would be a formation of cartilage between the tip of her nose to her brow bone to take the place of the nasal bone.
Purity was taken to several hospitals and she had episodes of unconsciousness and excruciating head pain. Each hospital visit was all in vain. 98% of the children brought to Shoe4Africa Public Children's Hsp live in abject poverty. Arriving at the Shoe4Africa Public Children's Hsp was Purity's mother's very last option. Her mother had no more money to travel to yet another hospital.
Like the medical staff does so well at Shoe4Africa's Public Children's Hsp, Purity was triaged in no time and wheeled into surgery. When she arrived she had been unconscious for a dangerous amount of time. The fluids were drained and preparations for subsequent surgeries are underway to build her nasal bridge and reconstruct Purity's face.
These are our stories of triumph, where parents who have lost hope or with very little hope, find it again at the Shoe4Africa's Public Children's Hsp. Purity, unconscious, was extremely close to death.  The reality was, and affirmed by the Doctors, Purity was only hours away from her death.  Today she is stable, healthy and on the road to recovery. Yet Purity was attended to because of runners and givers like yourself.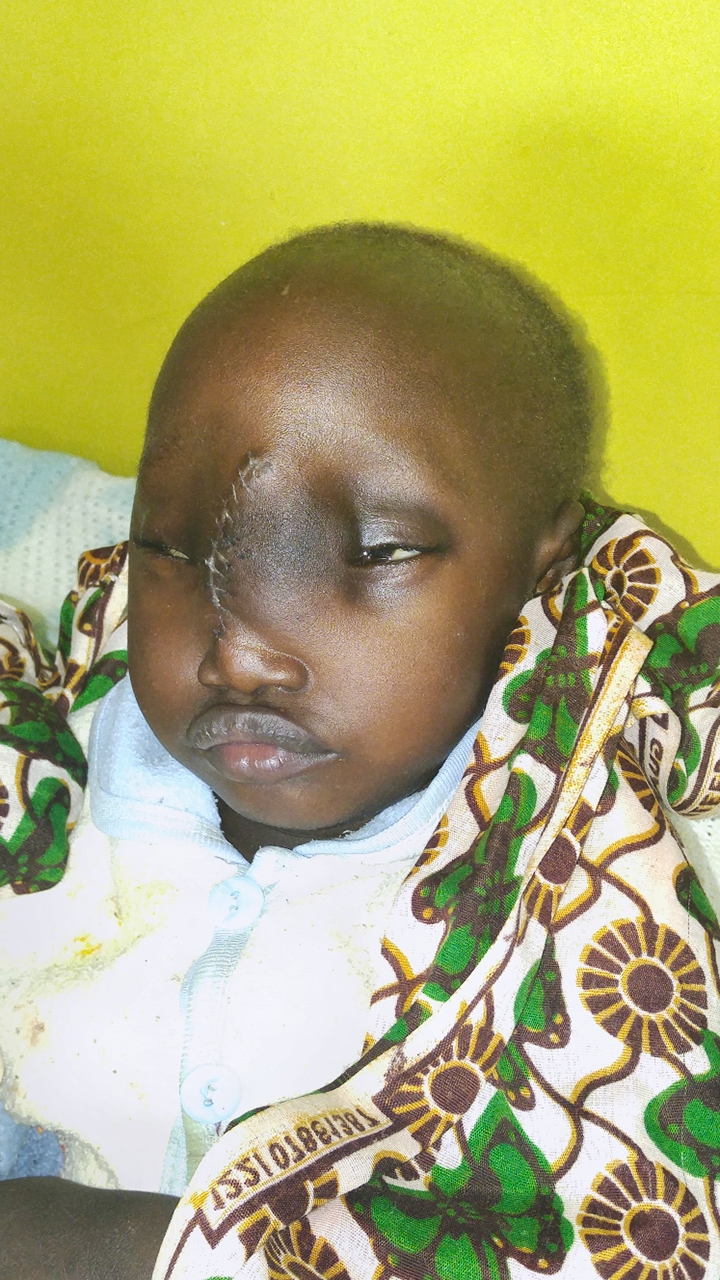 Next up a story about Precious, and since posting we can thank Tina & Michael for stepping in to help!
Precious is a one year old girl who truly is precious. Her mother Mary is a single mother. A result of an unwanted pregnancy in the midst of poverty. Mary had been looking for work for over a year and finally found a job as a house maid, 3 days per week. She did not tell her new employer that she had a one year old daughter because that would cost her the job.
Without money or willing relatives to watch Precious the three days she worked, she had to leave Precious at home. A nightmare situation for any parent. She rented a dark tin room in the slums of Eldoret. Everyday she locked the room with her baby girl inside, she'd pray that no one would hear and steal her.
Mary would wake up and give Precious a bath in a basin and feed her millet porridge. It was more hearty than breast milk and would keep Precious satisfied longer. Three months of work went by fast; three months of coming home and finding Precious' cloth nappy soiled and her cloths wet with seat from the heated tin room. But, that was all bearable because Precious was still in the room.
The fourth month came along, and Mary continued to go to work and continued to hide little Precious. Precious was growing and on one of the days her mother had gone to work; she began to crawl. A stage every parent welcomes. Sadly, Mary had not put out the cooking fire all out. It continued to burn lightly for several more hours. Little Precious perhaps fascinated by the flames, begun slowly crawling towards the fire. Their bed was on the floor.  She of course had no idea the danger before her. We will never know what exactly happened…or how Precious ended up in flames. What is evident is she suffered and perhaps tried to get away and her little body did not know how to crawl backwards or move away fast enough.
God is merciful. Despite her whole face and chest burning, she is alive. Mary fainted when she saw her baby Precious crying in pain and her face completely burnt. A neighbor happened to be passing by. News in the slums had spread about Shoe4Africa Children's Public Hospital and Precious was rushed there.
She is slowly recovering, in little pain and awaits more healing before a numerous amounts of skin grafting. The burn unit doctors are looking forward to give Precious her lovely face back.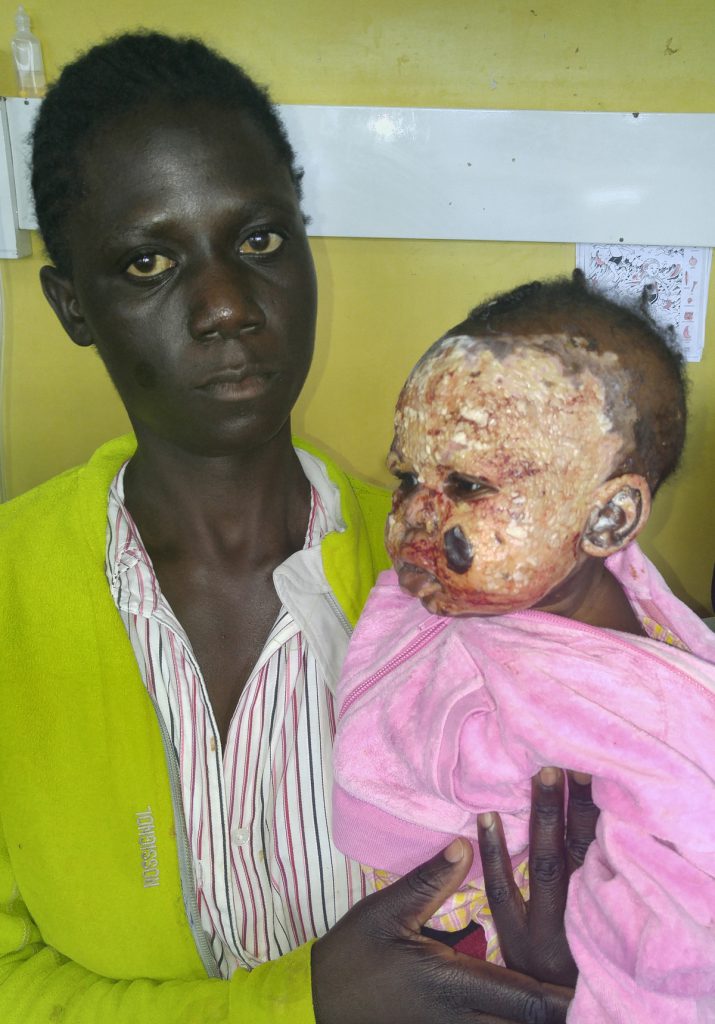 Little Precious
The story of Charles
This is a very sad story. Sad in how humans can be so barbaric to little innocent children.
Charles is an 8 years old and comes from the furthest corner of Kenya which boarders Tanzania. He's from the Kuria tribe, a very small tribe who live both in Kenya and Tanzania. These small tribes are very isolated and often still practice very dark rituals.
One of these rituals, are the practices that happen in search of wealth. Wealth to these people may not necessarily be a big bank account or a huge house. It often translates to spiritual powers or the level of fear the community has for a person and the number of wives and cattle. To get this 'wealth', involves human sacrifice.
It's hard to write this story in 2017 and imagine this happens today somewhere in world.
Charles and his two brothers were very close. Playing with the neighbors outside was an everyday way of life for him. Until one day when four men corralled the boys as they played. It seemed as if these men had been watching Charles and his brothers play daily and knew when Charles' mother left for work and when the boys were alone. The speed and strength of these men, left no time for the boys to run or scream for help. They were carried into the forest and into a shabby mud hut.
Here the unthinkable happened. Charles's big brother, only 11yrs was tired down by the men, while one of them begun to cut his whole genitalia off. Charles told us his brother passed out from the pain and bleeding and then died. Next was his 9yr old brother. Charles said at this point he was screaming at the top of his voice and so was his 9yr old brother…. but for only a little while before he too died. Then it was Charles' turn. He said he remembers screaming and asking God to save him. The cutting had just begun when a group of women broke down the door. He was saved, but very badly injured. Imagine the pain, the fear and the torment those young children faced that day.
The women were mothers of children who'd long gone under the same ritual and mothers who heard the boys screams. They were against this ritual. Charles' two brothers died.
He was taken to a nearby hospital, but they could not do the surgery Charles needed to 'put him back together'.
A local doctor asked them to take him to The Shoe4Africa Public Children's Hsp for two reasons. Charles would definitely get treated and definitely be safe from these men or any others. But The Shoe4Africa Public Children's Hsp was miles away. The women came together and raised enough money for Charles and his mother to travel to Eldoret where the hospital is located.
Charles underwent lifesaving surgery and was safe at The Shoe4Africa Public Children's Hsp. After several weeks, he was able to walk around slowly in the hospital with a limp as some nerves were beyond repair. When he heard Toby Tanser was going to be at the hospital he waited at the entrance with the security guard. He'd been told about Toby and how he saves children. When Charles saw Toby, he held Toby's hand and said 'please don't let me go back home'.
We, at Shoe4Africa, are able to save children because we have the support from everyone reading this article, everyone who's run NYC marathon for Shoe4Africa and everyone who has given to Shoe4Africa over the years. T H A N K   Y O U!!! Together we've built a safe house inside the hospital!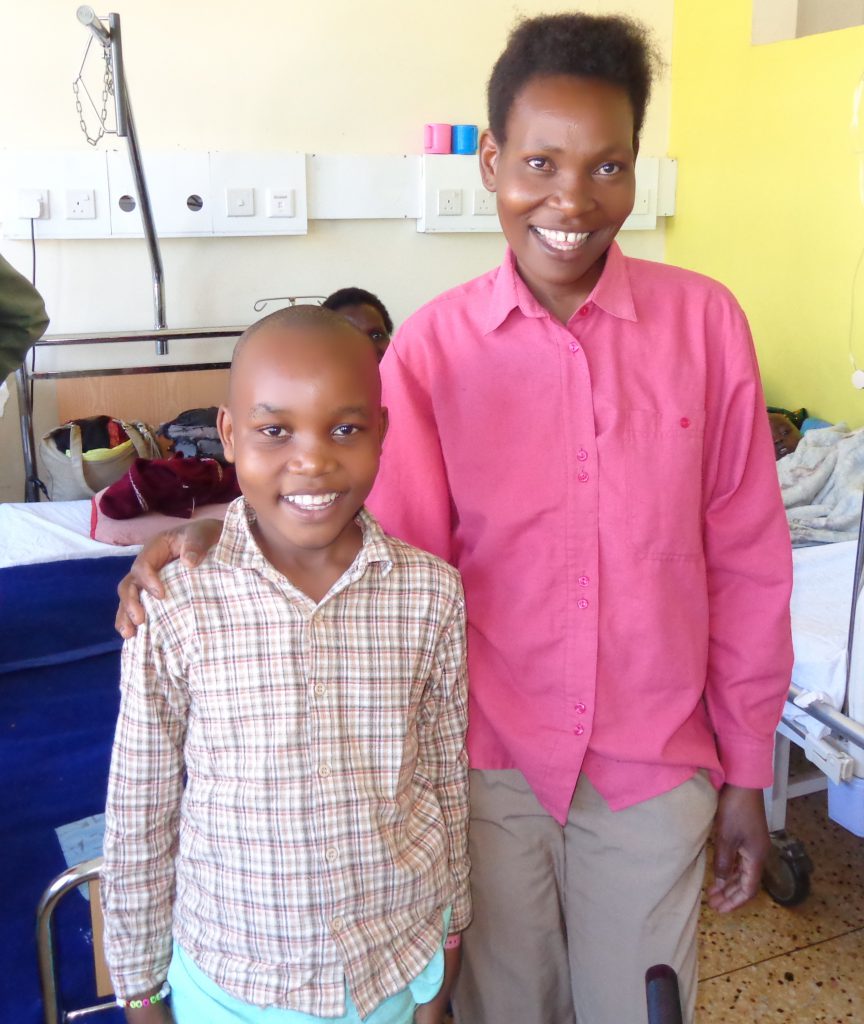 Charles and his mom