THE GREAT KENYAN RUN
The Great is not about the distance.  The Great is in what we will achieve.
In the USA, tremendous strides have been made in the diagnosis, treatment, and survival of childhood cancer. In the 1960s, the probability of survival for a child with cancer was less than 25% but today, survival is around 90%. A major reason has been the establishment of specialized hospitals. 
Sadly, elsewhere, the story is flipped. The light that shines so brightly on pediatric cancers, is yet to be lit in sub-Saharan Africa. For a population of over one billion, there is not a single children's cancer hospital, private or public—so there we see the exact opposite; around a 90% mortality rate for a child diagnosed with cancers.
In 2015, Shoe4Africa opened East & Central Africa's 1st public children's hospital. It's been a thriving success treating over half a million kids in the last five years. We maintain one ward treating kids with cancer. But it is not enough; we need a larger isolation building – therefore we're making our own Great strides.  We are constructing a 152-bed teaching hospital solely for pediatric cancers. Of course, like our first hospital, and our schools, it will be a public institution. Please help us by making a donation, any amount, as we embark on a seven-day seven-marathons run to break ground on this landmark building in Kenya.
What: A team of runners, leaving the capital's government house, running to break ground to build sub-Saharan Africa's first children's cancer hospital; the Shoe4Africa Juli Anne Perry Children's Cancer Hospital. Seven days, seven marathons.
Our goal is to raise $100,000. Any donation you can make can help us get there.
Runners and support team.  (may run whole way, or sections).
Doug Perry, George Hirsch, JP Reinhold, Toby Tanser, Chelimo Saina, Rodney Cutler, Dave Siegel, Lynne Hahn Hill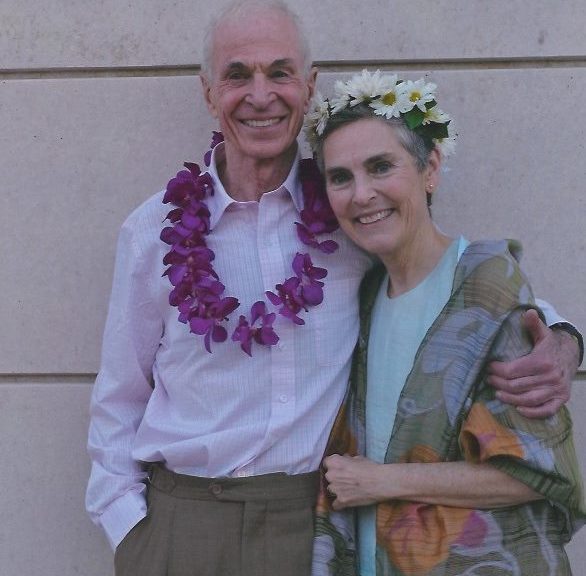 George & Shay Hirsch — our first advisory board for Shoe4Africa.  The lobby at the hospital is named after George & Shay of our first hospital.
DEC 18th. Stage One: Nairobi State House, waved off by the Head of State, Tegla Loroupe, a former World Record Holder in the marathon, winner of London & NYC marathons, joins us for stage one running to Kimende township.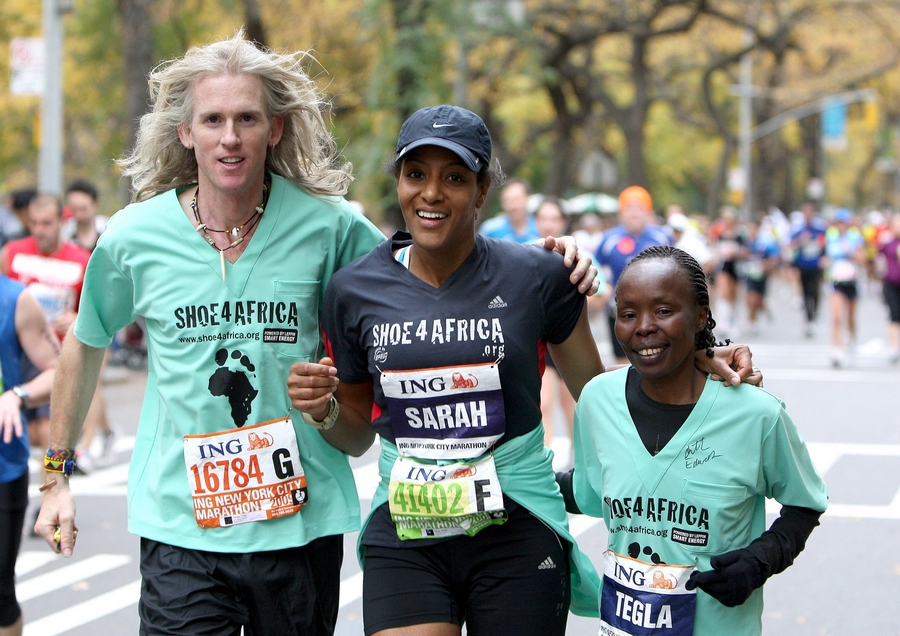 Tegla ran the NYC marathon in 2009 wearing our colors to support the building of our first hospital.
Abel Kirui, joins us for Stage Two, Dec 19th.  Twice Champion of the World in marathoning, an Olympic marathon medalist, a Chicago Marathon winner, and a man with a heart to help Africa. Abel's supported our events, and visits the kids at the hospital.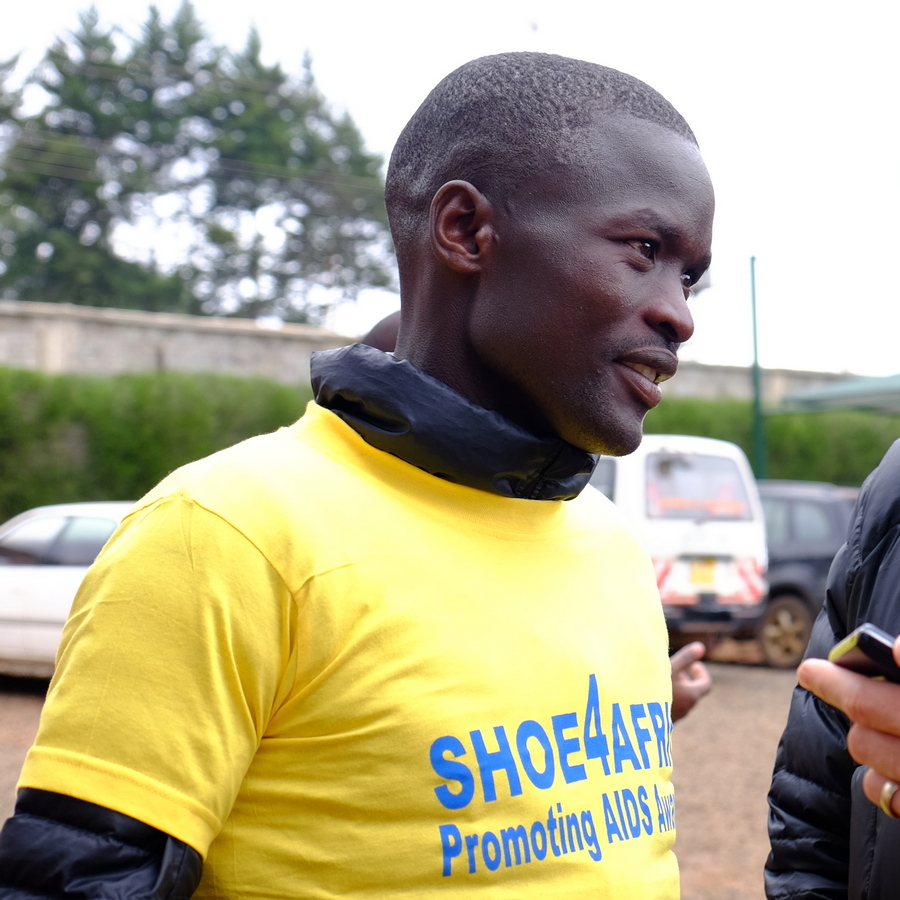 Moses Kiptanui joins us for Stage Three, 20th Dec.  A three-time World Champion, a multi event world record holder, Moses was the first man to break the 8-minute barrier for the steeplechase.  Moses has been an ardent support from the early days, helping to hand out shoes to needy athletes for Shoe4Africa.  Moses is a recipient of the Shoe4Africa Moses Kiptanui primary school in Elgeyo-Marakwet.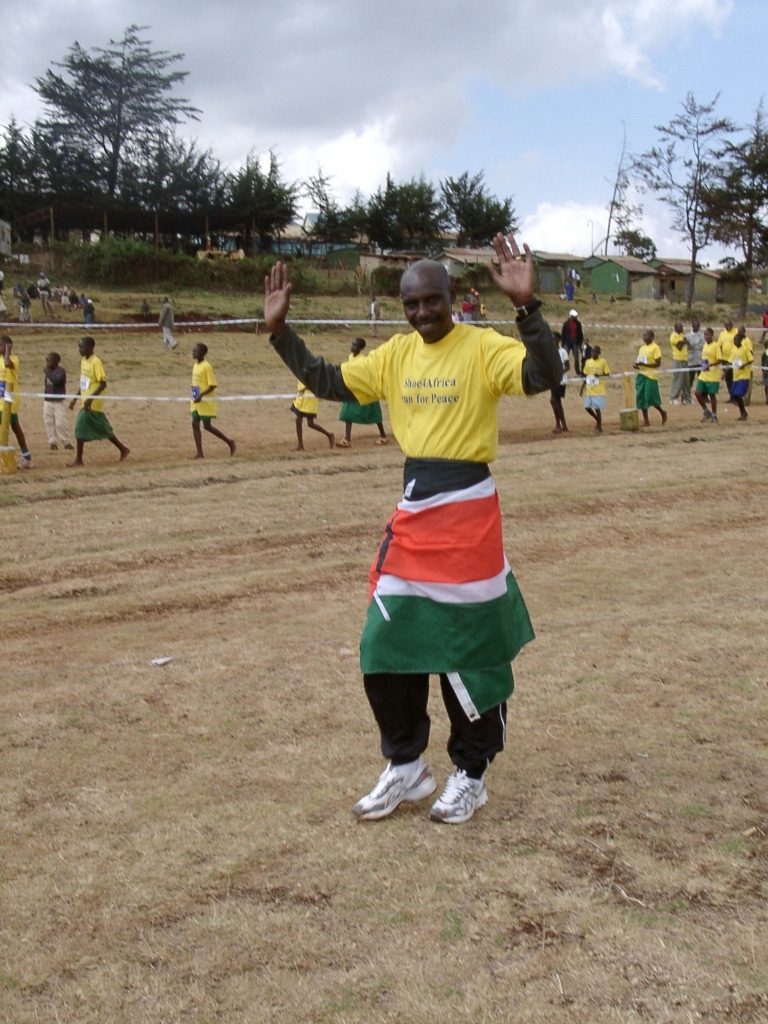 Moses as a grand marshal in 2008, at one of our events.
Stage Four is the turn for Daniel Komen, 21st Dec.  One man in history has run two consecutive sub 4-minute miles.  Daniel, also a world champion, too has been a Shoe4Africa ambassador for almost two decades.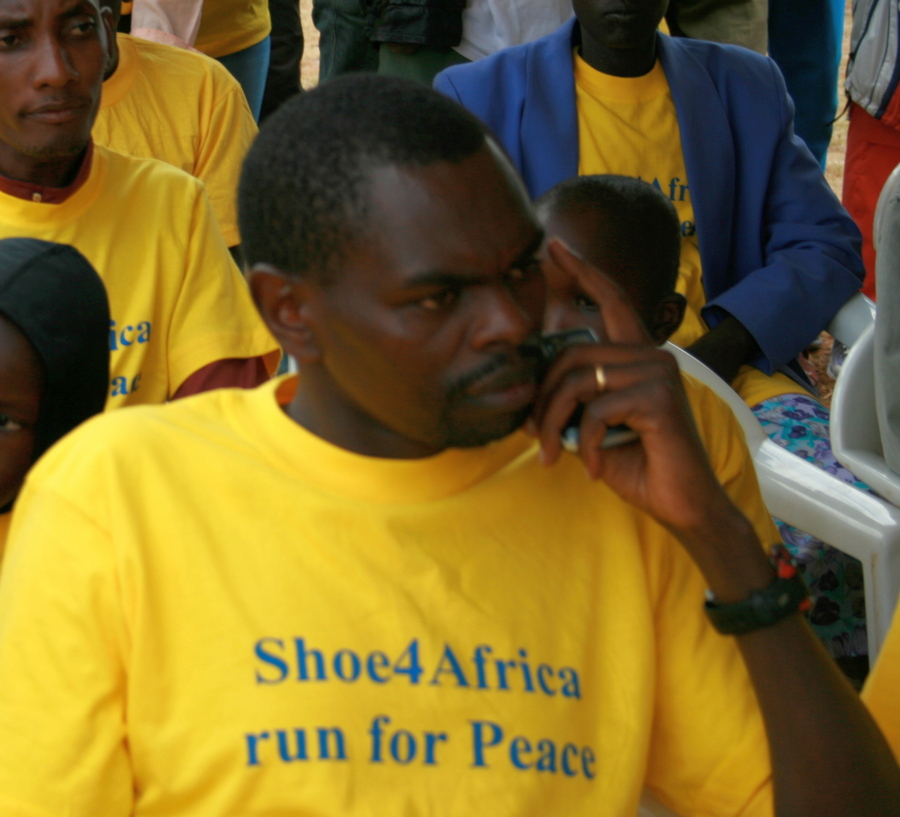 Stage Five, Dec 22nd, when Shoe4Africa held its first ever race in Africa Moses Tanui held the finishing tape.  It was in Moses café that Toby heard about the project to build the first hospital, and Toby trained with Moses in 1996 as he prepared for (to win) the Boston 100th marathon.  Moses, a world champion and record holder was the first man to break one hour for the marathon.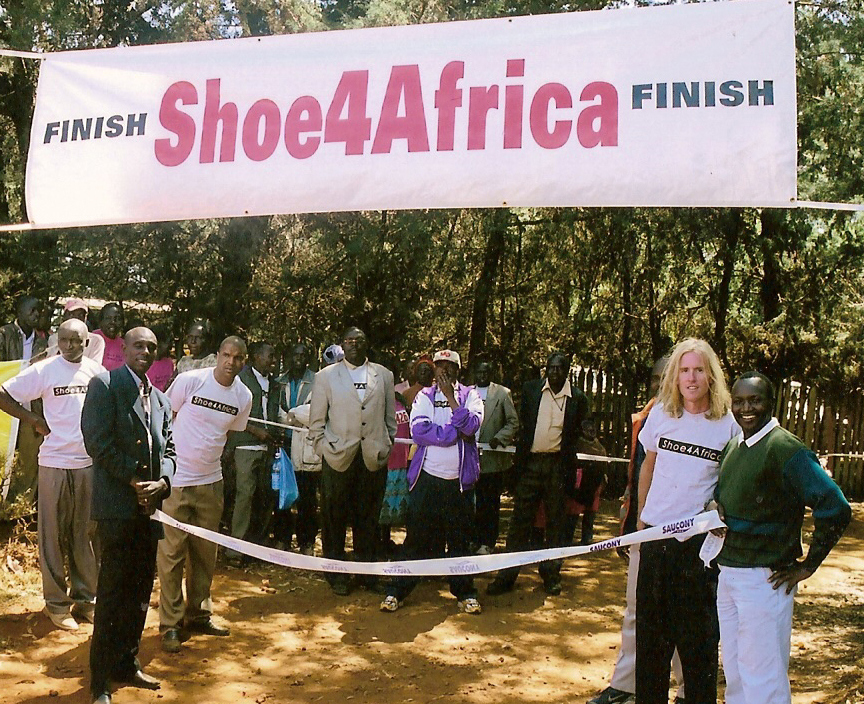 Moses Kiptanui, and Moses Tanui, Kenya's absolute stars in the 1990's, hold the tape for our first ever signature race in Kenya in 2005. Between them, five world titles, numerous records broken over four different distances.
Stage Six Mary Keitany holds the women's only world marathon record, and Brigid Kosgei holds the mixed world marathon record.  Together they will join us on Dec. 23rd.  Mary, like Moses, is a recipient of a Shoe4Africa Mary Keitany School.  Together they hold five London marathon wins!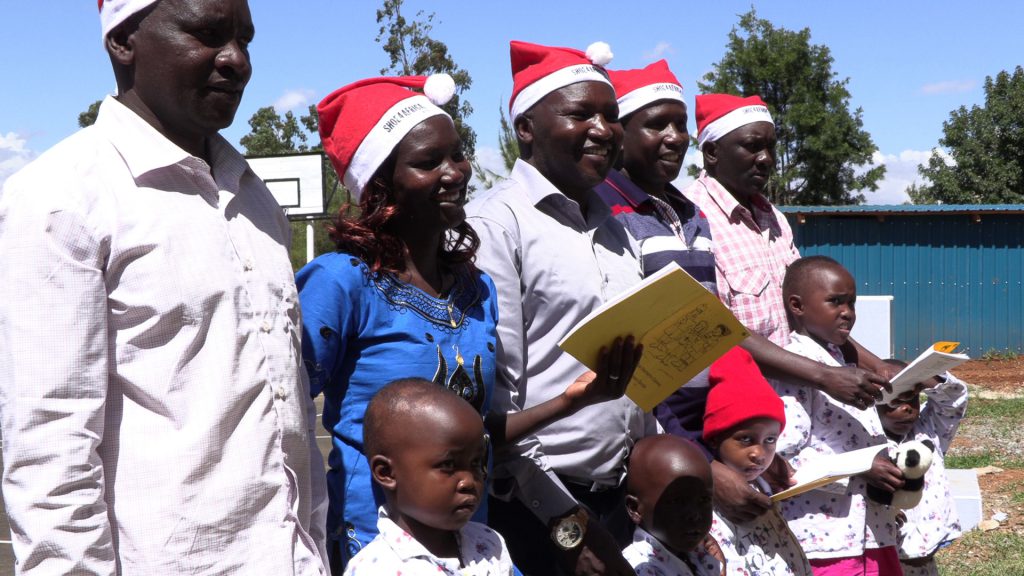 Jonas Birir, Mary Keitany, in blue, Moses Tanui, Martin Lel, and Matthew Birir sing carols at Christmas in our Shoe4Africa gardens.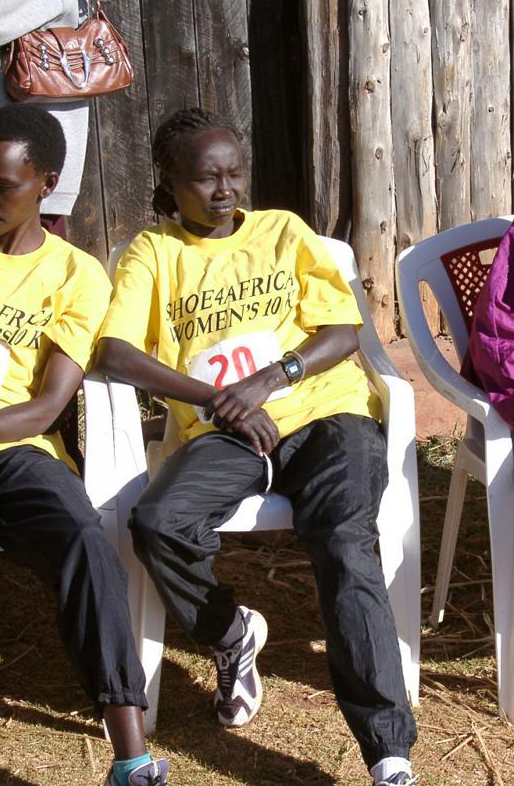 Mary, above, ran her first senior race in 2005 at the Shoe4Africa race.  She placed 21st missing the prize money by one place.  Yet this race gave her the belief she could become a professional athlete.  This was the (only) and last race where she did not earn any money.
Stage Seven.  Eliud Kipchoge was our first hospital ambassador.  In 2015 he came, the year we opened, to greet the kids.  He has come at every Christmas since acting as 'Santa' and also opened our soccer pitch. Eliud, is the only man in history to run under two hours for a marathon!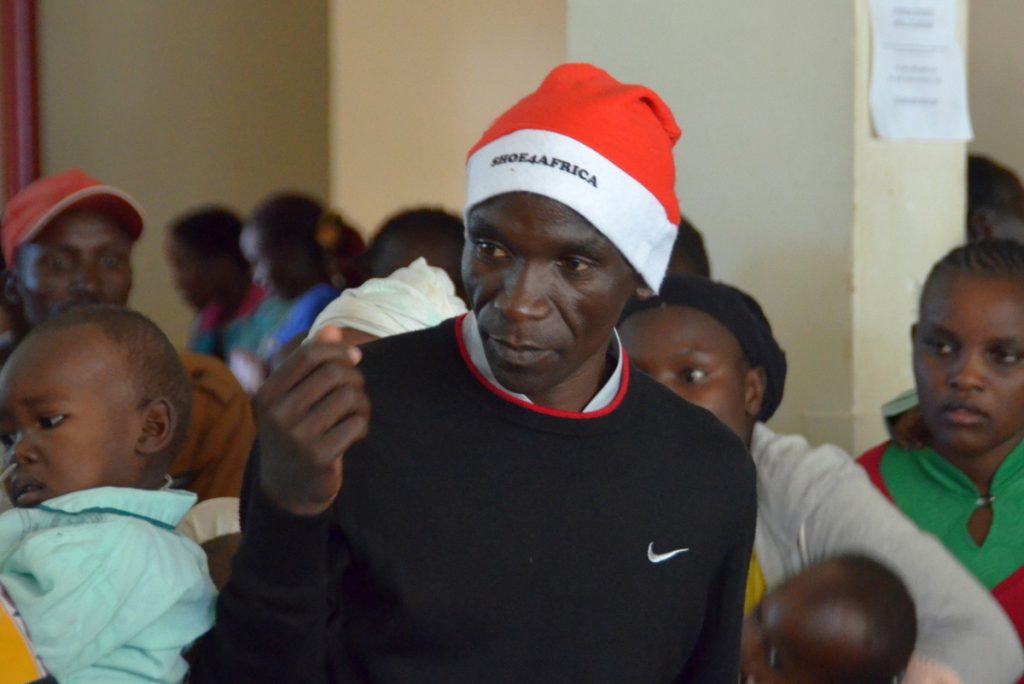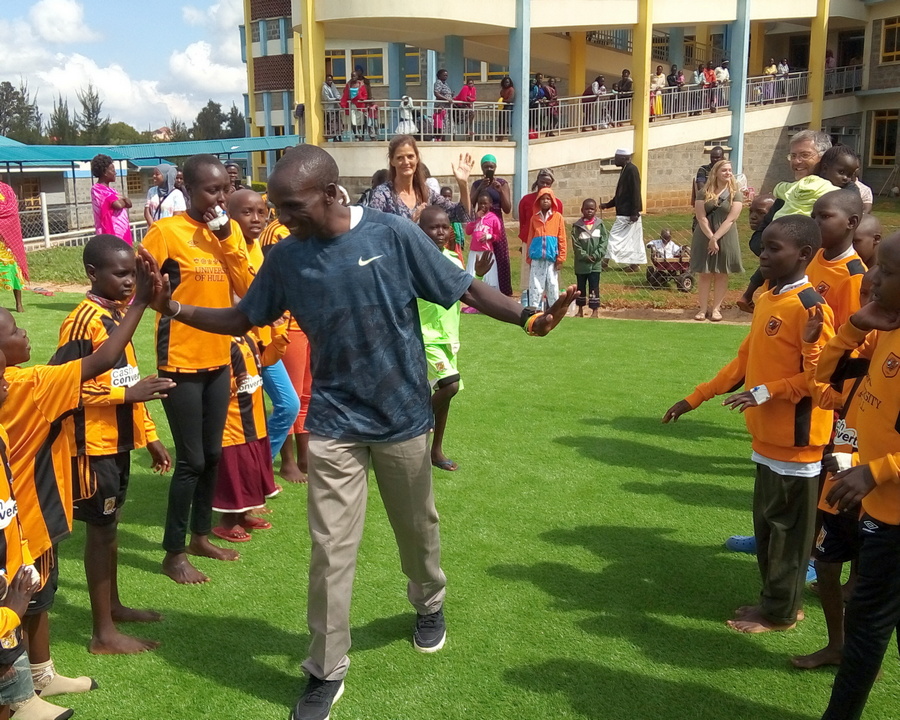 Eliud opens our astroturf soccer pitch at our hospital. Kim and Doug Perry in the background.
The last leg, as we run into Eldoret and to the site of the hospital to break ground, we expect to be joined by Kenya's Deputy President William Ruto.
The official greeter, Beryl, ten years old cancer survivor, was treated (and lived) at our hospital June 2018 till Jan 2019.  At Christmas, when her treatment ended she was told to go home.  She refused to leave saying she would not abandon her friends on the cancer ward over the holidays.  On Dec. 31st 2018 we held a soccer match with our patients. Of course, Beryl volunteered to play. The kids, announced their ailments—nine of the ten players suffered from cancers.  The number hit home as we had recently heard 9/10 kids diagnosed with cancers in East Africa die.
Then and there it was decided to build sub-Saharan Africa's 1st children's cancer hospital.  It will be a teaching hospital to train more pediatric oncologists (Today, for 50-milion people, Kenya has three ped. oncology docs).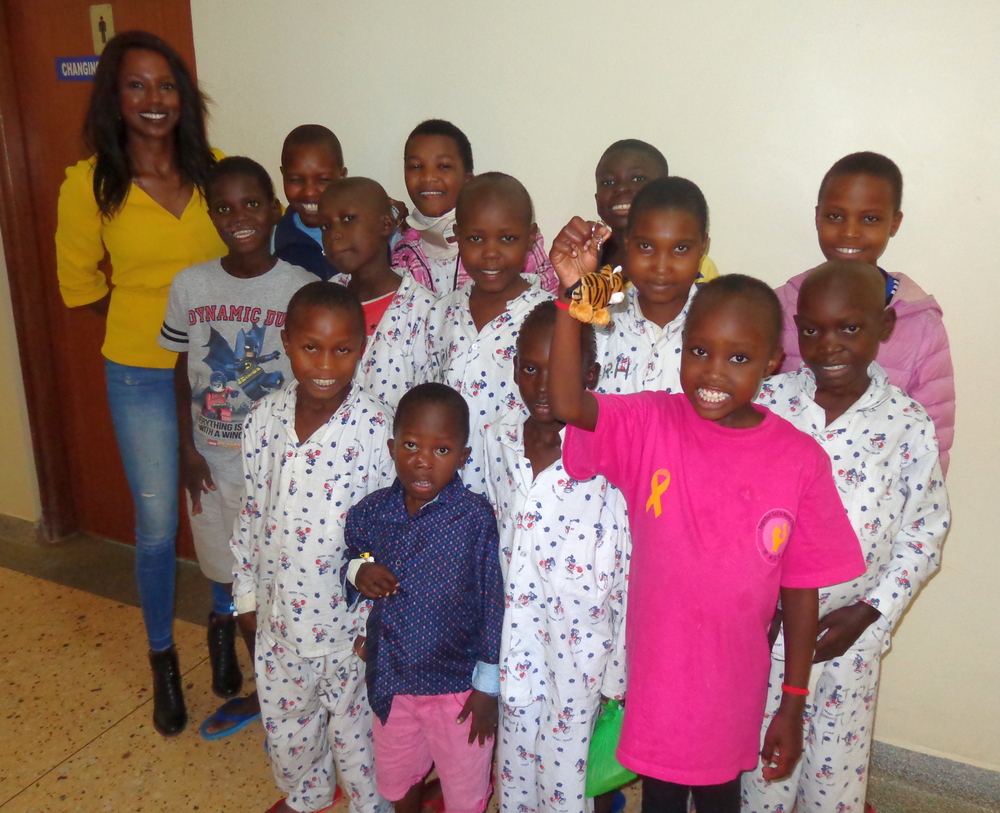 Beryl in Pink holds up the team manager.  Chelimo, in yellow, will take part in the celebration run.
In January Toby visited his good friends Doug and Kim Perry.  They had supported Shoe4Africa since 2017 and when Doug read more (300 pages!!) of the Shoe4Africa history he offered a most generous six figure sum; to help launch the Shoe4Africa Juli Anne Perry named after his late first wife (below), a courageous humanitarian who sadly lost the battle to cancer in 2010.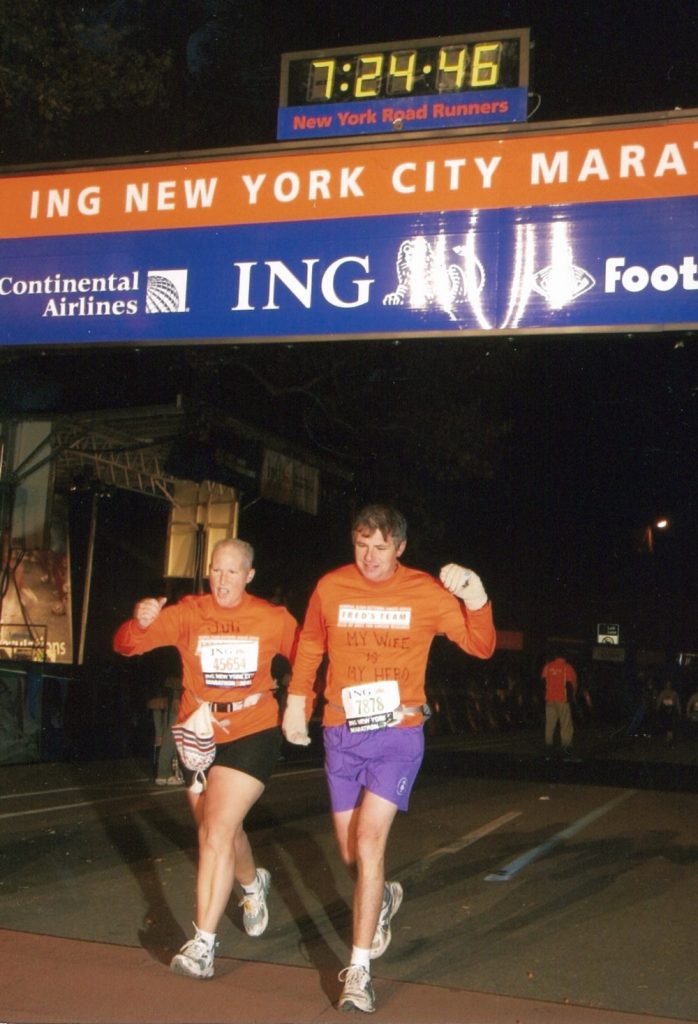 Juli Anne completes the NYC marathon with Doug
Chelimo, "Well, I am there at the start, and there at the finish.  Don't look for me at every single check point."
Toby, "In 2020, I averaged 0.4 miles per day.  This run is almost 200-miles.  I think I will be finished in 2024."
Matthew, "A shoe took me to Olympic Gold.  Now I am running to break ground on a hospital called a shoe."
Rodney, "When I heard of this run, how could I say no?"
The route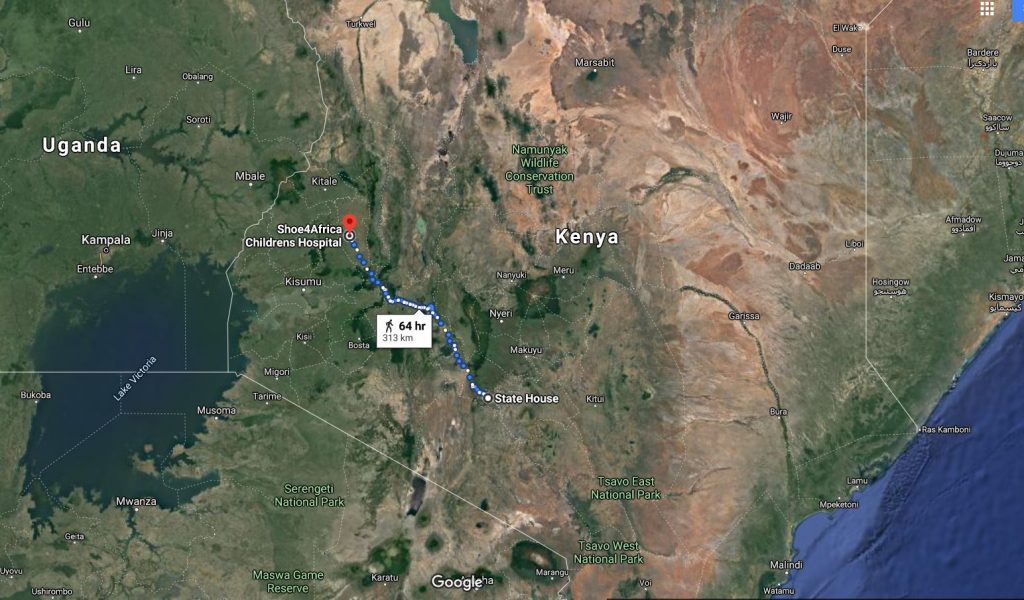 195 miles – 313 kilometers = 27.8 miles (a good marathon) per day!
The Story
'The Great African Ultra' is a race to break ground to build sub-Saharan Africa's 1st children's cancer hospital.
Children's cancer deaths in sub-Saharan Africa are horrendous.  In East Africa Dr. J. Kibosia, the former CEO of MTRH national hospital stated the numbers are thought to be around 9/10.  In USA, with methods that can be duplicated, that number has been whittled down to 1/10.
Clearly, the fact that sub-Saharan Africa is yet to get its first children's cancer hospital, is not helping matters.  Children must go to germ infested facilities, nearly always shared by adults, to stand in line for treatment.
With the building of the 152-beds Shoe4Africa Juli Anne Perry Children's Cancer Hospital, we can change the odds.  We can prioritize the child, especially as we will be building a public facility, not a private center.
To kick off the construction, we will run from Nairobi's State House to the Shoe4Africa Children's Hospital in Eldoret, be joined by our cancer patients, such as Beryl and Lavinah, as we start the journey to construct the new landmark hospital in the next field.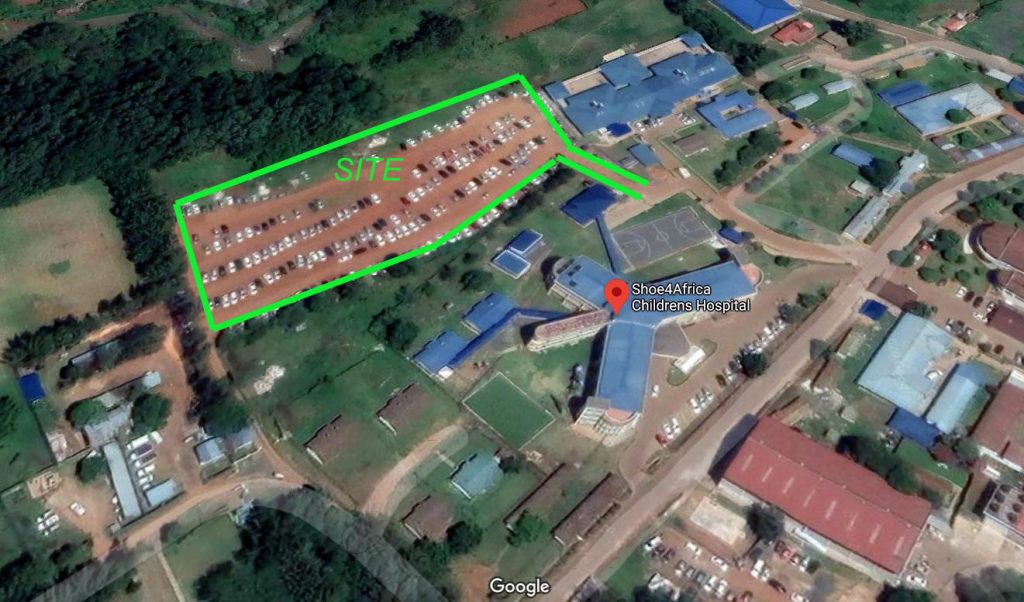 A large group of athletes will join us on the last 5km into Eldoret (all of the above) and more
Matthew Birir. As a twenty-year old, Matthew won the Olympic Gold in the steeplechase.  He has been a long time supporter of Shoe4Africa, and has been present at almost every Shoe4Africa event since 2006. Last Christmas he was at our hospital gifting presents.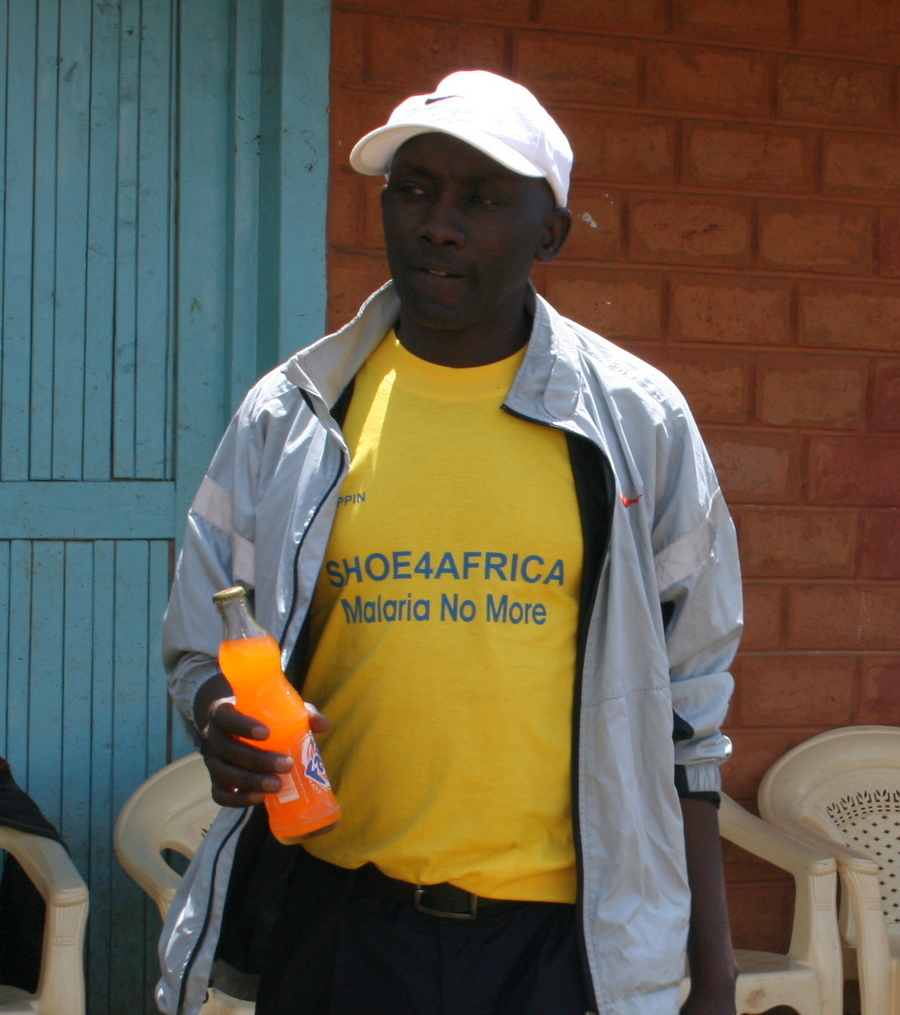 Matthew at our Malaria Awareness event in 2011
Pledge $1,000 Dan Sutich
that number hovers around a 10% survival rate.  One wonders,
*Cancernetwork.com