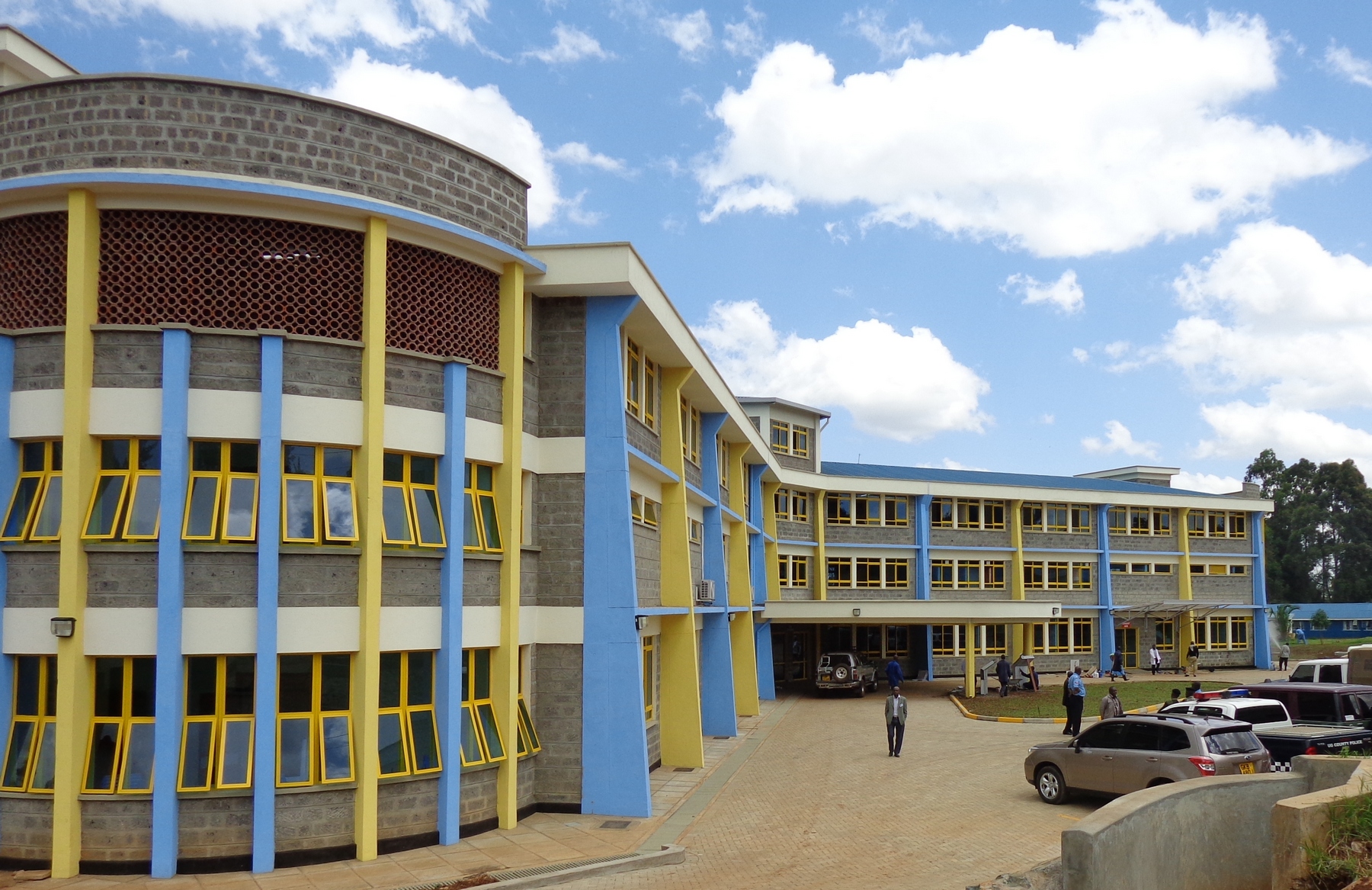 "If people are not healthy, the rest means little."
Tedros Adhanom (former minister of health, Ethiopia).
We are bringing vital public healthcare to a vast catchment area; in fact being the only public kids hospital in the entire region of East Africa means we are constantly running at over-capacity. These kids deserve our greatest attention, born into dire poverty through no fault of their own; please join us in providing medical care to East & Central Africa's only public children's hospital.  We are also receiving patients from outside of Kenya, from the neighboring countries.
Our Children's Hospital opened on Aug 12th, 2015 and now has a 150-bed capacity that is  spread over three floors and a sky unit. We have a large compound and have recently completed a new Kitchens unit in the grounds, and a Music Therapy building play center behind the main building, with a healthy child immunization temporary center.
Our services cover; *A Sick child clinic, *Emergency services, *Neuro services, *Surgical wards, *Medical wards, *Oncology wards, *A Burns unit, a number of Doctor's consulting rooms, Social workers offices, a fully stocked Pharmacy,  Immunization out-patient center for the Healthy child, Child Life program… The Hospital has two dedicated Theatres, and ICU, and an HDU which we are currently fund raising for their equipping.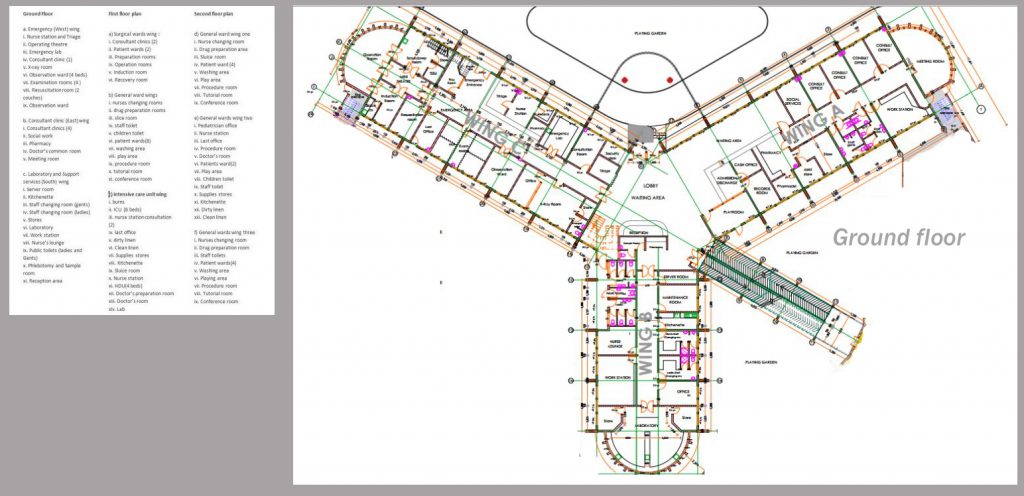 See Full floor plans below.
Currently there are only three public children's hospitals in Sub Saharan Africa:  Red Cross Memorial, Cape Town, South Africa, 1956, Shoe4Africa 2015, Eldoret, Kenya, and most recently The Nelson Mandela Children's, opened in September, 2017, in Johannesburg, South Africa..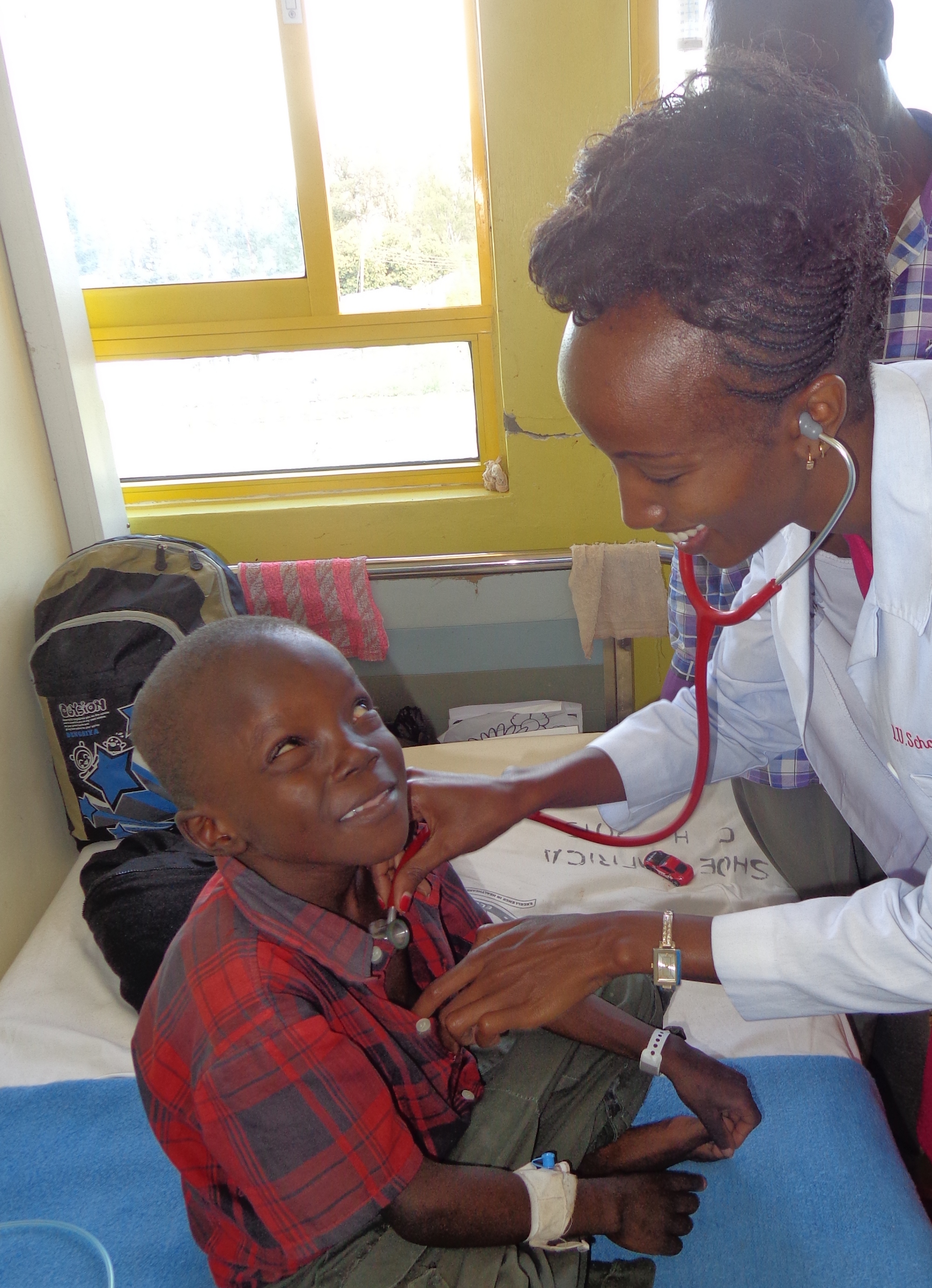 The mission of the Shoe4Africa Children's Hospital is to attain the highest level of advanced paediatric safe and effective medical and surgical care.  A teaching hospital that will help empower, educate  & enable the future of a healthy East Africa.
Little Titus gets a check up for his, now healthy, heart.
The Shoe4Africa Hospital was gifted to the people of Kenya on August 12th, 2015 from our foundation.  On the 13th of August we already had over 60-patients.  Today we are over the 150-bed capacity and have a wonderful team of Medics saving lives on a daily basis.
It is a general children's public hospital offering a wide array of services for many ailments and conditions.  We are currently developing a 'children's health village' inside the large compound that surrounds our hospital.  Learn more if you want to be involved in helping us with this ambitious goal by simply emailing us.
In 2017 the Operating Theater was stocked with state of the art equipment, so we can perform life saving operations, we are also renovating the grounds to build a beautiful playground.  Plus a Playrooms house to compliment the playrooms we have on each floor inside the hospital.  As you can read there is lots to be done and we would appreciate your help.
Access to healthcare is vital; there are one billion people in Sub Saharan Africa.  Clearly more needs to be done (England has 21 kids hospitals for a pop. of 51-million, about 5 million more citizens than Kenya though a lower percentage under the age of 20 than Kenya)
"A specialist dedicated children's hospital will be a credible demonstration of the commitment of African leaders to place the rights of children at the forefront – nothing less would be enough." Nelson Mandela, 2005
:::::::::::Shoe4Africa Customer service lines (24-hour): 0706-390391 / 0732 018387::::::::::::
The hospital is less than 1km from the main Nairobi to Uganda highway, it is 32km (20-miles) from the HATC sports hotel in Iten, and it is only 15km from the Eldoret International Airport.
Images below:  See us on google maps – Here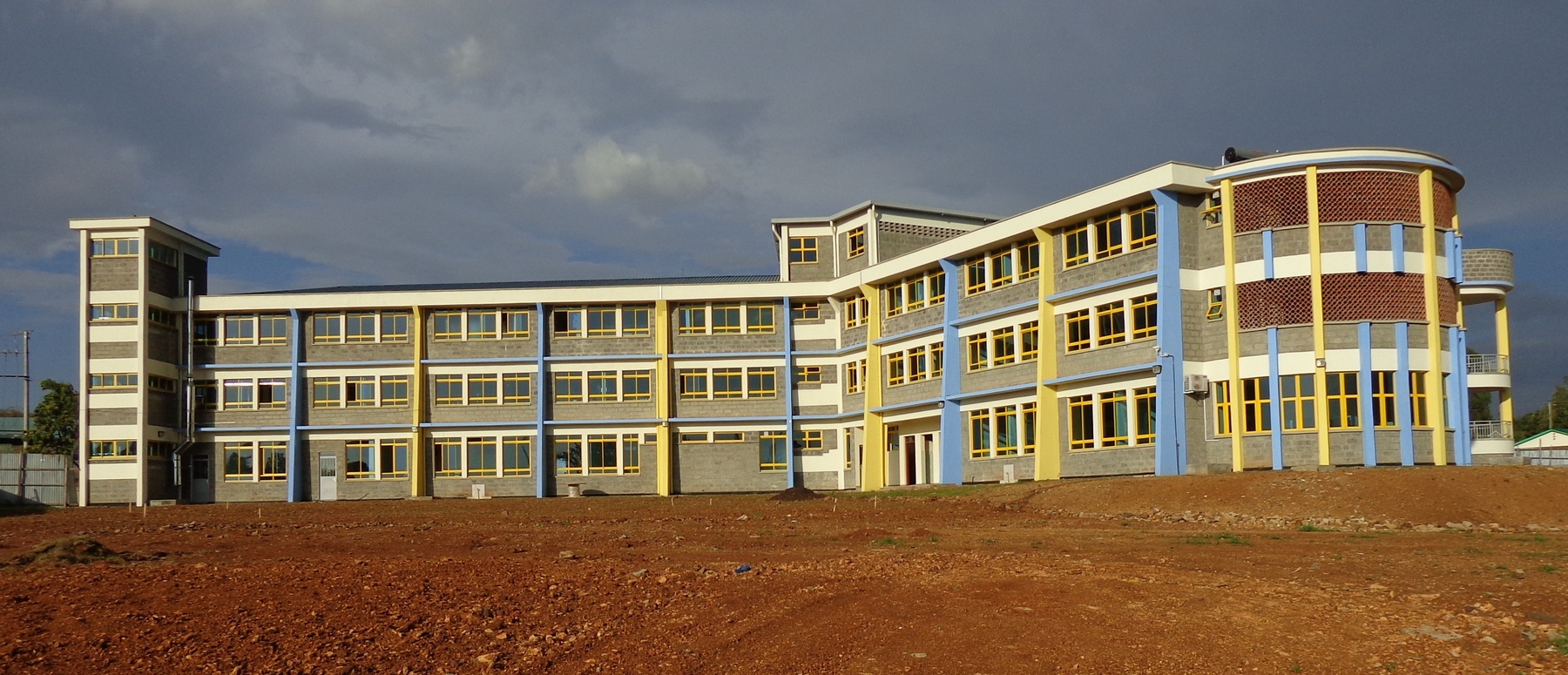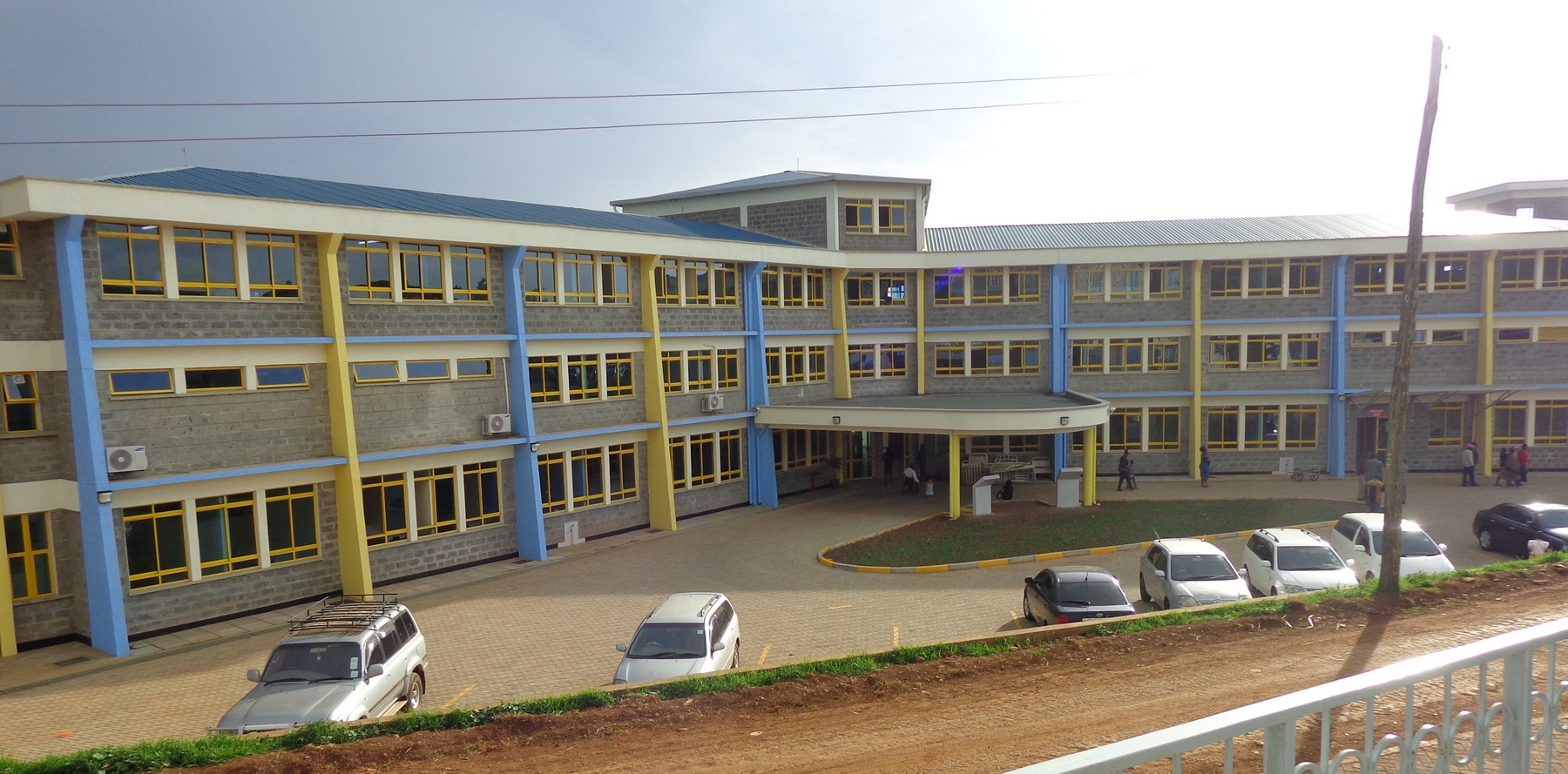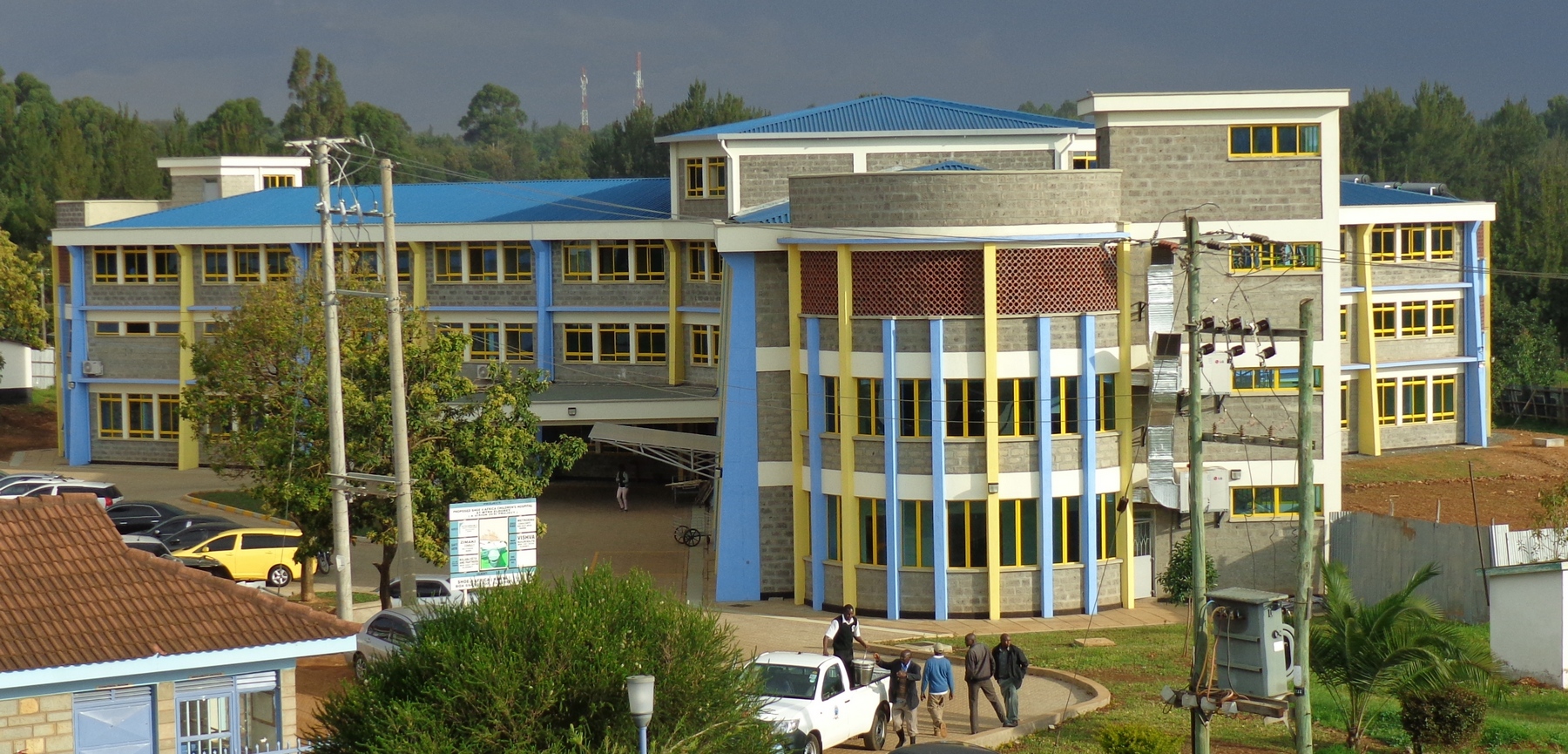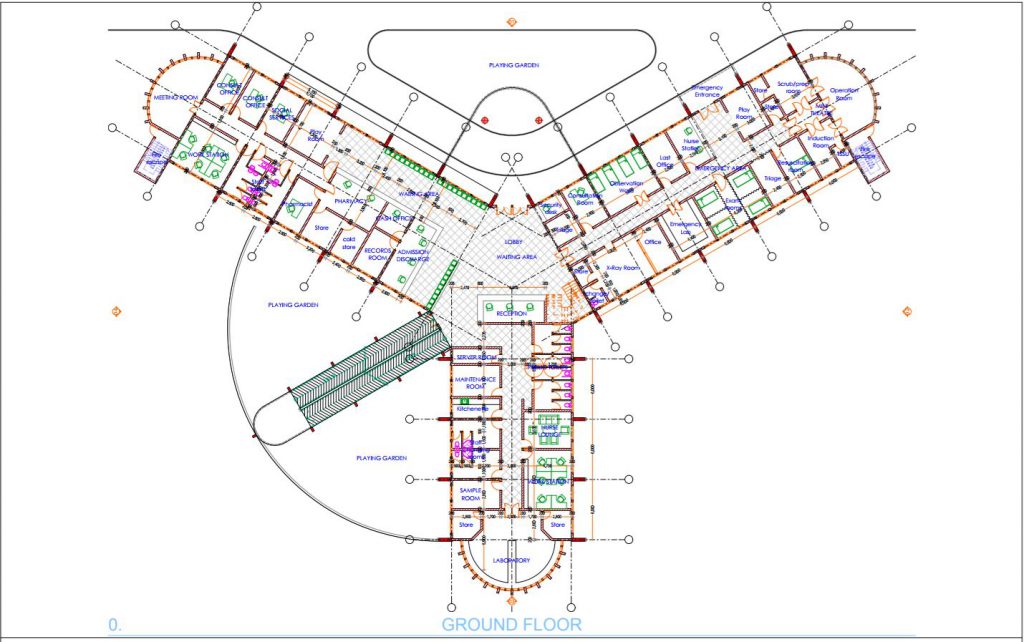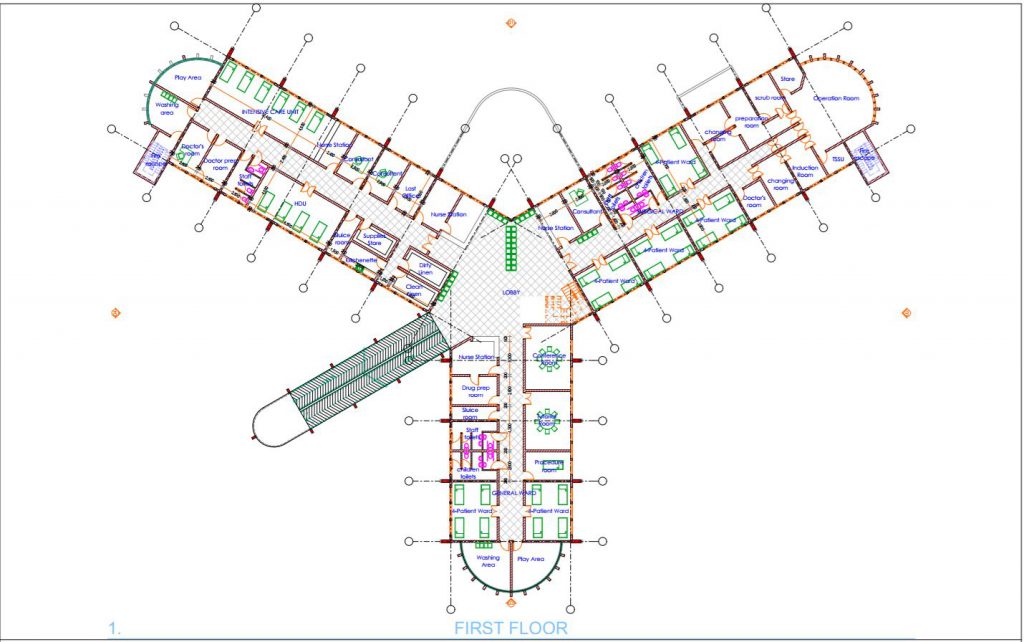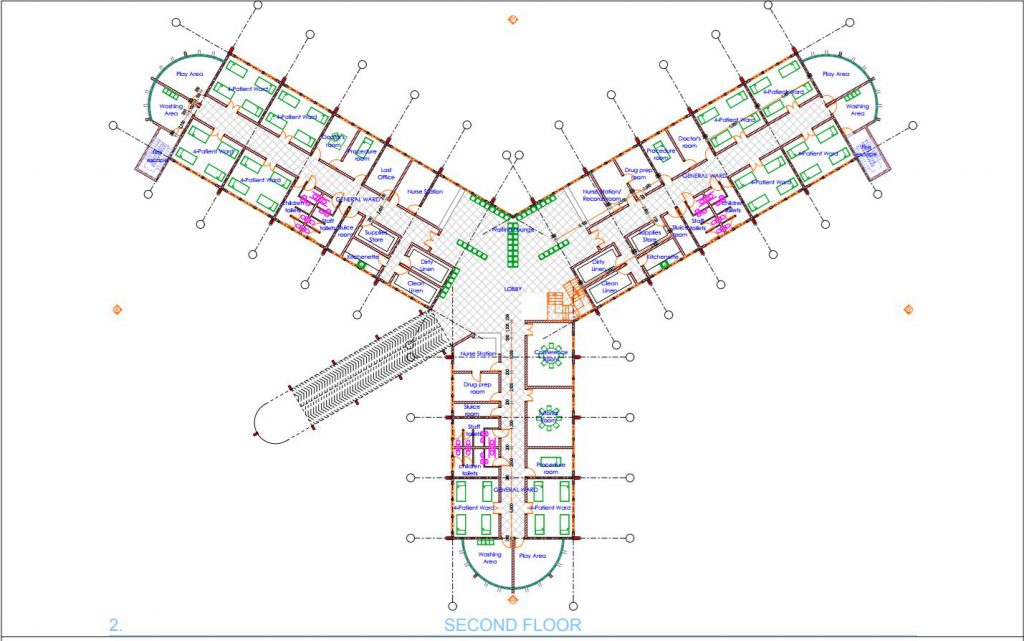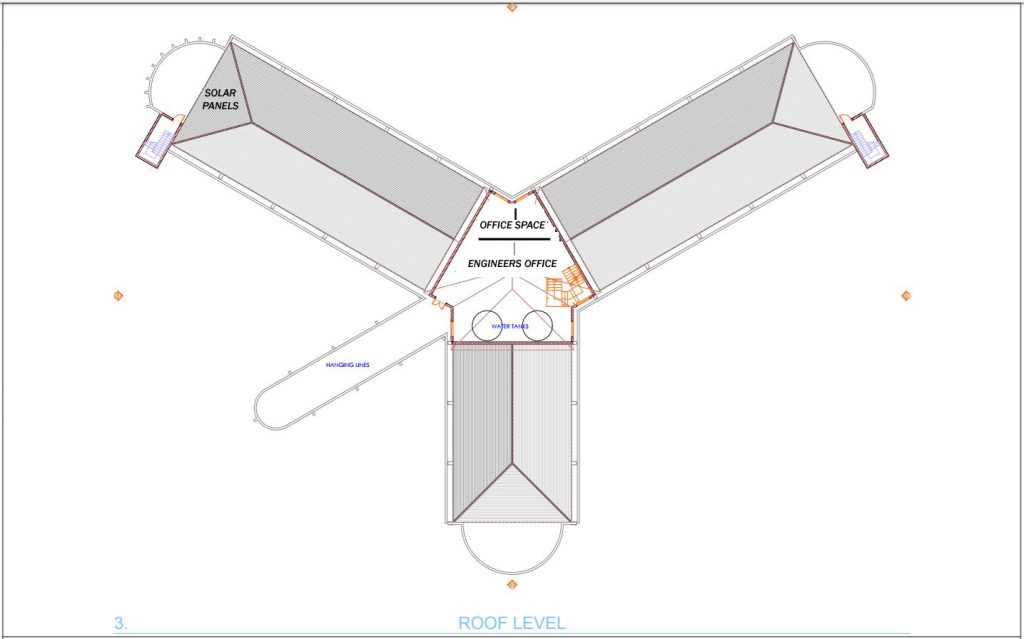 ABOUT OUR LABS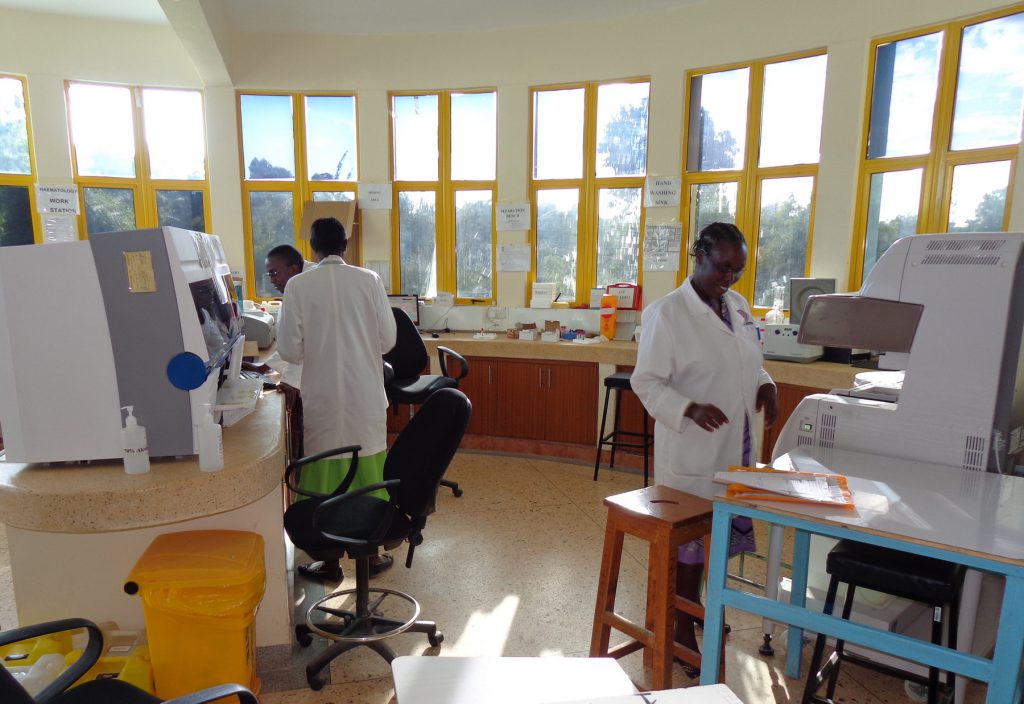 1.    Our labs tests over 150 patients daily in less than one-hour test results turn around.
 2.       Most common illnesses for outpatients are typhoid (and infectious bacterial fever with an eruption of red spots on the chest and abdomen and severe intestinal pain) and malaria.  About 40 of 150+ are complicated test cases, like cancer. These take two days (other government hospitals take 14 days for cancer test results).
3.       100% of all prescriptions are filled in The Shoe4Africa Public Children's Hospital pharmacy.  We have heard reports of 50% and below for other hospitals in Kenya.
4.       The Shoe4Africa Public Children's Hospital has a 100% success rate in mitigating medicine and medical supply theft internally and externally.
How it works:  A system tags a patient with a number from triage all the way to discharge, governs all medications given to the patient.  Example: John Smith is triaged in with code number 8080, all his medical supplies and medication cannot be signed out without that code. When John Smith is discharged, the attending Dr. and nurse go through John's chart crossing off and confirming all prescribed 8080 supplies and medications against the pharmacy bill. No supplies or medications can be given without a patient's code number against it.
SPECIAL PROJECT — Our Playgrounds.
Play is a funny word as it invokes a feeling of an afterthought, or lesser importance than, let's say, 'Equipment'.  Yet can you imagine a children's hospital without a playground?
Right now we can!  We need to build one!
"Play is an essential, natural part of childhood, important in its own right. Play facilitates healing, coping, mastery, self-expression, creativity, achievement, and learning, and is vital to a child's optimal growth and development." ACLP http://www.childlife.org/child-life-profession/mission-values-vision
"Following a meta-analysis of 800 studies, Fisher concluded there was cogent evidence for the positive impact of play on children's development outcomes."  -Evidence-Based Practice Statements on Child Life, Donna Koller, PhD submitted this paper, which was approved by the ACLP in 2008……    "(Play) reduces the need for potentially dangerous sedatives and pain medications and helps children heal faster with less long-term psychological effects." Dr. Abiodun Oyebola……    According to the American Academy of Pediatrics (AAP), "Play is essential to development because it contributes to the cognitive, physical, social, and emotional well-being of children and youth."  https://pediaplay.com/category/play/
The Proposed Playground Plan for 2018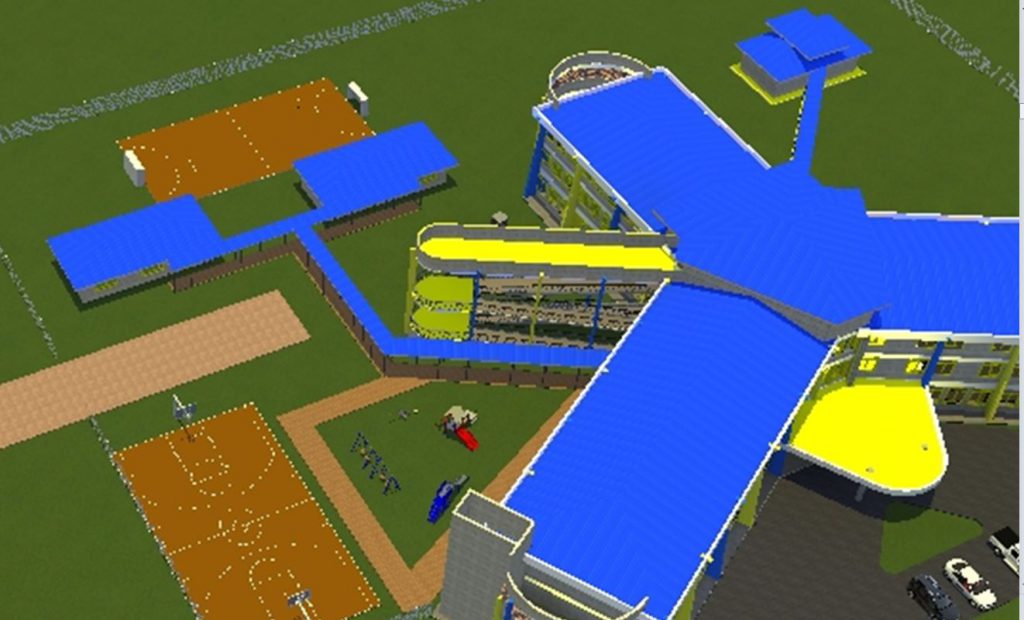 Stories from the Hospital
Grandma Jane.
Grandmothers are always everyone's favorite family member. Grandma Jane is definitely one. In fact she is her grandchildren's hope.
In the slums of Kakamega, about 3-hours from the Shoe4Africa Children's hospital, the same sad stories are found; no different than the slums around the world.
Jane has four sons. All four sons took off to find a better life outside the slums. None of them ever returned to check on their mother Jane. As she tells the story, she says in a way she was happy for them. Assuming they had found a better life.
Unfortunately, whatever life her sons had chosen, was not better than the life they left behind. Grandma Jane tears as she begins her story.
In 2014, a very weak sick baby was dropped off at her door step. Grandma Jane took one look at the baby boy and knew he was her grandson.
While we looked at her wondering what she did next that day, she said two more children were brought to her hut by different women in the next coming years. All different ages and each woman fed up with her sons and their lack of child support. Thousands of women in Africa raise their own children in absence of their fathers, but when one is a prostitute (which these women were), motherhood gets in the way of the fast, dangerous lifestyle.
Feb, 2017 Luka (baby dropped off in 2014), died of HIV AIDS. Grandma Jane now had two grandchildren. Alex was dropped off at age 7. His mother could not take care of him anymore with his disabilities. Alex's only disability was being deaf and dumb. Eunice was 3-years, the other grandchild.
Everyday as Grandma Jane went out to look for food for the day, she'd leave Eunice with a neighbor and tie Alex to door frame. The rope around his ankle was long enough that he was able to lie down on twin bed in the single room house. This was Grandma Jane's secret for almost two years.
She would also leave Alex a cup of water and some groundnuts. Two years of daily movement allowed Alex to finally snap the frayed rope. Grandma Jane had just stepped out and supper was on the open fire.
No one knows what actually happened when the rope snapped. Perhaps he leaped with joy that he was now free. But jumping around in tiny space with an open fire can quickly become tragic.
Grandma Jane walked in to find Alex's body totally burnt except his head. Dr. John Chumba, one of Shoe4Africa's doctors, tell us it's a miracle he is alive.  Alex is now in a wheelchair unable to stand because of his burns.
Grandma Jane lights up with a smile at the end of her story and says, 'Look, we are here at the hospital with beds, three very good meals and doctors to treat Alex'. What resilience in Grandma Jane. Without Shoe4Africa Public Children's Hospital, there would be so many tragic ends to sad stories like Alex and his family. The social workers in the hospital are working with Grandma Jane to make sure her situation changes now Alex is on the mend!  We have also found Grandma a job at our Women's Empowerment Projects.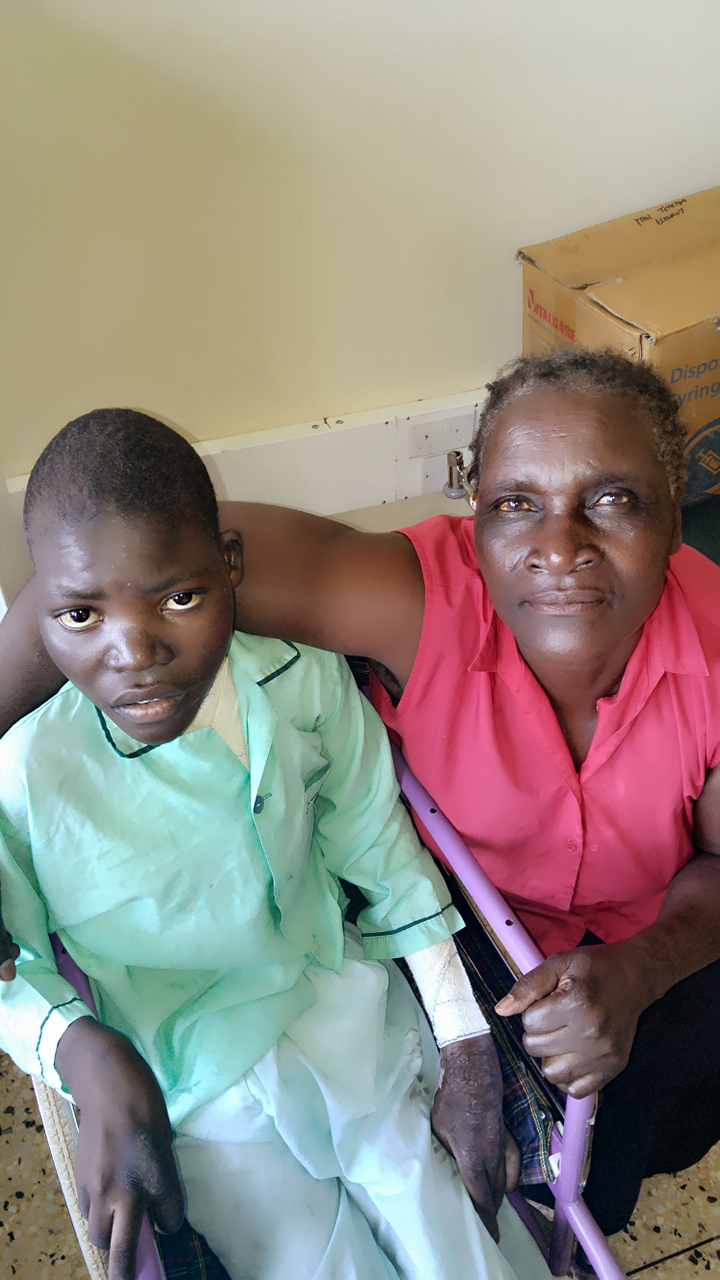 This is the story of Purity Chepkirui.
She's a three year old girl whose life has been saved because of the Shoe4Africa Public Children's Hsp. More importantly, she was brought to the hospital in critical conditions.
Purity was born with a rare condition. She was born without a nasal bone and without part of her nasal cartilage. Our understanding of what the doctors say is that massive amounts of fluid was sitting in the gap and flowing into areas that were causing damage in Purity's head. Naturally what should have happened would be a formation of cartilage between the tip of her nose to her brow bone to take the place of the nasal bone.
Purity was taken to several hospitals and she had episodes of unconsciousness and excruciating head pain. Each hospital visit was all in vain. 98% of the children brought to Shoe4Africa Public Children's Hsp live in abject poverty. Arriving at the Shoe4Africa Public Children's Hsp was Purity's mother's very last option. Her mother had no more money to travel to yet another hospital.
Like the medical staff does so well at Shoe4Africa's Public Children's Hsp, Purity was triaged in no time and wheeled into surgery. When she arrived she had been unconscious for a dangerous amount of time. The fluids were drained and preparations for subsequent surgeries are underway to build her nasal bridge and reconstruct Purity's face.
These are our stories of triumph, where parents who have lost hope or with very little hope, find it again at the Shoe4Africa's Public Children's Hsp. Purity, unconscious, was extremely close to death.  The reality was, and affirmed by the Doctors, Purity was only hours away from her death.  Today she is stable, healthy and on the road to recovery. Yet Purity was attended to because of runners and givers like yourself.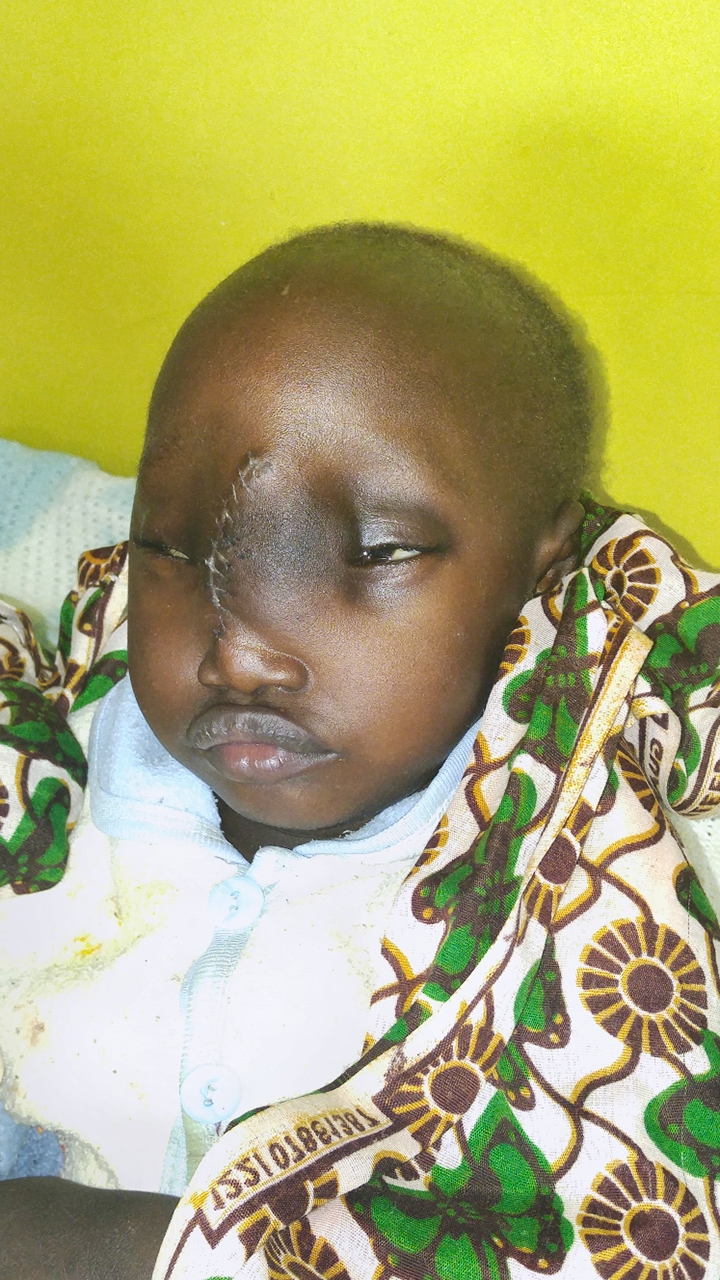 Next up a story about Precious, and since posting we can thank Tina & Michael for stepping in to help!
Precious is a one year old girl who truly is precious. Her mother Mary is a single mother. A result of an unwanted pregnancy in the midst of poverty. Mary had been looking for work for over a year and finally found a job as a house maid, 3 days per week. She did not tell her new employer that she had a one year old daughter because that would cost her the job.
Without money or willing relatives to watch Precious the three days she worked, she had to leave Precious at home. A nightmare situation for any parent. She rented a dark tin room in the slums of Eldoret. Everyday she locked the room with her baby girl inside, she'd pray that no one would hear and steal her.
Mary would wake up and give Precious a bath in a basin and feed her millet porridge. It was more hearty than breast milk and would keep Precious satisfied longer. Three months of work went by fast; three months of coming home and finding Precious' cloth nappy soiled and her cloths wet with seat from the heated tin room. But, that was all bearable because Precious was still in the room.
The fourth month came along, and Mary continued to go to work and continued to hide little Precious. Precious was growing and on one of the days her mother had gone to work; she began to crawl. A stage every parent welcomes. Sadly, Mary had not put out the cooking fire all out. It continued to burn lightly for several more hours. Little Precious perhaps fascinated by the flames, begun slowly crawling towards the fire. Their bed was on the floor.  She of course had no idea the danger before her. We will never know what exactly happened…or how Precious ended up in flames. What is evident is she suffered and perhaps tried to get away and her little body did not know how to crawl backwards or move away fast enough.
God is merciful. Despite her whole face and chest burning, she is alive. Mary fainted when she saw her baby Precious crying in pain and her face completely burnt. A neighbor happened to be passing by. News in the slums had spread about Shoe4Africa Children's Public Hospital and Precious was rushed there.
She is slowly recovering, in little pain and awaits more healing before a numerous amounts of skin grafting. The burn unit doctors are looking forward to give Precious her lovely face back.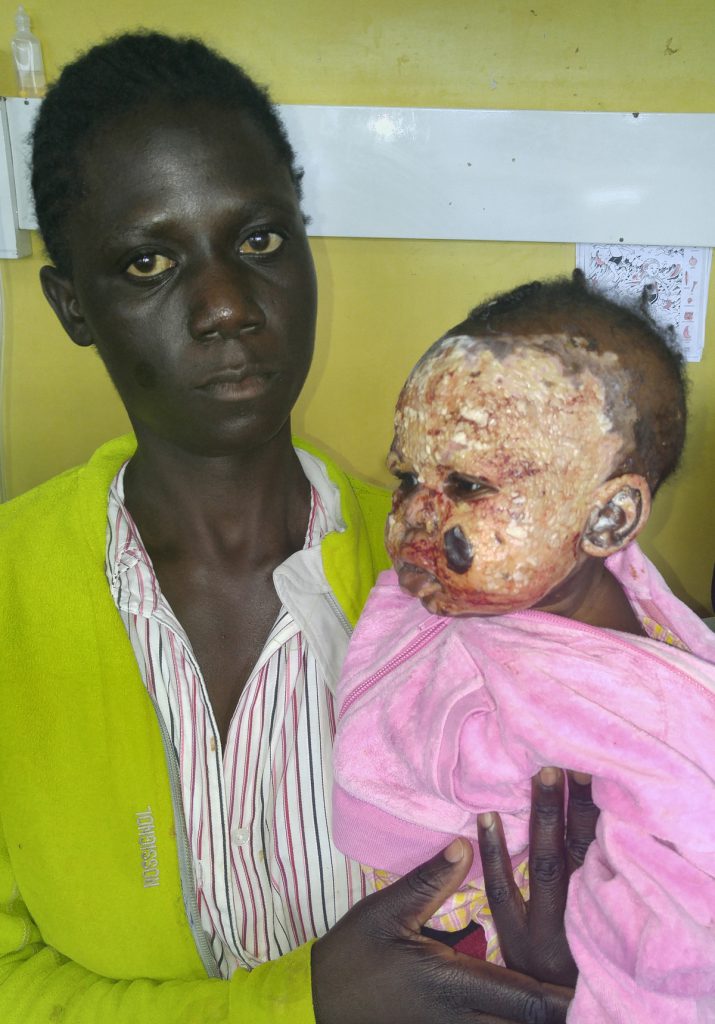 Little Precious
The story of Charles
This is a very sad story. Sad in how humans can be so barbaric to little innocent children.
Charles is an 8 years old and comes from the furthest corner of Kenya which boarders Tanzania. He's from the Kuria tribe, a very small tribe who live both in Kenya and Tanzania. These small tribes are very isolated and often still practice very dark rituals.
One of these rituals, are the practices that happen in search of wealth. Wealth to these people may not necessarily be a big bank account or a huge house. It often translates to spiritual powers or the level of fear the community has for a person and the number of wives and cattle. To get this 'wealth', involves human sacrifice.
It's hard to write this story in 2017 and imagine this happens today somewhere in world.
Charles and his two brothers were very close. Playing with the neighbors outside was an everyday way of life for him. Until one day when four men corralled the boys as they played. It seemed as if these men had been watching Charles and his brothers play daily and knew when Charles' mother left for work and when the boys were alone. The speed and strength of these men, left no time for the boys to run or scream for help. They were carried into the forest and into a shabby mud hut.
Here the unthinkable happened. Charles's big brother, only 11yrs was tired down by the men, while one of them begun to cut his whole genitalia off. Charles told us his brother passed out from the pain and bleeding and then died. Next was his 9yr old brother. Charles said at this point he was screaming at the top of his voice and so was his 9yr old brother…. but for only a little while before he too died. Then it was Charles' turn. He said he remembers screaming and asking God to save him. The cutting had just begun when a group of women broke down the door. He was saved, but very badly injured. Imagine the pain, the fear and the torment those young children faced that day.
The women were mothers of children who'd long gone under the same ritual and mothers who heard the boys screams. They were against this ritual. Charles' two brothers died.
He was taken to a nearby hospital, but they could not do the surgery Charles needed to 'put him back together'.
A local doctor asked them to take him to The Shoe4Africa Public Children's Hsp for two reasons. Charles would definitely get treated and definitely be safe from these men or any others. But The Shoe4Africa Public Children's Hsp was miles away. The women came together and raised enough money for Charles and his mother to travel to Eldoret where the hospital is located.
Charles underwent lifesaving surgery and was safe at The Shoe4Africa Public Children's Hsp. After several weeks, he was able to walk around slowly in the hospital with a limp as some nerves were beyond repair. When he heard Toby Tanser was going to be at the hospital he waited at the entrance with the security guard. He'd been told about Toby and how he saves children. When Charles saw Toby, he held Toby's hand and said 'please don't let me go back home'.
We, at Shoe4Africa, are able to save children because we have the support from everyone reading this article, everyone who's run NYC marathon for Shoe4Africa and everyone who has given to Shoe4Africa over the years. T H A N K   Y O U!!! Together we've built a safe house inside the hospital!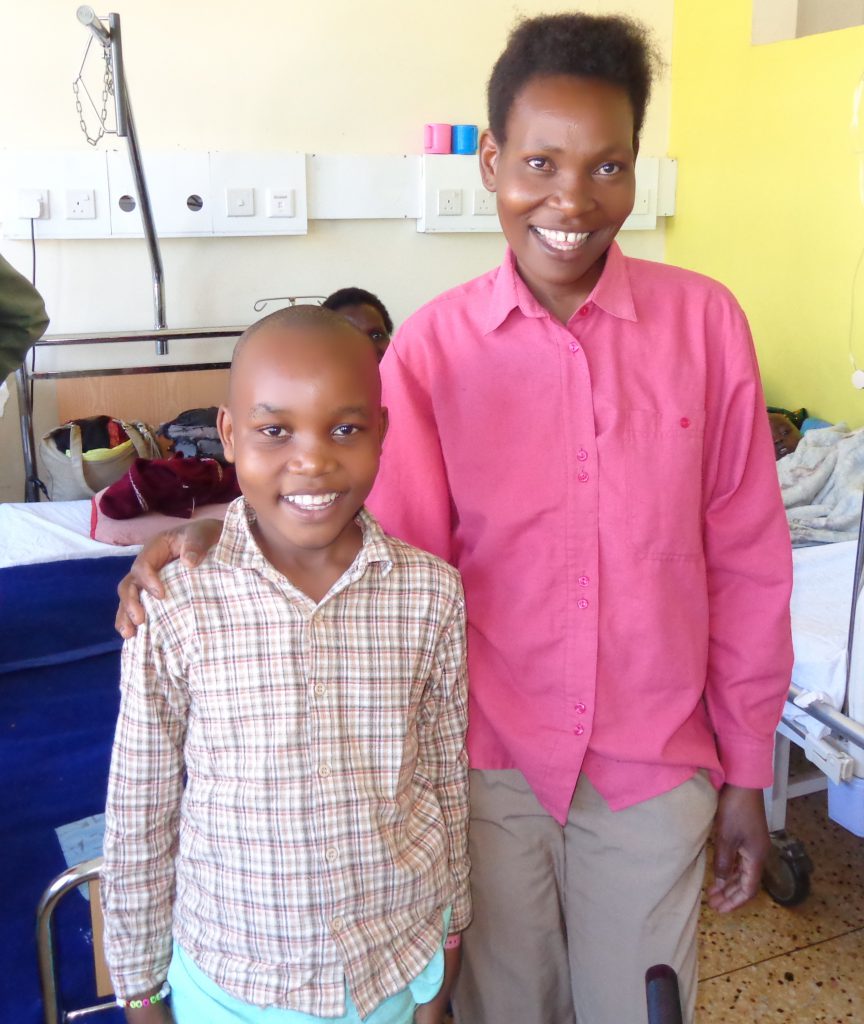 Charles and his mom