People ask, what is your memoir about, and why should I read it?  In a nutshell?  Anyone who reads this story will ask themselves, if he did it, why not me?  It is the dummy's guide to building a children's hospital in Africa, the how to reinvent yourself and find purpose, the guidebook to fundraising and how to leverage your connections.  It is a wild adventure with an amazing ending.
Chapter One. The Berk
The book begins as I am boarding a plane to Kenya from Sweden. Why Kenya? I am asking myself the same question. I wanted to go to Albuquerque, New Mexico, a place flowing with modern amenities, like electricity and running water. Yet I met a persuasive Irish Olympian named Noel 'The Berk' Berkeley who had a bucketful of exciting plans to change my future. One problem, where the heck Noel? Buy the book on Amazon.com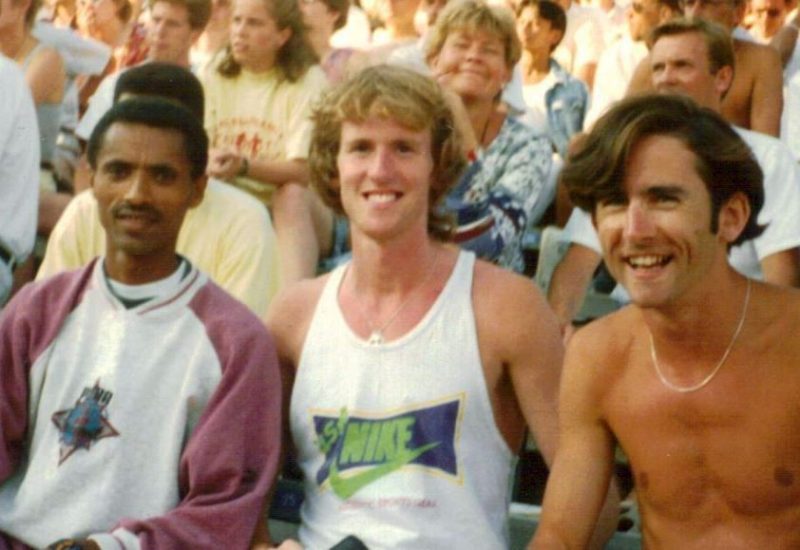 Above: 1994, Noel, (to the right), with Ethiopian Olympic silver medalist Fita Bayissa, whom I had met in Spain two years earlier, and me at a track meet.
Chapter Two. Who do you Want to be?
Every kid grows up with different aspirations and ideas. I had an eclectic childhood, ending as I dropped from school and ran off to try living in Amsterdam. Okay, we can all make mistakes, but what did I learn in Amsterdam, and how did it affect my life's trajectory?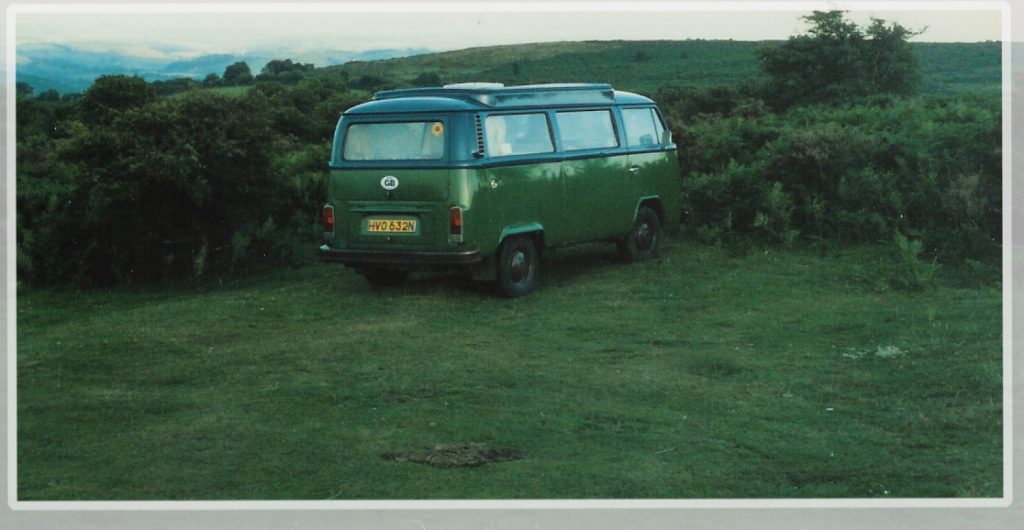 Above: The Green Van, hand painted to blend in for illegal camping purposes.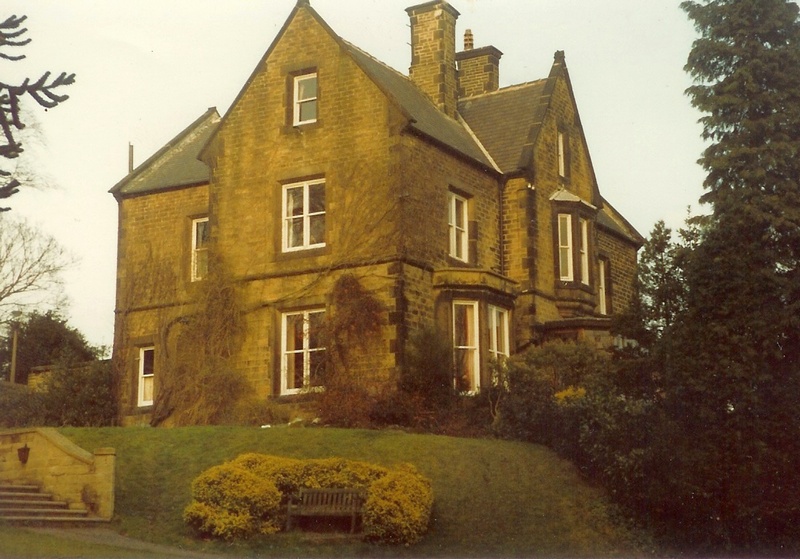 Above: Growing up spending most days at Tintagel House, with the adjoining Merlin Theatre in the same grounds, was a true blessing!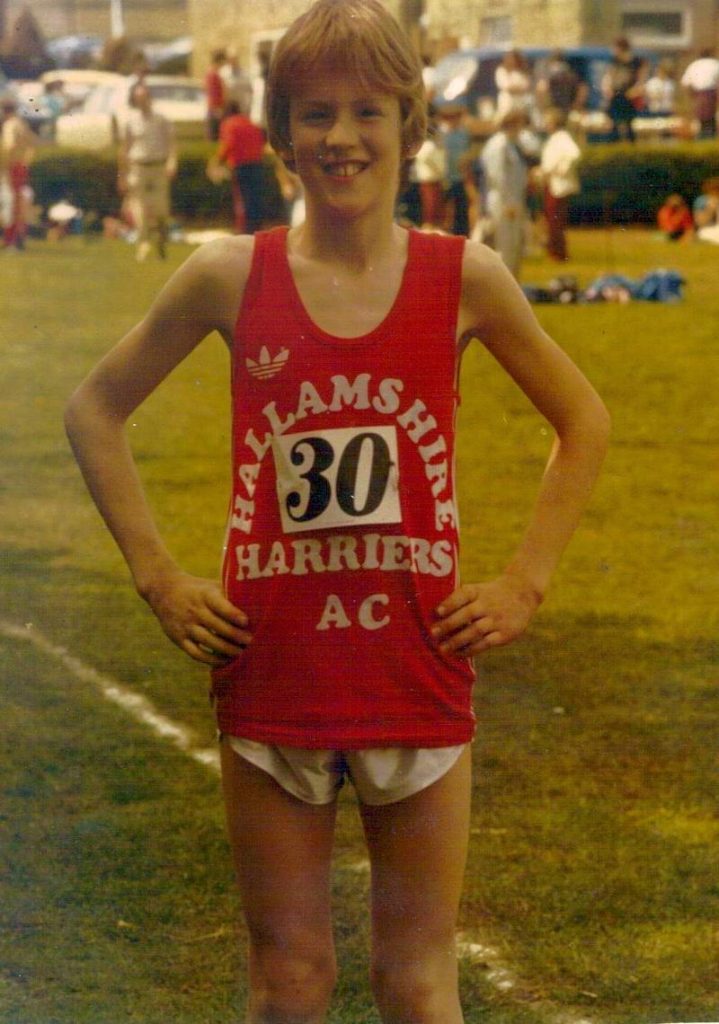 Above: Running With Destiny. At the age of 12, I ran for one year reaching the level to race at the English Schools Championships. Although I stopped running, I never forgot the feeling, and returned to running a decade later.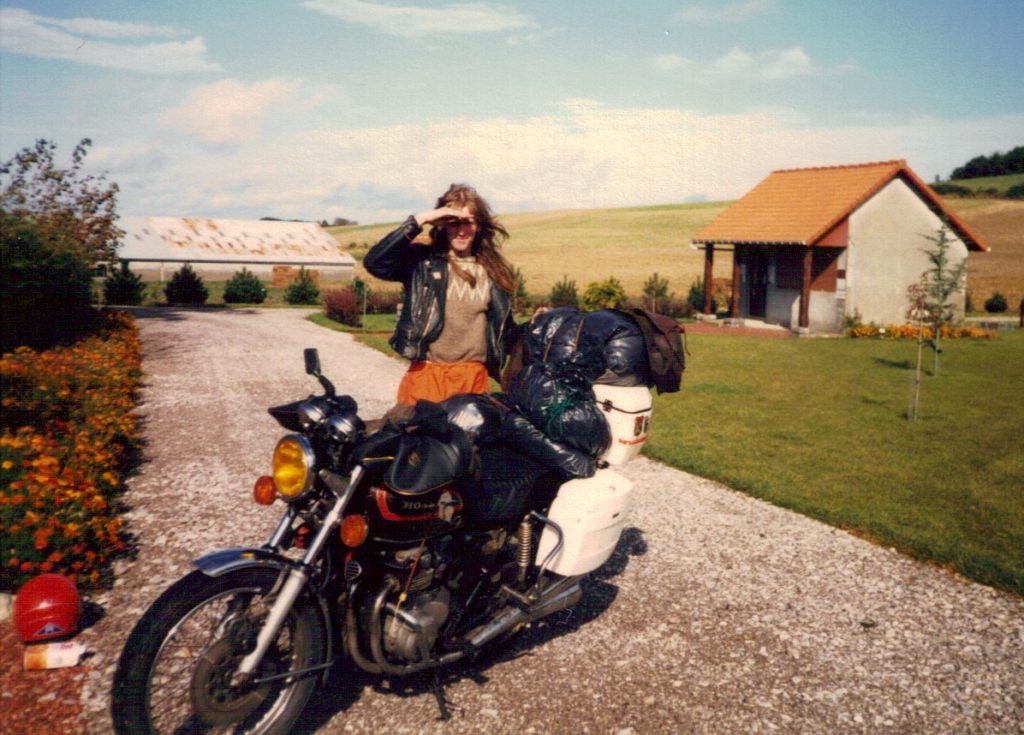 Above: Leaving school, I drifted for a few years, often taking trips to Europe with no set destination.  Being out of your comfort zone forces you to grow up fast. Travel, I found, broadened my horizons.
Chapter Three. The Trigger Moment
There comes a time in life when you realize you are in a rut and you ask yourself, "Will I be doing this same thing in twenty years?  Where do I want to be in two decades?"  Due to watching a specific event on a television set, my life changed when I recognized a figure from my past.  Suddenly, I boarded a plane to Iceland and it was a trip that took me out of that rut in a most unexpected fashion.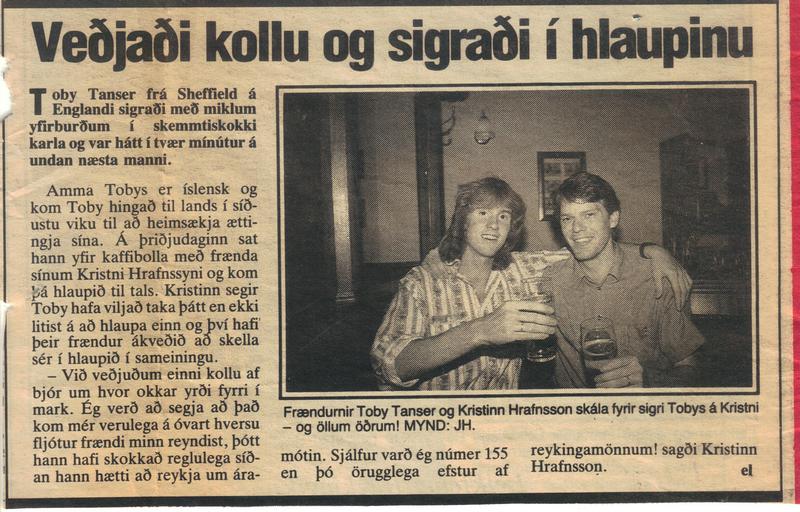 Above: The Trigger moment in Iceland. When I arrived, I tried to encourage my second cousin Kristinn Hrafnsson (wikileaks) to quit smoking. I entered a race for a bet to win a beer, and hoped he'd get hooked on running. Instead, I won the race and secured a NIKE contract!!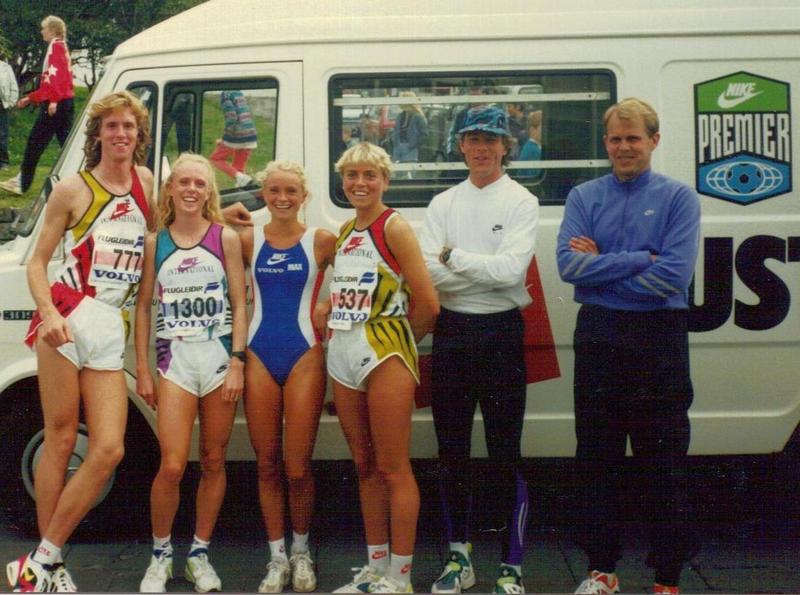 Above: With the Nike Nordics. What an honor to win a NIKE contract!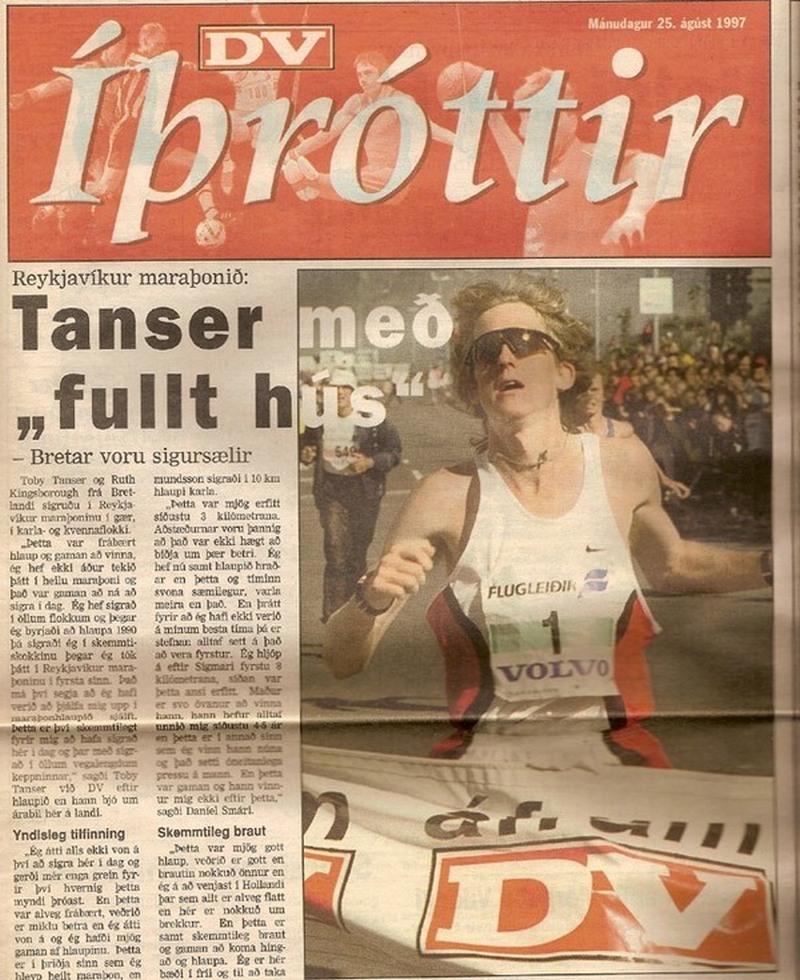 Above: Running in Iceland was a blast!  Many doors were opened due to my performance.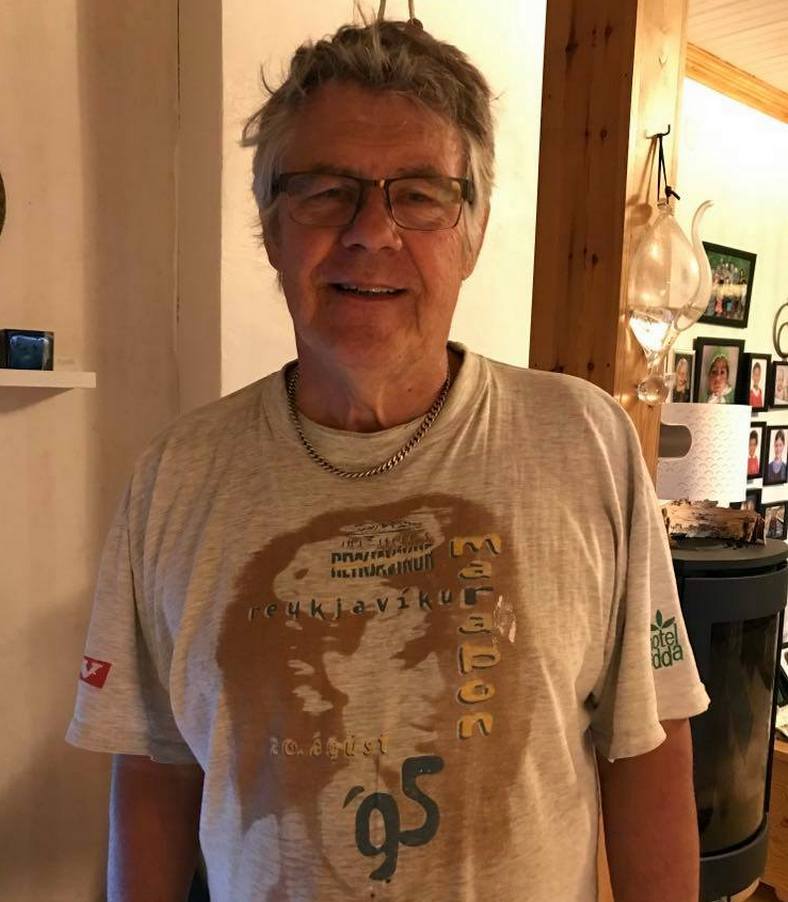 My face appeared on the official Reykjavik Marathon T-shirt!  Here worn by Sten-Olof who kindly welcomed me to Sweden in the early nineties.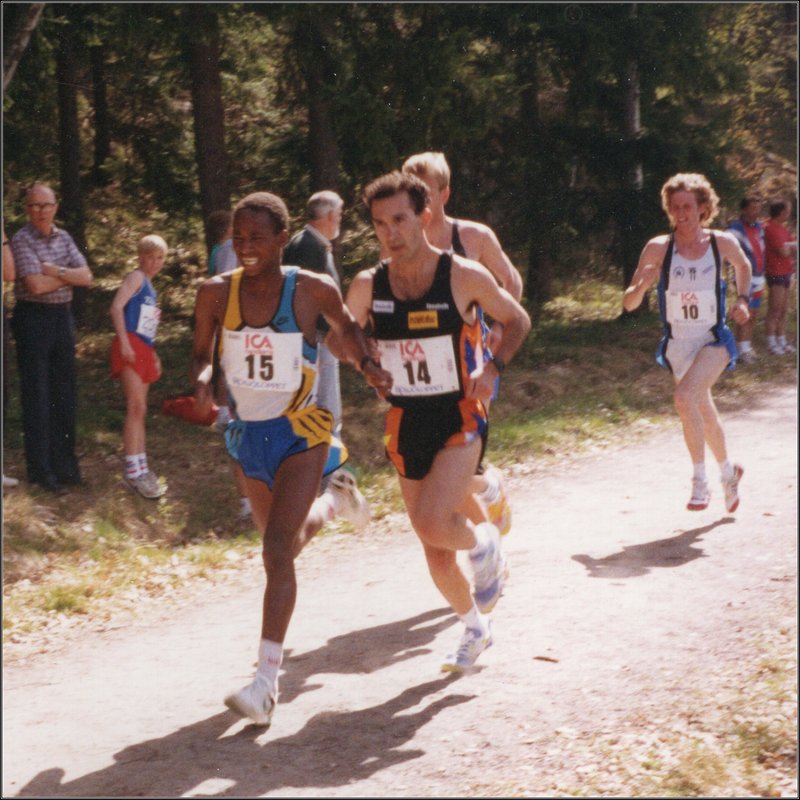 Above: This is the only shot I have of the race where Simon Robert Naali brushed against my shoulder. A couple of years ago I had seen him on the television winning a championship medal, living what I presumed to be an exciting life. He's leading, and at this stage, I was running (white dress) a few strides back.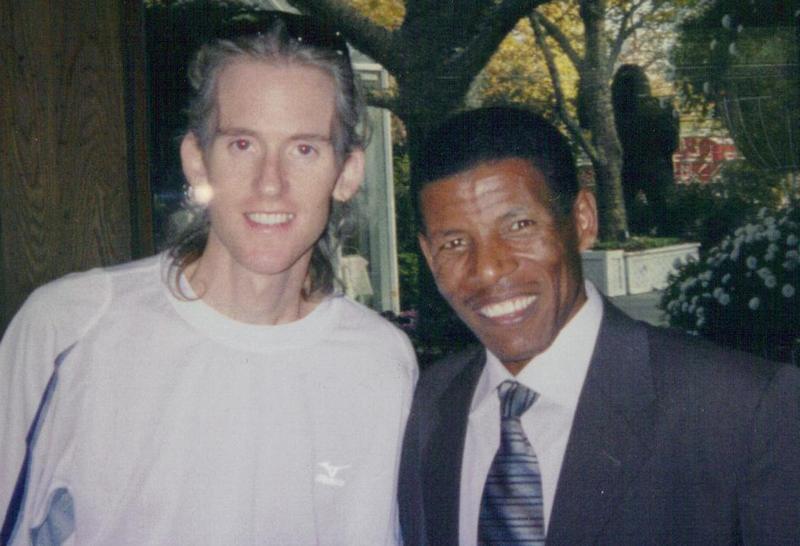 Above: Through running I met a lot of interesting people.  In 1993, at a race, I breakfasted with three Ethiopians.  Fita Bayissa was the most famous, as he had won an Olympic Silver medal, then there was a guy called Worku Bikila, and a shy man called Haile Gebrselassie of Ethiopia, who would later become one of the world's best known distance runners.  Here we catch up, years later.  Despite his fame, and considerable wealth, he remained very much the same person.
Chapter Four. Into Africa.
Now the book links back to the main theme, as I journey into Africa.  I was really just trying to learn the secrets of how to run faster, then leave after six weeks to fly back to Sweden.  Yet Africa had much more than just running in store for me.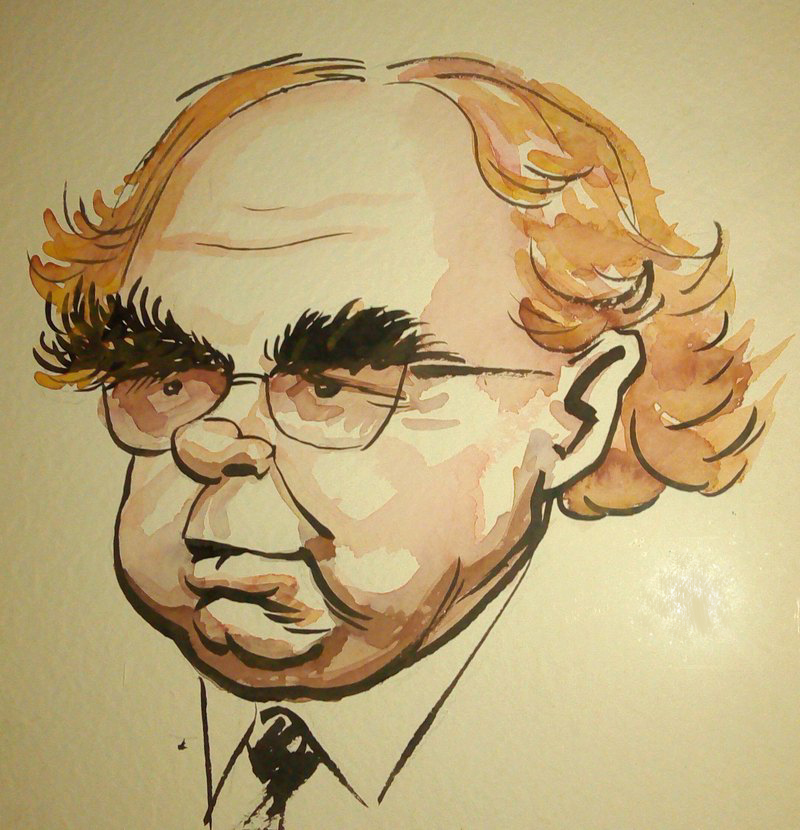 Above: My grandfather Afi was part of a small exclusive literary group led by two gentlemen, E.V. Gordon and J. R. R. Tolkien. One day, Afi handed me a book. It is a theme of my story, to start your own adventure, you just…start!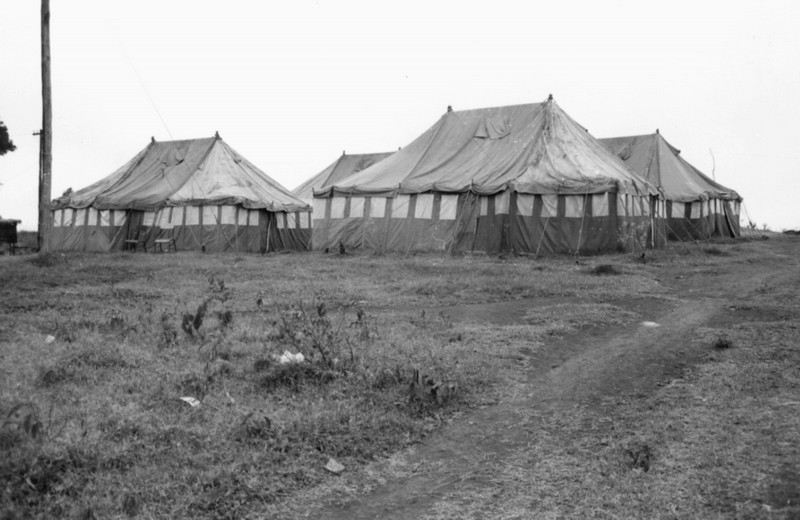 Above: The World's Best Training Camp. N'gong Hills, Kenya.  Home to the top Kenyan runners in the 1990s' — how ironic to see no technology, no electric, no labs, tests…just iron bunk beds and hundreds of superfast runners.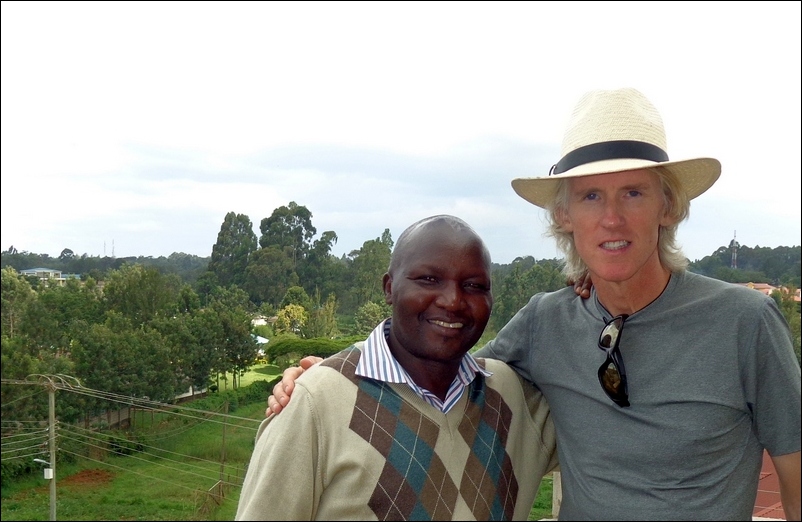 Above: I met Moses Tanui on my first morning arriving in Kenya by a pure coincidence when running on a random road, and later trained with him when he won the 100th Boston, in 1996. I was inside his café when I received (out of the blue) the proposal to build East & Central Africa's First Public Children's Hospital, in 2008, and here we are standing on his roof where you can see the hospital on the far left, a decade after that.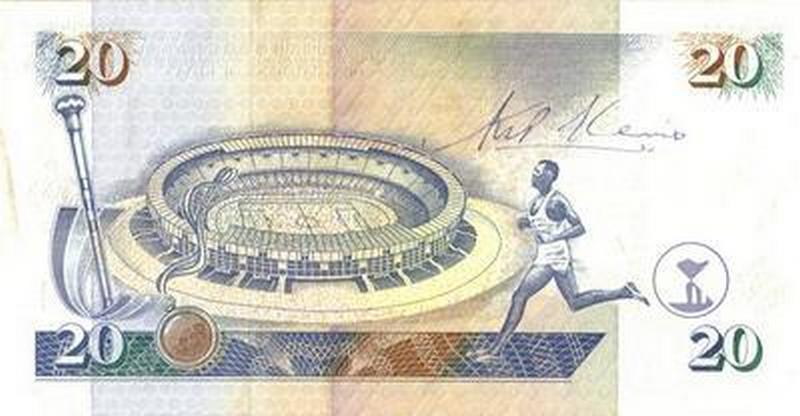 Above: My first day walking into Eldoret town was on Dec 31st 1995. I bumped into the legendary runner, Kip Keino in Sizzlers Cafe.  I pulled out a twenty shilling note and asked him to sign it.  I guess it is now worth more than the 20-cents of its face value.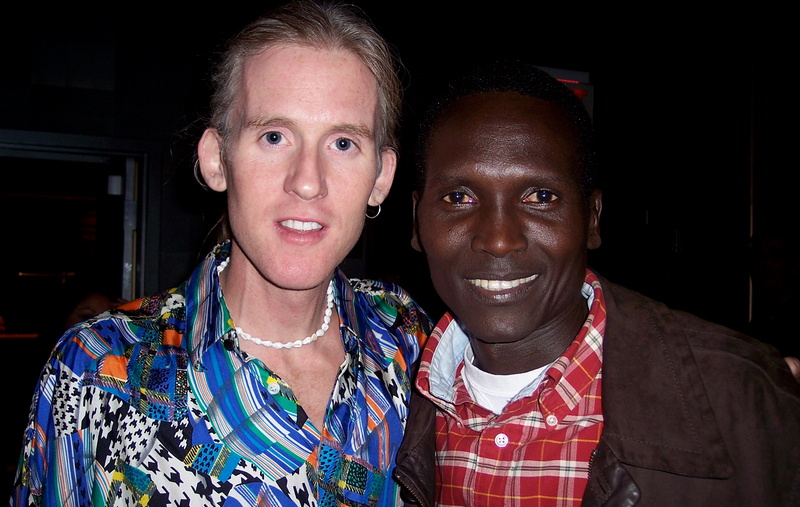 In 1995 I met Paul Tergat at the camp, then he was starting out on what would be a glorious running career.  I learned a lot from Paul, but I remember his 'too many chefs' story the best.
Chapter Five. Camp life, Street death.
Life is all inter-related, I am sure of it, and going to run with the Kenyan athletes pushed me along on a journey that would bring me to finding my destiny.  But, oddly enough, it was not a story about running as a sport.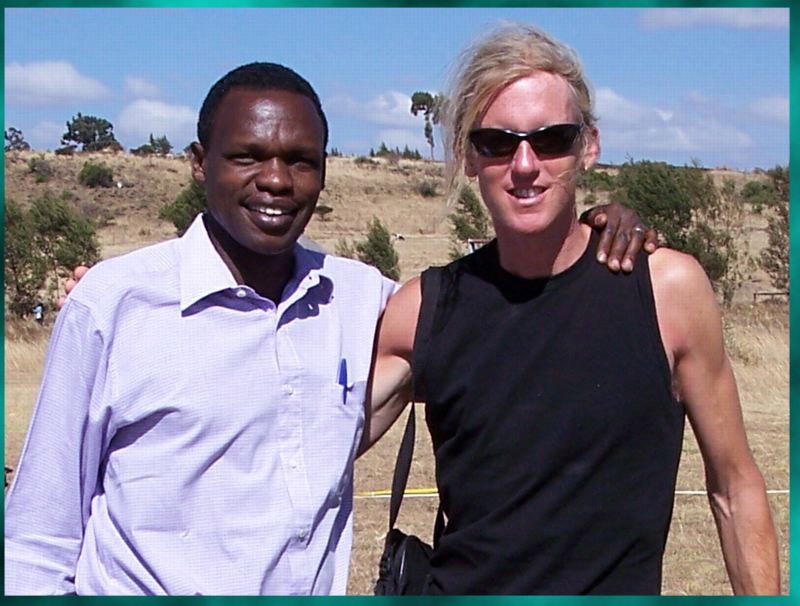 Above: This chapter talks about life on a Kenyan training camp, and a day walking the streets of Nairobi.  One of the people I ran with was Olympian Patrick 'Silver' Sang, a training partner from my first Kenyan trip, and he later became my in-law (bomuru).  Today he's a famous coach and one of Eldoret's most successful business men.
It was Patrick that introduced me to the man below in 2002, telling me he was a relative and a runner from his village with 'talent.'  A year later he would become a world champion.  Here is Eliud Kipchoge in 2007. Eliud became our first hospital ambassador in 2015.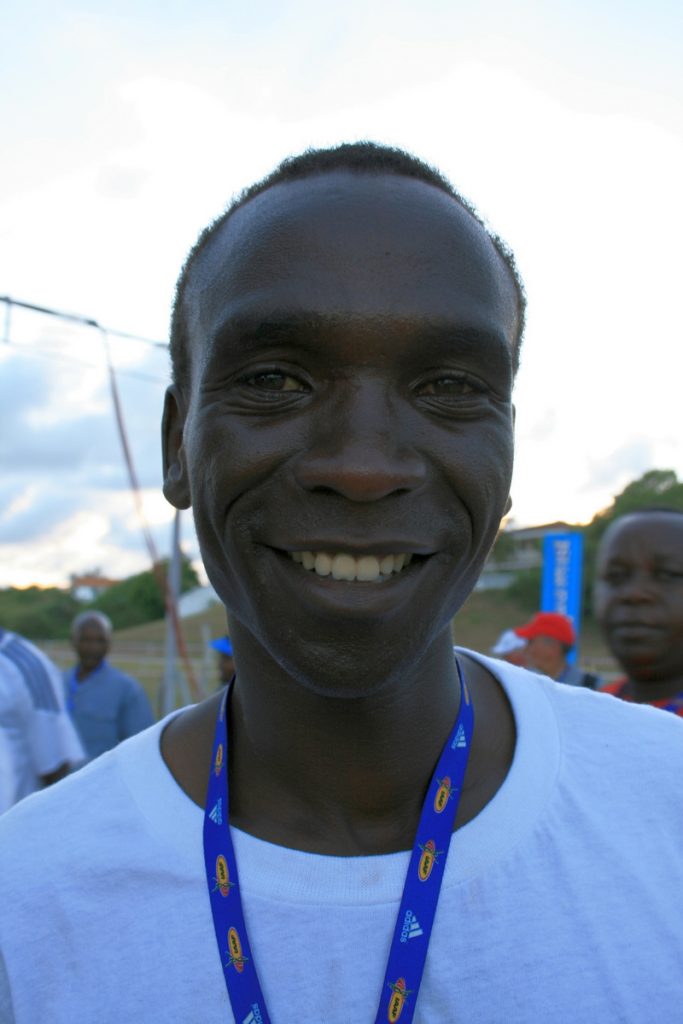 Chapter Six. Kibera, Koitalel & Crocodiles.
Six months in Kenya, instead of the planned six weeks.  There were certain events that took place that played as stepping stones to help me find my purpose.  Staying in Kibera Slums, traversing a crocodile river on Christmas day, and attending a running race with the Kenyan champions in Machakos Town.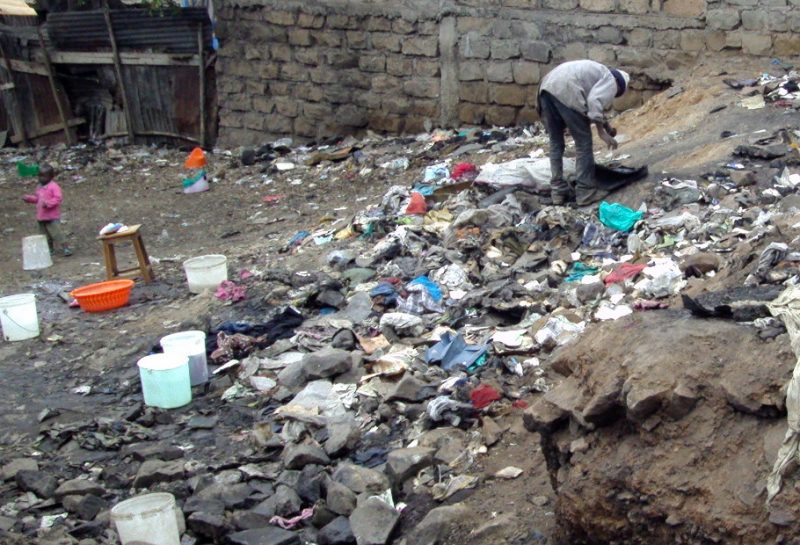 Above: When you see men in the slums combing through the trash of the people who live inside the slums, it breaks your heart.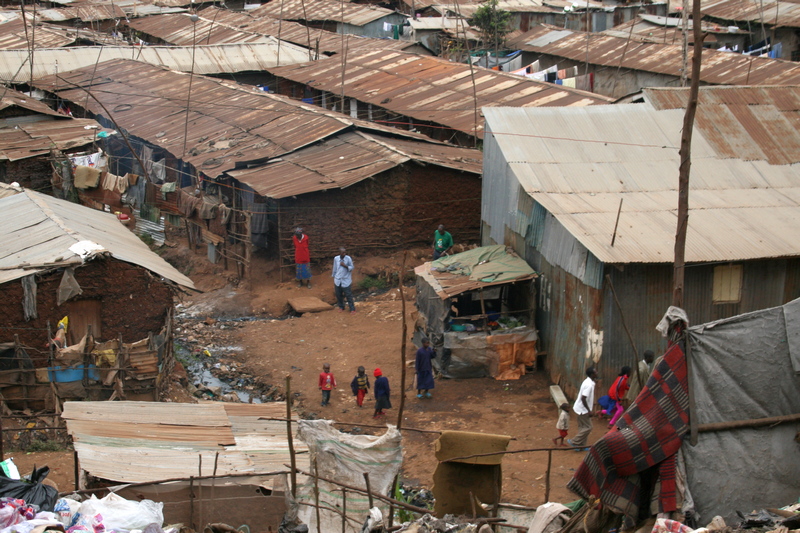 Above: Rivers of sewage separated the mud and tin roofed shacks.
Chapter Seven. Shoes to Africa, Airport Experience, & a Swedish Angel.
How I got arrested at the Paris Airport and how I was barefooted, in the snow, at Arlanda Airport in Stockholm was how I discovered an angel.  All my mistake of course, but again, leading to bigger things.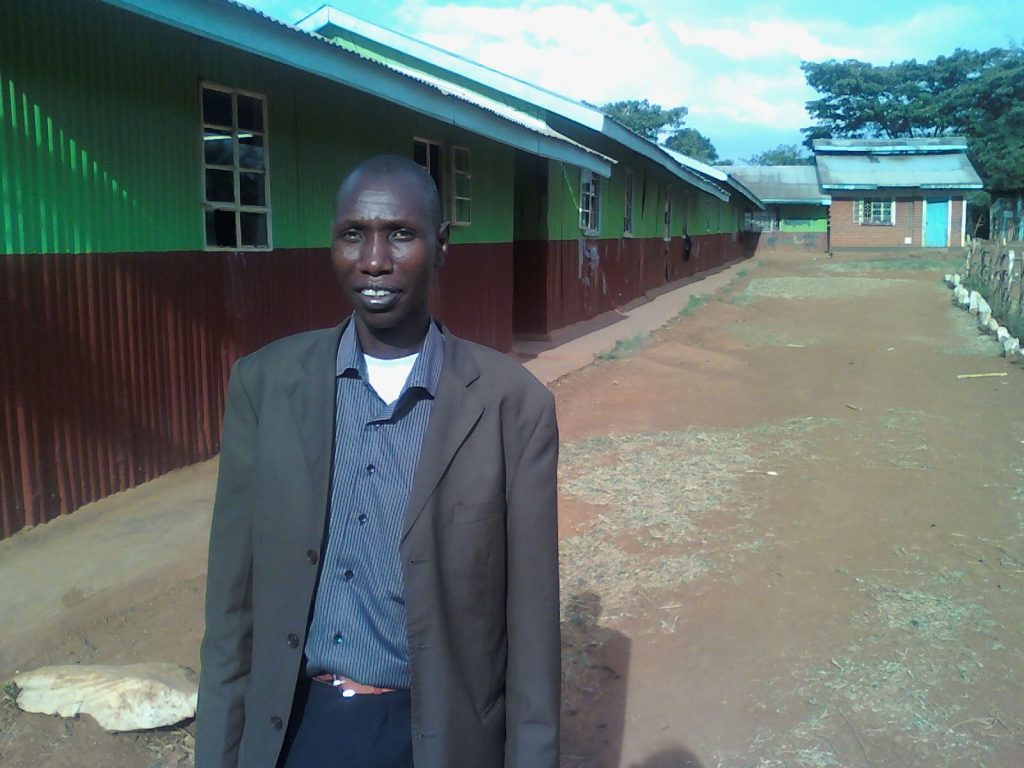 Above: One of the first athletes I ever gave shoes to, was a beginner runner called Simon.  He started to improve, became world famous and won a marathons and a world championship medal.  Mr. Simon Biwott.
People often wonder, what happened to that T-shirt, or pair of shoes that they donated. What was 'their' story?

When in 1995, I traveled to Kenya, I met some then unknown gentlemen who were trying to make it as athletes. As I had brought shoes and training kits to giveaway, I was able to help a few people; this was the first donations of what would become Shoe4Africa. An organization that started by giving away shoes.
So, what happened to those "guys" who got the shoes? Did they make it? Did they reach the level of being able to leave the country to become professional runners?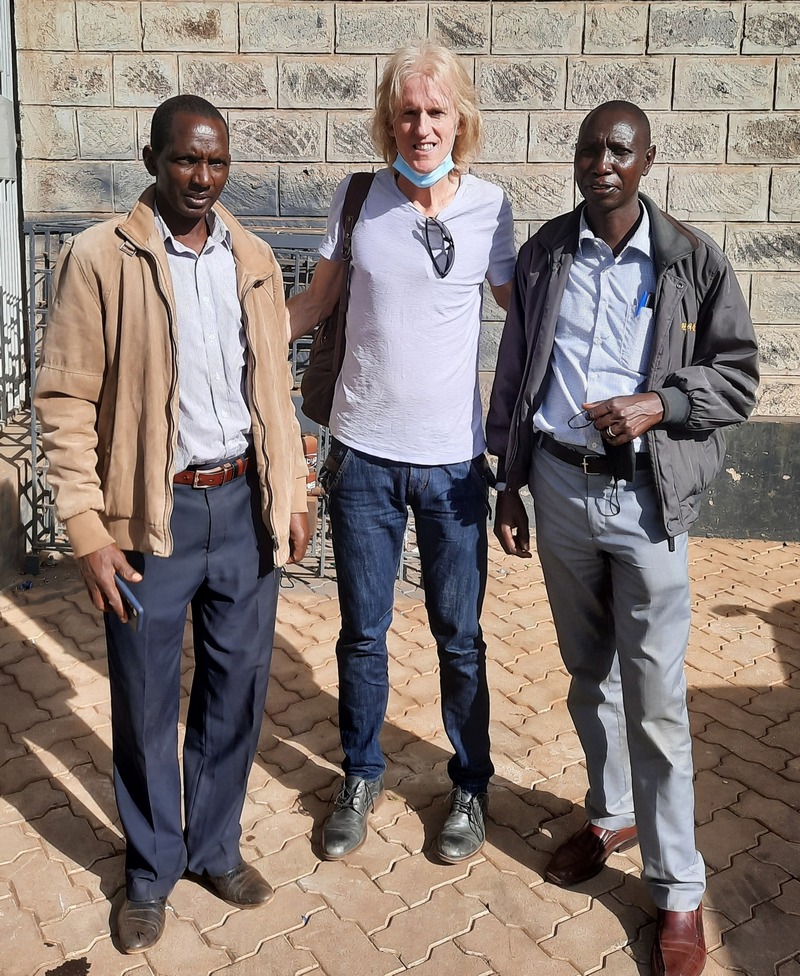 On the left of the picture is one of those original men, well he became the first runner in history to run ten sub-2:09 marathons, and he paced Paul Tergat for 26-miles running 2:04:56 so Paul was able to run a world record in the marathon. Mr. Sammy Korir became an absolute legend in the running world.
And the runner to the right of the picture, also one of the very first shoes and kits recipients, is Mr. Simon Biwott. Simon won a World Championship Marathon Silver medal. He won Berlin, Rotterdam, Paris, Milan, Mexico Marathons, and twenty years ago he ran a world class 2:06.
Chapter Eight. Wordsmith, Wind Running, & The Way Forward.
With a life changed you can't look back, you move forward.  New opportunities opened in Sweden and becoming a best selling author, by mistake, was a nice surprise!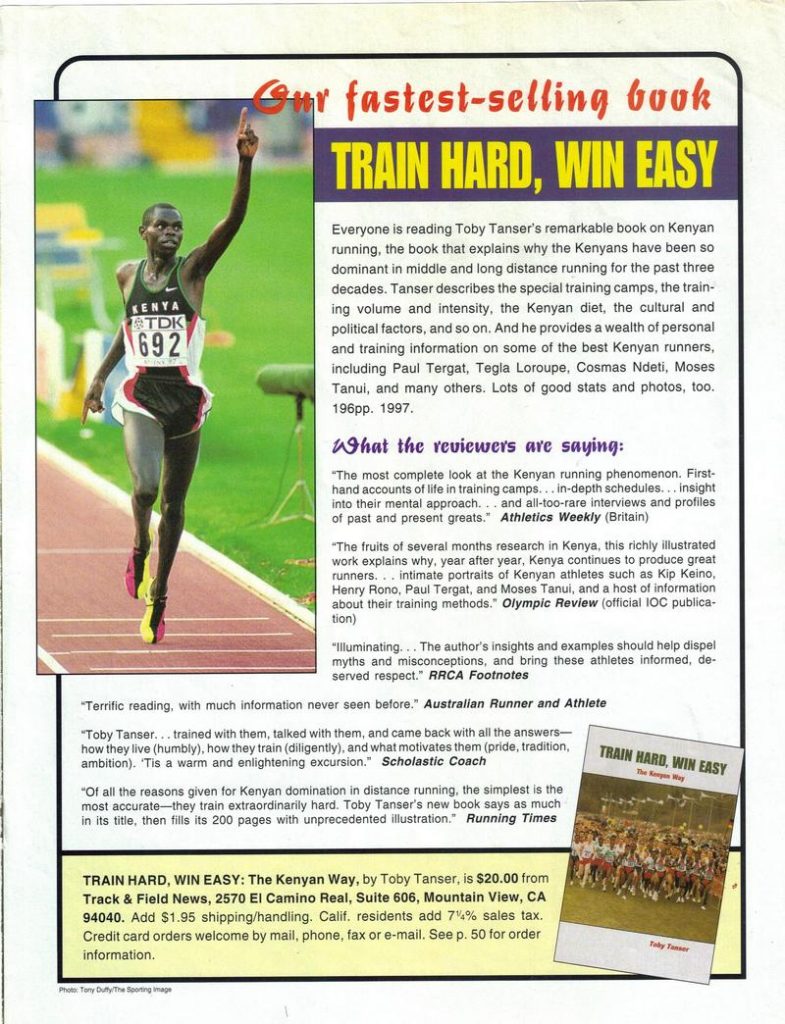 Above: I decided to try and write a book after friends told me I had a goldmine of scribbled notes.  Could I be an author?  Doubtful.  I sent off a manuscript to a publisher.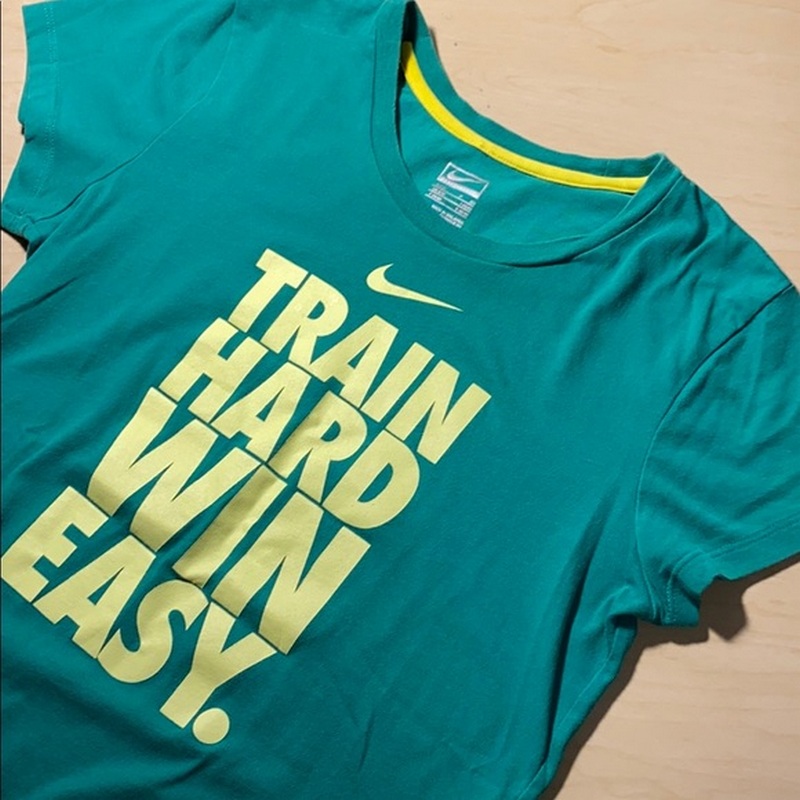 Above: For a novice author, it was a thrill, an honor, to see that Nike, the NIKE, produced Train Hard, Win Easy T shirts!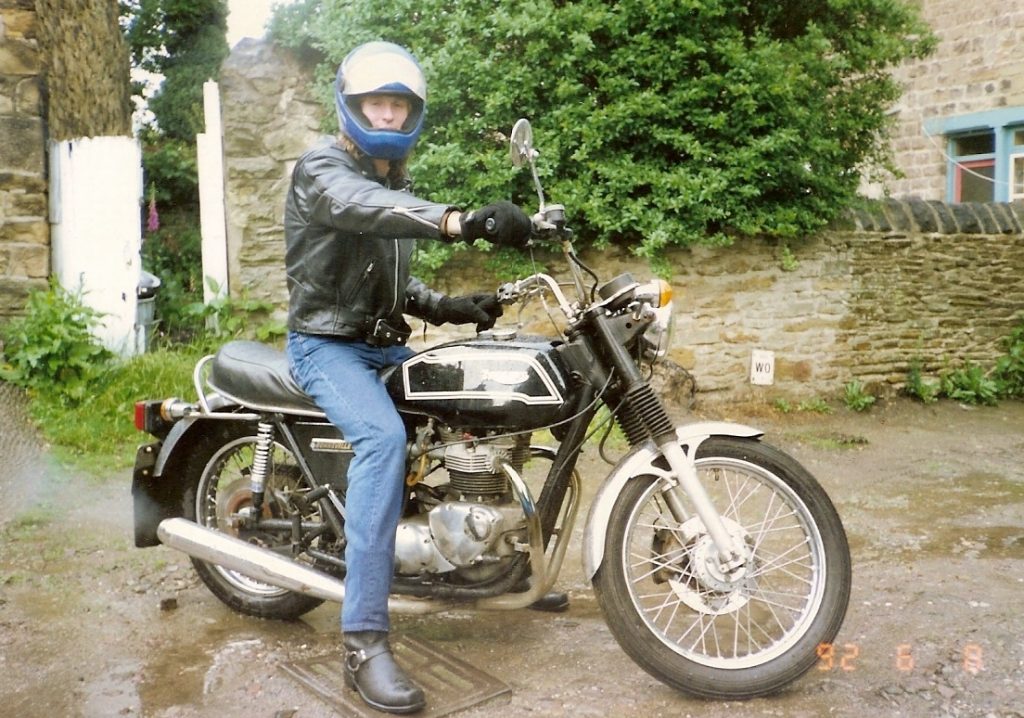 Above: I grew up on motorbikes. I bought this bike when I was living in Stockholm, Sweden, to park in England, just in case I might holiday there…yet after returning from Kenya, I expected my friend to not replace his hubcaps on his car and instead donate money to feed a homeless kid.  I forgot about this….urm, non-essential…purchase!  Kenya, made me a little too yappy & judgmental!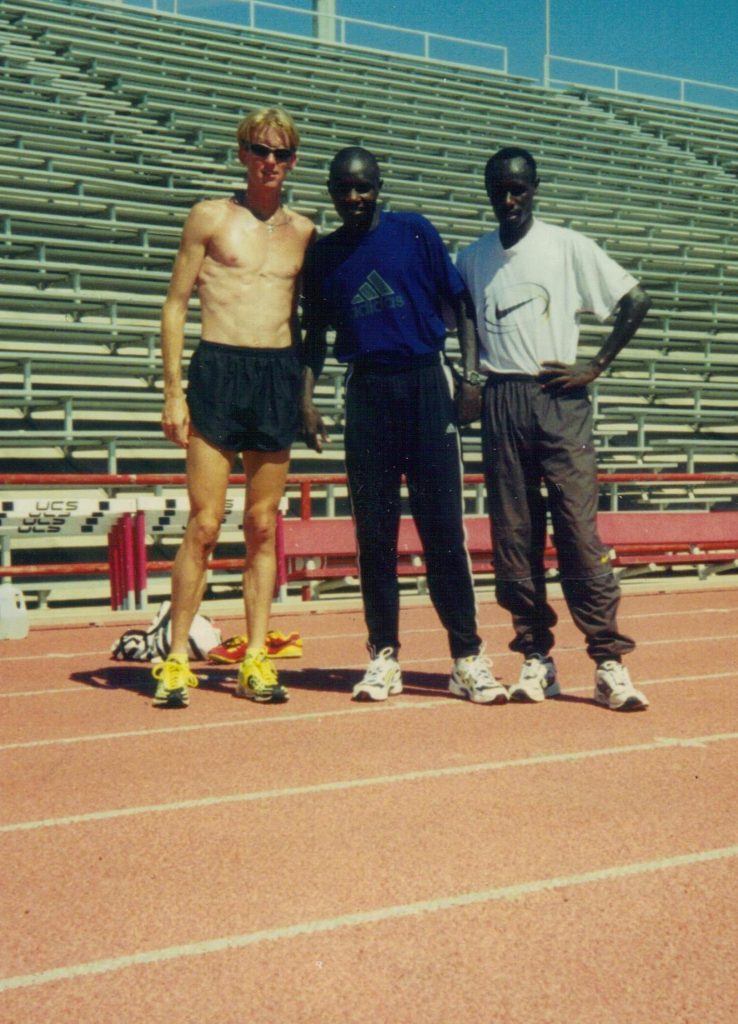 Above: Coming back from Kenya at first I quit serious running, but I enjoyed the fact that running allowed me to travel.  I had originally planned to go to Albuquerque (more travel wishes).  Finally, in 1997, I made it to New Mexico. Here with Jackson Kabiga, the first Kenyan to win Fukuoka, and Zac Nyambaso, the winner of the Mombasa Marathon as we ran sessions on the University of New Mexico track.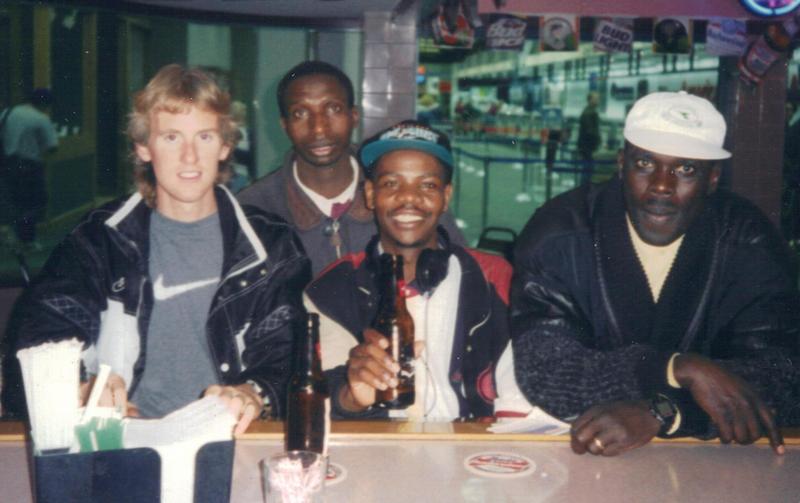 Above: Every competition I went to I always found myself socializing with the Kenyans.  Here with World champion Benson Masya (with the bottle), Patrick Muturi, and Peter Koech (right), the former world record in the steeplechase. Benson and I first met traveling to a race in Holland in 1993. He was a former boxer and became a champion of the world in running. We became good friends, often training together in Albuquerque, Sweden, and Kenya.  Sadly, he died young in 2003.
Chapter Nine. Cracking my Cranium & The Message of The Millennium.
What happened on the cusp of the millennium, in Zanzibar, should have ended my life.  I was given a message by a mentor, and he said a strange sentence I would heard again in eight years.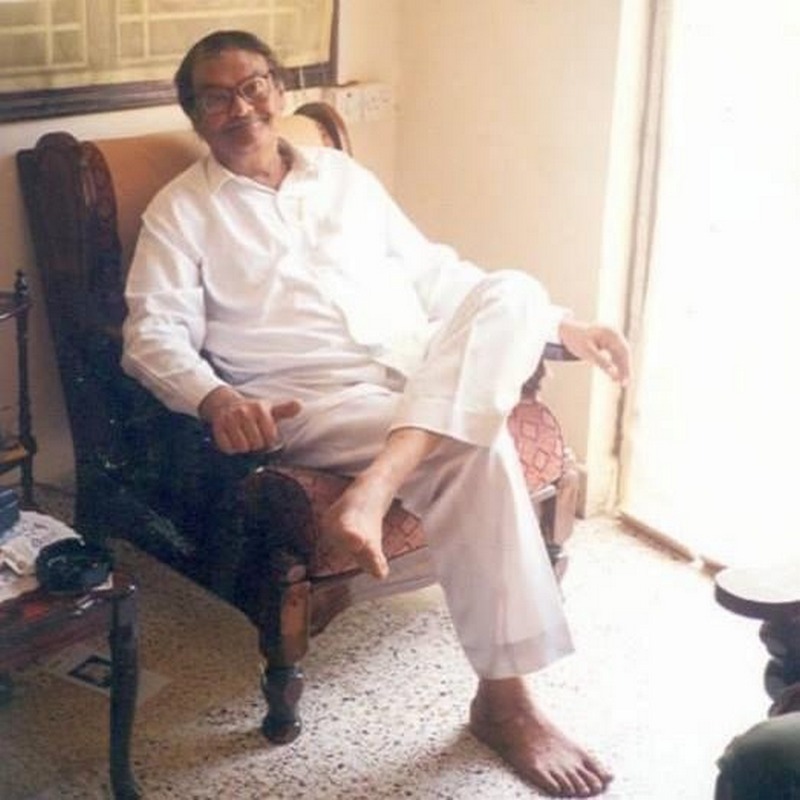 Above: The Message of the Millennium giver, the wonderful Dr. Gaurang Mehta.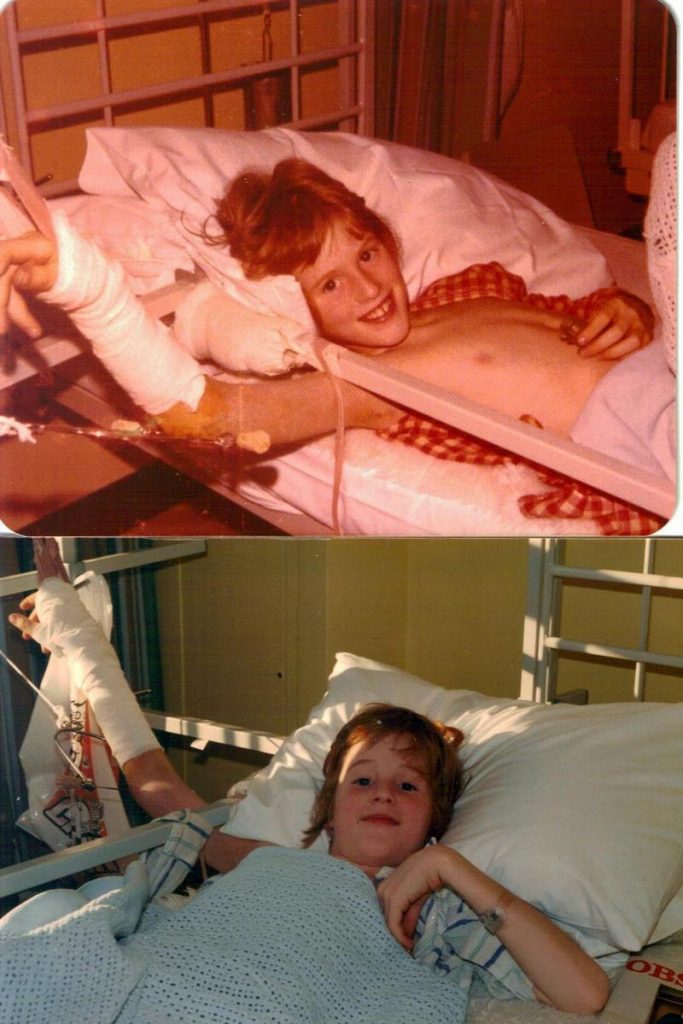 Lying sick in Zanzibar in a clinic with no antibiotics, or anesthetics, I recalled a better experience, when I was a young child and was treated in a public kids hospital in England.  I loved the place, did not want to leave!  My parents (hippies) banned a TV and ate weird food.  Hospital, a normal diet and a TV, was bliss. There, I quickly learned about the importance of a KIDS ONLY PUBLIC hospital. Years later, learning that there was no public kids hospital in East & Central Africa was a huge shock.  Did I spend so much time here (with that metal pole going through the middle of my elbow) for a reason?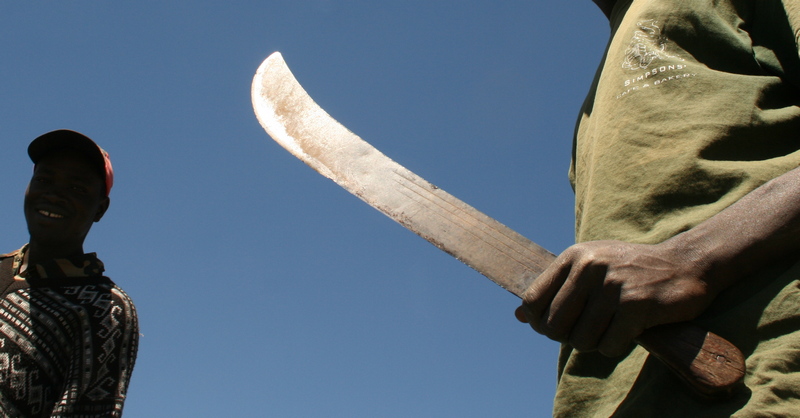 Above: Like the ugly Machete I was attacked with in Zanzibar. When someone tries to hack your head open with one of these weapons it is quite nerve-racking.  They did a bad job on my head and wrist.
Chapter Ten. Veni, Vidi, Velco. I came, I saw, I stuck around NYC.
Arriving in NYC, I knew no one.  No one.  I thought I knew one girl, but after she took all my possessions I realized I did not know her either.  But NYC is the greatest city for opportunities on this planet.  After a month I knew hundreds of people, and things just took off from there!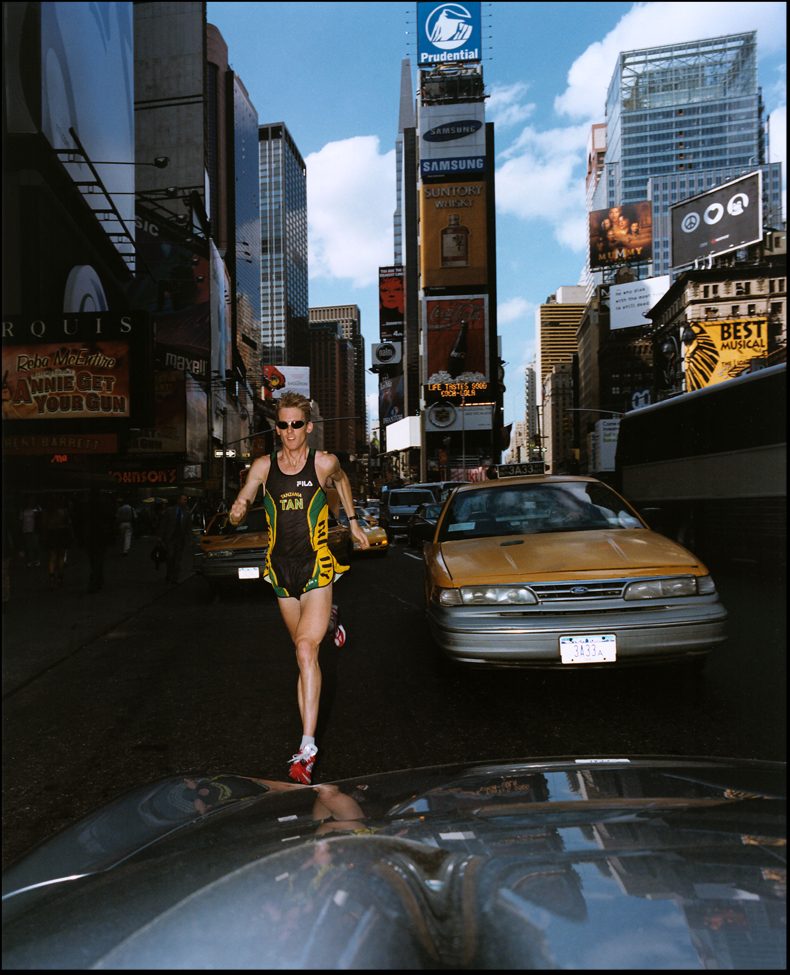 Above: Immediately, I gravitated to the electric pulse of NYC. Here I race through Times Square. Credit: Mike Kobal.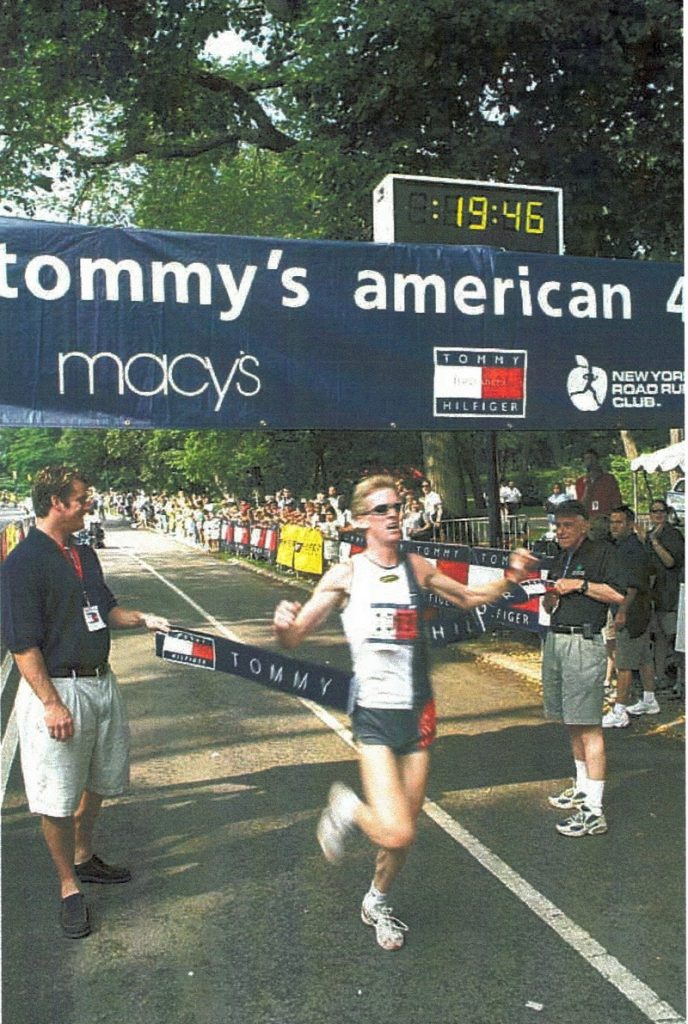 Above: The race that introduced me to Charity Running.  I was nominated to be the NYC Marathon Elite Comeback Runner of the year 2000…and asked to run for a charity instead of myself. What a unique concept, I thought! Holding the tape was the Commissioner of the New York City Department of Parks and Recreation, Henry Stern, another good friend who was helpful in another chapter!
Above: Looking like I was running backwards, I probably was, somehow, ten months after brain surgery I came back to the finish line of the the NYC marathon as the Comeback Runner of the Year.  Being the first finisher from Manhattan was a nice bonus, but all my thoughts about this race flow to Karen, RIP.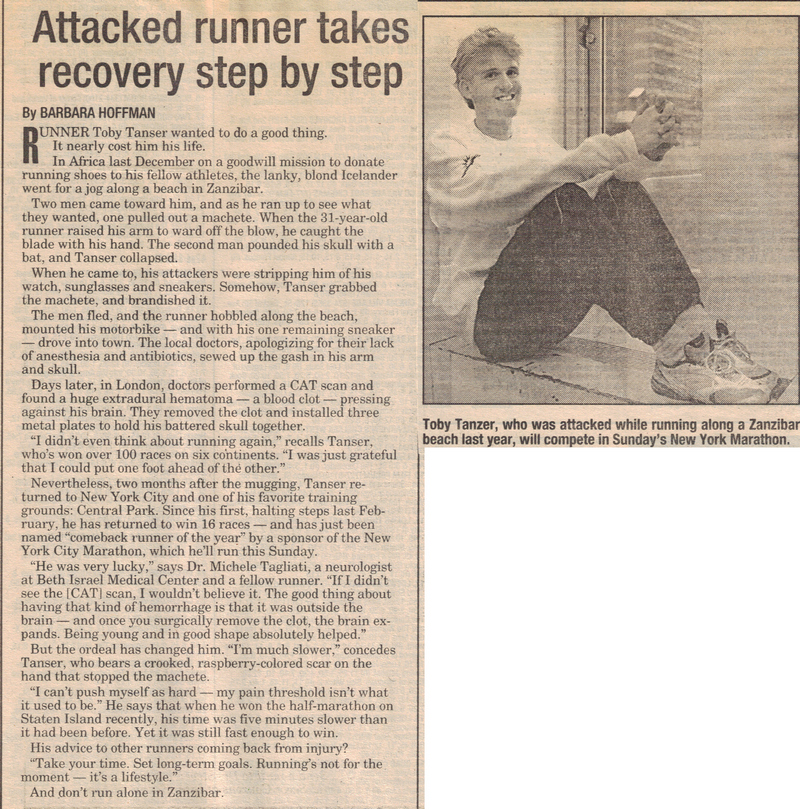 Above: An article in the New York Post following my attack.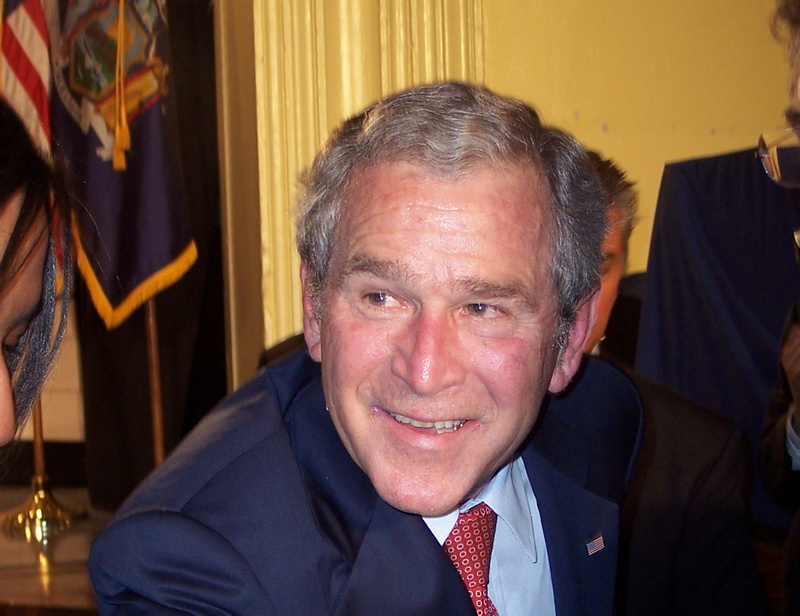 Above: You get to meet a lot of interesting people in NYC, and here I met President George Bush when he came to NYC to discuss education for all up in Harlem.  Talking African projects, he was aligned and said his views for America were his views for the world; education for all is paramount.  I met him earlier on at 5 am, in Central Park out running, and I use this example to everyone who tells me they are too busy to run.  "Well," I say, "If the President of the United States can fit in time to run, why can't you?"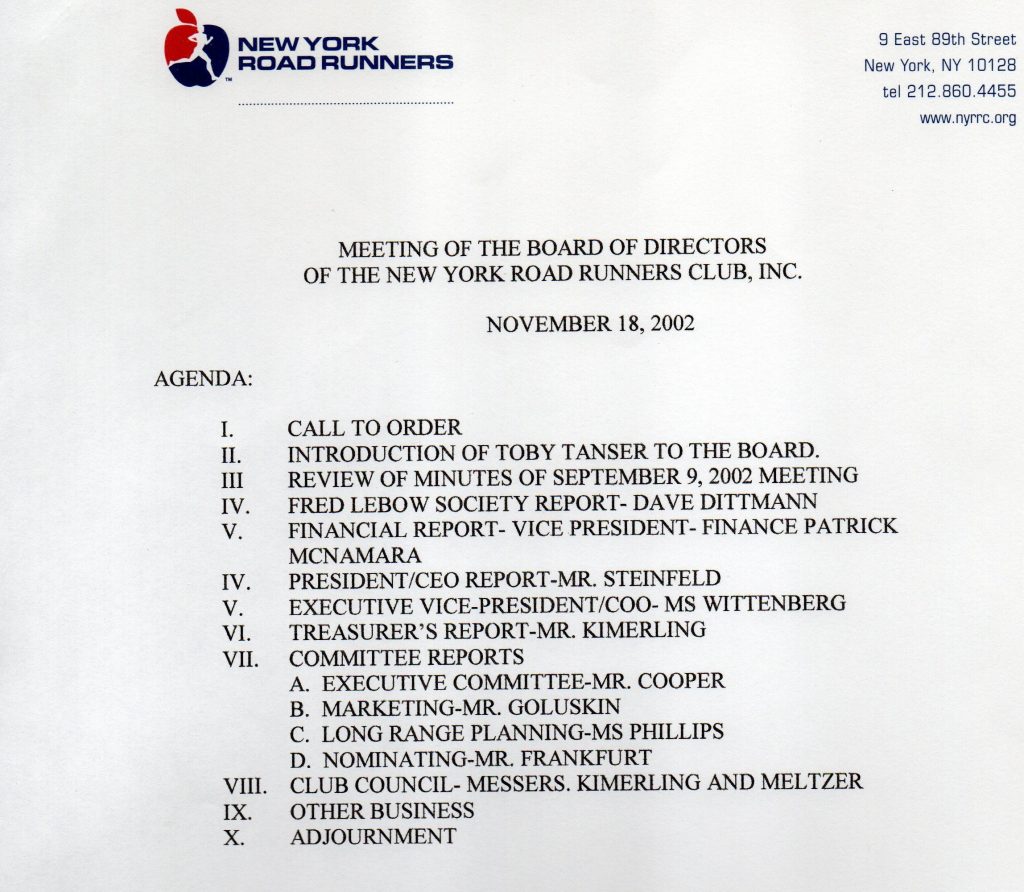 What was a tremendous help to me, was I ran for a Board seat on the New York Road Runners Club. I was the first person to knock off a sitting board member (and the last, the explanation is in the book). 
I was endorsed by a large number of the NYC running community.  Just to highlight one person, Judge Denny Chin wrote me a nice reference.  He was later the Judge to hand Bernie Madoff the 150-year sentence.  
Chapter Eleven. A Smelly Shoes Charity.
I was not a person that you guessed would start a charity.  I did everything possible not to start a charity.  I did not like how US African charity leaders earned about 5000% more than the people they were supposed to serve.  Then I realized I could start a charity where nobody got paid!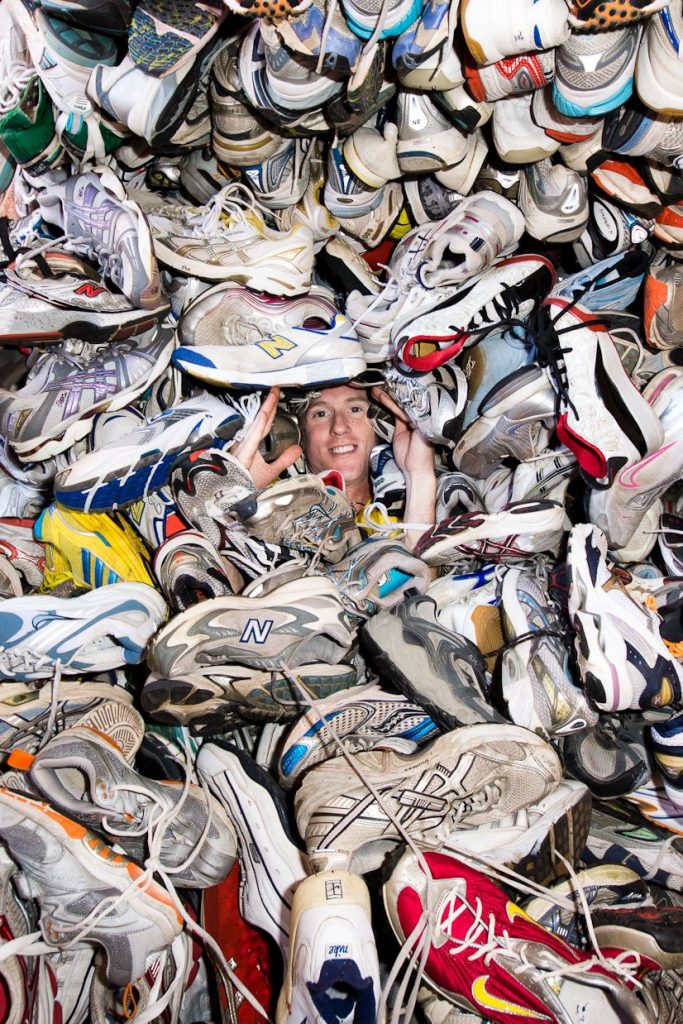 Above: In my shoe store! Credit Mike Kobal.  Nobody knows the smell of old shoes better than me.  I read Celine Dion owns 10,000 pairs of shoes, but she keeps them in a warehouse in Las Vegas.  I think I have lived in an apartment WITH 10,000 shoes; but not nice clean Jimmy Choo's…. oh no!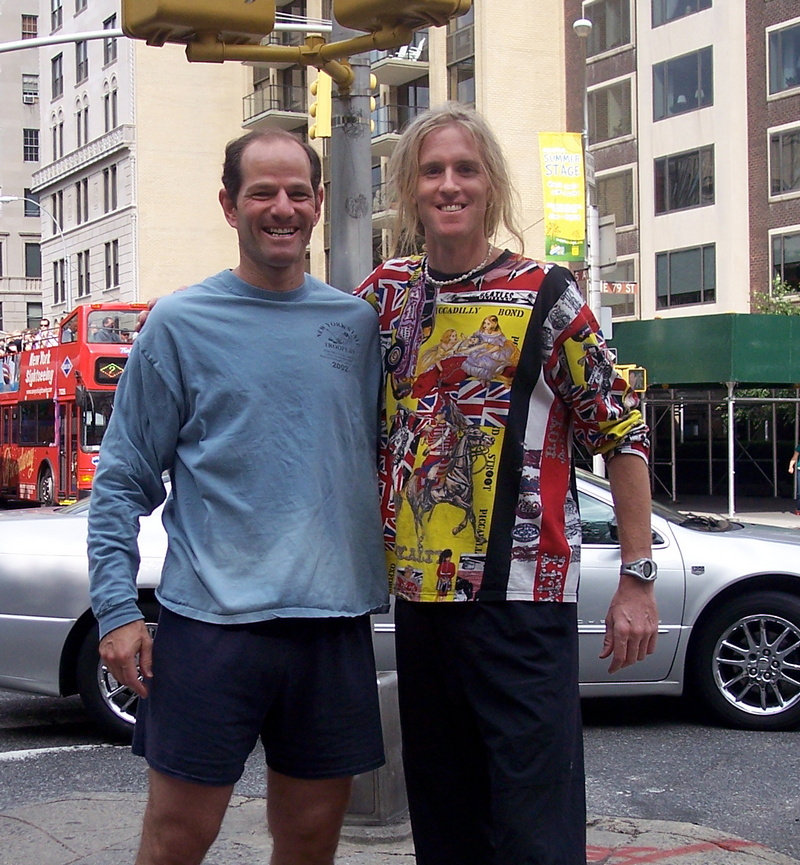 Above: Going for a run and interviewing NY State Governor Spitzer for a Runner's World article that I was writing.  Being a runner journalist was a lot of fun, I had a column in Metro Sports, New York Runner, and wrote for newspapers; it was a great way to meet interesting people.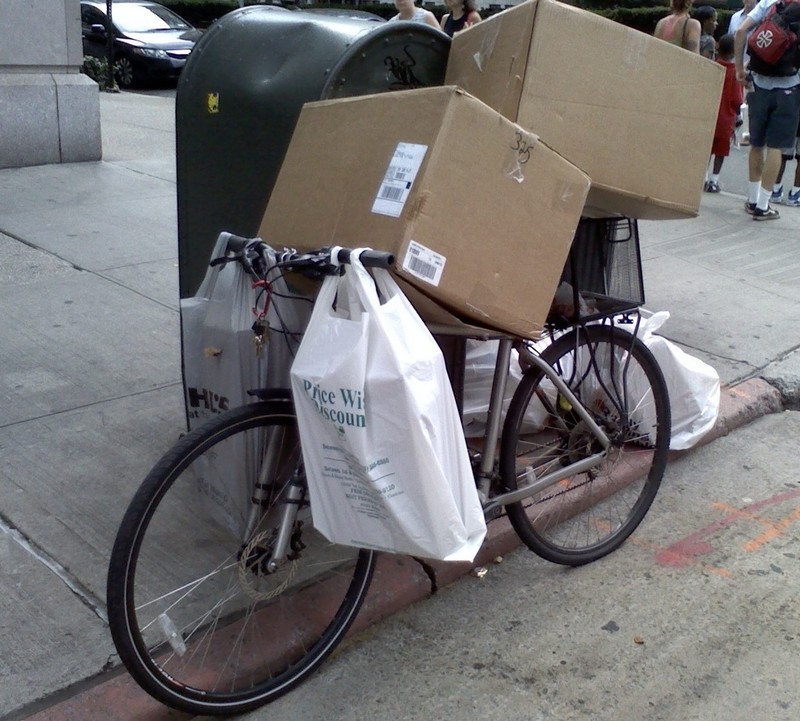 Above: My 'company car' for collecting shoes.  Once I overloaded my bike so much the rear axle actually snapped!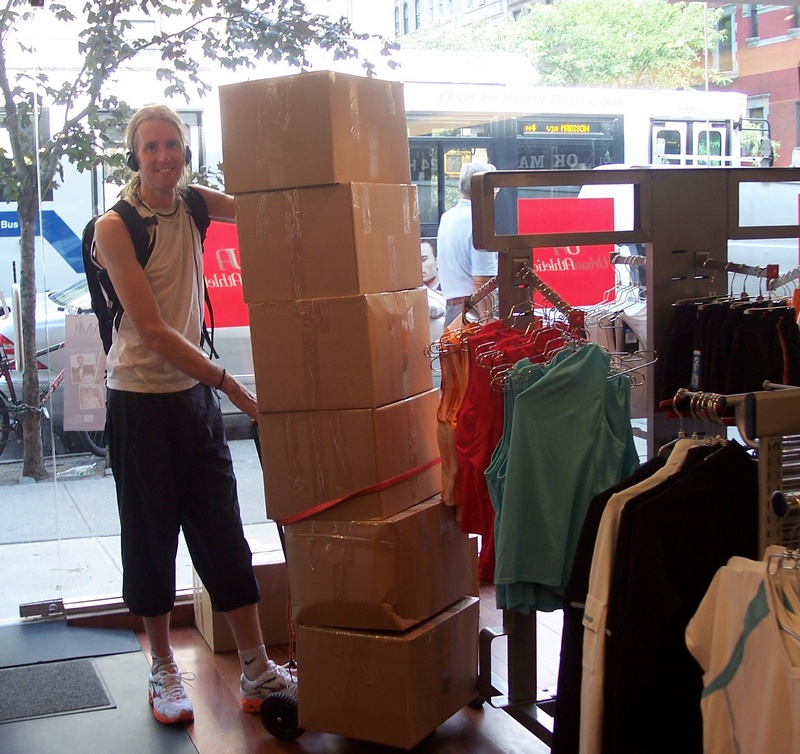 Above: Shoe collections were basic; going to running stores and picking up discarded items was a method that definitely worked.  I knew everyone in the Upper East Side Post Office by first name.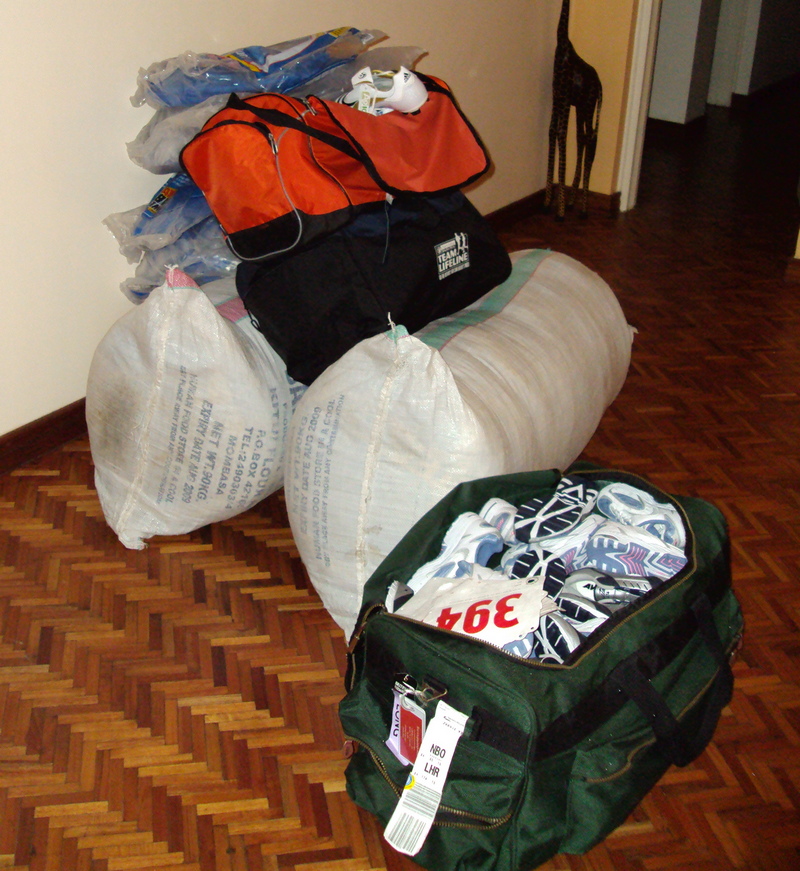 Above: This is how I used to travel.  This time I was bringing shoes and HUNDREDS of mosquito nets for a MALARIA awareness race.  Airport staff did not like me, but funnily enough, I was rarely charged for carrying so much luggage.  I would explain, in detail, the mission, then beg (literally) on my hands and knees…which works in a busy airport. Check out the video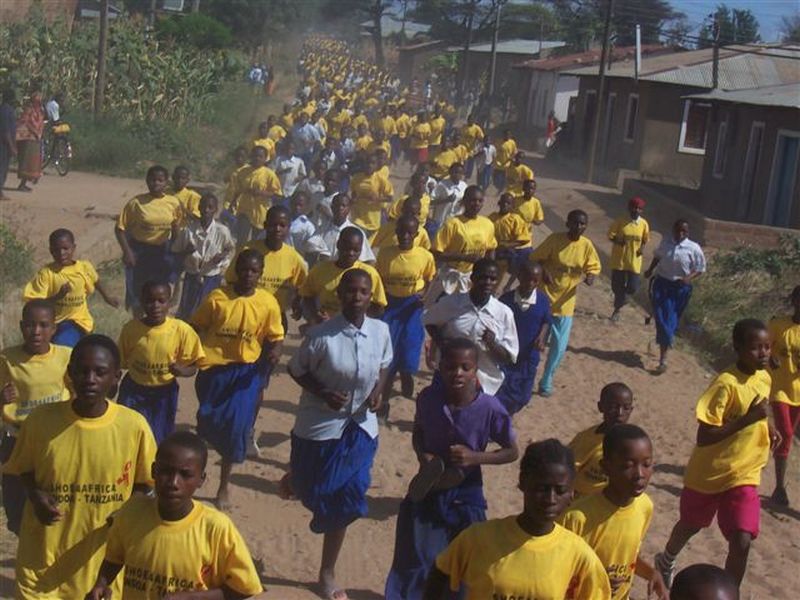 Above: A Shoe4Africa aids awareness race for girls in Kondoa, Tanzania.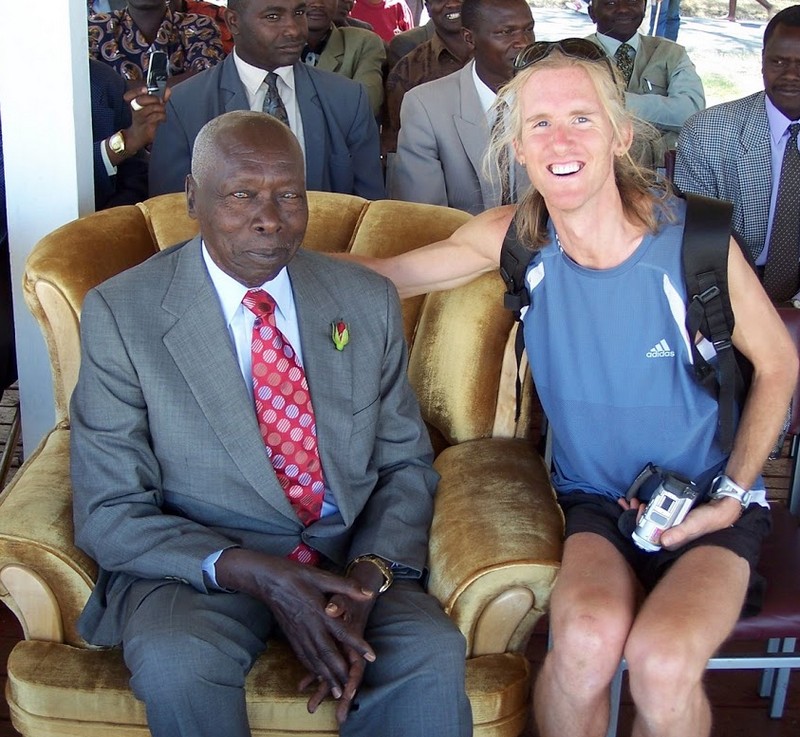 Above: Getting a commendation from President Daniel Arap Moi who thanked me for the work that Shoe4Africa had accomplished in Kenya.  Later on this day, I was told by security staff, "Urm, you aren't really supposed to touch or hug a president."  Who knew?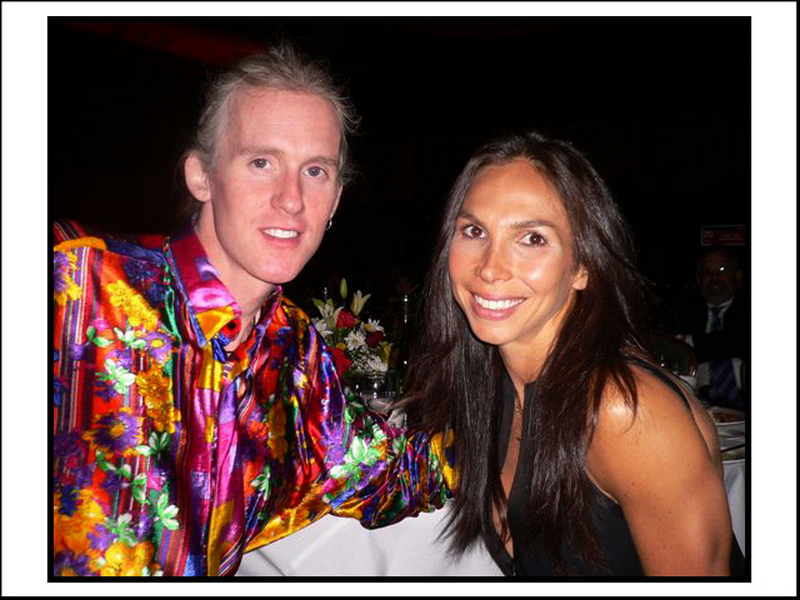 Above: When forming Shoe4Africa as a charity I needed two other people to make the organization legit, so I asked my friend Joy Dushey and she became a wonderful supporter and the first board member!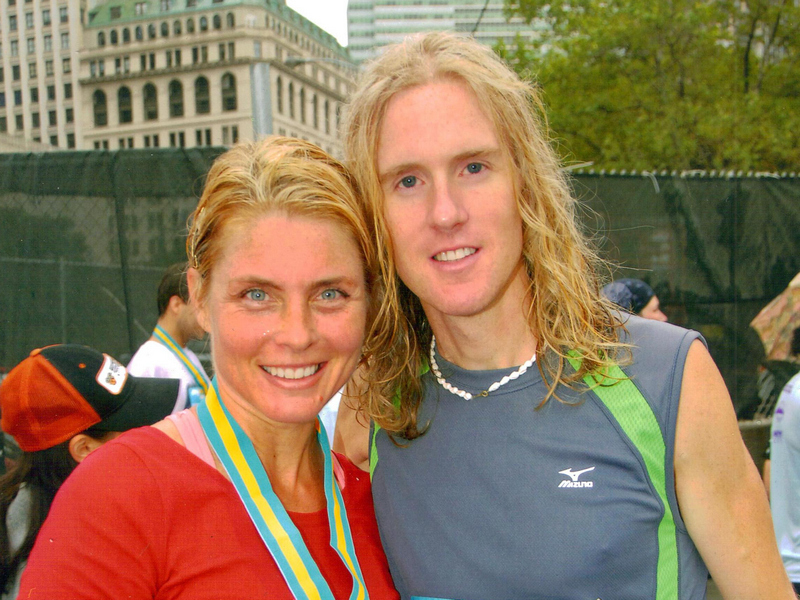 Above: And former super model, Kim Alexis, became our first advisory board member with the nine-time NYC marathon winner, Grete Waitz, who I met as a twelve-year old at a cross country international, and we remained friends with ever since.  I had no idea what an advisory board did but I noticed that other charities had them, so I thought Why not me?
Above: A great friend who got involved in 2006, and in, 2007, after returning from a 310-day around the world trip, he joined the Shoe4Africa board of directors as a Chairman. Anthony aka 'GOOSE' Edwards aka Dr. Mark Greene.  For eight years, we spent a lot of time together, I virtually lived in his kitchen and he described us as Frick and Frack.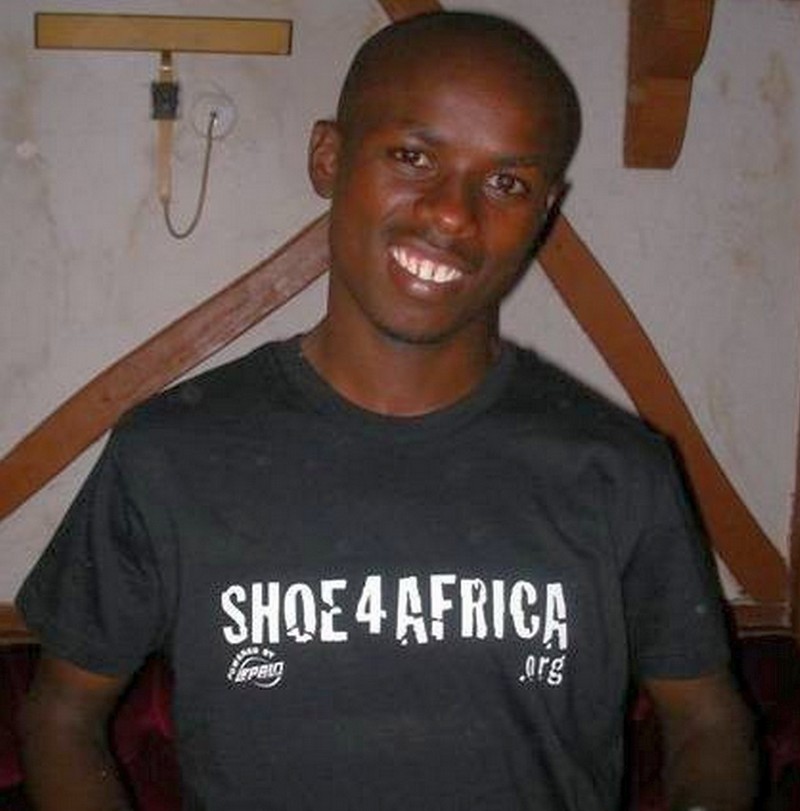 Above: In 2006 a young runner came to us asking to be an ambassador; one of the first.  Two years later he became Kenya's 1st Olympic Gold medalist in the marathon.
Chapter Twelve. Women Run Iten, and The Manhattan Marathon.
Talk about a dream. A tiny charity of no paid staff gets the world's most prolific footballer as an ambassador.  How?? And I want to start the Manhattan Marathon in NYC, and I get a billionaire partner.  The mayor's office, the FDNY, the Police…it seems every one likes the ideas.  Oh, and I want to collect 12,800 pairs of shoes at the finish line of the NYC marathon too to check out a new idea of how to collect shoes on one day.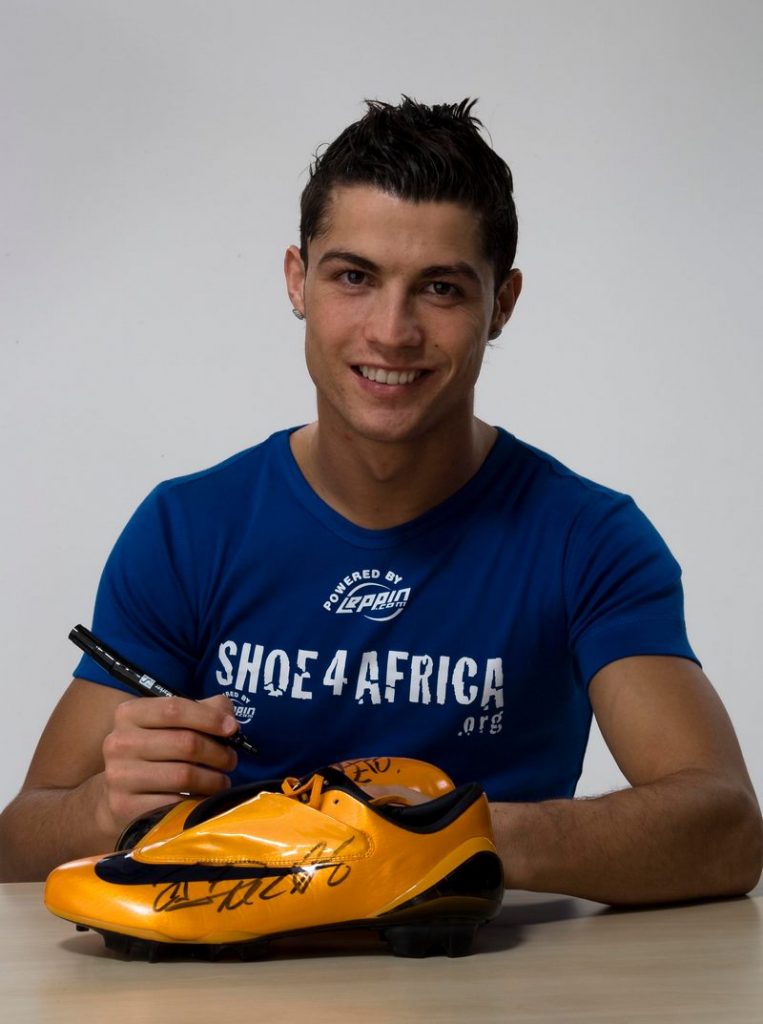 Above: Shortly after forming Shoe4Africa, we got a great celebrity ambassador. Not mentioned in the book, but when he won some (major) global soccer award, he donated the winnings to our cause!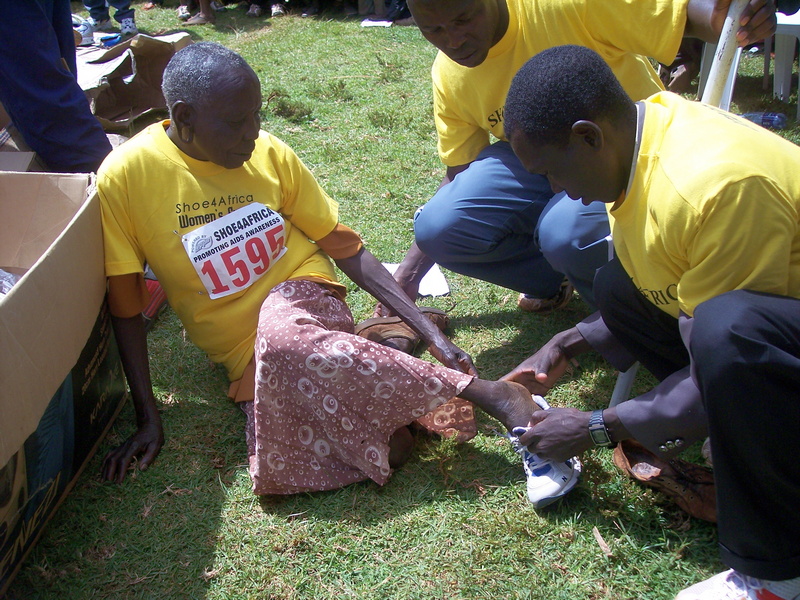 Above: The Great Grandma finds there is even footwear for her at the free Shoe4Africa event we held to Promote Aids Awareness.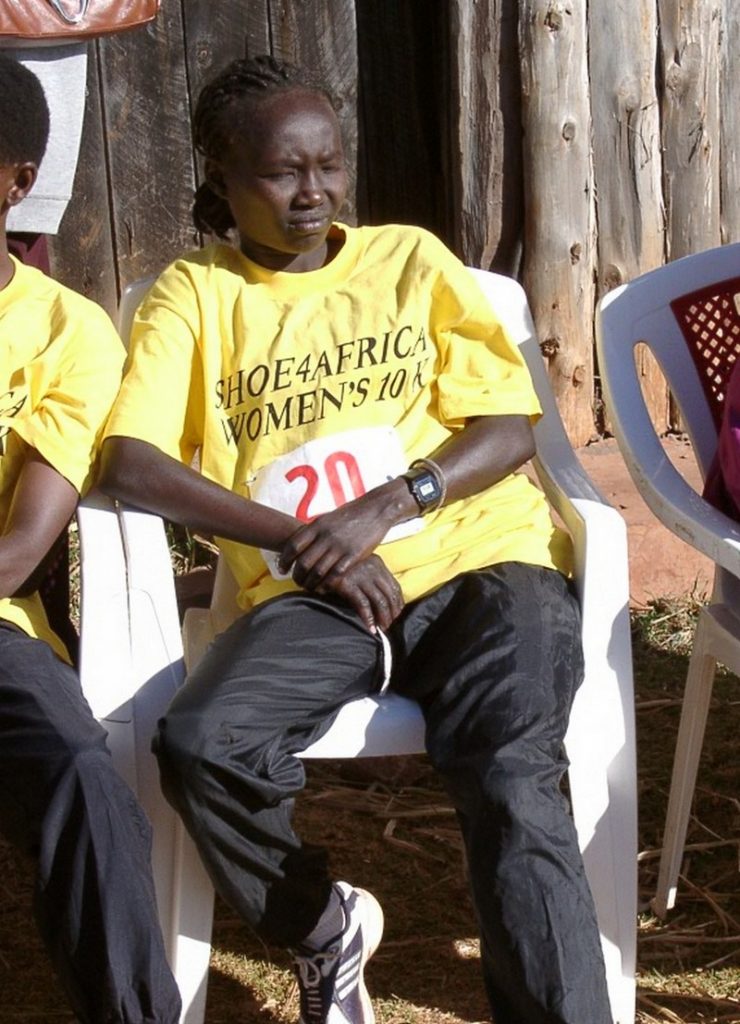 Above: This lady (Mary) short on funds and lodging in one room with four other athletes, came and entered our free to enter event in 2005, and missed the prize money by one place (she finished 21st).  However a coach, Philip, recognized talent and advised an Italian Manager to send her to a half marathon in Portugal.  She won that race, and has earned $$ in every race since that day till retiring in the summer of 2021.
Winning  4 x the NYC marathon, 3x London, and today (owning two hotels) she is still the Women's only World Marathon record holder, and the patron of our 5th School – the Shoe4Africa Mary Keitany School. Check out her fake adidas running shoes above.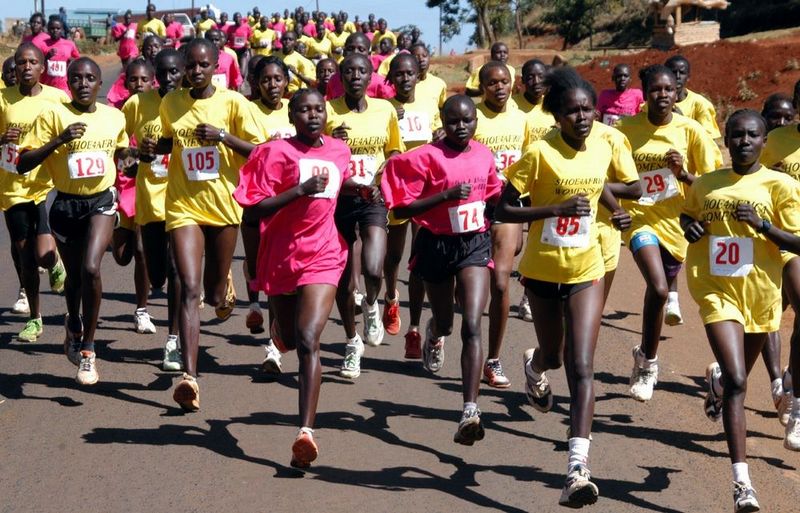 Above: And as the race started, Mary Keitany (far right #20) sprints right to the front! Middle of the picture is Edna Kiplagat who would win the NYC marathon also five years later. Sharon Cherop who would win Boston… many ladies were discovered in S4A races.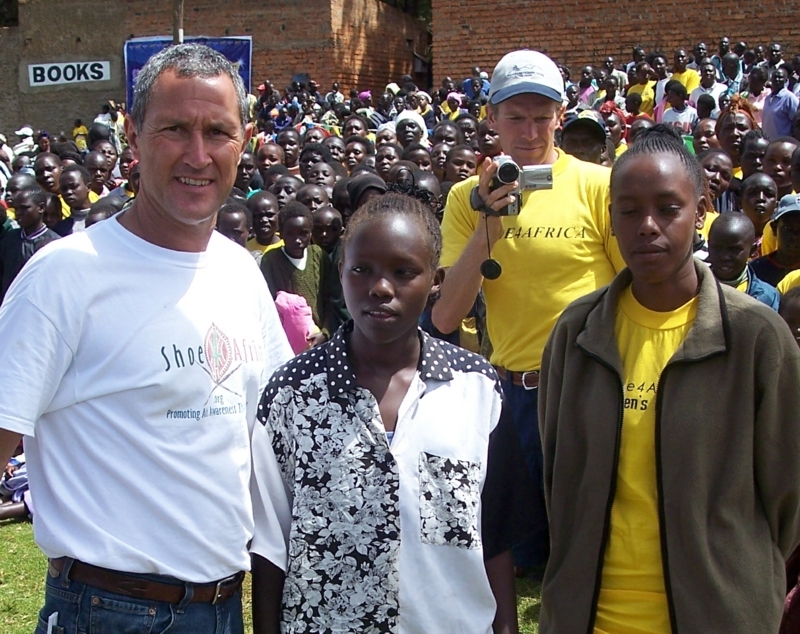 Above: Pieter Langerhorst was a great help.  Not just offering me accommodation at the High Altitude Training Centre to really cut down on trip expenses, but in putting together events, and, of course, he would later give me the Hospital project documents!  Here, when we hosted an event, he is handing out the prizes to the disabled athletes.  To the right is Loice Bunei (blind) who managed to also complete our Kibera run a year later and win Paula Radcliffe's shoes!  She today works for Standard Chartered.  Jeroen Deen in the background, who also was a great help in these events.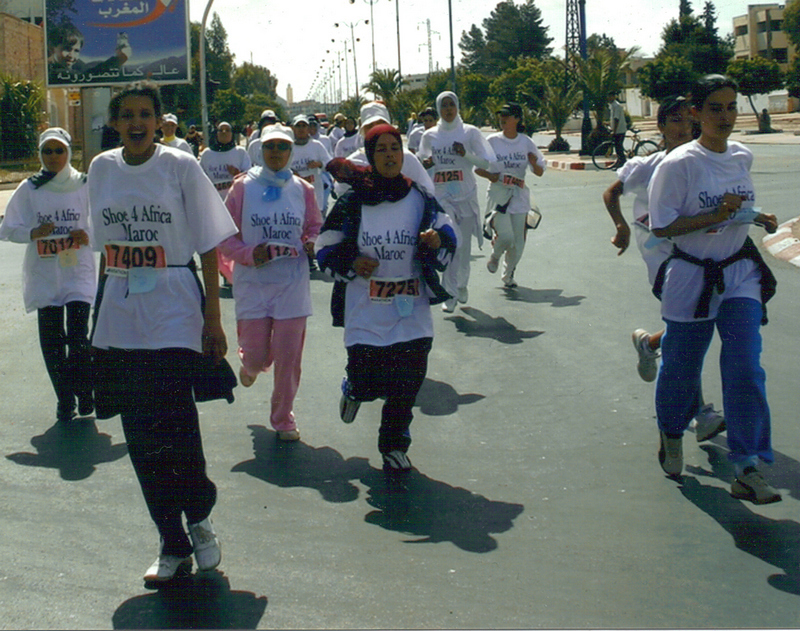 Above:  Meanwhile, further West…A Shoe4Africa road race empowering women in 2006 in Morocco. Hundreds of non-competitive women took to the street to embrace empowerment!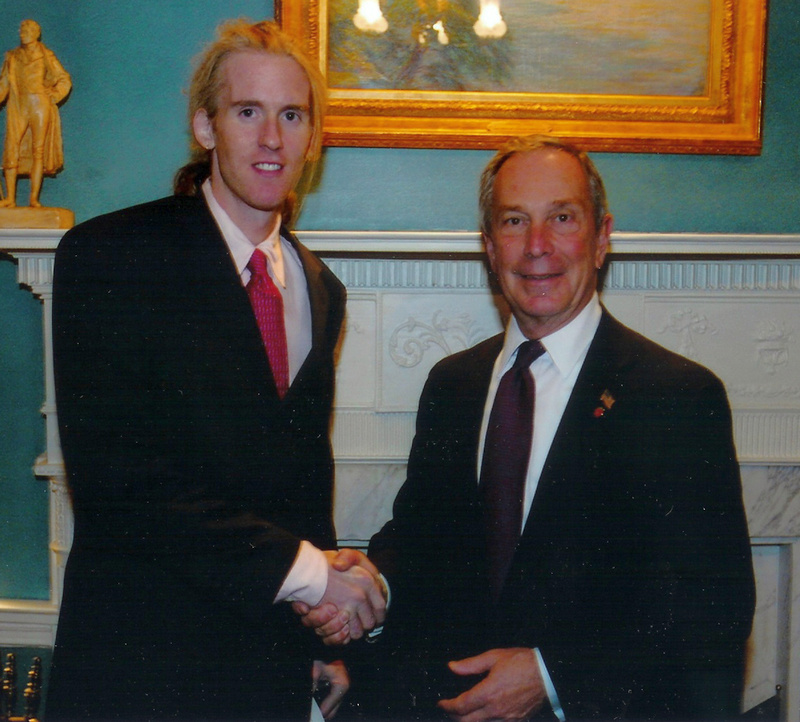 Above: To launch the Manhattan Marathon, Mayor Bloomberg would be a key player. I did not have a suit or tie; I was 'loaned' one at his door!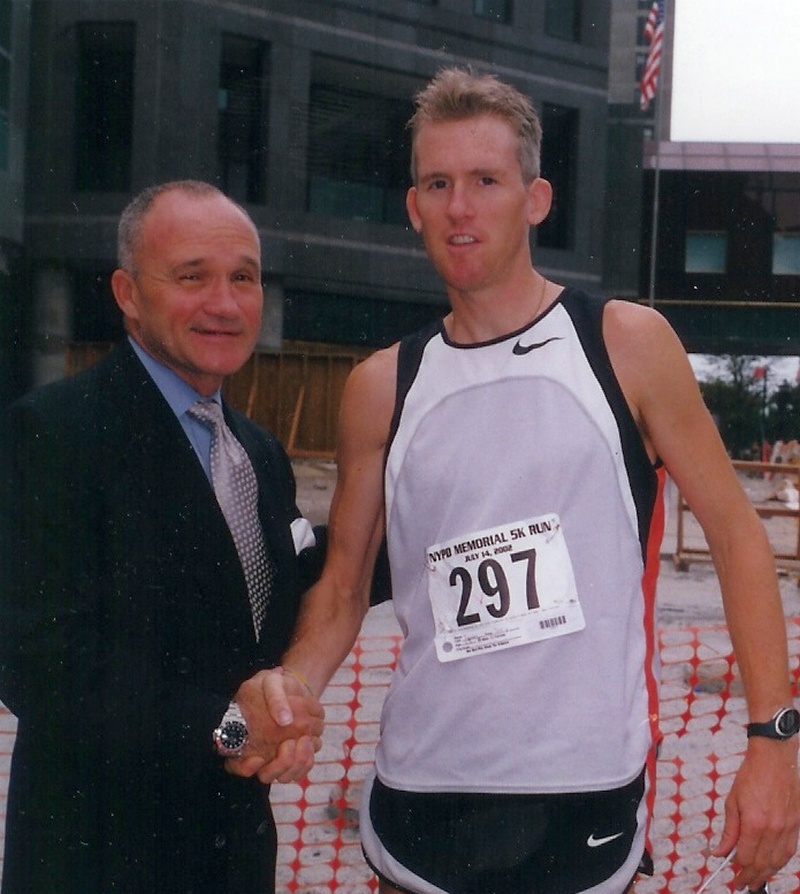 Above: And, of course, I needed the endorsement of the NYPD Commissioner Raymond Kelly to make it happen. With him and the Mayor, the event was a non-starter.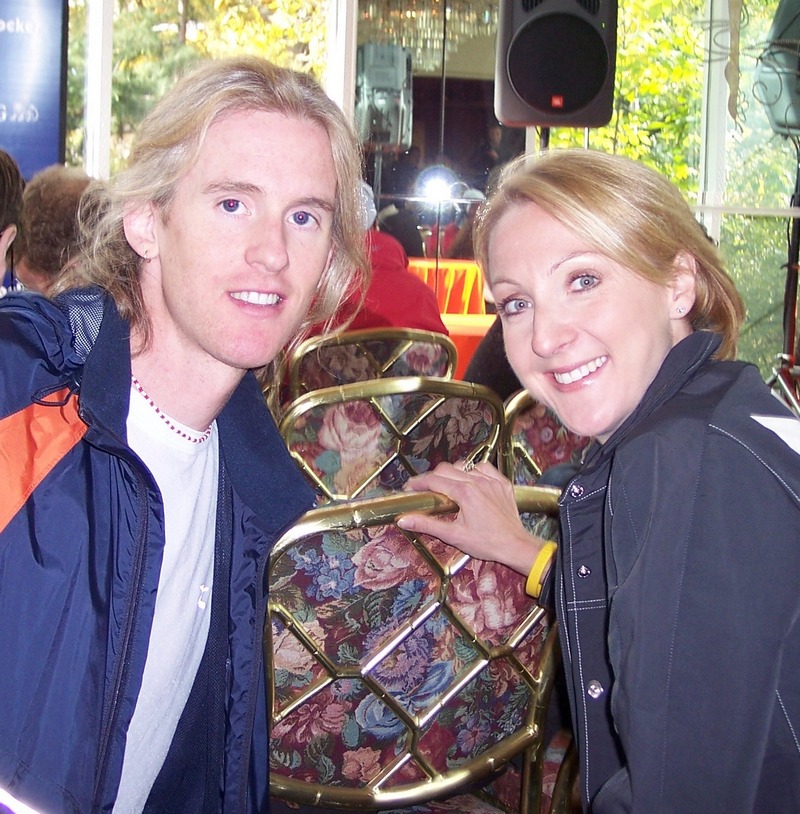 Above: Planning the Manhattan Marathon, I asked the World Record Holder, Paula Radcliffe if she would run the NYC marathon and throw her shoes, after finishing, into a container to start a movement to try and collect 10,000 pairs of shoes.  Not only did she agree (and win the race, and we collected 12,800 pairs) but she also canceled her post race fancy obligations to come to our Shoe4Africa private party!  Another friend I met in Albuquerque, years ago!  Paula is helping with our next steps….the big project to launch in 2021!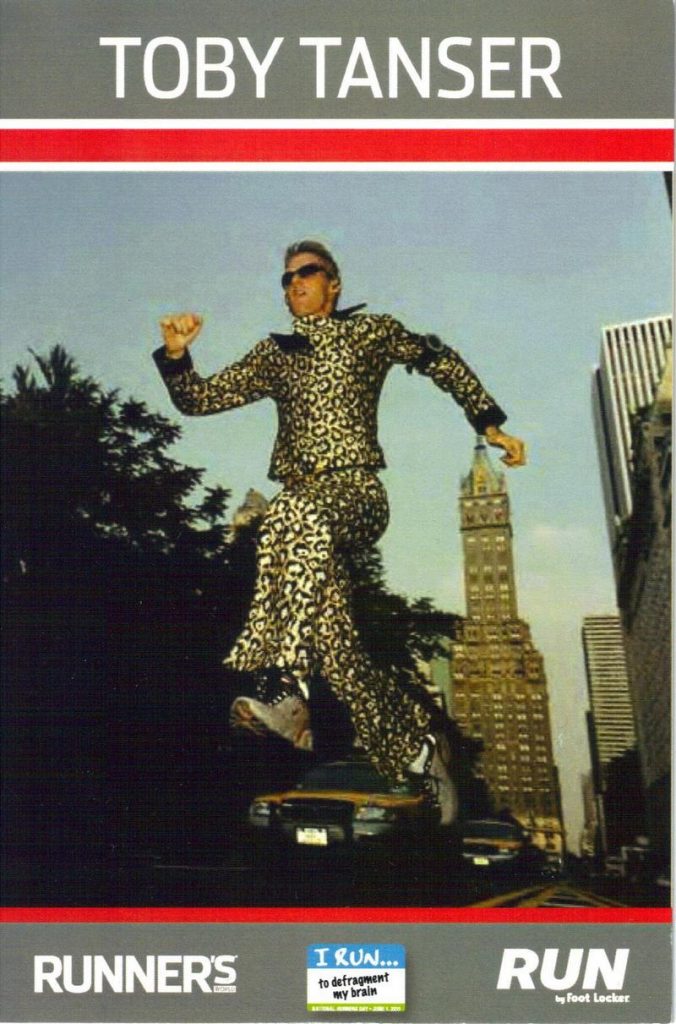 Above: World Running Day, I was a Runner's World Ambassador.  They asked for a photo, so I sent this.  For many years, this was the only suit I ever owned.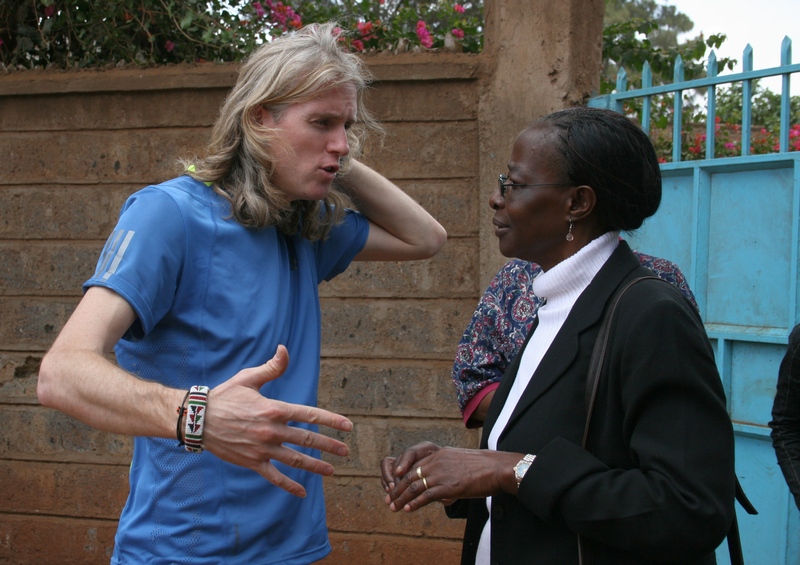 Above: Planning to distribute 5,800 pairs of shoes in Kibera, I wanted to make sure the community embraced the idea.  One lady, the headmistress of Kibera Primary, Helen Otieno said no, "Aid has made Kibera worse.  Turning us into beggars not relying on ourselves and trained in waiting for the next boat of support to come in from Mombasa. Kibera was much better before you people came."  Helen agreed that giving out shoes to combat hookworm was not a bad thing and ended up hosting our event at her school. Helen griped, "Show me a Kenyan NGO charity that survives without foreign support, then you will see the only true progress."
Chapter Thirteen. The Kenyan Clashes.
It happened so quickly.  One minute there was peace, the next time mayhem. Then, twenty miles, from our doorstep, a church is set alight with 35 to 50 women and kids forced inside?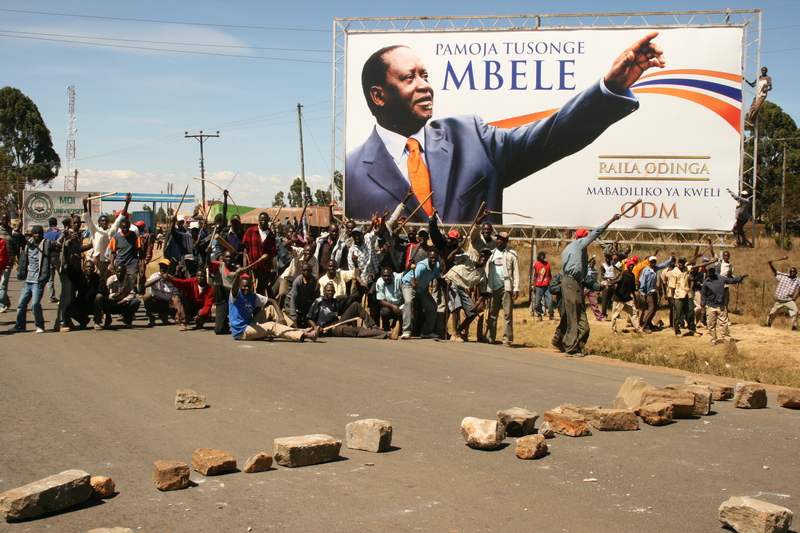 Above: Roadblocks were hard to navigate, and those arrows are poisoned.  First hand, I can tell you those machetes hurt! Credit: Thilo Thielke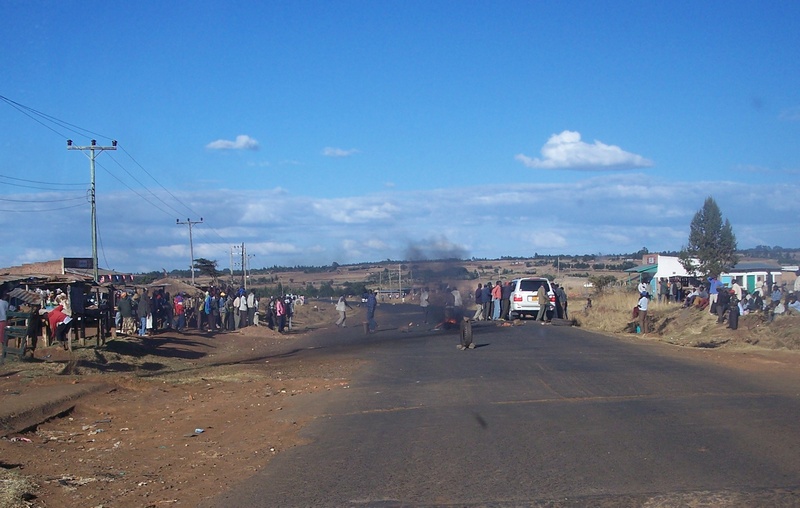 Above: Here, following Shaheen's car trying to drive home when the clashes broke out after taking Douglas to the airport.  Right after we came to a stop, an unseen mob surged from the right side looking pretty much like the mob above and tried to drag me from the car.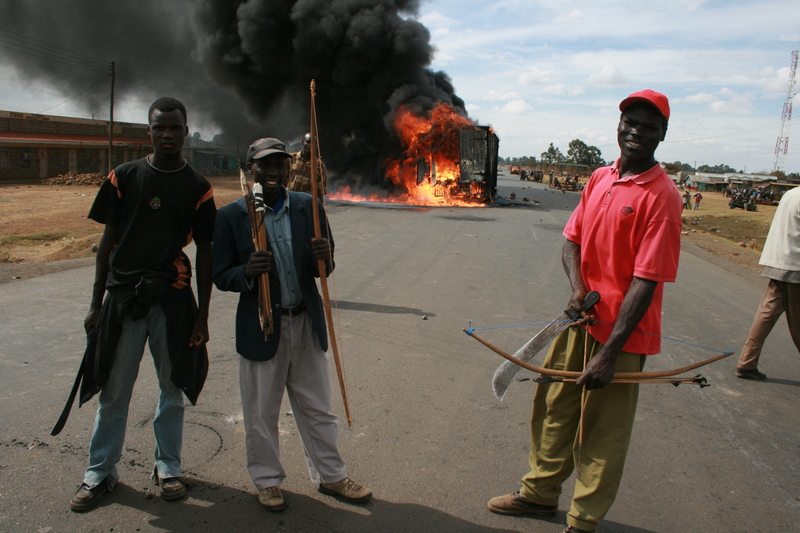 Above: One truck that did not get through the road block Credit: Thilo Thielke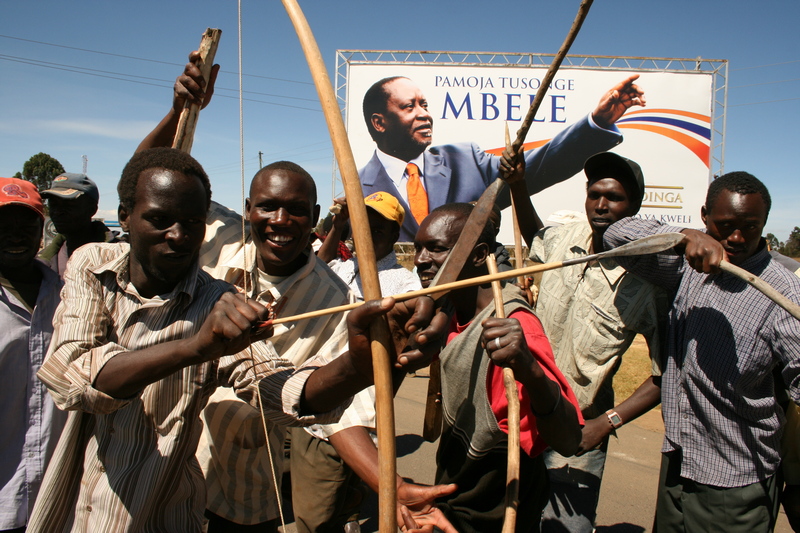 Above: These weapon's hurt! Credit: Thilo Thielke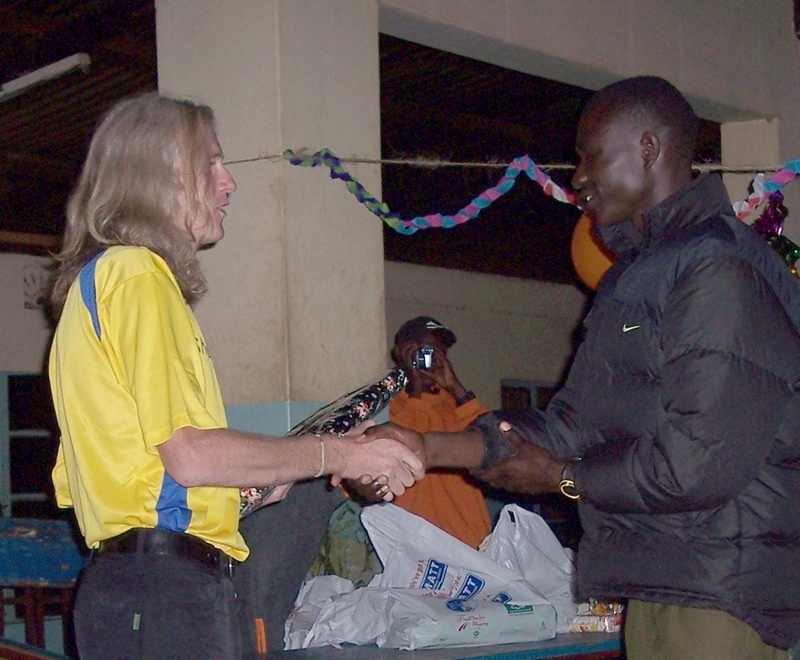 Above: Giving an award in 2006 to David Rudisha for being a promising upcomer. In 2007, his father Daniel told me it was David's Destiny to bring back the world 800m record to Kenya (stolen by Denmark he claimed) which I doubted, as then Rudisha was not even the best runner in his village.  But his father told me, 'Rudisha' translates in Swahili as Bring back; it is written in his destiny.'  And, years later, he did!  Recently, he became my next door neighbor in Eldoret.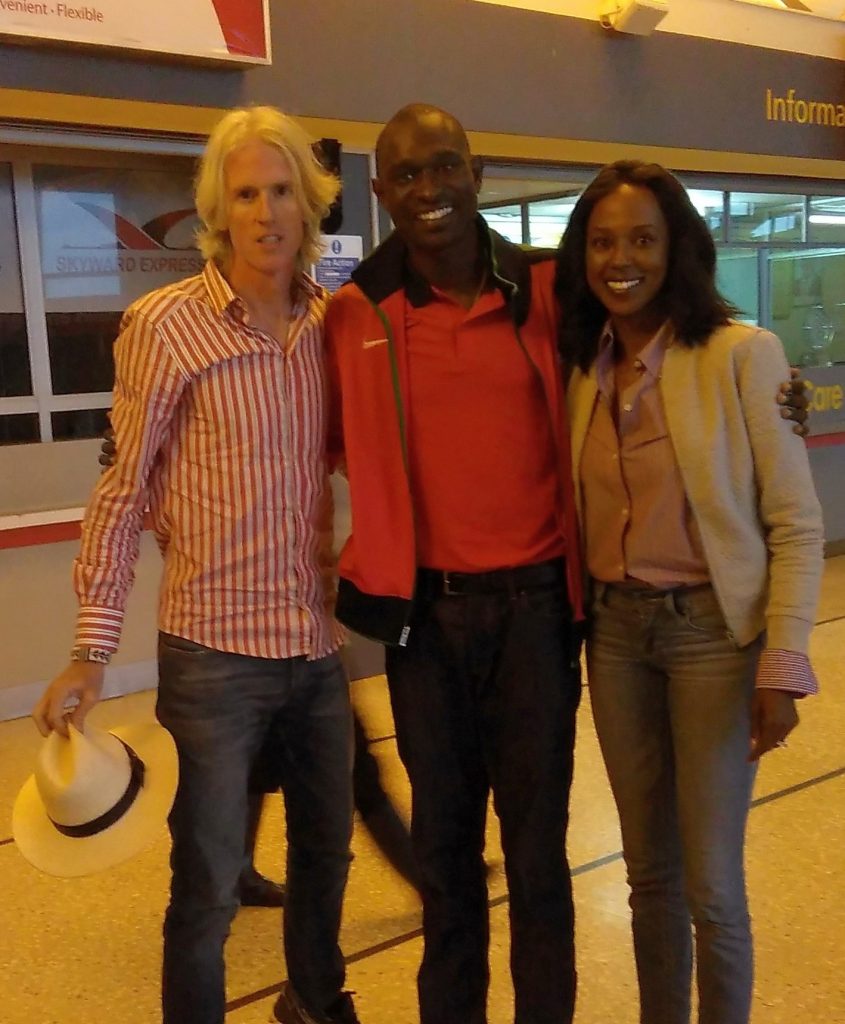 Above: And here we are wishing David a safe journey as he departs to defend his Olympic title at the Eldoret Airport… and he did win Gold #2.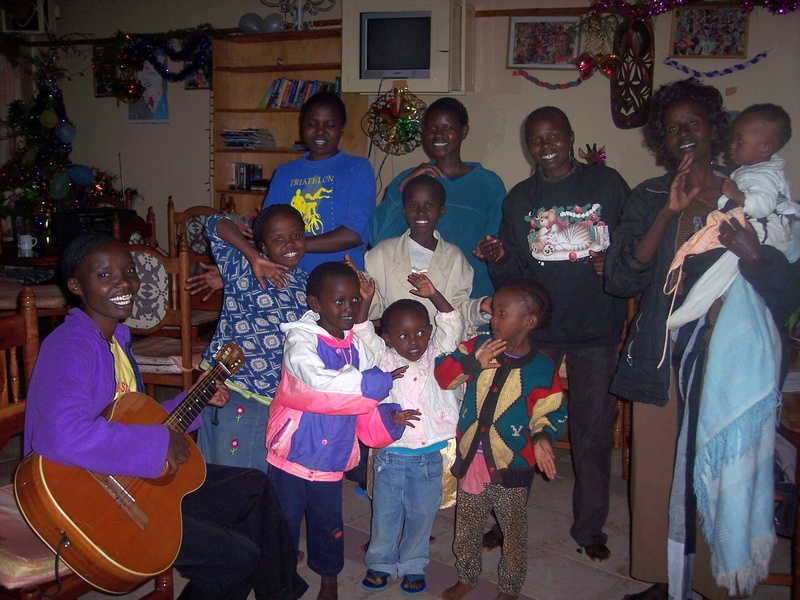 Above: During the clashes, we had nightly sing songs to use music therapy to cheer up traumatized kids.  The mother and the kids were from the 'rival' tribe.  Naomi, standing in the black, was not so happy about us sheltering people she considered enemies. The girl at the back center, in 2023, ended up being our coach for the new Boys & Girls club in Iten.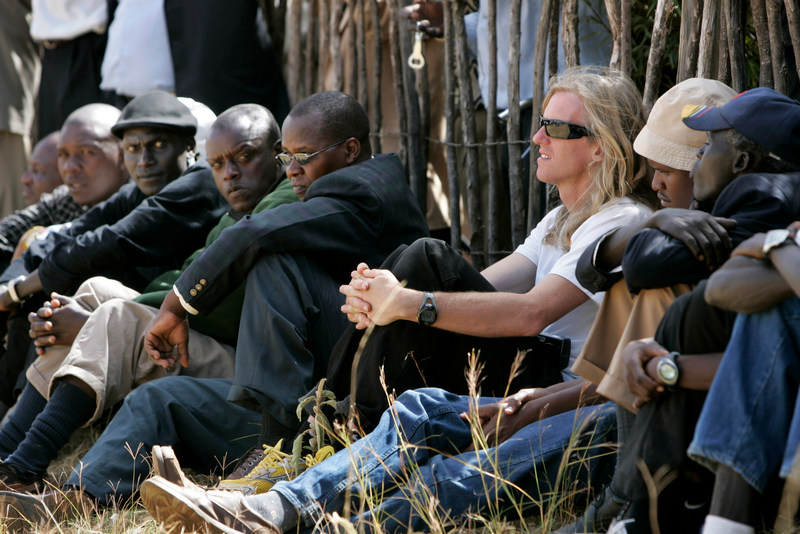 Above: At Lucas Sang's funeral at Kuinet, I slipped in and decided to sit at the edge of the field for a quick getaway.  By coincidence, Robert Cheruiyot, the four time Boston winner, had the same idea (in the cap).  Then, the 'watch' to the right was another runner who had the same idea called Martin Lel.  Credit: AP Photo/Ben Curtis
Chapter Fourteen. Love. Peace. Unity.
What can I do to help?  The country has gone crazy, but can I do something to help?  There are 42 tribes in Kenya, 42 kilometers in the marathon; what about 42 world famous running stars symbolically representing those 42 tribes from each corner of Kenya? What about Kenyan Olympians from each decade from the 1950s (when Kenya first entered) till today banding together and marching for peace?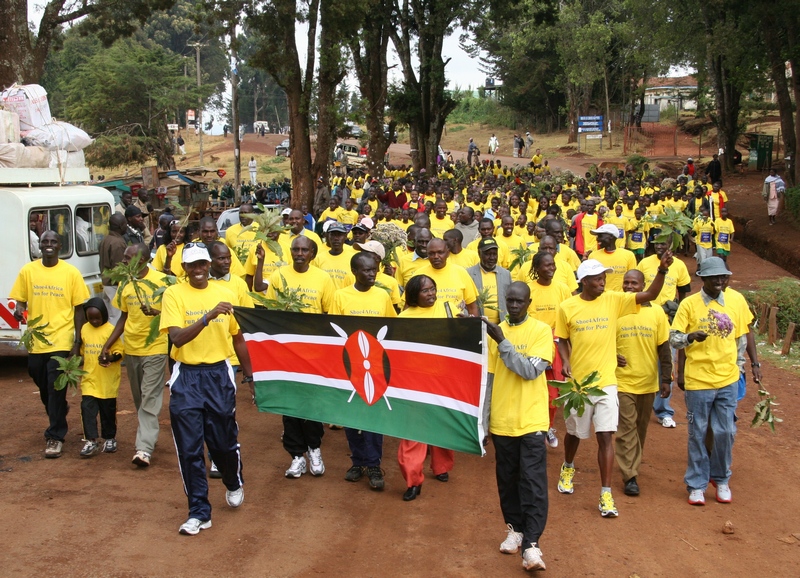 Above: Over 42 Olympians and World Championship runners are joined by 600 school girls to march for peace. world champions Douglas (left), from my cigarette story holds the flag, with Luke Kibet.  Too many champs to list here, World Athletics site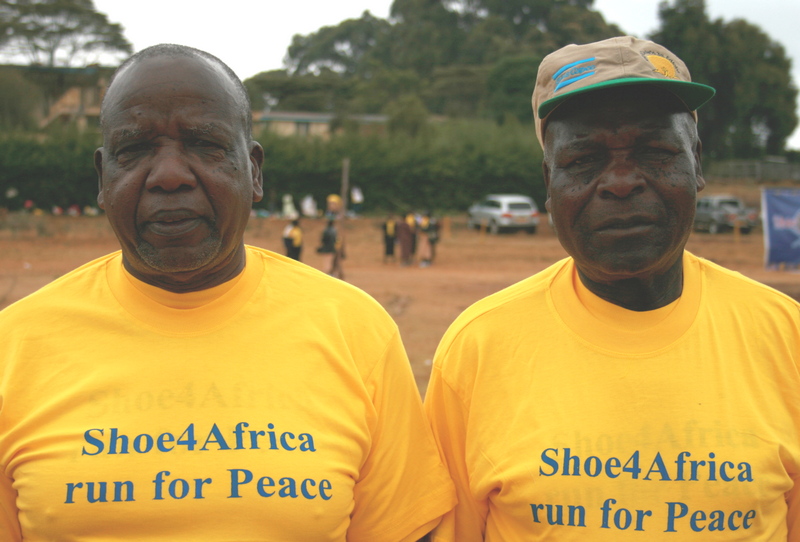 Above:  The first person to win a medal at the Olympics for Kenya, Wilson Kiprugut (left), and Nyandika Maiyoro, part of the inaugural Olympic team Archie Evans formed in 1956, were the very special VIPs at the amazing peace march.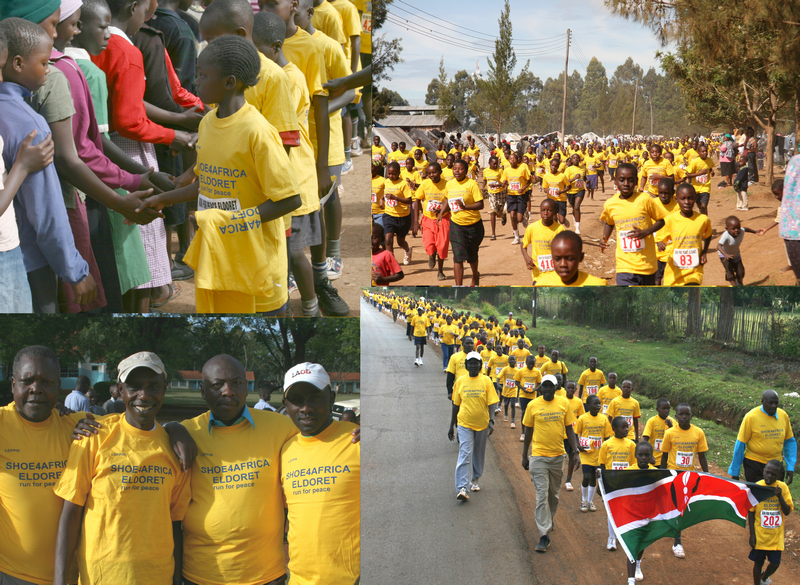 Above: One of my favorite events.  Marching Hill School into an Internally Displaced Peoples' camp of 20,000 (mainly) Kikuyu's.  The Kalenjin kids wore a run for peace T-shirt and carried one T-shirt to give to a new 'friend' then, united, we held a race weaving through the slums. Bottom left, former world record holder was shot in the clashes through the knee, but he still came and marched with the kids, here joined by Moses Kiptanui, John Ngugi, and Matthew Birir.  Check out the VIDEO
Chapter Fifteen. East & Central Africa's 1st Children's Hospital?
How did I decide to build a hospital?  It was one crazy morning in Eldoret meeting a grieving lady, then bumping into my friend Pieter in a random café.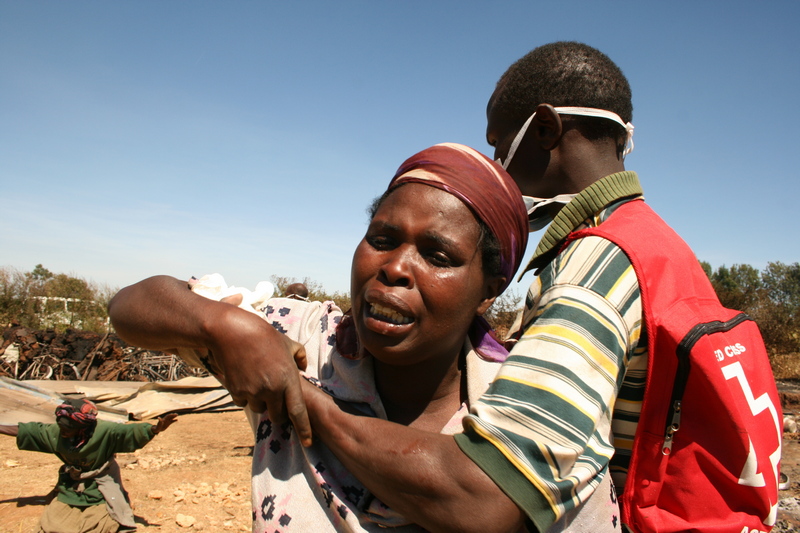 Above: Grace's child Miriam did not die in vain, as she told me.  Philip's Grandma in the background.  Credit: Thilo Thielke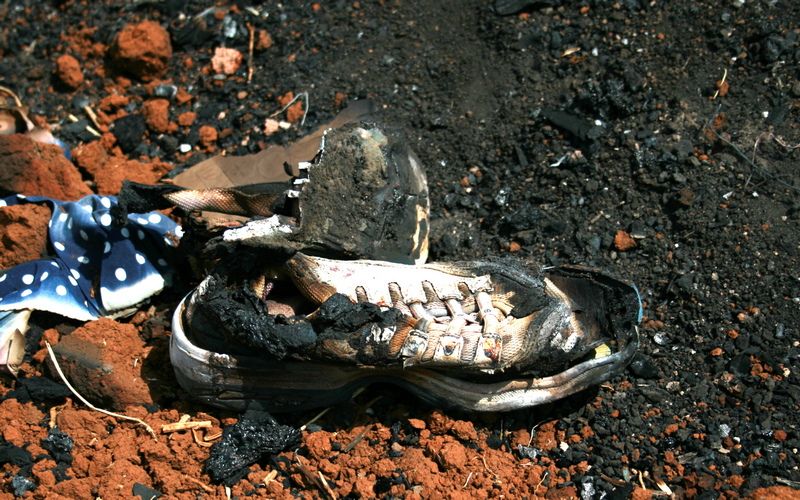 Above. "Nearby, in a bed of ashes, I spied a ruined shoe. With both the toe-box and heel part burnt, the charcoal remains of a shin bone protruded from the shell. "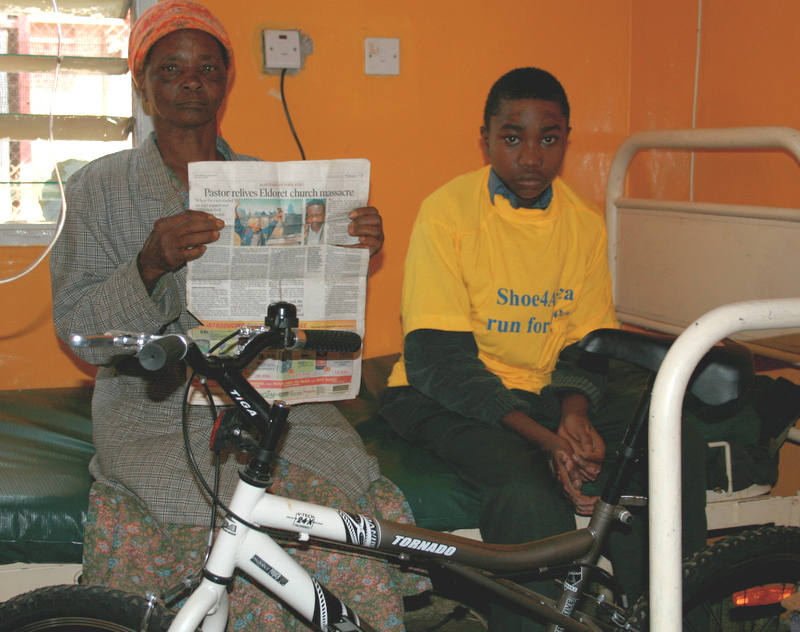 Above. "I rushed to the shops to buy Philip Kimunya a new bike…" His grandmother, who was also at the church (and holds the newspaper with a picture of herself).  Leaving the hospital I ran into trouble, being called a traitor and a bad man.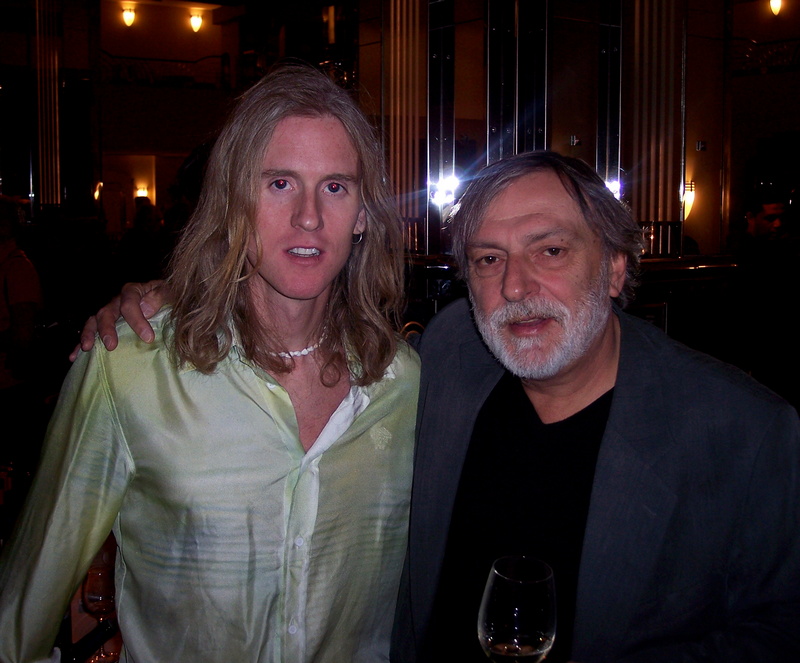 Above: Once I decided to build a hospital, every chance I got to meet anyone who had built a hospital I took to gain knowledge. I was honored to meet the amazing Dr. Gino Strada!
Chapter Sixteen. Kibera Revisited with 5,800 Friends.
The slums are so congested that when the gun went off the lead runner shot off and finished the course before all the women had crossed the start line.  Kibera is a maze, but we formed a yellow RUN FOR PEACE ribbon throughout the 2 1/2 mile course of ladies celebrating that peace had returned to Kenya.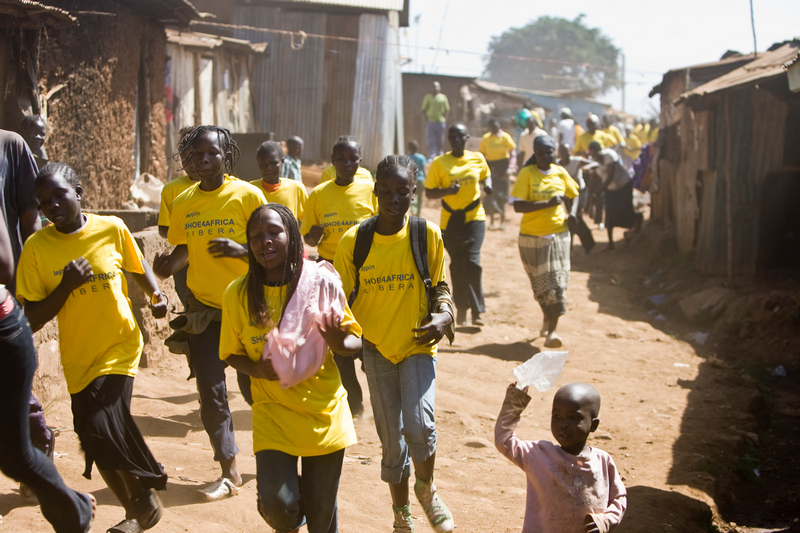 Above: Kibera's Peace Run.  Because of the narrow trails, we had over two miles of ladies streaming through the slums! VIDEO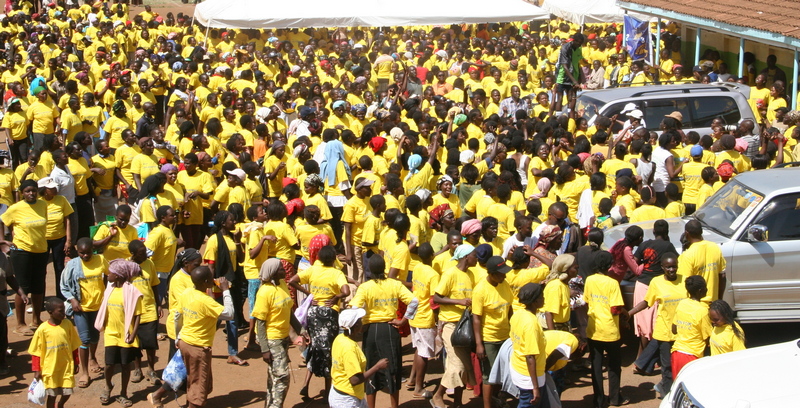 Above: The man in the Green, on top of the Land Cruiser, is the world marathon record holder Paul Tergat ready to play soccer in the Kibera slums.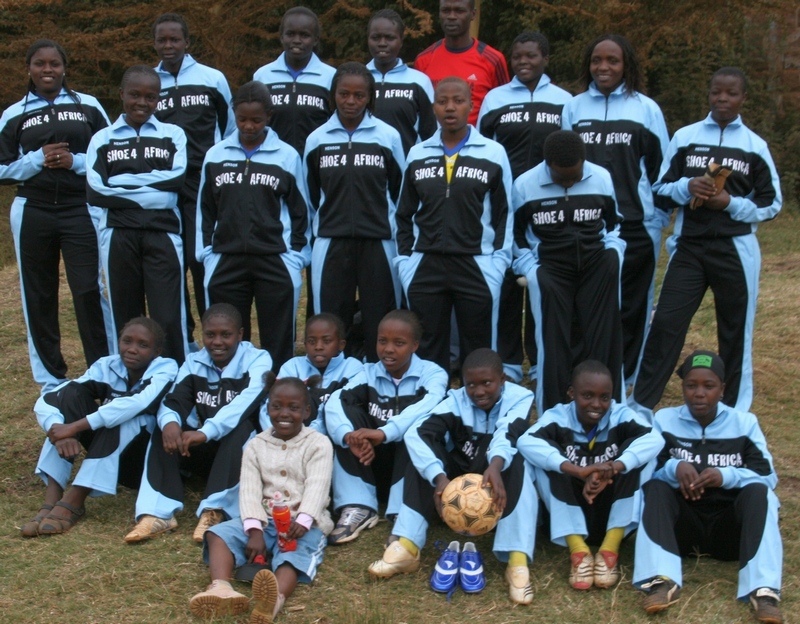 The Shoe4Africa All-stars women's football team, in Kibera.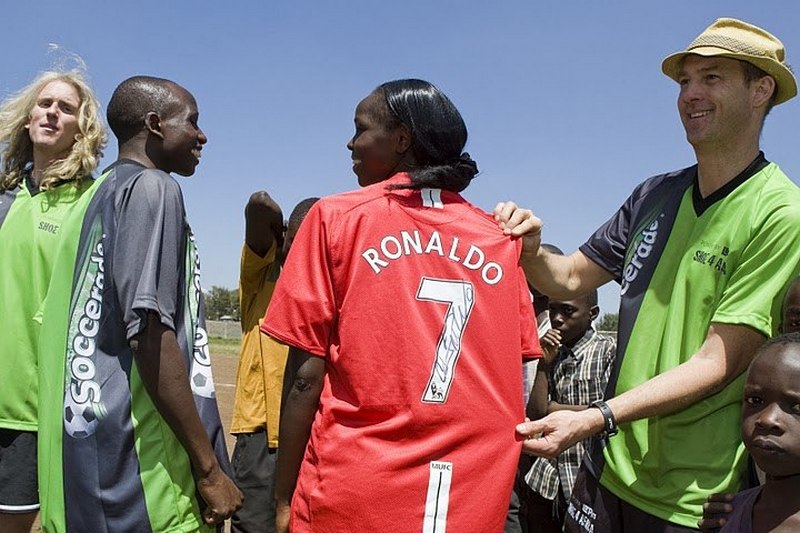 What a prize, Ruth gets a signed shirt from Cristiano Ronaldo!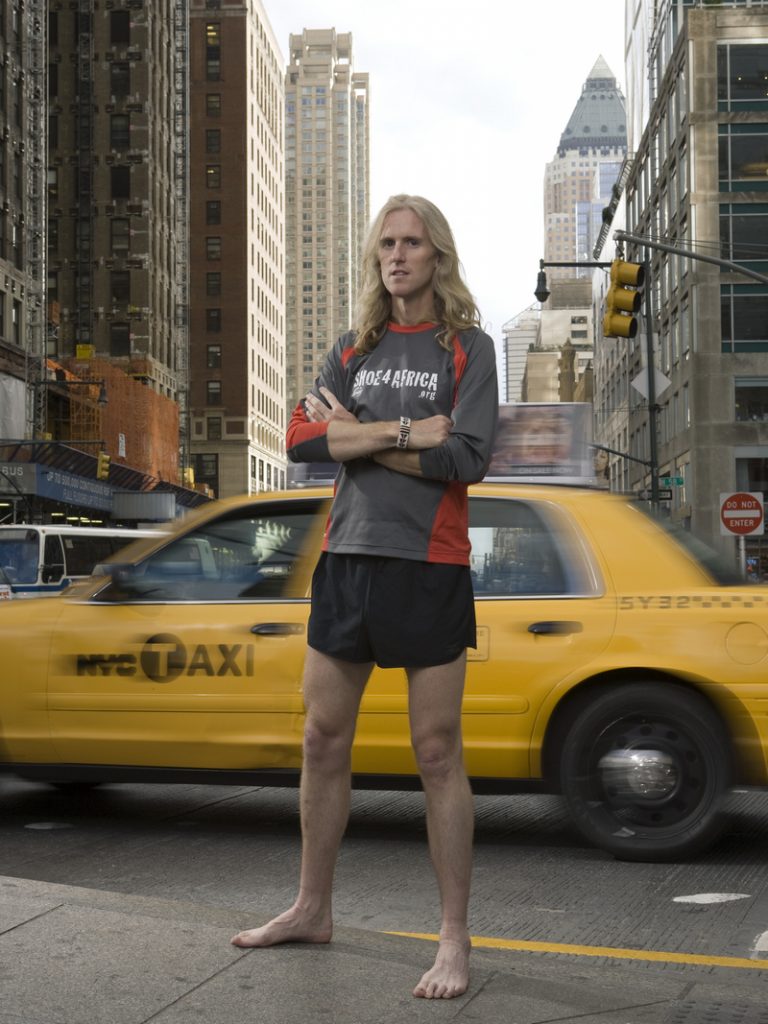 Above: A grateful recipient. Runner's World Heroes Humanitarian Award. RW Video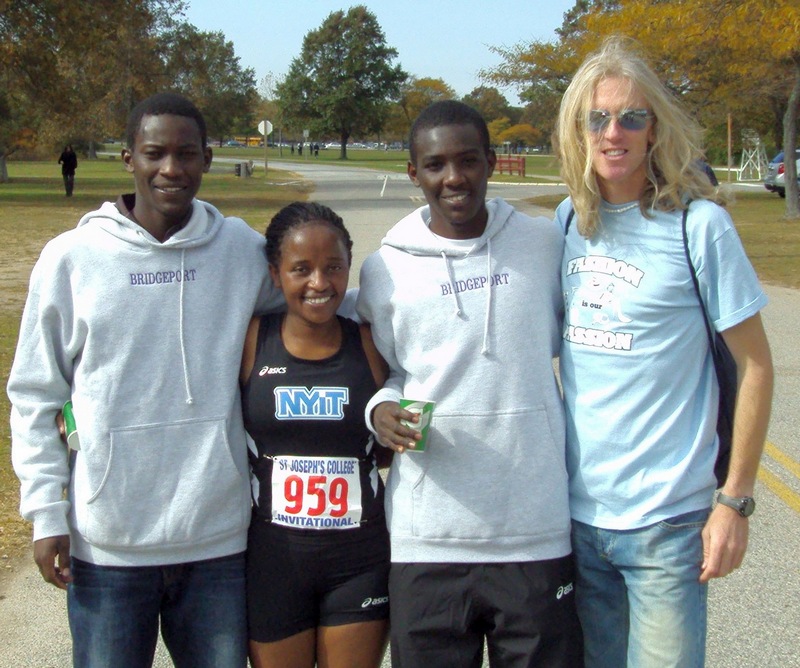 Above: As the coach of Fashion Institute of Technology, NYC's most famous fashion school, whenever I went to XC or track meets, the Kenyan students always found me!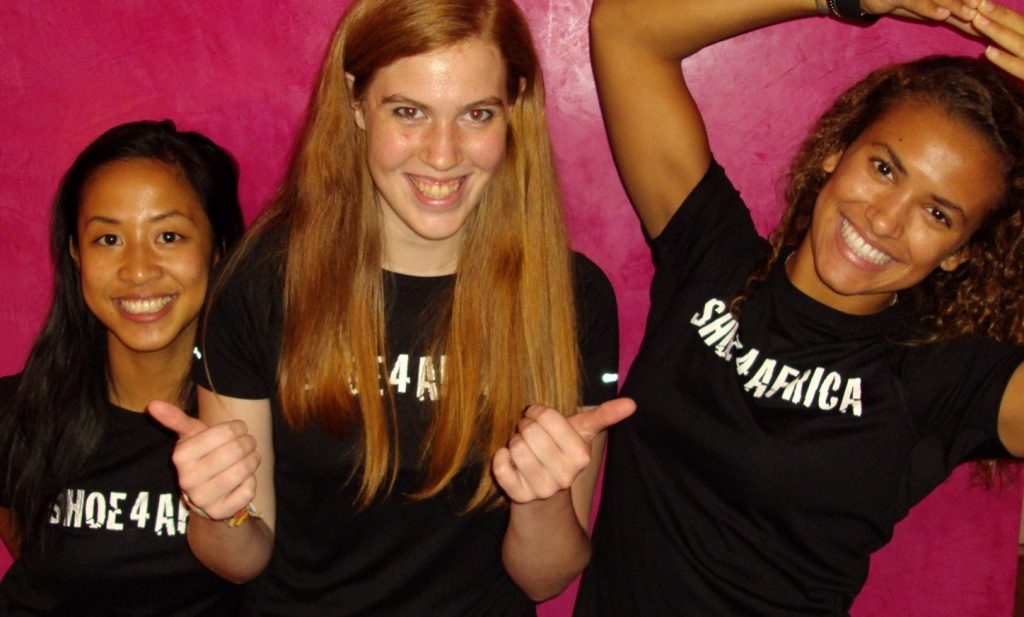 Above: And of course I had to kit out my own Fashion students in Shoe4Africa gear!  Krystelle, Morgan, and Casey come to hang out at a Shoe4Africa party at Goose's house.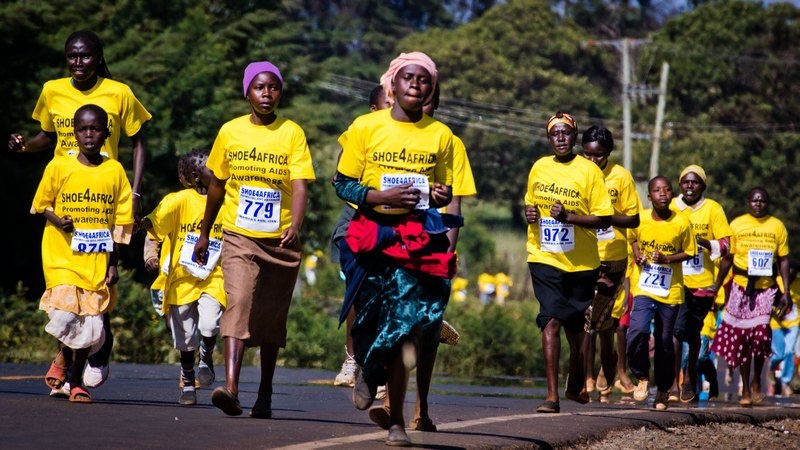 Above: Community races continued, promoting AIDS awareness are great celebrations where villagers run with elite athletes (Viola Kibiwott to the left of the pic is a 14-min 5000m runner!)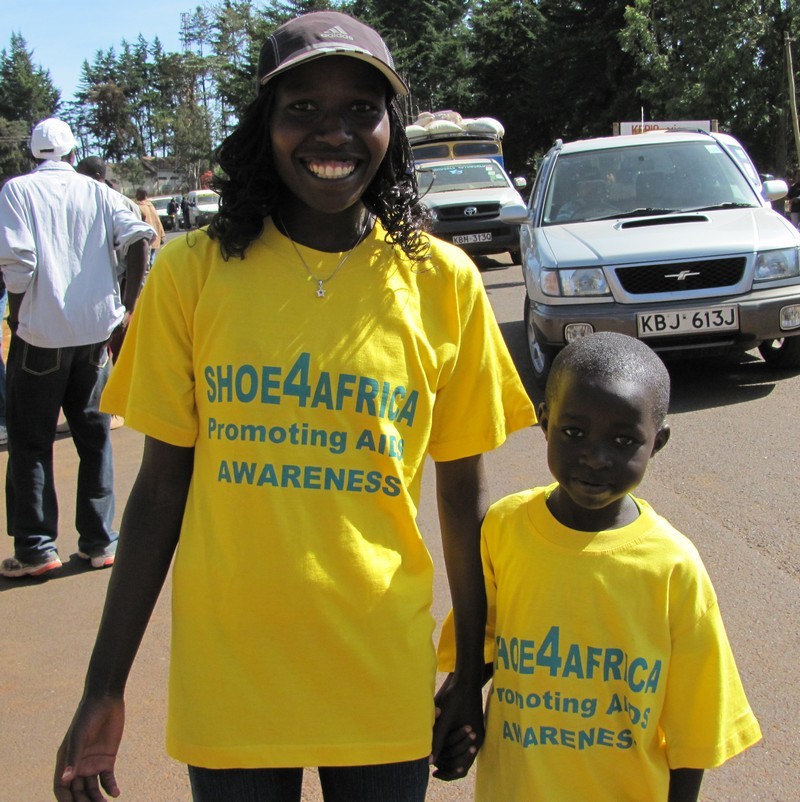 Above: World Champion Florence Kiplagat comes to run with her daughter in a Shoe4Africa race.

Above: And off the ladies go!  So many of Kenya's top ladies have made breakthroughs at these free to enter Shoe4Africa events. Thousands getting shoes!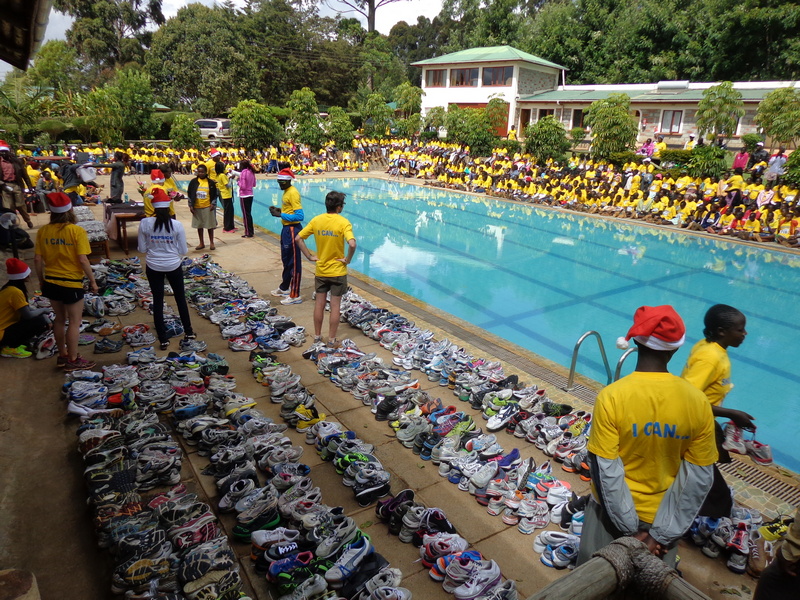 Above: Handing out the shoes with the guests of High Altitude Training Camp.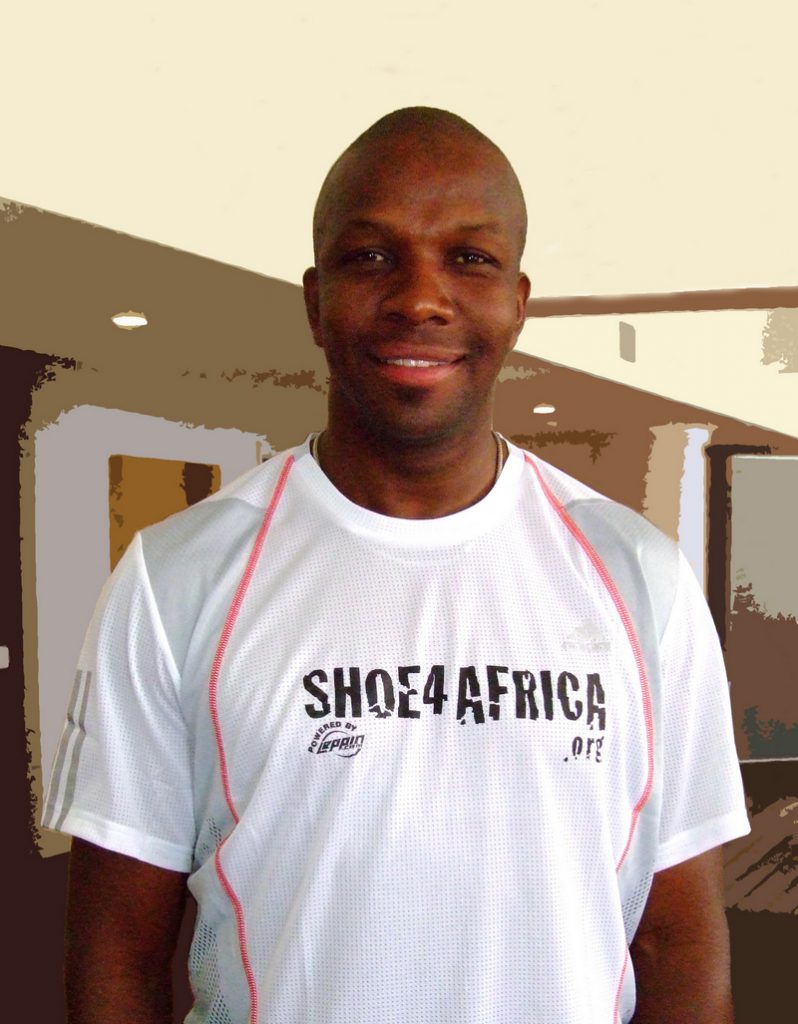 Above: Ambassador Donovan Bailey, world and Olympic Gold 100m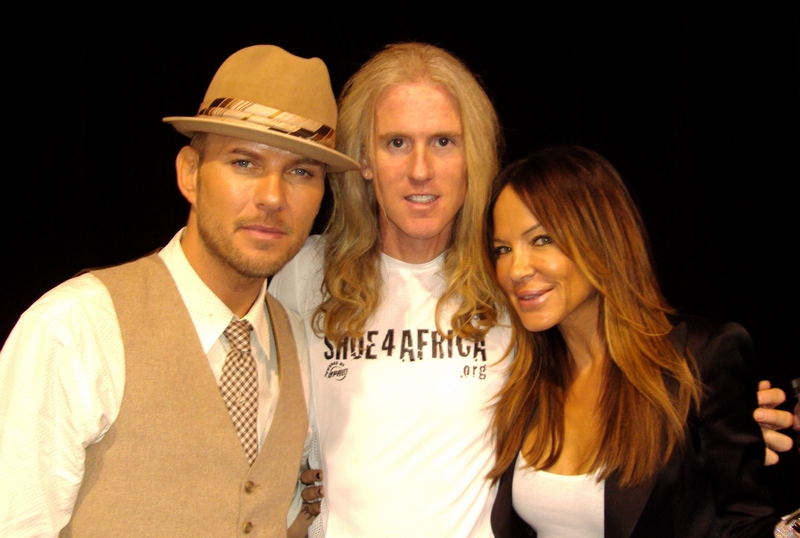 Above: Matt Goss offered to sing Song4Africa for us….a Musician making a comeback, gets a Christmas #1?  Another crazy fundraising idea.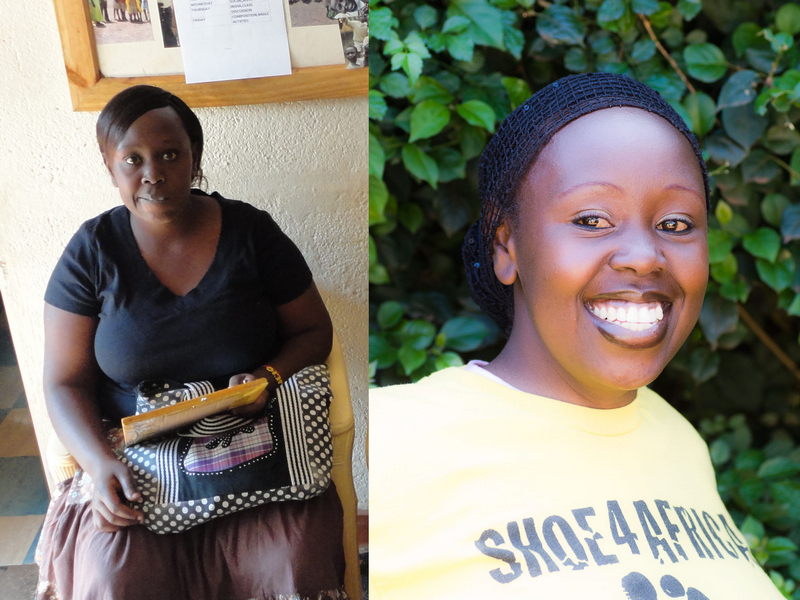 Above: Our Kibera make over programs, in the slums, were a huge hit.  Thanks to fashion model IMAN and Kevyn Aucoin for the products!
Chapter Seventeen. The Benefits of Begging in Manhattan.
When you need a few million dollars and you don't have any experience in how to fund raise it can be quite a trip.  Try it yourself.  When I said Yes to building the hospital I had no idea how to raise money.  The first three donations totaled $400!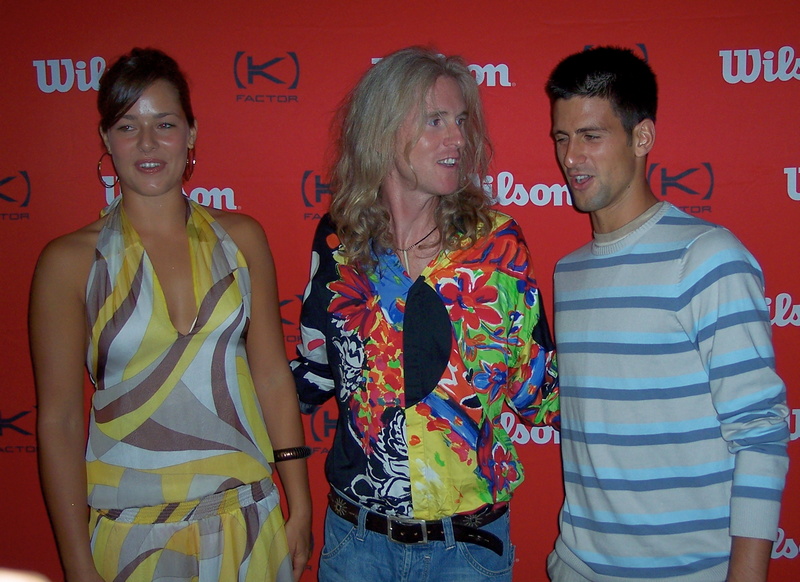 Above: The benefits of begging in a place like Manhattan? You bump into people like Novak.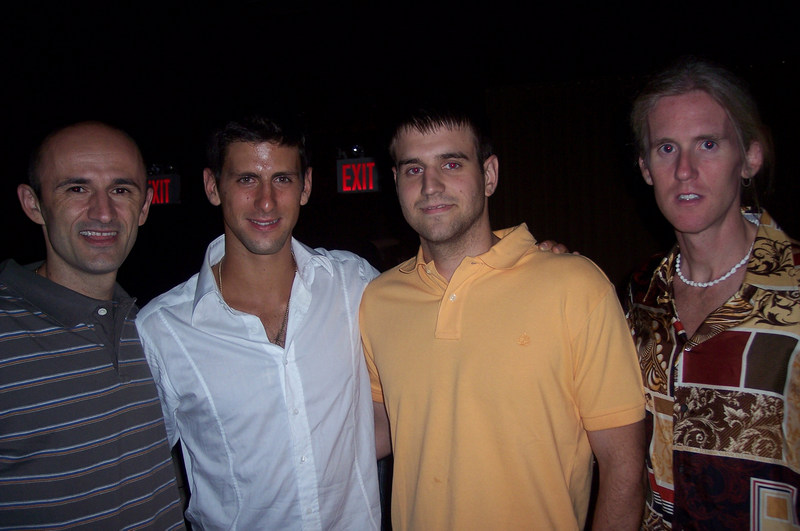 Novak Djokovic; The greatest male tennis player of our era.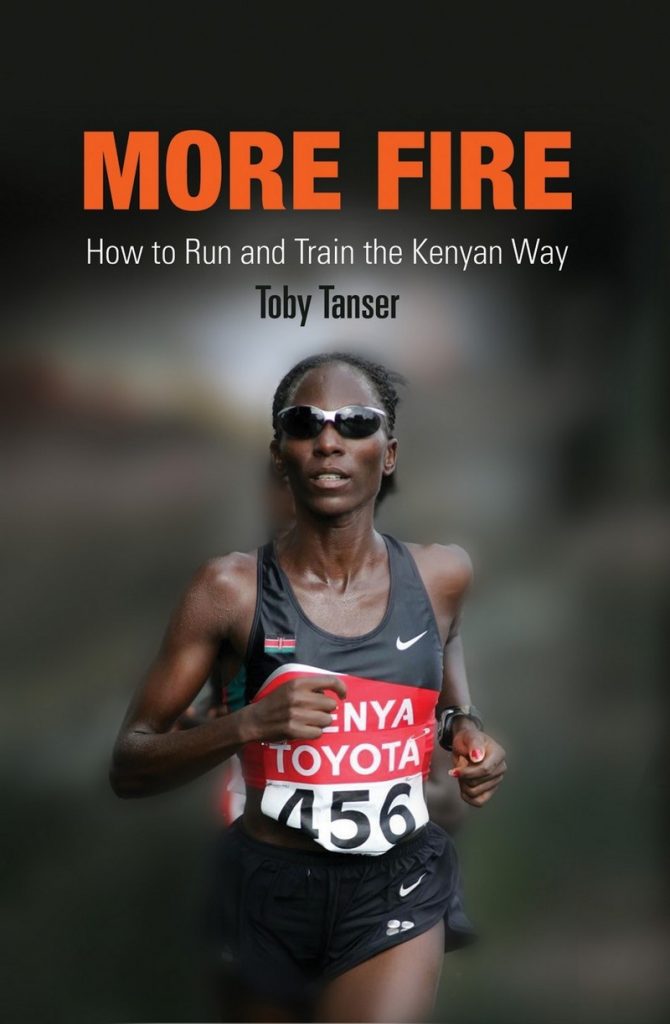 Above: Looking for extra funds, I wrote a book pledging 100% royalties to Shoe4Africa. credit: Giancarlo Colombo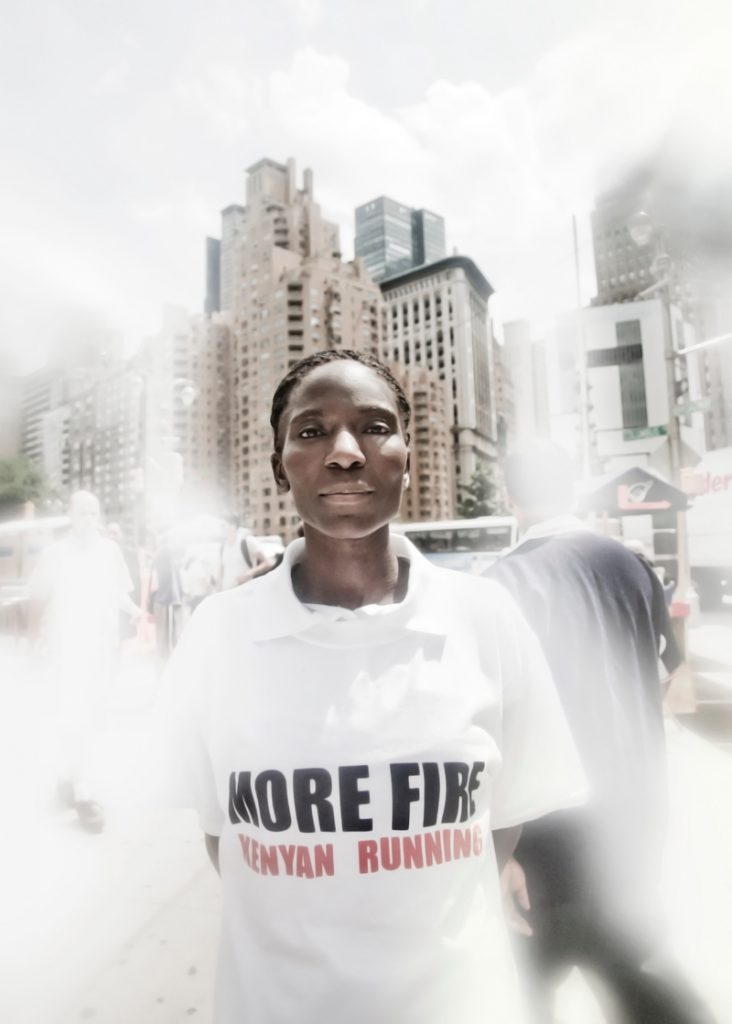 Above: Catherine Ndereba, was a longtime friend who was the cover shot for More Fire. Here my photo-whizz, Mike Kobal, did a great back up cover shot on Central Park South just incase Giancarlo, the photographer, would not allow me to use his pic for free; luckily he did.  This way, 100% of all monies from the book, went to charity!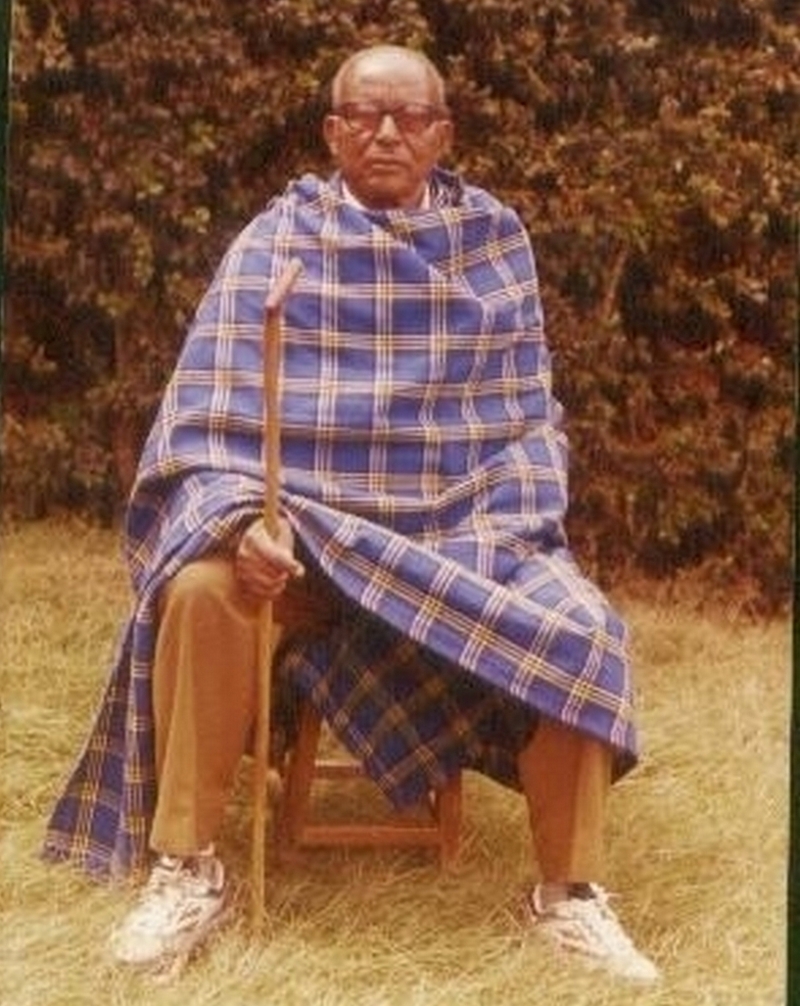 Above: One of the best parts of writing is you get to meet some amazing people. One of the most inspirational stories of the 1968 Olympics was of this man, John Stephens Akhwari. After limping to the finish, an hour behind in last place (earlier he was leading), the commentator asked why he bothered finished, he relied, "My country did not send me 5,000 miles away to start the race. They sent me 5,000 miles to finish it." Bud Greenspan Video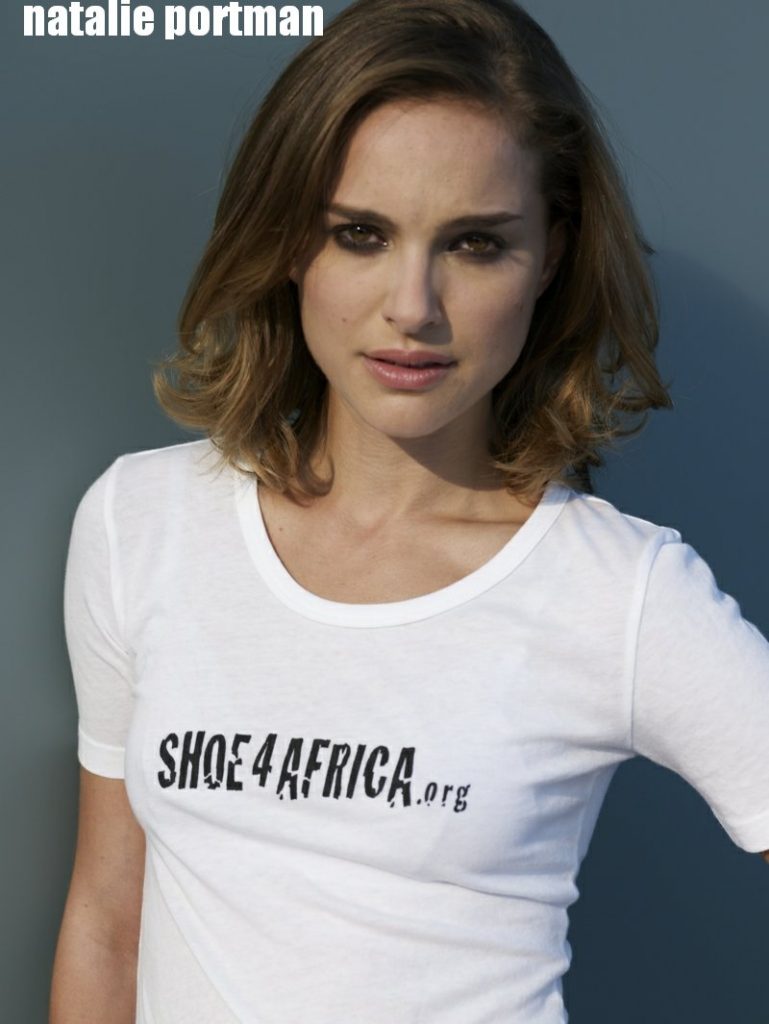 Above: Benefits of living in NYC? Inez & Vindoodh shooting Natalie Portman #natalieportman for our Natty Shoe4Africa T-shirt.  Another, great ambassador with a heart for Africa!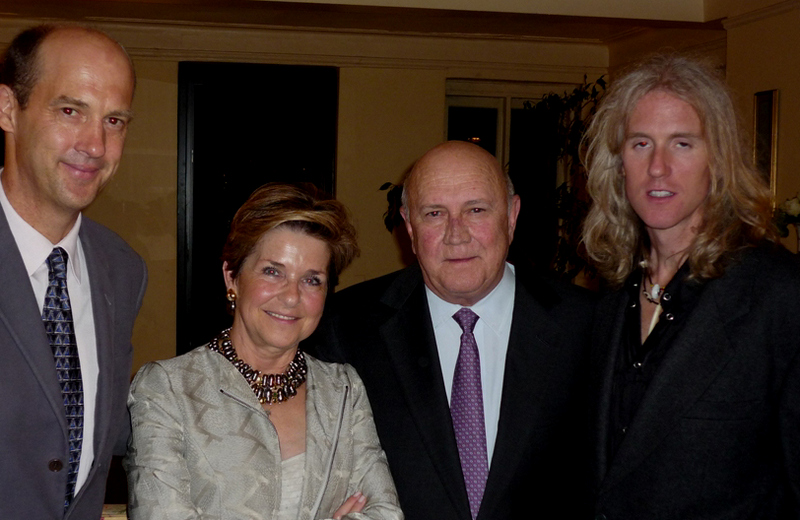 Above: Meeting Nobel Prize-winning President F.W.de Klerk of South Africa, I had hoped to beg for money, but he turned the tables on me and became the night's beggar.
Above: After the Richard Branson Virgin disappointment, we tried men's underwear!  C-In2 even spelt our name wrong!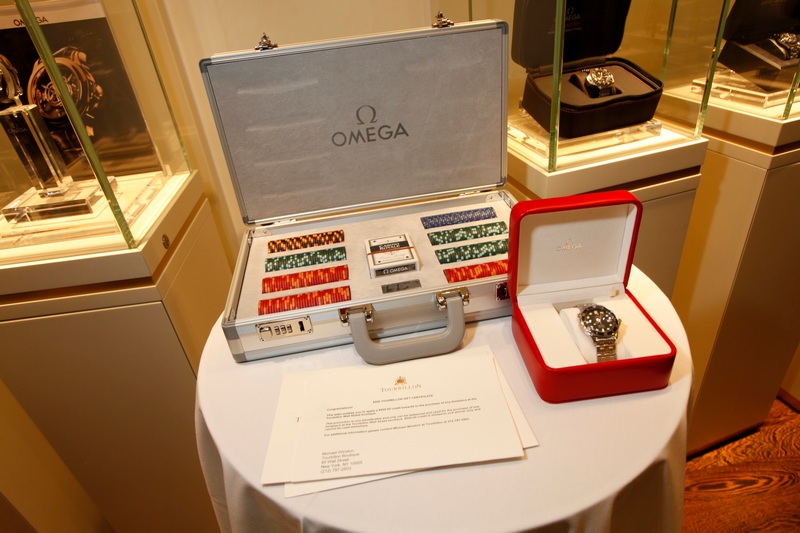 Above: The closest I got to Mr. James Bond: Omega sponsored a Poker Night for us and donated Chips used in the Official 007 Casino Royale Movie, and a James Bond watch.  The two prize winners of the night were actually the only two players who didn't pay the $500 suggested buy-in.  As the Casino Chips winner had lost his job that day, it seemed good karma that he ended the day a winner!
Chapter Eighteen. Now A School?
Why would someone who has committed to building a hospital, and not having the funds, suddenly start fundraising to also build a school?  It does not make sense, right?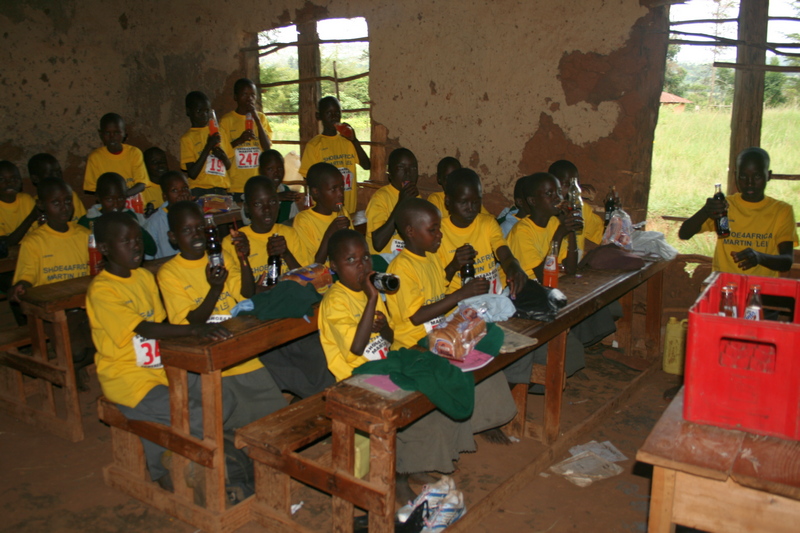 Above: Glass was missing from the windows, sticks were used for frames, mud was on the floor…and I wanted to help these kids and give them a better place to learn.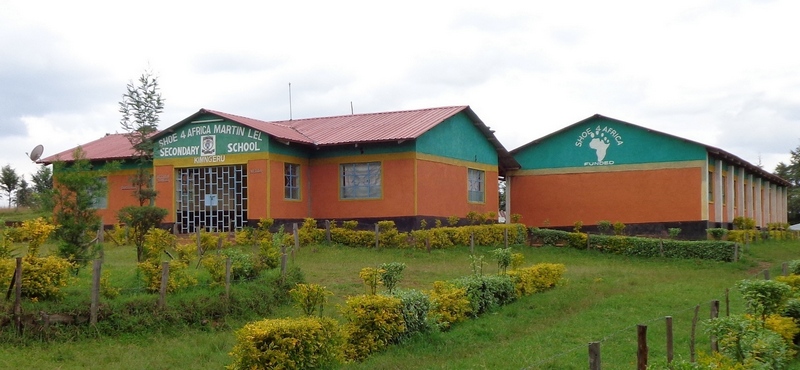 Above: Okay, we never planned to build a school as we started fundraising to build a hospital, but…we built four schools (and classrooms in other schools and WCs) before even starting the hospital construction.

Above: For our second school, 'Mr. Schools' organized a donation of 15 laptops.  Saving money, and to get them there without shipping, I carried them in my hand luggage (with my own).  All was well and good till I arrived at the X-Ray machine at the airport; as I threaded laptops in trays, a near disaster happened on the far side of the conveyor belt!  And my arms literally fell off.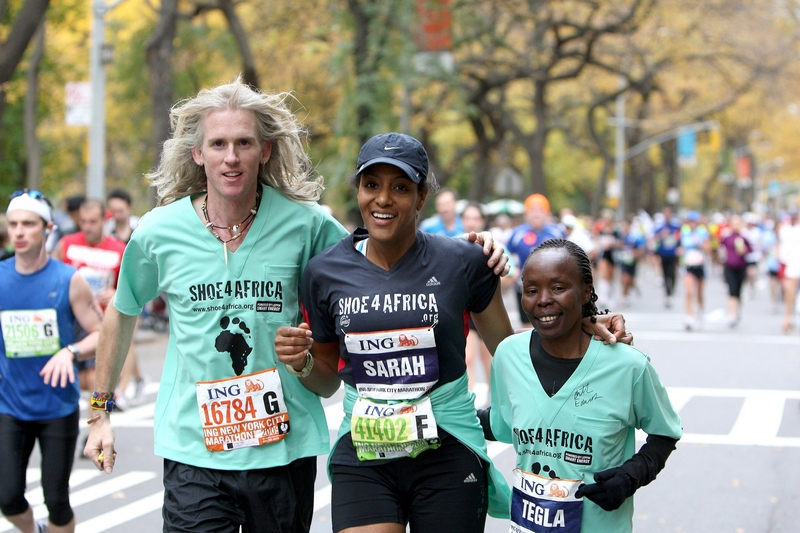 Above: Competing in Hospital Scrubs! A great form of fundraising for us was running. Actress Sarah Jones, and 2 x Winner Tegla Loroupe join me in the NYC marathon in our 1st Marathon fundraising team. Credit: NYRR
Chapter Nineteen. From The Sea to the Stars.
2010 was quite an unforgettable year. The highlight had to be running from the shores of the Indian Ocean, to the peak of Mt. Kilimanjaro!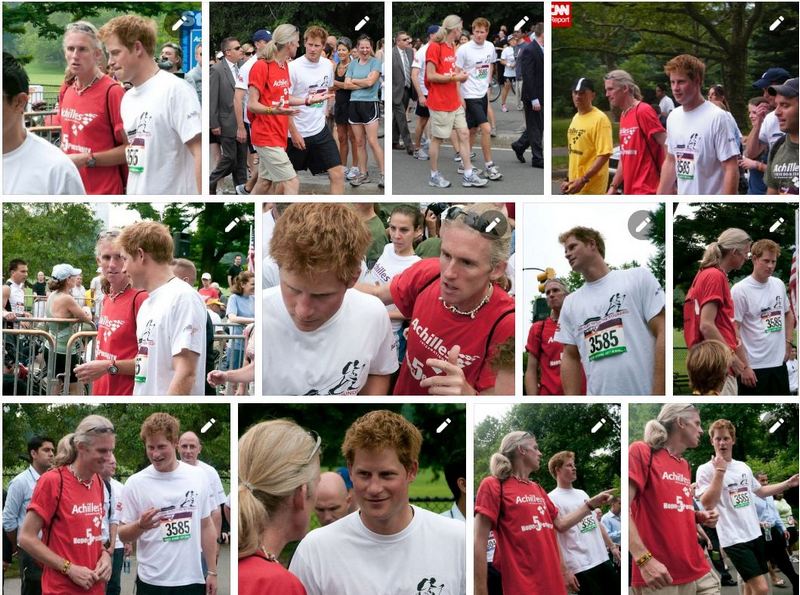 Above: Hanging out with a Prince for a morning.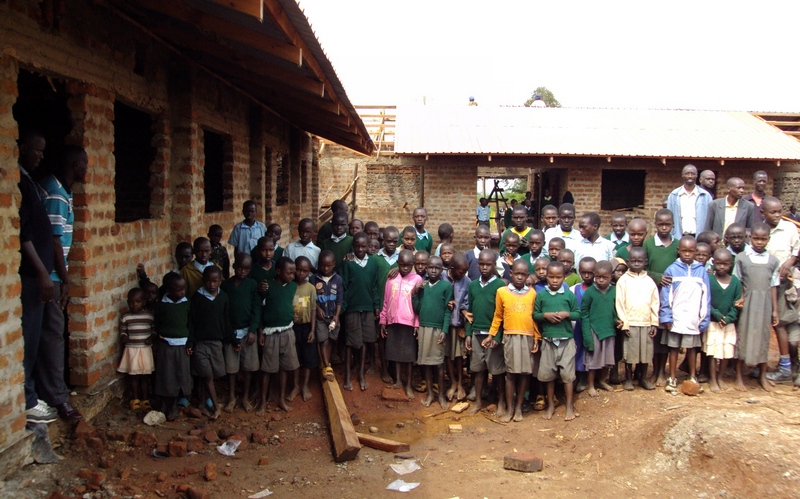 Above: I turned up in the school holidays, to check on the workmen and found so many local school kids on site.  They came each day to watch the workmen build their new school, always offering to carry a bucket of water, or lug a piece of timber.  Very humbling for me to see how excited they were for this, a decent place (at last) for them to study in.
Above: I will never forget running from the Sea to the Stars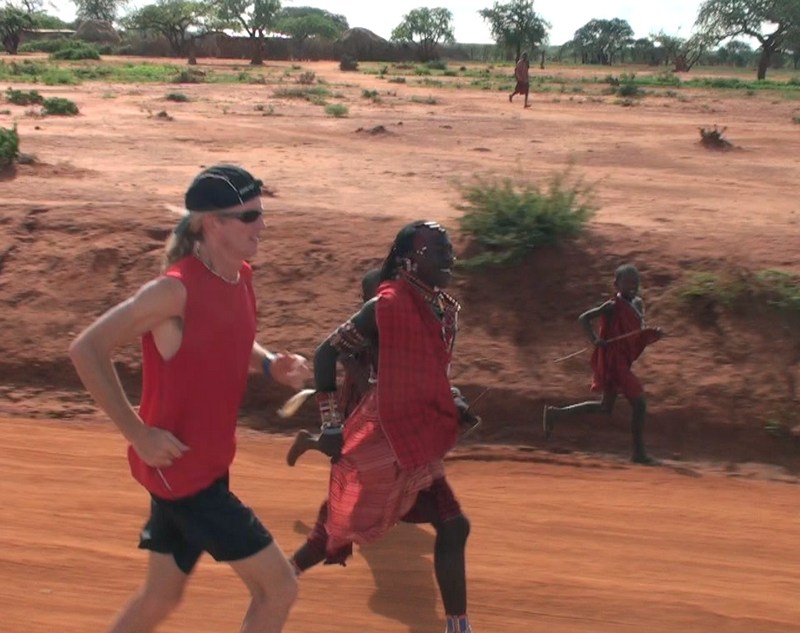 Above: Impromptu moments on the journey, like running with the Maasai, brightened my days.  Looks like we were all on the same page in regards to the dress code…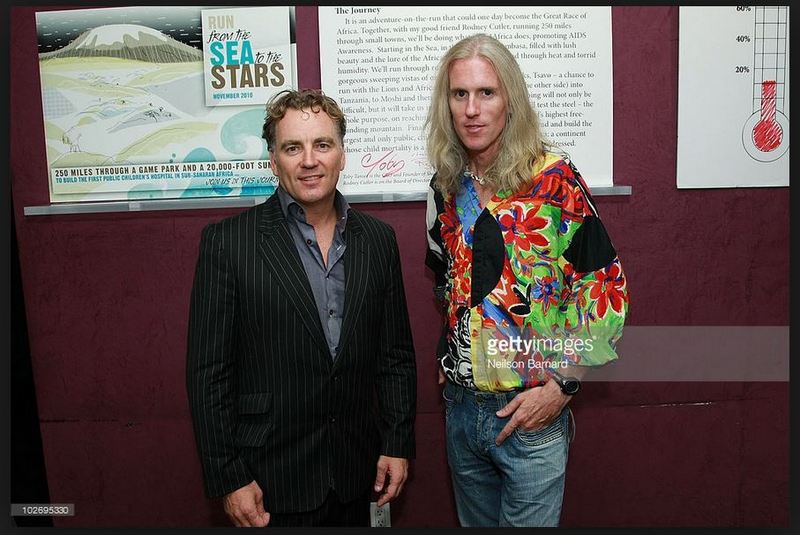 Above: One of NYC's most talented Hair Clippers, Mr. Rodney Cutler of Cutler Salons who was really a fab, fab help with the Sea to the Stars run.  Here at his West Broadway Salon launching the run.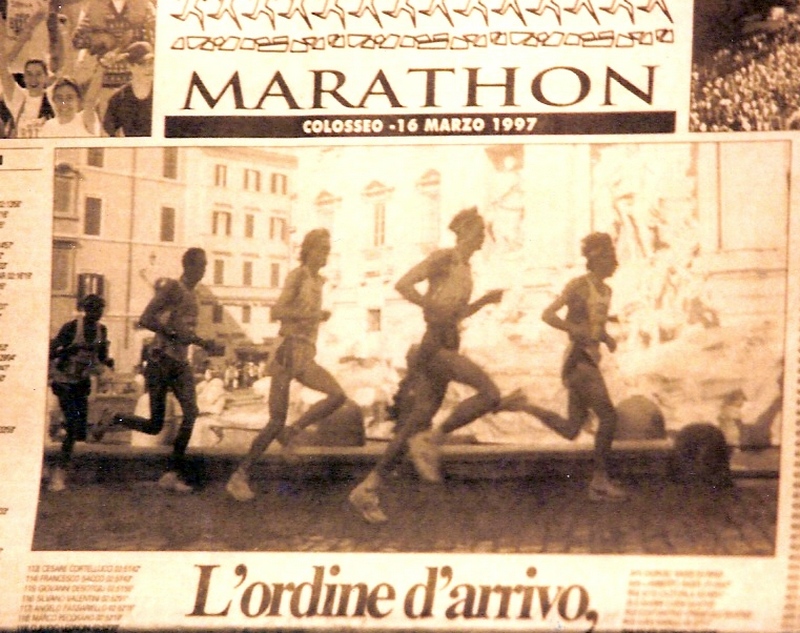 Above: A picture from the Rome Newspaper (I'm in #3), when I was running the marathon – boiling hot and not a drop of water the whole way.  So when I saw that famous fountain I wanted to jump in to grab a drink.  But, the run to Kilimanjaro, across the TARU desert, was even hotter, and 40 miles, not 26.2!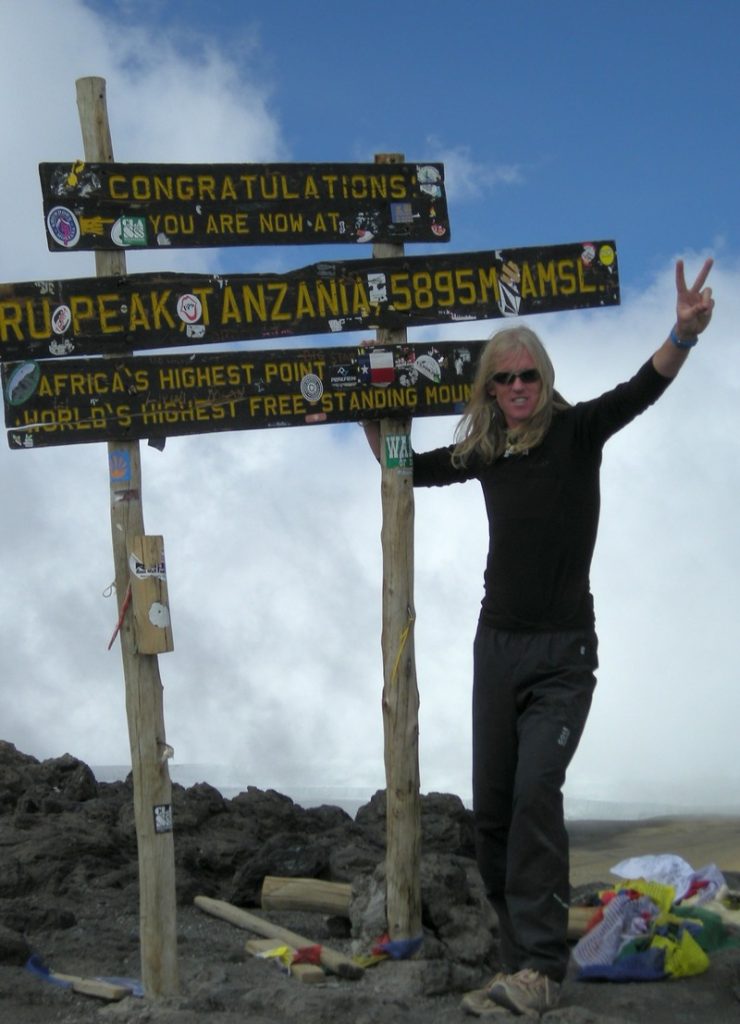 Above: From the Indian Ocean, to the peak of Mt. Kilimanjaro.  What a run. VIDEO of the Run.
Chapter Twenty. Stoning in Turkana.
Again, what has being stoned (real stones), got to do with fundraising to build a hospital?  Another colorful learning chapter for those who choose charity work.
Above: Although I was pelted with stones at night, in the morning when I met the kids, it was all smiles.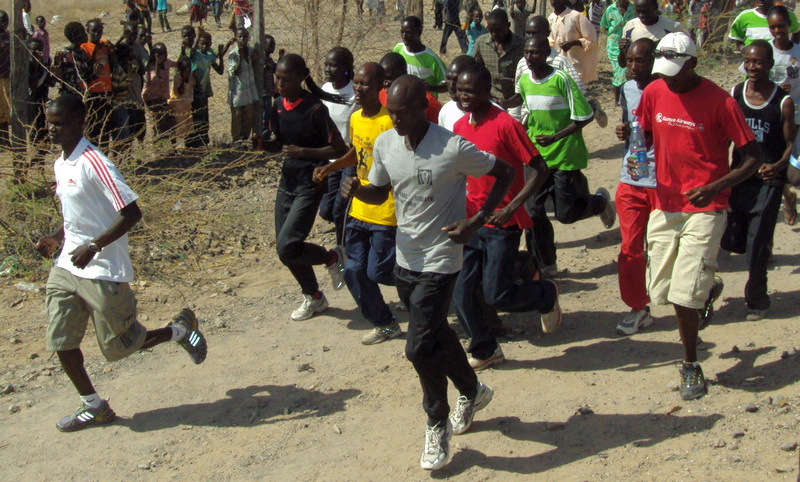 Above: In the hot desert-like conditions we held a training forum with the recently crowned Commonwealth Games Marathon champ John Kelai (white) to encourage other Turkana folk to start training.  The lady behind John, Zipporah, tried her best and traveled overseas for competitions, yet this district really does not promote long distance running.  Another reminder hat talent is universal, but opportunities are not.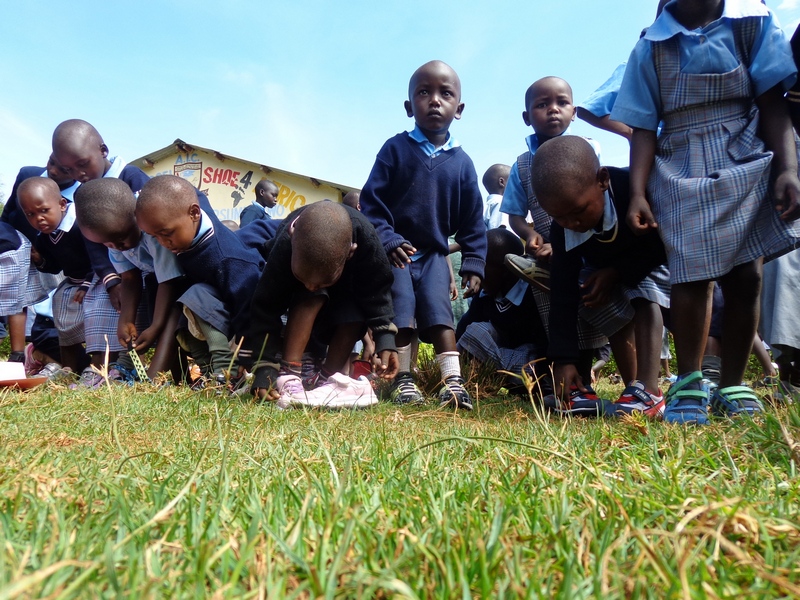 Above: Little kids get shoes at our second school, the Shoe4Africa Janeth Jepkosgei School.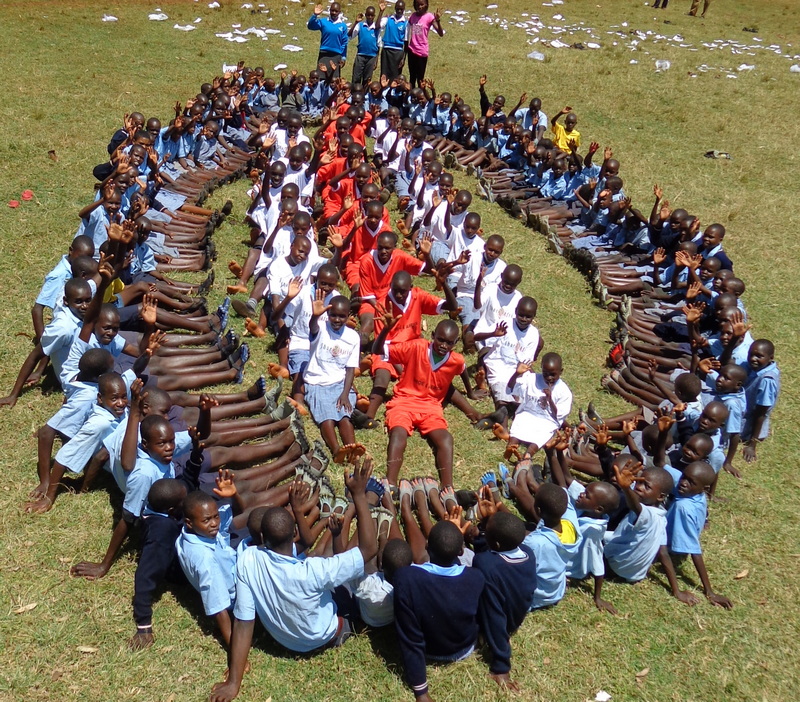 Above: There was a barefoot craze for a (very short) while, a book was written and people presumed barefoot was the way to go. Not really. Anyway, we were given a ton of Vibram 'barefoot' shoes and the kids were baffled by the footwear!  If you zoom in, you will see all the kids in the loop have the rubber-soled shoes; they thought the 'rubber socks' was what to wear when bathing!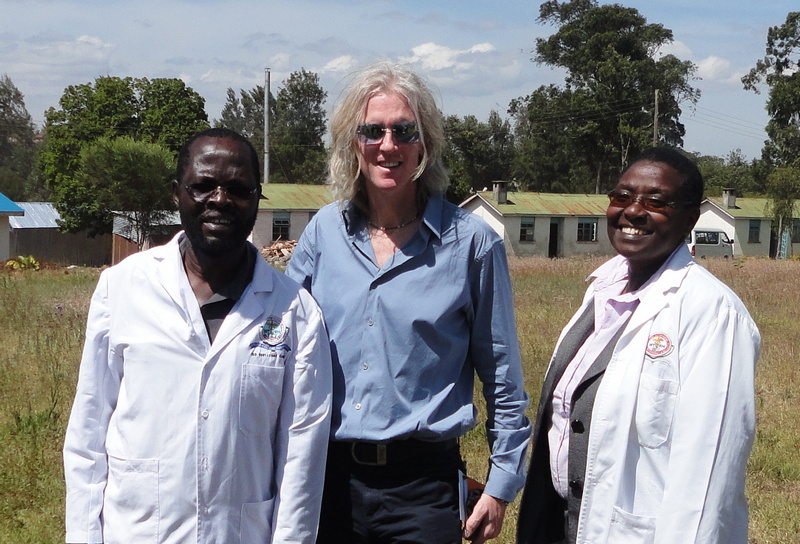 Above: Actress Lupita's father, Peter Anyang' Nyong'o, was the Minister of Medical Services when I started this project, and was the first person to give me the official letter to actually build.  He returned in 2012 to view the field where I would start digging!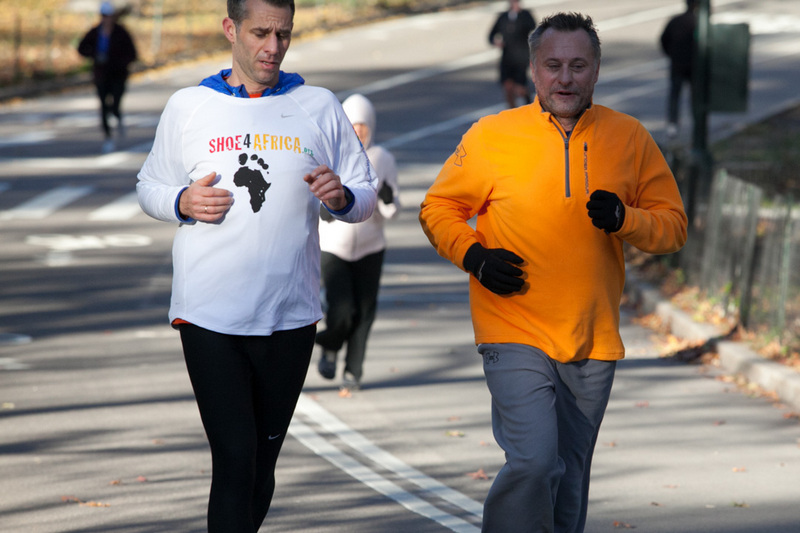 The Swedish actor, Michael Nyqvist, who sadly passed in 2017 after suffering from cancer running with Axel Wiedenmann – joined our group runs for the 2012 Marathon Team.  I am sure Michael would be proud of our projects to fight this horrible disease.
Chapter Twenty One. Problems, Problems, and Solutions.
The road was never smooth from day one when all my board members resigned, bar one.  But the interesting thing with problems is they can turn into solutions, or solutions can unexpectedly pop up!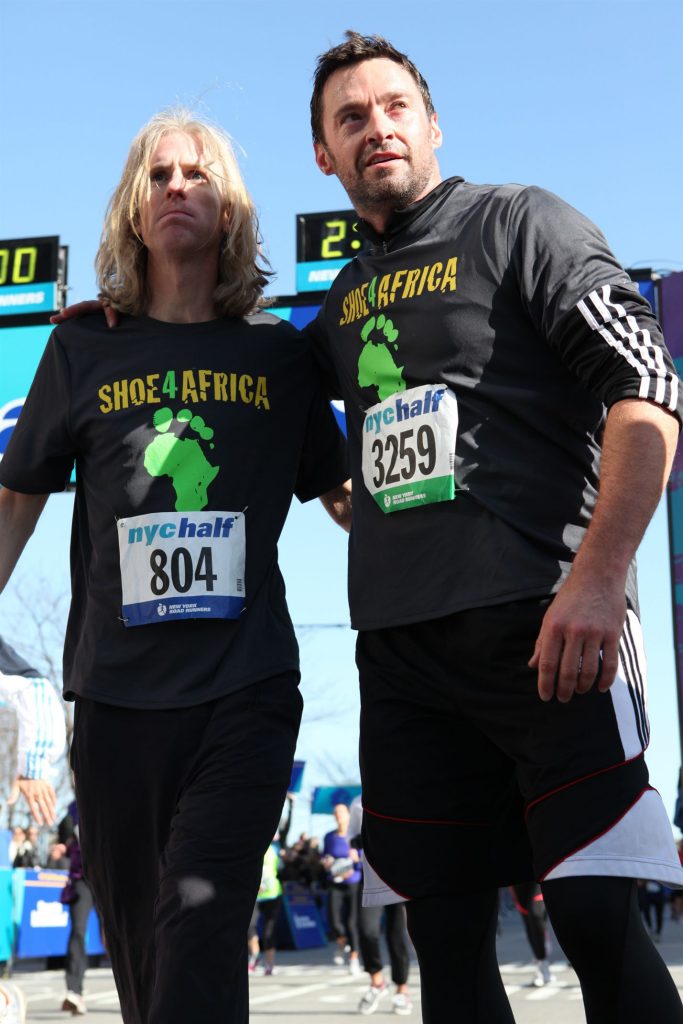 Above: With problems, came solutions. This Hugh Jackman's debut Half Marathon and the day before he 'warmed up' by doing 300-lbs leg presses!! One of us has muscles and… credit: NYRR.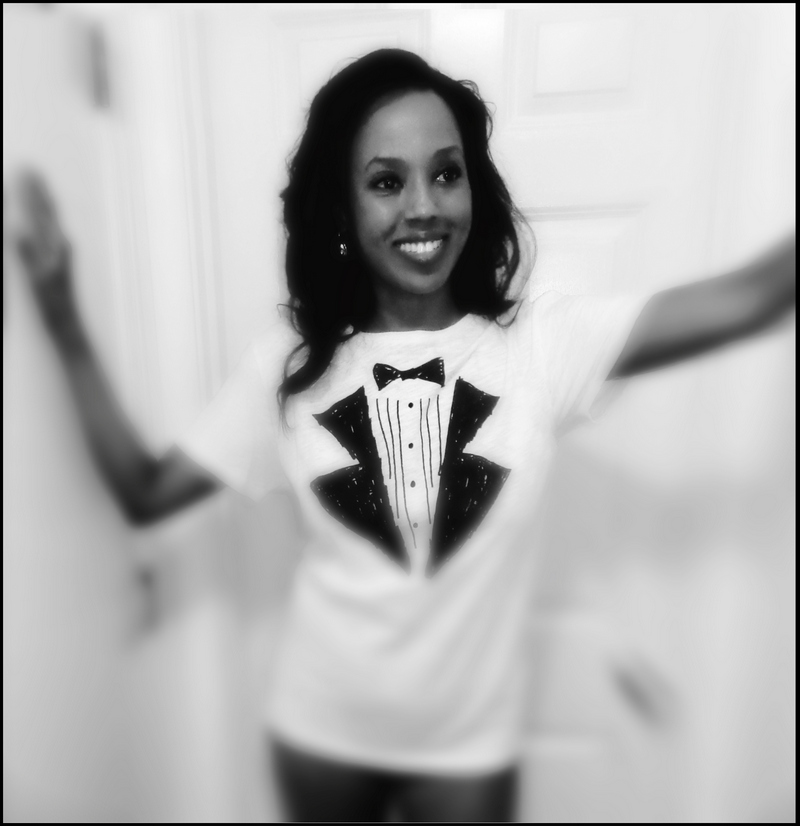 Above: Problems and Solutions.  Here is Chelimo wearing the Shoe4Africa Rodarte boycott the Gala Tux Tee.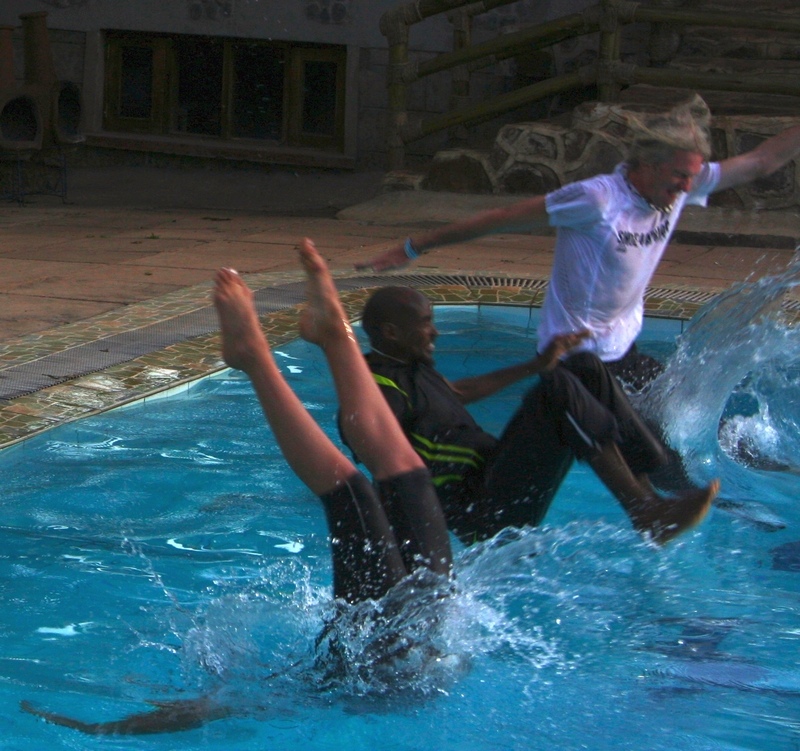 Above: When lawyers told me they had shut down SHOE4AFRICA, I asked Mo and Tania Farah about starting Health4Africa and had the couple meet Dr. Stone in London to begin step one. First we had a long jump competition!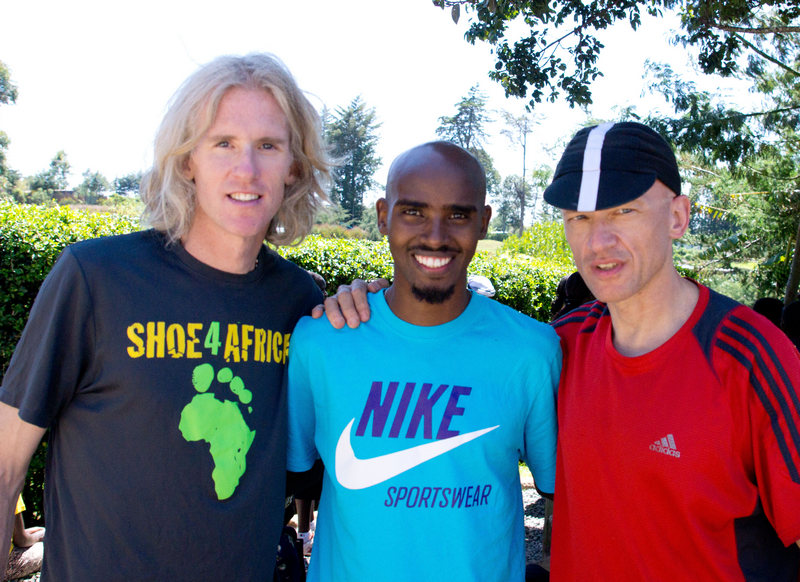 Above: The man on the right, MikeKobal.com, has provided me with many beautiful photos. And the man in the middle? Mo Fire Farah!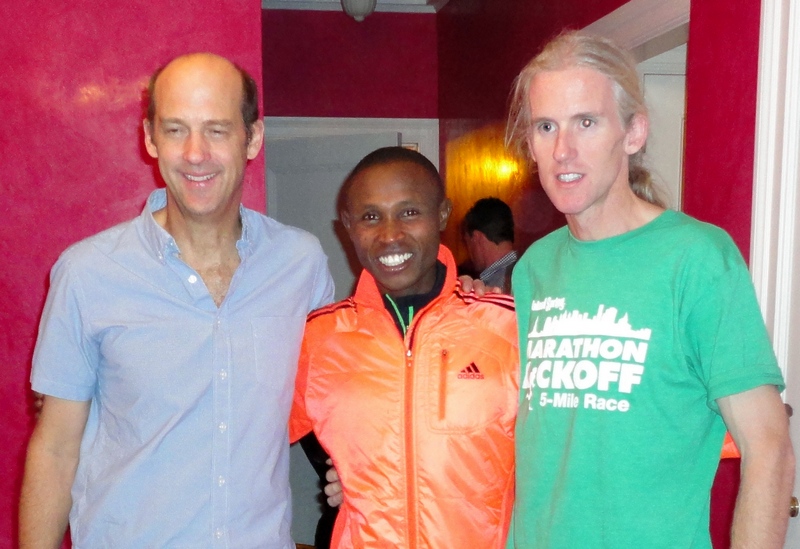 Above: The generous Anthony Edwards really , really helped me.  Here, offering his house for our Shoe4Africa pre-race dinner.  Geoffrey Mutai came to meet our runners and we gave him the Ugali (Kenyan running fuel) that allowed him to set the course record the next day (still standing, a decade later).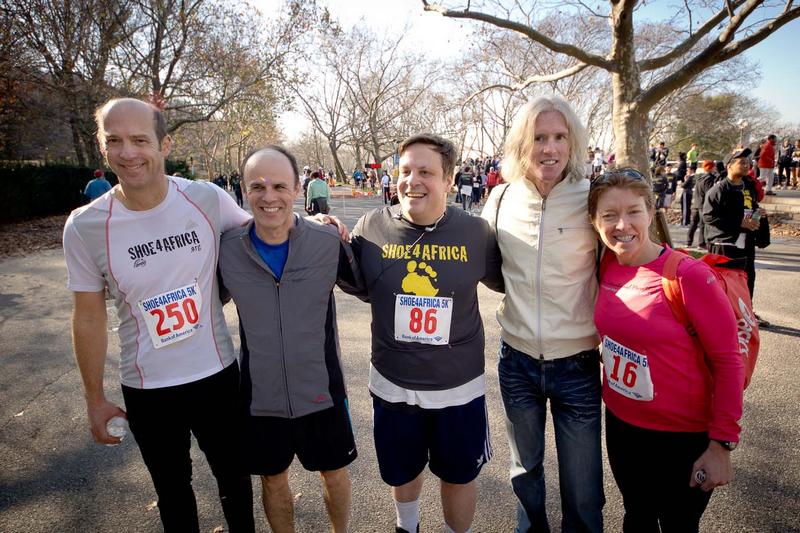 Above: The first ever person to donate to Shoe4Africa, to help with postage to send shoes was in 2001 when Chris Bilsky sent me $500.  She was also one of three people (Marty, Chris & I) who put in the first donation for the hospital ($400).  I'll never forget!  Here with Anthony Edwards, Mark her husband), David Hirsch (George's son) and me.
Chapter Twenty Two. With A Little Help From A JCB Digger.
Right when we are about to start, Hurricane Sandy hits NYC.  The marathon is canceled, we have a 5km Manhattan race planned and we switch it to be a NYC fundraiser.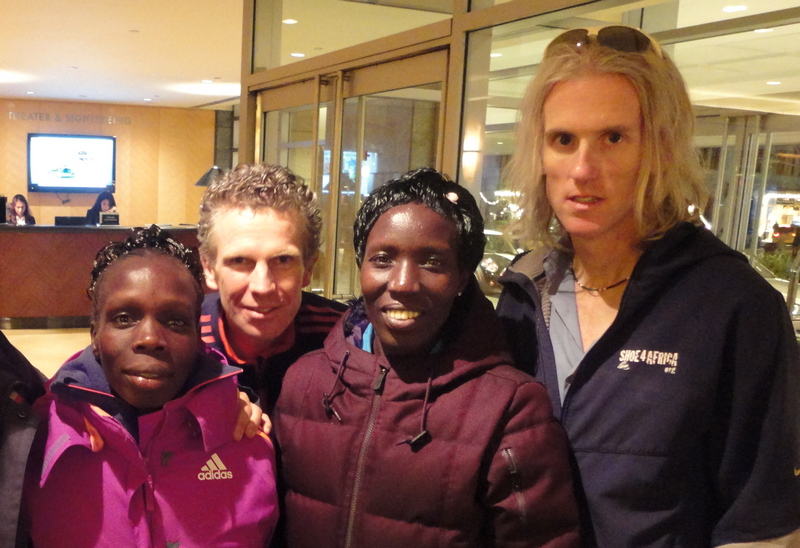 Above: A little unknown story.  When the NYC marathon was canceled, and all the Kenyan elite runners were in town they called me, "Can we help?  We are ready to go downtown and assist with the clean-up."  All the elite runners assembled in the lobby and we were ready to roll up their sleeves and set to work… until 'red tape' and a snarky man blocked our plans. Sharon Cherop, Boston Champ, and Edna Kiplagat, double World Champ, and Jeroen Deen of Holland and Kenya/Ethiopia, in the picture!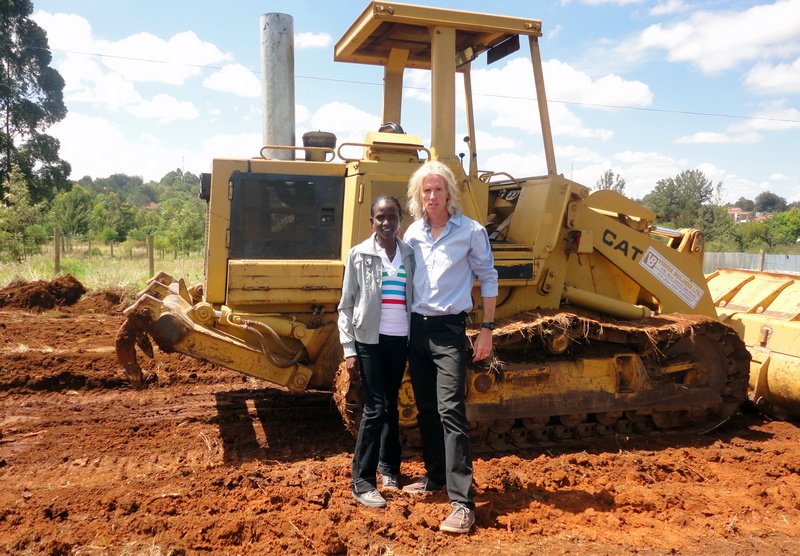 Above.  Finally, years after that first email that reaped $400, you are ready to actually begin. It can be quite a weird feeling.  You look at a patch of scrubland and realize soon a thriving hospital will be standing here! With the Olympic gold 1500m medalist, Nancy Langat, after climbing inside the digger to physically break the ground. Dec 31st, 2012.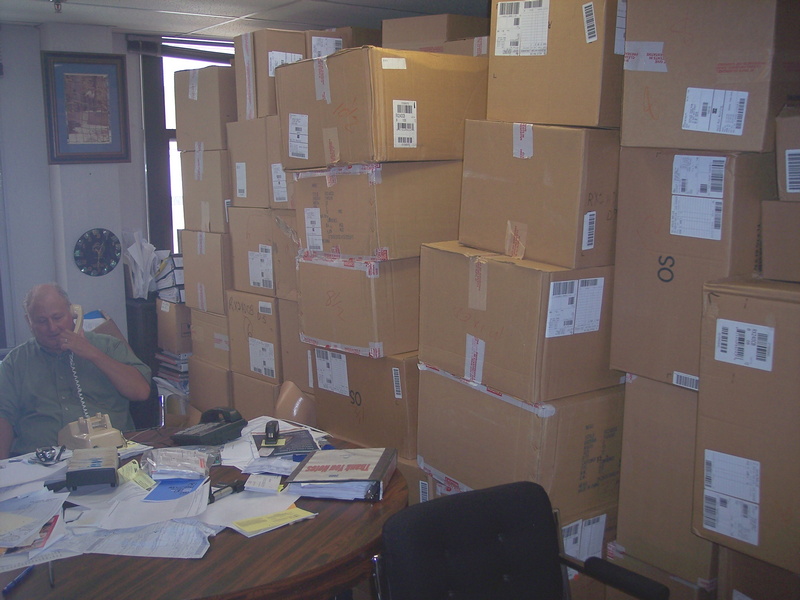 Above: At the groundbreaking, Dec 31st 20212, people began complaining.  Ever since starting Shoe4Africa, I received hatemail for "not helping at home" or other related issues.  Yet Shoe4Africa was not a directive, I helped everywhere; in different continents – Asia, Europe, and Africa.  Here I donated one thousand pairs of brand new running shoes to Dr. Dick Traum and his organization (where I was a board director and Vice President) called the Achilles in New York City). Doing it 'the shoe4africa way,' we piled the supplies into his office; why pay for storage?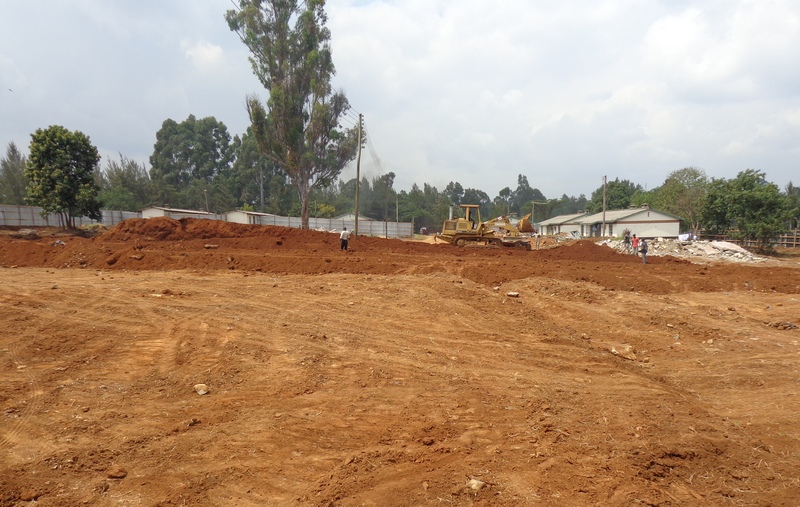 Above: I call this the Field of Dreams. July 2013, clearing the site.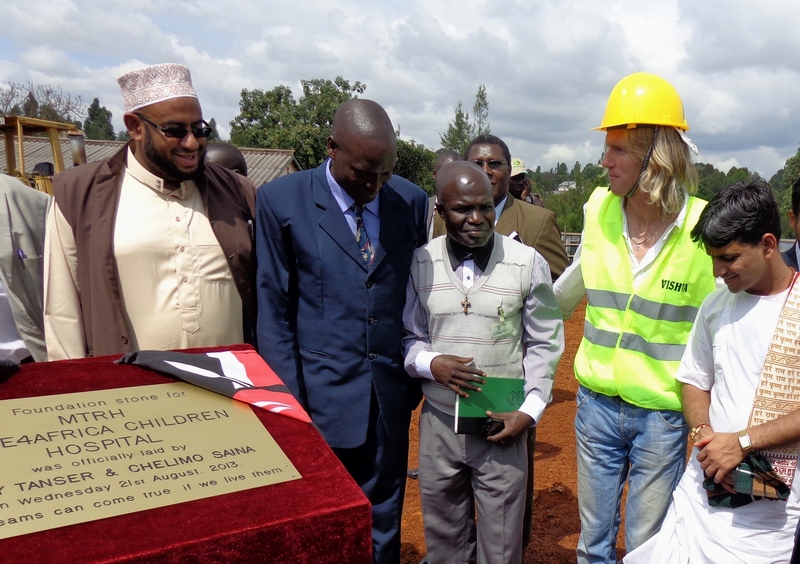 Above: At the laying of the foundation stone, August 2013, I invited an Imam, a Catholic Priest, a Baptist Minister, and a Priest from the Indian Temple to talk of peace & unity.  The Rabbi got caught in traffic…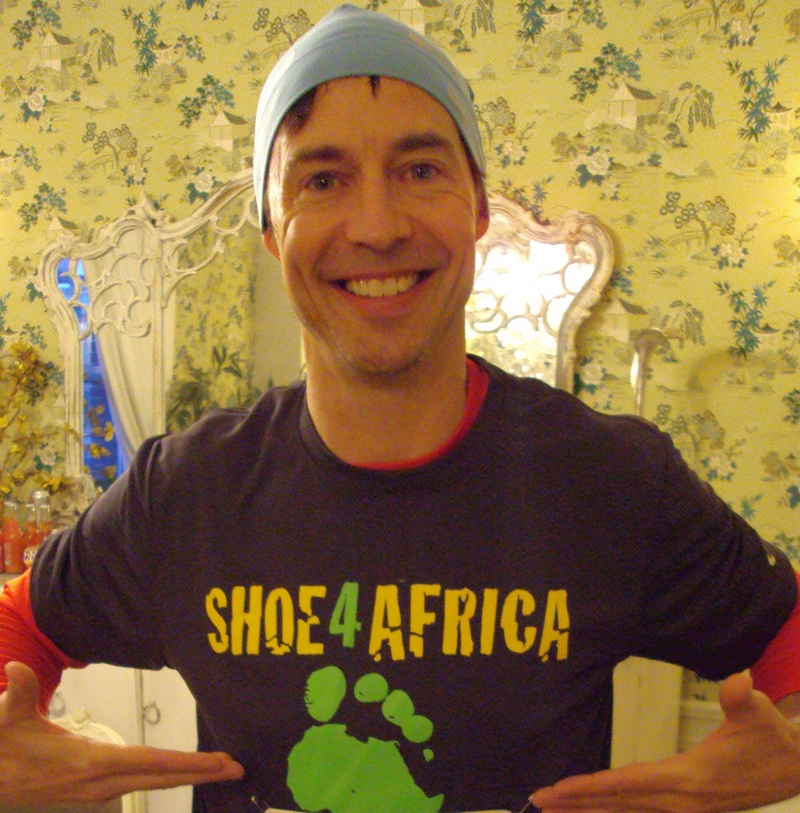 Above: Tom "FLASH" Cavanagh running for Africa! Tom, a Canadian, was actually born in Africa.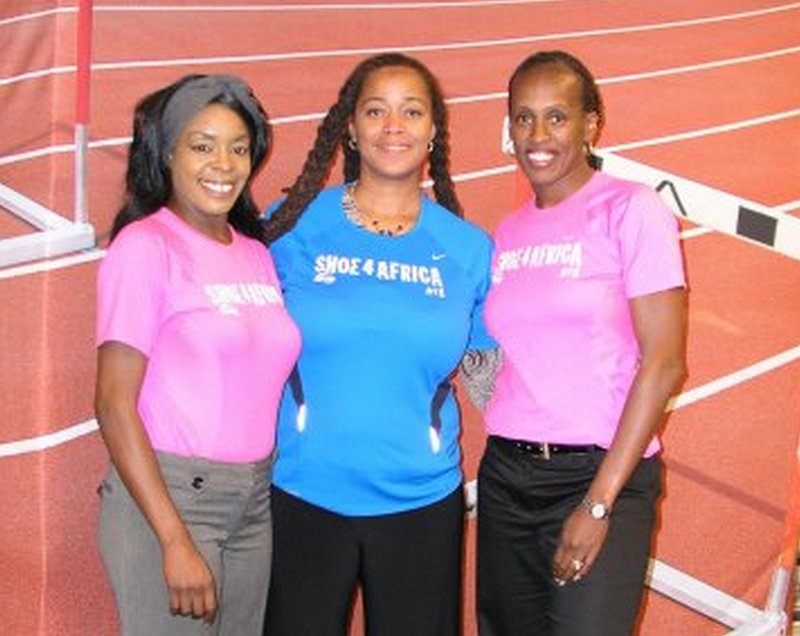 Above: Shoe4Africa Angels. Diane Dixon, the legend of Millrose & Dapper Don, Malaak Shabazz (Malcolm X's daughter), and Jackie Joyner-Kersee, who has won six individual Olympic track & field medals (three gold); an American record.
Above: One of PEPSI SHOE4AFRICA booths. Here at the New York City Marathon.  With loads of product for the hungry runners, our booth was the #1 visited display in 2012 before the marathon was canceled on Friday night.  True Pepsi/Shoe4Africa style, when the marathon was canceled $25,000 worth of product stored at the expo was sent to hungry mouths in Staten Island at makeshift homeless shelters.
Chapter Twenty Three. Love Is. A Nandi Elder, and Poison.
If this book is all about destiny, then read about Chelimo.  I thought the chances of meeting her were slim (involving the CEO of T-Mobile, John Legere), but the story of her father, born in a cornfield in a long destroyed mud-hut, close to where I build my first school, miles away in the middle of nowhere…what that a coincidence?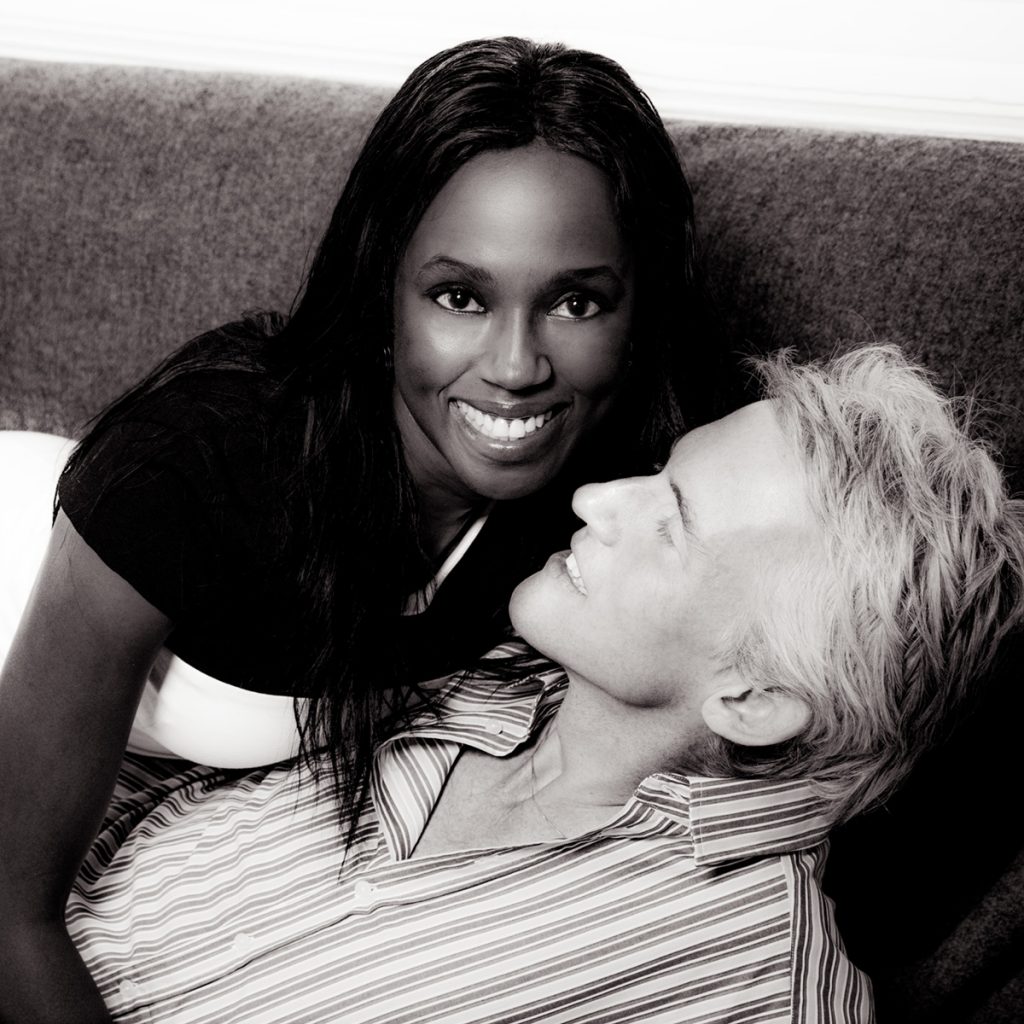 Love is…My favorite portrait of my wife. Credit: Mike Kobal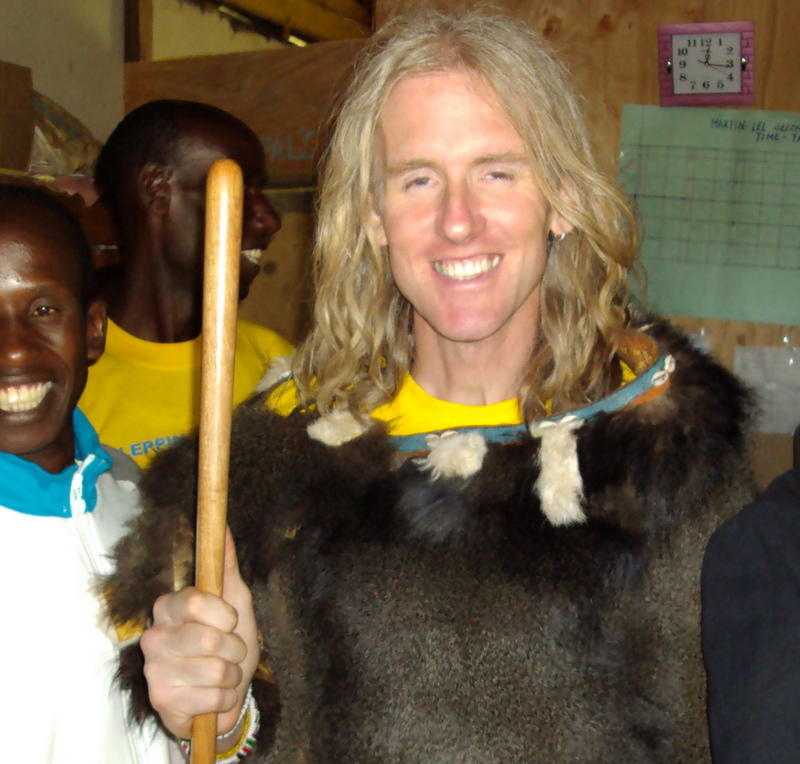 Above: Koitalel kept on creeping back into my story, hence I was honored, when the Nandi community initiated me as a 'Nandi Elder' (the highest tribal honor, I am told).  Here, Martin Lel helps me dress into the Sambut (monkey skin) before the ceremony.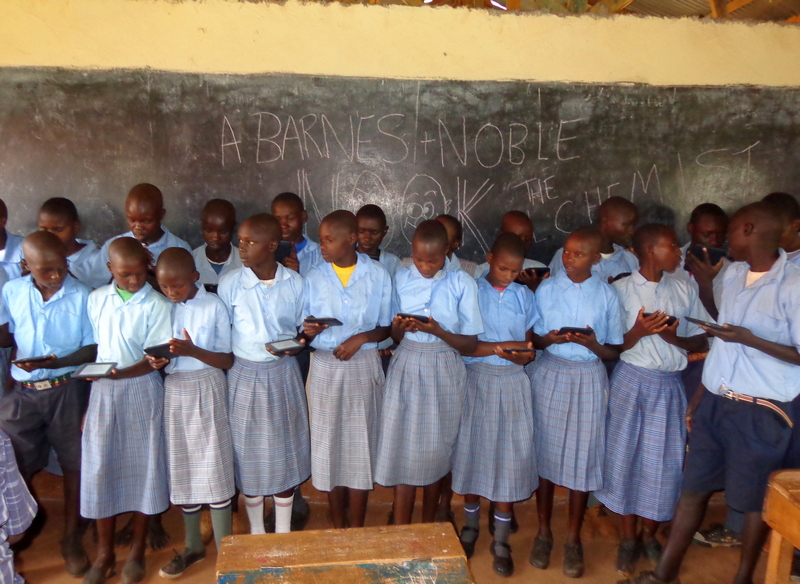 Every trip we started new projects, here with Peter Farago's help we got tons of NOOK e-readers.  Each book was preloaded with 300 books!  Kids who had never owned a single book, now owned a library in their palm.  Plus the charge held for months and was the same adapter for a common mobile phone.  The kids loved them!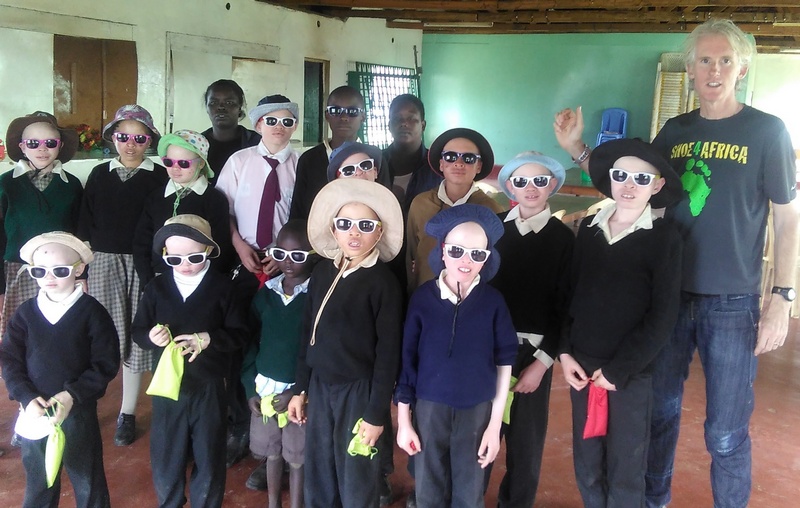 Above: Or other projects like giving hats, T-shirts, and UV sunglasses to every kid at a special Albino School in Eldoret.
Chapter Twenty Four. Flat Out On Fifth.
Just when I thought it would be plain-sailing, all the funds raised, construction had just started, on my way to some great meetings cycling down 5th Avenue, the unexpected happened!

Above: Brain Surgery to balance out the surgery I had at the millennium, on the other side of my skull. The fractures on the left side are from the picture that is above this one, (2013), and the fractures on the right side are from Zanzibar (1999).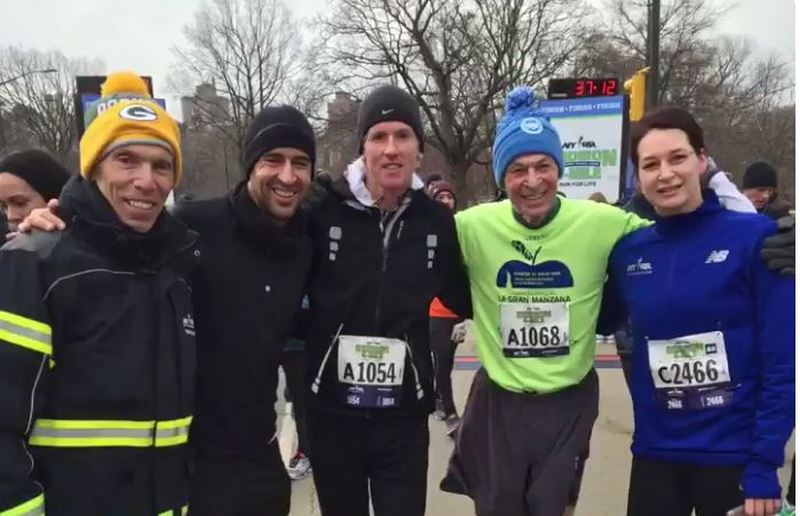 At a 4-miler with Raúl, a legend of the Real Madrid football club, with Peter Ciaccia, NYC marathon race director, NYRR Chairman George Hirsch, my running partner (green), and Erica Wolff. Every time after brain surgery, or any set back, I revert to running to get my life back on track again.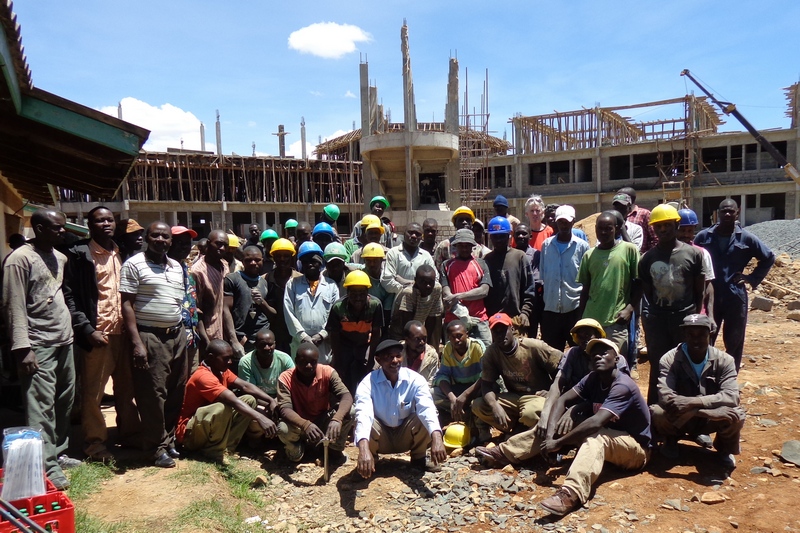 Above: On hots days, I liked to carry a few crates of soda over for our construction team. My site manager, Kimani, is center front in a white shirt.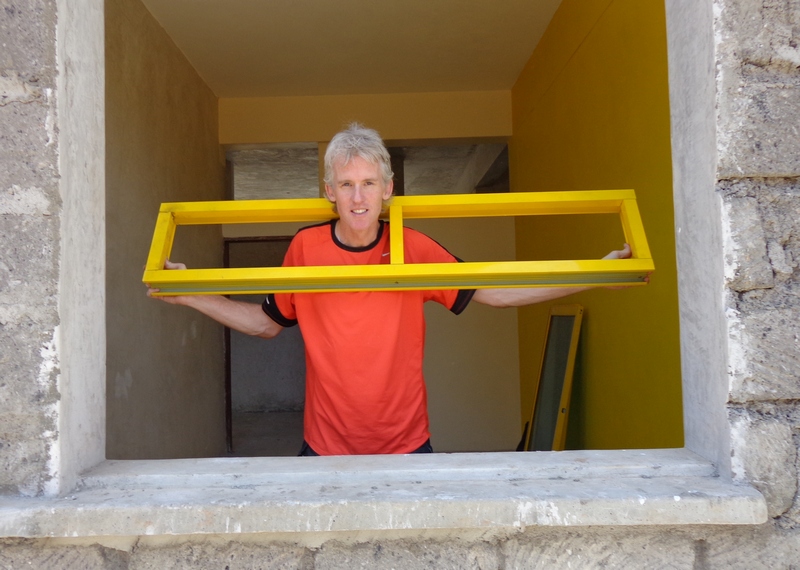 Above: Placing the very first window in the Hospital building!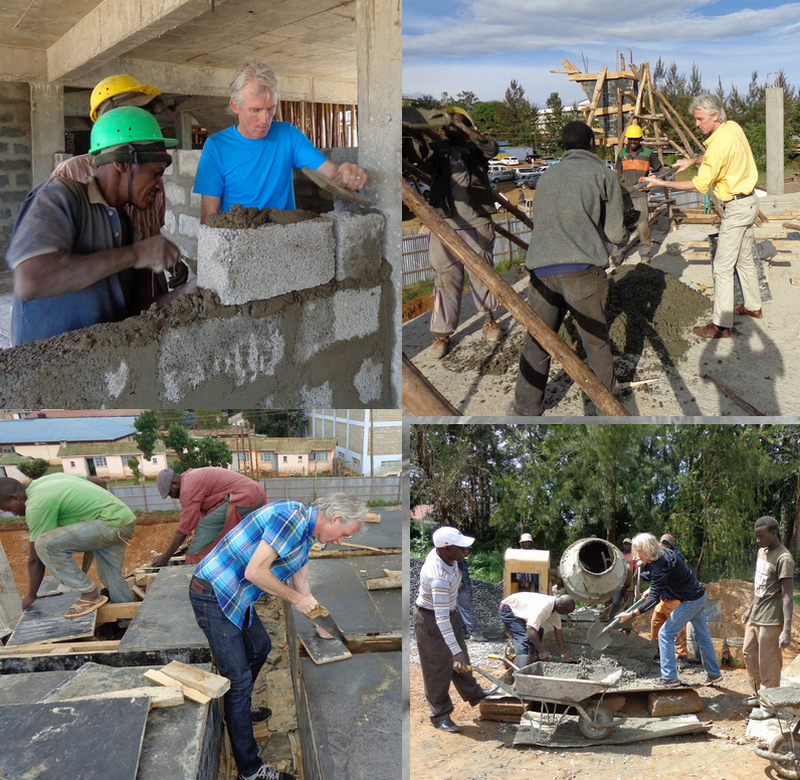 Above: Of course, whether I helped or not, I had to take part in every task!  As many days as possible, I was a laborer on site.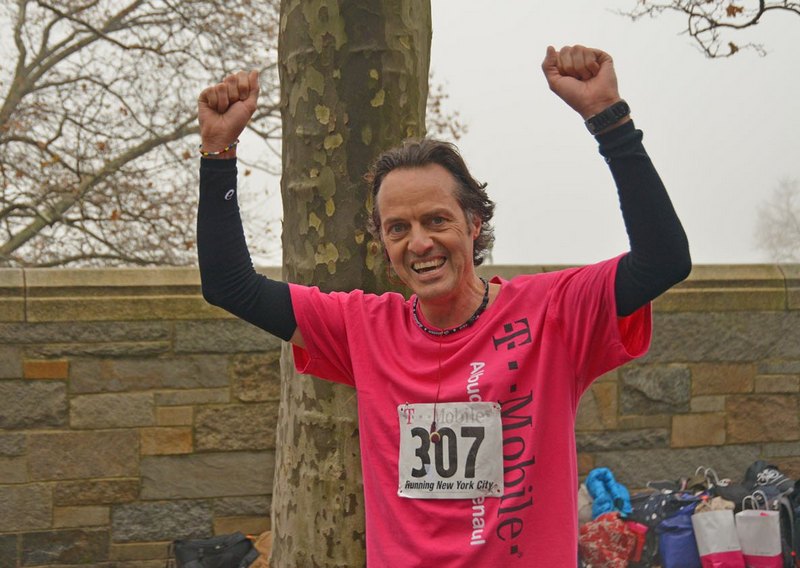 Above: John Legere was a tremendous help for us bringing in funds from T-Mobile and Samsung.  T-Mobile sponsored this Shoe4Africa T-Mobile Manhattan 5k for us, and John almost won the whole race; he was a national class runner before he turned into business man extraordinaire.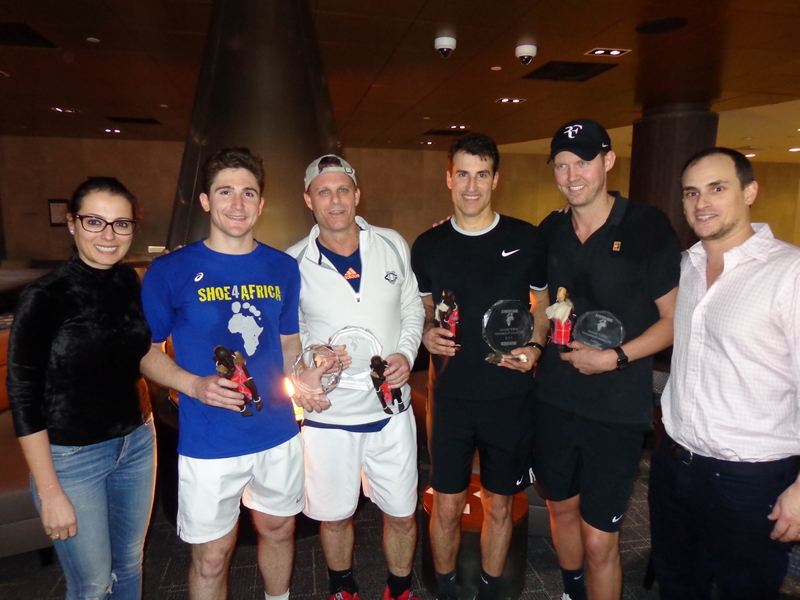 Above: Zeynep, left, a great board member and the founder of our tennis tournament Aces4Africa in 2017. Right-Her husband, Dave Siegel, who has been our chairman for the past decade. Billie Jean King, stepped forward and for the first three years of the tournament donated a signed racquet.
Chapter Twenty Five. No Finishing Line.
You think you will celebrate, relax, sit back, but in reality achieving something often opens your eyes to how much more is needed to be done, and a day of celebration turns to a day of reflections.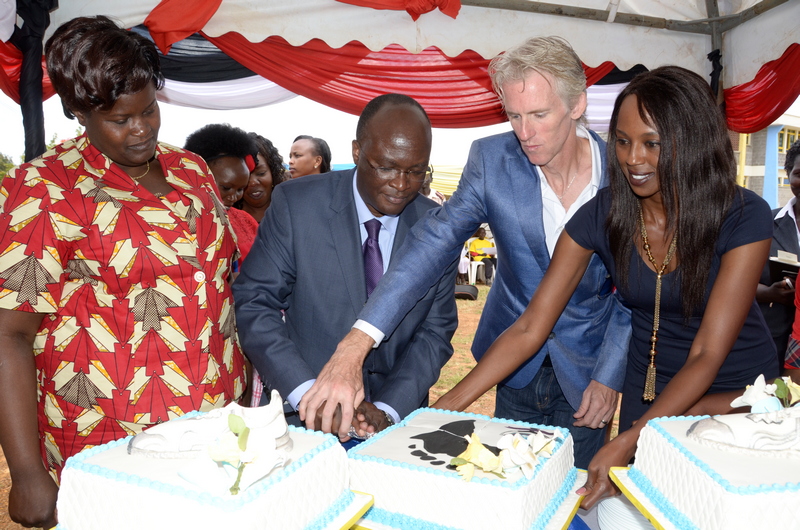 Above: Cutting of the cake at the Grand Opening of East & Central Africa's 1st Public Children's Hospital with both the Permanent Secretary, and the Cabinet Secretary of Health for Kenya. Note the Shoe logo on the cake!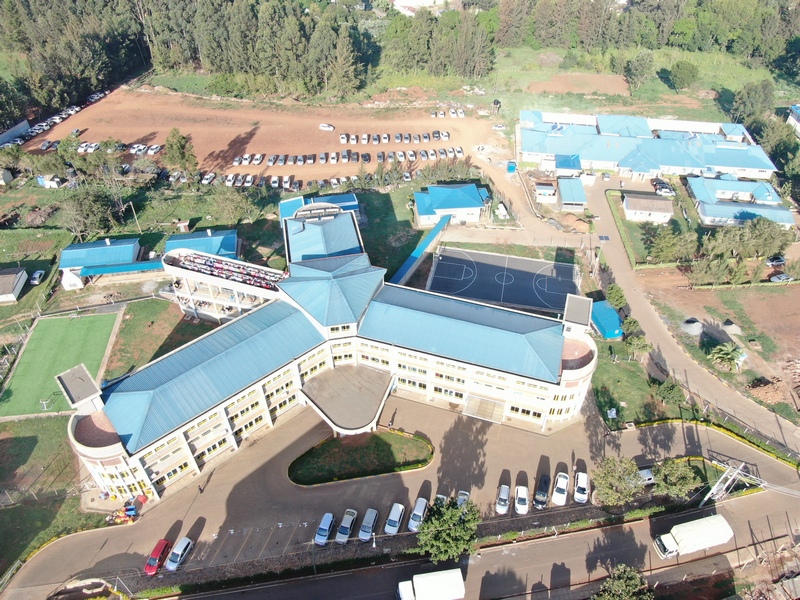 Above: A sky view of the finished Shoe4Africa Hospital. The red dirt (top), where the cars are gathered, is the site for the Shoe4Africa Juli Anne Perry Children's Cancer Hospital!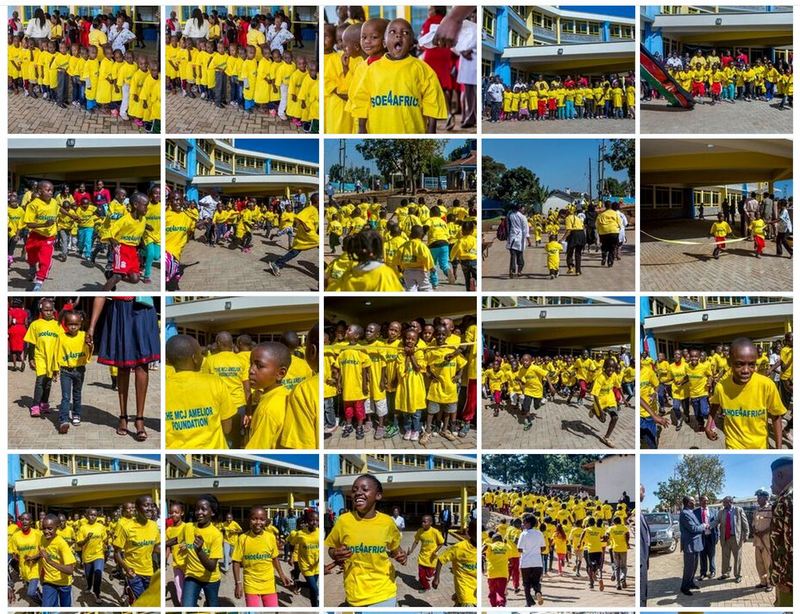 Above: A kids fun run at the opening day.  One of the many events sponsored by the MCJ Amelior Foundation who started helping us in 2009 – Huge thanks to Michael Chambers!!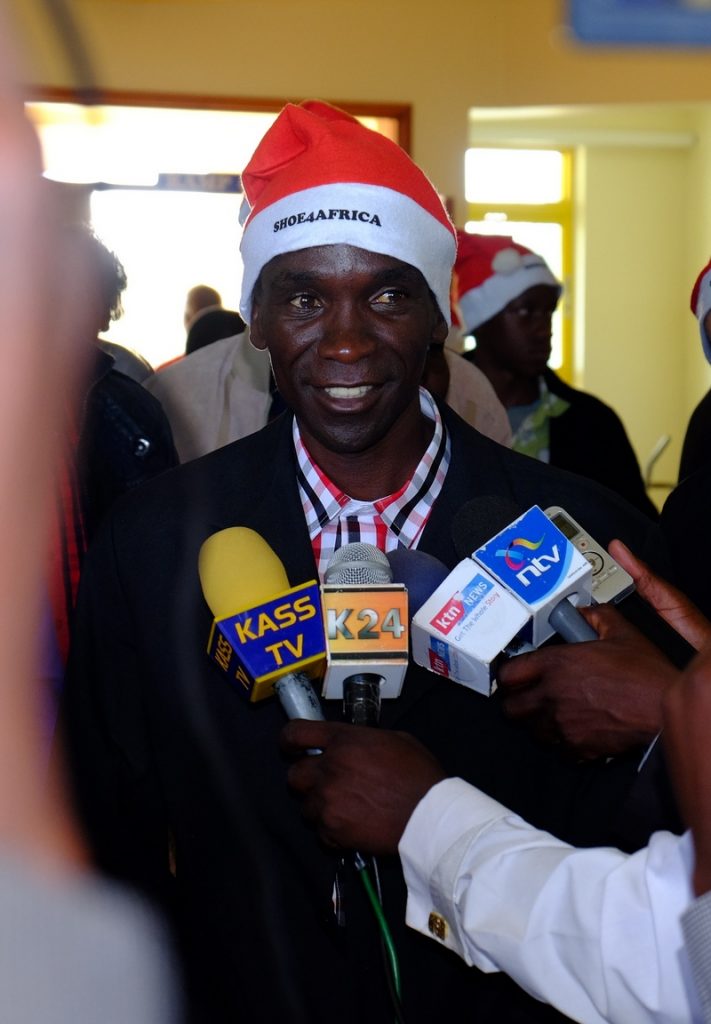 Above: In 2015, Eliud Kipchoge became our first Hospital Ambassador.  A couple of years later, he got very famous and suddenly everyone wanted him as their ambassador!  Yup, proud to say also, he's my in-law (Nandi: Bomuru)!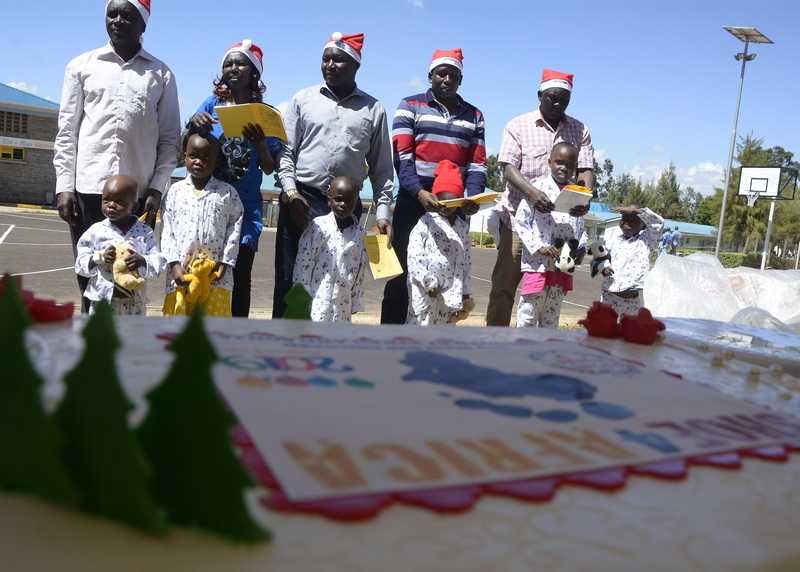 Above: Opening the Basketball Court, Ethan Michaels donated a nice cake, and Jonah Birir, Mary Keitany, Moses Tanui, Martin Lel, and Matthew Birir (famous runners all), came to sing carols with the kids and hand out gifts…before shooting hoops.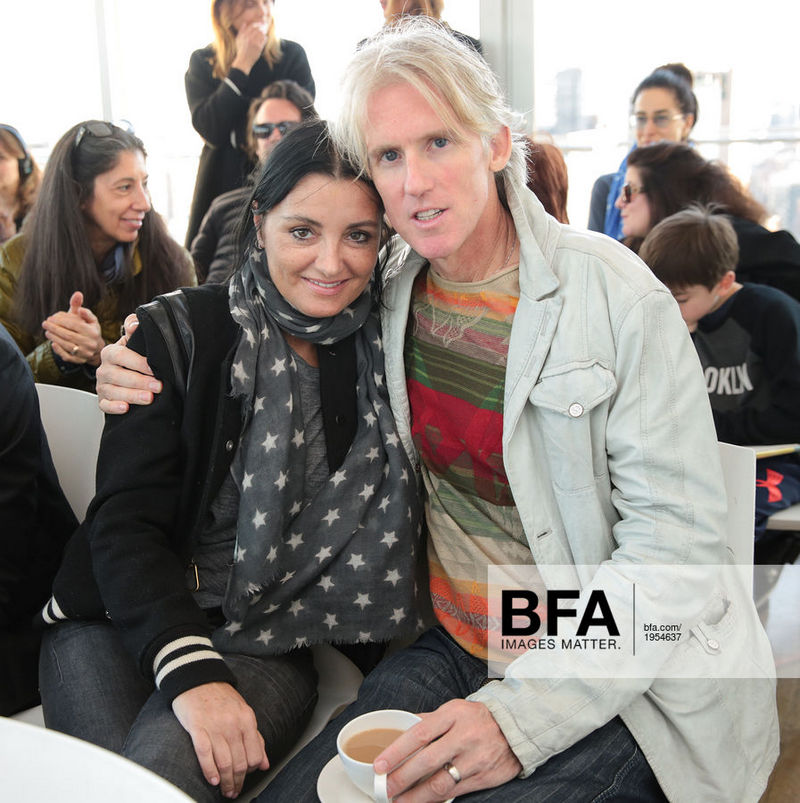 Above: After the hospital was opened, there are many people I had to thank, so I was happy to bump into Jeanine Lobell, at a District Vision event in NYC.  Jeanine was so helpful in the early days and apart from drink her Gevalia coffee, I did little to say thank you.  Once again, Thank you Jeanine, and not just for the $125,000 you donated with Anthony either; thank you for so much more!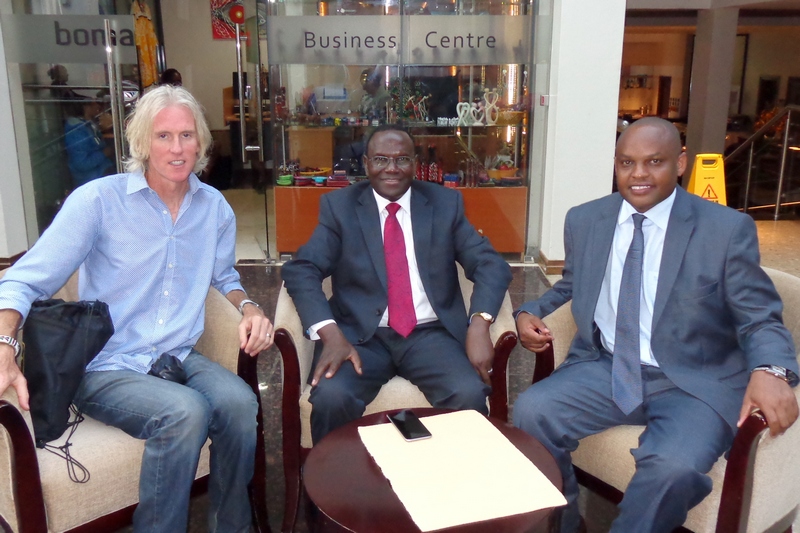 Above: Myself, Minister of Health Dr. Cleopa  Mailu, and the wonderful Dr. Wilson Aruasa, the CEO of MTRH who governs and runs the Shoe4Africa Hospital.  Dr. Aruasa was one of three original Hospital Board members from back in 2011, along with me and Dr. Kibosia.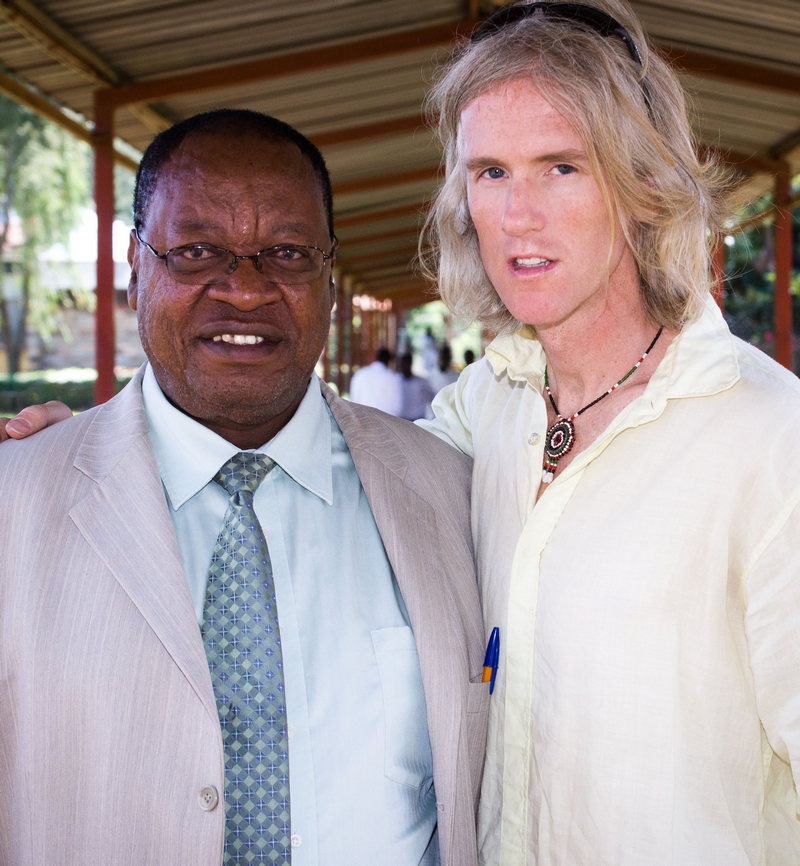 And the third board member, Dr. John Kibosia; also the man who told me about the 9/10 deaths for kids with cancer in sub-Saharan Africa.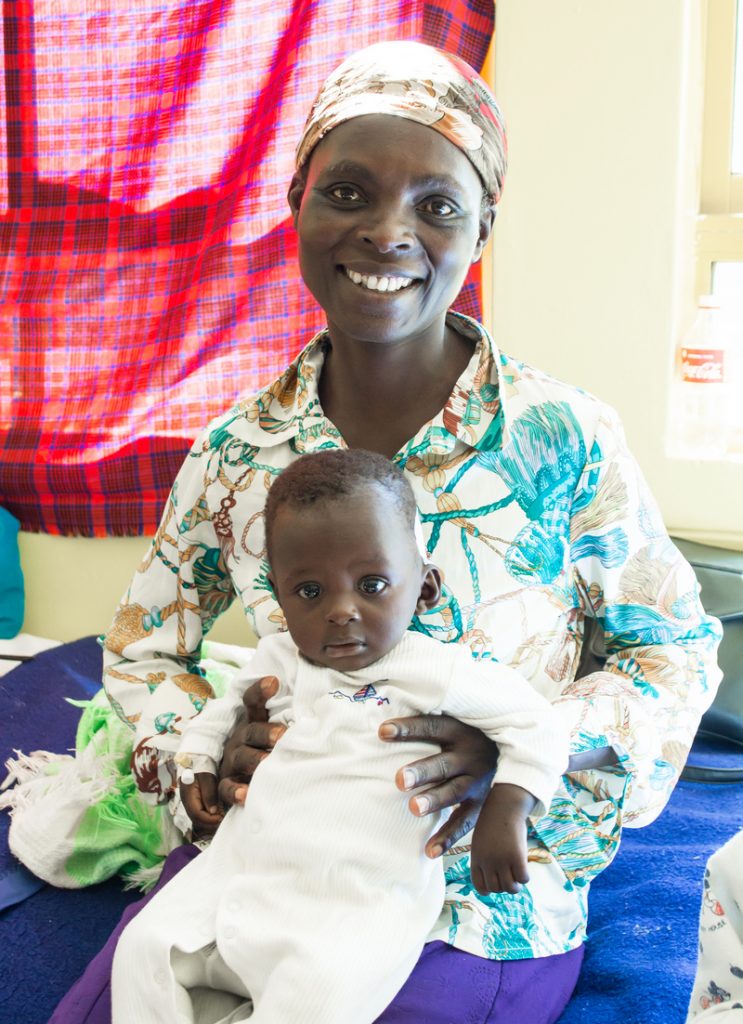 Above: A happy patient and Mom!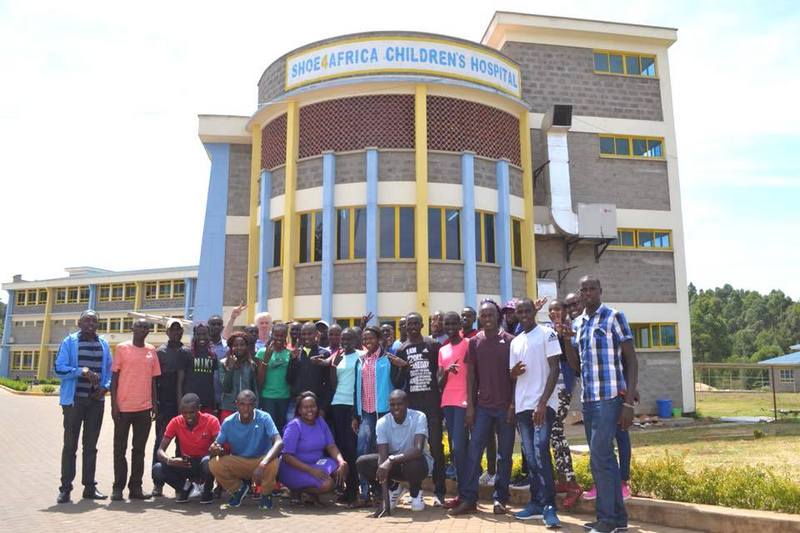 Above: Every single year the 2 Running Club bring a team of around thirty world class athletes (fastest marathoner here ran 2:03:00), to come and meet the patients. Even the coach, far left, is a world champ and Olympic medalist!  There are more distance stars here than at a usual European Gran Prix race!  They always bring gifts for the gifts who are delighted to meet their heroes!  Thanks 2 Running!
Epilogue. Ever Onward.
And, when I thought the story was over, someone told me something.  It would need a miracle, but, as with all good tales, that miracle happened.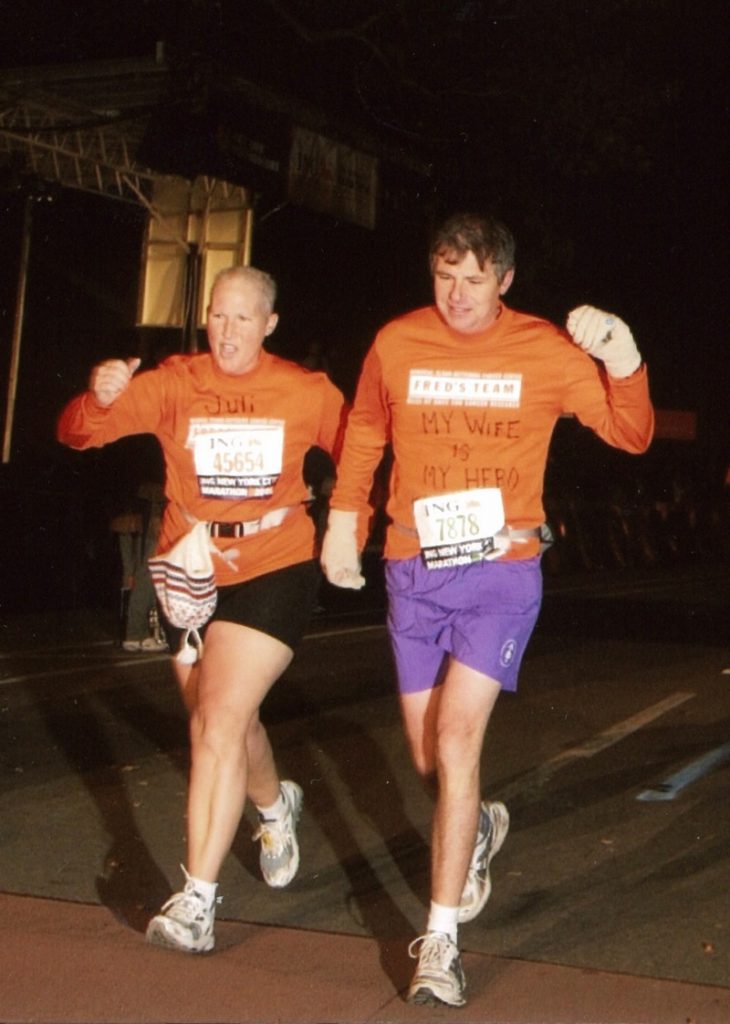 Above: Juli Anne and Doug.  Read about the relevance of this story in the epilogue and  let's wait for the Cancer Hospital; The Shoe4Africa Juli Anne Perry Children's Cancer Hospital will be the first children's cancer hospital in sub-Saharan Africa!  And, yes, it will be a public not a private hospital!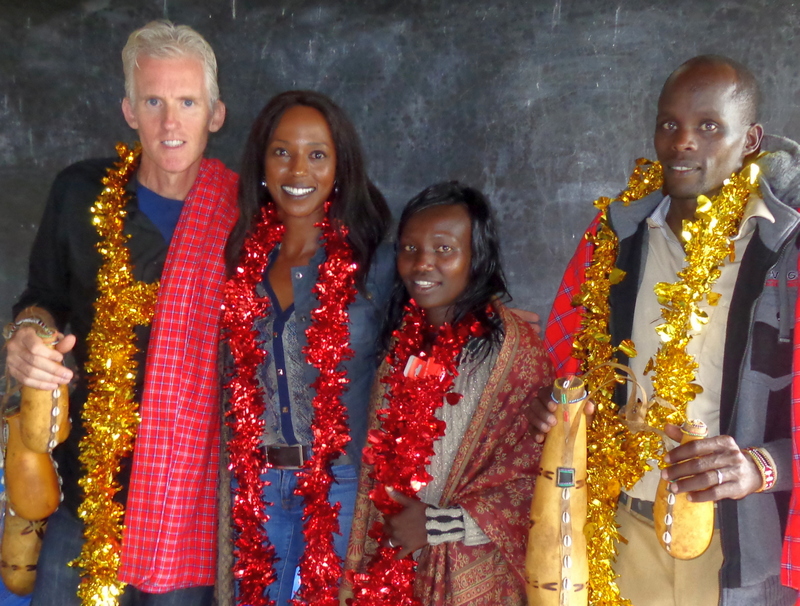 Above: In 2018, I had no plan to build another hospital, I was busy working on building a school for Mary Keitany, one of our longtime ambassadors.  Here with Chelimo, Mary, and Charles Koech (husband) whose brother Benson held the world junior 800m record and trained in Colm's group with me back in 1995!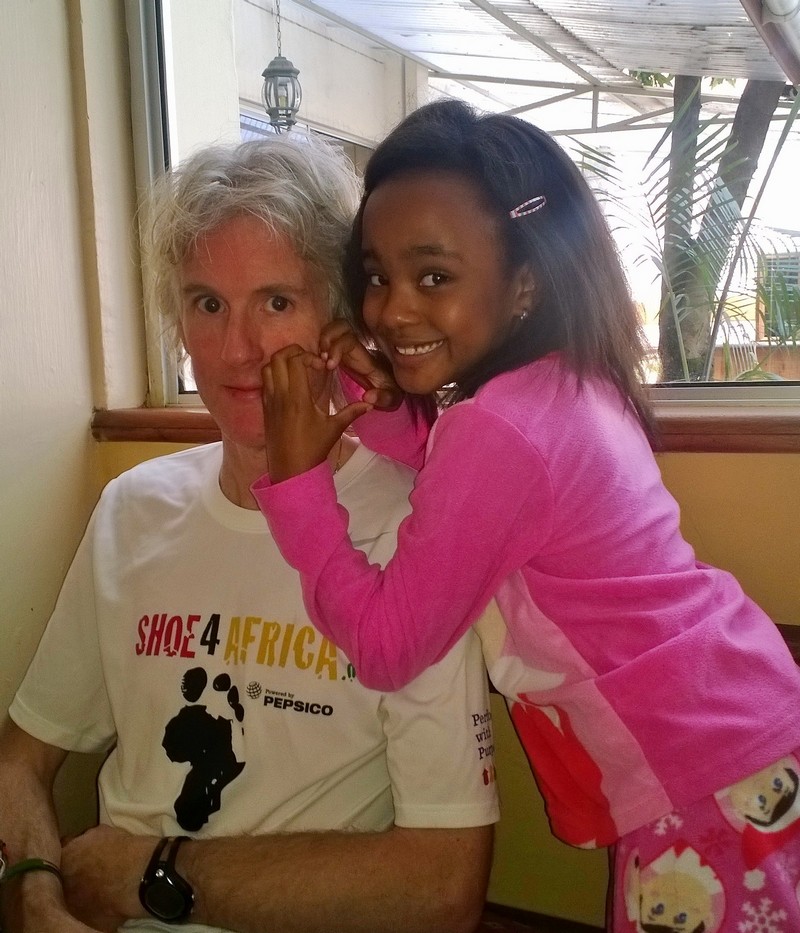 Above: Family shots. My stepdaughter, Lindi Tele.  Here in Nairobi, Kenya.  On this trip, she opened her first school!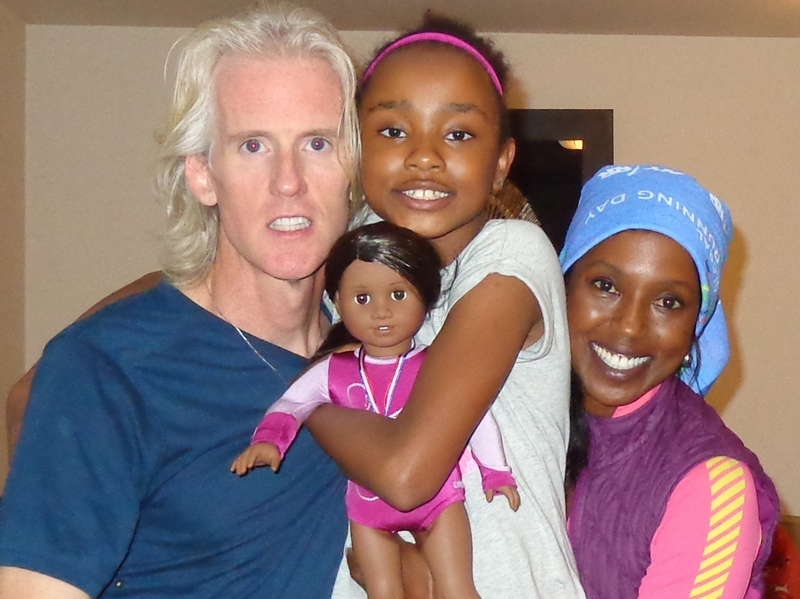 Above: And a family shot here in America.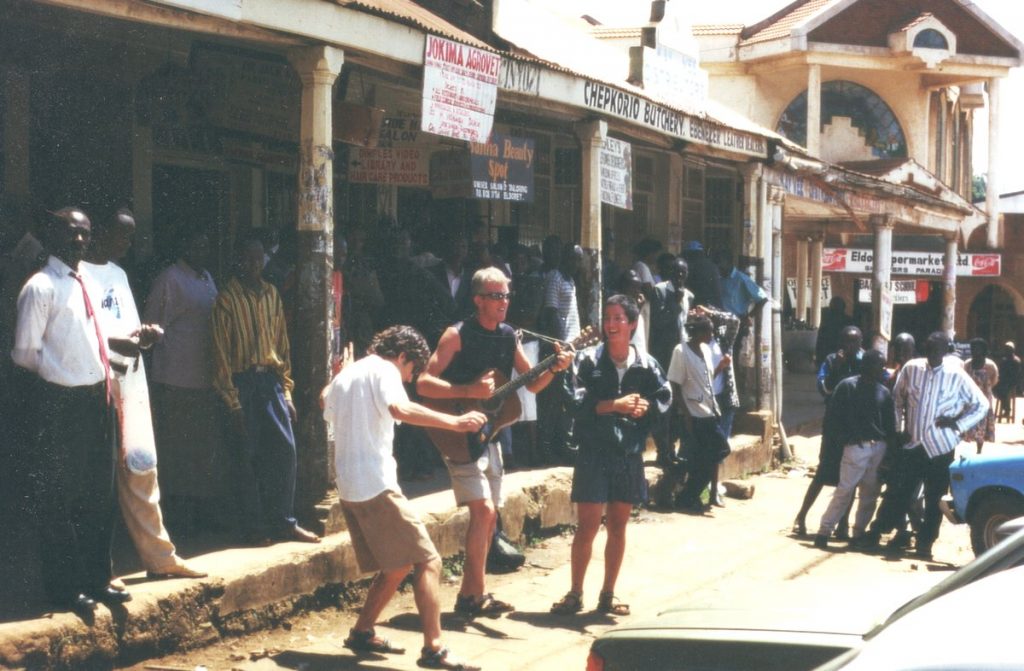 By the way, Noel did make it Eldoret a couple of years later…and what did we do?  We earned 390 KSH with twenty minutes of playing the Rolling Stones songs on Eldoret's main street.  As I sang, Noel danced.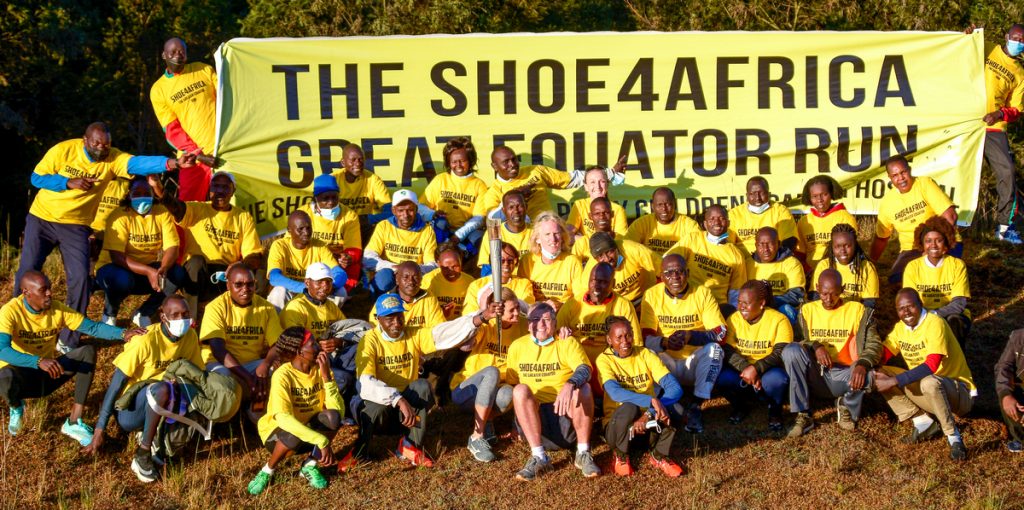 And yes, this is the Amazing Greater Equator Run I talked about in the Epilogue that I sad we would do with a host of stars like Paula Radcliffe (back row center with Moses Kiptanui), Paul Chelimo (far left squatting), Daniel Komen, (far left standing), Sally Barsosio, Janeth Jepkosgei, Lydia Cheromei, Matthew Birir and numerous other running legends!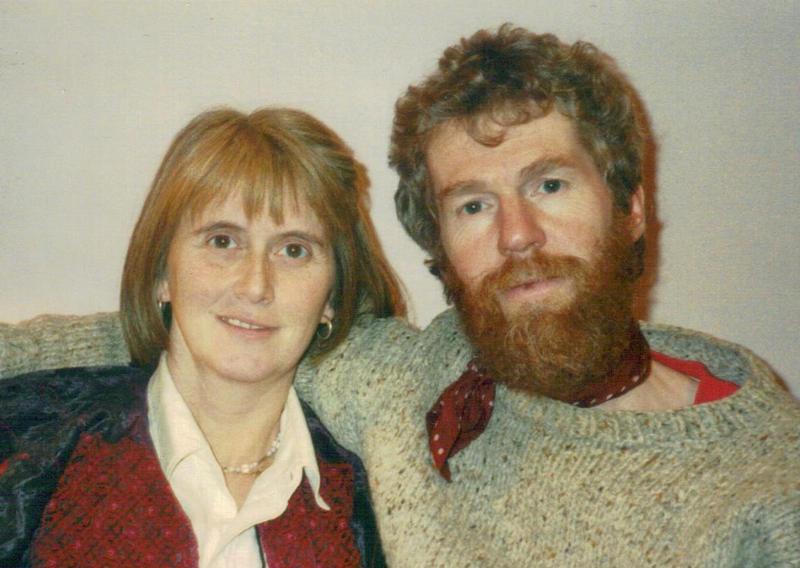 Above: Jennie & Colin.  My parents in their forties.  They married in 1963, stayed married till my father passed in 2021.  I never once heard them argue in my life, I could not have asked for better life teachers. Due to covid19 travel quarantine, I could not see him before he died, though I spent a wonderful week with him right before the outbreak.  Sitting at his bedside I realized, I never heard him say a single bad word about any person in his entire life.
The story: What happened? Zanzibar, Tanzania. December 29th, 1999. Two malicious men viciously attack the runner, Toby Tanser, with a machete and a baseball bat as he runs along the Indian Ocean shoreline. Escaping with a fractured skull and his severed wrist, he must run to save his life.
Arriving at a dilapidated clinic with no antibiotics or anesthetics, it takes Toby eleven days of suffering before he can fly to England for brain surgery. Before traveling, on the night of the millennium, an Indian doctor insists of a greater meaning why he traveled to Africa; time would reveal this purpose.
Back in New York, Toby wants to assist the people he left behind. His friends do not understand the compulsion to help a region where he almost died. Fantastic opportunities arise in the Big Apple; why not prioritize a personal life? He is a columnist and author, befriends movie stars and coaches athletic teams, and a state university. He sits on the board of directors hosting the world's largest marathon, but he never forgets Africa.
Eight years later, after hosting a peace movement with dozens of Olympians in a conflict zone, the meaning surfaces on a morning like no other. Hearing of a three-year-old's murder inside a burning church, the repeating of the doctor's prophetic sentence, and being handed a proposal to build a giant hospital make for one crazy day. Connecting the dots, he knows, this is a call of destiny. But accepting the plan will mean abandoning the lucrative launch of the Manhattan Marathon, a venture created with his billionaire partner. Should he take the money and run, or serve as an unpaid volunteer, and attempt building East & Central Africa's 1st public children's hospital?