Stories from the Hospital
Kipchumba's story
Our hospital is truly a busy, bustling center treating over 430 kids a day, and maybe the hub is the life-saving Emergency Wing where every day kids come with anxious parents often bearing a child looking like he, or she, is close to death.
This was the case for little Kipchumba.  His mom says he was happy at his birthday party with his twin sister, gobbling cakes and gulping down milk, but two days later he caught a cold.  She took him to a dispensary where he was diagnosed with a common cold and given over the counter medication. Whilst she was at work, a couple of days later, she heard the little two-year-old was struggling for every breath back home—something was horribly wrong!
She dashed him and brought the boy to our Shoe4Africa emergency and into the arms of Dr. Cynthia who immediately diagnosed pneumonia.  "I had taken him to that dispensary," said Judy, Kipchumba's mom, "but they said it was a normal cold, not to worry."
Luckily, in our emergency wing we have four highly trained doctors, and we will not be letting Kipchumba out of our sight until we get a report that he is back to full health.  As you can see by the smiling picture, that day is not too far away.  Dr. Cynthia smiles, she was born for this work, and sees more than her fair share of misdiagnosed kids; thank goodness Kipchumba arrived and was treated early!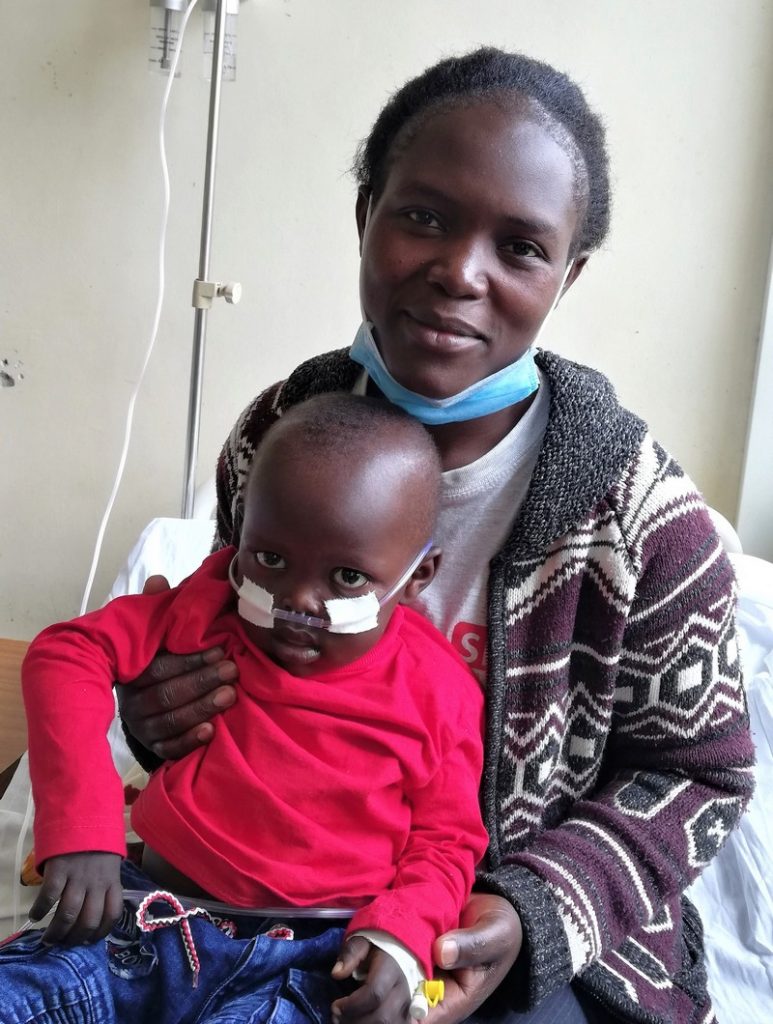 Shadrack's Story
Shadrack Mukhwana, a calm 13-year-old, has many wishes and dreams. If he could, he would spend his entire life by his father's side chatting, riding around their village on bicycles, playing soccer, drawing, and, hopefully, grow up to become an electrical engineer.
However, Mukhwana, whose name means "a child who was born first out of a set of twins," knows better. Today, he realizes that his dreams may not all come true, with others further from the horizon by a long shot. As it is, his father cannot afford to take him and his four siblings through an entire term at the public school they attend without coming out strapped with a ton of debt.
The thought that one day he might go back to normalcy with his main supporter being his father, is nothing but a distant fantasy. Maybe Shadrack could get the long chats with him, the drawing, and maybe by luck, become the electrical engineer he so eagerly would love to be. Unfortunately, the bicycle rides and soccer might be a little too much to hope for, because now, his right leg is gone and his bone cancer threatens much more harm. Although his doctors at Shoe4Africa are doing the best they can to contain the situation, there is no certainty as to what Shadrack's future looks like. "The uncertainty scares us a lot," stated a distraught mother, Lonah Nafula, who cares for him at the facility.
Taking us back to the beginning, Shadrack narrates the story of how his hospitalization started, calling it "a mere accident." It was during a rainy evening on May 25, at around 7 pm. Shadrack's older siblings were preparing dinner from their kitchen outside of the main house. The kitchen's dirt floor had soaked in water that flowed in through the door as it rained, due to the poor drainage around the door area. Additionally, due to the lack of electricity, the door had been kept open as it rained so that light could come into the kitchen, to facilitate the cooking. As a result, it had rained into the house.
As usual, Shadrack had stayed with his father in the main house talking, as he fixed a light bulb using used dry-cell batteries from his father's small radio. Once the rains subsided, he decided to go check on his siblings in the kitchen. As he walked in, he slipped on the intensely soaked dirt floor. Shadrack landed on the right side of his body and broke his right knee.
"My mom says that I let out a long deafening scream followed by a series of other short ones characterized by a shortness of breath." Shadrack's parents immediately called a neighbor who operates a local pharmacy, asking him to help Shadrack get through the night, so they could go to the hospital the next morning. The neighbor's help was in vain, and so were a series of other forms of medical help that Shadrack received before arriving at Shoe4Africa.
"Between May 25 and September 20, when we arrived at Shoe4Africa, my boy's situation moved from a little accident to an entire revelation about cancer. In between, he endured pains, delayed medical help from doctors who took too long to give him an appointment, and a total hardening of flesh from halfway through his thigh to the calf," says Lonah. But all was not lost.
Today, Lonah says that when she looks back at the almost three past months, the help they have received since arriving at Shoe4Africa has been more than anything she ever got. She states that upon arrival, Shadrack was taken into the emergency unit, followed by x-ray and ultrasound checks during the next hours, before they were set up at Fadhili Ward. A few days later, Shadrack's surgical operation happened. His right leg was amputated, down from halfway through the right thigh.
As we spoke, it had been two weeks of being at Shoe4Africa that Lonah describes as having "restored the hopes of going home with my boy alive." In a little bit over a week since the operation, Shadrack's wound was already healing. He was already getting wheeled out to the classrooms and playing field where he helped younger children to build their Lego bricks, among other activities.
It is unfortunate, however, that Shadrack who often got super chatty when our talk turned to matters of devices like phones and radios, misses his father and twin, Sharon Mulongo. He says, "I wish I could call and talk to them every chance I got but mom's phone hardly has airtime." He, however, hopes that treatment goes on quickly so that he can go home to them.
This hope just might pan out positively, especially now that in a week, Shadrack's healing has been incredible. He is even already getting prepared for transfer to the Oncology unit where he should start receiving cancer treatment; and if one is to go by the quick recovery rate he is witnessing, maybe he will spend Christmas with his family. Besides, his doctors have much hope in his recovery, and this should count for something.
Although 'certain' is not a word anyone is ready to include in their sentences right now, regarding Shadrack's recovery timelines, at least everything looks promising. A dozen (maybe more) chemotherapies and he should regain health and resume school, where he, admittedly, will go continue the struggle with languages, Social Studies, and religious education. While at it, he will also shine in Science and Math, which Shadrack says he scored 90% and 88%, respectively, in his last examination.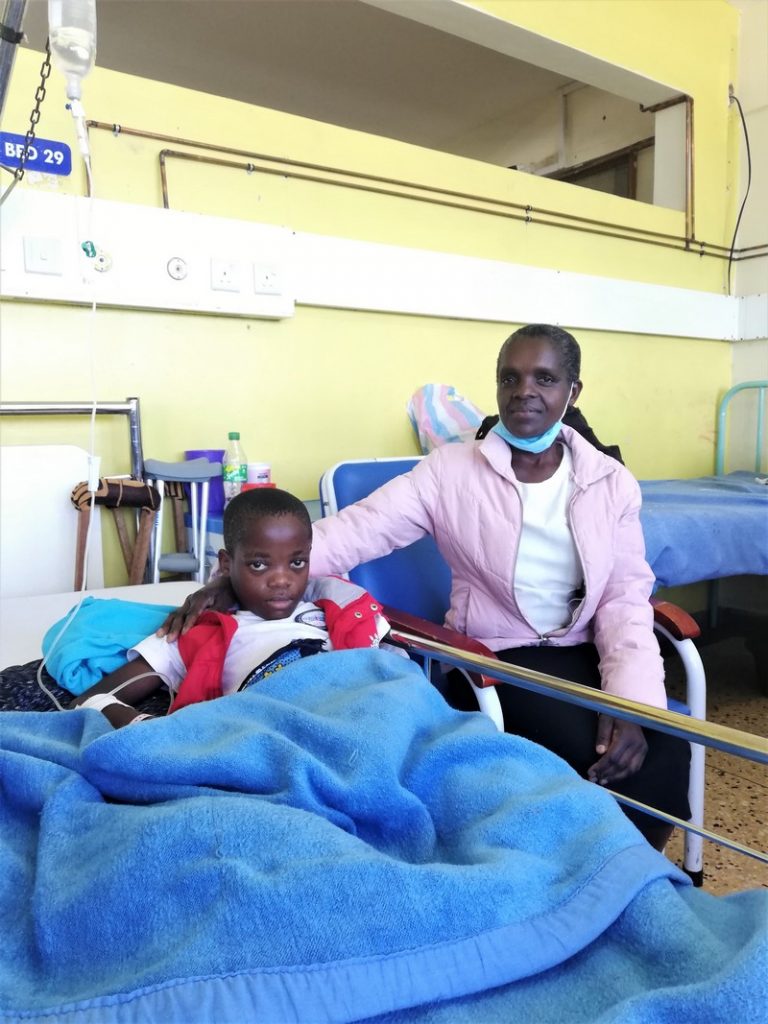 Isaac Baraka, is a chubby, 9-year-old, second born child in a family of 3; two boys and one girl. He is the oldest boy, followed by his little, 10-months-old brother, Emmanuel Maraga. Their mother is called Everline Awino. Both of Baraka's names mean blessing (like the former US president's name). The name Isaac is from the Bible, which was the name of Abraham's long awaited child, who was a blessing from God for the long wait. The second name, Baraka, is a Swahili word for blessing. Awino says that she called her child by these names, notwithstanding the challenges she endured during pregnancy. "People laughed at me, saying that I was stupid for holding on to a child, knowing full well that I did not have the financial capacity to raise him." Despite all that, she could not help but feel like the pregnancy was the best thing that ever happened to her.
However, 9 years later, Awino wonders whether her son will live long enough to fulfill his dreams, and continue to feel like the blessing he was during his first 7 years. This feeling of doubt has crept up on her slowly but surely since August 2020 when Baraka was diagnosed with a stage 1 cancer called Burkitt's lymphoma. This is an aggressive form of lymphoma that affects the B-lymphocytes, and is commonly found among children. Curable for most kids in America, the exact opposite happens in Kenya, virtually a death sentence.
It all started in June 2020. At the time, schools were closed because of the global pandemic. As such, children in most rural areas were home helping their parents with farm work. On the fateful day, Baraka and his family had just come home after spending the entire morning harvesting beans. Baraka was sitting and contemplating going over to the football pitch he and his friends play with for a little afternoon match. Suddenly, Baraka felt a stinging pain in his back, right jaw. It grew drastically so he reported it to Awino who thought that it could be a toothache, a possibility that was not strange because she had dental issues, making it likely that Baraka had gotten it from her, thanks to genetics.
Amid various hospital visits and tests, financial challenges were overwhelming. Eventually, however, blood and cell tissue tests indicated that Baraka had stage 1 cancer – Burkitt's lymphoma. That was one of the toughest moments for mom. Shock, weariness, and the loss of faith in the belief that her son was a blessing overwhelmed her. Baraka's cheek, at this time, had swollen to the point of turning his mouth in the direction of the right ear. Although treatment commenced immediately, Mom could not show up for the scheduled chemo sessions, which were three weeks apart. Mom says, "I was heavily pregnant with Maraga, besides being heavily broke that I could not afford to make the chemo visits for three months." Unfortunately, the failure to go back set them on their path to out facility, Shoe4Africa.
August 4, 2020, Mom, Baraka, and baby arrived at the hospital. Baraka was in a critical condition, as his mouth was bleeding and his right eye was constantly tearing. Upon review of his medical files, Baraka's chemo was continued from course 5, where the referring hospital had reached. Mom says that the same treatment schedule (3 weeks intervals) was maintained. Since arrival, Baraka has received 3 courses, and now awaits the 8th course, which is also the last. It is sad, however, that cancer treatment can be very devastating. It claimed Baraka's eyesight after the 7th course. Baraka says, "Now, I cannot see… completely. My mom helps me around."
In light of this, Mom is uncertain about Baraka's ability to get through his education and become the civil engineer he so desperately wants to be. One of her repeated questions to one of Baraka's doctors, Dr. Odongo, has been, "How sure can I be that our children [children in the Oncology unit] are getting better?" However, she says that the doctors have assured her that according to statistics, Baraka will recover at Shoe4Africa; not at other places in Kenya, because at stage 1, cancer is manageable with the correct treatment… even curable.
"That is my greatest hope," Mom commented.
They say the first step to healing is believing. Baraka is, certainly, halfway there. He has managed to keep his mother at bay, emotionally. In fact, during our conversation, he kept reminding her of how great the services and service providers at Shoe4Africa are. On one instance, Baraka who is less swollen and feels less pain, said, "Mom, you remember Nurse Mary? I ran into her in the bathroom as she helped another child, and she said I will be fine. I think she is right." Baraka who is fond of Nurse Mary feels that the commitment she sees her put into ensuring he gets his medication, and in time, is very nice of her. While his faith in our facility's capacity to treat him may not be much, it is certainly all he needs.
Besides, Baraka misses school. He misses his Math teacher, Teacher Patrick Okumu whom he says likes to call him "Baba hesabu," to mean the father of Math. He also cannot wait to go back to playing football where he is usually "an awesome defender," according to Mom. His best friend, Aron is usually the goalkeeper, while Gabriel is the striker. "I have to go back!" Baraka said. Surely, all these things, combined with his desire to become a civil engineer are enough to steer him out of this cancer and into wellness. As a matter of fact, until the blindness that happened a few days ago, Baraka has not let the teachers at our facility rest, as he pesters them with questions during class. He has also kept the corridors busy with the various toy trucks the facility provides for our patients. According to him, "I am driving these machines around so hard so that when the time comes to sit on those caterpillars as I construct your roads, I will be very ready."
Baraka gets his discharge soon. He will be out soon after he receives the eighth course, and although he is now blind, he hopes that by the time he discharged, he will be back to normal. Now, we hope with him, we pray with him, and believe with him; against all odds! After all, he is a blessing.
Faith & the forest
11-year-old, Faith Chepchirchir Rono, is a patient at Shoe4Africa Children's Hospital. Nearly two months since arriving at our facility, Faith still wonders how a happy trip almost threatened to take away her life.
It was a few days after school closed when Faith, her 5 siblings, and their father, David Rono, set out for their grandmother's house. The early mornings to school and late evenings coming back home had left them no time to go to their grandmother's house in the course of the term, albeit roughly a half an hour's walk away. That was no big deal for Faith, however, because she regards school as a sort of therapy. Learning intrigues her and arouses an eagerness to understand deeper and complex issues. Take for instance the fact that, as David says, every free time she has at our hospital, Faith likes to go and sit with the nurses at the Nurse Station and just chat. During such chats, Faith asks the most random yet awfully witty questions like, "When exactly do you say a person is dead?" This is not the ordinary "can I eat this apple" type of question. It begs detail, which sounds super smart coming from a child.
Soon after greeting their grandmother, Faith, her siblings, and their many cousins went to a nearby forest to play. According to David, "The forest land is not flat and it has huge stones." As Faith and the others played, she slipped from the top of a stone, landing far down, on a stony surface. She broke her left leg around the shin and calf areas. Days after getting medical help from a local health facility, blisters popped up around the plastered area. "Oxygen was barely circulating through those parts of the leg, thus the blisters and accelerated pain," David explains.
The next day – July 22, David arrived at Shoe4Africa with his daughter. She's had a marathon of operations! Between the 5 surgical operations that Faith has been through, the blood supplements, and the daily painkillers, Faith, who hopes to be an army doctor, has never shied away from facing the treatments head on. "Even when it hurts, she often asks the nurses to let her help with untying the wound," Father David commented. If this is not bravado and 'good' curiosity, then nothing is.
At the time of speaking, Faith was set to undergo the sixth surgical operation, where grafting will be done. The doctors are optimistic that Faith will leave hospital soon, and should be able to abandon her crutches within no time. An elated Faith said, "Dr. Dickson says that I will walk again and that makes me so happy, because I miss playing with my best friend, Purity."
As she eagerly awaits the day she will rejoin her classmates, Faith feels terrible that she has to miss school. She feels even worse that now, she will not attend her favorite Science lessons where she learns about the parts of the body. She is scared that she might not make top of her class this term like she has done since starting school. Even so, she tries to compensate through our facility's teachers, by asking as many questions as possible. Her favorite teacher at our facility, Margaret, says that Faith's academic aggressiveness is a sign of a great young mind.
It might be days, weeks, or months before she can be discharged from our care, but this is no matter, because at the end of the day, "I will have a second chance at health, and with it, a lot of experience especially as I hope to be an army doctor," Faith expressed. So far, one can only hope that this little soul goes from our hospital wards to the middle of the wild in an army uniform living and serving.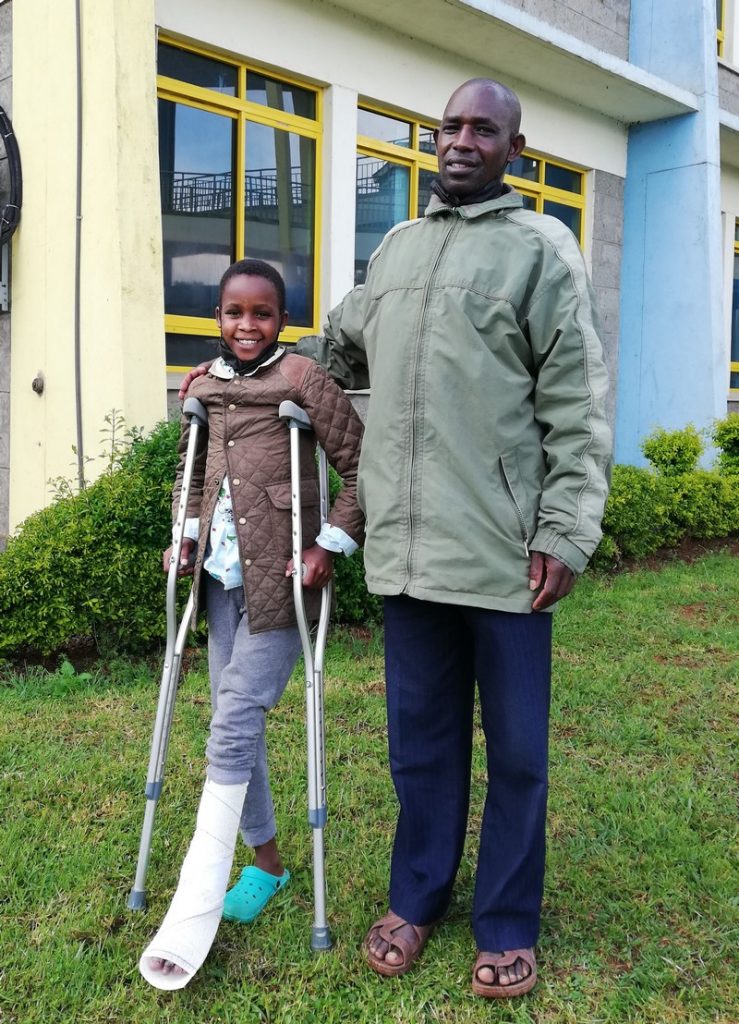 Grace and Grandma
Grace Simit is a beautiful, 8-year-old girl who was named after her grandmother Grace Watasa. She is a radiant girl who loves to smile. Grace is also shy, and fun loving. In fact, she says that she loves a pretend game that is commonly referred to as kalongo. In it, a family set up is replicated with children as the characters, such that one girl plays the role of a mother, a boy plays the role of a father, and other children play the role of children. On most occasions, Grace says that she plays the role of a mother because she loves to sweep the kitchen and clean utensils. Living and raised by her grandmother, she is accustomed to these duties so much that they are now her favorites. Unfortunately, her love for these kitchen-related roles has not been kind on her… at least as evident in one recent gruesome encounter.
One evening in June this year, Simit arrived home from school, tired from the day's activities. As usual, she went into her grandmother's little house and changed into home clothes before heading to the kitchen to get lunch leftovers, as her grandmother always leaves some for her. As she entered the kitchen, she noticed that the firewood was beginning to dwindle in strength and so she decided to restock it.
As she restocked the firewood, her dress caught fire and began to burn along with her. Helpless, she screamed for help and her cousins, Ivy and Sylvia, came to her rescue. They poured water on her and then rushed to fetch their grandmother. Her hospital journey began that day when her grandmother rushed her to a nearby healthcare center.
Grandma and Grace left home that day and have never returned home. Grace was admitted first at a facility around their home county, where they spent two months and a week. However, Grandma says that in all those days, her grandchild's health did not improve. Despite the continuous cleaning of the wound, dressing, and medication, there was no improvement.
Three weeks ago, Grandma and her grandchild arrived at Shoe4Africa Children's Hospital, thanks to the help of the then attending hospital. Uncertain of how her grandchild would be attended to without a cent in her pockets, Grandma says, "I was utterly astounded when, upon arrival, Shoe4Africa, without question, commenced Grace's treatment."
As we spoke, Grace had been to the theatre more than once, undergone several dressing sessions, been given medication as necessary, and allowed to stay at the facility as she recovered. For Grandma, "This is more than I ever could imagine." As an old woman, she feels a blessing is long overdue for her grandchild's doctor, one Dr. Baraza, who Grandma says is kind and gentle.
Sadly, Grace's nearly three months of being away from home have her missing her cousins, Ivy and Sylvia, a lot. She says, "Kukhu [grandma] does not have a mobile phone so I have not been able to see or talk to Ivy and Sylvia and that makes me miss them so much. I cannot wait until I can see them."
Even so, some things are panning out right for Grace. Finally, her wounds are healing at a rate unseen in the last three months, according to Grandma. The surgical operations where grafting was done have helped her body heal fast and with lesser pain. Grace, whom I found in the TV Room watching a cartoon show, is so happy that she has been able to interact and play like other children at the facility, especially in the last week.
As her discharge is due any time soon, according to her doctor, Grace cannot also wait until she can see her best friend Sherlyn, with whom she was to join grade one in July, and with whom she plays kalongo at school. "I miss her so much!" Grace said in an anxious tone. As much as one may feel like the discharge should come sooner, Grace and Grandma assure me that they would gladly wait another few weeks or whatever time the doctors say, as long as the same healing they have seen in the short period they have been at Shoe4Africa continues. "I mean…," says Grandma, "Grace walks again, plays, and has a good time with other children. What more could one ask?"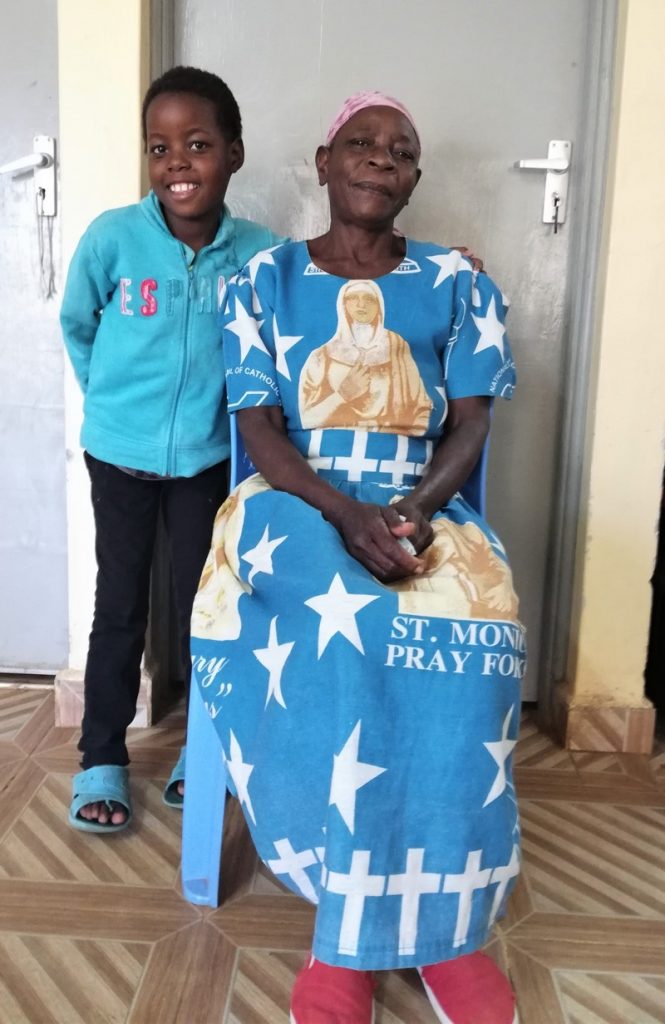 Vivian's Tragedies
Vivian is a 10-year-old girl who has spent the recent years of her life trying to stay alive. Her mom, Bendicta, who has stood with her since it all started, together with her father and siblings have been nothing but desolate. They have been, on an almost constant basis, destroyed by the emotional and resource strain that came in the wake of Vivian's conditions.
In an exasperated tone, Bendicta started the conversation saying something to the tune of, "There is an edge to every cliff, and I have been dancing very close to mine since 2019!"
"It started so foolishly," Bendicta said. In March 2019, Vivian went through a phase of prolonged diarrhea and vomiting. She was admitted for 2 weeks at a local hospital, where she was treated for pneumonia and malaria. Unfortunately, while she was able to recover from gross pain, she lost her speech capabilities. Consequently, she had to start learning to speak again – it was months before she could mumble small words. She also went insane.
According to Bendicta, the vomiting and diarrhea were just the start. Given the history of epilepsy in the family, Bendicta knew that her child could be suffering from epilepsy – the speech, the insanity… these were all symptoms. In fact, soon after Vivian was out of hospital, routines had to change to accommodate a more cautious approach to caring for Vivian. She had to be kept outside of areas where she faced dangers of getting hurt, such as the kitchen and around the family water-source.
In December, while alone in the kitchen, Vivian experienced a seizure and fell into the fire, burning the back of her head. She was rushed to the same local healthcare center where she was given an ointment that helped with recovery by January 2020. Thereafter, Vivian's parents could not afford to take her to hospital to be treated for the insanity and epilepsy. They resorted to herbal medicine, which "despite using for well over a year [May 2019 until late March 2021], did not help, at all," said Bendicta. She stated that she had hoped her daughter would be cured without needing hospital intervention because those who had had this condition in her family had recovered on herbals.
On April 8, 2021, Vivian was in the kitchen with her older sister who was preparing lunch. The older sister went outside to breath and when she came back, she found Vivian seized and laying in the fire. The back of her head, upper back area, and right hand sustained significant burns. Bendicta was in a nearby farm weeding potatoes. Quickly, one of Vivian's siblings ran to fetch her. She arrived home to screams from her children who were petrified by the way the fire had burnt their sister.
Bendicta rushed her to the same dispensary she always did, but she could not get help there. They referred her to a better facility, where Vivian received first aid and then referred to Shoe4Africa.
"As we came, and during the first 3 weeks [when she was in Intensive Care Unit], I never thought there would ever be a chance of going home with my child. I was certain that I was just here to wait for her to take her last breath," Bendicta said. During these 3 weeks, she remembers always asking about Vivian's condition and the doctors would always say, "Ako tu venye unaona," which means, "She is just as you see." Bendicta was always torn by this response. It was hopeless that she almost gave up. In fact, other members of her family gave up, including Vivian's father who has only been able to see her once since admission because of the lack of funds. All he gets from the firewood goes to feeding Vivian's siblings and getting them back to school every time they are sent home for school fees.
Luckily, things started to change towards the end of the third week and during the fourth week. Vivian's body changed from the mess that it was, and began to show signs of responding to treatment. According to Bendicta, "It has been a war in this hospital bed, and the doctors have fought valiantly." She cites the efforts of the many doctors who have attended to Vivian, including one Dr. Baraza, as being critically instrumental to sustaining her child's life.
Between theatre rooms, the ICU, wound dressing, and injections, Vivian has constantly escaped death. Now living without two fingers, an ear, and a scarred throat, Vivian is a good old example of weathering storms. Currently, she awaits one of her last grafting sessions where flesh will be transferred to the back of her head to cover the currently bare skull. She is also nursing the previous surgical incision to the throat, taking medication for reinstating her sanity, and healing the two spots where the two fingers were amputated. Yet, she is on a path to recovery.
The truth is, Vivian is still in pain. She is still nursing injuries from the fire, and one can only imagine how hard she must have burnt. Notwithstanding, her healing has been nothing short of tremendous. Most men of science would claim that there are no miracles in modern medicine but, hey! Look at Vivian! From being unconscious in the ICU and several surgeries, to "healing successfully," as Bendicta put it. The seizures are now minimal and she can now move her limbs, albeit minimally.
While there is no telling when the full recovery will be achieved, the discharge they are set to get after the skull grafting is a good indication of great progress. Although we love our patients, we love it when they leave to go home!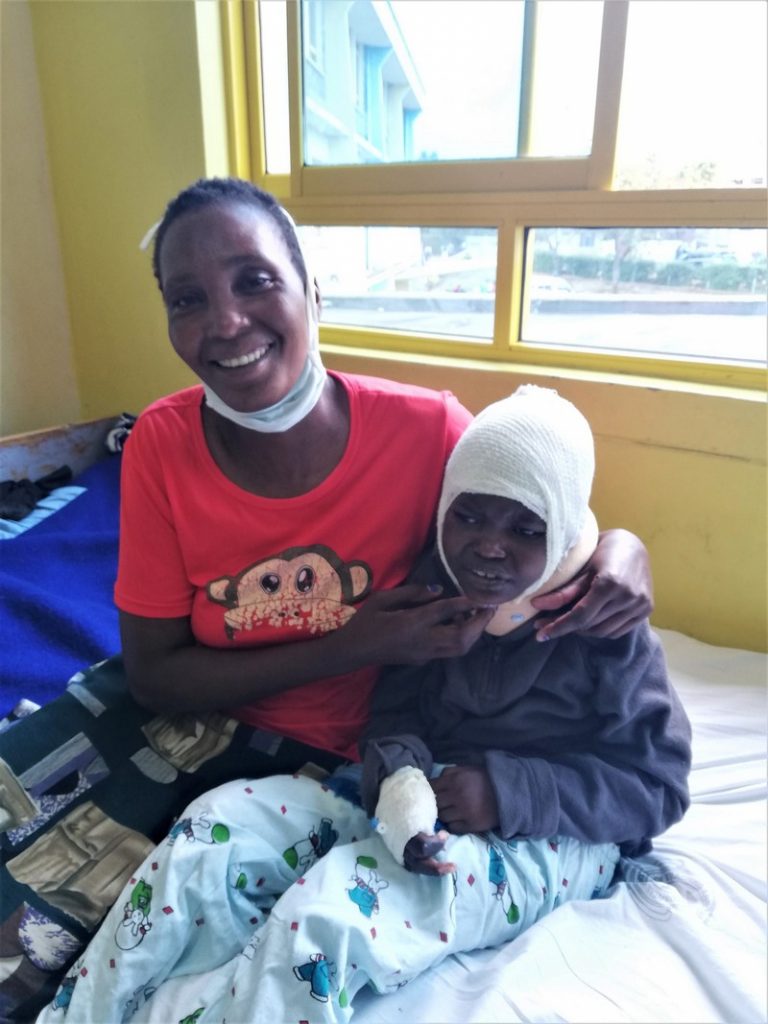 Vivian and her mom.
Akoth's Story
As a young girl, Naomi Akinyi often dreamt of leading a grand life. She dreamt of getting a degree and then proceeding to have a happy family with a husband and children. She was certain there was nothing that could stop her from being the great woman she hoped to be. Unfortunately, dreams sometimes stay dreams – nothing to them. Naomi has barely had a happy family. She lost her folks quite too early and despite getting married, there was never anything beautiful about the little family she dreamed of creating. She was not lucky to attend school, making it impossible to get a suitor, and later husband, who could match her childhood expectations. She had to settle for the best she could get – her now ex-husband. As if her luck was not doomed enough already, Naomi has lived a jobless and unsalaried life, hence the incredible poverty that slowly steered her to the doorsteps of despair. Concisely, Naomi has bounced from one set of mishaps to another.
In June 2020, Naomi's husband injured their 10-year-old daughter, Ashley Akoth, who was in 3rd grade, as he tried to hit one of their house pets. Akoth sustained a cut on the side of her head, which was stitched up at a local hospital. January (2021), Naomi gave up on the treatment, stating that she never saw improvement, perhaps because Akoth was getting incorrect treatment – typhoid, malaria, and general pain.
"These treatments… or something… caused my daughter's skin to grow yellow at first and later an infected eye that ended up blind, and wounds all over her body," said Naomi.
Her husband having absconded in August the previous year, gave no support, financial or moral. The mother tried medicinal herbs in the hope that they would cure her daughter, sparing her any hospital bills. However, the herbs were not much help. Naomi says, "The yellowing, wounds, and blindness were coming on too fast, so I got very scared." Naomi says that it was the fear that worse might happen, including risking loss of eyesight, which led her to Shoe4Africa.
As Naomi and Akoth walked into the lobby of our facility on 23 May, Naomi says that fear latched onto her core. Tests soon after admission showed that she had Acute myloid leukemia (AML), a type of blood cancer and bone marrow with excess immature white blood cells. Despite being a dangerous cancer, Naomi says that her daughter's healing has been on a good wheel since arriving.
Treatments Akoth has received since are more that Naomi can remember, but she loosely quotes several counts of chemotherapy, dressing of wounds, and anti-biotic medication. Akoth has responded positively to medication and the overall treatment regime, "which has more than anything, motivated my stay here," Naomi said. She also says that leaving home, she had to leave one of her children with a neighbor and another with her aunt, because she had nobody else to care for them. Her only other family is her brother, who is younger than her and unmarried, hence unable to care for her children, not to mention that he is also financially incapable. Naomi also had to give up the few laundry jobs she used to do for 2 dollars on a few lucky day, in order to care for Akoth in hospital. But despite everything, Naomi and Akoth are happy. The 10-year-old who was largely in the playing field during the conversation with Naomi dashing loops of the field (we're building a jogging trail after we complete the next hospital), aspires to be a surgeon could not be happier to be back in the field with other children. She also feels more energetic than ever "Have the drugs given me more energy?" she asks with a smile). In fact, Naomi says that her doctors recommend a discharge scheduled for the next two weeks. As she awaits the next round of medication, slated for 13 September, after which the discharge should follow, she says, "I really look forward to reuniting with my siblings, whom I miss dearly. I want to get my life back on track."  Mom says, "After my mishaps I am determined that she must excel in school and do better in life than I did.  Education and health are so important when you are born into poverty."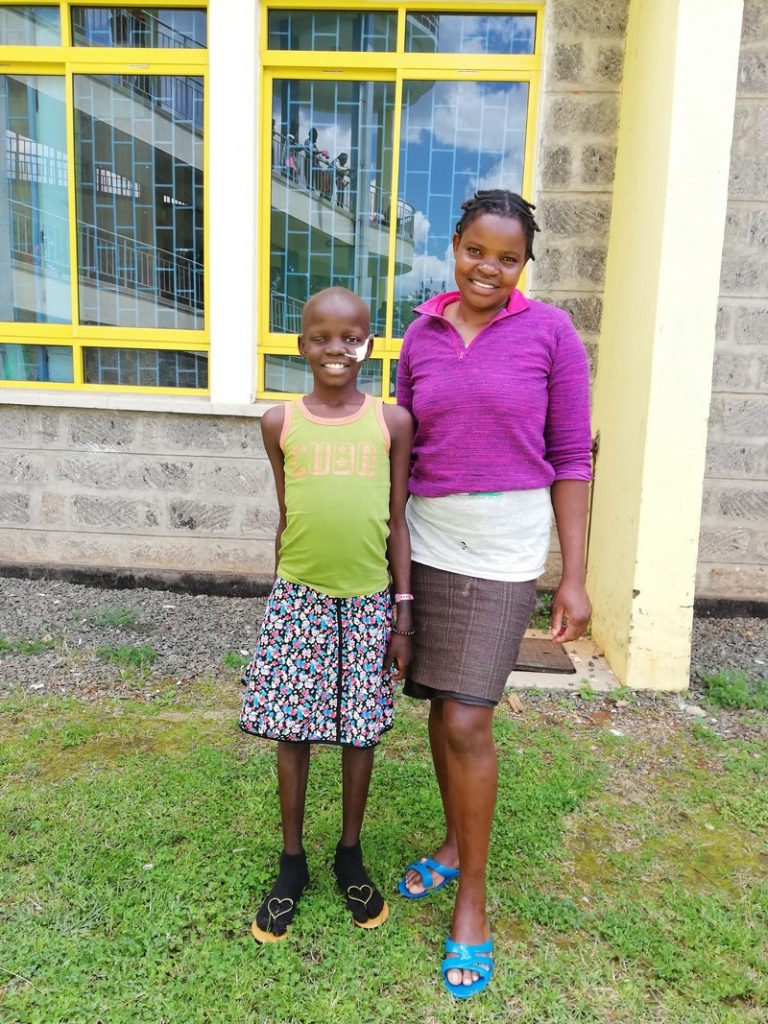 Cancer at a Tender Age
For a person without resources, facing afflictions, despite how small, can induce the feeling that the world is rigged against them. It would be deplorable to think such feelings ill founded, especially, after seeing and listening from folks who have experienced such challenges. Lilian Birech, the mother of Jael Jepkemboi, a three-year-old who is currently undergoing treatment at Shoe4Africa is one such person.
Last year (2020) while people prepared for Christmas, Lilian was busy trying to figure out her baby's health – including checking into a clinic around her neighborhood. Given the swelling face and painful joints, Jepkemboi was tested for Malaria, results of which came negative. Lilian was told that the baby had an infection, which she was treated for. This was not any help, as baby Jepkemboi's pain grew worse by the day. Two days later, the swelling proceeded to the mouth and stomach, with the pain becoming excruciating. Consultation with friends and neighbors led her to the Shoe4Africa Children's Hospital on December 28.
Attempts to ascertain Jepkemboi's condition began soon after admission and proceeded for a couple of days. Lilian says some of the tests and scans were chest x-rays, ultrasound, echo scan, CT scan, MRI, and blood tests, all of which came out negative. Towards the end of the New Year's first week, one Dr. Njuguna, as Lilian said, recommended a bone marrow test, which showed that Jepkemboi had Acute Lymphoblastic leukemia (ALL).
What a terrible way to start a year!
In Africa, suffering from cancer, AIDs, or a disease that is thought untreatable is often considered a curse or an act of vengeance, where a person exacts revenge by bewitching another. These beliefs did not help Lilian's process of accepting the news. "Nobody in our family has ever had cancer, so you can understand why it was the last thing I ever thought this could be," she said. She was reluctant to believe. Lilian says, "I went into a state of utter unrest and disbelief, leading to a session with one of the hospital's counselors." Thereafter, she was ready to place her child under treatment; on January 18.
Since then, Jepkemboi went under a constant supply of different treatments that include push or intravenous chemotherapy. About a month and a quarter later, "The doctors ran another bone marrow test to ascertain the treatments' effectiveness, and it was positive." Towards the end of February, Jepkemboi got her first discharge, which lasted 7 days. Considering Jepkemboi's good recovery record, the doctors were confident that baby Jepkemboi was fit to operate from home, as long as she came for the scheduled check-ups.
Unfortunately, at the time of speaking, Jepkemboi was back at the facility for treatment and monitoring. The knee pains had recurred and her urine was now concentrated. According to Lilian, the doctors had seen to her, hence the off mood that Jepkemboi was in as we spoke – a side effect. Luckily, she will be able to resume the scheduled check-ups as soon as she recuperates.
Despite things looking up, Jepkemboi's condition is only one of the many problems that Lilian and her husband, a kibarua (odd job) worker, endure. Lilian says, "As we live in a mad-made rental room, paying rent and providing for our two children has always been difficult. Currently, we are a couple of months in rent areas and may be facing eviction soon." Following the hard hit by Covid-19, which rendered most of their usual quick jobs unavailable, they have been holding on by the thread. Additionally, despite already reeling from the pandemic's economic impact, Lilian says that she and her husband have known stigma and abandonment more than anything in under a year. It does not help that they are poor because now, the harshness slurps harder.
"Even so, I am glad Jepkemboi has had an easier time adapting to the medication. Unlike other children, hair loss did not much hit her," Lilian commented about the brighter side. Moreover, while it is likely the treatment could take longer than one would wish, likely one and a half more years, Lilian is pleased that Jepkemboi is responding well to the medication. Soon, she will be back to enjoying her childhood, because no child should ever have his/her childhood taken!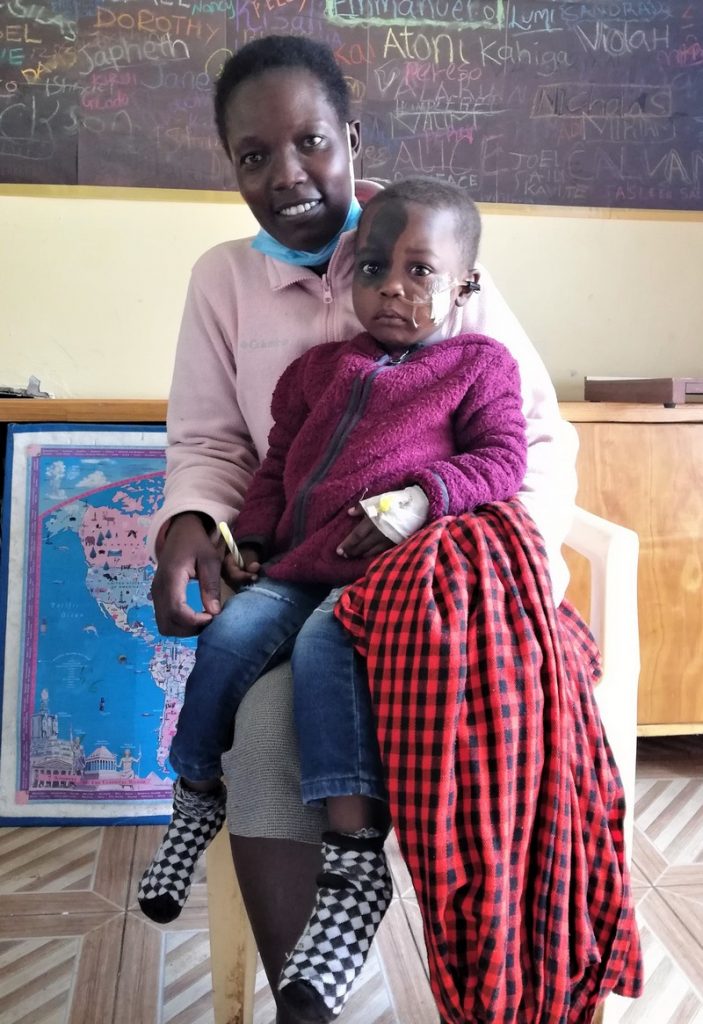 Saved from the fire!
On June 4, 2021, Kevin Kipkorir, a three-year-old boy almost lost his life to the "jealousy and anger of a neighbor." It was around midday when Kipkorir's mother, Difina Moraa, left the house to go fetch water from a borehole that is quite the stretch from their home. She had left Kipkorir at home alone, when a neighbor went up to their house, set it on fire, picked Kiprotich, threw him into the house, and closed the door behind her. Screams from the little boy alerted other neighbors to the situation. They stormed the house, saved the boy, and rushed him to Kericho District Hospital. Little Kiprotich had sustained burns on his arms, legs, and a major one on the head.
In the meantime, one of the neighbors went after Moraa, to notify her. Moraa recalls arriving at the hospital very distraught and in fear for her son's life. "The first sight of him left me shocked! I promise you, my son's chances of survival were thin to none." After hours of waiting, the facility failed to provide any medical help. "My friends got here at around 5pm, and found that Kevin had not received any attention. They reached out to press members from one of the leading media houses in Kenya. On arrival, the media persons helped me with the transfer to Shoe4Africa," Moraa said.
"I had never been to Eldoret, let alone ever even entertaining the thought that I could ever get here," she added.
This is absolutely understandable considering that Moraa, in the most precise descriptions, is poor. She can barely afford to provide for her three children; Kipkorir and his two siblings, who Moraa has had to give up to her mother so she can help raise. Moraa's husband works temporary jobs including harvesting tea, which may last hours or days at the most, and which have little pay. Moraa sales groceries from a small, temporary, polythene-made structure. The couple lives on government land. They have nothing of their own.
The only thing she remembers getting her soul back on track was the way Kipkorir was attended to upon arrival. Sighing in utter relief, she says, "I remember the ambulance pulling up at Shoe4Africa on the night of June 5… the attention that my son received as they rushed him to the Emergency unit. I had never been here, never heard any testimonies of the place, or even heard about this hospital but, somehow, I knew that this was it! My son would live! I never thought different since."
I think that faith is a powerful thing to keep in one's arsenal. On June 6, Kipkorir was transferred to our hospital's Burns unit where he was admitted at around 2pm. It has been an upward journey since. "Kiprkorir was under oxygen support for about two days since leaving Emergency," Moraa says. From there, usual medication and wound dressing continued. At the time of speaking, Kipkorir was one week since he left theatre where he underwent grafting to touch up the burnt body parts. Moraa's faith panned out. Kipkorir's doctors say that he is ready for discharge. In fact, the discharge was due only hours after our conversation.
Moraa could not be more grateful that the hospital was able help her son. Kipkorir says, "My body hurts, but just a little," which means a lot – the little man is better. She thinks that the recovery will go well, especially considering the testimonies she says she has heard from other patients at the facility.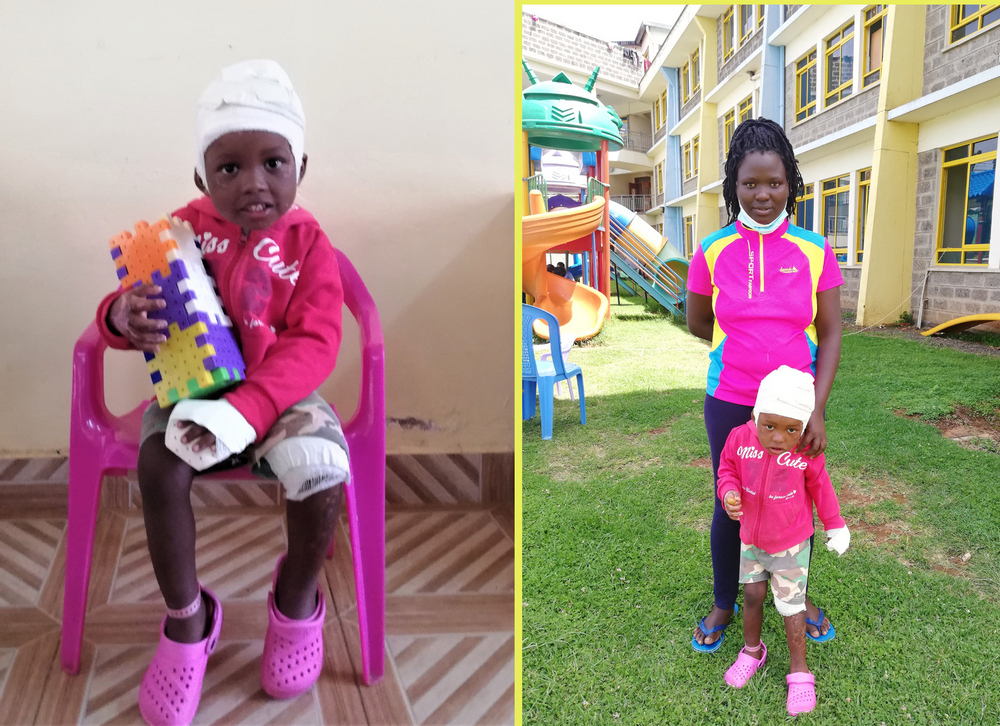 Kevin Kipkorir
Julius' Near-death Experience
Irine Jeruto, 32, recently got official discharge for her son, Julius Ruto, 12, who has been receiving treatment at our hospital, since June 18th. Her son's doctors say that Julius is out of danger and can continue the recovery from home.
Jeruto is a widowed mother of five from the Pokot land, one of the most marginalized and dry areas around Kenya. Jeruto did not have a chance to attend school, at all. She was married at about 15 years of age. Her community still maintains a strict observance of early marriage, often done soon after female genital mutilation (FGM). Although Jeruto does not mention being circumcised, her marriage seems to have caused her other sufferings. She lost her husband five years after Julius was born. Julius is the third of her children. Soon after, her brothers-in-law began to mistreat her, forcing her to seek refuge at her birth home, where her brother, his wife and children, and her father live.
Losing her husband and being forced to leave her marital home meant her children would never have anything of their fathers to inherit. This has been a challenge for Jeruto and her children. Her birth home is no solace, since the entire family lives at the heart of poverty, in grass-thatched houses (same as Jeruto's) and utter resource starvation. Jeruto believes that this poverty has led to all her suffering, including the case with Julius.
When asked to narrate what happened, Jeruto starts, "On June 17, Julius "ran away" from home." Jeruto says that she woke up that day and, as usual, set out to search for jobs. She works all kinds of quick jobs like doing laundry, fetching firewood, weeding, and anything imaginable. Later in the day, she gets a call that her son was not around home, so she abandons the job hunt to go look for her son. Unsuccessful, she continued the search the following morning. At around 10a.m., she gets a call from a friend who tells her to hurry to the Kapenguria District Hospital. By this time, Julius had been to the Ortum Mission Hospital where he was rushed by good Samaritans. The facility gave him painkillers and referred him to Kapenguria District Hospital.
"I hopped onto a motorcycle that offers transport services and headed for the hospital. On arrival, it took a while to locate my son, but I finally did. He was in the operation room with so many doctors around him. For a second, I was not sure the whole thing was not just a bad dream," Jeruto says. Unable to control herself, she burst into tears and in time, she was screaming. "This was all new to me and so I was very scared for my son's life. The idea that so many doctors were attending to him did not do any good to my imagination."
Luckily, the operation went well, Julius' intestines were put back into the stomach, and then he was transferred to Shoe4Africa via ambulance. This was another challenge, on top of Julius's condition, because now, Jeruto was entering a new town with hardly a half a dollar in her pocket. Fortunately, our facility did not ask her to pay anything. Julius and Jeruto have been in our facility for the past month and have been on a great recovery path. At the time of speaking, Julius was strong and agile ready to get back to the Pokot land terrains.
When asked to explain what really happened, Julius says, "I thought I could help my mother with providing for the family. I wanted to buy my clothes and other needs to ease your burdens [speaking to Jeruto]" Julius continues, "That Thursday morning when mom left for work, my friends came for me. They wanted us to go to the market the following day so we could help a friend sell his merchandise. There was no way to reach mom so I just left. On Friday morning as we settled the merchandise at the market, I felt the urge to use the latrine, and so I rushed. When I opened the door, a man whose face I never made out, stabbed me and ran. I let out a scream that my friends tell me was so big. It was how I escaped death."
For his good will for his mom, Julius got a near-death experience. Thankfully, since arriving at our facility, at around 6pm, June 18, Julius and Jeruto have known relief. Jeruto says, "We got here and surgical operation commenced immediately. At around 3a.m. the following day, Julius was ready to be transferred to his designated ward, where he was kept under observation for the next month, after which we've been discharged."
As Jeruto makes necessary preparations to leave Shoe4Africa, she is cannot help but regret that her financial incapacity also most killed her son. However, she says, "If there is magic in the world, then it all has to be here [Shoe4Africa]. I have never thought possible that a person can repair another's body. That has always remained God's place in my eyes, but now I know different, thanks to the doctors here. I could talk about it all day but never be grateful enough."
Jeruto feels she has been the most welcome, comfortable, and catered for in her life while she has been at our facility. She says, "I have eaten foods that I had never, used facilities I had never thought existed, and been privy to the most loving and caring nurses and social workers. They are the most friendly and understanding. I am so grateful." As she winds up her comments, she adds, "Please help me relay my appreciation to the hospital's management and donors. May they never lack!"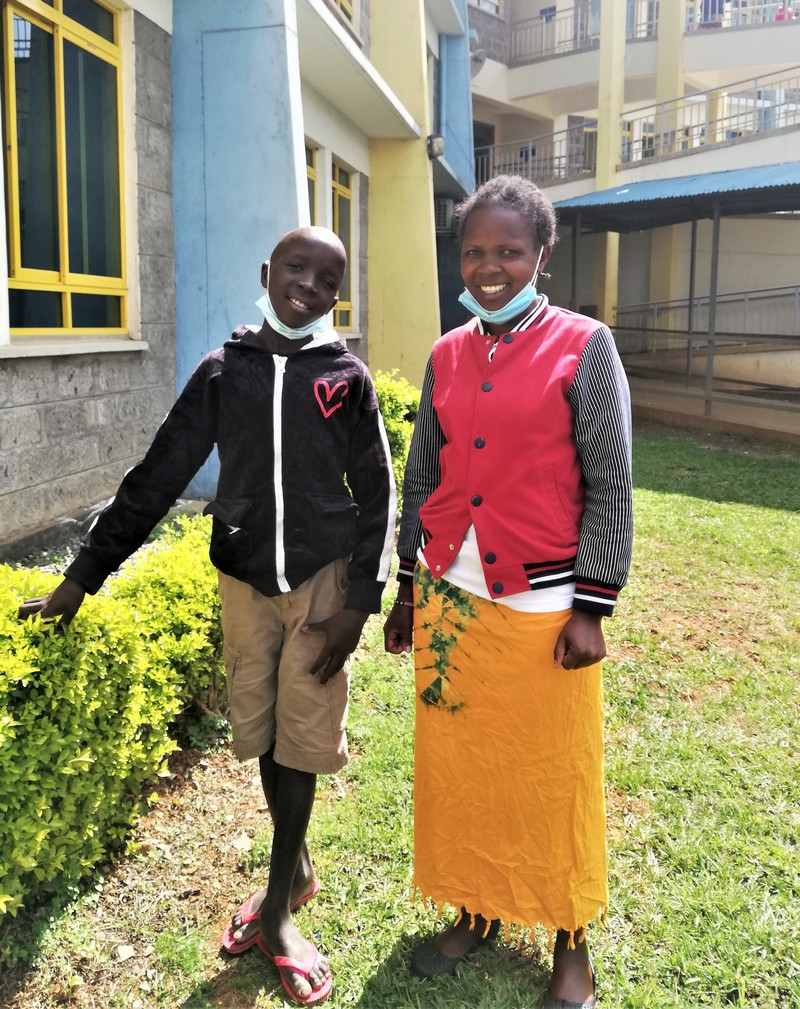 Julius Ruto and mom
Willy Okong'o Owundo and his father Phillip Owuondo Okong'o arrived at Shoe4Africa on May 16 at around 10pm, following what seemed like the longest day of Phillip's life. During the hours before, he had been through a series of torturous events. His best friend, William, whom he constantly referred to as his brother, had died from cancer and the 16th was the day his body was being transferred home for the burial. He had also received results of Willys' diagnosis at around 3pm. He had been diagnosed by the Kisumu District Hospital with acute lymphoblastic leukemia (ALL).
So yes, it was a hectic day for Phillip.
He wondered why Willy whom he had named after William was seemingly bound for the same route out as his namesake. When he received the call from Kisumu District Hospital about his son's transfer to our facility, albeit angry and confused, he made his way to the hospital and hopped onto the ambulance. Their journey to recovery has not been smooth.
Phillip remembers getting help, at arrival, from Dr. Brian whom he says guided him through regaining his cool because the anger had become overwhelming. "As we boarded the ambulance in Kisumu, my son was bleeding through the nose, he had diarrhea, he was yellow, he excreted components filled with blood, he had very few platelets, had wounds in the mouth, a swollen stomach and cheeks, and was generally weak. What about all these would not anger a man?" Results from our labs confirmed the worst.
Willy was transferred to Subira Ward, where he has been until date, and treatment commenced immediately. Strict feeding and medication regimens made up of fruits, recommended meals, and chemotherapy have been at the top of Willys' treatment and recovery combination. According to Phillip, "The doctors and nurses make rounds every often to take progress reports and to ensure the children take their medication and meals as required. They also counsel us very regularly, and thanks to their words of encouragement, we are here today [getting better], despite the occasional moments of utter despair."
Phillip says, "I have a massive financial challenge. I have 9 children, down from 10 after one of my sons died in 2018." Philip's first child was born in 1993 and the last was born in February this year. Phillip explains that his last child's birth process is why his wife is not the one caring for Willyat our facility; She underwent a cesarean delivery (C-section), hence unable to do much since. Besides his wife not being able to help raise treatment and subsistence funds, none of Phillip's children has made any good of themselves, mostly for financial reasons. He explains that his last three children have been in and out of school, especially since the passing away of his son, and Willy's illness has not made the situation any better.
"I have not been able to regain footing since his death… and now this." He says. "Did I mention that I used to work for the famous African Safari Club (a mega hotel in Mombasa, Kenya) since 1991 until 1995 when I was retrenched?" He goes ahead to indicate. "After then, I hopped from one job to another including brokering tomatoes, waiting and concierge jobs for two other hotels, and finally ending up as a street tea hawker." Phillip says that his entire extended family lives on a 7-acre piece of land and none of them has a well-paying job. As such, between his empty pockets, his one-roomed house, the jobless household, and the barely enough contributions from his fellow street tea hawkers, he is not sure he will survive his boy's treatment.
Phillip says that the doctors have told him that Willy will be receiving treatment for the next two years, and this scares him a lot. He says, "I have barely survived the two months I have been here, and yet there is this mountain of time that Willy is to spend under treatment. I wonder how I'll get there."
If we're being honest, poverty is so devastating… but poverty plus sickness is absolutely defeating. Nonetheless, Willys' response to treatment has been, as Phillip describes it, "encouraging."  Phillip says, "He can now play with other children, which is a great improvement; no more diarrheas, yellowness, swellings, and weakness. Thanks to the incredible medical personnel who avail themselves around the clock, treatment couldn't be any more excellent."
As they say, there is no chance, no destiny, and no fate that can hinder the firm resolve of a determined soul. The uncertain future is no match for the boy's resolve. The little champion has taken to the Shoe4Africa cooking at our Eat n' Run kitchens and says, "I want to be a chef when I grow up. I just can't wait!" He says he is here at Shoe4Africa for cooking lessons, not cancer treatment!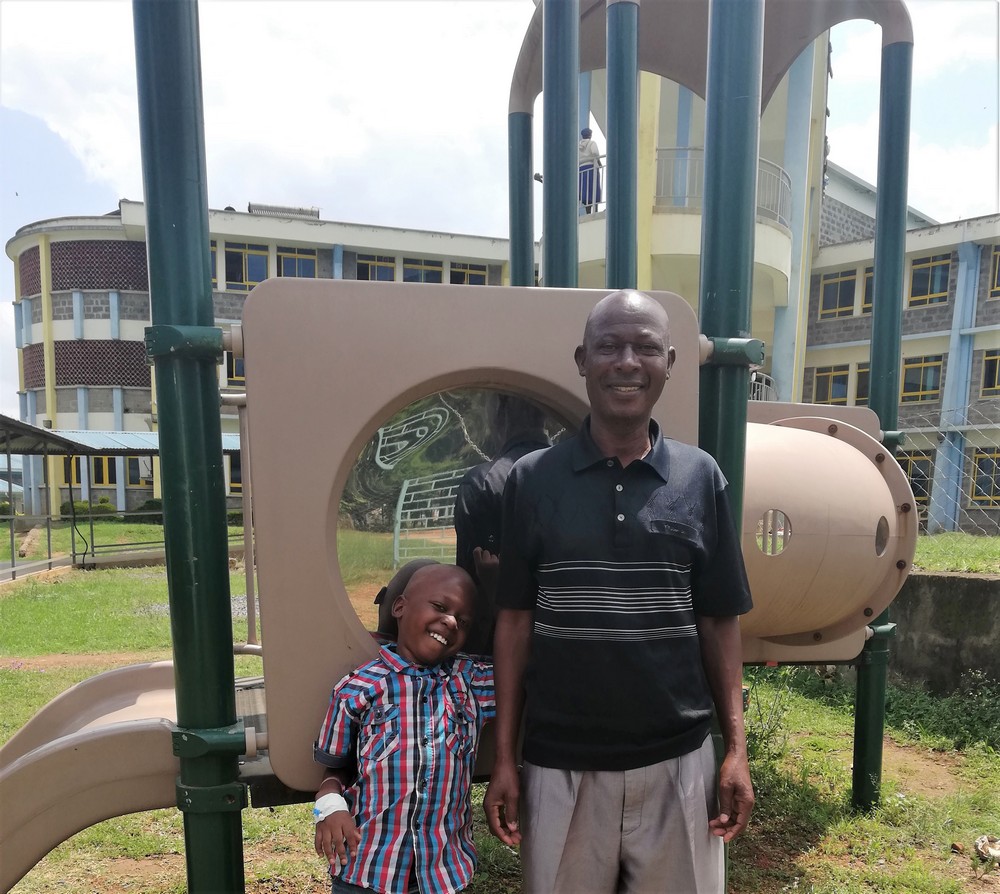 Nambia is a beautiful, 3-year-old girl from Eldoret, Kenya. From the outside, she looks an ordinary child, concerned about the usual kids stuff, but she is one of the many kids in Kenya today suffering from cancer. Achieng (Mom) says that since September last year, Nambia has not been well, since hitting her knee against a metallic door. This led to intense pain in her knee joint. Upon consultation at the County District Hospital of Uasin Gishu, Nambia was found to have a fractured bone. Therefore, the knee was plastered and a prescription of painkillers given. Days later, Nambia's pain seemed to grow worse.
In early October, Mom took her back to the District Hospital where she was referred to Shoe4Africa. Here, preliminary tests found that she had anemia, hence the subsequent treatment. In November, another test showed that Nambia had sickle cell anemia. This is a genetic disorder where there are not enough healthy red blood cells to transport oxygen throughout the body. Treatment, which included use of calcium supplements, followed.
By December, baby Nambia was in more pain, not to mention that all this time, she could not walk. Mom sought another doctor. She says that her father thought it would be nice to take Nambia to another facility, just to make sure that other physicians were not getting it wrong. As such, that same month of December, Mom took her baby to BF Suma. Upon scanning, Nambia was found to have excess white blood cells. She was given a prescription, which Mom was, unfortunately, able to procure one out of a long list. Three days later, baby Nambia could walk again.
"A hell of a relief that was!" Achieng said while making a deep sigh.
However, on January 31, Nambia's lips began to bleed and she also developed tonsillitis. This time, testimony from friends about the care she would receive at Shoe4Africa motivated her to go back. Besides, Mom says, "I knew inside my heart that my best hope was at Shoe [the short form by which most locals refer to Shoe4Africa]." Nambia was diagnosed with a low hemoglobin concentration (HB), which is mostly described as having insufficient red blood cells. Bone marrow aspirations (BMA) was also tested, from whence Acute Lymphoblastic Leukemia (ALL) was found. Mom says, "It had just started, no wonder the doctors could not make a concrete conclusion throughout the previous tests. It was absolutely difficult to tell. As a diploma student pursuing nutrition studies, I am certain that there were no glitches in the previous tests. The condition just hadn't grown big enough for detection."
Rigorous treatment ensued, and baby Nambia has been on it, faithfully and graciously, starting with a back-to-back medication regimen. 5 weeks later, in March, Nambia's medical report indicated drastic improvements. Chemotherapy started soon after. "With every chemo session, Nambia moves closer to being okay." Mom said. Approximately more than 5 chemo sessions in, Nambia has been super healthy; playing, and doing every normal baby stuff. Nambia is excited about the concept of starting school soon. She's a daily visitor to our onsite classrooms built in the hospital grounds and walks around the complex as if it is her home.  She never misses to play in our gardens either!
Mom sees light at the end of the tunnel, "We are not there, yet. My friends here [Shoe4Africa] tell me that it may be a longtime before we are there. However, every day I see my baby get stronger, regaining her stamina, and I see hope. I see a girl that will traverse boundaries of health and break health records. I am a proud mother awaiting the victory of my child, which will come soon."
As we wind up the conversation, Mom declares, "My baby will be healthy again."
Surely, one would be remiss not to notice how optimistic a woman Mom is, and it would be awfully egregious if one failed to adopt her optimism. As she and baby Nambia travel this healing journey, one can only be glad she was able to fall into the right hands, so to speak, because it is not every day that barely teeth-shedding children get strong enough bodies to fight against the harshness of cancer; yet Nambia is clearly ready for this fight!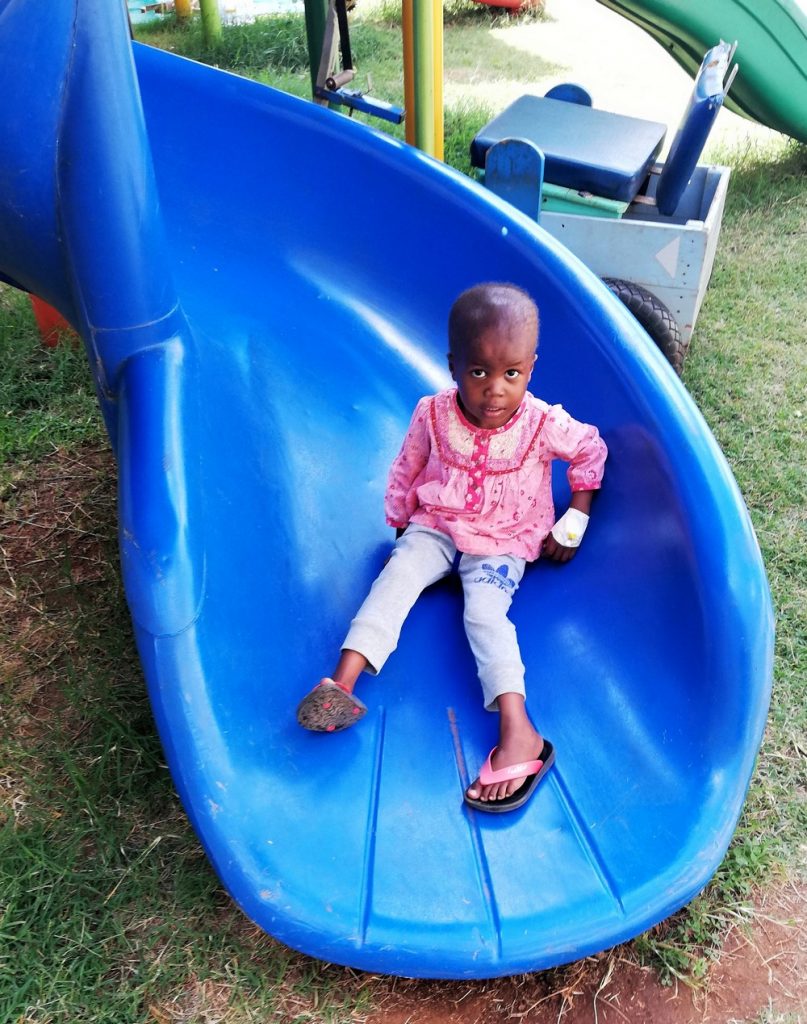 The Short Boy from Shirutsi Village
"My name is Usla, and son's name is Ingosi. Look at his big smile, you cannot guess he is sick."
These are the statements that followed the request for Usla to introduce herself and her son. Without pausing after the introduction, she continues, "My husband… he is a crazy drunkard. He won't lift a finger for us. He is a miserable man, who has drunk himself to stupor, forgetting that we have 9 kids," she continues. (Usla settles, takes a few breathes as advised, and the interview begins). One day, towards the end of April this year, Ingosi began to vomit and excrete dark bowel waste. As she and her other children prepared to go to bed, Usla decided she would share a bed with Ingosi, so she could watch him overnight. At around 11pm, Ingosi began to have muscular jerks, which Usla says happened about 7 times before the sun rose. By 7am the next day, she and two of his older sons left for a Dispensary, a nearby health center, where Ingosi was tested and treated for pneumonia and malaria.
Unfortunately, over 24hours elapsed with no changes. On the third day of Ingosi's sickness, doctors referred him to Kakamega County General Teaching and Referral Hospital. The Kakamega facility, unfortunately, was only able to offer medication to sustain Ingosi through his journey to Shoe4Africa where they now referred him.
It was already the 5th day since Ingosi's ailments started. Few as they may be, for Usla, it had been ages. She had lost her appetite because her son was not eating and they had both lost weight, considerably. Upon admission at Shoe4Africa, Ingosi's kidney was now failing. Pneumonia and malaria were not the problem!
Dialysis began immediately, along with regular attendant medication. Usla says that her son is now doing better and should resume good health. "I have never seen such a big hospital. I still get amazed at how there could be such a facility in Kenya. I had never been to a storied house imagine, and then this happened to climb stairs here!"
Usla is glad that she was referred to our facility because, ever since her son arrived, she felt hope swoop into her soul. "This is not like the other places [hospitals] I have been to. It is sooo big! I still get amazed at how there is such a facility in Kenya. What is more is I was received by strangers [Shoe4Africa personnel] who cared about my son and I as though we had known each other all our lives. I couldn't say the same about my family."
(Usla begins to rumble about family again. The burdens of a useless father with no income and so many kids. These circumstances, at her home, make her even more grateful to Shoe4Africa. There has been food, water, electricity, and proper shelter, which is not, even remotely, close to anything she has experienced. She is so grateful for these amenities to the point that when asked about when she will be leaving the facility, she appears reluctant. In her words, "Well, we have not been told anything about leaving, but it could be months… stranger things have happened… plus there is nothing I am rushing home to. I do not have a job, and I do not have anything to keep me going. Just a bunch of kids who have had to default school for lack of funds." She is happy here, and clearly does not want to leave!
Ingosi is also a happy boy; known as the smiler. He is not much of a talker, but is a great, little chap. He wants to work for the security forces and be a soldier when he grows up. He loves the thrill of holding guns… as many boys do. Ingosi, however, has a different kind of passion for the guns and the bushes, he says his wish to be a soldier is to keep everyone safe (perhaps alluding to his drunkard father?). Even when his mother teases him about his height (quite short), he does not think that an obstacle to achieving his dream. As he recovers, as well as Usla put it, all one can hope is that he gets to achieve his military dreams. Shoe4Africa bets he will succeed!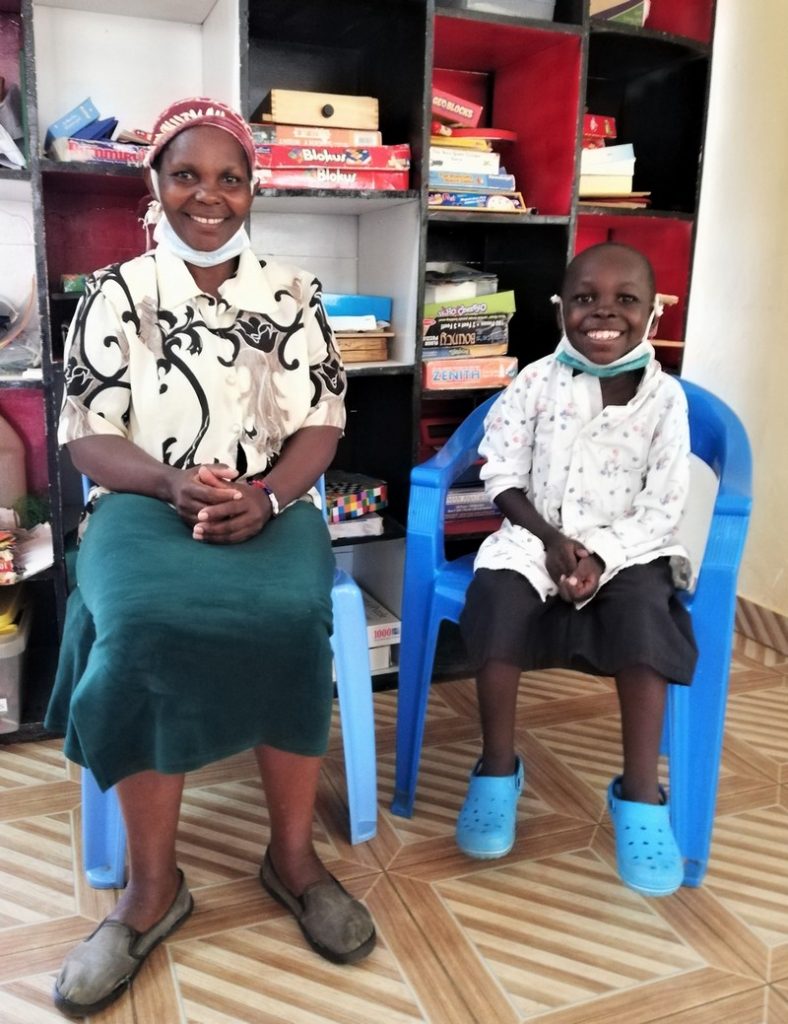 Anyango and her daughter, Shamza
Like the majority of our patients' parents, Shamza's elders have a tough life.  They approach farms and ask to do weeding, fencing, doing laundry, milking their animals, and harvesting crops, among such other jobs. In Kenya, these jobs rank as bottom-of-the-barrel. First, there is no job security to them because the employee and the employer make no paper agreements, making it easy for the employer to exploit the employee by refusing to pay when the jobs are done. Secondly, these jobs are typically not always available, given that most farmers have scheduled seasons for planting and weeding. Those who require laundry services and help milking don't always require them. Moreover, the most they can make in a day is $3, according to Anyango (mum), and this amount would be expected to cover them for a week or more as they hunt for the next job.  When asked, they tell they own nothing, but their two daughters.  Then the father says, "Do we really own them?"
One morning, March 3, 2021, as Anyango and her husband prepared to leave the house in search for a job, Shamza was laying on the ground, looking half-dead. She had fainted from the shock of falling down from a slightly raised surface. Shamza was unconscious for about 2 minutes. When she regained consciousness, her stomach began to swell, incredibly. Anyango rushed her to a nearby health center called Afyasol. She was injected and an x-ray was conducted. Unfortunately, the x-ray was unsuccessful, prompting her doctor to send them to a better facility in Kitale town, Trans Nzoia County. Dr. Michuki, the attending doctor ran the x-ray and found that Shamza's spleen was swollen, causing her stomach to swell. Treatment was, however, impossible at the facility because it did not have the necessary equipment. As such, the doctor referred them to Kitale District Hospital. Unfortunately, once again, Shamza's blood level was too low to allow treatment to proceed. As such, she was transferred to a better facility where a CT scan, blood transfusion, and necessary treatment could be done. That facility would be Shoe4Africa.
Anyango said that she had never heard of our facility, let alone having ever been to Eldoret Town, where Shoe4Africa is situated.
They spent most of the next day at Shoe4Africa's Emergency unit. During this time, Shamza's blood was drawn and tested. They found that she had sickle cell anemia. Baby Shamza was a carrier. Now, what had started as a mere accident had become a journey of discoveries, one after the other. After this diagnosis, she was set up at our Fadhili Ward, where they would spend the next 3 weeks. Anyango said, "Finally, there was a success. Shamza had been tested and given treatment, which helped. The swelling had subsided, and she was ready to go home to continue treatment." It was utter bliss for Anyango and Nyongesa, as she put it.
During the checkup slotted for April 15, Shamzas blood was tested. Sadly, the test would add to the mysterious discoveries. The attending doctor, Dr. Kilach, found Shamza positive for nephroblastoma. This is a renal tumor common among children, accounting for 5% of childhood cancers. Immediately, Shamza began treatment, one of which is chemotherapy. Today, Shamza I scheduled up for a surgical procedure where the affected kidney has to be removed.
Anyango said that news of the surgical operation had her worried. She said that apart from the people she has met at our facility, Anyango does not know anyone else who has been through an operation, hence the scare and skepticism towards it.
(At this point, Mum stopped narrating Shamza's stories and broke into tears for some minutes.)
Struggling to get over her sobs, Anyango said, "I have never felt this burdened, scared, and in desperate need of help." But how could she not be scared and in desperate need of help when all she has is nothing?
Even so, she says that she is glad that the hospital was able to catch these conditions early enough. She hopes that everything goes well. "The doctors tell me that the fact that we [the hospital and Anyango] noticed these conditions early is a good thing. The chances of curing baby Shamza are higher," Anyango said.
Truth is, even though it has been tough and scary, Anyango and her daughter might be going home sooner than any of us can imagine. Baby Shamza is one strong little angel, and that counts for a lot. Besides, if the only part of her body with the tumor is the kidney, then her treatment is mostly about getting rid of that one kidney and boom! Shamza's health will be back like it never left! In any case, as the African saying goes, 'When one potato is rotten, don't throw all of them away; just that one.'
Our social workers got to spend a lot of time with mom and have really tried to explain that it is critical they get a proper education for Shamza as she grows up.  They are lucky, there are not many hospital's in the world where she could have come to get help with zero funds or prospects.  Yet the problem is, in mom's home area, unemployment is as high as 50%, and mom replies, "How does a weed picker get her children a better education?"  That's a tough one!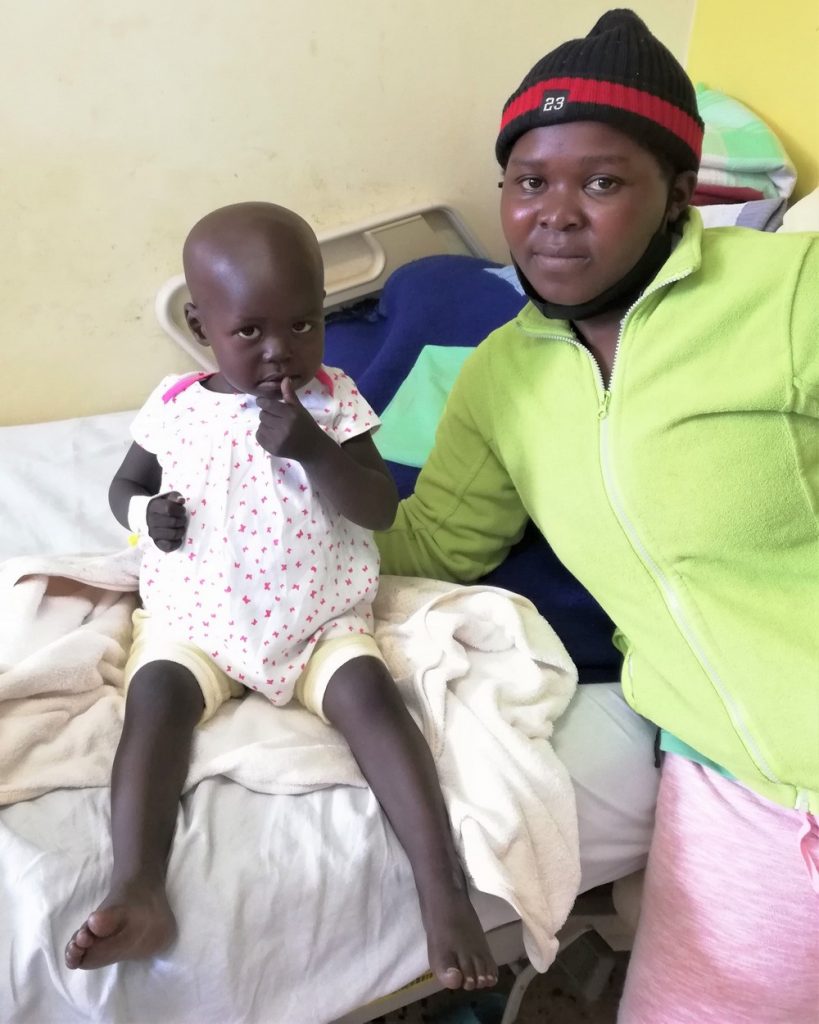 Shamza
Aisha and Habiba
Here's a story about 4-year-old Aisha. Her mom rents a house for $5 a month and as you can imagine that house (shack) is not spacious. Bathing is done by heating water in a large aluminum pan.  Sadly, as the pot boiled, Aisha tried to help mom.  Lifting the heavy pan she slipped.  Mom, Habiba, "I can never forget how hard my poor baby screamed."
Immediately, Habiba rushed Aisha to Kiminini Cottage Missionary Hospital, a nearby healthcare facility. There, Aisha received immediate attention before being admitted. The attendants would clean and dress baby Aisha's wounds every day. After a week, baby Aisha was discharged. Daily visits to the facility followed the discharge when Aisha would be given painkillers. However, Aisha just wouldn't get any better. Habiba says that for a while, she did not understand why her baby would not respond to the treatment, especially given the daily cleaning and dressing of Aisha's wounds. In fact, she says, "things got worse." Aisha was running low on blood, which prompted her to change hospitals.
It was during the last weeks of December when Habiba took Aisha to Frida's Missionary Hospital, another facility around her region. For one week, Aisha lay at this healthcare center, receiving a blood transfusion. Again, she got worse instead of healing.
Next, she was she taken to the Dreamland Missionary Hospital, but was not very lucky since the facility did not have a burns unit. The doctors at Dreamland Missionary, however, dressed Aisha's wounds and referred them to Shoe4Africa.
Habiba arrived at Shoe4Africa with baby Aisha on January 7, 2021, where she lives up until today (June). "Aisha has been given cetirizine, multivitamins, blood transfusions, and additional albumin, among many other treatments," Habiba said. "I can honestly say that she [Aisha] has recovered a wide mile from when she arrived," she added.
Aisha's doctors confirm that Aisha is due for her final grafting and will be soon ready to leave hospital, and Habiba is glad that our facility has "things under control." As Aisha awaits the grafting, Habiba is hopeful that everything will go right. She believes that "the hospital is determined to give Aisha its best," and hopes it "continues the good spirit."
The 4-year-old who had just started school before the November 3 incident, a little overwhelmed as the mom spoke to us, will soon get back to the usual life. Baby can go play with kids in their neighborhood, go to school, and live a normal life.
Habiba, too, cannot wait to go back home to her family. She misses her other children, and is glad that she will be home as soon as the grafting is done and Aisha is healed. She is excited that soon, her long stay in hospital and her hopping from one facility to another will soon end, thanks to Shoe4Africa. Habiba says, "I have seen others who have been through the grafting process and I can say with absolute certainty that the only thing standing between us and being home is time; time to undergo the procedure and heal."
Luckily, we have two classrooms and a full library (over 15,000 books!) at the hospital so Aisha has not missed any school, in fact the facilities at our hospital far outdo those of her school.  Habiba has also enjoyed our meals, showers etc and a proper bed saying living in a one roomed shack as a family with no water/electric is a daily challenge.
Habiba says, "And Shoe4Africa has been one of my angels in disguise, I must note! I'm not sure receiving treatment from this hospital amounts to angelic acts but allow me to call them [Shoe4Africa] that. Allahu Akbar! (Meaning God is most great!)" Another happy Mom and one more cured patient.  And, the great news is hopefully, later at the end of this year when developments happen on site, the Sidekick Foundation will be building a brand new 50 beds burns unit state of the art center addressing children only!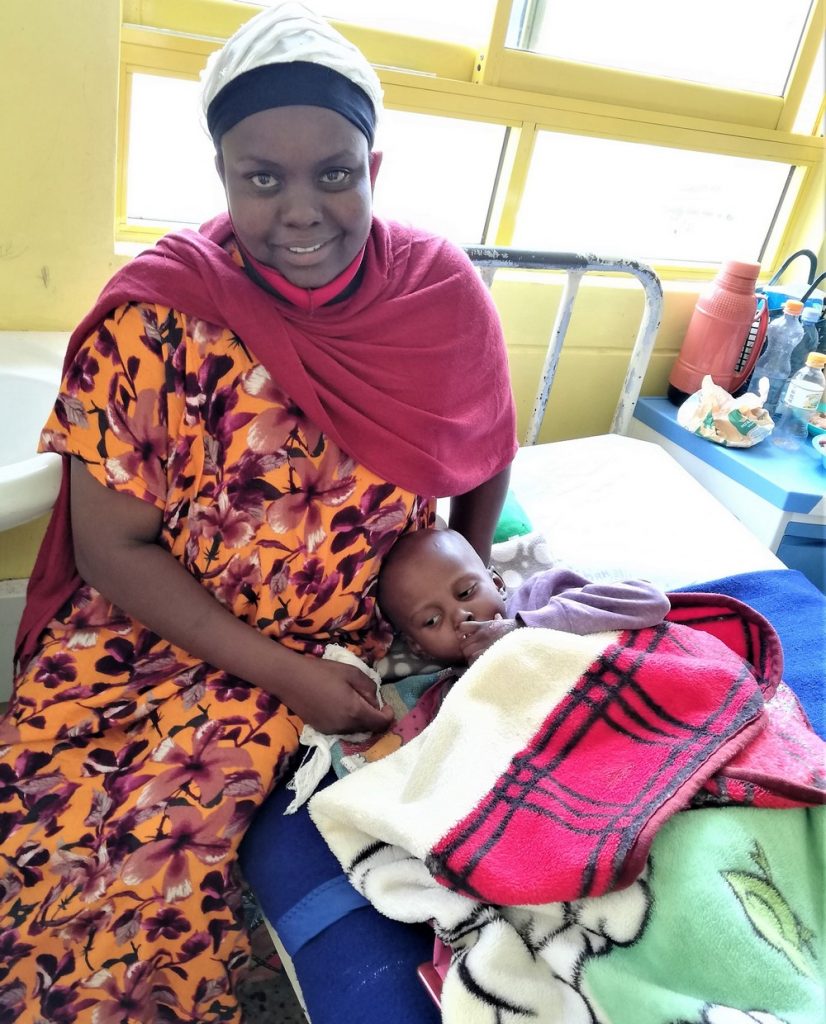 Little Luchu
Two years old, Lingone Luchu Khasimo grew something on his nose. It was just at the edge, therefore easily visible. According to Lilian Musawa, Luchu's mother, the growth was much like a boil. Mom sought him medical attention, taking him to Buchango Dispensary, a local dispensary. Luchu, was given antibiotics, and sent back home. However, something was amiss with this boil; it would not go away despite the medication.
Luchu has two siblings, Elvin Khasimo (11 years old) and Mishel Khasimo (6 years old). They live on their small farm in Sikhendu village, where their father, Moses Khasimo, partakes in subsistence farming; sugarcane and maize. Money is always tight.  The family went to three facilities until finally progress was made after a biopsy.
Doctors found that little Luchu had a cancer. They called it Rhabdomyosarcoma. This is a type of cancer that affects muscle tissue. It is commonly witnessed among children and adolescents. Science indicates that the cancer starts in the mesenchymal cells (cells that turn into muscle). Rhabdomyosarcoma happens such that the cells change, growing out of control. As a result, one or more tissues form.
Next a scan was done to ascertain the extent of the cancer. Mum says that the doctors found that the cancer had not spread. She felt this was a good sign, and it was (at least medically speaking). Unfortunately, Kakamega District Hospital was incapable of treating baby Luchu. As such, he was referred to Shoe4Africa. She had never heard of us (Shoe4Africa), but here she was preparing to come.
On December 1st, Luchu and mom arrived and was admitted, ready to start treatment in the Tumaini Ward. After 3 days, he was moved to Subira Ward, following an ultrasound and review of his medical files from the previous health facilities. Mum says that on the fourth day, Luchu was taken through chemotherapy (chemo). After weeks of relentless chemo sessions, coupled with complementary treatments, Luchu was better; discharged on 31st December. This was a good sign. Having celebrated Christmas from hospital, Mum says, "I was so happy that we could celebrate the New Year away from all the hospital frenzy."
The family came back for regular checks up, and all was fine until the end of April. The swelling had regrown. However, when she came back to Shoe4Africa, she was assured that she needed not worry. The family spent 2 weeks at the facility.
"I have to note that it has not all been easy," Mum breaks the conversation. "Apart from being too poor to provide for my son and family at the same time, I have struggled to keep my emotions in check. Sometimes it is just solid hard to not feel demoralized. For example, when the growth recurred, I did not know how to feel. I felt rejected by grace," she added.
However, knowing that she has two other children and a husband who depend on her to keep it together gives her the strength to keep going. She believes that Luchu is destined for greatness, and that this is just a period of being toughed out.
Shoe4Africa agrees. Like they say, the toughest battles are reserved for the strongest soldiers. We believe Luchu is one strong soldier.
Musawa thinks that Shoe4Africa does a lot of good work. She commends the doctors, saying "they are so willing to drag along with us through the mud, as long as the end result is good health. I respect them. Even on those days that we [patients and caregivers] do not feel like continuing the journey, the counselors make us see why we should. They talk to us so nicely, that you find yourself pushing forward. From time to time, recovered patients are invited and they talk to us. To be honest, these are some of the most encouraging times; seeing someone that has been where we are and even worse, makes all the difference."
Musawa is glad she is here (Shoe4Africa). "Even though I scare so bad when my baby is being torn [operated on], I know that he is in the best hands possible,"
Hands, as mom says, this is one of the stories why we keep pursuing health and empowerment for African kids and women. We have no intentions, whatsoever, of relenting!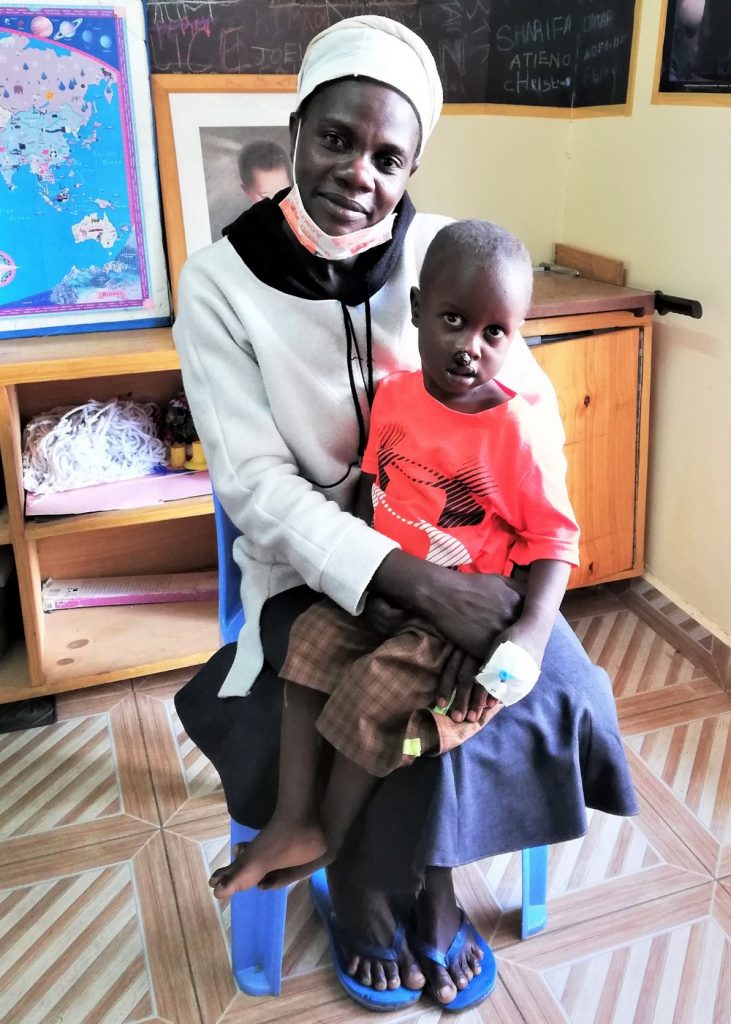 Luchu
Pennina: This little baby, daughter of a lady stricken by poverty, and living with her own mother explains the hardships our patients' parents go through, often to navigate healthcare!  Mom herself was found on the streets and adopted by a lady.  Today she's 39 and has had nothing but bad luck.  Her daughter, an unwanted pregnancy, turned into her shining light.  Then she too had troubles.
Pennina was about one year 10 months at the time she swallowed a dry cell battery lid that was laced with battery acid on the inner side. Immediately, Pennina began to cough intensely. Grandma sent for mom.
She rushed back fast, only to find that the cough was continuous and intense., unlike a usual cold. As such, Mom rushed her baby to a local healthcare center where she was given painkillers, including amoxicillin. However, after a week of taking the painkillers, Esther could not see any changes so she took the baby back to the dispensary where she was injected and given a breathing aid. At 11 pm that same day, the doctor at the dispensary declared incapacity to handle the case, and therefore referred them to the Nakuru Hospital. She was admitted to the facility for one week. During this time, the doctors continued to give Pennina painkillers.
After one week, Pennina was discharged and given more medication. However, Esther says that there were no changes with her baby. Pennina continued to cough. She also could not eat, and each time Esther tried to feed her, she would throw up. Baby Pennina was now growing thinner by the day. Her eyes were sinking away, and her weight had dropped significantly. A few days after leaving the hospital, Esther took Pennina back because she worried something was wrong. She remembers "a doctor came up to me and asked whether Pennina had been through a scan." She had not, so plans were made and she was taken to theatre. The dry cell battery lid was removed and brought to Esther so she could see it. The doctors also found that Pennina had caught pneumonia. They [doctors] said that it had spread so wide and needed serious attention.
Speaking amongst each other, Esther says she overheard Pennina's doctors saying, "Maybe there is a fistula." Esther says she did not understand what that meant but she knew it wasn't good. Once the doctors finished speaking amongst each other, they informed Esther that she had to get her baby to a bigger and better facility; one with better infrastructure. This meant that she needed to pay up, but she couldn't. How could she when she has nothing? You know, when they tell you that God works for the good of his people, nothing could be more true! This was Esther's lucky day. She was not charged a cent. On top of that, she was referred to one of the best facilities she can think of; Shoe4Africa. She was also ambulanced there. What is luck! Right?
It was April 23rd when Pennina and her mom arrived at our facility, at around 8 p.m. Immediately after admission, Pennina was taken through a scan that Esther says she does not remember its specific name. The scan found that she had a hole on the wall of Pennina's epiglottis, allowing air (unregulated) into the lungs. As such, the baby was operated on to repair the dent. Esther also adds that after the surgical operation, Dr. Ishmael (a doctor at our facility) recommended that a tube be connected to Pennina's tummy so that it would aid in feeding the baby. Significant and intense efforts have been deployed into overseeing Pennina's recovery, and things look good.
Amidst regular observation and medication, Pennina has recovered. In fact, at the time of speaking, Pennina had received her formal discharge. She now goes back to Bahati village to await checkup days. Her mom is so glad she came to Shoe4Africa. Esther says that the treatment they receive here is more than one could ever think possible. She likes the doctors, nurses, and all other attendants… says they make her feel acknowledged. "Unlike many others, the attendants here treat you as their equal, sometimes even as more than their equal. They make you feel like you matter." Esther also indicates that at some point, she could not eat because she was drowning in worry about her baby's health. "Since coming to Shoe4Africa, I have been better. After a week of being here, my baby began to get better, and that is when I ate again," she said.
Whimpering, Esther adds, "May God increase their [doctors'] territories and allow them to never tire from doing His work." Esther believes that "kama ningetegemea Nakuru, sahii mtoto ningezika." This translates to "if she had relied on Nakuru [facilities she visited in Nakuru], she would have buried her baby by now."
Esther says "Congratulations to this facility. May the Lord bless and add you more!"
Listening to her speak, would almost certainly confirm to one that all it takes is a caring heart. It can move mountains! Because of Cucu and now Shoe4Africa and all of the facility's well-wishers, Esther and Pennina have a chance at fresh breaths.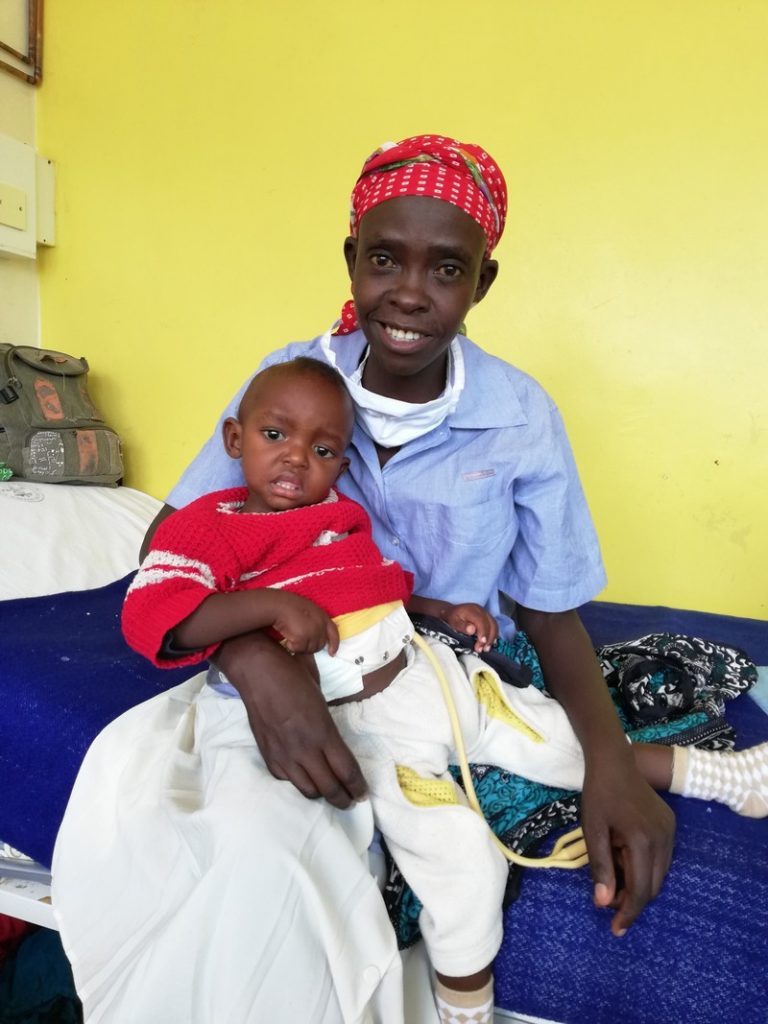 Pennina
Ian Mwaura and his dad's story
In the African culture, showing weakness in battle is not an option, especially for men. It is more of a taboo than a basic rule. However, societal expectations and reality sometimes just don't see eye to eye because life is a balance of strength and emotion. Mwaura's story is not the everyday average story. It is a story involving a father who has fought valiantly to keep his son in the ring, and yet still keep his house in some sort of order. Amidst all these turbulence, it has sometimes been hard to hold it all together. He has sometimes broken down in the middle of the road, in the nights, in the bathroom, and just about everywhere. About two and a half years ago, Ian Mwaura, started having regular tonsillitis. This is a condition where one has difficulty swallowing because of an inflammation of two oval-shaped pads of tissue (tonsils) that sit at the back of the throat.
The 8-year-old boy suffered this condition for a little bit over 2 years, at a mild level, often manageable with medication and sometimes injections from a local health center. Unfortunately, what Daniel Njuguna, Mwaura's father, did not know was that it was not tonsils they should have been treating. After over twenty visits to the local health center during the two years, dad decided it was time he changed the facility he had been taking his son to, fearing that perhaps the treatment he was getting from them was not the right one.
Therefore, he made his way to the Provincial General Hospital (PGH), Nakuru.  Unfortunately, after three day of unsuccessful tests, the doctors gave up, stating that they were unable to discover what the problem was.
"So, it was on 26th January this year that we got here [Shoe4Africa], and I can say for sure that this is the best decision I have made since starting my son's medical journey." On arrival, Mwaura was admitted, and tests started immediately. Our doctors' experience with such symptoms as Njuguna described led them to, directly, run a bone marrow test. They found that Mwaura had Acute Lymphoblastic Leukemia (ALL), so he began treatment immediately. He was about 25kgs when they got to Shoe4Africa, but as soon as treatment began, his body began to resume normal weight. However, Mwaura's body seemed to respond to the medication a bit too strongly, leading his weight to skyrocket to about 37kgs. But not to worry! The doctors worked on ensuring he resumed normal weight, and in about 2 months, Mwaura was back to 31kgs, which Njuguna says is his usual weight.
So far, Mwaura has been given 5 pints of blood at Shoe4Africa and is looking good. He has also been given a formal discharge and is only required to make regular visits for the chemotherapies and checkups.
Otherwise, Dad is hopeful that his son will resume health so that he can also resume his life, which he feels has taken a tough beating since the start of the year. He, a carpenter, says that his workshop has gone months without work because he had to come to the hospital with his son, thus the tough beating on him and his small business. "The shop is so small a source of money that it barely helps me get by on the normal days [when all his 3 children are fine]." Dad also says that his wife had their third baby on 2nd January this year, and therefore could not manage to come and care for Mwaura at Shoe4Africa, and so he had to step in. Unfortunately, because she also just had the baby, she could not continue the fruit hawking business that she usually runs.
These are a few of the many other challenges he has endured during Mwaura's hospitalization. He adds that the friends and neighbors whom he has often asked for financial help, talk behind his back claiming that he is being too dependent on them. "Sometimes they even say that I eat the money that they contribute for my son," Njuguna said as he struggled to balance his tears, adding, "I have tried as much as I can to keep such comments off my ears but sometimes it is difficult because I hear them whisper when I pass by. What hurts more is when my son plays with other children in the neighborhood and he comes back home crying, only to tell me that the other children said things like, he has cancer or that he won't recover. Sometimes the other children quote directly from their parents saying things like, my dad says he is on his final journey, my mom thinks your dad is wasting people's money instead of just giving up on the fight."
Njuguna says that such comments break his heart so hard, that sometimes he doesn't know how to persevere, but when he thinks of how far his son has come since January 26th, he is reminded of why he should keep going. Njuguna said that "thinking about how healthy my son has been since I arrived here [our facility] makes me wake up early on each of those days that my son has his chemotherapy and head for the bus station, destination Eldoret. It reminds me of where we have been from and where we are headed. Every day I wake up knowing that my son will beat this ALL, especially because he has received the best care that anyone could ever get. This facility has been so helpful, and I could say this a million times. I don't know about what others would say, but I am certain they would think the same."  And, the great news is the medicine is working, doctors see a full recovery!
Perhaps more than anything, the journey to health is about having the right people in your life, the right parents, and the right friends. A professor from Duke University visited Eldoret recently, he is writing a paper on poverty and his thesis plays on healthcare, "Sadly, people (like dad here) fall into poverty usually after a health crisis, and in Africa, they rarely pull themselves out."  This story today demonstrates how even when we provide healthcare, the family's ability to function and earn money often gets badly hit. It's a tough life, but we, at Shoe4Africa, will continue helping the best we can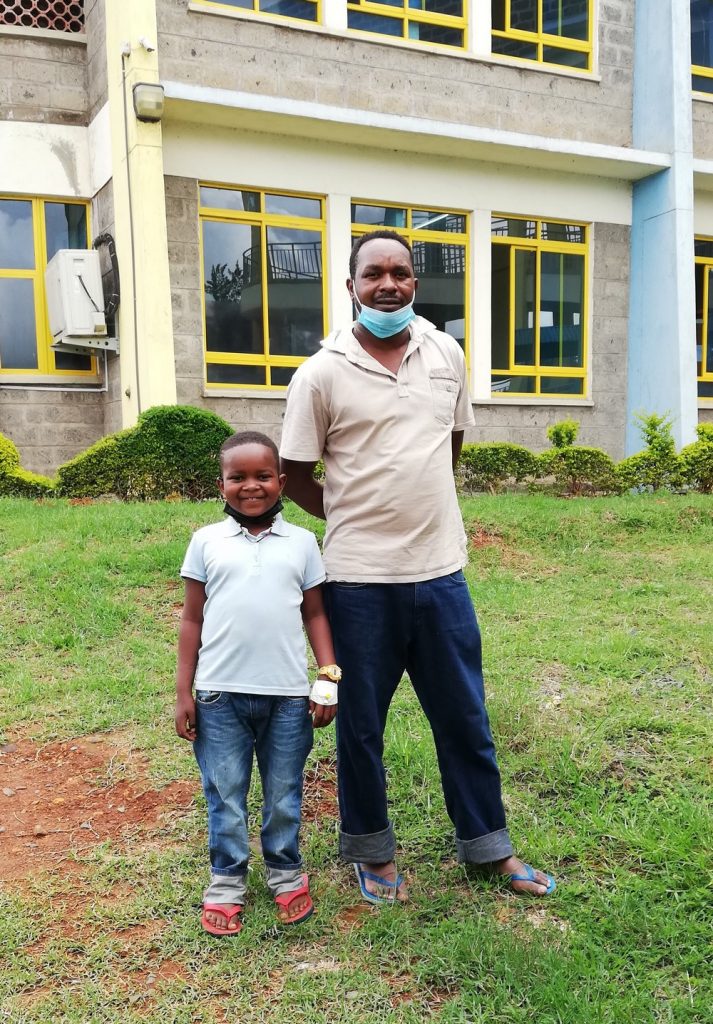 Mellisa Chepkanan, is a beautiful 5-year-old girl, and a charming little human. She is so small, and innocent, and just… joyful. Her name, Chepkanan, originates in the Pokot community and the name Chepkanan, which means "born with 6 fingers." Her mother, Nancy Cherop, is a house-wife with two other children (one other girl – 3 years and boy – 7 years). Cherop is 26 years old, and her first child is 7 years old, making her about 19 when she got her first child. Her husband just cleared high school and hopes to continue his education. The resolve to keep going even when his age does not correspond with that of a high school student, displays the husband's determination.  It is common in Kenya for people to start schooling late.
Cherop and her family live in one, small, grass-thatched house in the heart of Pokot land. In the heat of over 35 degrees Celsius (the coolest days), Cherop lives with all her children and husband in the small house where they spread themselves at night to rest. She is a hard worker, and alongside her husband, strives to eliminate poverty from her household. She collects firewood and burns charcoal, and then rounds them up to the side of the few tarmacked roads around her locale. She wakes up very early in the morning, before the sun hits the ground, and collects the firewood or rounds up trees that she and her husband burn to get charcoal. By 8am, she heads down to the closest tarmacked road, which is over 18-miles away from her home. Along with other women, she squats there hoping that travelers (very scarce) will buy them.
However, even after collecting the few coins she gets from the sales, getting food is also difficult. She has to join with other women and walk all the way to town, (many miles away) to get cabbages for her family. On other days, she rides a donkey to town, making it a little bit easier for her. Whenever she does not have money, she collects leaves from a tree they call sokorya – some green wild leaves that grown in dry areas, and serve as vegetables whenever there is no other food. Those days that she can get her family some cabbages that are required to last weeks, under the heat in Pokot and the scarcity of food, she and her family enjoy. Those are the days they all long for; a break from consuming wild leaves and sometimes going hungry. Bear in mind, there is no fridge/electricity in their household.
One morning, in late April 2020, Cherop and her husband woke up with plans to prepare wood that would be used to build her family a better house. They had bought a tree that they would portion into nice pieces of wood to use in roofing their home. They wanted to construct a better home for their children; one still made of mud, but with wooden structures and an iron sheet roof. The first house in their village to get a house with iron sheets!
At 6pm in the evening that same day, Cherop arrived home to the news of Chepkanan's incident with fire. Chepkanan and her siblings had visited their uncle at around 4pm. They had been asked to help prepare vegetables for dinner. Such activities are done early in their area because there is no electricity. Besides, why not cut on the costs of buying paraffin used to light lamps, when people could just have their supper early and go to bed?
Chepkanan and her cousins took to the kitchen to light the fire and cook the vegetables, as instructed. As soon as the fire was lit, Chepkanan stumbled and fell right into it. The fire caught her dress. She ran outside and lay on the side of the dress that had caught fire, thinking that she was putting it out. Unfortunately, the fire scorched her skin. This marked the beginning of a new turn for her. Her uncle rushed her to the Kapenguria County Referral Hospital (KCRH), the closest health facility.
She was admitted at the facility for three months. During this period, Chepkanan was given medication to manage the pain. She also got the wound dressed, which mom says was barely good enough, because her daughter's state never got better. In fact, it got worse. "They dressed her wounds using tap water," Cherop said. Small, blood-filled swellings began to develop all over the burnt areas. This kept mom worried because her little girl was in constant pain and yet there wasn't anything she could do to help. When Chepkanan would not improve, the doctors referred her to Shoe4Africa, where they have been since August 10, 2020.
Her first weeks at our facility were spent on running preliminary tests to ascertain that she was in good shape for grafting. This is a surgical procedure where tissue is moved from one site of the body to another. In burn cases, grafting is very common. Towards the end of the month, Chepkanan went into surgery and the grafting was done. Unfortunately, her little body was not enough to provide sufficient tissue to fix all her wounds. As such, she was kept at the facility under tight observation and proper medication. Meanwhile, skin grafts were ordered so that the procedure would be completed. Once the skin grafts arrived, it was time for those preliminary tests, once again, just to make sure that she and other patients who needed them were in good condition. Currently, she awaits her last surgery, which should be soon, according to the doctors.
Given Chepkanan's recovery on the parts that are already grafted, she might be going back home soon after several months of being away. The doctors say that the little girl should get a full recovery as soon as the last grafting is done. Her mom is so grateful that someone somewhere thought to establish Shoe4Africa. "When I came here, I thought it is an organization that gives shoes [Cherop giggles]… clearly, they have done so in a much better way. They have given my daughter another fighting chance. And that's better than a shoe! I can never be grateful enough."
Today, Chepkenan still endures pain from time to time, but that is nothing compared to what it was when she got here (Shoe4Africa). She walks around at an angle because she still experiences pain on her right rib area, where the grafting is due. However, the fact that Chepkanan walks again gives mom hope. She says, "I know things will go as planned and will soon rejoin my other children and husband at home." She is glad that the caregivers at our facility go extra miles. "They are friendly. They even teach our children with education. My girl is going to be as good as any of the rest in her class because she has been attending classes here, where they get taught different things that I trust have advanced her knowledge."
Surely, all any person needs is a support, especially a young child. That's enough to change their future – make them better or present another chance at renewed hope. Besides, with the help such as Chepkanan has been able to receive because of giving hearts all around the world, she will soon be able to go back to her life, and her parents can continue their plan to construct their new mud-made house, with its iron sheet roof. Maybe one day electric and tapped water will become a reality for these hard working souls.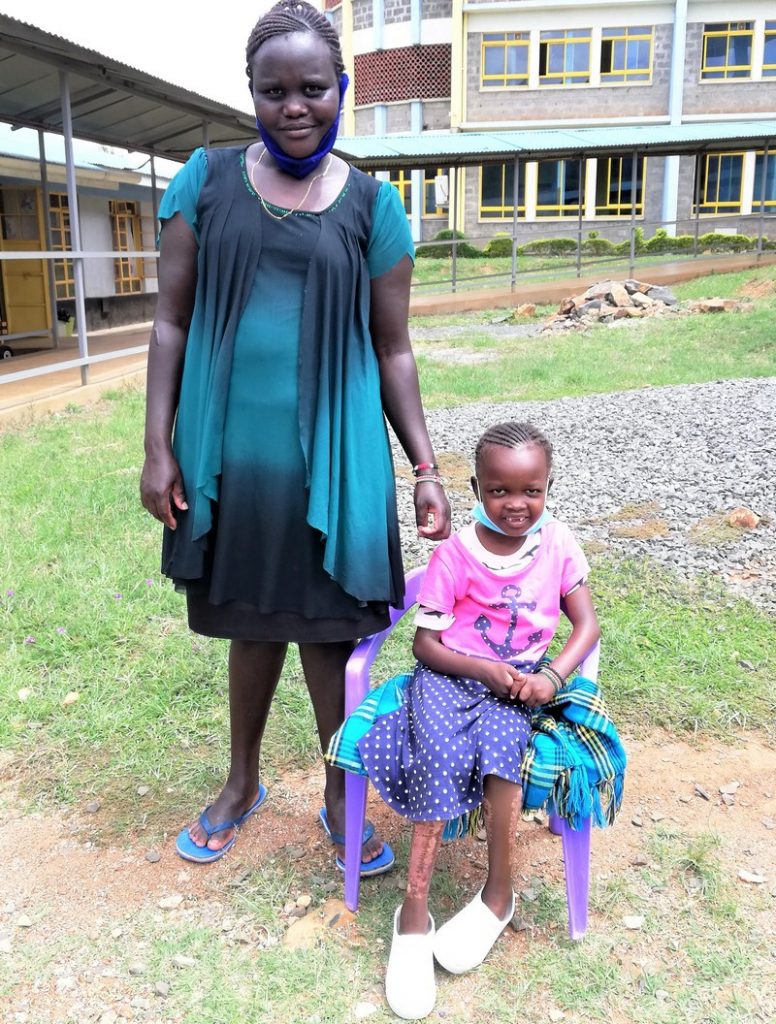 My name is Michael- Michael Omondi. I am a play therapist and I'm so passionate about it. My work is to make hospitalization a less stressful process for children through play. You see, play is familiar and reassuring. It is how children make sense of the world around them. Wherever they are, children would want to play. It is impossible to separate a child from play and hospitalization should not take play from a child. In the hospital, play helps children to learn and develop and feel less anxious. It helps them express their feelings and worries, and understand what is happening around them. Through play, children are able to cope with pain and treatment. Being able to play while in hospital also means that children are able to create a continuity of their normal life. Well, that's what I do.
I have been a play therapist since 2009, way before the birth of Shoe4Africa Children's Hospital. Then, children had small, overcrowded rooms for wards. This made it hard to play with the kids at the children's bedsides. Also, children's wards were not in one central place and it was cumbersome bringing children to the playroom. Today, all those problems are a thing of the past. I'm glad to have witnessed the beautiful transformation that has been brought about by the coming of Shoe4Africa Children's Hospital.
Working with children over the years has made me a better version of myself. Waking up every day, knowing that I'm going to bring a smile to a child is the best feeling that I could possibly ever hope for. My childhood dream was to be a teacher but looking back, I feel no regrets for choosing to work in the hospital. Besides, children refer to me as a teacher. I meet different children from across the country every single day- children from different socio-economic backgrounds. Some of these children do not speak any other language apart from their mother tongues and communicating with them is nearly impossible (there are about 42 languages in Kenya). But when we play, we all understand one another. Play, indeed, is a universal language.
It is never easy to get a child to trust you and finally open up but when they finally do, the smile I get daily from them is such a beautiful reward. I'm looking forward to yet another wonderful year of working with children and hopefully witnessing the building of the Children's cancer hospital later this year as this complex grows. And I'll still be, to children, the roles of teacher, the play mate and always their great friend.  Thank you, Shoe4Africa team members.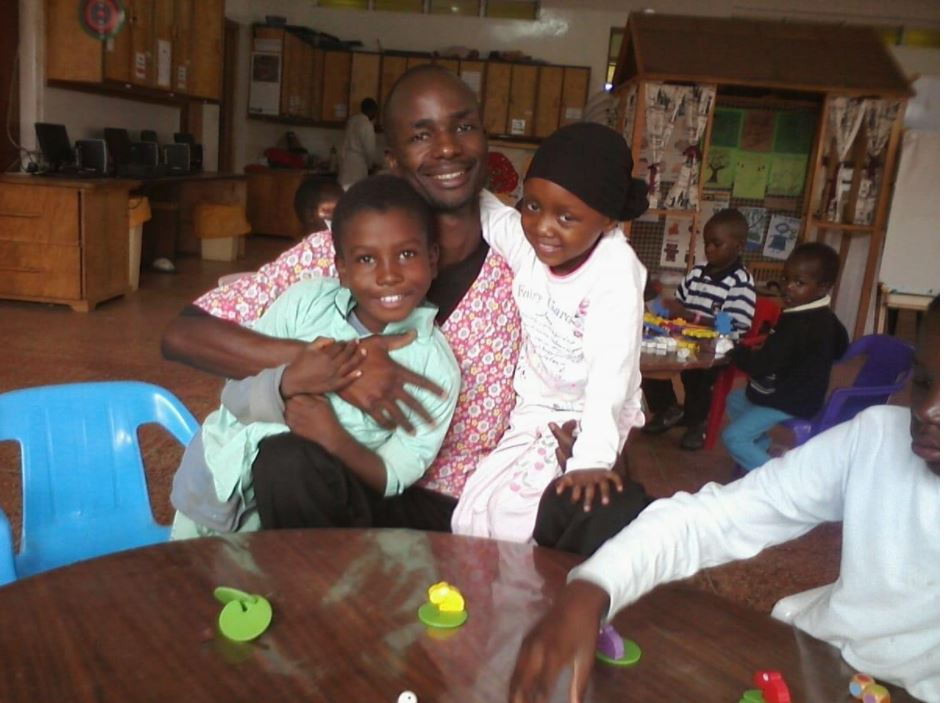 Vanessa Atieno is a 12-year-old girl from the Luo community in Kenya. Vanessa lives in Rabondo village, Siaya County, which is located next to Lake Victoria. The lake is known for the intense fishing activities that have long sustained the region's economy. Atieno is a girl's name among the Luo people. It means 'born at night.'
Vanessa is the daughter of Jacinta Achieng', a Luo woman born in 1991, making her about 30 years old today. Achieng' is a mother of four. Until the last quarter of 2020, Achieng' lived happily with her children's father. Yet when Vanessa was diagnosed with Acute Lymphoblastic Leukemia (ALL), the dad disappeared. "Who wants burdens and additional responsibilities when they could just disappear into the wind?" The mother added said in sarcasm.
The mother's life has been tough from birth, orphaned at the age of four, she operates a small grocery shop in Rabondo (her village). The shop is not much; more of a hatch. It is a structure where she sells necessary items, like sugar, tea, and toilet paper, and built of wood and old polythene.
After the diagnosis, Dr., Eunice, a counsellor at our facility has taken Vanessa under her wing.
Amidst rigorous treatment with a balance of fun activities, Vanessa has managed to fight her cancer, and looks like she might even beat it. Mom says, "God works in His ways, and I am certain He brought us here [Shoe4Africa] for a reason. I do not want to imagine that my daughter might get to the point of needing those transplants I hear people talk about because the dedication I have seen around here is unlike any I have witnessed before. I mean, what doctors call to ask you to come for checkup? What nurses treat people as though they were their own, often hugging and always reassuring us [parents]? I am yet to find hospital personnel with such compassion as we have received here. I promise you, I am eternally indebted to Shoe4Africa. You know, the oncologists who come to the phone every time we call while at home have been immeasurably helpful. Atieno would not be alive were it not for them." As she laughs, "I remember them saying back home, mpatie brufen pekee yake [meaning 'only give her Ibrufen']."
Truth is, sometimes all it takes to help a needy person is kindness. Maybe all they really need is that voice that says, 'Hey, I've got you,' or that understanding soul that comes running when you call.
Vanessa is more eager to talk about what she wants to do when she gets better.
"I always wanted to be a surgeon when I grew up. After Shoe4Africa, I am more than certain that I want to be an oncologist surgeon." As they say in Africa, the energies we give off rub off on the people we hang around. All we can do now is hope that mom's prayers, Atieno's determination, and Shoe4Africa's efforts synchronize and favor Rabondo's beloved daughter. "Can I say something, though?" The mother asked, "People should stop stigmatizing cancer. It is not a death sentence. Anyone and everyone is bound to die at some time." In the most succinct ways, this statement summarized our facility's mission, which strongly promotes celebrating life.  Vanessa is one of many patients who is truly very excited about our possibility of bringing sub-Saharan Africa its 1st children's cancer hospital and plans to be at our groundbreaking, later this year!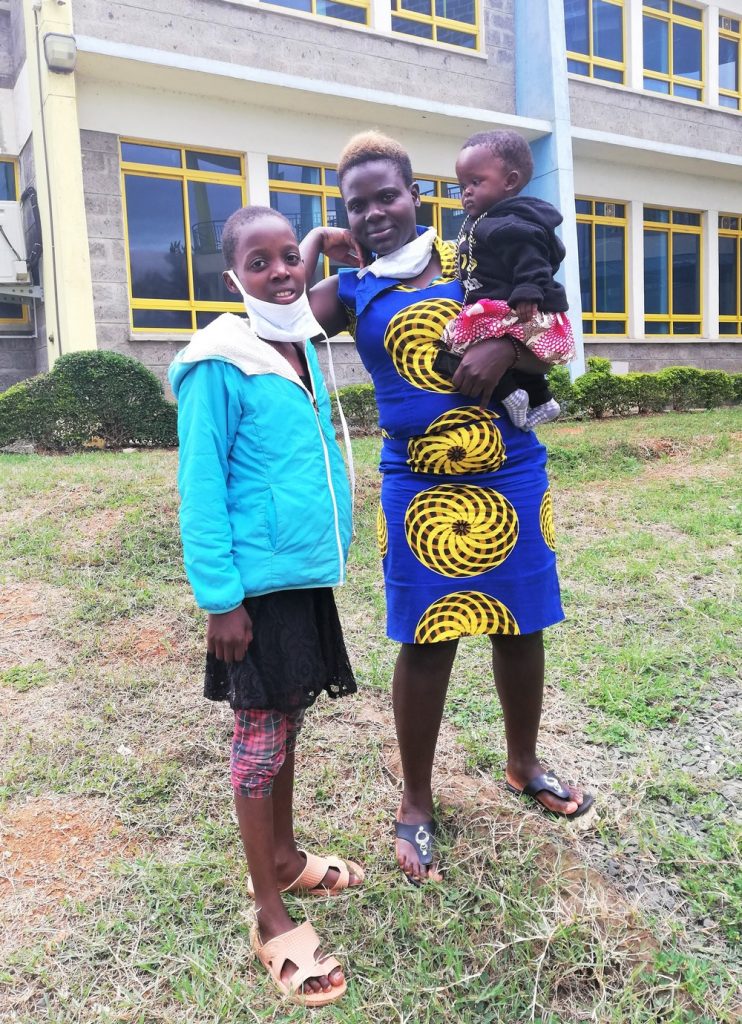 The 37-year-old Betty Tanui, commonly known around our hospital as Mama Trevin, tells us about Trevin Kiprotich is a 5-year-old boy from Bomet County, Kenya. The name Kiprotich originates in the Kalenjin community where it means 'born when the cows are coming back home from grazing.' The good-looking, brown-skin, little boy is quite the mystery. His eyes are lit, ecstatic even, giving off hints of a beautiful heart. It is difficult to place his character, though – somewhere between calm yet also lively and enthusiastic. First and foremost, Kiprotich is a little warrior. Perhaps not yet to the community he was born to (the Kalenjin community) where age and hunting skills are necessary factors in achieving warrior status, but he absolutely deserves your grandfather's highest badge of honor. But for bravely fighting acute lymphoblastic leukemia for practically the better half of his life. The condition is an acute form of leukemia that is characterized by a significantly huge number of lymphoblasts in the circulating blood.
When Kiprotich was about two and a half years old, his mother began to notice behavioral and physical changes in him. However, she did not think much of it because, hey, who wakes up one day thinking their child could have some form of cancer just because they looked weak?
She had spent most of the time, since noticing the changes, thinking that her son had tonsillitis (inflammation of the tonsils). She also thought that her son had adenitis, a condition where normal breathing is obstructed when one of two folds of lymphatic tissue located at the back of the throat, behind the vulva swells. A few visits to a nearby hospital in Nakuru County would lead to a similar conclusion, and her son was recommended for a tonsillectomy.
However, prior to the operation, the same physician advised Mama Trevin that it would be wise if she took her son to a pediatrician just to be sure. She, therefore, left for Valley Hospital, Nakuru. The pediatrician she met ran a blood test referred to as peripheral blood film and, lo and behold, it was leukemia! To the best of Mama Trevin's memory, this would be the first time she had felt her heart throb to the semblance of an actual drumbeat. It was also the first time she heard about our facility, Shoe4Africa. The pediatrician had recommended that she make quick arrangements to see one Dr. Njuguna, a doctor at our hospital and one of just three pediatric oncologists in the country. Mama Trevin did – quickly arranging and travelling to Eldoret.
"Even going to Eldoret, I was not certain my son would get the treatment he needed but against my better judgement, I trusted my son's pediatrician and left for Eldoret," Mama Trevin said. Little did she know that she would become an ardent ambassador for us; now she says, "It is Shoe4Africa that has been my son's enabler."
On August 15, 2018, Mama Trevin along with her husband walked in through the doors of Shoe4Africa to the reception bay and into the facility, where the beginning of her son's life's hope resided. Struggling to balance her tears, Mama Trevin said, "We were admitted to Tumaini Ward as investigations to rule out any other possibilities were conducted. On the 20th of the same month or thereabout, we were moved to Subira Ward, where Kiprotich began his treatment. The doctors said that it would go for 104 weeks." The plan was that Kiprotich would be admitted for only 6 weeks, and then discharged, but as they say, man plans but God decides. Kiprotich would stay at our facility under tight observation and a relentless two-fronted battle (the doctors' and Kiprotich's fronts), and after 91 days, they got their first discharge.
She said that regular visits to our hospital from Bomet and back would then begin – over 400 km to and fro, only accessible via road. "There is no other children's hospital like this!" Mama Trevin kept interjecting, "I would travel as far as needed for excellent support."
This kind of support is what she has depended on. The kind of attention that Shoe4Africa personnel afford her and her son, are things she recounts as having been instrumental to sustaining her hope and resolve. "I am so glad that the doctors here help with utter commitment, including over calls when we are at home," Mama Trevin said.
At week 53, Kiprotich got sick again, having trouble walking, prompting readmission at our facility for a week after which everything got better. Kiprotich's cancer went into remission until March this year when the sickness recurred. As such, he resumed treatment, including faithfully adhering to chemotherapies and medication. Currently, things are looking better. His doctors say that the boy has been one very strong patient, especially considering his age, and should be able to resume good health as soon as he gets a bone marrow transplant. Otherwise, thanks to our hospital, Kiprotich might even be getting back to school where he just started over the remission period.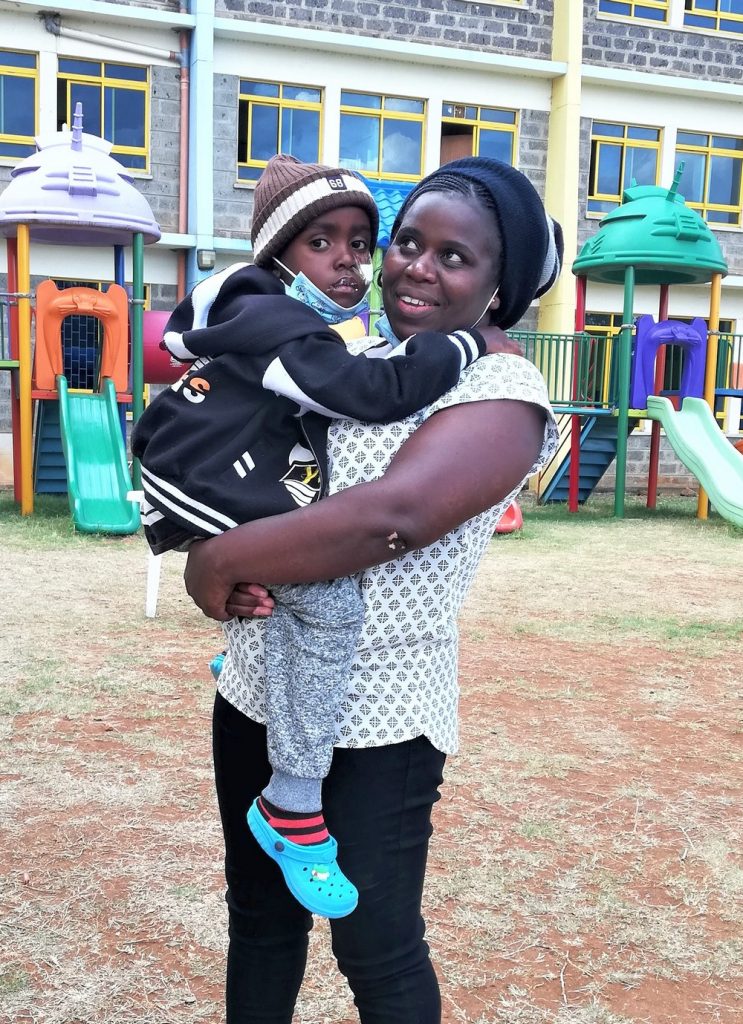 Hope is Akelo's best friend.  She has hoped, and hopes on a daily basis. Hope is precisely what her life has been like since August 2019 when she was rushed via ambulance from a hospital in Nakuru to Shoe4Africa, where her life has taken a turn for the better.
Akelo is a 13-year-old girl from Kisumu (close to President Obama's father's birthplace). She lives with her mother, grandmother, siblings, and other members of the family in their two-roomed mud-made house. The house has no electricity or any other source of power and has a tattered iron-sheet roof. The house, which lies on a very small piece of land that was sectioned off for Hellen Wadolo (Akelo's grandmother) by her brother, is too little to raise a garden or even have children play on. In this home, Grandma Hellen, who also stays at our hospital to keep Akelo company, is the head and sole breadwinner. Grandpa died in 1997 and her children, raised in stinking poverty, have been unlucky in life.
There are 12 family members in the hut led by Grandma. Sadly Akelo's mother is mentally challenged and cannot cope to look after herself. So, Grandma Hellen looks after everyone.  Her employment is chopping and selling firewood, earning pennies each day.
Up until 2016, Akelo had lived some of the happiest years of her life. However, in this fateful year, her body began to swell, a condition that no one guessed would be a kidney problem. The swelling was accompanied by involuntary muscle jerking that caused her to shake intensely. The first attempt to seek medical attention had been at the local general hospital in Kisumu, from where she was referred to the Kenyatta National Hospital (KNH) in Nairobi.
She was admitted, treated, and kept for observation for 9 months. During this time, one of her kidneys was removed through a surgical procedure, and she got well. The doctors confirmed that her light had shone, as she had recovered.
Two years later (2019), all the problems resurfaced. On arrival at a local clinic, Akelo's case was described as being beyond the facility's infrastructural capabilities. Therefore, she was rushed to the Shoe4Africa hospital, where today, as Grandma Hellen says, "She [Akelo] has found the magic we so desperately needed."
Grandma wishes they had come to Shoe4Africa in the first place, "Why was I not told there was a hospital just for children?" She asks, commenting about how gracious the hospital personnel have been passionately involved in sustaining her granddaughter's life.
The well-performing girl—top 10 in her class—can't wait to finish treatment and get back to education.  Education is a privilege in Kenya, not a birthright. "I want to be a doctor when I grow up so that I can help other children suffering as I have. I only need a kidney transplant to get there," Akelo said as tears rolled down her dark-skinned cheeks. Thankfully, Shoe4Africa has been able to get her halfway through her journey of hope. As she undergoes scheduled weekly dialysis sessions, her doctors confirm that she is now safe for discharge, under the condition that she comes for the dialysis sessions twice every week.
Grandma, like many caretakers, is worried, "Were it not for this place, I am sure my grandchild would not have been around here [on earth] today. I only hope that some sort of magic meets my Akelo again and graces her with a new kidney. That is really the only way I see her coming back to help children like her and growing up to be a doctor. She is my household's hope. She is all I have. My children have not been able to make much out of themselves, but I know inside my heart that it is Akelo that will change our narrative. She has been through the wars and wakes with a smile each day. I pray she can be the one to help me as I become incapable in my olden years."  Listening to Hellen & Akelo's story, it is sad that Hope does seem to be the 'medicine' prescribed to so many people's lives, but we have seen, many times, Hope does win.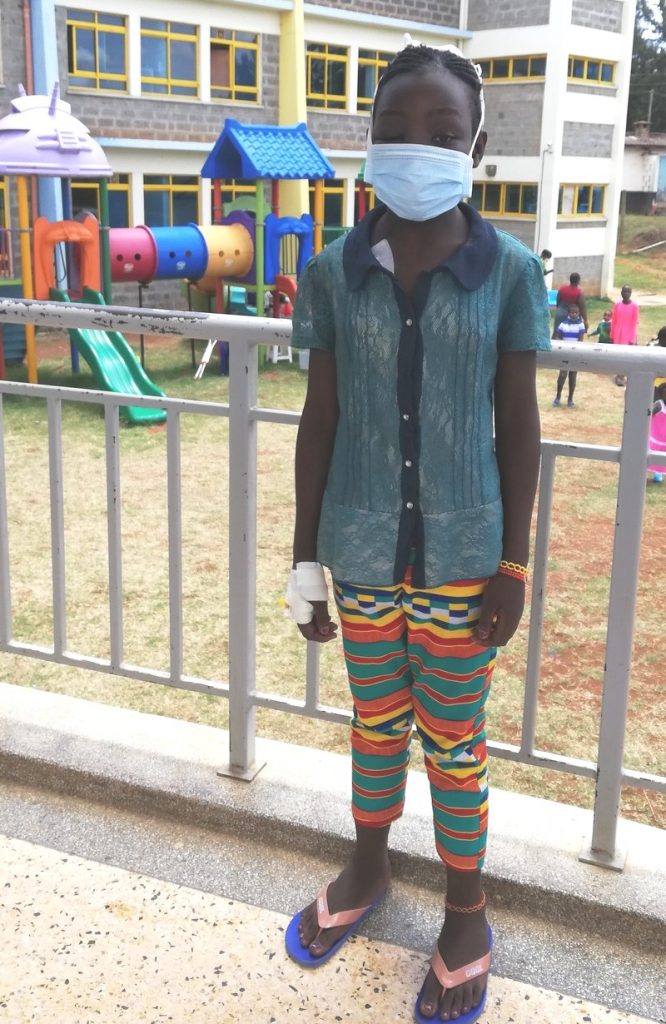 Meet James Nyachio, the ten-year-old fifth grader, a lover of football and a fan of Chelsea Football Club. His favorite color is blue, the shade of Chelsea jerseys. He has a blue jersey which he puts on every single time he is out playing soccer. This, he says, is making it known to everyone which team he supports. (Because each day new patients arrive who might not know!) James' pitch nickname is Bolt, just like Usain.  This is because he's so fast that other children find it hard to keep up with him on the pitch. As he's so good with the ball, everyone wants him on their team because playing on James' side means a win is almost guaranteed.
James' family comes from the hilly countryside of Kisii, 7 hours' drive from Eldoret. The region of Kisii is known as the banana growing capital of Kenya. James' father is a vet, and his mother is a teacher. He has a small sister whose age is the same as that of their 5-year-old pet cat and he misses them all terribly.
James was diagnosed with Hodgkin lymphoma in May last year and has been in chemotherapy treatment since that time. His skin has turned darker- it is one of the side effects chemo has had on him. His good days are on the pitch but there are days that he becomes so weak that he can't leave his bed. On these days our entire team troops to his bedside to give him a post-match report.  He listens to every word.
Not only is James a great footballer but he has a sterling attitude, on the day we talked to him he had just had a bout of Chemo and he said, 'Being happy and embracing a positive attitude when faced with a difficult situation makes the situation appear less difficult.'
He even joked that his darkening skin reminds him of the dark rich soil of his home village from which bananas grow in plenty.
His father, 33 years old Elijah Nyachio who has been staying at our hospital (we joke Hotel Shoe4Africa), has given James his indomitable spirit. Instead of sorrow, he talks only of positivity, boasting of the progress James is making in terms of treatment and remains certain, not even hopeful, that his son will defeat cancer. (At this point James pipes up, "like Chelsea will win the league!" Elijah says that he has always chosen hope and will always choose hope whenever he is faced with a hopeless situation. He thanks the Doctors and the Nurses for the emotional support children get here at Shoe4Africa Hospital and says, "If faced with a bad situation, if you are in the very best place the country can offer, we should count our blessings."  Half time is over, and James has now left the room, promising us he will score a hattrick of goals!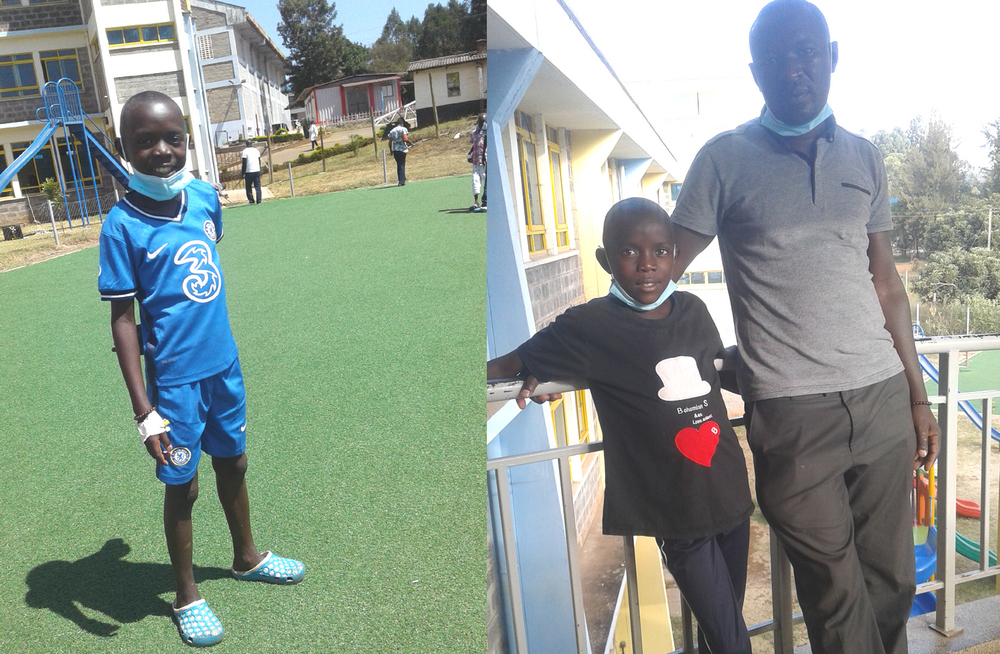 Meet Hellen. She has been working for MTRH (our big sister hospital that governs Shoe4Africa Children's) since 2005. This makes her one of the two longest serving Child Life health workers and pioneers of the child life services in MTRH. She has vast experience and passion in working with children. Most of the time she works in the playroom but sometimes, she is called into procedure rooms to distract children during procedures. Hellen is in her mid-40s but she looks younger. She jokes that working with kids for such a long time with kids makes someone grow younger rather than older.
Her love for Child Life began when her own child was hospitalized in MTRH. She loved how a child life health worker came to play with her kid at the bedside. She was then teaching in a kindergarten. Three months later, when there was a job opening at the hospital Child Life department, she applied and luckily got the job. Since then, her love for her work has grown day by day.
Hellen reminisces about the milestones that Child Life has made since 2005 and how the coming of the Shoe4Africa Children's Hospital is a dream come true not only for children but for child life staff as well. She remembers how before we built a children's hospital, she would work at the adults hospital and play with the sick children on walk ways because there was no playroom(!) and the general wards were small and congested. Today, she is thankful at how the coming of Shoe4Africa has amazingly made Child Life easier and more fun as well.
Hellen says that her hope that 2020 was her worst year as a Child Life worker because she had to somehow minimize her interaction with kids because of the Covid-19 pandemic. She says she misses seeing smiles from kids because everyone has to wear a mask and all the smiles have to remain behind masks. But she is hopeful that everyone will be vaccinated and finally covid-19 will be brought to a stop.
Child Life is a new profession in Kenya and Hellen is so proud that Shoe4Africa Children's hospital is the first establishment (well known in America) to have Child Life services, something she hopes other hospitals across the country can emulate. And of course, like all other Child Life workers at Shoe4Africa hospital, she can't wait to see the building of the first and only children's cancer hospital at MTRH.  This is the key project that we are working for in 2021!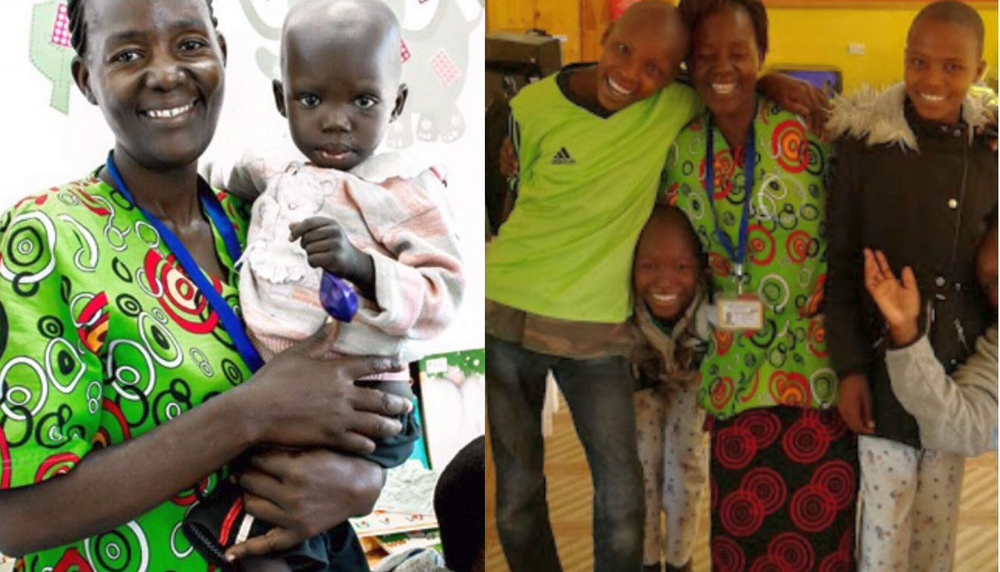 Meet Happy Caleb. 'Happy' is not only his first name but everything about him. He loves good jokes and cheerful laughter. When he laughs, he is uncontrollable. Laughter, it is said, is the best   medicine…and the cheapest medicine!
He has been in the hospital for ten months. That's a long time to be away from his two siblings. He especially misses his younger brother.  Doing things that make him happy helps him feel less home-sick. He spends long hours in the playroom playing and reading. He has learnt to keep as busy as he can.  His favorite book on the playroom bookshelf is Snow White and the Seven Dwarfs. He says he loves the book because he has the same name as one of the Dwarfs in the story.
Happy also likes to play our steady hand electric buzzer game—he rarely loses a game whenever he plays with his friends. He says he is just lucky but his friends think he is too good. And winning makes him feel good.
Happy's mother, 39 year-old Jackline Nambuya, misses her family too. She cannot go home to see them because she cannot afford the travel cost of bringing Caleb to the hospital twice every week for his dialysis. They live in Busia town, which is almost 200 km from Eldoret. So instead she chooses to remain in the hospital until her son gets better and finally gets discharged from the hospital. And because the hospital no longer allows visits as a preventative measure against COVID-19, she can only talk to her family back home through phone calls. But she is pleased at how much improvement her son has made. She recalls how deteriorated her son was when she brought him to the Shoe4Africa Hospital. She says her son's whole body was swollen. He was "so wasted away," he couldn't even walk. He was diagnosed with Stage 5 kidney failure. Today, Caleb is on his feet as he hopes for a kidney transplant.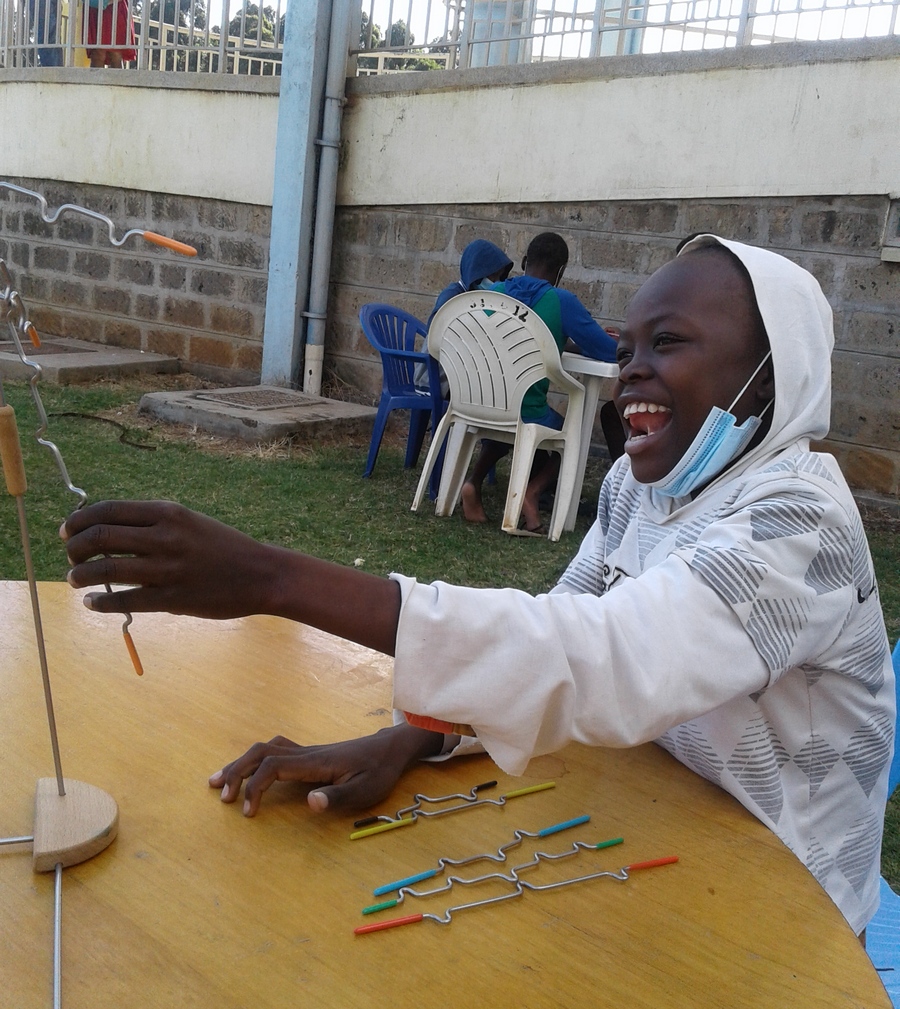 Meet Emily Akoth. She tells us that her family nicknamed her the 'laugh factory.' This, she says, is because she laughs a lot (at almost everything), unlike her two siblings, who are relatively quiet and conservative. Her mother (who we could not get to laugh in the photo), 30-year-old Millicent Achieng, further describes Emily as the liberal minded one whose laugh lights up the whole family. She says Emily took after her father's personality. Emily was born on the first rainy day after a long period of drought and therefore, she was named 'Akoth,' which in her Luo tribe means 'she who comes with blessing and joy of rain.' She is 14 but she looks younger for a 14 year old. She is the first born but she says people usually think she is the last born.
Emily has been in the hospital for 'barely' three months. Three months is a short period, considering that most of her friends in the oncology ward have been here much longer. She says that she still holds the 'new-comer' title, which she will continue holding until a new patient gets admitted in her ward (We always run at over capacity). Sadly, young Emily has leukemia. Today she had her third cycle of chemotherapy and she jokingly tells me that despite losing her hair, chemo gives her strong superpowers to fight the bad cancer in her blood.
Emily is glad that she was done with chemo just in time before the hospital's Christmas started.  She is happy she was able to interact with guests and other hospital staff at the party. This is her first-time spending Christmas away from home (and in hospital), and Emily says the parties we hosted lifted her spirit, just like it did to all other patients in Shoe4Africa hospital.
Emily's treatment will take a full two years but she has to remain in the hospital for two more months before she is allowed to home for a short period of rest and later resume her treatment. Her mother is happy at the progress Emily has made since she started her chemo. This gives her hope for a better future for her daughter, "We have hope" she says recalling a sentence the Perry family, when visiting last year, started to teach all the cancer patients; we have hope!
As a parting shot, Emily says she would love to wish all children a happy festive season and a bright New Year for 2021…she also has a message for other sick kids, 'Be happy and do what makes you happy.  I have cancer but that can't take away my happiness!'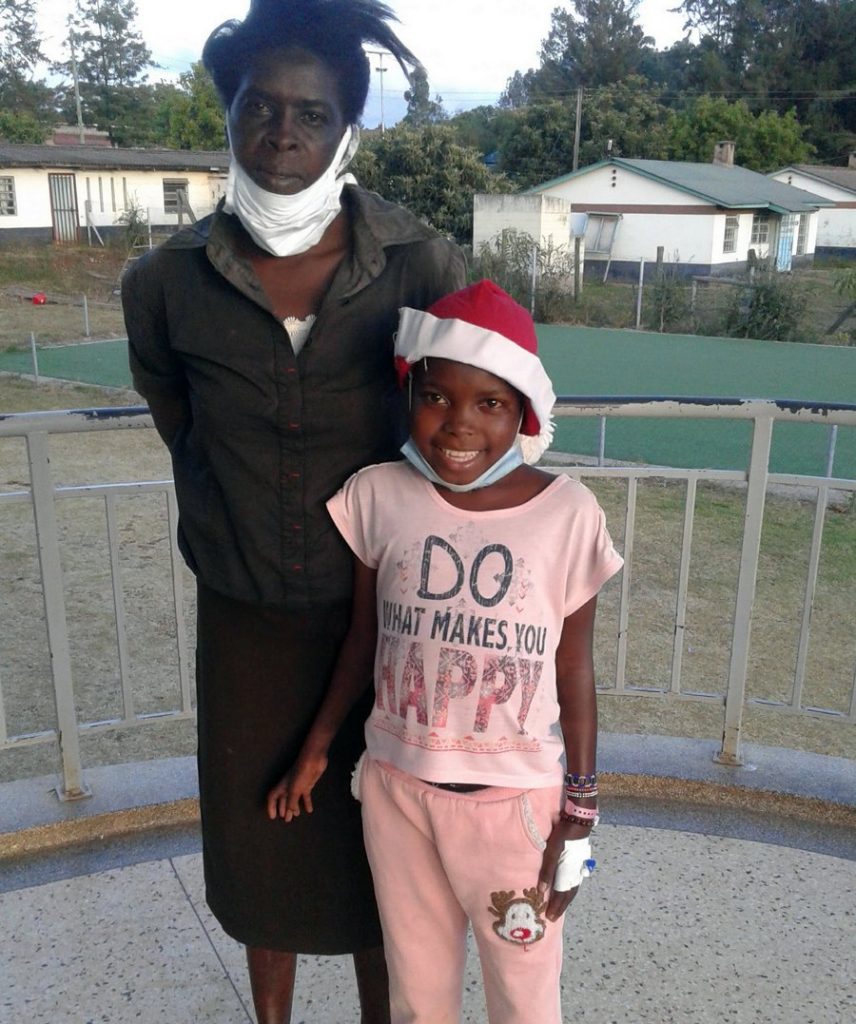 Emily and her mom.
Continued from last week's story.  Meet Felda's best friend —Shein Naserian (see below). The quiet 12 old is very organized in how she does things. She loves paying attention to little details, and always makes sure that everything around her is neat and orderly…so much so she has now become our library monitor.
Reading is her hobby thus her favorite place is our library, but she doesn't like it when other kids leave books lying around. Thus we've made her our official assistant librarian, a role she enjoys so much. She knows where to place each book on the shelf and does wonders clearing up after playtime. She is half Kalenjin and half Maasai—her last name, in Maasai dialect, means 'graceful. Her dream is to be an accountant in future—a dream inspired by her elder sister who is an accountant in a bank. Shein is the fourth and the last born. Both her parents are teachers.
Shein has been hospitalized with us for two months. She is here with her mother, Virginia Katheu. and was diagnosed with arterial thrombosis in 2018 and she has been on blood thinning medication since that time. Unfortunately, again, she developed a kidney problem in October of this year and she has to be on dialysis two days every week. It's too much for her, considering her age. But in spite of everything happening around her, she still keeps in the best of spirits. Nothing puts her down. Her role in the library has made her a social bee, according to her mother.
Shein, for a 12-year-old, is very articulate, "Being in a hospital made me sacred, but when I arrived, I found this hospital was not like I imagined.  If I was told that I was coming to be in a library hospital, and I would meet friends like Felda, I would not have been scared."  Although she is missing her siblings back home, she jokes saying that everyone will be missing her.   Her mother is able to stay here with her because schools in Kenya have been closed, this might change in 2021, but at least now Shein has become a part of our larger family.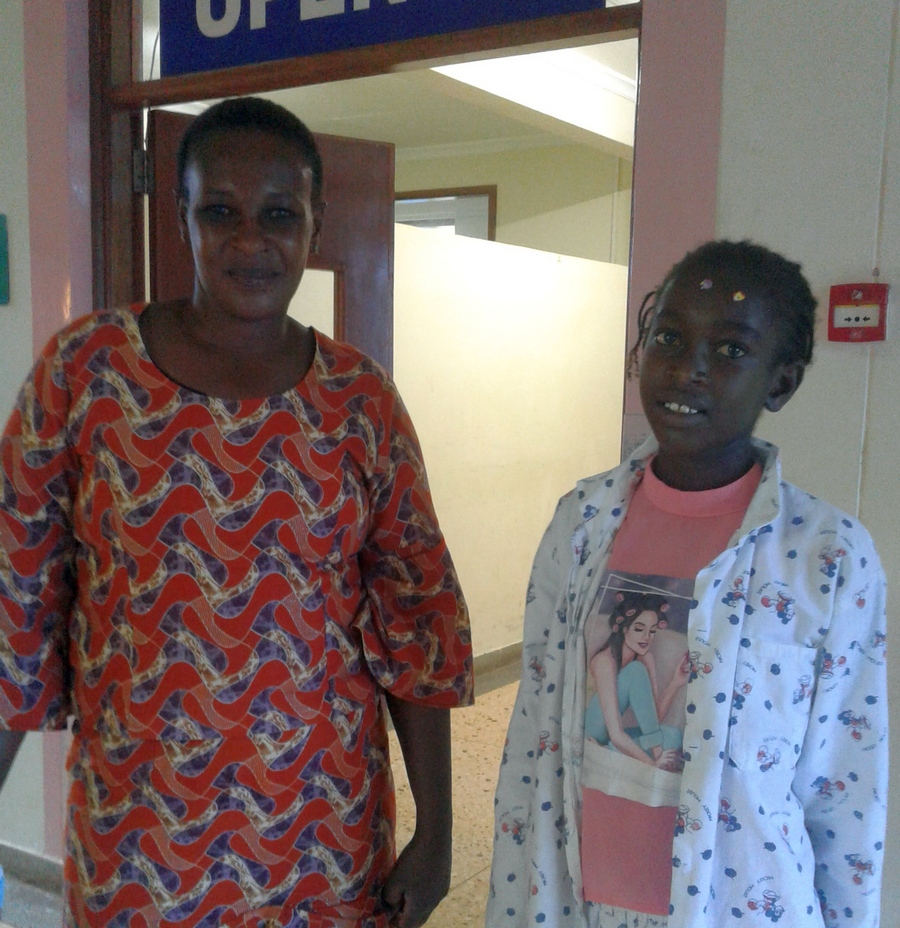 Meet Felda Alivitsa.  She was born on Christmas day, 13 years ago. Tomorrow, she'll turn 14 on December 25th.  Felda has been alone in the hospital for one month. Last week, her mother came for a brief visit and Felda was all smiles. They had a lot of catching up to do. However, her mother went home after two hours. Felda's mother, 42-year-old Melsa Ambasa, must rush home to care for Felda's three younger siblings. Felda's father is also away working in another town far away.  As much as Felda would want her mother to stay, she understands why it is important that she stays home.  Luckily at the hospital we build support groups for the patients and a group of ladies, whose daughters have similar illnesses will take care of her beyond our nurses help to create that family environment. They have made our renal ward a center of love. In fact, the renal ward is given the Swahili word, 'Upendo,' which does mean love.
Comforting Felda she tells us she doesn't feel left alone here, not in the slightest.  She plans to, after our Christmas party, to run to the Hospital classrooms and "Be in the company of her friends."  When we ask, who?  She says she has found a wonderful friend in the book Lion King called Pumba.  And she found Pumba there too!
According to her physician, Dr. Cheptinga, Felda will have to stay in the hospital for another one year making her total stay 14-months. She needs to go for dialysis every Monday and Thursday and as it is with most patients from her ward, our hospital can not discharge these kids because their families cannot afford the transportation costs that would see them travel to Eldoret twice every week.  This is the disease of poverty.  Felda's family has no savings and lives from day to day jobs.
Felda's mother though is so happy at how well her daughter is doing, "She was so ill at home.  Here she is a new girl." And she is grateful for her friends for taking care of her child while she is away. Schools will soon open in January and she would have loved if her daughter was discharged so that she can complete her primary school education. She says Felda is always one of the top three in her class and she desires to see her first born join high school soon. But she also understands that her health comes first. "This is the only hospital I have ever heard of that has classrooms.  Knowing Felda adores books and has found a home in your classroom's library allows me some comfort when I will be missing her on Christmas day and not able to wish her a happy birthday.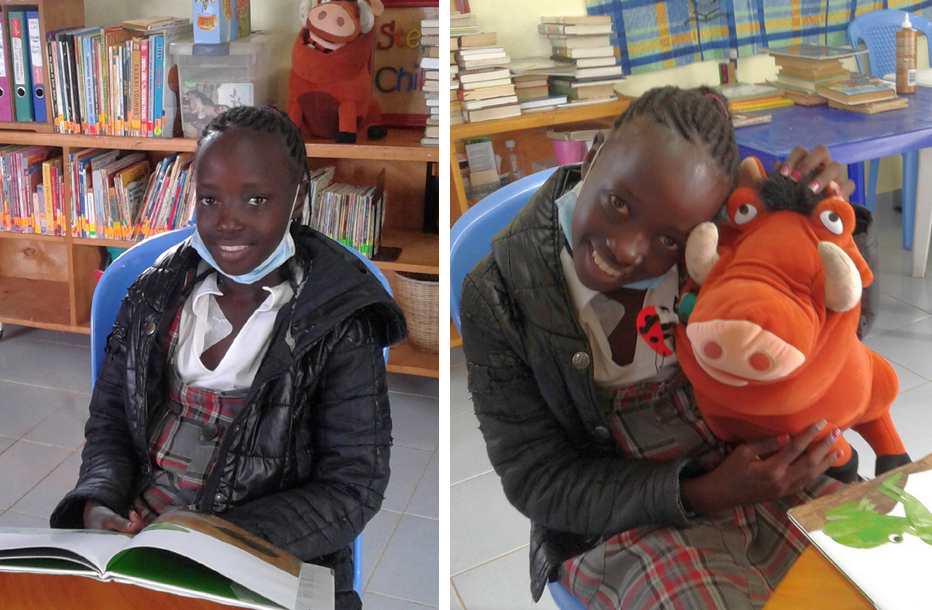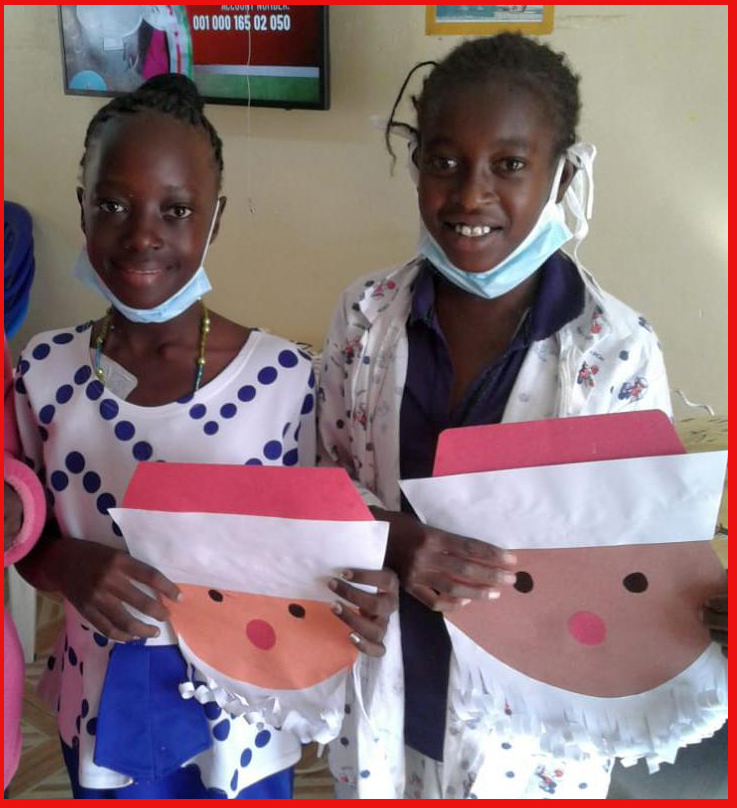 Felda, our Christmas Birthday patient, and her friend Shein.
Meet Joel Shikuku. The curious and ever inquisitive five-year old's favorite playroom activity is building with blocks. His father is a mason and his mother a high school teacher, Joel's dream is to be a mason, just like his father. In fact, when he heard we were planning to build a new cancer hospital he took a big interest.  He has told us he can help; he is going to build us a cancer castle.
In the playrooms TV room of course we have Walt Disney's TV programs playing…and here was Joel's inspiration to change our plans.  You see he is not a visitor at our hospital, he is here for the next two years.  Perfect, he said.  Furthermore, as politics are a hot topic all around the world (and in our main building lobby we often play the news) Joel said all the world leaders can live in this castle too, to make it easier for global governance.
Joel's family lives in Nakuru town (100-miles away on the main highway to Nairobi), where his mother works as a teacher. When Joel got sick, his mother requested to be transferred to work in Eldoret because it would be near to the Shoe4Africa hospital. Luckily, Joel's mother has relatives in Eldoret so his support team can also move into this castle (says Joel).
Joel is being treated for Leukemia. He was diagnosed in May of this year. When he was admitted, he was so sick as his body's immunity had gone so low that he stayed in an isolation ward for several weeks unable to move. The side effects of chemo made his condition even worse when he became a boy unable to even smile. But gradually, he came around and his response to treatment has since been so impressive. His mother is delighted with this healing progress. And most of all she is happy that her son is once again back to be the jovial boy.
Today, he completed his 18th cycle of chemotherapy and will have another two weeks of rest before he comes again for another dose of chemo. If Joel continues getting stronger and stronger as he is doing, he will be among the laborers (joking of course) when we start building. "I can do it!" he says.  He has also joined the 11 am morning exercise plan where he says he wants to enroll on bicycle training.  When we asked him why he replied, "Building needs strength, I need my cancer house castle.  It is going to be big, really big."  I have a feeling we have found our new project director.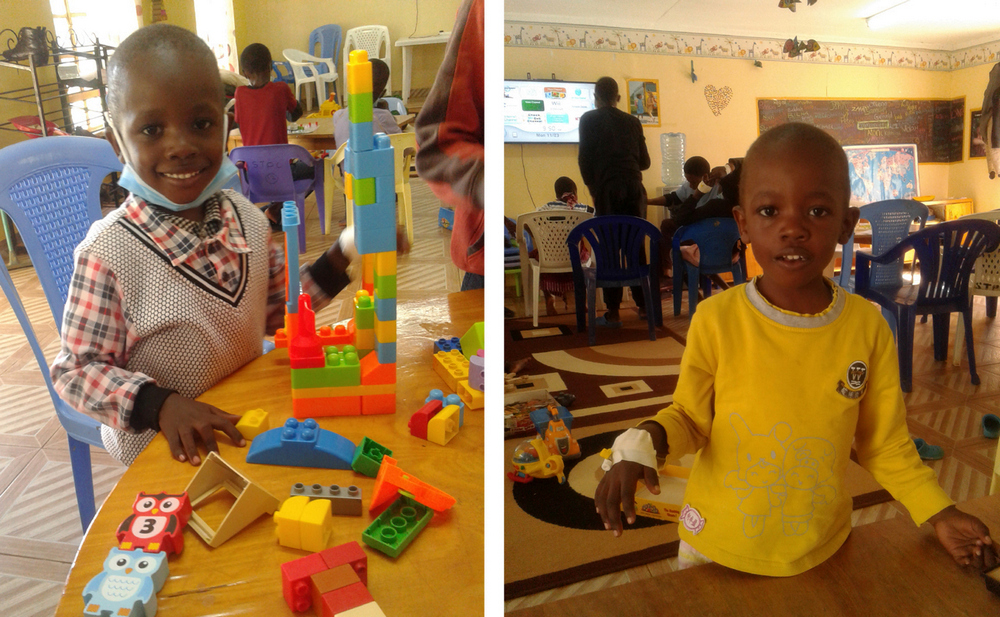 Meet nine year old Brian Nalangu-Cheruiyot. He is the last born of his six siblings. Brian is half Kalenjin and half Maasai. Kalenjin are the runners, and Maasai are almost the famous tribe that most people associate when they think of Kenya and the safaris (think red robes).  There is a lot of mixed blood, largely because Maasai used to live in the same area before the British moved the tribe down to what is today known as the Masai Mara.
Stanley, his 39 year old father, Stanley Kirui, explains Brian's middle name was given to him by his maternal grandparents. It means 'one who comes from another tribe.'  They live in Kericho, known as Kenya's tea town, four hours drive from Eldoret.  This is his second time bringing Brian to Shoe4Africa, and says it is the only hospital he trusts…despite the long journey (the family owns no car). In January 2019, Brian's condition became severe, he was brought to the hospital. He had lost too much weight and he had a swollen face and stomach. Doctors immediately suspected he could be having either a kidney or a liver problem. It turned out that his kidneys were okay. However, a biopsy test done on his liver indicated that he had acute cirrhosis.  Cirrhosis is a stage of liver disease that occurs when cells in the liver are damaged. His condition cannot be cured or reversed. His treatment is focused on managing his condition and preventing further damage on his liver. But two year's into his treatment Brian is coping well now he is on a program of regular clinical appointments. This way, doctors are able to keep a close watch on him and to treat any symptoms or complications immediately they arise. However, as the father is suffering financially, they of late have started to miss appointments due to lifestyle costs.  One of the problems of living in a country where jobs are few (unemployment is up to 50% in some areas of Kenya) is when a family has a child in a medical problem it is the start of a long spiral down into dire poverty. I wish we could help everyone, but there is no unemployment or social security in Kenya. Brian's $6 bus ride is even too much for the family. Yes, we do have a solution, but it is a huge gregarious goal of working with a telecommunications company, the national lottery, and an advertising company to start a Children's Health Insurance Program. With the right people, we can get this done! Meanwhile, the only plus out of all this is when Brian is with us, he is going daily to our classes – something he is unable to do at home.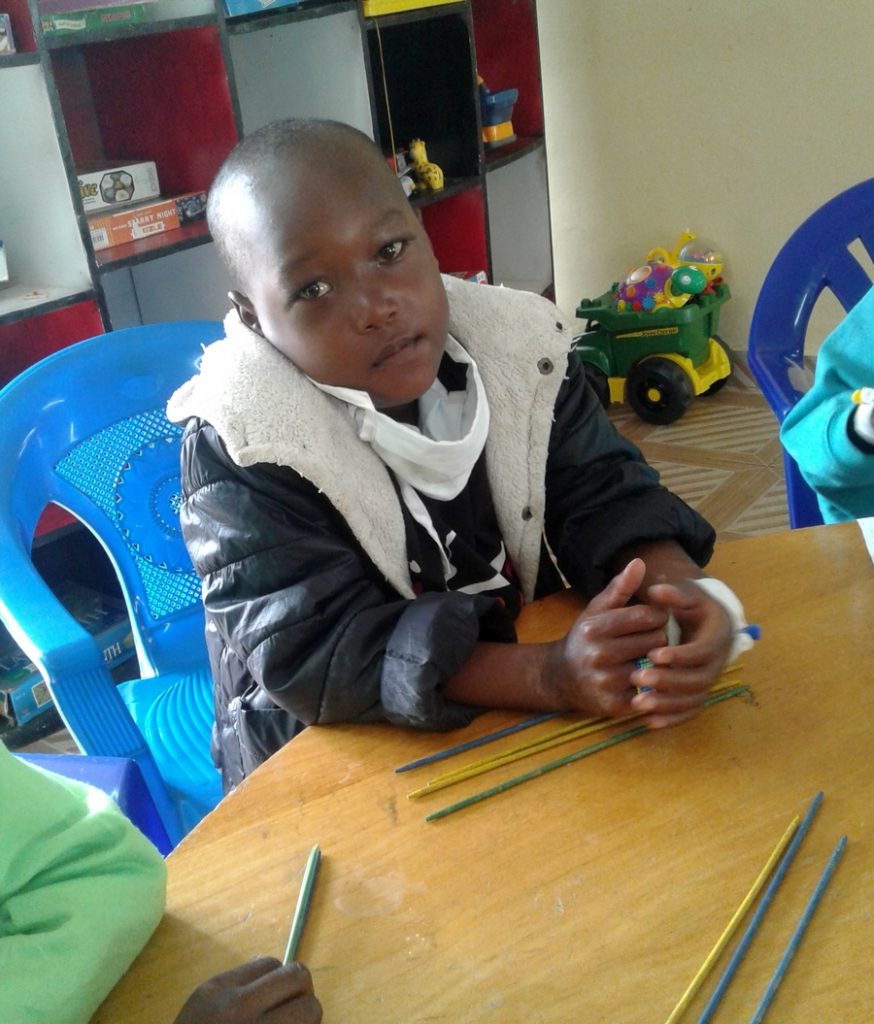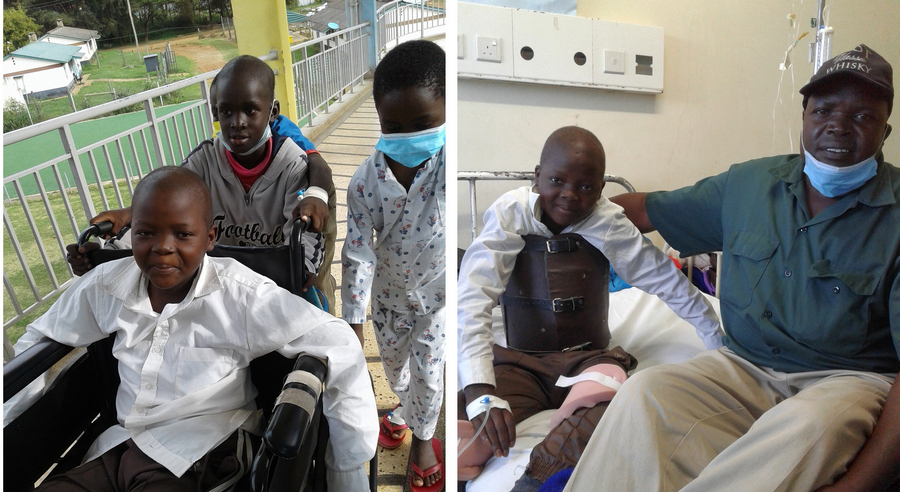 Meet Isaac Ebela. He is physically big for a typical nine year-old Kenyan boy. His physique and gentle personality make him stand out against his age mates. He comes from Teso tribe, one of the Kenyan minority tribes found right by the Kenya-Uganda border. We have nicknamed him 'the gentle giant.' He is the fourth born among his six siblings and has a big family of friends at the hospital.
Isaac's father, 50 year old Gideon Oboo Emoit, is equally gigantic. It's without doubt that Isaac has taken after him. The well- informed former civil servant and father was forced to take an early retirement because of his own health problems. Today, he is a small scale dairy farmer and his wife is a grocer. His three eldest children are already through with college, something he takes so much pride in; only 2% of Kenyans reach the level of post-secondary school education.
When Isaac began complaining of chest and back pains one day in March of this year, his father took him to a dispensary across the border. The dispensary was ill equipped but it was the only health facility nearer to their village. He was given a shot and some painkiller tablets to take home. But after taking the tablets, Isaac became paralyzed. This is one of the dangers in rural Africa; prescriptions given incorrectly. After eating the tablets, the next day, he was unable to feel his body from the neck downwards to his feet. This new development instantly put the family in panic mode.  Isaac's father knew he could not waste any more time. He took Isaac to another hospital in Bungoma town, some 20 miles from their village. An MRI revealed that there was a growth on the upper side of his spinal cord. Doctors at Bungoma recommended to Isaac's father that he could get help at Shoe4Africa Children's hospital in Eldoret, 80-miles away as soon as possible.
And so on March 20th, Isaac was brought to Shoe4Africa hospital and was booked for surgery to remove the growth from his spine. A piece of the tissue was taken for biopsy in order to find out whether the growth was malignant. For days later, results came back and Isaac was diagnosed with Burkitt's lymphoma- a rare fast-growing non-Hodgkin lymphoma that starts in white blood cells in the lymphatic system. Burkitt lymphoma is most common in boys between ages 5 and 10. Although grateful for a diagnosis the father admits that he was shell shocked to hear the news.
Isaac was immediately started on chemotherapy, a treatment that his oncologist say would take between 3 to 5 years.  Eight months later, Isaac has now had seven cycles of chemo. He still cannot walk but he is grateful that his friends have faithfully been wheeling him with his wheelchair (that he calls his car) and thus he is able to go to the playroom and the playground (his two favorite places in the hospital). Look at the picture—you can see two boys pushing his wheelchair, with another boy at his side if one gets tired!
Some good news is that he is able to feel his legs, his doctor says that's a good sign. Isaac tells us he will be walking soon, but he is keeping his car. With Isaac as a full-time resident at the hospital, his father staying too, you can once again see why we need to build the new Juli Anne Perry Cancer Hospital. Today we have 52-oncology patients!  Of course, all the kids know of our plans and the construction is slated for two years when we begin, Isaac, knowing he will still be receiving treatment from us is already reserving the best room.  He told us that because he is in a wheelchair, he can get to the new hospital the fastest, "Wheels are faster than walking." He smiles.  Okay, here's patient #1!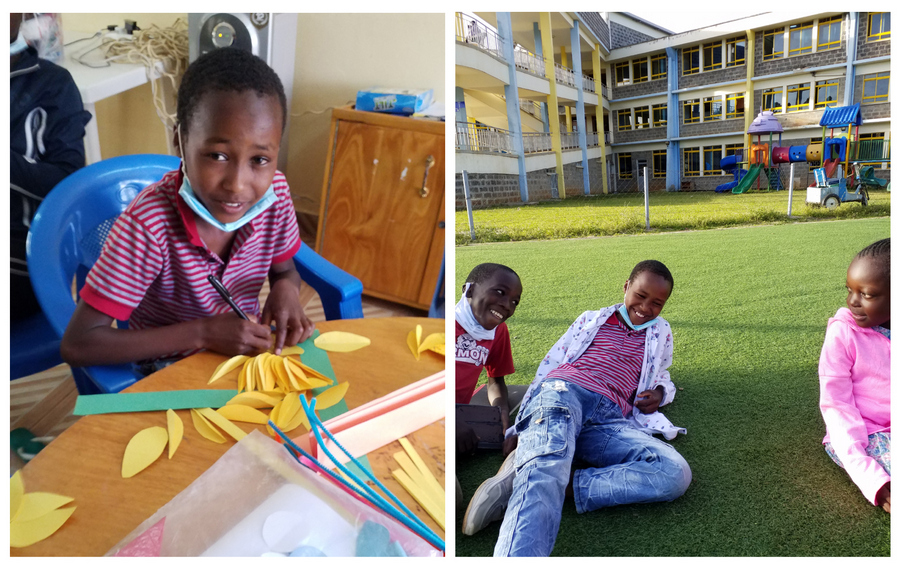 14 year-old Rodney Miracle-Kipchumba was born prematurely. He was tiny, and often sick. With all odds seemingly against him, his parents were convinced he would never make it past the first month of his life. However, little Rodney was a fighter, overcoming every obstacle that came his way.  On his first birthday, his parents officially added 'Miracle' in between his two names. He was a miracle baby. His parents' joy and hope grew as he battled a long list of ailments. Over the years, even though he had delayed growth milestones, Rodney grew stronger and stronger with the love from his parents and his two older siblings.
When Rodney was five, his parents noticed there was something not right with his development. He had, what in medical terms known as, cryptorchidism-the failure of one or both testes to descend into the scrotum. Majority of cases of cryptorchidism occur in babies born prematurely. Usually, by one year of age, many cases of cryptorchidism self-correct and the baby's testicles will have descended into a satisfactory position. However, in rare cases, cryptorchidism will require medical treatment which usually involves surgically repositioning the testicles into the scrotum. Usually, cryptorchidism will require several surgeries to correct.
Rodney's first surgery was in 2011 at Moi Teaching and Referral Hospital. At that time, the Shoe4Africa Children's hospital did not exist. Children's and adults' wards were in the same old buildings with tiny, overcrowded wards where kids shared beds with sick women. Nine years later, Rodney is back for another surgery…but this time at Shoe4Africa Children's Hospital; the pride of our sister hospital MTRH (where all adults are treated and literally next door).
Rodney's mother, 46-year-old Joyline Jepchirchir, is in awe of the amazing transformation that Shoe4Africa hospital has brought to children.
And so, from his bed in the Surgical Ward, Rodney awaits his surgery which is scheduled this Friday. He took Covid-19 test earlier today and he hopes it turns out negative because only then can he be allowed in the operation room. The teenager says he is feeling a little bit nervous and a little apprehensive but he is hopeful that he'll have a successful operation and finally get to live a healthy teenage life. His mother is confident that everything will turn out well for 'Miracle Rodney.' He has been a fighter right from birth and this is not going to be any different. After surgery, she will have to bring back Rodney for clinical follow-ups
Rodney's mother, although she likes the food and the social at the hospital, which she says is like living in the city, she is eager to get her and 'Miracle' back home because they have a tea farm in Nandi Hills that needs constant attention.  That is the area where our sixth school is being built, and where many of the famous runners (Henry Rono, Eliud Kipchoge, Kip Keino) all come from.  And Rodney?  Well he likes the hospital and loves sitting on the astroturf soccer field chatting with his new friends, saying after his operation he is ready to play his favorite game again!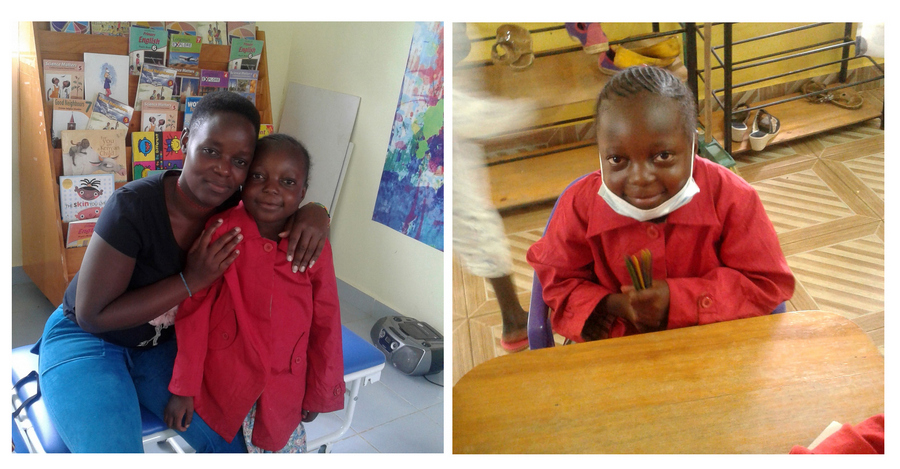 Violet Ambetha is a happy little girl. The eight year old is always the first to arrive at the hospital's Kuunga Mkono classrooms when the doors open (after breakfast) and she's the very last to leave. So great is her love for books and eagerness to learn that she has been made the hospital 'School Prefect' of her fellow third graders; a role she takes with so much pride and zeal. Her dream is to become a pediatrician some day and her young mother is keen on supporting her to realize this dream. But first, Violet must get her health back.
Violet's mother, 26-year-old Janet Akinyi, is a kindergarten teacher back home. She is a mother of two. Violet is her first born. They came from Kisumu, a town at the shores of Lake Victoria. It's about 4 hours by road from Kisumu to Eldoret. Kisumu, like many other towns along the shores of the great Lake Victoria, is known for its many cases of Malaria. And so when little Violet started feeling unwell some two months ago, her mother concluded that it was Malaria. Her mother went to a pharmacist at a nearby drug store who prescribed some anti-malarial drugs that Violet was to take for a period of one week. But Violet did not get well. Her whole body began swelling and she had occasional abdominal pains. Two weeks later she was having seizures almost daily, followed by hallucinations. Her mother was convinced it wasn't malaria. It was time to take little Violet to the doctor.
She was admitted in a hospital in Kisumu for one week but she didn't get any better. Doctors noticed blood in her urine and suspected something could be wrong with her kidneys. The hospital had no capacity to treat kidney related illnesses so she was referred to us. They came to Eldoret on August 22nd and were admitted to the general ward.
As a preventative measure, it's mandatory that all patients and their caretakers are tested for coronavirus before they are admitted. Violet and her mother tested positive for coronavirus and had to be moved to an isolation ward, from where Violet would stay as she received her treatment.
Other test results done on Violet's blood and urine also indicated that Violet had acute glomerulonephritis- a condition caused by inflammation of internal kidney structures known as glomeruli.
Violet and her mother were lucky to recover from the coronavirus, but violet suffered probably more because she had underlying kidney problems. Violet has been started on dialysis even as she continues having medications that would hopefully stop the inflammations in her kidneys. Now living at Shoe4Africa, with her dialysis sessions, she is never found without her pens and books, and takes her prefect duties very seriously!  She has written out a schedule asking all patients social distance but do book a time with her to collect their books!
She goes for dialysis on Tuesdays and Fridays and always carries story books to read while she is on the dialysis machine.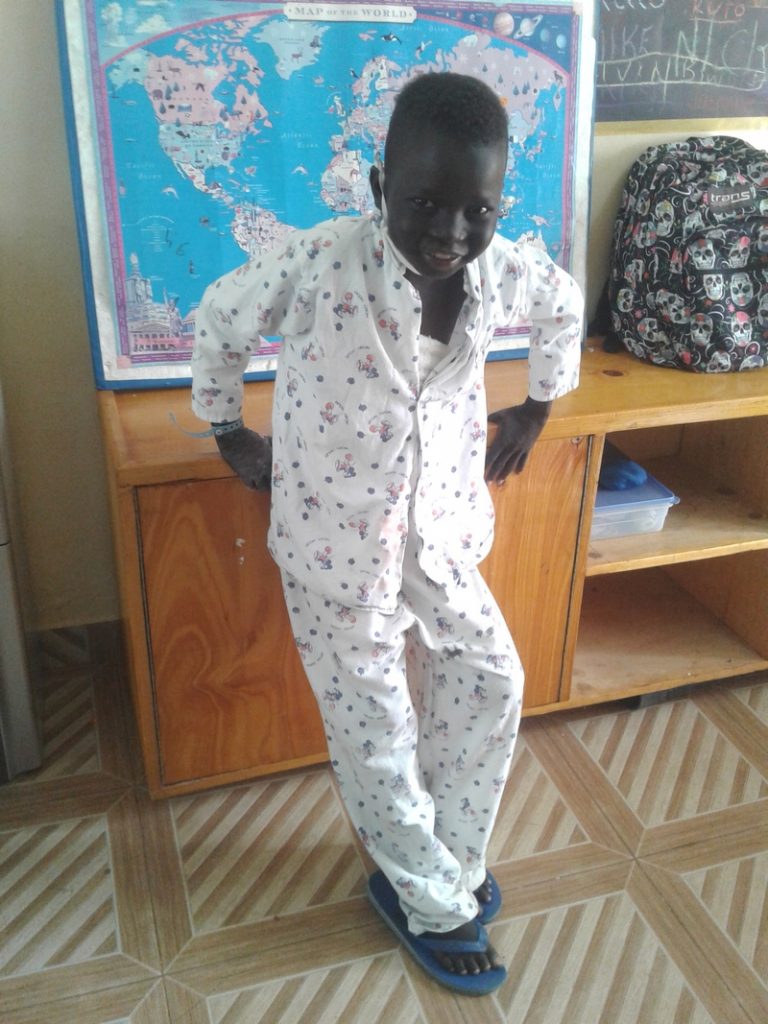 Meet Bill Gates Nabera. The 13-year-old from Lodwar in Turkana County and his twin sister were born in a clinic that was funded by the Bill and Melinda Gates foundation. The nurse delivering them named him Bill Gates and his sister, Melinda. Bill is the oldest patient in the Burns Unit both in terms of age and in the duration he has stayed at our hospital. In November, 2020, he celebrates one year at Shoe4Africa. When he was brought in, nobody thought he would last for a single night. But amazingly, he has made it.
Bill is in the hospital with his uncle, 37 year old Laban Ekiru. Mr. Ekiru cannot speak Swahili so I (Michael) had to speak with him through a translator. He vividly recalls the evening of 26th of November, 2019. It was all peaceful in their village and every villager was going about their businesses. Suddenly, out of nowhere, cattle rustlers from the neighboring Pokot tribe stormed their village. Nobody had anticipated an attack. The bandits stole cattle and other valuables they could get their hands on. But worst of all, they shot anybody who got on their way and torched the village as they fled.  These attacks between the two pastoralist tribes are commonplace; brought about by competition over grazing fields and water points.
Bill lost his both parents, and Melinda, his twin sister. He was lucky to be alive but sustained severe burns from neck downwards to his waist. He had locked himself inside their hut and he was lucky the villagers managed to break through the door moments before the roof collapsed and he would have been roasted to a cinder.
Bill was rushed to Shoe4Africa Children Hospital by ambulance; a twelve-hour journey. He says he doesn't remember much about what happened, or how he got to the Shoe4Africa Hospital because when he woke from his coma, he found himself in the High Dependency Unit in the burns ward. His uncle came to join him one week later, his last living relative in the world.
In the 11-months, he has had four surgeries to correct his skin. Slowly, the wounds are drying up, leaving behind a rough skin and scars.  He can walk by himself, but he can't stand straight yet because his stomach muscles and skin grafting are far from healed. Bill's doctor says his treatment will last for another 4 months. He must make full recovery before he is allowed to go home because doctors are pretty sure Bill's uncle can't afford to bring him back for further appointments if he was allowed to take Bill home.
Bill really misses home, and of course his parents and his sister. He has been away for so long he says he forgets what home is like, but he remembers love and happiness.  Our work at the hospital extends past his medical care.  Right now, we have therapists preparing him, and we will be looking for Kid mentors when he does get back to help him step back in the real world.  Kids like these are survivors…. Let's hope in 20 years we are reading about the new 'Bill Gates' of Turkana and hearing some good fortune.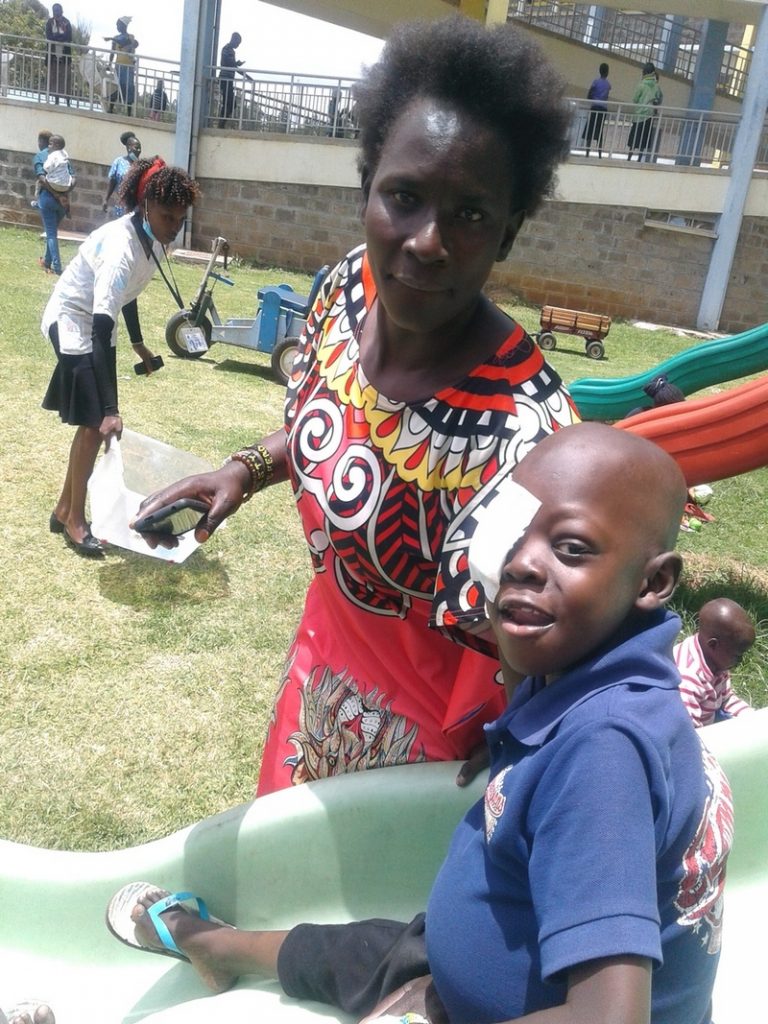 Six years old Nashon Omondi just completed his 8th cycle of chemotherapy earlier today. He is happy that he can finally have fun on the playground with other patients. It's a good feeling hearing happy noises all around. He hasn't left his hospital bed for 24 hours and when he finally does, he feels like a bird that has been released from a cage. 24 hours is a long time to be away from friends and Nashon, and his friends have a lot of catching up to do.
Nashon's mother, Maureen Atieno, is talkative, outspoken and bold. Back home, she is her community's heath mobilizer, a job she agrees goes so well with her personality. She is a mother of four and Nashon is the last born. She has been a widow for seven years. She and her family lives in a small village in the lakeside town of Siaya, some six hours by road from Eldoret.
Nashon and her mother have been in and out of the hospital since June this year. Nashon is one of many patients currently being treated for neuroblastoma at Shoe4Africa Children's Hospital. He first fell ill way back in March. His mother recalls that Nashon lost considerable amount of weight within a span of just two weeks. This got her worried. In the weeks that followed, his belly enlarged and his right eyelid became droopy. Eventually, he became too weak and lost his ability to walk.
His mother took him to an adult's hospital in Kisumu town where he was hospitalized for 1 month. During his stay there, Nashon's right eye began bulging.  He was diagnosed with Burkitt's lymphoma and later referred to Shoe4Africa Children's Hospital for treatment. Upon arrival, however, doctors disagreed on Nashons' diagnosis. They were of the opinion that it could be something else so they ordered that more tests be done on Nashon. He was admitted at the general ward as he awaited test results. Two weeks later and after several tests, it was discovered that he had neuroblastoma.
Now, five months into treatment, Nashon has responded very well to medication. Even though he lost his eye, his will, and health, grows stronger each day. His treatment will take about 18 months and hopefully (Doctors believe) he will make a full recovery.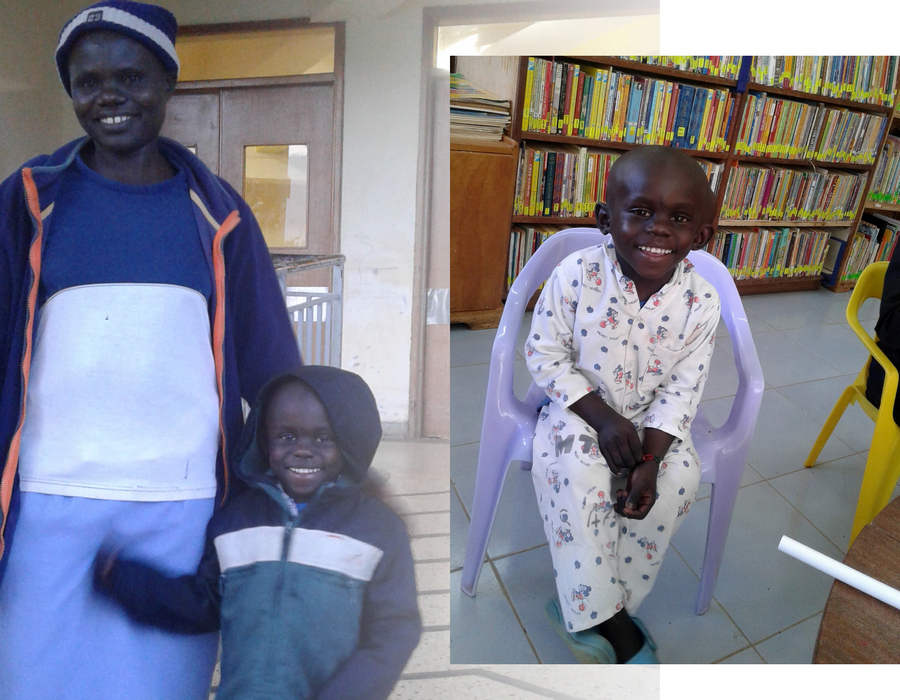 Meet Brighton Soita, the fun loving, jolly 4 year old. He is from the oncology ward, but he was recently moved to the Neuro ward because he is being prepared for a surgery to remove a tumor from the left side of his head (notice the huge bump). This brave little fighter has never allowed anything to take away his smile and happiness; not even the tumor that has grown to almost the size of a fist. He is young and luckily oblivious of the seriousness of his issues, but one can tell that he was born a happy child. He has been with us since May and will still be here for two years. This is why our hospital has become like a community center!
Brighton's mother, 39-year-old Ann Nasimiyu, is quiet and reserved. She has six other children besides Brighton. The family comes from Trans-Nzoia County in a small town called Endebess, at the heart of Luhya tribe of Western Kenya. Brighton's father is a casual laborer in a sugarcane factory near their town.  This means he is paid on day's he works, a couple of dollars.
Brighton's tumor begun as a small swelling back in 2019.  His parents kept ignoring it, but the tumor kept growing bigger and bigger each day. Eventually they noticed that his eyes were becoming squinty and suddenly, one day, he lost his ability to walk. His father took him to a hospital in Kitale town where he was admitted and stayed in the hospital for one week as doctors struggled to understand the condition. Brighton became worse and his fever kept rising. The doctors decided that it was better if he was referred to Shoe4Africa. A nurse from the hospital accompanied Brighton and his mother in an ambulance to help alleviate the mother's growing fears.
He was admitted in the general ward as he awaited the results of a biopsy test. The results came back, and it read that Brighton had Rhabdomyosarcoma- a rare type of cancer that forms in soft tissues, especially skeletal muscle tissues. He was transferred to the oncology ward and was started on chemotherapy treatment. His first dose of chemo was on May 28th. Since that time, he had chemo once every week for the three months. His chemo treatment was recently reduced. He is scheduled for surgery this week to remove the growth on his head. He will also have to go for radiology treatment later this month.
Brighton's mother is extremely happy that her son's response to medication has been so impressive. He couldn't walk when he was brought in, but today, he not only walks but never misses playing on the soccer pitch every single morning as his mother watches proudly from the sidelines. He is a little boy with indomitable will to live.  The odds are stacked against him, but the doctors say his will and spirit are abnormally high.  We're doing everything we can to add many more years to Brighton's life as he assures us, he will become a famous football (soccer) player for our hospital team!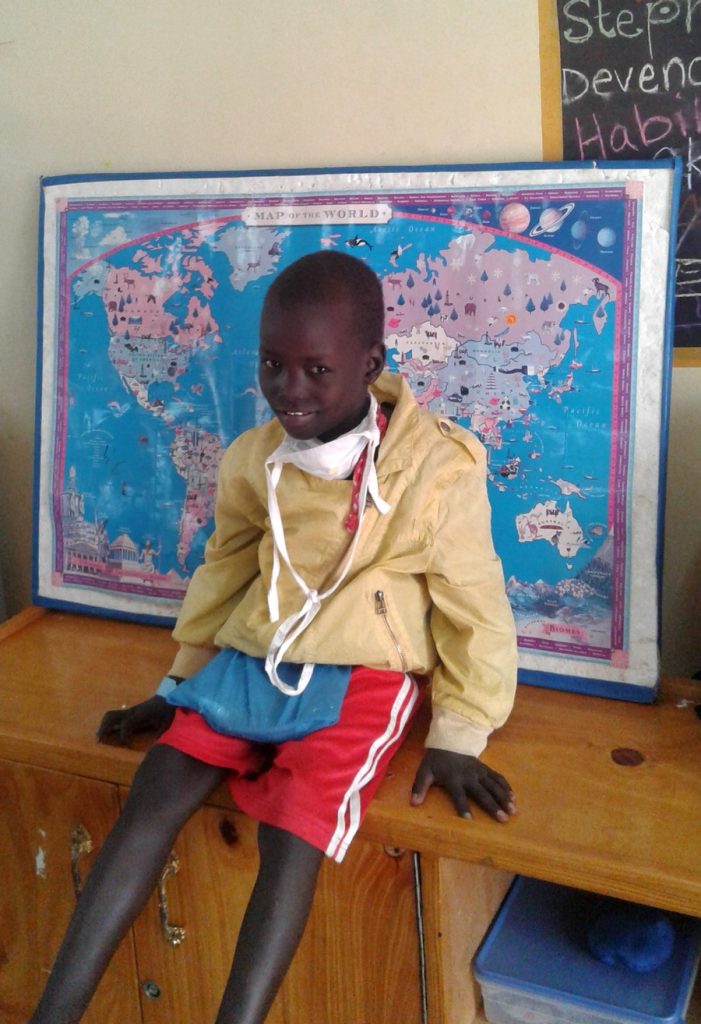 Meet Michael Sebit. Small-built and short in statute, he doesn't look like an 11 year-old. His father simply calls him Mike- and so do his friends at the Shoe4Africa Hospital. His tribe, the Turkana, inhabit the arid Northern Kenya. His family lives in makeshift dwellings in the frontier town of Kakuma where the famous Kakuma refugee camp is found. The northern part of Kenya is poor and marginalized and there is a belief from people in this region that they are not part Kenya. In fact, the Turkana usually say that they are 'travelling to Kenya' whenever they visit other Kenyan towns. Mike and his family depend on relief donated food which is provided once in a week by the UNHCR and the Kenyan government.
Born on a Saturday, Michael was named 'Sebit' which is Turkana for Saturday. Like most Turkana children, Michael doesn't speak any other language other than his mother tongue. His parent, 33 year old  Michael Lojok is a father of two and unlike most people from his tribe, he speaks fluent Swahili and little bit of English. I noticed that he has the same first name as his son and when I asked him why, he told me that giving a child the same name as his parent is a common cultural practice among the Turkana. Doing so means that he will always live in his son's being.
Michael has been in the hospital since July of this year. He says that it all started when Mike began complaining of sharp stomach ache on the right side of his lower abdomen. He made a concoction of herbs for Mike and hoped that the stomach ache would go away but instead, it persisted. He tried another treatment which involved making several small cuts on Mike stomach using a razor blade and applying some traditional ointment on the cuts. In a remote region with vast wastelands and a poor majority means that healthcare is considered a luxury. It takes a whole day to reach the nearest hospital. That explains why traditional healing is still widely practiced here.
When he had exhausted all traditional remedies and Mike's condition was still not improving, he took him to a health facility inside the refugee camp but nothing much was done apart from a few painkillers which he was given to take back home. But Mike's stomach ache became so severe and when he took him back to the health facility a few days later, he was put in an ambulance and brought to Shoe4Africa Children Hospital. Their journey to Eldoret took 12 long hours and it was late at night when Mike was admitted into the general ward. The following morning, he was taken for CT scan and doctors discovered he had abdominal abscess. This is a pocket of infected fluid and pus located inside the abdominal cavity. There are many causes of stomach abscess but doctors believe Mike's was caused by a parasite infection.  Often dirty water is drunk and dirty foods are swallowed.
Mike's abscess needed to be drained of pus. Using a needle and a drain, his doctors put a needle through his skin and into the abscess. The needle was then connected to a tube which in turn connects to an external drainage plastic bag. This bag will have to hang around Mike's waist for some weeks until his abscess gets better. He is also on antibiotics to treat the parasite infection that caused his abscess.  Fortunately for Mike, the abscess had not spread and his doctor says the drainage and the antibiotics will be all he needs. Mike has responded tremendously to treatment. He is slowly but steadily regaining his health. He is also learning a few Swahili words every day through his interaction with other patients. Father and son both love the feeding program at Shoe4Africa.  Three meals a day plus porridge and tea snacks.  Mike senior says it is something he can get used to quickly!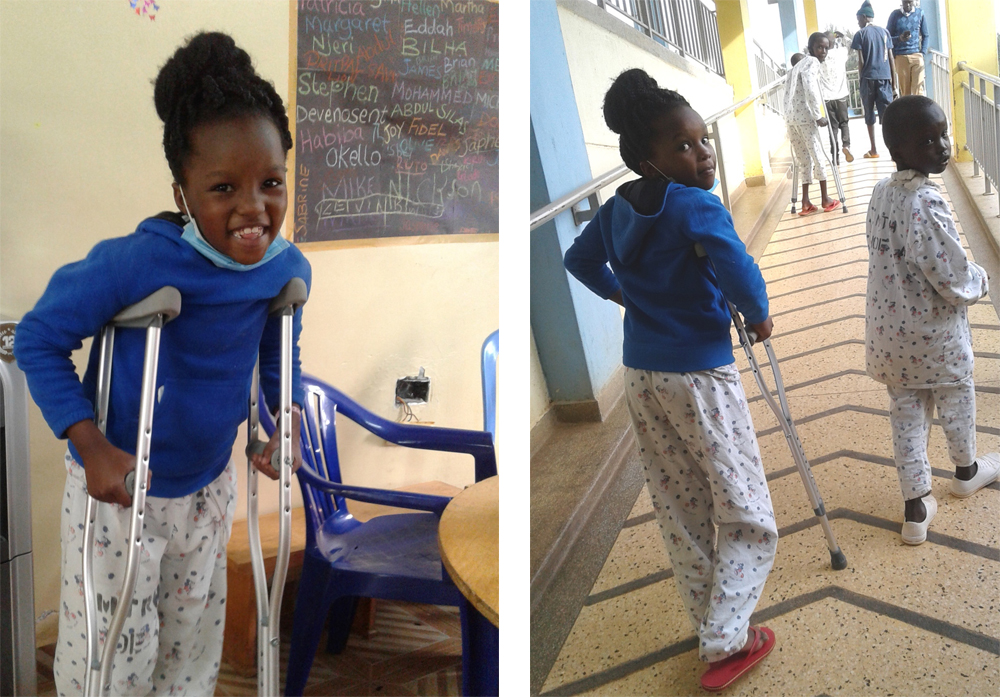 Meet seven year old Maureen Atieno. Her contagious smile and receptive personality can hardly go unnoticed. Not even the painful event that led to her hospitalization managed to erode away her smile. She has not been able to get out of her hospital bed for exactly one month but today she is excited that she is finally able to get out of bed and explore outside of her ward (see photo). With the help of crutches and encouragement from her mother and her friends, she takes one little step at a time, feeling the tingling sensation on her feet.
Maureen's mother, Joyce, is 28 years of age. She is happy to see her daughter on her way to recovery and says that helping her daughter walk reminds her of many years ago when she helped her take the first steps as a toddler.  The family lives in Langas, an informal settlement found in the suburbs of Eldoret town. Until a month ago, she was a proud mother of two. Today, Maureen is all she is left with.
On a fateful Friday morning, one month ago, Maureen and her elder brother accompanied their mother to sell goods at their grocery stall, which sits by the roadside. Out of nowhere, a vehicle that had lost control rammed into their stall. Their mother was not inside at that time. The kids were rushed to our hospital.  Maureen escaped death by a whisker but came out with broken bones. Sadly, her brother was pronounced dead upon arrival at the Shoe4Africa Hospital emergency wing.
Maureen was admitted at the surgical ward where she has had three surgeries in effort to fix her leg. The Surgical ward is given a Swahili name, 'Fadhili' which translates as kindness. Maureen's mother is quick to notice the irony, given how unkind life has been on her. But she is not bitter and acknowledges that life has given them a chance to start all over again.
Although she wishes she could change the hands of time, Maureen's mother finds consolation in the fact that she had no control of what befell her family. She admits that occasionally, they both experience emotional breakdown but remember people say that time heals all wounds. They hope that soon Maureen will get better and be able to visit her brother's grave, so that the family can finally have a closure.  But before then, Maureen will need to have one more surgery at our theater, and even after she is discharged from the hospital, she has many months of physiotherapy appointments planned.  As she set off on her 'hike' she said she wanted to see the whole facility to see what is "on offer for her" as she knows she has now become one of our family members!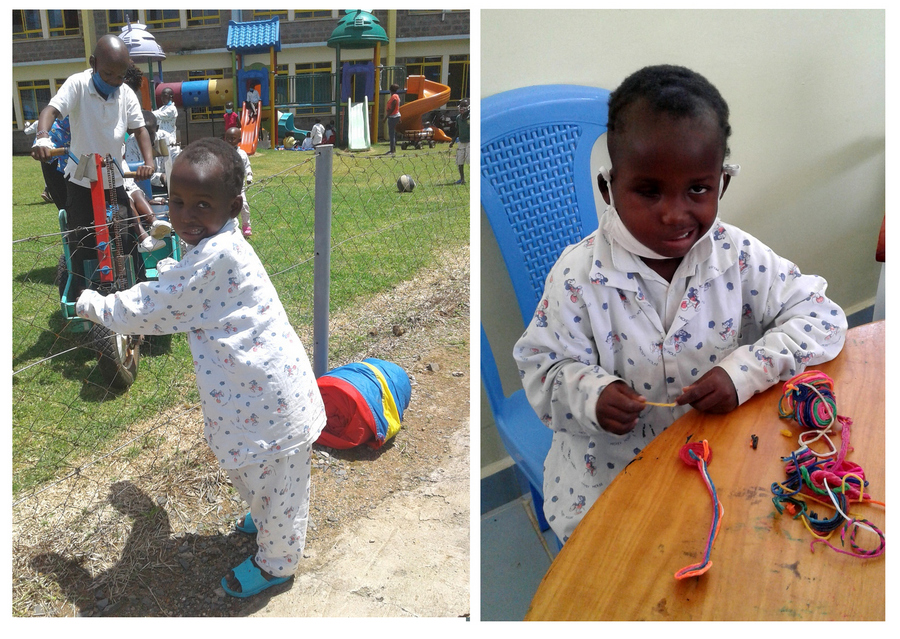 Meet little Sentrine.  Born 6 years ago during harvesting season, her mother joyfully named her 'Nekesa,' which, in the Luhya tribe of Kenya, means she who comes with abundance. Even though she never got to meet her father (who died a few months before her birth), Sentrine's first two years of life brought joy and hope to her mother who was still grieving her husband.
Sentrine's mother, 47-year-old Millicent Nabangala, has other 8 children besides Sentrine. Her first born son is 30 years old and in employment already. He is the one who has been helping a lot with Sentrine's medical bills. Sentrine is the last born. The family lives in a small village where Kenya borders Uganda.
In 2017, when the family had barely recovered from the loss of their patriarch, Sentrine fell ill. It all began with a small swelling on her right eyeball. Then the family noticed that little Sentrine was squinting and having difficulty focusing both eyes on the same object. With time, the swelling grew bigger and bigger and gradually the eye began bulging out of its socket. Her mother crossed the Kenyan border into neighboring Uganda to seek treatment at Ruharo Hospital.
News about Shoe4Africa Hospital goes beyond Kenyan borders… and we have been known in Uganda. Millicent was advised to bring Sentrine to us.
With the help of her eldest son, Sentrine was brought to Shoe4Africa in January 2018 and three weeks later she was diagnosed with Retinoblastoma- a rare type of childhood cancer that affects the eye. Unfortunately, it was too late to save the eye so the doctors had it removed.
Speaking to Dr. Olbara, Sentrine's physician, the cancer was intraocular- meaning that it had spread beyond the eye. Another tumor was discovered on her right chin, just behind her ear. Last week, Sentrine was operated on to remove the tumor from her chin. Currently, she is waiting to be taken for radiotherapy. After that, doctors will be working on having an artificial eye fitted for her. She is the first patient to be diagnosed with retinoblastoma after a long time and this has drawn attention and interest from many doctors. Her case is being followed closely.
Despite all the challenges, Sentrine's mother is hopeful that her daughter will beat the disease and blossom once more.  In tough times this child is a trooper!  Our therapists have discovered she is most happy when playing with beadwork, she has become quite independent, wandering around our compound freely, making many friends.  Along with the mother and doctors, the whole hospital roots for her recovery.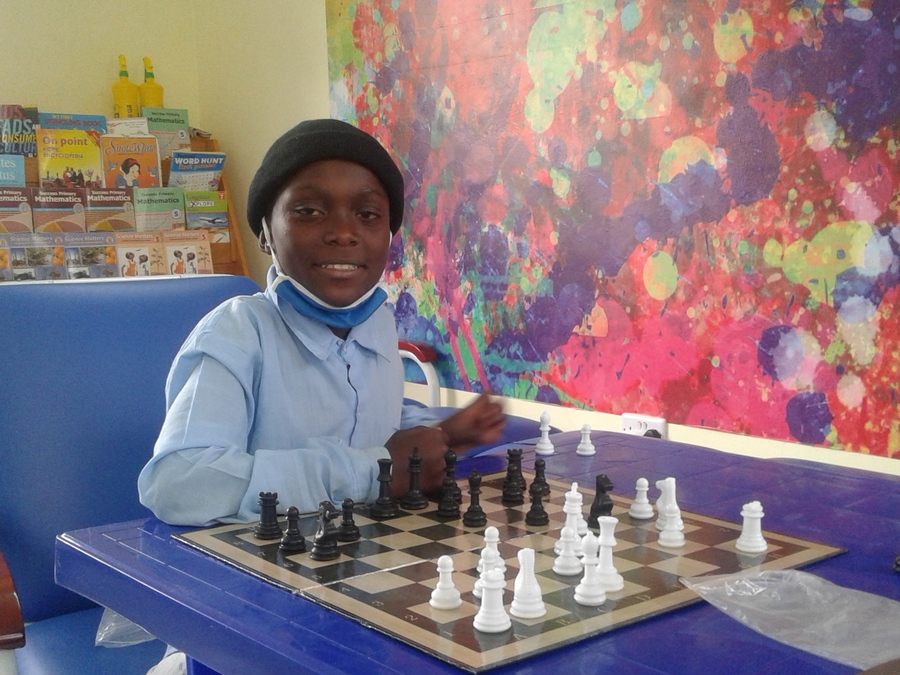 Meet Teddy Otieno. He comes from Kisumu town- about a two hour drive from Eldoret.  The introverted–chess game -lover whose dream is to be an engineer can't wait to meet the hospital engineer, Mr. Atogo. He, together with other patients, is planning to make a model of the Shoe4Africa Hospital and is therefore hoping to get a few tips from our hospital engineer.
Like any other parent, Teddy's mother, 46 year old Mrs. Khakuya, is proud and supportive of his son's dreams and hopes that he gets well soon so that he can go back to school to pursue his dream.
Teddy was taken ill in July of this year. His mother says that it all began with a painless swelling on Teddy's right jaw. The swelling disappeared after sometimes, only to reappear later on his right side of the neck.  Because the swelling was painless, the family decided to wait, while hoping that it would all go away. But the swelling grew bigger every day and when Teddy was finally taken to a hospital near their village, the doctors there referred them to Shoe4Africa because they suspected the swelling might be malignant.
Teddy was brought to Shoe4Africa Hospital two weeks ago and admitted in the General ward. He spent the whole of last week recuperating in the surgical ward after he was operated on to remove the swelling on his neck. During the operation, a piece of tissue was taken for biopsy and the results confirmed that Teddy has cancer- Non-Hodgkin's Lymphoma. This cancer is the third most common cancer in children. It affects more boys than girls. It occurs when white blood cells grow out of control and fail to mature. These cells increase in number, causing a swelling or enlargement of the glands or other body area where they are usually found.
Teddy's mother confesses that she never imagined that cancer could one day be a discussion in her household. But today, the reality that her last born son has cancer is slowly beginning to sink. But with the help from the medical team and support of her fellow parents whose children have cancer, she believes she'll be able to give her child the best support throughout his stay in the hospital.
Two days ago, Teddy was transferred to the Oncology Ward- the most populous ward at the Shoe4Africa Children's Hospital. He is about to begin a treatment that will last for almost one year.  The soft spoken 14 year old already seems to know a lot about his diagnosis. He says he is planning to shave his hair because he knows he is going to lose it soon after he begins his chemotherapy.
Prognosis continues to improve for people with Non- Hodgkin's lymphoma in developed countries but in developing countries like Kenya, where cases of cancer are usually diagnosed when it's too late, the probability is that few children with cancer will make a full recovery.  But still, Teddy's mother believes that there's good hope because getting cancer is not having a death sentence and some kids MUST beat the odds.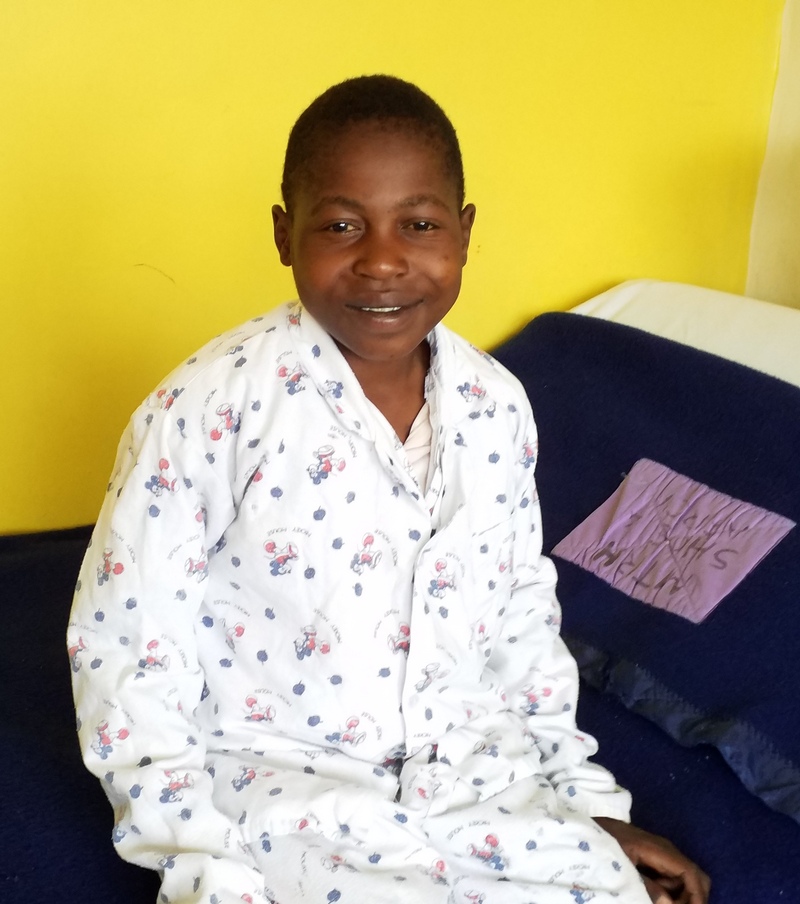 13 year old Denis Wanjala has been battling a heart disease since October, 2019. He looks weak, fragile, and withdrawn, but he has the spirit of a lion. He spends most of his time lying on the bed, keeping away from any vigorous activity. According to his mother, Denis is a faint shadow of his former self.  But asking Denis, he will tell you, I am going to be alright.  Ask him of the pain, and he doesn't speak, but he nods his head, then replies, "When my energy returns, you will see a different me.  I will be alright."
Denis' mother, 44-year-old Joy Waswa is a widow with five more children to care for, besides Denis. She lives in Kimilili-a small town in Bungoma County on the western side of Kenya. She has single handedly raised her children after her husband died six years ago. She and Denis have been in the hospital for one month and there's a strong indication that she might stay longer still. Her coming to Shoe4Africa Children's Hospital was facilitated by a member of parliament from her constituency after some community health workers highlighted the plight of Denis.
She narrated to me that Denis began feeling ill in 2019. He woke up one morning, unable to stand.  Denis loves school, but for several weeks couldn't leave his bed.  Joy took to the prayer book.  Each night, as a widow in poverty, she prayed for help.  Things did not go well, Denis worsened.  Joy asked at any health dispensary what to do, trying potions and medicines.  No one knew what to prescribe, no diagnosis was done.  Joy thought that was it, but one day in this far off village some community health workers passed by the house.  Seeing a child unable to move, bedridden for months with a mother who did not know where to turn, they rushed to the most powerful person they could find and implored a politician to help.  An ambulance was found, fuel was bought, and Denis was transported; of course, to Shoe4Africa.  Joy related, "I did not know places like this even existed, something for children."
Immediately Denis was diagnosed with pulmonary stenosis. This means that his pulmonary valve is too tight and for this reason, it becomes hard for the heart to pump blood from the right ventricle into the pulmonary artery.   Cardiologists have recommended that Denis would need valvuloplasty. In this procedure, a balloon will be inserted into the narrow valve in his heart. The doctor will then inflate the balloon, which will widen the opening of the valve and separate the valve flaps.
A team of cardiologists from Kenyatta National Hospital and MTRH in conjunction with Heart-heart foundation will include Denis when they come to the hospital to perform a series of cardiac operations.
However, Denis has a long journey ahead as the aortic valve tends to narrow in adults who've had a valvuloplasty. Therefore, the long-term solution for Denis' condition is to have a valve replacement so we are hoping that Denis will have this procedure too.  Right now, lying in our wards, his mother finally feels safe, "Something is being done.  People know what is wrong.  I feel half the battle is done."  Denis interrupts, "I know everything will work out."  Our therapist asked, "How?"  Denis doesn't answer, but the smile and the nod of his head say it all.  We are with you Denis!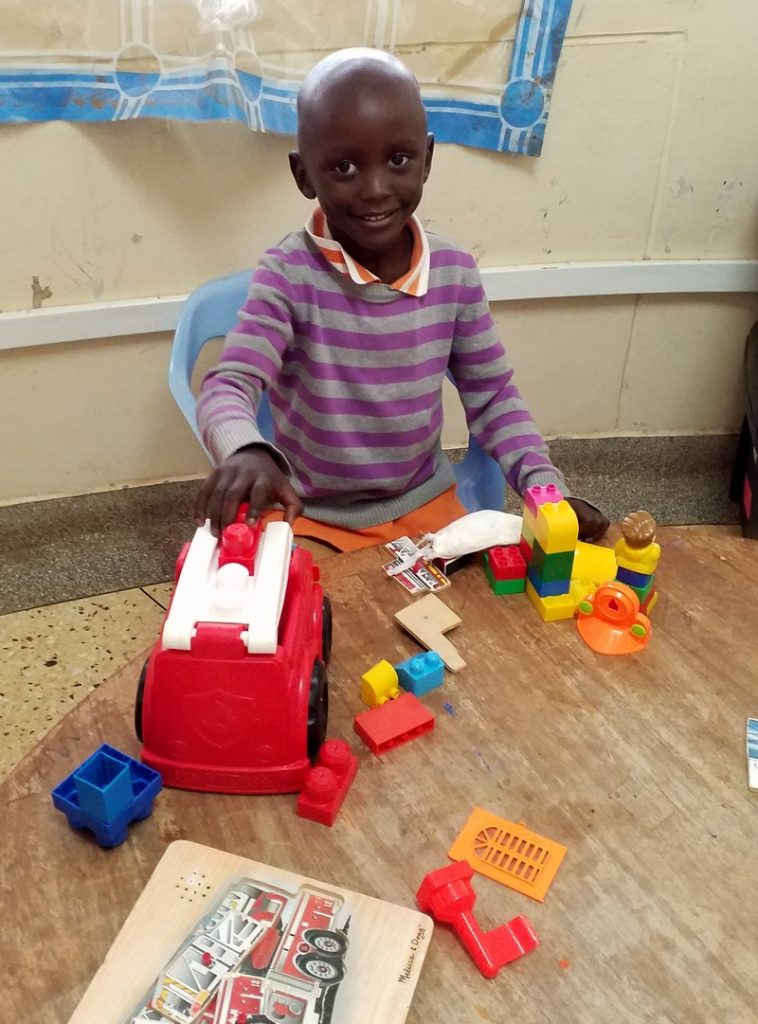 Five year old Leon Oduor is having his chemotherapy in the next 30 minutes -the last one before he begins his follow-up clinical visits at the outpatient clinic. He is impatient and wants the treatment to be over with it. He keeps checking at the nurses' station just to get assurance that he is still having the chemo.  Nothing excites him than the thought that finally, he's going home. He has been in the hospital for six whole months. If all goes well, the nurses and the Child Life health workers will throw him a farewell party, he will be given a cake, and he'll be given a bead to take home. The bead is a reminder of his courage and bravery during the entire period of treatment. It's usually an emotional moment in Oncology ward.
Leon's mother, 35 year old Judy Akoth, has spent a better part of the afternoon exchanging phone contacts with other parents and caretakers from the Oncology ward. She says she has made several friends during her stay here.  These are people with whom she has fought the same battle, people who have become her support base…people she has cried with. And she holds them in high regards.
She can't wait to go back home and continue with her vegetable vending business in the open-air markets in her village in Siaya County. Her husband lost his job early this year and she is looking forward to helping him make a fresh start after the family's finances were depleted.
She remembers the first time she came to the Shoe4Africa Children's Hospital in 2019. She did not know what to expect. Leon had a swollen stomach from what doctors said was an enlarged spleen. She had taken him to a health center in her village and a government health facility in Siaya town and doctors there told her that she had to bring her son to Eldoret for treatment. Her husband had just lost his job and the family were going through hard times. With little money the family could get, she enrolled her son into the government health insurance fund but they would have to wait for three months before they could be allowed to use it. But finally, they came to Eldoret in February of this year and Leon was diagnosed with Acute Lymphoblastic Leukemia. Unfortunately, his leukemia had spread to his spleen and it had to be removed.  This was followed by cycles of chemotherapy. But finally, today, Leon is taking the last dosage of chemo.
He has responded well to treatment and the family is hopeful that he will make a full recovery. But they are also aware of the possibility of a relapse. They are also aware that as much as it is possible to live without a spleen, it is more likely that Leon will be vulnerable to infections in future.  Although he is leaving us, he will be back in a month for a check-up.  It's a hard battle, but Leon assures us, he is ready for the fight!
Havila Simiyu, at three years old, is one of twenty burns' patients on our wards today.  At peak we might have as many as forty kids. It is a sad story, but with a happy ending.  The family live in the Eldoret slums, at Langas.  Mom Sarah Ngoni, 21, was an orphan and scratches a living by walking round the slums and doing people's laundry. She said from day one her life has been hard, and she had a teenage pregnancy before managing to secure a job.  She is married to a stone mason who is often absent, and he is often out of a job due to the large number of laborers in Kenya.
Because of this circumstance, Havila was often left playing with the other kids, as there is no daycare when you live in poverty.  The family, who survive off a dollar or two a day, if work is found, live in a single roomed tin shed with no windows. One day, when returning from work, Sarah heard her child had been rushed to Shoe4Africa.  She jumped on a motorcycle taxi and raced to find Havila being treated in the Emergency ward.
Havila had upturned a whole pot of porridge that was sitting on the shelf. He is now covered in bandages and gauzes as the photo shows. Each day his wounds are cleaned, and new bandages and gauzes have to be placed over the wounds.  This is a tough procedure for any child, but for a three-year-old he is being a trooper. The doctors report he will make a full recovery, and his skin is already showing great healing signs. Although the treatment will take months, as the process of skin grating begins, he is already enrolled in play groups and Sarah hopes he will pick up some early learning skills as our library and school classes have a lot more material than in the slums!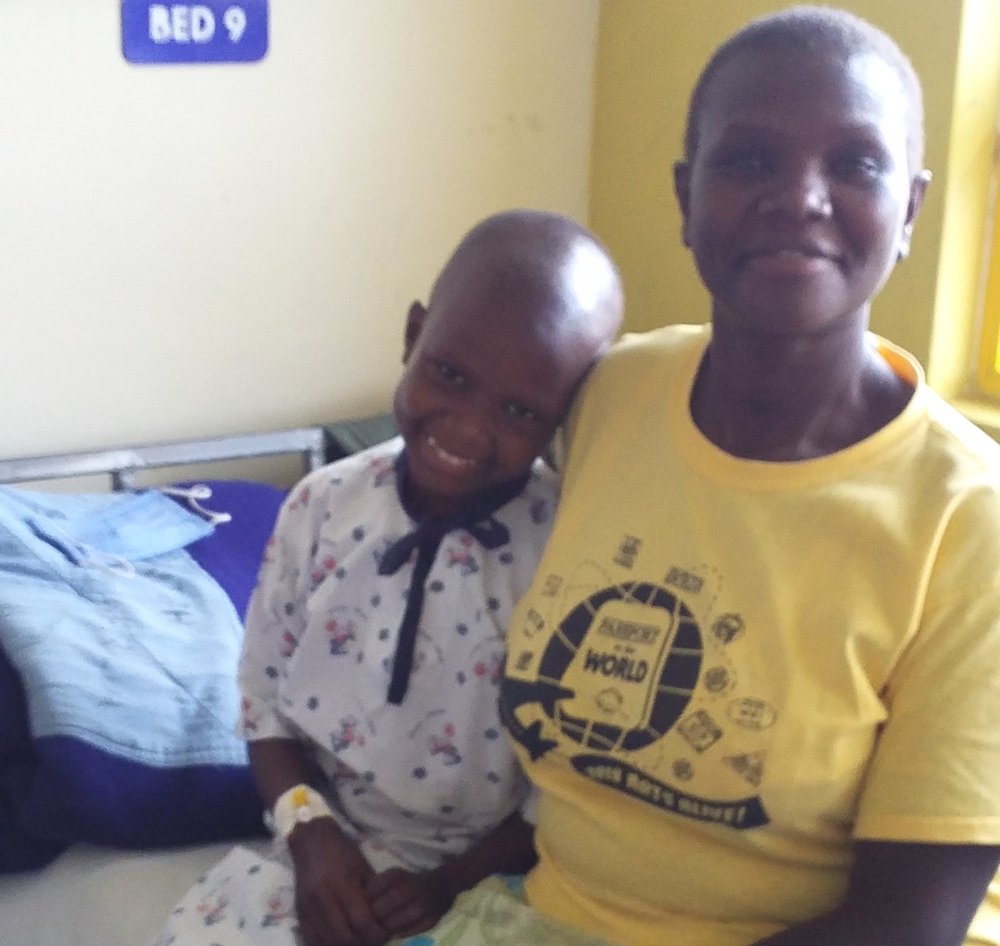 Abigail's story
13 year old Abigail Musadi, and her 45 year old mother, Ms. Veronica Chemaiyek, come from sleepy slopes of Mt. Elgon on the Western region of Kenya at the Kenya-Uganda border. They belong to the Sabaot community which is a sub-tribe of the Kalenjin ethnic group. The Mt. Elgon region is notoriously known for its many years of deadly land conflicts which claimed lives of approximated 6000 locals in late 2000. The high population of people, scarce land resources and widespread unemployment led to the conflict.
Abigail never got to see her father. He was killed by local militia in the land dispute when Abigail was just one week old. Abigail's mother, who had barely regained her strength after giving birth, was left with the responsibility of providing for and protecting her four children.  Jobless and penniless she knew it was going to be a tough ride. She found strength and solace in this community of widows who resolved that raising their children would become a communal responsibility. To them, raising children would take the village.
Years went by and her children were all grown and in school. She had done her best to fill the gap left by her late husband. The family was doing well and happy. But suddenly in December of last year, Abigail (her last born) began feeling unwell. She had persistent joint aches. She stopped going to school. This was hard on Abigail's mother because she had to stay home and nurse her child while she also needed to go out in search of food each day which her family desperately needed. Days went by and Abigail was wasting away. There is no social security, no food stamps in Kenya.
She made several visits to nearby dispensaries but all her efforts proved futile.  But she was not just about to give up. She finally decided to take Abigail to a government health facility in Kitale town, some 40km away from their village. Abigail had a blood transfusion and on 14th of February this year, she was referred to Shoe4Africa Children Hospital.  One week in the General Ward, Abigail was diagnosed with Acute Myeloid Leukemia- a type of cancer of the blood and the bone marrow. Oncologists came up with a treatment plan for Abigail and explained it to her mother. The first phase of treatment, known as induction, would be short and intensive, typically lasting about a week. The goal of induction is to clear blood of leukemia cells and to reduce the number of such cells in the bone marrow. In the second phase, known as consolidation, chemo would be given after the patient has recovered from induction. Chemo would be given in cycles, with each period of treatment followed by a rest period to allow the body time to recover. For a 13-year old, for any person, this is harsh treatment and our childlife therapists worked with Abigail preparing her for this trial of courage.
Abigail is now halfway to completing her chemotherapy.  The first weeks of her treatment were hard. This is when the side effects of chemo manifest. Her mother admits that there were times when she almost lost hope. But Abigail has picked up so well and is slowly beginning to thrive again. Abigail's mother says that she has confidence that doctors at Shoe4Africa are doing all they can to help her daughter but she is also fully aware of the prognosis given that 9 out of 10 children with cancer in Kenya die is one of the most difficult stats to beat. But hope and prayers are all she has.  Abigail has her support team at the hospital, so far so good, she is responding, with an appetite, and says she is going to beat these odds.
This 9/10 stat (it is 1/10 in America) for the region of East Africa is one of the key reasons why we need to build the Shoe4Africa Juli Anne Perry Children's Cancer Hospital – the first for Sub Saharan Africa.  To give kids like Abigail a fighting chance.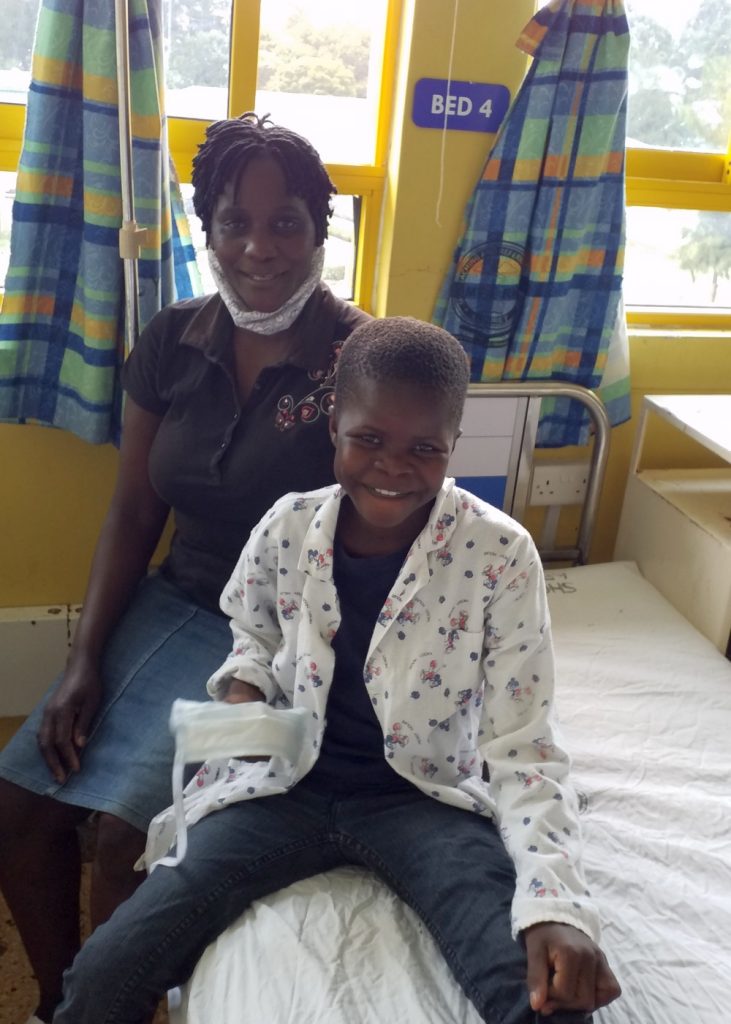 Sheryl's story
 To say Sheryl has been through the wars is an understatement. From her ward on the second floor, eleven year-old Sheryl Akinyi enjoys a beautiful view of the kitchen and the basketball pitch. She sees the food trolley being pushed from the kitchen and she announces to her ward mates that food is almost arriving. But she will not be having lunch today because she is not allowed to. She will be in the operating room later today for an important medical procedure.  Sheryl is so happy to be in this ward –and to be in the company of other patients of her age.  She was recently moved here after spending close to one month in an isolation room where the only company she had was that of her aunt.  But even in this ward, Sheryl's bed is on the furthest corner of the room.
Life hasn't been so kind to Sheryl. She lost her father when she was just three years old. Her mother passed on a year later. Her 36 year old aunt, Mary Apiyo, took her in together with her three siblings.  Last year, the youngest of her siblings died of Malaria.  And then she was diagnosed with Tuberculosis in March of this year.  She was treated but two months later, and when her family was sure she had successfully beaten the TB, she began coughing again. This time, the cough was blood-tinged.  She was sweating a lot at night and had lost weight drastically. She was taken back to a County Hospital where she had been treated earlier. Her doctors discovered that her TB had relapsed. They also discovered that her left lung was damaged. She was referred for treatment at the Shoe4Africa Children's Hospital in Eldoret.
Sheryl's aunt had never travelled out of her small village in the lakeside town of Homa- Bay, the heart of the Luo tribe of Kenya. She has lived her entire life here. Her family, relatives and friends all live here. To her, Eldoret was a distant town in the heart of the Great Rift Valley where famous, world -class marathoners are made.  For the first time in her life, she would leave the confines of her village. The Luo tribe of Kenya are known to be poor speakers of Swahili and by coming to Eldoret, she was about to face the problem of language barrier. But none of this mattered.  Her primary concern was Sheryl's health.
Sheryl and her aunt came to the Shoe-Africa Hospital towards the end of June. They have been in isolation the whole time until last week when they were transferred to the General Ward. She has been on TB drugs during her time in the isolation ward and doctors are certain that she no longer poses the threat of infecting other patients.  Unfortunately, Sheryl's left lung is damaged and doctors have recommended a surgery to remove it. She will live with one lung. Her surgery is scheduled to take place later today and they're both hopeful and optimistic about the surgery.  Sheryl has lost almost 1/3rd of her weight but is ready as she embarks on her journey to recovery. After surgery, she will have to spend another one month in the hospital as her doctors monitor her progress before she is finally allowed to go home.  For a girl so young, we can only hope her life gets better.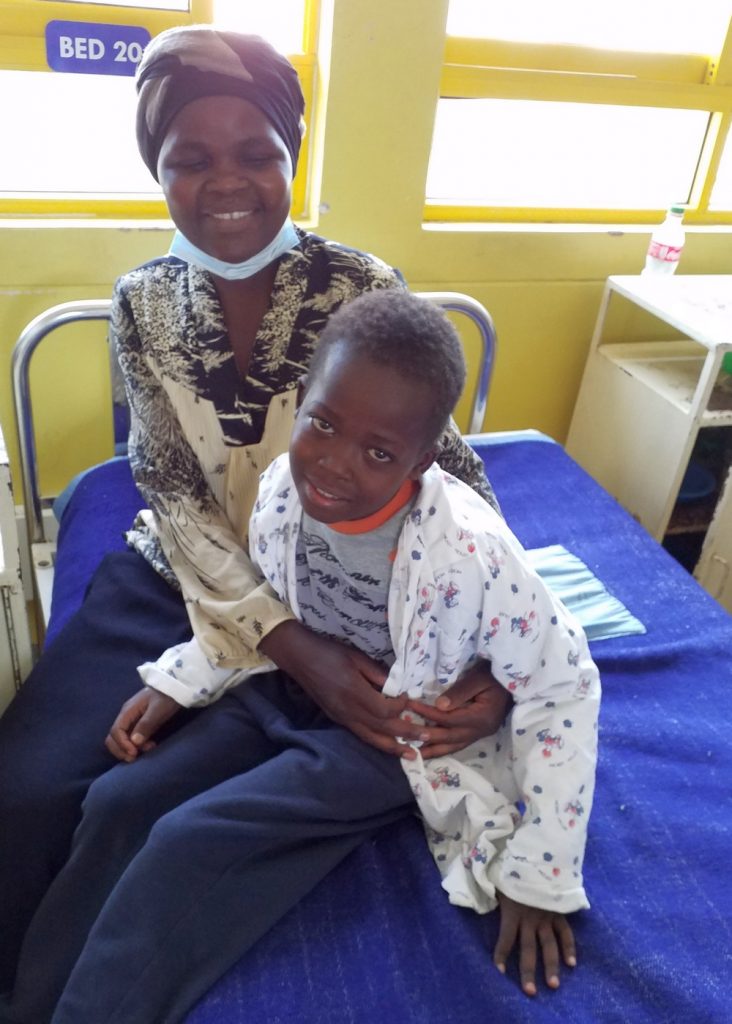 Gabriel Hannington-Hope was among the first patients to be treated at Shoe4Africa Children Hospital when it first opened its doors in August 2015.
He had been at the large general hospital and can't forget his mother having to sleep under his bed in s small crowded room. He vividly remembers the day he was moved to the brand new Shoe4Africa Hospital. He was just nine at that time.  Five years later, the soft spoken 14-year-old comes for his medication at the Shoe4Africa outpatient clinic. Occasionally he gets admitted in the ward whenever doctors feel there is a need.
Gabriel's mother, 45-year-old Abigael Mutua, is a mother of three.  Widowed ten years ago, she has single- handedly raised her children. She says that she believes she has done the best she could with raising her children. Her first born is now 26 and is in employment, her second born is 16 and Gabriel is the last born- and the only boy. The family lives in Kesses, not far from Eldoret.
Gabriel's mother has had a kidney disease for the past seven years and has been coming to MTRH (adults hospital) for dialysis. Often, Gabriel's appointment at the kids hospital coincides with her mother's.  This week, both of them are being treated. Gabriel's mother will come to take care of her son once she is done with her dialysis.
Gabriel was taken ill in 2014. This was a double tragedy for the family because his mother had been diagnosed with kidney failure in 2013. Gabriel's eldest siblings had just joined the University and the family's finances were almost depleted.  A widow, battling kidney failure, with three children to care for, and then suddenly a sick son, Gabriel's mother knew she had hit rock bottom.  But she had the strength of a woman who was determined to fight anything that posed a threat to her family. She was willing to give up anything for her son's health.  After several tests, Gabriel was diagnosed with type 1 diabetes.  For some reason, his immune system mistakenly attacks and destroys insulin-producing beta cells in the pancreas. Insulin is a hormone that helps move sugar or glucose into the body's tissues.  Damage to beta cells from type1 diabetes means glucose doesn't move into your cells because insulin isn't there to do the job. Instead, it builds up in your blood while your cells starve. This causes high blood sugar which can lead to many complications.
Six years later, Gabriel is doing tremendously well. He has learnt how important it is to keep close eye on his blood sugar levels.  He says he is even able to administer insulin shots all by himself. He knows how important it is to keep his blood sugar at a certain range as advised by the doctor. His mother says she has learnt to help her son take care of himself because living with diabetes is a balancing act.
But sometimes, because of circumstances they cannot avoid, things get out of hand and Gabriel must be admitted to the hospital for treatment. This week he is in the hospital because his blood sugar levels were so high. Doctors discovered that this rise in blood sugar was causing atherosclerosis (hardening of arteries). So, now Gabriel is back at a place he considers his second home.  "I have grown healthy and this is just a setback." Says the kid with his great attitude.  The mother says having Shoe4Africa attend to her son is a "lifesaver."  She says Gabriel has a sense of what she calls security and comfort.  "He doesn't panic when he has these setbacks, he says to me, we have Shoe."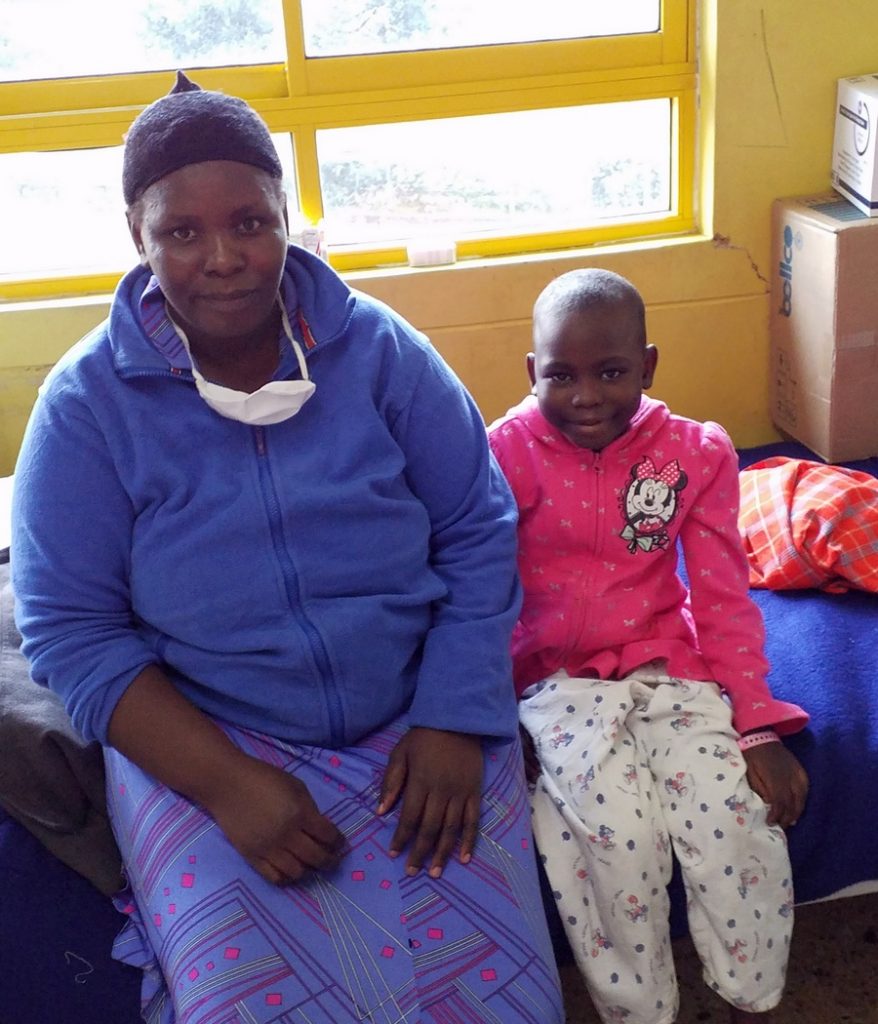 Meet five-year-old Hellen Achien'g. She is the last born in a family of six though she jokingly says that her pet dog, Simba, is the last born. The first time she was admitted in the hospital was in December of 2019 but she has been in and out of the hospital since that time. She is super excited that this, hopefully, might be her last visit since she has successfully completed her treatment.
Hellen is in the hospital with her 32 year old mother, Gladys Atieno. They live in Siaya- a small town found along the shores of Lake Victoria. Back home, Gladys and her husband own a grocery store- a business they've jointly run for ten years. Gladys says that after giving birth to five boys, her prayer was to have a girl. And therefore when Hellen was born, she was thankful that her prayer had finally been answered. The entire family happily welcomed Hellen. Her older brothers were so happy to have a small sister. She was named 'Achien'g' which, in her native language of Luo, means she who brings light.
When Hellen became sick, the whole family felt like their source of light had been taken away. She had what seemed like symptoms of Malaria but the symptoms persisted even after her father gave her anti-Malarial drugs which he had bought from a drug store. The symptoms became severe and Hellen began passing urine with blood stains. The family fell on panic mode. Amidst the confusion and panic, her father brought himself together and acted swiftly. He was determined to do everything he could so that his only daughter could get the best treatment.
They decided to bring Hellen all the way from Siaya to Eldoret because they were sure she would get the best treatment here. Furthermore, they had relatives in Eldoret who were more than willing to accommodate Hellen and her mother and check on them in the event that she was admitted in the hospital.
December 9th, with a referral letter in hand the family was in Eldoret and at Shoe4Africa Hospital. Hellen was finally admitted at the General ward. Doctors ran tests on her urine (urinalysis) in effort to establish what caused the hematuria (blood in urine). She was diagnosed with glomerulonephritis (inflammation of the kidney's filtering system). According to Hellen's physician, Dr. Cheptinga, glomerulonephritis is easily treatable if detected early. Hellen's case was detected early. Her parent's swift actions saved her. She was put on antibiotics that would help clear her urinary track infection. She also has had regular blood transfusions because she had lost a lot of blood.
After seven months of treatment and follow up clinic appointments, Hellen's condition has improved tremendously. This is her final week in the hospital before she is discharged. She is so happy that she's finally going home to reunite with her siblings and to play with her pet dog. Her mother is happy to see her daughter back to health. She's finally going back to her other children, and to her business. "No matter what is going on in the world, in all the craziness, if your child is not healthy, you have nothing."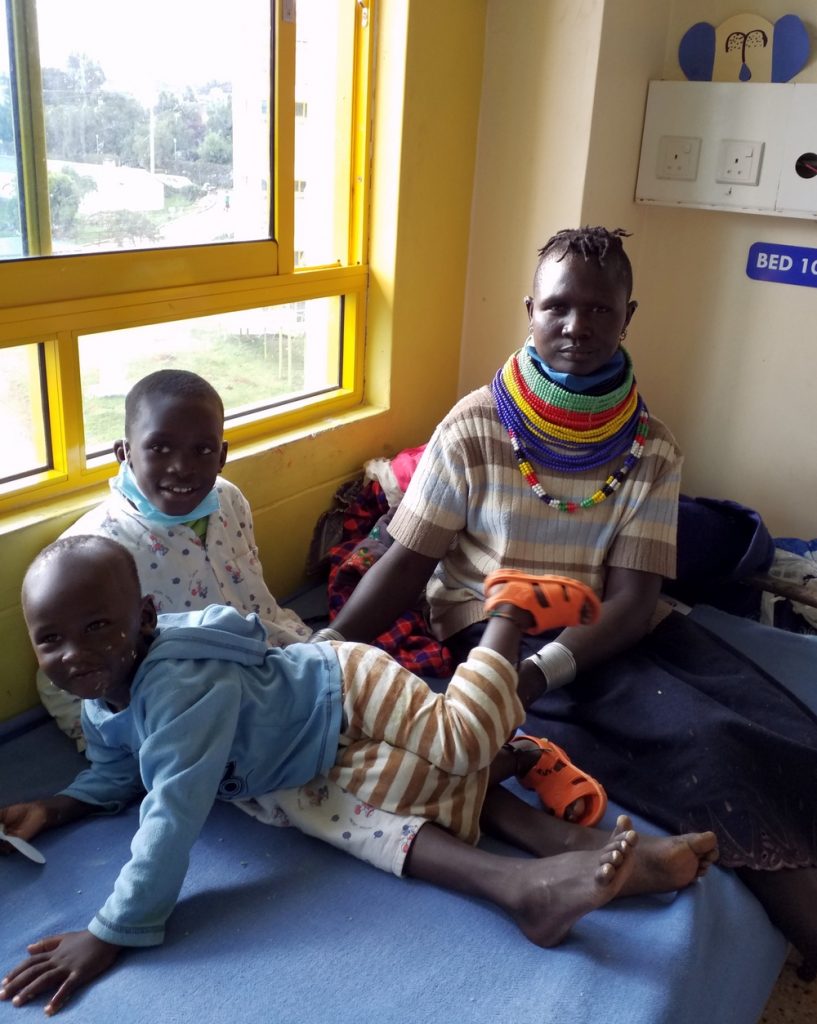 Seven year old Esogon Ekaru and his 2 year-old brother, Nanok Ekaru, are a restless duo. They spend most of their time roaming about from one ward to the other and from one playroom to another. It is not easy to find them in their ward unless if it is time for doctors' ward rounds or when it is time to serve meals. This is Esogon's second visit to the hospital and he is scheduled for radiation therapy in the course of the week.
 Their mother, 31 year old Alim Ter -Ekaru, has a dark skin and is almost six feet tall; a physical trait common among Turkana women.  She has a beautiful adornment of beadwork around her neck.  In her community, these beads are worn to signify age group and marital status.  Her head is shaved except for a thin strip of hair that runs from front to the back of her head. She doesn't speak Swahili and definitely not English so I have to speak with her through a translator.
Mrs. Ekaru doesn't worry much about where her children are and will only go about looking for them when it's time for her older son, Esogon, to have his medication. She tells me that among the Turkana tribe, where they come from, children, especially boys, are taught to be independent from a very young age.Turkana tribe of Northern Kenya are nomadic cattle herders. They live in one of the hardship areas in Kenya where even basic amenities are considered a pleasure. Boys from this tribe usually accompany their fathers in search of pastures for their cows where they would spend the whole day, or sometimes days, away from home. So to survive their tough environment, boys must learn to be tough and aggressive.
Mrs. Ekaru recalls coming back home one afternoon in September of last year to find her son lying in their makeshift hut. It was unusual to find him home at this time of the day. He would be away playing with his friends or looking after his father's goats. She knew something was not right. Over the next few days, young Esogon continued staying indoors. This altered his mother's day- to -day routine because this meant that she had to stay at home to take care of her ailing son. Her husband was away with cattle and wouldn't be home for days.  And for people whose every day is a struggle, getting sick was the last thing they wanted.
Esogon had earlier developed a small swelling around his neck. At first, his parents were sure the swelling would just disappear so they ignored it. But it grew bigger and bigger. His mother sought the services of a traditional healer. Traditional medicine men are common in this region. Esogon was given a concoction of herbs which he took for several weeks.  But his condition worsened day by day and the once overactive and restless boy was becoming weaker and weaker.
One morning, some community health workers came to their village and after taking a look at Esogon, they convinced his mother that her son needed immediate medical care. The health workers facilitated their travel to Lodwar District hospital which is 24-miles from their village. She had to take along her two year old son since there was nobody at home she could leave him with. Doctors at Lodwar Hospital did a CT scan test on Esogon. The doctors suspected that he might have Hodgkin's Lymphoma- cancer that originates from white blood cells. He was referred to the Shoe4Africa Children's Hospital in Eldoret for treatment.  Their coming to Eldoret was so urgent that they did not have a chance to go back home.
Upon arrival at Shoe4Africa Hospital on September 20th, further tests were done on Esogon to determine the extent to which the cancer had spread. An additional CT scan and biopsy were done for histopathological diagnosis and luckily for him, his cancer was at Stage One. This means that the cancer was found in one lymph node region and therefore easier to treat. Doctors came up with a treatment plan for him.  He would be put on chemotherapy until the swelling became smaller after which he would be taken for radiation therapy.
So far, Esogon had a successful chemotherapy treatment during his first visit to the hospital. He is looking forward to radiotherapy later this week. His response to treatment has been remarkably good.  The swelling on his neck has shrunk that it is almost unnoticeable.  His mother is so happy to see her son overactive again. Her wish is for everything to turn out well so that she can be able to take her son home-healthy again. Life, she says, is like a community at "Shoe4" – as yet she hasn't joined other mothers for the bi-weekly dancing, but she states the staff are becoming like family to her.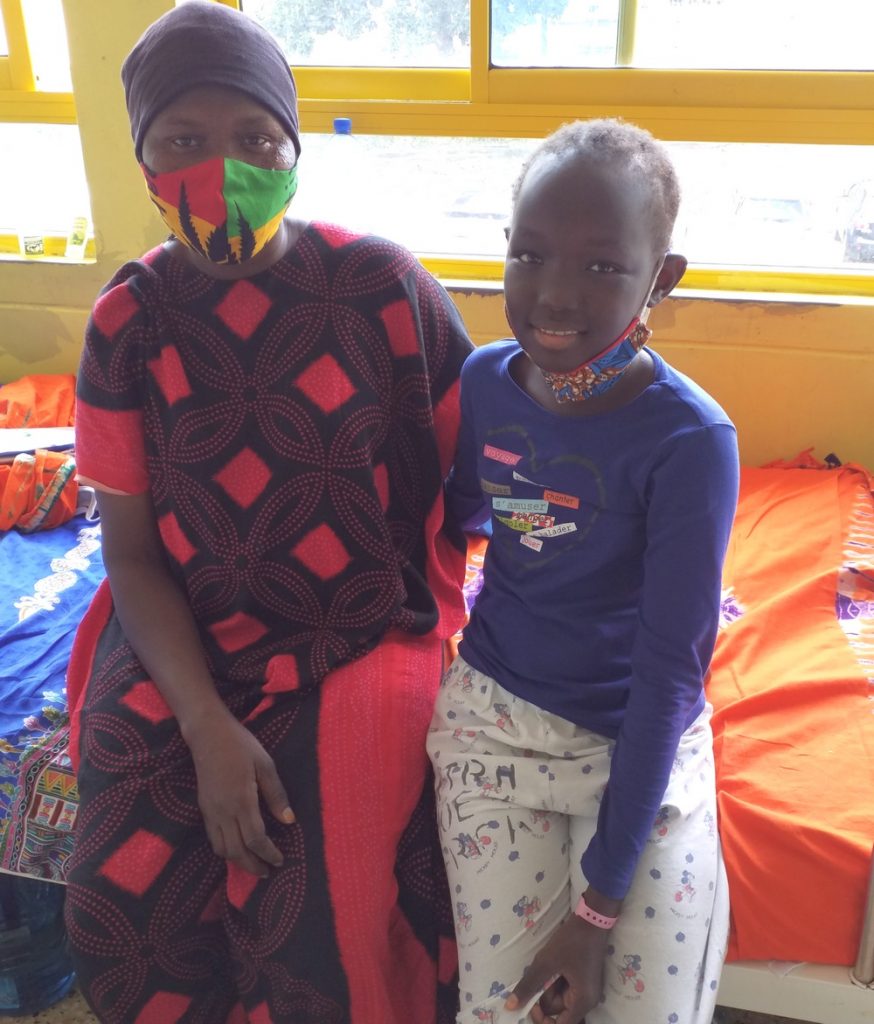 Today's story comes from far… Sudan far.
As East & Central Africa's only public children's hospital.  Our outreach is far.  I remember the first girl coming from Burundi and being shocked.  The vast majority come from Kenya but today's story is of Saida, from Southern Sudan.
 12 year old Saida Abolem is pretty easy going and social. She loves to crack jokes and make people laugh. She gets along with everyone. This has earned her lots of friends in her ward. She always has a bunch of kids around her.  Saida and her 33 year old mother, Asha Amuria, come from  Kakuma Refugee Camp  in North-western Tukana  county, just  at the border of Kenya and South Sudan.  Asha's family is originally from South Sudan. When the civil war flared in 2013, many civilians were casualties.  Sadly, Saida's father was slaughtered.  With no possession mum, and the five kids (Saida is third born) fled the country.  Walking for many miles over the harshest lands they came to Kenya.
Saida became ill in January this year. She had been complaining of severe stomach aches on the right side of her stomach and each time her mother would take her to a small dispensary that is run by some missionaries inside the refugee camp. But her stomach aches became more occasional and the dispensary (which is the only nearby health facility) was unable to give a proper diagnosis so her mother was advised to seek for better treatment elsewhere.  She decided to bring her to Shoe4Africa Hospital in Eldoret.
 Coming to Eldoret was not easy for them.  It is almost 300-miles to Eldoret and the family could not even afford the bus fare. Refugees are restricted within the camp and one has to get clearance from the local authority before they are allowed to travel.  This process sometimes takes long. There was also the problem of who to leave the other children with. The oldest child is only 14. So Saida had to wait for five months as her mother worked on these tough logistics.
Finally, on 18th June, Saida was brought to Shoe4Africa Children's Hospital. Their journey had taken almost ten hours so they were exhausted and Saida was in so much pain. She was admitted to the General Ward. Urine Test and CT scan was done on her and she was diagnosed with Kidney Stones. Saida's physician, Dr. Cheptinga, explained to me that sometimes, when you have too much of certain wastes and not enough fluid in your blood, these wastes can build up and stick together in your kidneys. These clumps of waste are called kidney stones. He further stated that many children from Turkana region suffer from kidney stones because of scarcity of water due to the arid climate in that region.
Saida will soon have an operation to remove the kidney stones. Her doctor explained that the surgery is known as percutaneous nephrolithotomy. During the surgery, a tube will be inserted directly into Saida's kidney to remove the stone. She will then need to be in the hospital for one week to recover from the treatment.
Saida's mother is looking forward to her daughter's surgery and is praying that all goes well. She can't wait to see her daughter healthy again. She is also happy that peace has returned to their country. She is praying to return to South Sudan once Saida's treatment is over. She says she and her children want to build not a new life, but a healthy new life and says that she is so grateful to the unknown supporters (you guys) of Shoe4Africa, because had they remained in Southern Sudan, or even at Kakuma, that new life would not be possible.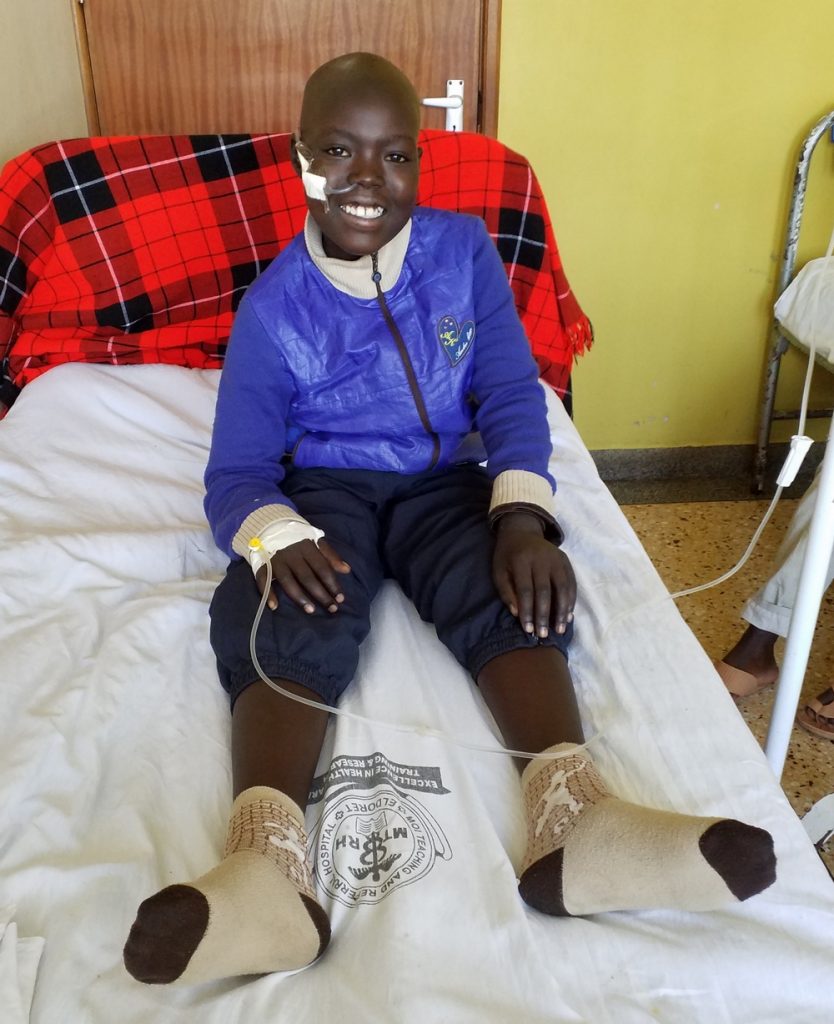 12 year old Winnie Cherono's strong personality makes her stand out from other patients in her ward. She never shies off from speaking her mind. Her extroversion and receptiveness is commendable, considering the fact that she comes from the remote areas of Elgeyo Marakwet, deep in the Rift Valley.  She takes pride in conversing in English. With a rich Kalenjin accent, you really need to listen to her carefully, lest you miss what she says. Her father, 45-year old David Kimutai, is quite the opposite. He is passive and introverted.  A peasant with seven children to care for- and an ailing child to worry about, life has taken a toll on him. Maybe that has contributed to the personality he is.
Winnie's eldest sibling, Jane Jerop, is a high school teacher.  She is left with the burden of supporting the family financially, especially now that her father is in the hospital with Winnie. It has not been easy for her because she too has a family of her own to look after.  Winnie's mother is left to take care of the homestead and other much younger children.
Winnie is in grade five. She has been working hard in school and was always top in her class. Her dream is to become a teacher –just like her sister. She had it all figured out.  Everything was going on well until March this year when she was taken ill.
She began complaining of persistent headaches, achy muscles and dizziness. Her parents were concerned but they didn't take her to the hospital yet. They kept a watchful wait, hoping that things would be alright. In most households in rural parts of Kenya, people rarely go to see a doctor immediately they begin feeling unwell.  It is usually a wait-and -see situation until things get worse. The same happened with Winnie's case.  It wasn't until she went to bed one night and couldn't wake up the following morning that her parents decided to take her to the hospital.   The nearest health facility is six miles away.  There are no vehicles in the hilly village of Kapsowar due to poor roads so Winnie had to be carried to the hospital on the back of a bicycle. But when they came back home that evening, all they could get from the hospital was a handful of pain killer tablets.  Winnie's sister, who had visited home the same day, insisted that Winnie should be taken to Eldoret for proper medical care. And so the family started making preparations to travel to Eldoret.
Kapsowar is almost 60-miles from Eldoret town. It would take slightly over two hours to travel by road between the two towns, but, because of the poor roads, it takes almost six hours. Winnie and her father arrived at Shoe4Africa Children hospital on March 18th and were admitted to the General Ward, awaiting diagnosis.  A sample of her blood was taken for the Complete Blood Count (CBC) test. A few days later Winnie had a Bone Marrow Test. With the two tests, doctors diagnosed her with Acute Myeloid Leukemia-a cancer of the blood that starts in the bone marrow where blood cells are made. The disease prevents immature blood cells from growing into healthy blood cells.  Winnie's father was shocked and shaken.  He had lost his sister to breast cancer five years ago and he understood exactly the toll of cancer.
Winnie was transferred to our Oncology ward where she is receiving her chemo. She has had 7 cycles of chemo so far. She was recently put in an isolation ward after her immunity went down. Dr. Serem, one of the oncology specialists, told me that sometimes as chemo kills cancer cells, it ends up destroying the body's White Blood Cells thereby rendering the body defenseless against infections. That is the reason why cancer patients on chemotherapy are sometimes isolated from other patients to prevent them from getting infections because of their weak immune system. Winnie feeds through a nasogastric tube (NGT) because she has mouth sores and hence can't feed the normal way. She is sad that she cannot join other children in the playroom or on the playground but she is optimistic that soon she'll be able to play with her friends once she is out of the isolation.  Then, she says, she will resume her plan, "I will become that teacher that I have dreamed about and I will bring education to my village."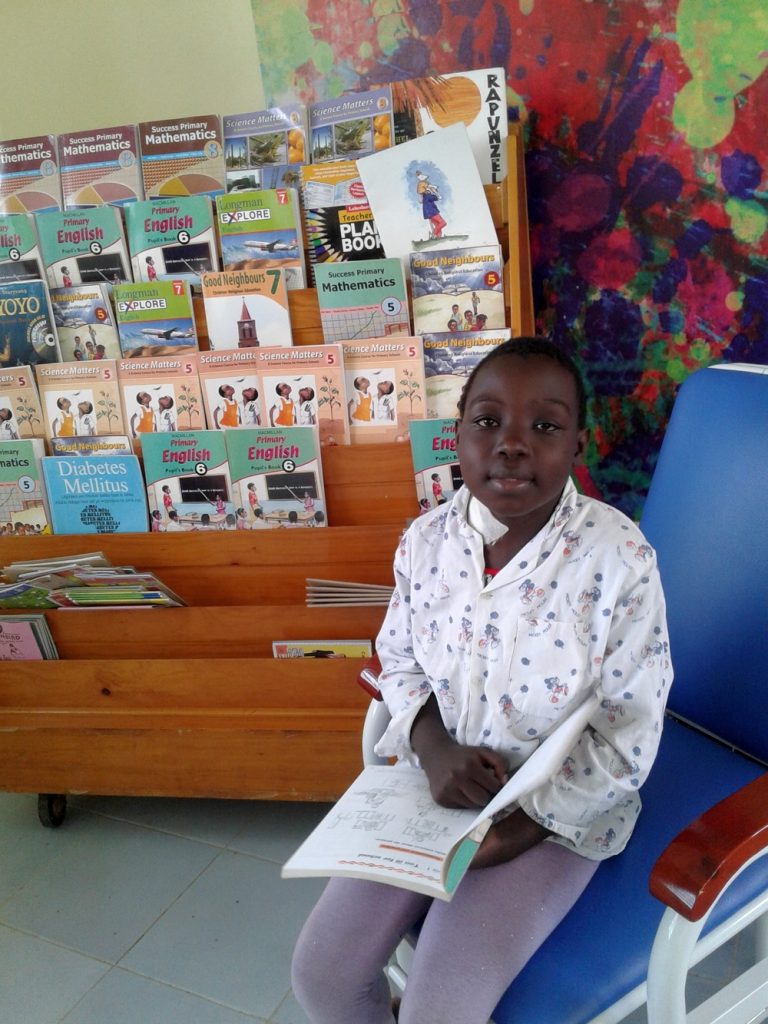 A nurse enters the playroom and calls out a name. Josephine has three hours before she goes for dialysis. But Josephine doesn't seem to be in a hurry to go back to her ward in order to get ready for her dialysis, she says she only needs 30 minutes to get ready and that she knows what's needed of her and what to expect. This is the second time she is going for dialysis this week but she has been having dialysis since August 2019 when she first came to the Shoe4Africa Children's Hospital.
At just 12 years of age, she's had tough times. Her father died when she was seven, then her mother died two years later. She and her three siblings were left under the care of her 70-year-old grand-mother.  Soon after, she fell sick in August 2018. She visited several hospitals within their hometown of Kisumu but none were able to diagnose her. They treated the symptoms rather than the cause. Her grand-mother finally took her to a hospital in Nakuru town, some three hours from Kisumu where they live. In Nakuru it was discovered that Josephine had a nephron malfunction which was an indication that her kidney was failing. She had swollen legs and feet and her whole body was itching.  Nakuru told her grandmother, there is one hospital for kids that can help and she was referred for better treatment at the Shoe4Africa Hospital in Eldoret.
Unfortunately, Josephine's grand-mother could not accompany her to Eldoret because she fell ill on the day they were to travel to Eldoret.  Her brother, 16 years at that time, was called to accompany Josephine to Eldoret. Today, two years later, Josephine has been in and out of the hospital. She was diagnosed with stage-5 of kidney failure. This means that her kidneys are nearing complete failure and she'll need regular dialysis or best, a kidney transplant. The plan was, the grandmother would come and relieve the brother so Josephine would not be alone in a strange new city.  Yet the grandmother's condition worsened. Although the brother yearned to complete schooling, so important in a country with such high unemployment, he decided he could not leave his young sister alone and he dropped out of school so as to be able to stay by her side.
Ever cheerful Josephine takes all this in her stride.  As you can see by the picture, she loves going to our Kuunga Mkono classrooms where she reads and learns.  She has big plans, and she has a solution.  She wants a career when she grows up, realizes that she is going to stay at the hospital for quite some time.  So she is maximizing her time in the classrooms.  Our therapist Michael has a session with Josephine once a week and when he asks her, what does she want to study after all her studious reading, she says she will tell him next week.  Time has flown and she has been reading longer than expected.  Everything has a plan and now is her medical lesson.  After such experiences I am really eager to know what Josephine is planning for herself.  What are her thoughts, and what is her future for her and her brother?  But, thanks to the hospital, and your support, at least now she does have a future.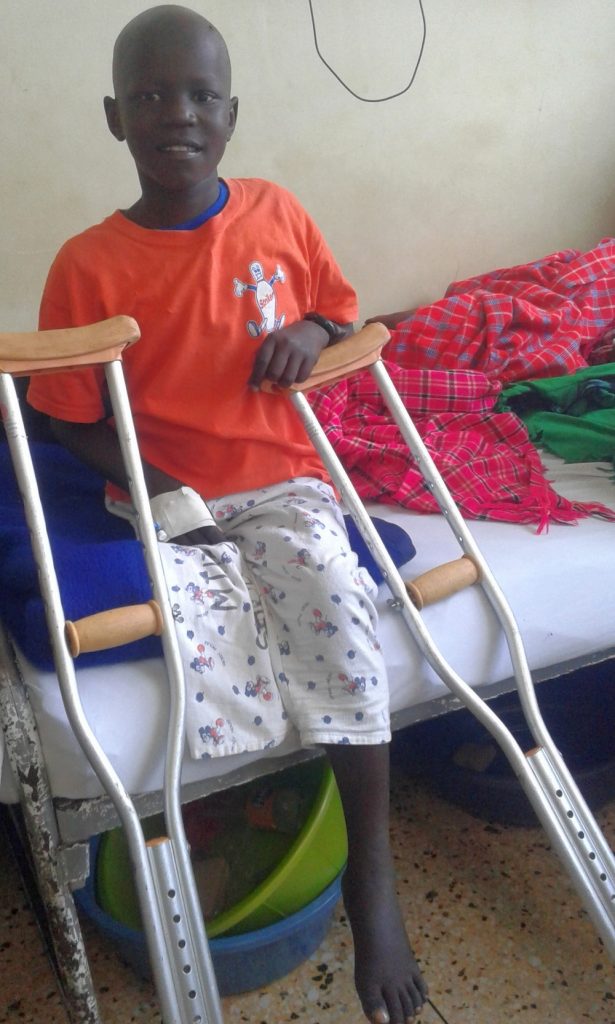 Don Yuri just celebrated his 14th birthday two days ago while he was in the hospital.  He is also a happy lot because he is in the hospital for the last of the six cycles of his chemotherapy.  His story, just like that of all other patients in the Oncology ward, is a story of unrelenting bravery and resilience.  Yuri's name doesn't sound Kenyan and so out of curiosity I ask his mother about it. She told me they named Yuri after a Jewish Rabbi who has been doing missionary work in their village for many years. In Kenya, there is always a reason behind a name.
Yuri is born to Mr. and Mrs. Okello. His father, Charles Okello is a primary school teacher while his mother, Rehema Okello is a kindergarten teacher. His mother had to quit her job in order to have enough time to care for Yuri as he was diagnosed with Osteosarcoma in August of last year. I sought further information about Osteosarcoma from Dr. Njuguna. He told me that Osteosarcoma is a type of bone cancer that begins in cells that form bones. It is most often found in the long bones-more often the legs, but sometimes the arms-but it can start in any bone. Osteosarcoma tends to occur in teenagers and young adults, but it can also occur in younger children and older adults. Osteosarcoma begins when a healthy bone cell develops changes in its DNA. A cell's DNA contains informations that tell a cell what to do. The changes tell the cell to start making new bone where it isn't needed. The result is a mass (tumor) of poorly formed bone cells that can invade and destroy healthy body tissue. These cells can break away and spread throughout the body.
Yuri and his parents live in Migori county- one of the four counties found along the shores of Lake Victoria in Nyanza Province.  He is the first born of his four siblings and the only male child. He loves playing soccer and was a member of his school's soccer team before he became ill. In fact, he was diagnosed with bone cancer after he was taken to the hospital with a broken femur as a result of one of the soccer games in his school.
Yuri's mother recalls receiving a phone call from Yuri's school following the accident. She was told that her son had broken his leg and had been rushed to the nearby Migori District Hospital. Yuri would be admitted in the hospital for one month. It was the second time Yuri had broken the same leg.  Doctors at the hospital thought it was not normal that a child would break his leg in close succession. This reason prompted them to conduct further tests on Yuri. When the test results came back, the diagnosis was Osteosarcoma.  The news shocked Yuri's family. The family was referred to Shoe4Africa Children Hospital for Yuri's extensive treatment. They came by bus, covering some 200-miles and spending close to six hours on road.
And so Yuri was admitted in the Oncology ward in September, 2019. Wards at the Shoe4Africa Hospital are given Swahili names. The Oncology ward is named 'Subira.' In Swahili, Subira means patience. Coincidentally, Yuri and his family were going to need a lot of patience because cancer takes a long time to treat. While at the Hospital, the oncologists discovered that Yuri's cancer was spreading fast and so they had to amputate Yuri's right leg in order to stop the cancer from spreading to other parts of his body.  This would be followed by radiotherapy and eventually chemotherapy.
Losing one leg was not easy for Yuri at first.  He told me that he lost his self-esteem. Being a teenager, self-image meant a lot to him. He had to battle with the side effects of chemo. He lost his hair and body weight. But he braved everything. He also tells me he has made a lot of friends with other cancer patients.  He, together with other teenage cancer patients, has formed a support group and they meet once every week to encourage one another.  But he hasn't lost interest in soccer. He still joins other children on the soccer pitch during outdoor play and he plays incredibly well on his crutches.  His mother always sits on the ramp to watch Yuri play. Yuri will soon be discharged after completing his last cycle of chemotherapy but he is required to come back for follow ups.
Yuri's mother feels indebted to the medical team at Shoe4Africa medical team for saving his son's life. She is happy that she is finally taking her son home.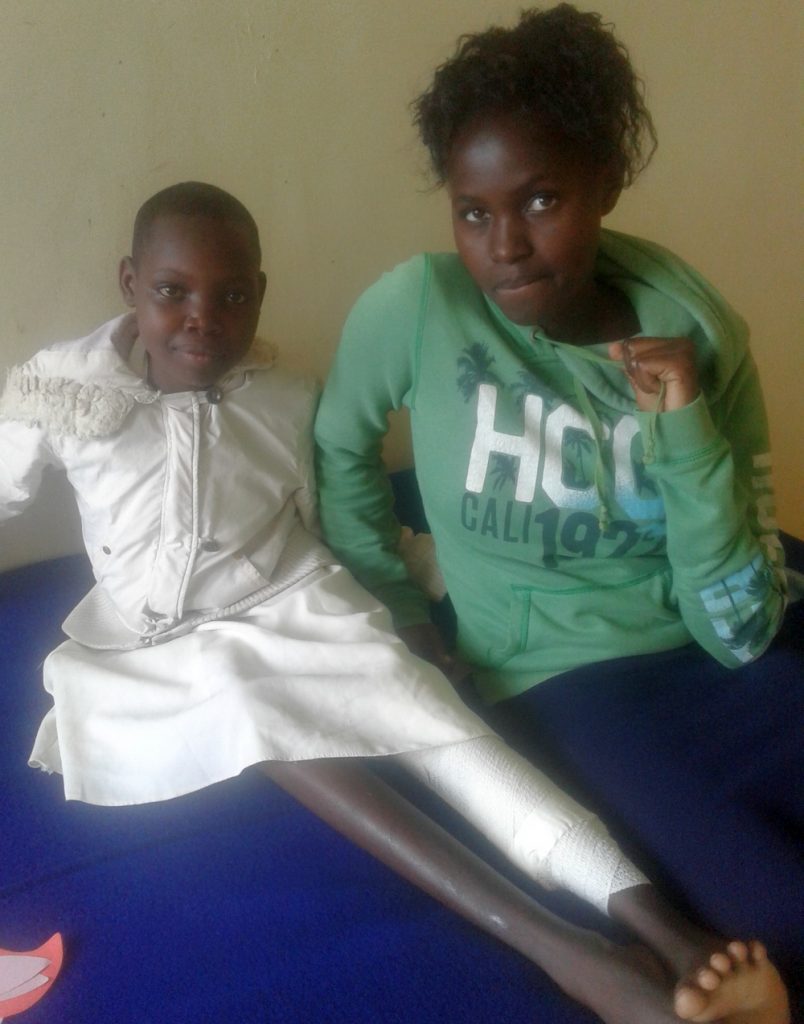 Eldoret is dubbed The Running town.  This is where our hospital sits. It is no wonder many patients want to be runners.
Several runners, like Eliud Kipchoge and Mary Keitany (our hospital ambassadors), visit the kids.  The patient today also wants to run but sadly it will be at least a year till she is able to start jogging.
Zeddy Jerotich watches from her window every day the kids in the hospital garden and she even organizes competitions from her bedside that she officiates through the window (today with two boys). Our therapist Michael tries to distract her, taking out some scissors and manila paper and two of us get down on our craft as we have our talk.
Zeddy is the 2nd born of her three siblings. They live in Langas estate, one of the poor suburbs of Eldoret town. This is the slum where many of the patients come from and indeed the man dubbed the World's Oldest School "Maruge" who began primary school at the age of 84! Mom, her sister Peris Jerop, 21, and two younger siblings all live in one room. Peris is currently staying with Zeddy.
As mom worked 18-hrs a day at a kiosk (and still does) and Peris is schooling Zeddy's job was to look after the kids.
On February 1st of this year, Zeddy was left in charge of their house and her siblings. She decided to make herself and her siblings some breakfast. She put water to boil on their kerosene stove while she continued with mopping the house. She had mastered the art of multitasking on house chores just like most girls of her age in this part of Kenya. But today wasn't her lucky day.
She accidentally slid on the damp floor and fell backward on the boiling water. She screamed with pain as her younger siblings called for help from neighbors.  In this neighborhood, people look after each other. They readily come to help when called upon. Zeddy was rescued and brought to the Shoe4Africa Hospital by her neighbors. She sustained thermal burns on her back and left leg. But she was thankful to be alive. Zeddy is one of the 41 patients on the Burns Ward who will have to stay in the hospital for a long time. We spoke to Lydia, one of the nurses caring for Zeddy, and she told us that Zeddy's skin tissues were severely damaged and would require a series of surgeries and skin grafting to repair. Zeddy has also had a blood transfusion twice and is likely to have many more during her treatment.
Each day her wounds must be cleaned and dressed every two days and the pain is unimaginable. She can not return home to a slum where no one has tapped water or legal electricity. The people of the slum may not have anything, but they are rallying together to help cover the jobs of Zeddy whilst she is in hospital.  Luckily although schools in Kenya have closed due to COVID Zeddy still gets schooling help due to the Shoe4Africa Kuunga Mkono classrooms; the teachers can come to the beds.  Zeddy wants to thank the Shoe4Africa team for helping her and she tells you to remember her name.  She says her motivation to run is not to help herself, it is to stop her mom working 18hr shifts, seven days a week.  "In Kenya we become moms.  I wish my 8 & 10 sisters would have a normal life and that is what running can bring for me."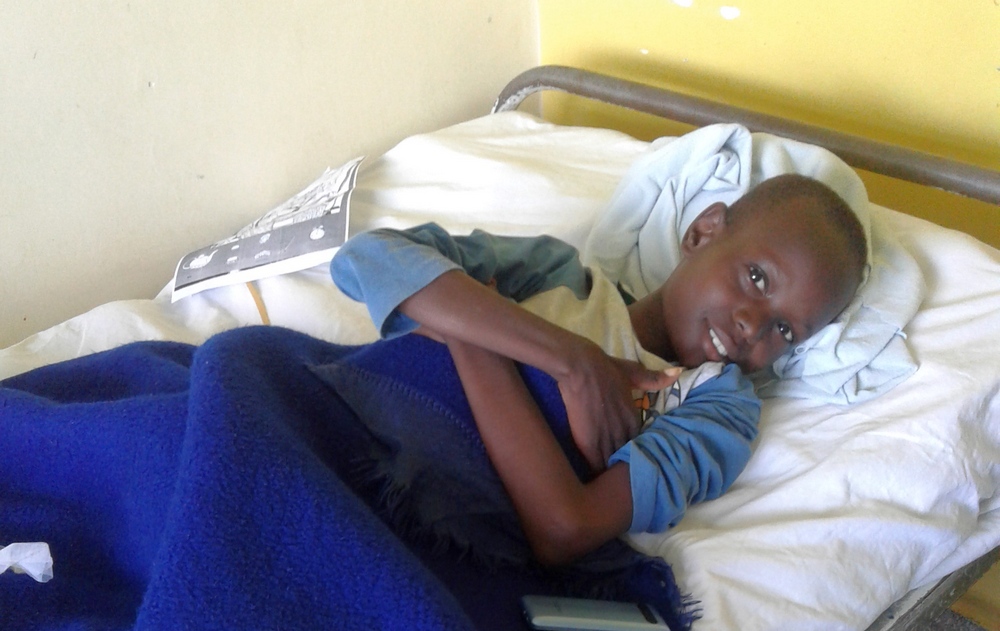 First another story about another of our patients who has an amazing spirit.  Another long term patient, who's been with us since October and hails from one of Kenya's most needy regions; Turkana.
Simon Ekiru's charming smile can easily earn him a place in anybody's heart.  He has become a darling to both medical and subordinate staff at Shoe4Africa Children's Hospital. Anyone he has crosses paths with just loves him.  Simon was born on a rainy morning, ten years ago, in Lokitan'g- a remote village in Northern Turkana.  Turkana is usually dry most of the year and the people there are nomadic cattle herders.   So when Simon happened to be born on a rainy day, they joyfully named him 'Ekiru' which, in Turkana dialect, means 'he who comes with rain.'  Simon is the first born of his five siblings.
Simon's mother, 36 years old, Kokuro Ekidor, is about six feet tall; a physical characteristic most common with Turkana women.  She was widowed one year ago. Her husband was shot dead as he tried to defend their few cattle from cattle rustlers armed with AK47s who had invaded his home. She was forced into doing menial work in order to fend for her six children. Ms. Ekidor does not speak English nor Swahili so we had to communicate by the help of a translator.
 She remembers Thursday, 3rd of October, 2019 so vividly. She had instructed Simon to look after his siblings as she left their hut in search for food.  She would be away the whole day. Among other chores, Simon was to fetch water two miles away from their home. With three Jerry cans to fill with water, Simon decided to borrow a neighbor's bicycle so that he could use it to ferry water.  On his way from the water hole, he lost control of the bike and it hit a kiosk that was on the side of the road.  He tried to get up but he couldn't. He could not even feel his legs. Some onlooker who knew his mother took him to nearby Kakuma health center and later called his mother to inform her about what had happened.
Simon was later referred to Lodwar Hospital, the capital of Turkana, where doctors discovered he had a broken spine. He stayed there for almost one month but since the hospital lacked capacity to treat spine injuries, he was referred to Shoe4Africa Children's Hospital in Eldoret, some 180-miles away, for specialized medical care.
And so Simon has been having treatment at Shoe4Africa Hospital for seven months. He has had two surgeries and he is scheduled for a third one in two weeks from today.  Simon has made good progress. He is able to wheel himself around. He frequently visits his friends in the nearby ward and is also able to come to the playroom all by himself. His nurse, Gladys, says that Simon is likely to stay in the hospital for 4 more months.
When we built the playground (still in progress) with swings, slides, tubes, soccer field, and basketball court, we knew how important it was for children, but every child, every one we interview has been one that talks about Play as their big motivation for healing.  Simon, although unable to move, asks every single day that our therapist Michael wheels him out so he can 'watch others play' because he says this is his reason why he wants to be mobile again.  At the hospital we'll do everything we can to make it happen.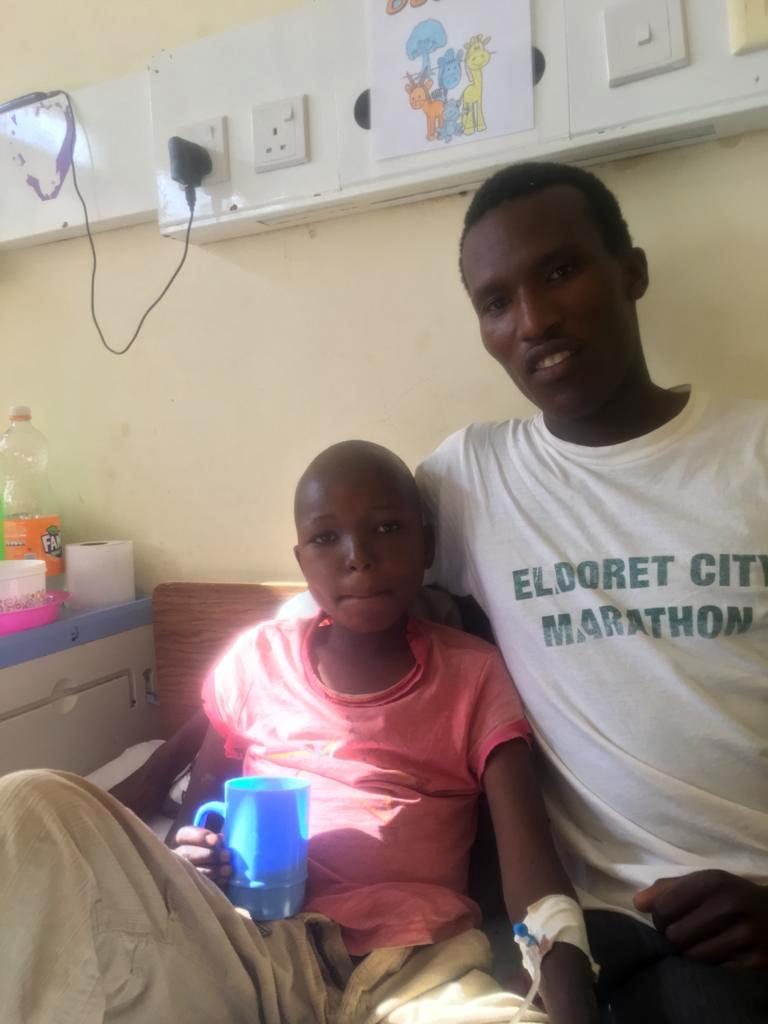 Young Ismael Kipchirchir was admitted for the first time at the Shoe4Africa children's Hospital in May 2019. His 21-year-old brother, Brian Kipkemboi, is his caretaker- a role he has faithfully and diligently assumed for the past year. To the 11-year old, Brian is a superhero, and a loyal friend. He cares more than a sister or a brother does. In direct Swahili-English translation, Brian is his 'everything.'
Brian was present, one year ago, when Ismael was admitted in the hospital's general ward. Today, Ismael lives in the Oncology Ward. And Brian is still here with him. Before the outbreak of the Covid-19 pandemic, Ismael's mother could make occasional visits. But, as a precautionary measure to prevent patients from being infected with the Coronavirus in the oncology wards, visitors are currently not allowed.  Thank goodness Brian decided not to leave when the new rules were put in place and has been by his side daily.
Ismael has been in the isolation room for the past week. This is because his body's immune system is extremely low. He is not allowed to mingle with even the other cancer patients, and remember this is a general hospital with hundreds of germs floating around.
But Ismael is upbeat he's taken up art and is studying with Michael, our therapist.  Every day you can find crayons and drawing pads on his bed.  He hopes to be a famous artist.  Whereas if you look at Brian's T-shirt you can guess his dreams!
A year ago, Brian lost his appetite. The family bought vitamins yet things worsened.  Joint pain, swelling, and fever followed. His father, Mr. Simeon N'getich, together with Brian boarded a 'matatu' (Swahili for small buses used as means of public transport in Kenya) and they arrived in Eldoret less than one hour later. They live in Ilula, about six-miles from Eldoret town.
Ismael was admitted to the General Ward. That was May 1st, 2019. He would spend two weeks in the ward as he awaited his diagnosis. The test results came back; Ismael was suffering from Acute Lymphoblastic Leukaemia, commonly abbreviated as A.L.L. It is a cancer of the blood and bone marrow that affects the white blood cells. It is common in childhood and occurs when a bone marrow cell develops errors in its DNA.
But before breaking the news about Ismael's diagnosis, his physician, Dr. Hashna insisted that Ismael's parents, who were home at that time, be notified. It was a hard time for the family.  Brian immediately volunteered to stay by Ismael's side.
As Michael concludes the therapy session there's a lot of noise outside the window.  It's 11 o'clock and kids are going out to play soccer, a highlight of the day.  It is painful to watch Ismael, his eyes glued to the glass.  You know he'd give anything to be out there playing.  Michael comforts him, "Don't worry, you'll be out there soon!  You will beat cancer."
Michael happens to mention 'healthy' Brian, and how he will be fit as his brother.  But then it comes to light Brian isn't a real brother.  When Brian was the same age as Ismael his mother died.  The father married again, not caring for the boy when starting a new relationship.  So, Brian went to live with Ismael's parents.  In Africa, they say it takes a village to raise a child… and now Brian is paying it all back.  That was ten years ago.
Speaking to our pediatric oncologist, Dr. Njuguna (one of only three in Kenya), Ismael will have 102 cycles of chemotherapy. This will take approximately two years. Ismael is now halfway through. He has braved the side effects of chemotherapy. Constant vomiting, loss of appetite, mouth sores, loss of hair, and being confined in isolation room and soldiers on with a smile.
Several of his friends have died in this ward.  He has days when he is afraid but he remains hopeful that he'll complete his treatment and beat the overwhelming odds facing kids with cancer in East Africa.  After every treatment, he receives a bead to place on a necklace, a bead of courage.
When we make our team thank you cards in November, following the marathon, Ismael has already volunteered to be one of the artists making the cards. He says he is part of our team and "the team completes the dream."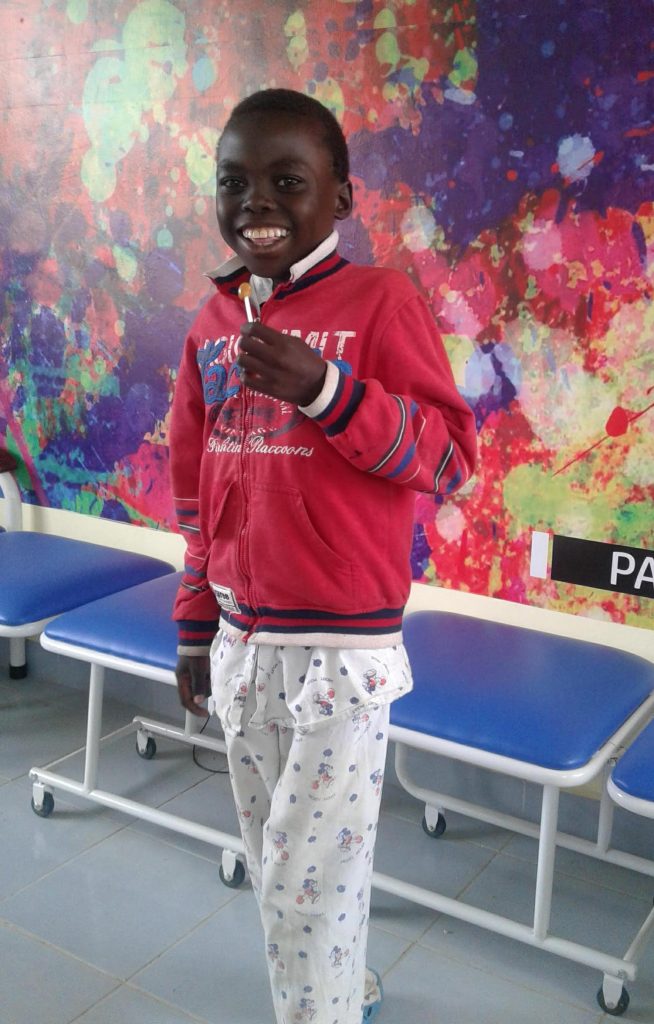 Meet Patrick Lumumba. At 15 years of age, he looks younger for his age. He is named after one of Kenya's renowned lawyers. Among the Luo tribe where he comes from, naming a child after a prominent person brings good luck to the child and gives him a head start in life. Patrick is the third of five children.
Patrick and his father, 44-year-old William Odanga, live in Homa-Bay town. Homa-Bay is one of the small towns on the shores of Lake Victoria. Homa-Bay is well known in Kenya for its many cases of Malaria. In fact, it got its name from Swahili word 'homa' which means fever. The majority of people there are fishermen and so is Patrick's father. Once in a while, Washington, his 2nd born and the only other son apart from Patrick, accompanies him on his fishing expeditions.
One morning in 2016, he came home from fishing only to be told that his son, Patrick, was not feeling well. He went to a nearby chemist and bought anti-malaria drugs for Patrick. He was sure it was another case of Malaria. After all, children here often got malaria. There was no need to be worried.
Patrick did not get better and three days later he was still lying on his bed made from papyrus reeds. He decided to take him to a nearby dispensary for treatment but his conditions became even worse.
After visiting various local dispensaries and not seeing any improvement, he took Patrick to Nyabondo hospital, about ten kilometers away from home, where Patrick was admitted and stayed for one month. He felt better and was discharged. But Patrick never went back to his perfect health. He felt sick from time to time. His health deteriorated with each wave of sickness that hit him. His whole body had swollen and it was not easy to recognize him. He was taken back to the same hospital where, upon further tests by doctors, he was diagnosed with Nephrotic Syndrome- a group of symptoms that can appear to someone whose kidneys aren't working well. He was immediately referred to The Shoe4Africa Children's Hospital in Eldoret.
Patrick's father had lived in Homa-Bay all his life. Coming to Eldoret where he was a total stranger made him anxious. People in Homa-Bay do not speak as much Swahili as people in Eldoret and as much as he could speak a little English, communication was still going to be a problem. He is the family's sole breadwinner and leaving his wife to take care of the other four children made him sad. But he accepted to come. He had no other option but to come. His desire to see his son get well overshadowed his fears. And so on 2nd September 2019, Patrick and his father boarded a bus and spent 8 hours on the road, passing through the vast counties of Kisumu and Nandi until they arrived in Eldoret late in the day.
Upon admission at Shoe4Africa Children's Hospital, further tests were done on Patrick and he was diagnosed with Chronic Kidney Disease (KCD) This means that his kidneys were badly damaged and he needed dialysis or a kidney transplant to live. His physician, Dr. Cheptinga, suggested that Patrick be started on dialysis.
Today, eight months into treatment, Patrick has made tremendous improvements. He goes for dialysis twice every week. He also gets occasional blood transfusions. His family is hoping that he will have a kidney transplant someday.
I ask Patrick's father what he feels about Shoe4Africa Children's Hospital and he says,
"I brought my son here when he was almost dying. Today, my heart leaps with joy whenever I see him join other children on the hospital playground.I'm so thankful."
And Patrick too had something to say about his stay in the hospital. "I've made lots of friends. Though sometimes I miss my family. Doctors here are also very friendly. I also get to go to the playroom where I join other children in playing. The hospital also has classrooms and teachers who help me with my school work. My favorite time of the day is 11 AM. That's when I join other children on the playground. I enjoy playing soccer a lot. My friends say that I play so well. They have nicknamed me Wayne Rooney, after England's former soccer star."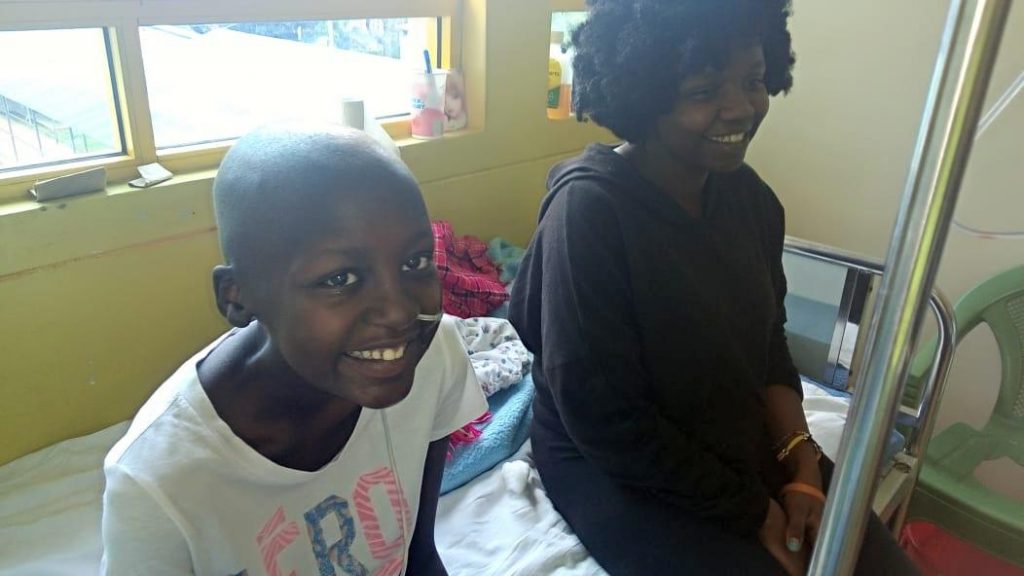 Grace Win
One of the people who clapped loudly when we were talking about our new cancer hospital was Grace Win.  Recently she arrived in a bad state from Nairobi.  At first she had been mis-diagnosed with Typhoid.  Then, later correctly diagnosed with Leukemia at Kijabe Mission Hospital, and quickly referred to us.
  An artist, Grace, who loves school, wanted to know if we could transfer her to a local school as she will have to stay with us for quite some time during her treatment.  She loves swimming, and scored one of the top marks when graduating primary school, and her favorite foods are sukuma wiki and ugali (like the Kenyan runners!)
She is one of three children.  Sadly both parents have died, so her big sister who was studying at Nairobi University to be a construction engineer, has dropped out of school for a while as she fights this disease.  Hopefully, as her health picks up, her sister can go back to Nairobi as Grace continues her treatment.  She has a big fighting spirit and our doctor's are very hopeful she will make it to be cancer free in 2020
Abigail Peace
Here is the story of one of our patients, aptly called Angel Abigail.  Her mother is from Rwanda and is working as an evangelist along with her husband who is up in the north of Kenya.  The mother was thrown out of her rented apartment, due to poverty and not paying bills, and was in the church praying when her baby Abigail swallowed a big coin. At first the coin was stuck in the throat, in the wind pipes and the child had issues breathing. She was rushed to a local clinic but the coin was stuck and the staff didn't know what they could do, so she came to our hospital for a surgical operation.  Now, with Abigail healed and healthy they have become hospital Christmas residents as our social workers will have to work out where the mom & child are going to live until the husband returns and maybe the family then are able to return to Rwanda.  Sometimes I feel we are running a community center, as well as a hospital!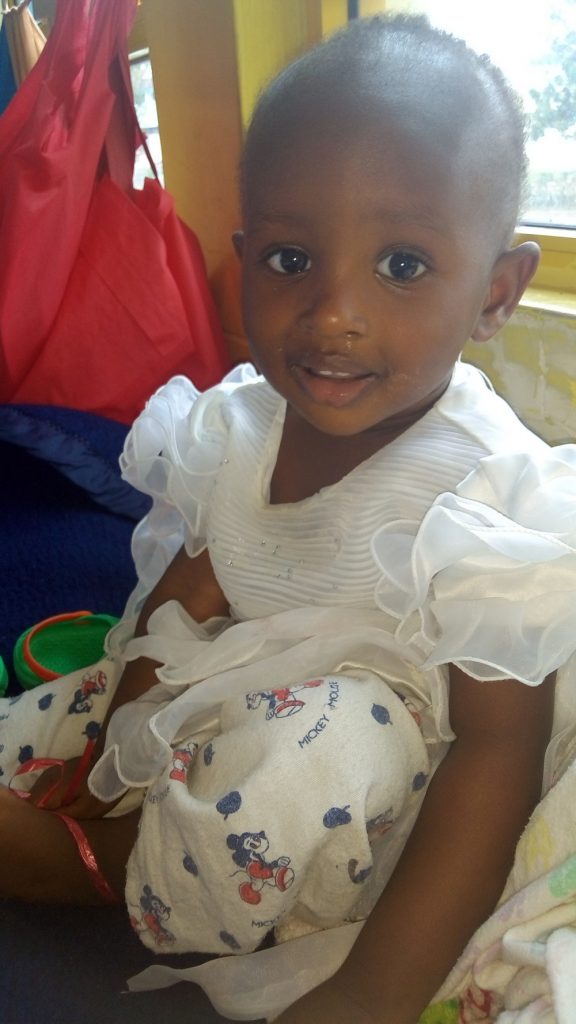 Moira
In the Forward position for our soccer team at the hospital is Moira. A very thin (for obvious reasons), girl who's eight-years old. Moira is perhaps the one player that moves the slowest. The reason she does is mind boggling. She, like most of the players, is one of our cancer patients. With a spirit of hope and resilience, Moira was certainly not about to be left out of the team.
She found a green shopping bag somewhere in the hospital, put her catheter inside as if it were a spare sweater, and lined up like a true soccer star! Tis the reason she moves slowly. Of course the doctors were shocked to discover Moira had given herself a clean bill of health and fit to play soccer.
Moira comes from a small town located in the northern part of Kenya. She started complaining of a very painful upset tummy about a year before she came to the Shoe4Africa Children's Hsp.
Her mother thought she'd eaten something bad and gave her traditional laxative to clean it out. But the pain increased and her tummy begun to swell. She also began to lose weight, becoming very withdrawn. Two months of trying many various local medicines, were not making Moira any better. Finally she was taken to the local dispensary where the clinician knew about Shoe4Africa Public Children's Hsp. Sadly at this point (as for many of our cancer kids), the cancer was now in stage three.
Moira was brought in by our ambulance and tests done immediately. Within four days she had abdominal surgery. It's been nine months since Moira was brought into the hospital. Her mother says the greatest thing that has happened to Moira is that she now has no pain. And no pain means something good is happening.
After fighting for her life, on team picture day, Moira's least worried about what's in her green bag, and she's happy to be part of our team and bonding with her friends.
While each of you continue to raise funds this week for Shoe4Africa; never forget, that even the smallest gift is changing a life. All these children would have a completely different story if our hospital did not exist – Asante sana (Swahili for thank you very much).
Samuel
It's well known that the role of a Striker in soccer is to score goals. Peeling off defenders and speedily weaving though tricky spaces, the team counts on them to score. Well….our Striker has broken his bones six times in two years! The Shoe4Africa soccer team is brought together by hope and a prayer! Samuel, who is 11-yrs old, is a boy of amazing energies.
When Samuel was nine, he broke his left leg just above his ankle jumping off a low bench. Something he'd done so many times. That same year, just after the first cast was removed he broke his right fibula. This happened while playing soccer with the neighborhood kids. Hopping around with a cast on his right leg, Samuel trips and falls; this time breaking his left arm. These random fractures happened for two years. Making Samuel a liability, yet he used to be the most athletic boy in his village among his friends.
Just before his 11th birthday, he started complaining of pain though out his body. He begun to lose excessive weight and could not sleep at night. He started hallucinating and passing out. A lady in Samuel's local church mentioned Shoe4Africa Children's Public Hospital. Isabella, Samuel's mother, with the help of the church pastor, called Shoe4Africa. At this point Samuel was in critical condition. The Shoe4Africa ambulance was dispatched almost 200 miles away.
Unlike the set up in America where ambulances are minutes away from the point of need, in rural Kenya the ambulance can be hundreds of miles from the point of need. Coincidentally most of our soccer team has been picked up hours away from the Shoe4Africa hospital. That in its self is a miracle made possible by every single one of you reading this story; helping the Shoe4Africa mission.
When Samuel arrived at the Shoe4Africa hospital, they immediately performed scans and tests. It was determined Samuel had bone cancer. Chemotherapy was immediately started and six-months later we have a Striker on our Shoe4Africa Public Children's Hospital Soccer Team. Doctors tell us Samuel arrived in a sorry state, and had he stayed without medicine for another couple of months, he would not be with us today.
Victor!
Victor is our star youngest member of the Shoe4Africa soccer team. At age two it's so hard to see him in pain. But you would never know it when he's dressed in team uniform; where the youth size XS soccer jersey hangs down to his ankles. The team soccer socks are longer than his little legs, but Victor insists on holding onto them. Shorts for Victor….optional.
Sharon, Victor's mother is just as special as her son. She's only 19 years old. Yet she carries herself like a mother in her 30s and one with more experience than the teenager she is.
Victor formed a slight swelling under his right ear in 2017, his mother thinking it was a lymph node swelling, begun to treat him for a common cold. After one week of no change, Sharon took Victor to a local clinic. There he was treated for Malaria.
A month later, the swelling formed into a wound with puss. Victor begun having sleepless nights of pain. A church member suggested the Shoe4Africa Public children's Hospital. Sharon and her sister had planned to take Victor that weekend, but his illness became worse. When Victor started passing out, the local doctor from the clinic called the Shoe4Africa ambulance. 168 miles to where Victor's home was.
Victor, like almost every member of our little soccer team, had to be resuscitated several times on the journey to the hospital. He finally made it. His swellings were found to be cancer. Victor has been weak from chemo, but is slowly improving. Sharon says she had no idea Victor loved soccer but he will not leave his team mates for long without crying, as you can see with this picture.
He's in pain and he's too small; he barely understands the older kids and he cannot stay in the sun too long. But he's on the team and no one is going to stop him!!! That's our star youngest member.
Brian Kiprono
Brian is our soccer captain! He came to the Shoe4Africa Public Children's Hospital on April 5th, 2018. The ambulance arrived at 2:00 am after Brian had been resuscitated five times on the road as he was slipping from life. Brian is from a small village about 120-miles from the hospital. He is 10-years old and has six other brothers and sisters. They all live in small house with a tin roof and mud walls.
His mother tells us that Brian's symptoms stated with nausea and loss of appetite. They never really had much to eat as a family; but even the little he was given was too much for him to finish. The local traditional doctor told them that it was malaria. So, for eight months they were treating Brian for 'malaria' with traditional medicine with of course no improvements.
At this point they had sold their only two cows to pay for his treatment. His father then took Brian to the local clinic after he'd developed severe tummy aches. The doctor there diagnosed nothing and prescribed only anti-acids.
Finally, a visitor to the village from Eldoret town told them about the Shoe4Africa children's hospital. They phoned and described his condition. Immediately we sent an ambulance. Brian was picked up in critical condition and brought to the hospital. There he was diagnosed with stomach cancer and has been getting chemotherapy treatment. He's been in the hospital a little over a year now; and is definitely the leader of the pack! Happy, positive and very smart.
Meet Beryl!
She's our vibrant eight year old goal keeper who was born to a 17 old mother (at the time), who had to drop out of high school due to the shame and stigma of teenage pregnancy. Beatrice was never able to go back to school again and despite their struggles and simple life, Beryl was a healthy happy kid.
Till June 20th, 2018, when she was suddenly unable to come out of bed, too weak to sit up either. Beatrice says she could not keep any food down no matter how little it was. The first thing the family and neighbors' thought was maybe it was witchcraft. Beryl's sudden and acute illness had no other explanation. That same day they consulted a witch doctor whom believed he could cast the spell away and give a healing remedy.
Though Beryl only continued to get worse – going in and out of consciousness. Beatrice said to us; she knew this was happening because of the shame she brought on her family with the teenage pregnancy. When Beryl started going in and out of consciousness, a different remedy had to be found. Fortunately, a member of their church had heard about the great work Shoe4Africa Children's Hospital was doing. But the distance was far, four hour's drive, and with no money for transport and the very poor condition Beryl was in; it was not a possibility. Beatrice just continued praying for help.
Luckily the church member called the Shoe4Africa Hospital and immediately our ambulance was dispatched to travel from the hospital to Beryl's home. She was immediately given three pints of blood. She was resuscitated twice on the journey. On June 27th upon arrival Beryl was diagnosed with blood cancer.
She has been getting treatment since and she is now running around in the hospital at breakneck speeds and has made many friends. Beatrice, her mother, laughs as she tells us how Beryl was discharged a week before Christmas but she went on strike and refused to leave her friends staying an extra week. Nowadays she returns for short stays as she continues to heal, never failing to pass by our office to pick up more toys.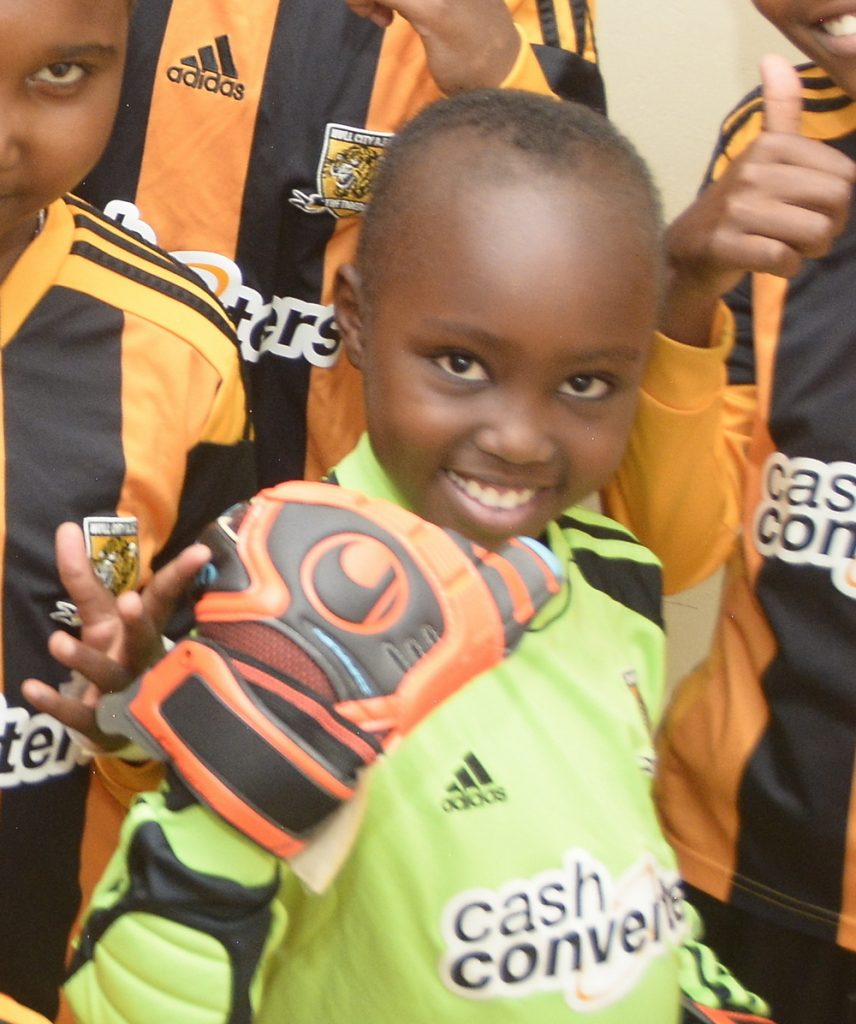 Beaming Beryl!
A little girl called Lodunga.
Lodunga means a beautiful fruit tree in the language of the Turkana tribe, people of northern Kenya.
Lodunga is a beautiful dark skinned and bright eyed 10-year girl. The daughter to Ekuno, a tall elegant 26-yr old mother who dresses in full Turkana traditional clothing. Ekuno had Lodunga at 16-yrs of age. Lodunga is the first of three children. (Ekiru a boy of 8-yrs and Egule girl of 3-yrs followed).
Ekuno and her three children live in absolute poverty. In the heat of 110-degrees in Northern Kenya, Lodunga can only scavenge for food in the cool of night. One night Ekuno put her three children to bed. An animal skin for a mattress in a mud hut 6ft x 8ft in size. One side of the hut was the cooking area while the other was the sleeping area. Ekuno set off with two other young mothers from the village. She had put out the wood fire… so she thought, before setting off.
The search for food would take all night; she often did this every few days. Ekuno had no fear leaving her three children sleeping; this was a survival trip she was making. When she was asked where she was going to find the food, she said in the bushes and along the road. Mushrooms, weeds, roots and herbs. She said the three young mothers used the usual route they had used for weeks. Then she said at about 3-am, she heard voices calling their names. Their baskets were almost full at this point. It was pitch dark, but it was clear the voices were mixed with cries. Finally they were met by a crowd of older women and young men. It was her name they were shouting out. Ekuno said she threw her basket as she immediately knew something was wrong.
(At this point she stopped talking for about 5-min as tears rolled down her cheeks and unable to talk any further through the Turkana translator next to her at our hospital).
Ekuno begins to talk again. She said she'll never know how fast she ran. But it was over 15-km at full speed; crying and shouting out for her children. As she approached the village she could smell the heavy smoke but couldn't see a fire. Held back by the villages, she somehow managed to fight them off and run to her hut. There was a reason they tried to pin her down. To save her from the horror that had happened.
The fire she thought was out was still burning. It flicked and caught the corner of the only blanket all three children shared. Within minutes the tiny hut, with grass thatched roof was in flames. Ekuno had locked the children in with a padlock from the outside. Thinking this was how to keep them safe – just like she always did. The children were unable to escape. The villagers battled the flames as they tried to break the door open. Finally the door burnt down and one villager was able to pull on whatever they could hold onto in the dark. It was young Lodunga's left leg. They pulled her out of the burning hut. Most of her body, legs, top of her head was completely burnt. Her younger siblings were burnt beyond recognition. Not a single bone was to be found of their tiny bodies.
Mother Ekuno begins to cry again….how could she not; this had happened three months ago. Three months ago, she was a mother of three. Today… a mother of one single child fighting for her life.
Good Samaritans brought them to Shoe4Africa Public Children's Hospital the next day. She does not know who the man was that paid to bring them; nor has she seen him again. She can't remember anything apart from arriving at our hospital after a long journey that took an entire day.
Lodunga was given little chance to live in Turkana but the doctors at Shoe4Africa worked through the night, the next day, and subsequent days to save her life… and they did.
Today Lodunga is still covered in bandages from head to toe. The Doctors at Shoe4Africa burns unit say she will be in hospital for at least one year. The mother says she has nothing to go back home to; Everything she has is with her – Lodunga. She does not want to leave the hospital.
The Shoe4Africa hospital will not charge Ekuno a dime. She has none to give. But the hospital staff and doctors give them the best care. Ekuno says with a slight smile 'God is in this place, I have never been in a building this big or seen so many nice people'. She reports, 'Every week, every week, I see my daughter heal. She will pull me through, and I know if I had remained in Turkana I would be a broken woman with three dead children.'
Hope from such a tragedy, because of giving hearts around the world Lodunga will heal and live a normal life!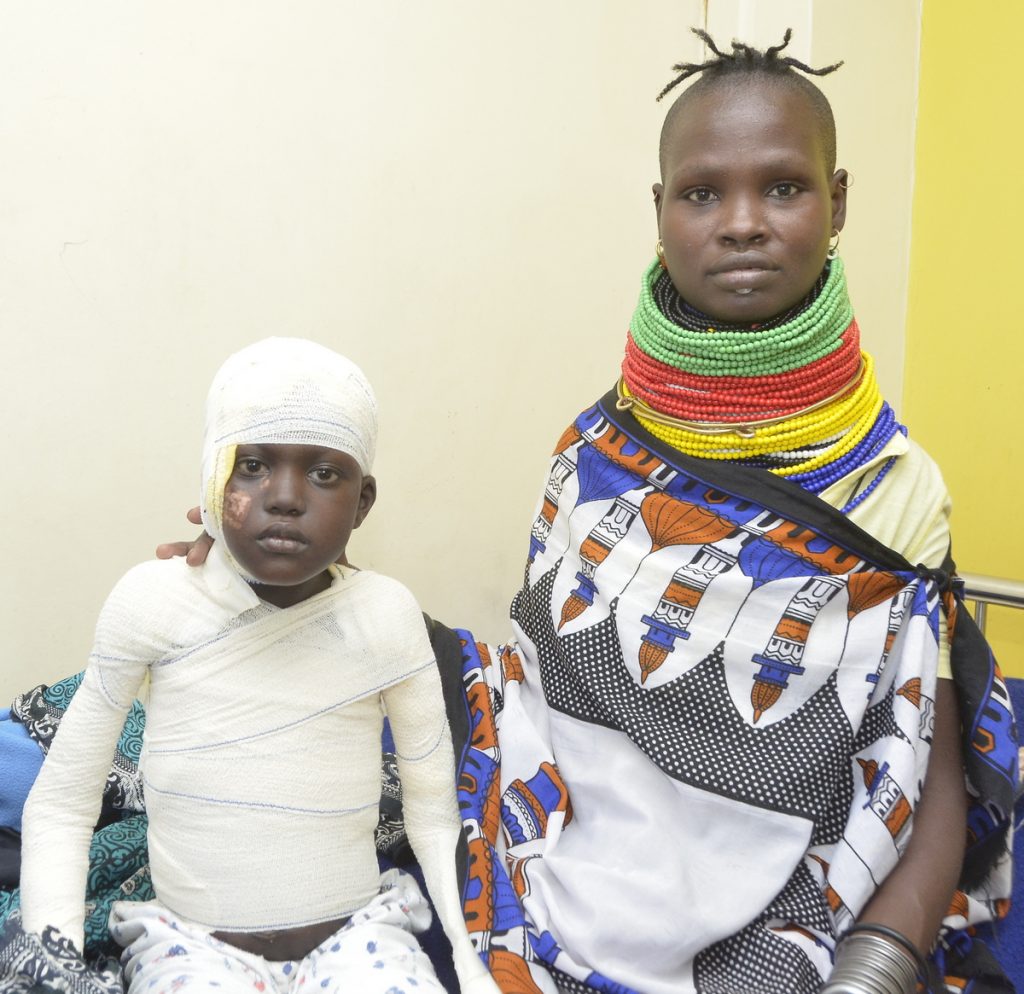 Charles* is a 13-year old resident of Lwandeti, Kakamega County. He is a standard 3 pupil. He has been raised by the grandmother, after the mother abandoned him as a little boy. There are two other siblings in the family.
He has been assaulted a couple of times before, even once getting involved in an accident. In another incident, he suffered second degree burns after the uncle tied him up and set him ablaze. He was quickly rushed to Kipkarren hospital and admitted for 2 weeks.
He was then referred to Shoe 4 Africa and admitted for septic burns on the left arm secondary to assault. Initially, he displayed signs of severe shock for about a fortnight. However, after spending time with other children at the playroom and playground, Charles started being interactive. Our social workers and staff are highly trained working with the local administration on his safety and protection.
Once fully recovered, he will be discharged through the children's department. It is hoped that Charles will not have to go undergo such inhumane treatment again. His rights are enshrined in the Children's Act and he is entitled to protection and safeguarding.
He has continued to show great signs of improvement while displaying great strength. Not only does he look forward to being discharged; he has also set his eyes on returning to school and working really hard. (name changed).
Grandma Jane.
Grandmothers are always everyone's favorite family member. Grandma Jane is definitely one. In fact she is her grandchildren's hope. In the slums of Kakamega, about 3-hours from the Shoe4Africa Children's hospital, the same sad stories are found; no different than the slums around the world.
Jane has four sons. All four sons took off to find a better life outside the slums. None of them ever returned to check on their mother Jane. As she tells the story, she says in a way she was happy for them. Assuming they had found a better life. Unfortunately, whatever life her sons had chosen, was not better than the life they left behind. Grandma Jane tears as she begins her story.
In 2014, a very weak sick baby was dropped off at her door step. Grandma Jane took one look at the baby boy and knew he was her grandson. While we looked at her wondering what she did next that day, she said two more children were brought to her hut by different women in the next coming years. All different ages and each woman fed up with her sons and their lack of child support. Thousands of women in Africa raise their own children in absence of their fathers, but when one is a prostitute (which these women were), motherhood gets in the way of the fast, dangerous lifestyle.
Feb, 2017 Luka (baby dropped off in 2014), died of HIV AIDS. Grandma Jane now had two grandchildren. Alex was dropped off at age 7. His mother could not take care of him anymore with his disabilities. Alex's only disability was being deaf and dumb. Eunice was 3-years, the other grandchild. Everyday as Grandma Jane went out to look for food for the day, she'd leave Eunice with a neighbor and tie Alex to door frame. The rope around his ankle was long enough that he was able to lie down on twin bed in the single room house. This was Grandma Jane's secret for almost two years.
She would also leave Alex a cup of water and some groundnuts. Two years of daily movement allowed Alex to finally snap the frayed rope. Grandma Jane had just stepped out and supper was on the open fire. No one knows what actually happened when the rope snapped. Perhaps he leaped with joy that he was now free. But jumping around in tiny space with an open fire can quickly become tragic.
In early 2017 Grandma Jane walked in to find Alex's body totally burnt except his head. Dr. John Chumba, one of Shoe4Africa's doctors, tell us it's a miracle he is alive. Alex is now in a wheelchair unable to stand because of his burns. Grandma Jane lights up with a smile at the end of her story and says, 'Look, we are here at the hospital with beds, three very good meals and doctors to treat Alex'. What resilience in Grandma Jane. Without Shoe4Africa Public Children's Hospital, there would be so many tragic ends to sad stories like Alex and his family. The social workers in the hospital are working with Grandma Jane to make sure her situation changes now Alex is on the mend! We have also found Grandma a job at our Women's Empowerment Projects.
UPDATED AUG 2018 — Alex is now able to walk!!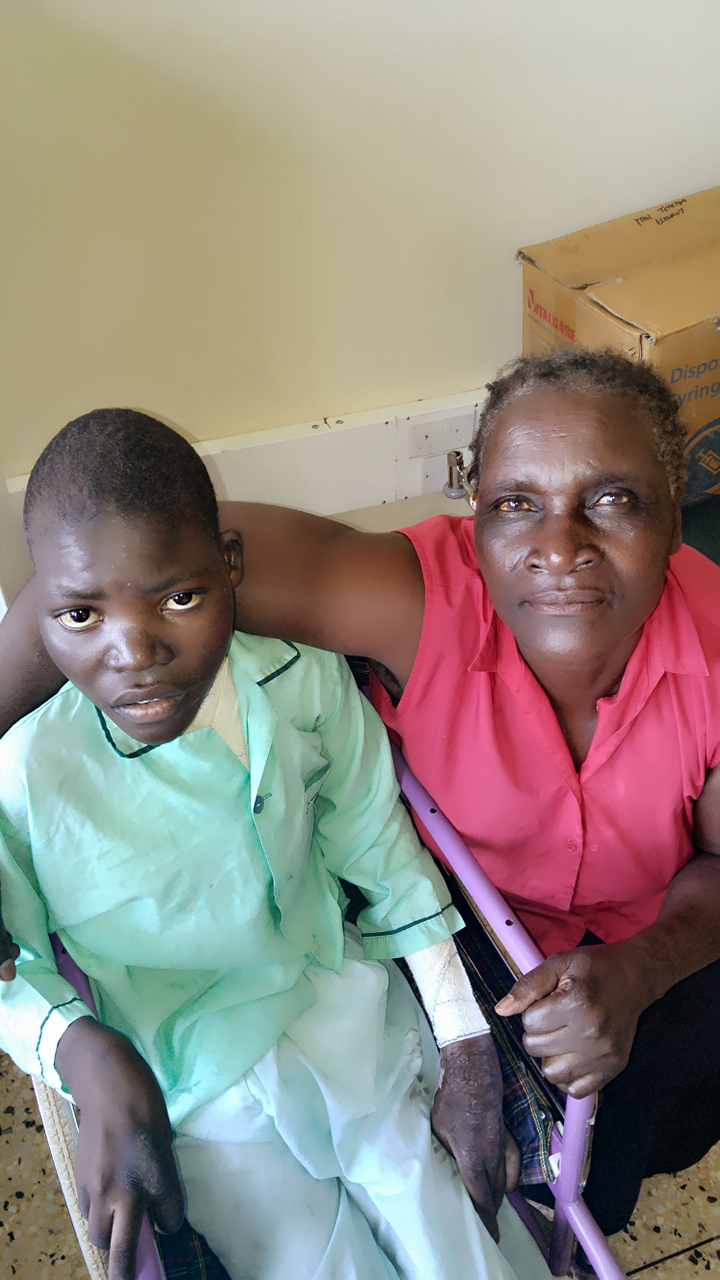 Grandma Jane and Alex
This is the story of Purity Chepkirui.
She's a three year old girl whose life has been saved because of the Shoe4Africa Public Children's Hsp. More importantly, she was brought to the hospital in critical conditions.
Purity was born with a rare condition. She was born without a nasal bone and without part of her nasal cartilage. Our understanding of what the doctors say is that massive amounts of fluid was sitting in the gap and flowing into areas that were causing damage in Purity's head. Naturally what should have happened would be a formation of cartilage between the tip of her nose to her brow bone to take the place of the nasal bone.
Purity was taken to several hospitals and she had episodes of unconsciousness and excruciating head pain. Each hospital visit was all in vain. 98% of the children brought to Shoe4Africa Public Children's Hsp live in abject poverty. Arriving at the Shoe4Africa Public Children's Hsp was Purity's mother's very last option. Her mother had no more money to travel to yet another hospital.
Like the medical staff does so well at Shoe4Africa's Public Children's Hsp, Purity was triaged in no time and wheeled into surgery. When she arrived she had been unconscious for a dangerous amount of time. The fluids were drained and preparations for subsequent surgeries are underway to build her nasal bridge and reconstruct Purity's face.
These are our stories of triumph, where parents who have lost hope or with very little hope, find it again at the Shoe4Africa's Public Children's Hsp. Purity, unconscious, was extremely close to death. The reality was, and affirmed by the Doctors, Purity was only hours away from her death. Today she is stable, healthy and on the road to recovery. Yet Purity was attended to because of runners and givers like yourself.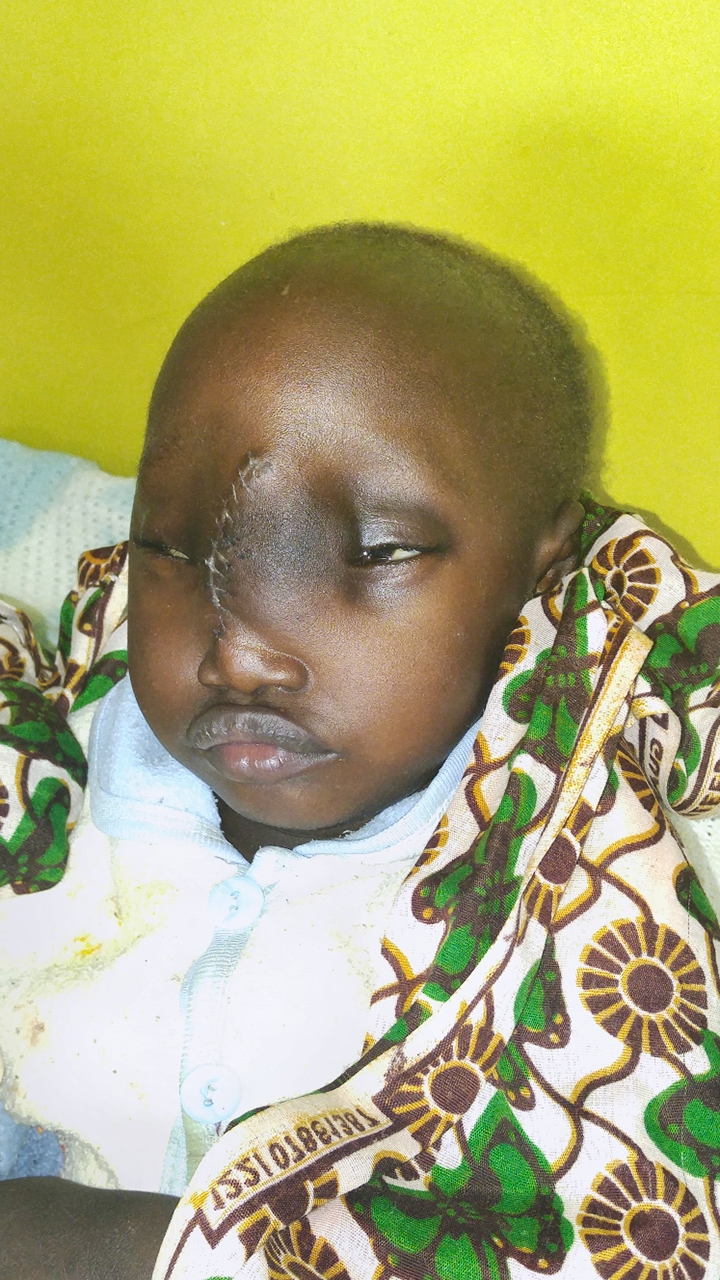 Purity
Next up a story about Precious, and since posting we can thank Tina & Michael for stepping in to help!
Precious is a one year old girl who truly is precious. Her mother Mary is a single mother. A result of an unwanted pregnancy in the midst of poverty. Mary had been looking for work for over a year and finally found a job as a house maid, 3 days per week. She did not tell her new employer that she had a one year old daughter because that would cost her the job.
Without money or willing relatives to watch Precious the three days she worked, she had to leave Precious at home. A nightmare situation for any parent. She rented a dark tin room in the slums of Eldoret. Everyday she locked the room with her baby girl inside, she'd pray that no one would hear and steal her.
Mary would wake up and give Precious a bath in a basin and feed her millet porridge. It was more hearty than breast milk and would keep Precious satisfied longer. Three months of work went by fast; three months of coming home and finding Precious' cloth nappy soiled and her cloths wet with seat from the heated tin room. But, that was all bearable because Precious was still in the room.
The fourth month came along, and Mary continued to go to work and continued to hide little Precious. Precious was growing and on one of the days her mother had gone to work; she began to crawl. A stage every parent welcomes. Sadly, Mary had not put out the cooking fire all out. It continued to burn lightly for several more hours. Little Precious perhaps fascinated by the flames, begun slowly crawling towards the fire. Their bed was on the floor. She of course had no idea the danger before her. We will never know what exactly happened…or how Precious ended up in flames. What is evident is she suffered and perhaps tried to get away and her little body did not know how to crawl backwards or move away fast enough.
God is merciful. Despite her whole face and chest burning, she is alive. Mary fainted when she saw her baby Precious crying in pain and her face completely burnt. A neighbor happened to be passing by. News in the slums had spread about Shoe4Africa Children's Public Hospital and Precious was rushed there.
She is slowly recovering, in little pain and awaits more healing before a numerous amounts of skin grafting. The burn unit doctors are looking forward to give Precious her lovely face back.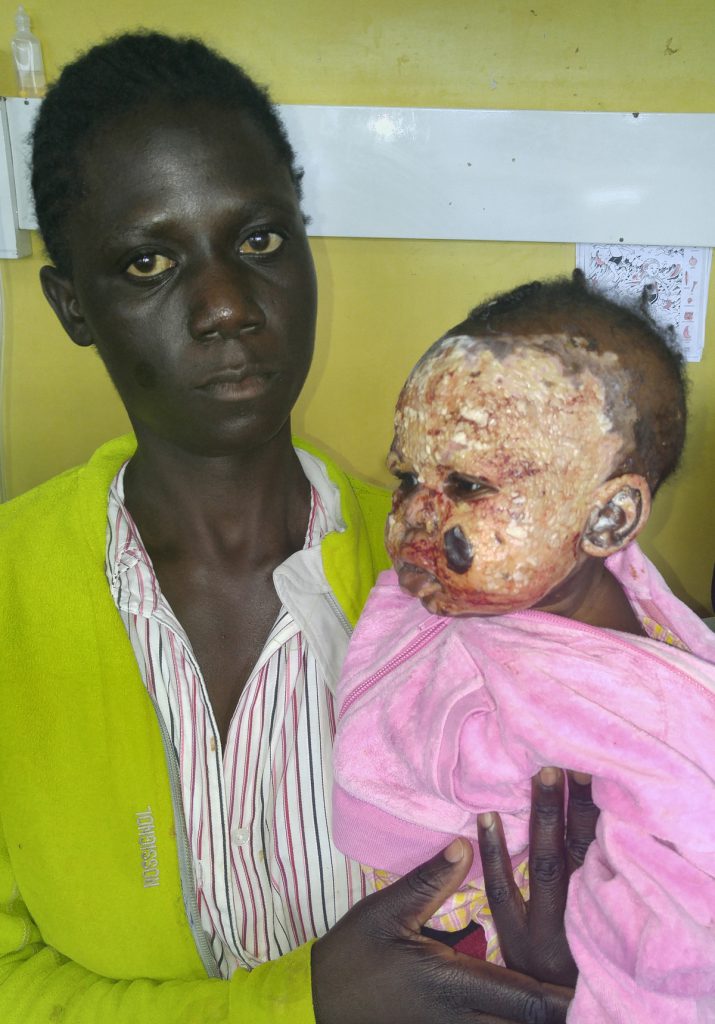 Little Precious
The story of Charles
This is a very sad story. Sad in how humans can be so barbaric to little innocent children.
Charles is an 8 years old and comes from the furthest corner of Kenya which boarders Tanzania. He's from the Kuria tribe, a very small tribe who live both in Kenya and Tanzania. These small tribes are very isolated and often still practice very dark rituals.
One of these rituals, are the practices that happen in search of wealth. Wealth to these people may not necessarily be a big bank account or a huge house. It often translates to spiritual powers or the level of fear the community has for a person and the number of wives and cattle. To get this 'wealth', involves human sacrifice.
It's hard to write this story in 2017 and imagine this happens today somewhere in world.
Charles and his two brothers were very close. Playing with the neighbors outside was an everyday way of life for him. Until one day when four men corralled the boys as they played. It seemed as if these men had been watching Charles and his brothers play daily and knew when Charles' mother left for work and when the boys were alone. The speed and strength of these men, left no time for the boys to run or scream for help. They were carried into the forest and into a shabby mud hut.
Here the unthinkable happened. Charles's big brother, only 11yrs was tired down by the men, while one of them begun to cut his whole genitalia off. Charles told us his brother passed out from the pain and bleeding and then died. Next was his 9yr old brother. Charles said at this point he was screaming at the top of his voice and so was his 9yr old brother…. but for only a little while before he too died. Then it was Charles' turn. He said he remembers screaming and asking God to save him. The cutting had just begun when a group of women broke down the door. He was saved, but very badly injured. Imagine the pain, the fear and the torment those young children faced that day.
The women were mothers of children who'd long gone under the same ritual and mothers who heard the boys screams. They were against this ritual. Charles' two brothers died. He was taken to a nearby hospital, but they could not do the surgery Charles needed to 'put him back together'.
A local doctor asked them to take him to The Shoe4Africa Public Children's Hsp for two reasons. Charles would definitely get treated and definitely be safe from these men or any others. But The Shoe4Africa Public Children's Hsp was miles away. The women came together and raised enough money for Charles and his mother to travel to Eldoret where the hospital is located.
Charles underwent lifesaving surgery and was safe at The Shoe4Africa Public Children's Hsp. After several weeks, he was able to walk around slowly in the hospital with a limp as some nerves were beyond repair. When he heard Toby Tanser was going to be at the hospital he waited at the entrance with the security guard. He'd been told about Toby and how he saves children. When Charles saw Toby, he held Toby's hand and said 'please don't let me go back home'.
We, at Shoe4Africa, are able to save children because we have the support from everyone reading this article, everyone who's run NYC marathon for Shoe4Africa and everyone who has given to Shoe4Africa over the years. T H A N K Y O U!!! Together we've built a safe house inside the hospital!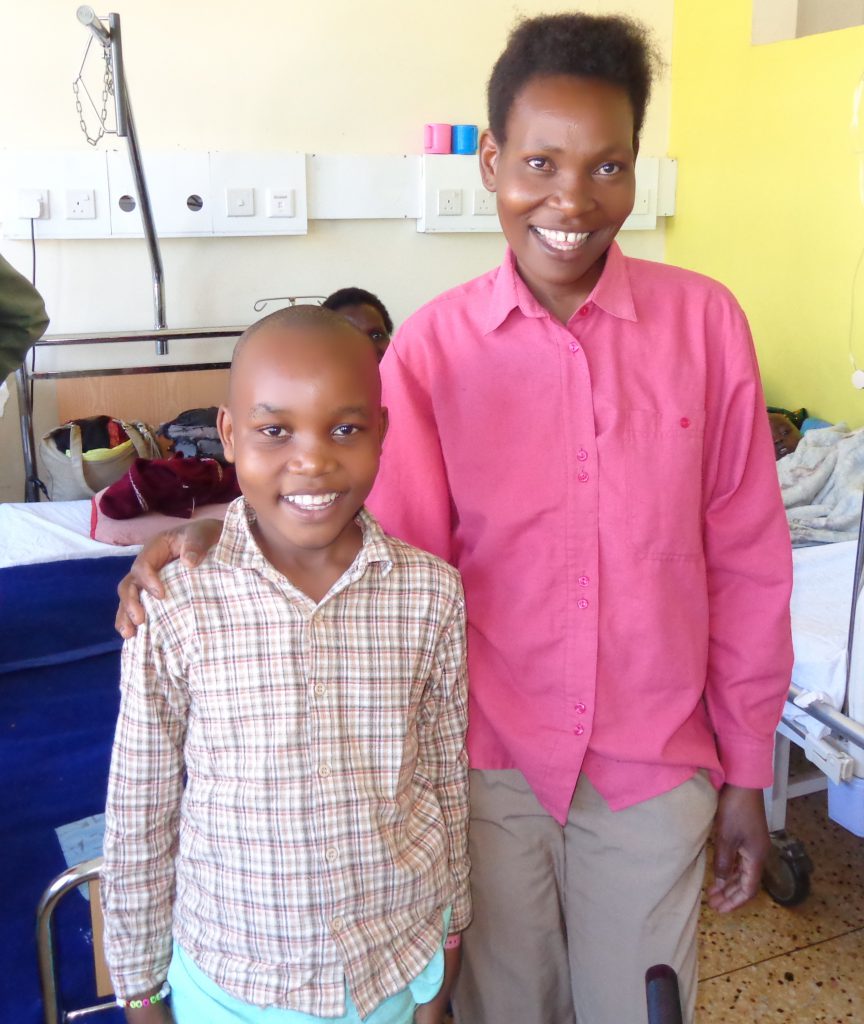 Charles and his mom
In the Neuro-Burns ward is Broton Rutto; he was burnt on a fateful afternoon on 245th August 2017. His mother, Nanjala, had left him sleeping as she had rushed to fetched food from the groceries stall. she got back and found her shack house burning up (the source of the fire is not yet known up today). She rushed in to save her son who was by then crying in pain and half of his body was already burnt.
Quickly she picked up her son and rushed him to Kapenguria district hospital using a motorbike and he was immediately transferred to Ortum hospital which is much better in terms of facilities but as the burns were so severe, he was then transferred to Shoe 4 Africa Children's Hospital by ambulance. Here he was received well and has undergone surgery and is continuing with consequential surgeries which has greatly improved his condition.
Faith Nanjala is a single mother with two children. Her first born is 2 and a half years old and Broton is second born at 8 months. She has no formal job and solely depends on odd jobs that come her way, mostly washing people's clothes in order to feed her children. Her first born now lives with the aunt who also has her own children to feed. She too survives by the grace of god.
Nanjala has not been able to work for three months. One of the many stories of struggles for a mother in poverty.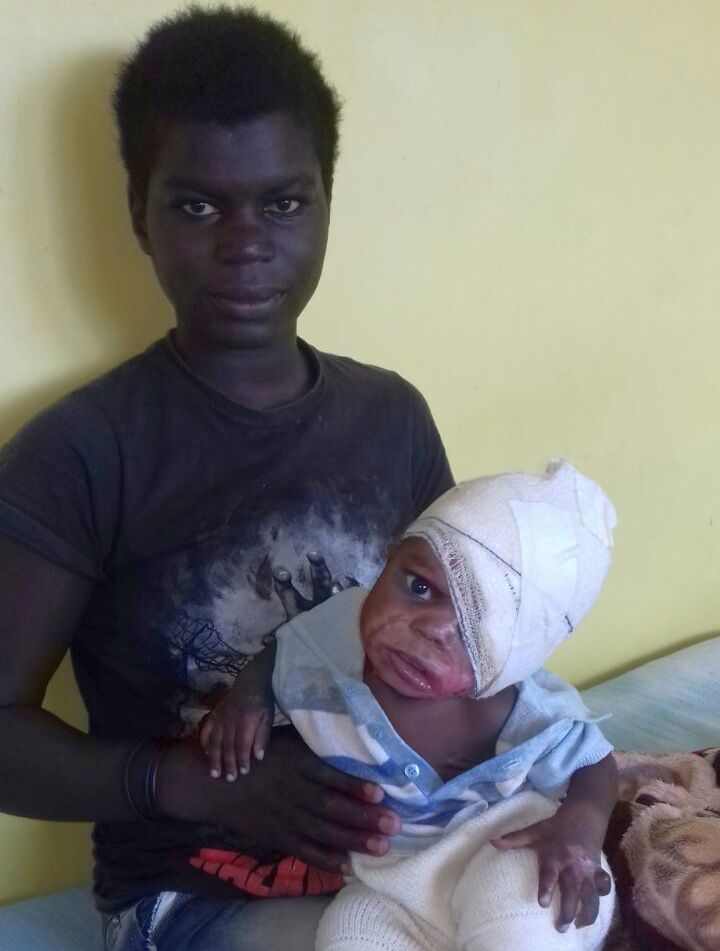 Broton Rutto, and his mother Nanjali
Caren Ekuon of Kakuma camp, Turkana is one of many patients we are helping. She is just one year old. The father rides a moped "taxi" to try and make money to support the family, the mother, Maureen has no job. Caren has Hydrocephalus which started when she was three months old. They went to a medical center in Lodwar, the closest town, and were referred to us. I'm glad to say Caren is stable and improving.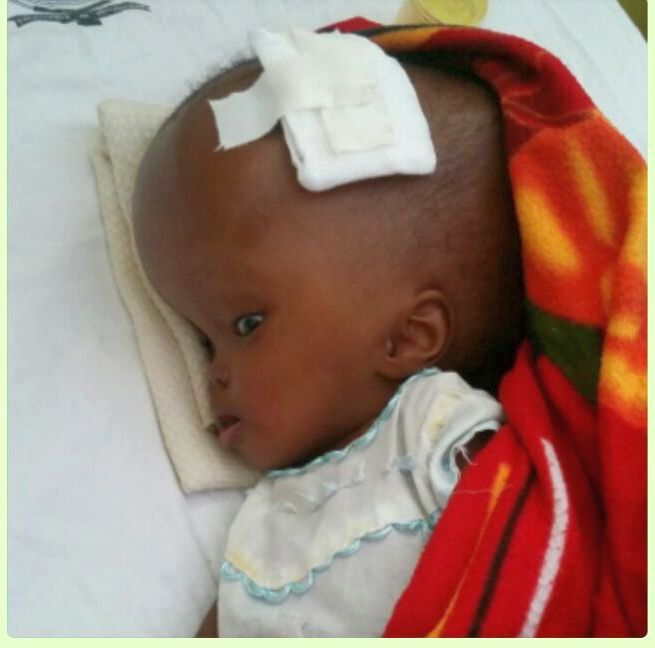 Caren Ekuon of Kakuma
This is Collins. In a remote part of Western Kenya about 170 miles from Shoe4Africa Hsp, Collins and his big brother Benson were out in the field herding their family cattle like they did every day.
This particular day, they spotted a thick wire hanging down from the high voltage lines that stretched across the fields. To Collins and Benson, this looked like a swinging rope. How fortunate, they thought; to break the monotony of herding in the hot sun all day.
The two ran towards the electric line and synchronized, both jumped and grabbed the line. Unfortunately it was a live high voltage line, burning the two boys. Benson died on the spot, while Collins whole left side was burnt. For hours the two boys lay there. Collins unconscious. They were found by their father as he wondered why the herd was not back.
Collins was taken to a mission hospital where he stayed for 3 weeks. His arm badly infected and slowly rotting. His father had to leave with Collins as they could not pay for the escalating charges. A month later, they arrived at the Shoe4Africa Children's Hsp. Collin's arm was now crawling with maggots and severe infection after his family tried traditional medicine and Collins was almost passing from this earth. Collins was examined and was on the operating table within a couple of hours of his arrival. His arm had to be amputated. In the coming weeks he received skin graphing to his left side.
As we interviewed his mother, she had a smile on her face….saying 'If we had not come to Shoe4Africa, Collins would not be here'. She also said, 'If we had come here sooner, Collins would not have lost his arm'. Collins too was smiling, glad that he was pain free. Which meant more to him than keeping his arm. Sadly, he still has not been told that Benson passed on. He thinks he is recovering somewhere else. His family have chosen to wait for his full recovery before revealing this to him.
On Jan 8th Dr. Nathan Mulure, from Novartis, came to visit the hospital and Collins Mum asked to give him an address, "I can tell you for a fact that if it were not for this Shoe4Africa hospital my son, would surely be dead today." A powerful testament.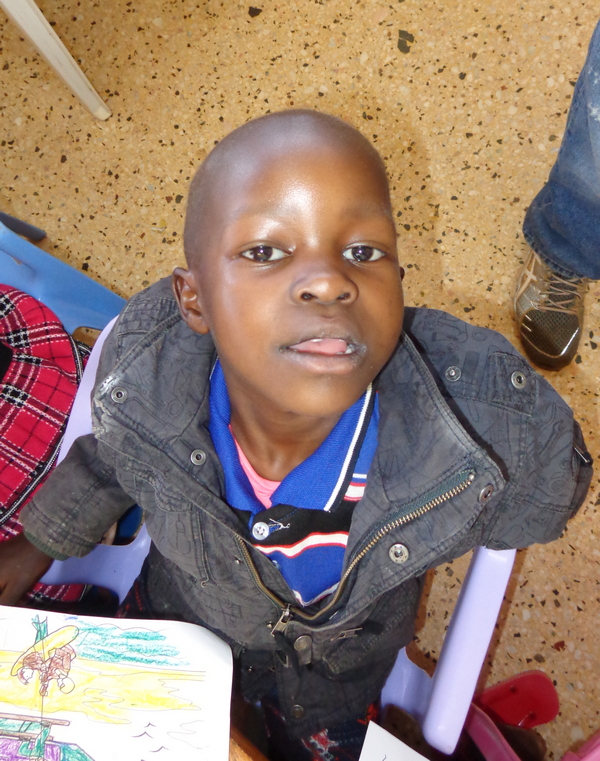 Story of Collins
Naretu, and her mother Priscilla from Samburu, is one of our favorite stories of (so far) a beautiful recovery.
Little Naretu was in a district hospital in Maralel. For one month she lay on a bed with swollen glands, unable to eat and losing hair. The medics did not have a clue what was wrong with her. Her mother, Priscilla said, "There were no machines, they just looked at her." Priscilla heard of Shoe4Africa. It took her three difficult days on public transport. She arrived and her daughter was immediately diagnosed with blood cancer. After a couple of weeks the Doctor's told the mother "You have brought her too late, she is so sick, she is not responding to the medicine. We think you had better prepare that this will be your daughter's last Christmas."
Priscilla had five dollars left between her and poverty. She spent a couple of those dollars braiding her child's hair, "Let her be beautiful when she meets God; I leave all in his hands."
On Christmas eve the Olympic Marathon Champion Eluid Kipchoge came to visit the hospital with some other runners bearing gifts. Eliud spent some time with Naretu, and the major newspaper caught the moment. On Christmas day Naretu's picture was in the paper. Priscilla noted, "She has been getting gifts like we have never seen before, she is meeting the famous marathoner. Now she herself is famous! Something is happening like I never imagined." She opened her bedside cupboard and displayed a full stock of supplies, books, gifts and new shoes.
A few days after Christmas and Naretu was getting her checkup and the doctors were baffled. Against all odds the prognosis was reversed. Miracles were happening. Naretu was responding to the treatment.
At the Shoe4Africa public kids hospital we are seeing miracles and we are treating thousands of kids. We are a teaching hospital preparing the next generation of medics, we are a nutrition center, we are a therapy center and we are practicing healing through medicine and love. Once upon a time there was a field and a dream… today there is a thriving hospital; only the 2nd public kids hospital in the entire region of Sub Saharan Africa. With your help you can help us do more, heal more, save more – your donations will save and change lives to some of the world's most needy young citizens. (NB: Since this story was printed, Dec 2016, a 3rd public kids hospital has opened, down in Jo'burg South Africa, close to the 1st in Cape Town).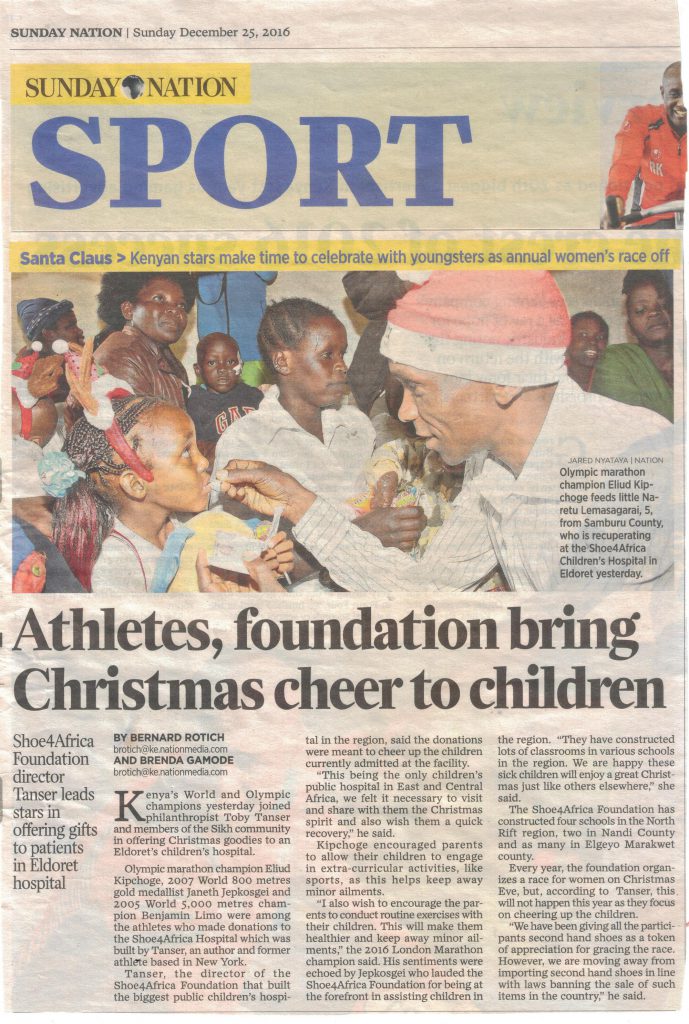 Below is Spenser Macobe whom you are helping, 13-years old, from Kisumu county. He was referred from Jeramogi Oginga Odinga, a local medical center for treatment. He had bacterial infections that were causing concern on his head as you might see. Following surgery at our hospital he is now recovering. We will keep him till he is safe as we have found discharging and expecting parents to keep infected areas clean often does not work as planned. Better to take precautions and send them home fully healed.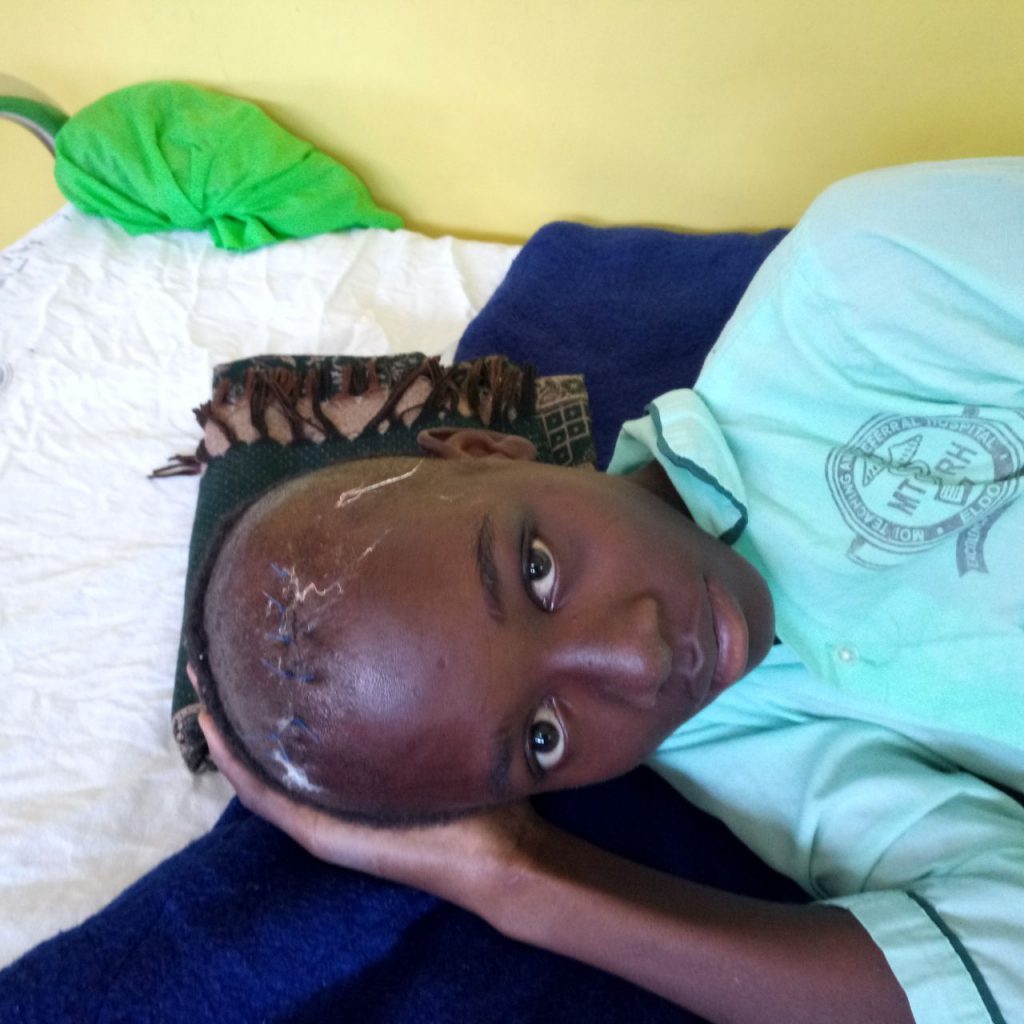 Spenser, healed and waiting for the wounds to properly seal up!
Millicent Cherono, 9, has been in the hospital now for two months. She was diagnosed with plastic anemia. Her bone marrow can't manufacture the needed blood, so she is totally dependent on blood transfusions. Luckily we are able to provide.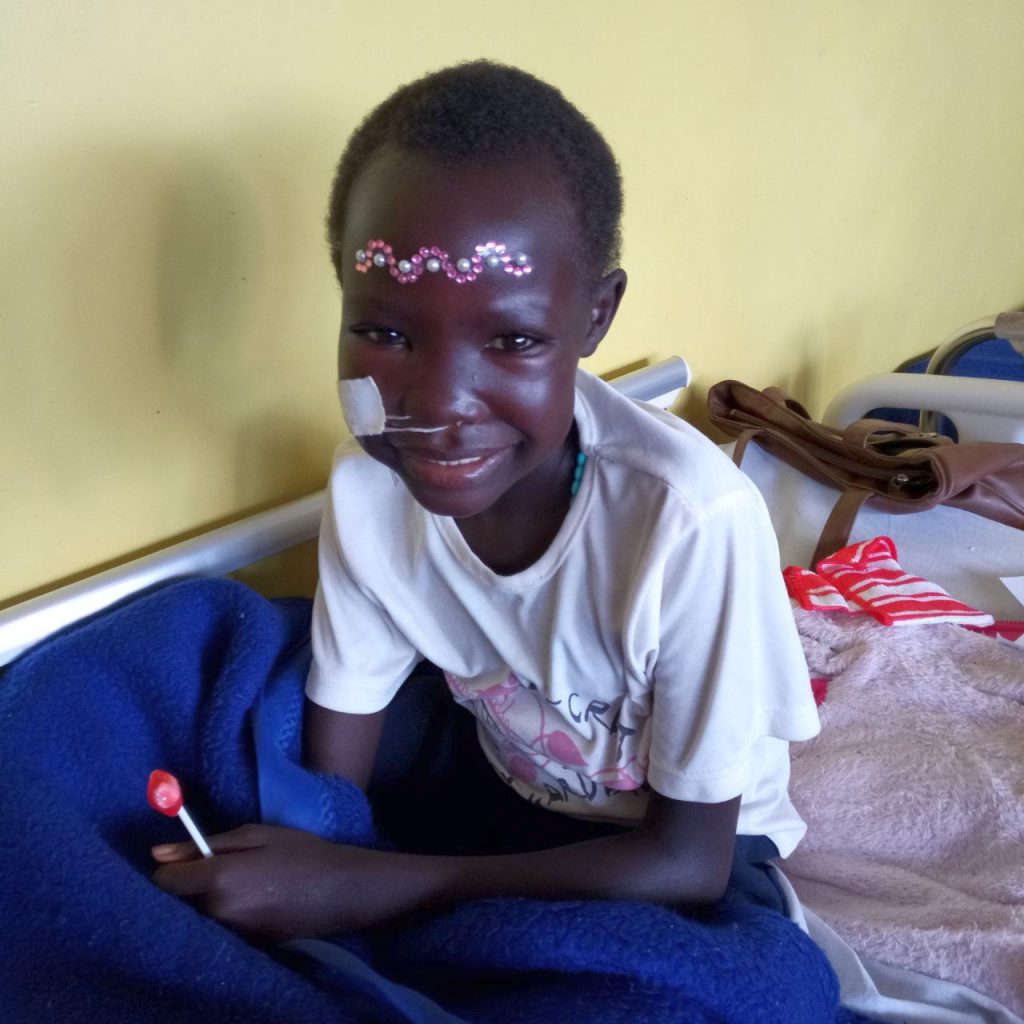 Millicent and her fancy 'head-stickers!'
Patients come to us from far and wide, see above a story of Burundi. Now, meet Ruth Igesa who was diagnosed with mouth cancer. She was referred to us from the neighboring country Uganda. Ruth has been with us for two months now, and is going to be a long term patient, probably staying with us for at least a year. As she has traveled so far she will be totally in our care and won't be home for quite some time. This is one of the reasons why we try to make the 'home' as fun as possible. And here's another patient, this one from the Masai tribe!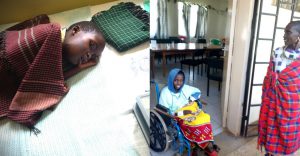 Ruth from Uganda – sending her our best wishes
Meet Delany Wafula, (see below) he is 13-years old. He as out in a field playing when he was struck by an overhead electricity wire. He was sent to Matunda district hospital where they sent Delany straight to us, and I am glad to say he is healing fast.