Purity's story
It is not every day you come across an incredibly self-aware 10-year-old. One with just the right wits for every conversation you bring up. One who understands not only her duties to herself, family, community, and friends, but also to her country. Purity Akoth, a patient in our Renal Unit, is one such 10-year-old. Purity, the extroverted girl with a zeal for service, especially in the government and health dockets, speaks very highly of her country, Kenya.
She believes that although it has not yet reached its full potential, there is hope. She is very appreciative of how, cumulatively, the current president, Uhuru Kenyatta, has managed to steer the country towards infrastructural growth, citing the now tarmacked roads in her village.
As the elections approach in Kenya this August, Purity says, "I hope we get a great president who will help us out of this bad poverty." Seeming disturbed, she says, "I hope to be home and well by the time the campaigns climax so I can help rally people to vote for the best candidate." She even has her eyes on a presidential candidate whom she says she would vote for if not for her young age.
 It has been 5 months since she was brought to Shoe4Africa for treatment following a hectic number of weeks in and out of her home's local clinic.
 Now receiving treatment to sustain her as she awaits a kidney transplant, following its failure, Purity's previous doctors did not know that she had renal troubles. It started in July of last year while in school. It was during the last week of the term, so exams were ongoing. "I felt weak, nauseated too often, chest pains, and occasional confusion," Purity said. "Although I managed to clear the exams, I was constantly in discomfort," she added.
School closed on Friday and her mom, Triza Akinyi, immediately took her to the hospital. One clinic after another, each facility issued referrals, until Akinyi and Purity ended up at our door. As is our facility's tradition, preliminary tests followed, after which results were shared with Purity and her mom, renal failure. Dialysis started soon after and has never stopped since.
Purity says that during the time she has spent at Shoe4Africa, she has seen that some professions are truly noble and, essentially, of God. She says that she sees doctors and nurses at our hospital working so hard; despite the huge number of patients they get, they religiously attend to each and every one. "This spirit has forged in me a new desire because while I have always wanted to be an accountant, being a doctor would serve a greater purpose. I have seen firsthand how much doctors do to save lives, and I can confidently say that I want to join this noble profession so I, too, can join the life-saving bandwagon. It is only fair," Purity stated.
We could not agree more with this little ten year old. The doctors and hospital staff at our facility work day and night to ensure that each child that walks or is wheeled into our doors receives that potentially lifesaving injection, medication, counsel, or support.
Like every other patient we handle, we have extended the best care we can to Purity. Her mom says, "I truly appreciate Shoe4Africa for offering us its help wholeheartedly, and always making follow-up phone calls when we are away to ensure that my daughter is fine." Although mom and her husband struggle to save the bus fare to travel to Shoe4Africa while also paying all other bills for two other children, they are glad they get to see results in their daughter's healing journey. The decision to leave her small job as a chef at her children's school to care for Purity in hospital has paid off, despite the financial bumps that they have endured, consequently. Even Purity's father who was initially very hesitant about Purity traveling 3 hours away from home to seek medication, has been more graceful with his comments ever since she started to see her daughter's recovery. In fact, during a visit he paid his daughter, Purity's dad said that he has never seen any facility that has half as much kindness and effectiveness as the Shoe4Africa hospital.
For Purity, and all children, we at Shoe4Africa always try to heal with love and caring for all patients… and, we will keep a job open for Purity when she grows up and becomes that doctor, because if she is this determined at her young age, we are sure she will make it!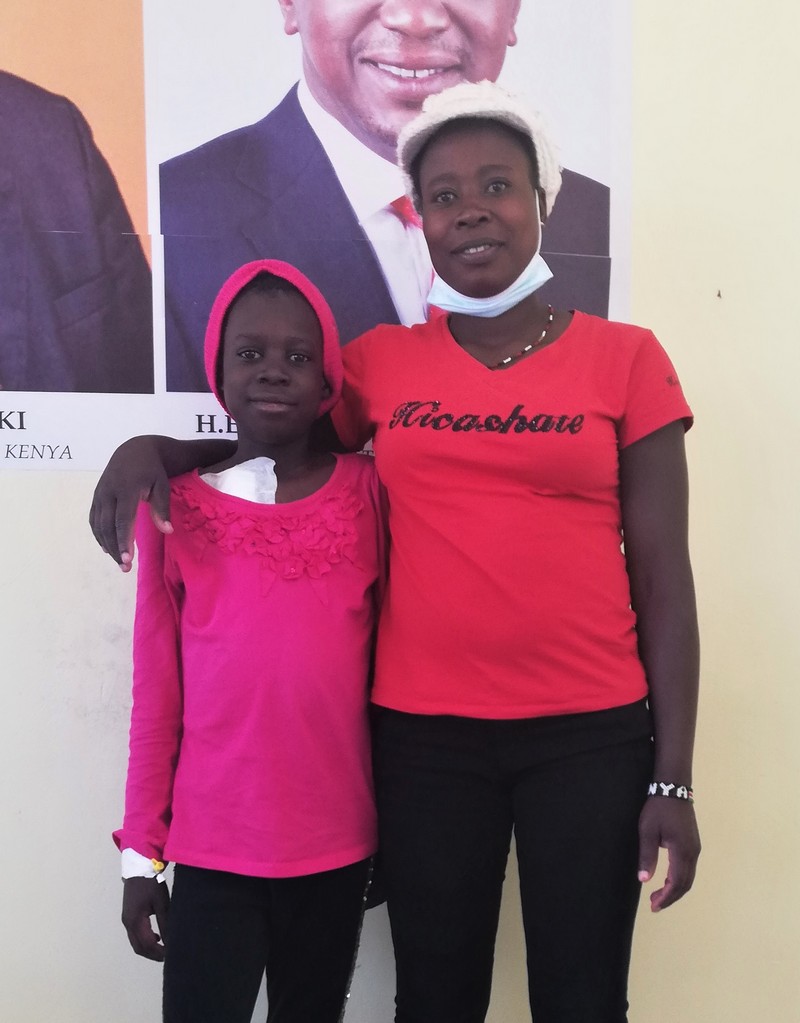 Kachewu's Story
About 2 years ago, the government finally started to build a school in Tiati Village in Baringo County, Kenya. The area had been without a hint of education forever and so this was an addition without a match for the community. Throughout the construction period, parents from Tiati and surrounding villages lined up at the area chief's place to book slots for their children because they did not want them to miss the opportunity of free lunch food, and water along with the education. Finally, their children would have a place to spend the day and a guarantee of not going hungry, as they would get a daily meal every five days of a week. Kachewu Rotich, a 6-year-old boy who is also a patient at our facility is one of the kids whose parents had ensured to reserve a slot for. His aunt, Doreen, who cares for him at our hospital says that when the news about the school came, Kachewu's dad, Rotich, immediately made his way to the chief's place. For Rotich, it was more about the chance to get an education, although the opportunity for all of his 6 kids to get fed every single day was a very much welcome addition. Having not received an education himself, thanks to the lack of schools within their area, Rotich was very excited, and even dubbed the opportunity a "God-sent gift."
They say timing is crucial! Well, it was for then 4-year-old, Kachewu, considering that he was going to attend school at an incredibly young age when compared to the rest of the kids he would be studying with. He, unlike most others who did not sign up for school, would eat daily for 5 days instead of skipping meals as was his norm.
"This was such a grace," said Doreen. She added that most of the kids who were allocated elementary school slots were around 15-18 years, and the chief was saying older boys should get a prioirty to school over the youngers ones, making Kachewu and a few others very lucky. But the timing was only so good for Kachewu, as somewhere mid-2020, his health took a sudden plummeted! For a little boy, whatever he ailed from was too alarming.  His pains were a mystery. Even the village herbalists who promise, for the price of a few cents, to cure anything could not contain his pain, despite shoving tons of herbal medicine into the boy's tiny throat. What was certain, though, was that Kachewu's problem was based in the stomach.
Dad and his son's trips to the closest dispensary (many kilometers away and very scarcely equipped) started. Soon, the dispensary attendant who could not be anything more than a high school graduate, according to Doreen, recommended that Kachewu be taken to a better-equipped facility in Nakuru town. It took Dad nearly a week to raise the 8 dollars that they would spend on bus fare; Kachewu had to sit on daddy's lap since that 8 dollars only covered one person's fare.
The Nakuru hospital tested the boy and found that he had a liver disease. Treatment commenced and Kachewu started to recover. However, as he left the hospital, the doctors recommended that he got better cared for. He would need food every day, clean water, and a clean place to sleep. None of these things would be available; much so considering that all the money that Rotich and his entire family had saved, had already been spent at the hospital. So once again, the school and its feeding was a God-sent opportunity. Thankfully, the construction was in its last phases and the area chief was already rounding up teachers from neighboring villages (anyone with a high school education became a teacher; very few).
Although he would not get a hygienic place to sleep since his family slept on the floor using dried animal hides as mattresses and a 'Maasai shuka' and excessively torn clothes (as blankets), Kachewu considered himself lucky that he didn't sleep hungry.
Sadly, a few weeks after leaving the hospital and joining school, Kachewu fell sick and was rushed back to Nakuru. The facility declared incapacity to handle the little boy's case. They referred him to Shoe4Africa, where he and Rotich arrived in March 2021. Our diagnosis indicated that this time, it was not his liver that was sick, it was both his kidneys.
"Myat!" Doreen exclaimed! This translates as, "What horror!" Her feeling was justified. To recover from one deadly condition to an even worse one "could only have been a product of failing luck," according to her.
Since diagnosis and admission at our facility, Kachewu, has slowly but consistently recovered his portions of luck. He was started on dialysis and received calcium medication four times a day, which is meant to help with his weak bones that have left him nearly bow-legged and stunted in growth for a 6-year-old. Slowly, the dosage has reduced, and he currently only receives the calcium medication in the morning. Most importantly he receives dialysis on Tuesdays and Fridays. Incredibly, he is starting to feel full of health.
The doctors are happy with his progress and so is the family. Rotich is even talking about requesting discharge, but that is only if Doreen and Kachewu can get a place to stay within Eldoret to avoid transport costs to and from Baringo. When asked how Rotich plans on getting a temporary settlement in Eldoret, Doreen says that she is thinking of starting a small grocery business around town. It should commence as soon as she gets "some money to rent a small house, buy a mattress, blanket, and jiko [a stove made from iron and mud], and extra change to set the business up," she said.
Perhaps someday Kachewu will be able to go back to Tiati and resume his education. With any luck, Aunty Doreen's proposed grocery business could help him attend school in Eldoret as he continues treatment. For now, our hospital teachers should do just fine and our massive library of 15,000 books. Since arriving at our facility he can now read and write, and he gets three meals a day.  Mom says our hospital is a better option than being at home, when he relies on a single school meal. Again, this story illustrates how needy our clients are.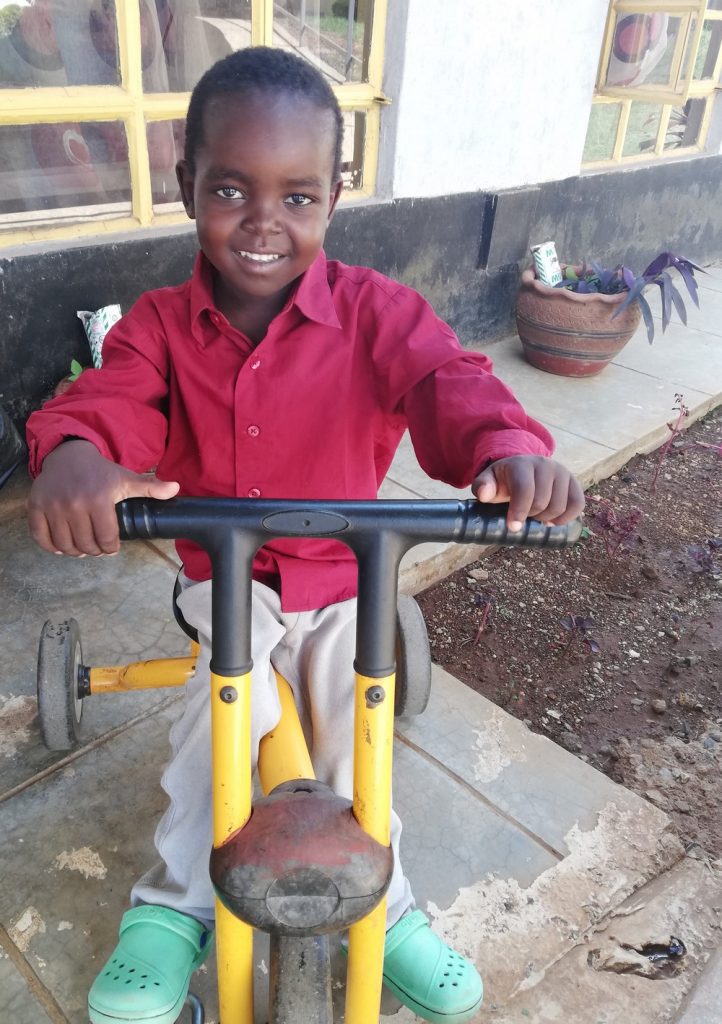 Simon's Story
It is quite amazing what determination can do. It is, in the least, a prop for positive change. Simon Losiwa, 12 years old, is a testimony to the value of this virtue. Simon, a patient at our facility, comes from Pokot, a semi-arid area in Kenya, where temperatures on a 'beautiful sunny day' can rise to 40 degrees Celsius or more. His family's land, and tons of hectares around it is essentially a desert. It grows nothing except cactus and thorny bushes. It's occupants can only keep desert-hardy cattle. These hardships have doomed this area into a wild hub for poverty.
Simon says that apart from food being scarce that he and siblings are only ever able to get dinner (not guaranteed), he is also forced to walk miles to school every morning and evening. The school he attends is barely developed. There are scanty rooms made from mud, which serve as classrooms, perforated roofs and walls, and a dump for a latrine. There is one hardly decent concrete-made room. It is used as the staff room and school store for valuables like the scarce textbooks. The class writing boards are also kept in this room every evening to secure them from thieves or any vandalism.
His school also has very few teachers, as are the students, because "most children and parents do not value education. It is still frowned upon, especially when the distance from children's homes to the few schools is considered." Despite all these, Simon has managed to attend school. In fact, he is now a grade 5 student, who excels wonderfully in class, and whose favorite subject is Math. Simon says that Teacher Choria, his overall teacher, has been so gracious in his devotion to help him and the other learners gain academic knowledge. "You see, I have been more focused on what I could get from putting in effort in my education, than the challenges that I endure at home or school. I want to change my family's and community's life," Simon made sure to note.
Actually, Simon should have been a 7th grader if he had not spent the better part of the last 3 years checking in and out of hospital. Instead, his story started to take a rough turn towards the end of 2018 when he developed a swollen patch on the side of his neck. He was treated for tuberculosis at a local healthcare facility. It was only in 2019, when the swelling would not go away, and he began to grow pale, that he was referred to a better hospital around home. Tests took nearly a month and when the results came, he was referred and ambulance-lifted to Shoe4Africa. Between the blood and tissue samples being collected and the results being delivered, Simon had grown worse. His stomach, leg, and the other side of the neck also began to swell. Excruciating pain also kicked in.
By the time they got to our facility in March 2019, Simon was barely able to walk. He had grown weak and unable to eat. He also experienced fatigue, chills, and fever, all of which are symptoms of Hodgkins Lymphoma (HL). The results had confirmed as much – HL, a form of cancer of the lymphatic system, where lymph nodes in the neck, armpits or groin may swell. Upon arrival and preliminary testing at Shoe4AFricaour nurses helped settle Simon and his dad in Subira Ward where he started treatment. "The next 6 months were painfully long, but we survived, notwithstanding the back to back chemotherapies," Simon said. During this time, he got very fond of fellow patients, parents, and working personnel. When asked about his experiences then, one teacher, Teacher Doro (Dorothy), came to mind. Simon says that although he just found out that she moved to the US about a year ago, Teacher Doro was the closest thing to a mom, teacher, friend, and sister as she could ever get while at the facility. He is glad he got the chance experience her.
It is sad, however, that after leaving at the end of August 2019, the next time they were able to come back for checkup was in 2020, after months of scraping up the 12 dollars for fare. Throughout the entire 2020, they were only able to visit three times. Luckily, he was okay for the most part of 2021, until 30 December when they had to rush to back, "because I started to vomit, swell, and weaken, just like before." The doctors have been working tirelessly to restore his health, and according to Simon, their help has worked like a charm. He has already bounced back, ready to go back to school to strive so hard to become a doctor, just so he can help others like him. In fact, Simon says that "the fact that I am behind in school stands no chance against my dreams. Although I, initially, wanted to join the military, I now want to save people's lives, and I will do it, no matter what!"
Honestly, a strong-willed man is all it takes to birth an empire of a success, and Simon, certainly has it all – the desire, determination, and strong will. Currently, he is not sure about how well his treatment will go, but based on his doctors' promise, he should make a full recovery and be back in his village with the rest of his 7 siblings before he knows it. As should as his determination, he will. "Frankly, nothing would be more pleasing than to see him go out and conquer the world, and I believe he will," said Nicholas Losiwa, Simon's dad, who could barely create a sentence in Kiswahili, Kenya's national language. We, Shoe4Africa, agree with Mr. Losiwa and are already excited to see the greatness ahead of Simon. Perhaps someday, he might bring his medical expertise to our doors to help other children.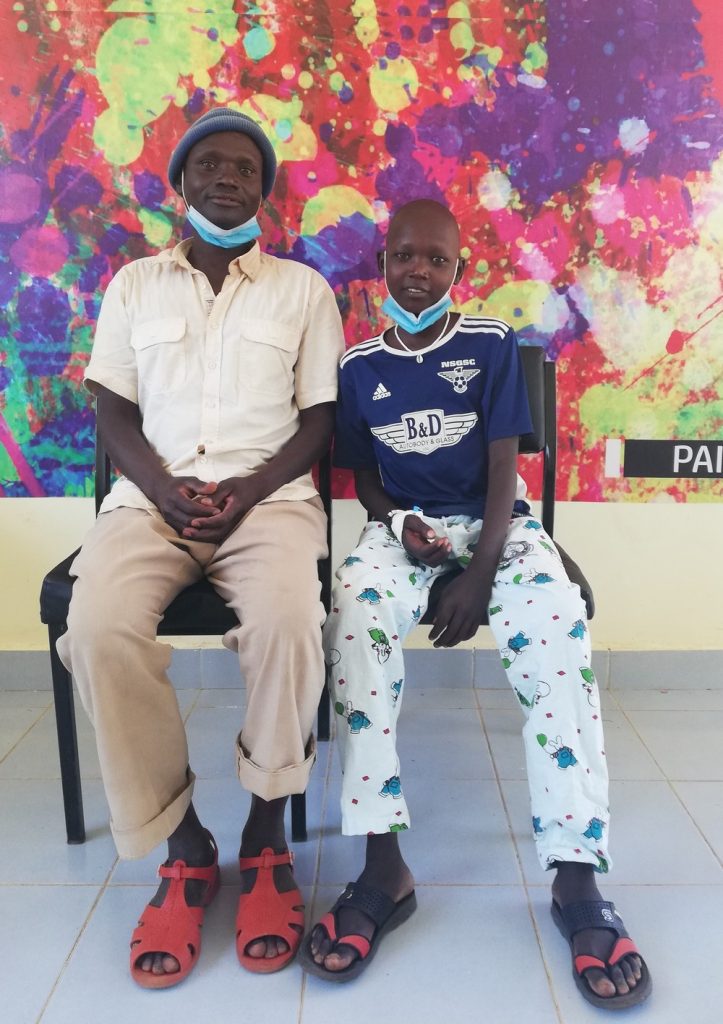 Kim's Battle 
"Every day, I wake up, get on my knees, and ask God for better. Better than what I am having to endure! My pastor thinks I should continue, but sometimes I just can't!" started Jackeline (commonly known to us as Mama Kim), Kimutai (Kim's) mom.
It's a little bit over a month since Kim started feeling pains in his stomach, which led to his first and second hospital visits, and now, his hospitalization at our facility.
Kim, aged four, who loves water, lit up when he heard his cousins had handcrafted a small boat out of driftwood collected by the riverside. Thus, he was jumping up and down one weekend as he boarded a rickety public bus, called a matatu, with his parents, Jackeline, 29, and Charles, 28, who labors as a maize farmer six days out of seven, to go and visit Grandma Jane in Kapchesaina where his larger family, and his cousins, have resided since anyone can remember. Kapchesaina, a small farming village of around twenty families, lies ten miles from the town of Nakuru, known as the former capital of the Great Rift Valley. This was to be a wonderful holiday of family bonding and water games, yet it quickly turned out to be a nightmare experience that no one has forgotten in the family to this day.
Splashing around in the waters all day was maybe why Kim was not hungry as the family sat gathered for a wholesome meal that night. Nobody questioned as Kim complained of stomach ache and retired early to his room. The family had a lot to talk about, the price of maize, an uncle who had broken a leg, and local politics which had started to dominate the news, yet Kim groaned through the night, unable to sleep. What was wrong?
The next morning, before the sun had risen, Jackeline knew she must fetch a doctor, or a nurse. Anyone who could explain why a cheerful boy, who hadn't eaten, was groaning in pain. Had he swallowed too much water? His cousins said not. Could it be malaria? Uncle John suffered from Malaria and he never groaned in pain. Uncle John would sweat and complain of headaches.
At the dispensary, no one could diagnose the boy and he was given vitamin C tablets and told to rest. Rest did nothing. Two visits to two different hospitals set her on her way to Shoe4Africa after a frightening diagnosis; cancer.
Today, Kim sits at our facility, almost four weeks since arrival. Preliminary tests indicated that he has cancer of the kidneys. Thanks to treatment, the little boy "has shown massive improvements." Despite losing 6kgs, so far – from 15kgs to 9kgs, Kim's progress has been better than can be said for most children his age who are receiving chemotherapy. Today he is on his third course of chemo. His doctors say that he should receive six courses in total before reassessment. That means that he is currently halfway done.
Asking the mom about what she likes about our hospital she says the therapists who aid our doctors.
"Eliza has endeared herself to Kim's heart." Mama Kim says "Eliza has certainly made it easier for me. I do not struggle with my baby during treatment because she is gentle with my son and takes care of most treatment activities. Kim sometimes even barely realizes that he just has an injection because of the therapist's work. What blessed hands Eliza has, indeed!"
At our facility, Eliza's spirit is what we look to cultivate. We believe in being kind and compassionate while accomplishing our duties, so we could not be gladder to hear such comments as Mama Kim's. As we continue to support Kim, we hope he gets well soon and resumes his life back in Kapchesaina, the village he comes from. Why does he yearn to go back we ask the boy? Is it school? No, it is the boat!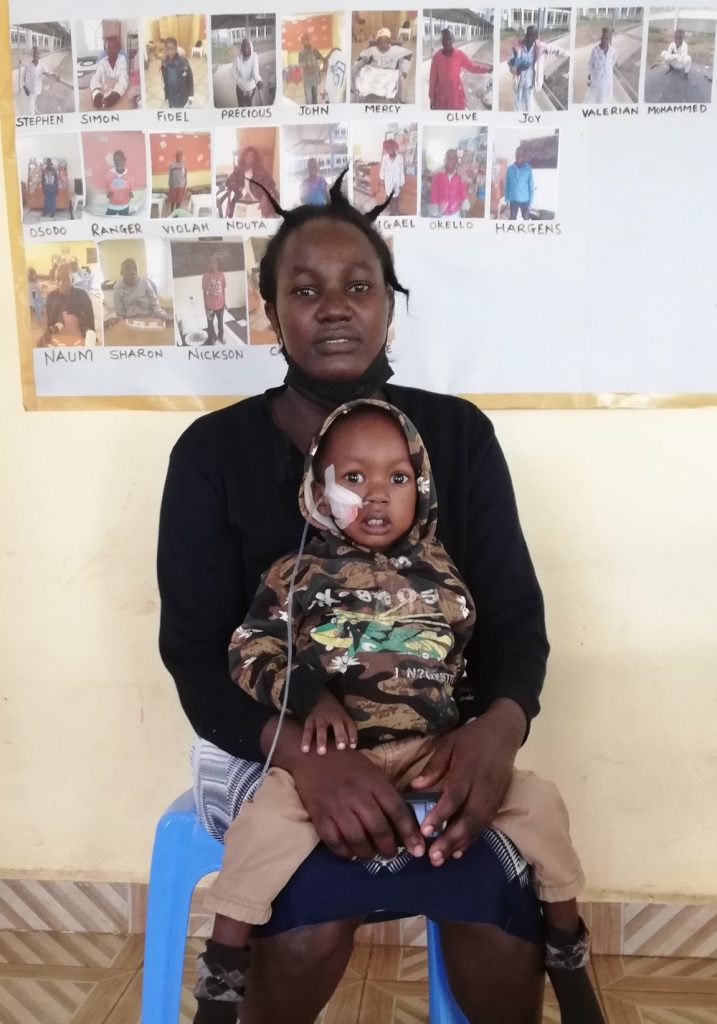 Kiplang'at, the Marathoner
Brian Kiplang'at, a patient at our hospital, comes from the same community as Eliud Kipchoge. Brian has a burning love for athletics, specifically the long races like Kipchoge.
At only 13 years of age, he has competed for his school at the county and extra-country races and emerged at the top. The boy is a Kipchoge diehard and like the marathoner, he believes in the power of discipline. Reciting one of the world marathoner's quote, he says, "I believe that only the disciplined ones in life are free. If you are undisciplined, you are a slave to your moods and your passions." Kiplang'at says that this quote is now a life principle he holds dear and with it, hopes to accomplish greater things, including beating his idol's 1:59 marathon record. Sadly his ambitions and dreams came to a grinding halt one night.
One Thursday evening in September this year, Kiplang'at got home from school, exhausted. He says that as usual, he hugged his mother and went ahead to have a change of clothes so that he could wash the school uniform in readiness for Friday. As he greeted his mom, he complained about the excruciating pain he felt on one of his left leg toes. The mom collected some herbs and had him drink. On Friday, he went to school.
However, the pain grew stronger by the minute. By the end of the day, he could no longer withstand the pain, so he was taken to a dispensary around their home. Nothing improved even with the painkillers he was given. On Saturday, "my mom took me to a County Referral Hospital where tests were done," Kiplang'at said. The results were quite unexpected to the doctors, who then felt that the tests needed to be rerun, hence Kiplang'at's referral to a bigger facility. The receiving hospital ran the tests on Sunday, explained the results to the family, and moved on to amputate his leg from halfway down through his left thigh.
Kiplang'at says that the doctors emphasized that every minute was very crucial to his survival as the clot that had led to the pains was moving rather quick towards the heart and may not be easy to manage once it gets there. After the surgical operation, Kiplang'at rested on Monday as his records were drawn in preparation for transfer to our facility.
Early morning of Tuesday, Kiplang'at, his uncle, and his mom arrived at our facility. His received emergency services and was moved to Tumaini where he was set up for a couple of days. Upon conclusive tests in liaison with the referring hospitals, Kiplang'at's mom and uncle were informed that he had Acute Myeloid Leukemia, a form of cancer that starts in the bone marrow and quickly moves to the blood and other body parts.
Kiplang'at's uncle, Weldon Terer, who sat with us throughout the interview, says that what he saw of his nephew's mom was the weakest he had ever seen of her. Luckily, Dr. Odongo, a doctor in our Oncology department, took his time to console them after informing them. "He had counseled us for a bit before proceeding to break the news. His comforting words enabled us to believe that our boy would be well even when it was very difficult to think so," said Terer.
Hardly 2 months later, Dr. Odongo's words appear to make more sense than they could believe before. "With the constant tabs Daktari (doctor) has kept on Kiplang'at, our son has cleared his first treatment cycle and received his discharge consent a few days ago," said Terer. "I am very excited that I get to go back home to Cherono and Kipkurui, my brother and sister whom I miss dearly," followed Kiplang'at.
As you see from his attire in the pictures, Kiplang'at is also an Arsenal FC fan and he misses the adrenaline from when he watches his favorite player and striker, Pierre-Emerick Aubameyang, whom Kiplang'at refers to as Auba. These soccer moments he spends with his other uncle, Emmanuel, with whom he likes to watch matches, are something he more than craves. With the discharge, he will finally be able to watch his favorite team play, as soon as this Sunday as Arsenal will be playing against Liverpool FC.
As we spoke, he could not help but feel a sense of relief that he gets to experience that adrenaline soon, along with all of home's blisses, despite his leg's new 'normal.' While Kiplang'at is yet to make peace with the fact that he might not be running again, he believes that he might have a career in soccer as a commentator. He could be very great at it considering his good mastery of language and his desire to excel. As he gets used to his normal life we will introduce the idea of the Paralympics to the boy, and a Kenyan living in America, Marko Cheseto, who is making great strides in that arena proving that a disability in not an inability.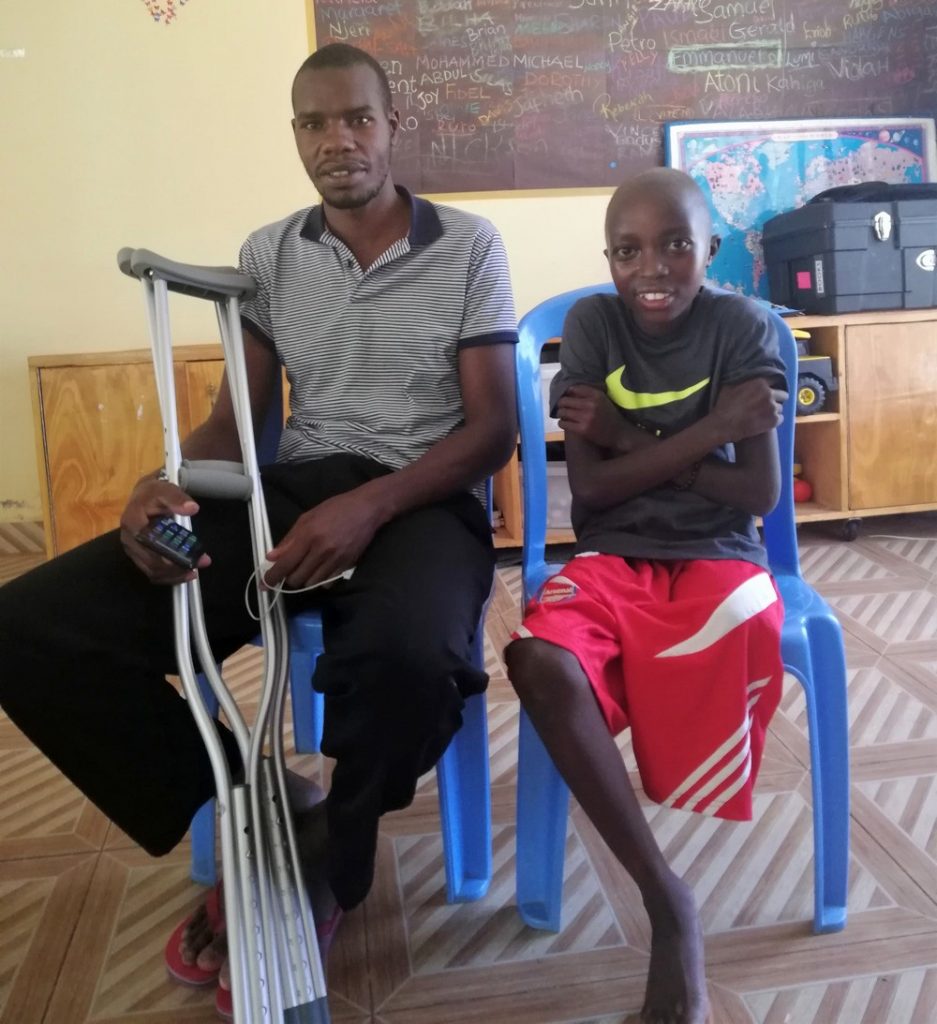 Ann Macia
Coming to Eldoret, Ivy was bubbling with excitement. Finally, in the big city (Eldoret's pop is 467,000) maybe the young mother could secure a job. She did not have any qualifications to fall back on, and schooling had not been the best before her pregnancy, but surely, she could secure a job as a nanny, looking after little kids because that is what she excelled in, and had the interest for.
The new dwellings were, in a word, rundown, but lacking money what could Ivy do? She, and her 11-month-old daughter Ann Macia, moved in as a temporary measure. When the funds came, she would upgrade, but she recalled that old saying, 'Beggars can't be choosers.'
Unfortunately, the walls, for want of renovation, let a cold breeze in, and Eldoret sits at an altitude of 2000m making the nights cold. Eldoret maybe dubbed the City of Champions for runners, but runners like the cool air for training. At once the baby started to develop a worrying cough. Ivy was not concerned, she knew it was common, but after three days Ann Macia was feinting, sporadically stopping breathing and mom realized something was very serious. Being a newcomer to Eldoret she asked a neighbor, "Where can I take a sick child? Not a private hospital?" She was instructed to come to us, "You need to go to the best, but it is a public hospital, don't worry. It is called Shoe!"
So Ivy arrived, and like our story last week, the child was diagnosed with pneumonia. Nurse Nyamongo took over and told Ivy, not to worry, with the proper treatment her child would be back to full health shortly. In fact, on the day we take this interview, if we peer out of the window, on the astroturf lawn where every day there is exercise and football, we can see baby Ann Macia crawling around the field giggling about something that seems to amuse her. She'll stay with us for a few more days, then be sent home and hopefully by that time the landlord will have patched up the drafty apartment…and Ivy will find some work as a nanny.