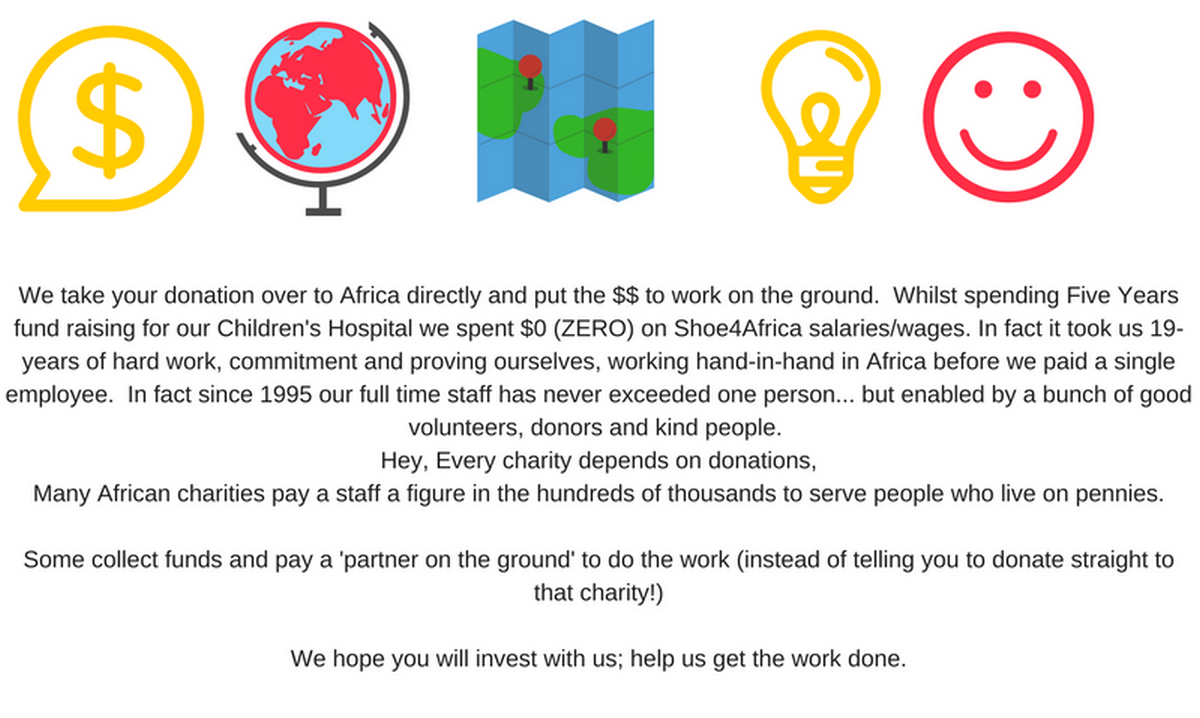 Are you looking to make a difference? Have you ever wondered what you as a high school kid college can do to make lasting change in the world? Well, we have the answer!
WHAT: S4A Ambassador School Chapter
WHO: Young adults who are passionate about a Global World
HOW: Gather your friends and download this document LINK
WHEN: No better time than right now!
GET INVOLVED
"If you are successful, it is because somewhere, sometime, someone gave you a life or an idea that started you in the right direction. Remember also that you are indebted to life until you help some less fortunate person, just as you were helped." – Melinda Gates
Thank you so much for your interest in starting a chapter and to be on the Shoe4Africa network.
Find a faculty advisor and form a leadership board
Find a related club at school/community and partner with them!
Become an official school organization
Hold weekly club meetings
Stay up-to-date with all things by liaising with our staff
Plan a fundraiser
Raise awareness about Shoe4Africa and our mission
Post on social media, get us hashtagged
Build a Shoe4Africa Team
Make memories to treasure
What YOU Can Do!
Color-Run or Run-A-Thon! Host a school Run-a-Thon! Runners and walkers of the event can collect pledges prior to the event and then earn money for every lap/mile/etc. completed on the day of the event. Hosting a Run-a-Thon would not only benefit Shoe4Africa, but also allow the students an opportunity to be directly involved in helping to support other students receive the gift of education. If you can't run, host a nigh/day of sports benefiting Shoe4Africa
The proceeds of the refreshments, along with donation boxes, can really help us
Try and challenge another school or college, or a series of schools!
Our German chapter found that the whole school got involved, the sports department, the head teacher, parents and kids and they raised a ton of money with sponsored laps!
Princeton University holding a color run for Shoe4Africa!
Local Shop Donations! See if a local shop (coffee shop, restaurant, etc.) would be interested in donating a percentage of their sales for the day. REMEMBER! Be strategic about the dates of these fundraisers. Think about what people are buying at their time of year- is it warm, will they want frozen yogurt, etc. You can approach the subject by promising the local establishment that you will send more traffic their way on the day of the fundraiser. Or, you can get creative! If the shop doesn't want to donate a percentage of sale, ask them if you can sell some Komera swag from a small table in their shop. Where there is a will, there is a way
Social Media Stars! Social media is really important to Shoe4Africa, it is our voice to the community. It allows us to introduce shoe4africa to those who otherwise would never know about us and our programs. It allows us to increase our donor base, which greatly impacts our ability to provide better programming to the scholars.