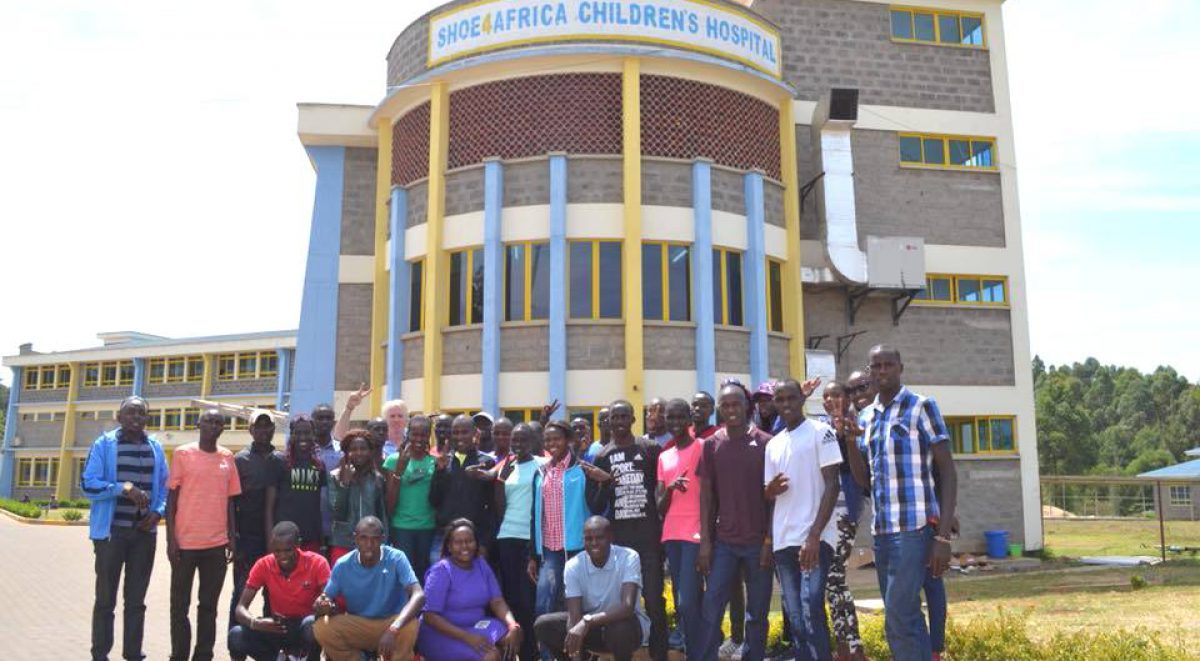 What a line up! Better than a Diamond League! We had a visit yesterday to the Shoe4Africa Children's hospital by a group of very fast runners who kindly brought a ton of gifts to the kids! Thank you to all, from left:
Alfred Kirwa (Olympic Bronze & World champ). John Kipkoech (12'49" in 5000m). Now going for road. Jairus Birech (Steeplechase 7:58 African Games champ). Pauline Korikwiang (World JXC Champ, black nike t-shirt). Betwel Limo (behind Pauline. brother to Janeth. not an athlete). Margaret Agai (marathon. PB: 2h 23'. Winner of 2017 Seoul marathon).
Barselius Kipyego (behind Margaret, 59:14 – half marathon).
Eunice Sum (world champ 800, Commonwealth games champ).
Dickson Chumba (won the Rome, Eindhoven, Tokyo, and Chicago marathons, PR 2:05:42). Edwin Kibet (behind Eunice and Dickson. 2h 08' marathon. 59" in half).
Geoffrey Saurei (guy behind Dickson with cap. Camp Cook).
Felix Kibitok (Next to the cook. Winner of 2017 Nairobi half).
Viola Yator (next to Dickson. 2h26'. Winner of 2017 La maraton Vert in France). Asbel Kipsang (behind Viola. Not much visible. 2h 07' guy). Hellen Chepkorir (next to Viola. 2h 34' marathon PB). Akopesha Abraham (Behind Hellen. 2h 10' guy. 60' in half).
Dominic Letting (left side of Akopesha. Up and coming athlete).
Jonathn Kitilit (next to Hellen. 1'43".05 in 800m). Betty Lempus (next to Kitilit. 2h 29' marathon). Evans Chebet (behind in the middle of Kitilit and Betty. Marathon–2h 05'30". 2nd in 2017 Valencia marathon). Cyprian Kotut (2h 07'. 59'. Paris Marathon 2016 Champion; Martin Lel's brother. Next to Evans). Solomon Kirwa (next to Betty Lempus, in front of Janeth. 2h 07' 13" in Paris 2017. 3rd position. 58' 44" half marathon). Janeth Jepkosgei (World Champ 800). Patrick Siele (next to Solomon. 3rd in 2017 Nairobi half). Margaret Chelimo (behind Patrick next to Janeth Kossy Jepkosgeih. 5th in London in 5000m. 14'31" pb). Jackline Cheron (next to Margaret. up & coming athlete).
Barnabas Kipyego (next to Patrick. 2015 junior world champion steeplechase. 8'09"pb). Claudia Ekai. Down from left: Amos Kipruto (2h 05'43"pb). Benson Kipruto (2h 07'21" pb. Chumba's brother). Daniel Cheribo (marathon coach). Thanks so much to the 2 Running Club and coach Claudio Berardelli for coming and gifting and lighting up the faces of the little kids!.