Meg O'Brien, MD, American Cancer Society Global Cancer Treatment, "In America since the 1960's, we've turned cancer from this frightening, inevitably deadly disease into something very fightable.  That human triumph has not crossed the border in Africa yet. I was just blown away because so little attention (over there) was being paid." 
UNTIL NOW – 
It starts with a story. Meet our Kids at the Shoe4Africa Hospital.  By coincidence our 'team' led by Beryl (in the green, the goalkeeper) happen to be all Cancer Patients, bar two.  We are building an astro-turf pitch, 5-a-side, just outside the main hospital.  Taking the patients out to exercise is a thrill; you can see the excitement in their faces.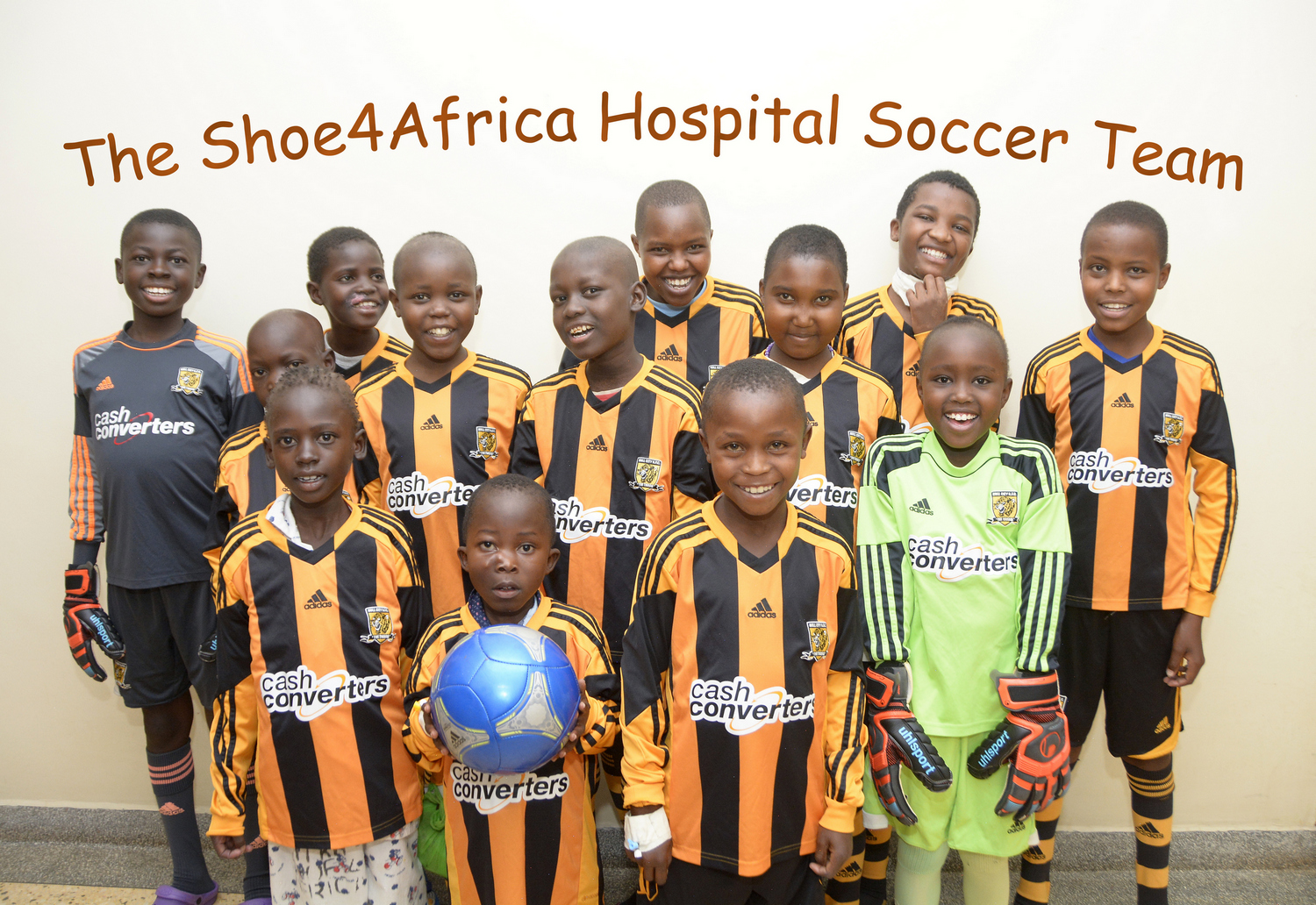 When we opened the main public kids hospital in 2015 the kids no longer had to go to overcrowded adult's hospitals fighting for bed space.  We treated all kinds of kids for an alphabet of diseases, the corridors overflowed, different languages could be heard – in the heart of the Rift valley we have treated kids from Tanzania, Uganda, Southern Sudan, Rwanda, and even one from Burundi!  But we knew we still had work to do.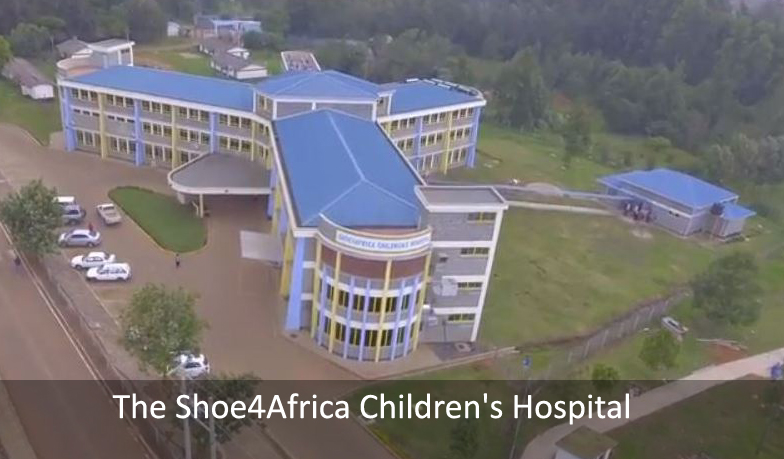 Dr. Kibosia, one of the most respected Doctor's in Kenya, a man who helped so much with this project and was then the CEO of MTRH, estimated, "9/10 kids diagnosed with cancers are dying in East Africa."  That number was the opposite in America; 1/10.
In our hospital we have an oncology ward, usually 30-40 patients.  Big problem; once you administer Chemo treatment then a public children's hospital is one of the last places they should return to, do you know how many diseases we have floating around our floors?  Chemo wipes out a child's immune system rendering a young body helpless to fight germs.
We knew we had to build a Kids Cancer Hospital.  A separate building designed specifically for kids with cancers only, designed with total isolation.  But I did nothing.  Three renowned cancer specialists from around the world told me, on different occasions, if you build this it will immediately start saving hundreds of lives.  I agreed, but did nothing.  Maybe someone else, another organization?
But no one did.  I searched the Internet, I could not find even a single kids cancer hospital for the whole of Sub Saharan Africa (one billion people), worse yet, I could not find a kids center with an Isolation building for kids with chronic diseases either.  Like ours, places became overcrowded too quickly.  "Isolation" was the far side of the ward, away from the door.
The answer was simple, but daunting; build a Kids Cancer Hospital.  Don't bring kids to germ centers, or send them home where an infection was bound to happen.  The answer is what America is doing right now; a country that has aggressively worked to get that 9/10 stat down, and has achieved that with 1/10.  We knew this, but until Dec 31st 2018 as we watched the team run around playing, we were leaving it for another organization.
The Plan for the Shoe4Africa Juli Anne Perry Kids Cancer Hospital
The proposed center will have a bed capacity of 100. Along with general wards, two-bed and single bedded rooms in the hospital there will be (spread over two floors) two outpatient treatment areas, two waiting rooms, one quiet room, one teacher's lecture hall, Doctors lounge, overnight doctors room, one resource Hospital room equipped with computers, three examination rooms, offices, one main reception and lobby area. With palliative care offices, chemotherapy infusion rooms, child life therapy, playroom, and more.
Research office. Three *units* for in patient, 1. solid tumors, 2. benign hematology, 3. malignant hematology – each area general – totaling 100 beds.  35 -beds all have 4 private single rooms for malignant, 4 doubles for each of the units.  A ward of its own for each of the three.  Total bed capacity – 100
Each needs a nursing station, and a Dr's ward discussion room (sits 15-people).  (Note the Nurses stations at S4A did not work and are still not properly used)
One common play room, oxygen piping needed, at least on one floor.  Three floors would be ideal budget pending. (1) One floor – research, lecture hall, offices-, Common lounge for Dr's and place for one Dr's sleep. One office for fellows.  Two consultant's office.
(2) Next floor all ward area, with nurses changing etc and (G) Ground floor – pharmacy, mixing of medicine, infusion space, records office, admission office
((Right now (no specialty offered) we have 50-60 kids cancer patients admitted (March 2019) per day under Hematology and oncology.  Once we announce the 'specialty' we are ensured 100 patients.))
Hospital to admit only Less than 18yrs. 0-10 is majority today)
Radiotherapy- not here, will be administered at Chandaria.  But Chemo treatment on site.
One big meeting room of 100-people. (same flr of lecture room -1)
Ground outpatient area.
2 male/ 2 female interns Dr's overnight (1)
No ICU. (use S4A ICU next door).
Changing rooms for nurses on each floor, Own theater would be ideal. (If at 2m USD).  Mothers allowed to stay. (Couch by beds)
We aim to copy these mandates from Global Hope;
Deliver state of the art care to thousands of children with cancer and blood disorders
Train local pathologists, nurses, pharmacists, and other healthcare providers to be experts in pediatric hematology-oncology
Conduct public health campaigns and other community outreach activities to increase awareness
Establish centers of excellence focused on patient care, education, research, and healthcare management in pediatric hematology-oncology
And join (Develop a collaborative network of centers of excellence, called the Children's Hematology and Oncology Group of Africa (CHOGA), to implement best practices throughout sub-Saharan Africa).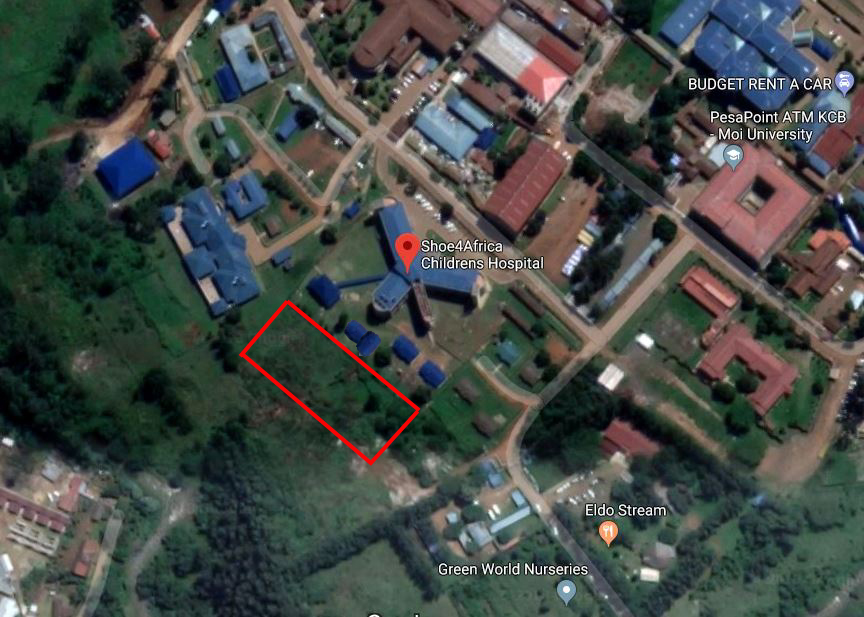 The Oncology expertise
In Kenya there are three Pediatric oncologists who are mainly based in Nairobi.  However right now plans are being made to start training Pediatric oncology in Eldoret beginning September 2019 which is about to get approved by Moi University Medical School (2nd largest University in Kenya).  The MU Medical school campus is 300-meters from our Hospital (see Map above).
Prof. Gertjan Kaspers, MD PhD Head, Dept of Pediatric Oncology & Hematology, VU Amsterdam, Netherlands. Director of the Academy of the new Dutch Princess Máxima Center for Pediatric Oncology,
"Childhood cancer is the leading cause of death by disease among children in high-income countries. The same will become a reality in other countries such as Kenya, with the improved care of other diseases. However, cancer can potentially be cured in the far majority of affected children. A public childhood cancer center is crucial to care for these patients and to achieve higher cure-rates. I therefore strongly support the activities of Shoe4Africa to help realising such a public center, which would be the first in its kind in Africa".
Dr. Terry Vik MD Professor, Pediatric Hematology-Oncology, Riley Hospital For Children At Indiana University Health.
"As our resources and capabilities improve, we should see up to 500 patients per year based on the population we serve if this hospital is built. The average length of stay of a newly diagnosed patient is 6-8 weeks, from the time they get admitted to hospital, diagnosed with their cancer, and receive their first course of chemotherapy.  The new hospital will be totally isolation disease orientated.  Currently, for the four most common cancers seen, lymphoma, acute lymphoblastic leukemia, Wilms tumor, and retinoblastoma, we save about 25% of those children. With better supportive care and new hospital space to reduce infections and abandonment of treatment, we could save over 50% of children. Our goal, once radiotherapy is in place in Eldoret and we implement these improvements, as many as 70% of children should be able to be saved with the therapies we can deliver. If we have a 100 bed hospital and can save up to 350 children per year as a realistic goal. Currently we save about 25-30 children per year in our 24 bed temporary space."
Dr Festus Njuguna, Childhood cancer specialist at the Shoe4Africa Hospital.  "There are 200,000 new cases of childhood cancer annually and 80% of these occur in Lower/middle income countries (LMIC).  The LMIC's account for a staggering 85% of all cancer deaths.  The Cancers with poor outcomes usually require isolation treatment, which today is not possible given the current facilities (in Kenya).  The new Public children's cancer hospital is urgently needed.
DR Robert Einterz, is the director of the AMPATH Consortium and director of the Indiana University Center for Global Health. "A pediatric cancer hospital is a critical missing piece in East Africa."
The Campus Map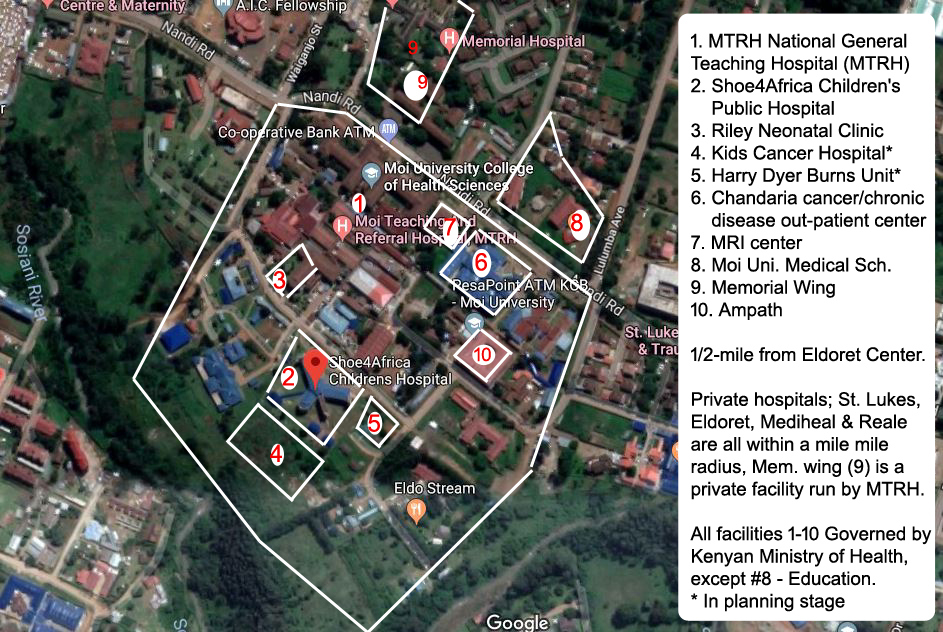 Eldoret, in Kenya, the fastest growing city, with an International airport, on the trunk road between Uganda and Nairobi, our site is situated right in the heart of the city center.  Surrounded by a huge public health center, next to one of only two national referral general hospitals in Kenya, next to a Medical school, the location could not be better.
We've 50%… $1 million. Will you join us? Our goal is to raise $2-million USD to make this a reality and start building and saving lives in Jan/Feb 2020

FAQ
When will you start construction?
In 2020. The actual day is TBD.
Is this Shoe4Africa's biggest project? Do you have a proven record?
No, in 2008 we 'discovered' there was not a single public children's hospital in East & Central Africa.  In fact in 2005 Nelson Mandela had pledged that his legacy should be for his foundation to have a children's hospital down in South Africa, as for the entire region of Sub Saharan Africa (pop. over 1-billion) there was just one; the Red Cross in South Africa. (157 in the USA)
In 2015 we opened the Shoe4Africa Public Children's Hospital that is today treating 400 patients per day!  The Mandela foundation opened in 2017, down in Johannesburg, South Africa.  Success!
In a sentence… why this project?
Because 9/10 kids diagnosed with cancer are dying in East Africa.  An isolation specialized kids cancer hospital will be the best solution to immediately start changing this.
How much will this project cost?
We are working in two phases; construction is the first phase.  For the equipping we already have plans in action, but as this will be in 2022 when the hospital opens we will announce these plans later. But roughly between two and three million USD.
Where is the expertise coming from?
The Kenyan Government will be providing Doctors, and Moi University Medical School (who have a campus 300-meters away from our site!) are planning to start new classes focusing specifically on Pediatric Cancers. We already have interested parties from across the world to partner with us bringing International expertise and have entertained international Doctors at our Children's Hospital.
Why build so close to the other hospital?
Cost saving; building close will mean many duplication's will not have to be made.  There were a number of reasons why we initially picked the site we did for the Children's Hospital in 2008, and it proved to be the right choice.
Our foundation remains, we believe, is one of America's most efficient.  For 19-years the foundation was run without single salary.  We built the kids hospital and 4 schools this way!  It is widely understood that 50% of the funds raised for Africa in America are spent in America.  If a charity has salaries to pay, and office space in America, it is easy to understand why. Guidestar.org – check out the charities.
Here is a posting that we saw on Internet that pretty much shows the need: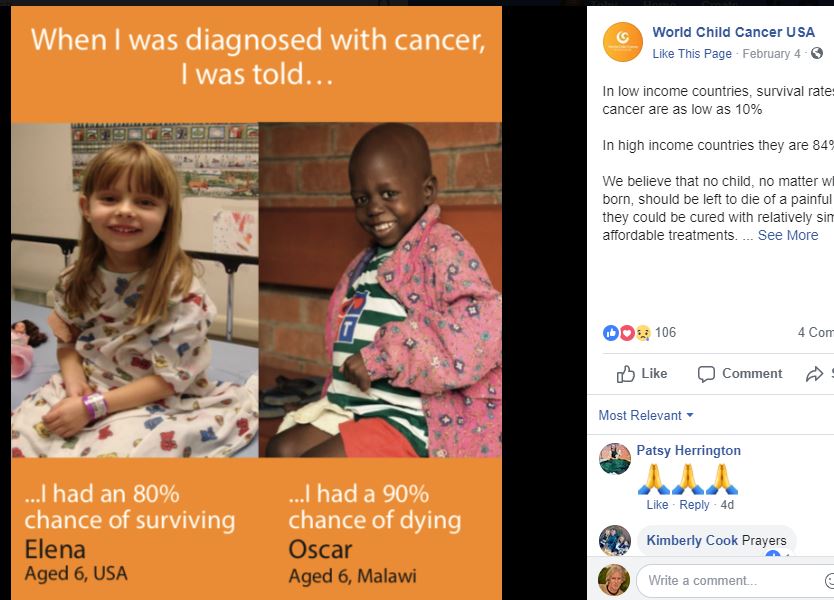 Any questions?  Please email
More reading on pediatric cancer in Sub Saharan Africa
Global Hope link
Cancer in Children WHO link
Childhood Cancer WHO link
Aslan Project (Ethiopia) link