DEC 2021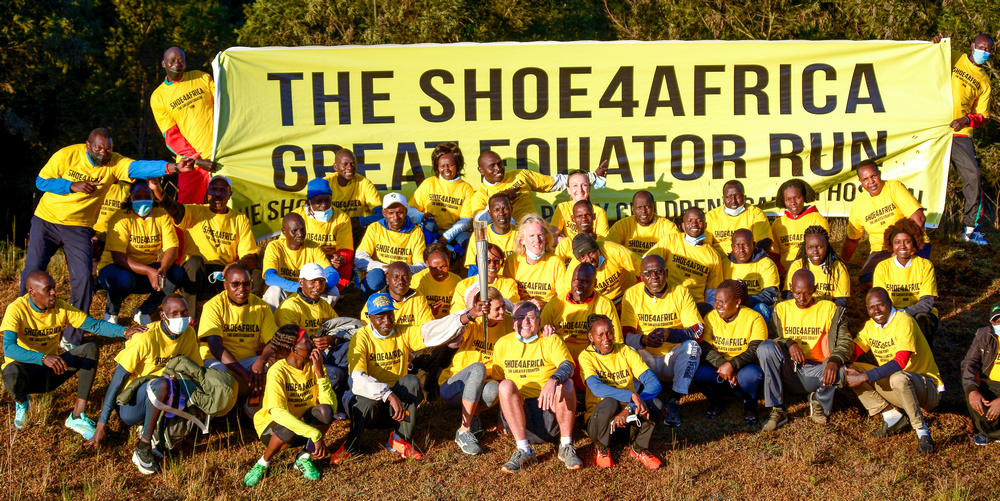 It was a day to remember surely! Paula Radcliffe, top center, led a band of current and retired athletes from the Equator to the Shoe4Africa Hospital to break ground on sub-Saharan Africa's 1st Children's Cancer Hospital. Taking part: Haron Lagat-3:53 miler, Abel Kirui-two time world marathon champ, Paul Chelimo-Olympic Silver 2016 and Bronze 2021, 5000m, John Kelai-2010 Commonwealth Games Marathon Champion, Paula Radcliffe-seven times world champion & 16-years world record marathon, 3x London & NYC marathon champion, Sally Barsosio-1997 world 10,000m champion, Alfred Kirwa-World Champion 800m and Olympic Bronze, Jerry Maritim-marathoner, Lydia Cheromei-World Junior XC Champ and Amsterdam Marathon Champ, Janeth Jepkosgei-World Champion 800m 2007 and Olympic Silver 2008, Moses Kiptanui-3x World Champion, former world record holder multi events, and Olympic Silver, Ben Limo-World Champion 5000m 2005, Daniel Komen-World Champion, current world record holder 3000m outdoors and indoors, and the only man in history to run two miles under eight minutes, and Matthew Birir-the Olympic 1992 Steeplechase Gold medalist, Coaches Nashon & John Ewoik, and Jonah Birir-Kenyan Olympian. Charles Koech-61:27-min ½ marathoner. Ultrarunner champ Doug Perry–formerly married to Juli Ann Perry namesake of the cancer hospital, Toby Tanser-63:04 ½ marathoner, founder of Shoe4Africa, William Tanui-the Olympic Champion 800m 1992, and Sammy Korir-2:04:57 marathoner and first man to run ten sub 2:09 marathons, Luke Kipkosgei-Commonwealth Games Silver 5000m, Emmanuel Mutai-2:03:13 marathoner, London Marathon Champion, and former 30km world record holder, and Francis Bowen Valencia Marathon Champ, Simon Biwott-Paris/Berlin/Rotterdam champ and World Championships Marathon Silver medalist, Joseph Atogo-Shoe4Africa Hospital Engineer, Mary Keitany-current World Women's only marathon record holder, world champion 1/2M, and 4x NYC and 3x London marathon Champ, Samson Yego Kenyan Olympian, Raphael Lough and Gary Lough-World Champs finalist 1500m & the Coach of 1/3rd of the Olympic marathon medalists in 2021, Chelimo Saina-my wife, masters running star, and Kenyan National Hockey Champion, Isla Lough-our official ground breaker (Paula & Gary's daughter), then also Dr. Wilson Aruasa-the CEO of M.T.R. Hospital, Jared & Samantha Koech (Mary& Charles 's kids), Kim Perry-Doug's wife, Kenyan patient-Sharon Chelagat with Liz Kabuthi, who finally handed the baton with Isla Lough over to the 'father' of Kenyan running, Kipchoge Keino-a double Olympic Gold and double Olympic silver, former world record holder. Lastly, meeting us at the groundbreaking site was Susan Sirma-World Championships bronze medal 3000m, 1991, Luke Kibet-World Marathon Champion 2007, Patrick Sang-Olympic Silver Steeplechase, double World Championships silver and my brother-in-law, Wilson Boit Kipketer-former World record Steeplechase, World Champion 1997, and Olympic Silver 2000, Robert (Bob) Keino-3:53 miler, Martin Keino-3:52 miler, and sadly missing because of malaria was Sally Kipyego-2012 Olympic Silver 10,000m, Japheth Kimutai- Commonwealth Games 800m champion, Moses Tanui-World Champion 10,000 and ½ marathon, first man under 60-mins for the half, sickness/flu took out Benson Kipruto, Amos Kipruto, and Vincent Kipchumba…and Catherine Ndereba-double World Marathon Champion, former world marathon record, and Olympic Silver recalled at the last minute for work duties. Big thanks to Elias Makori, and the Daily Nation team!! *********************************************************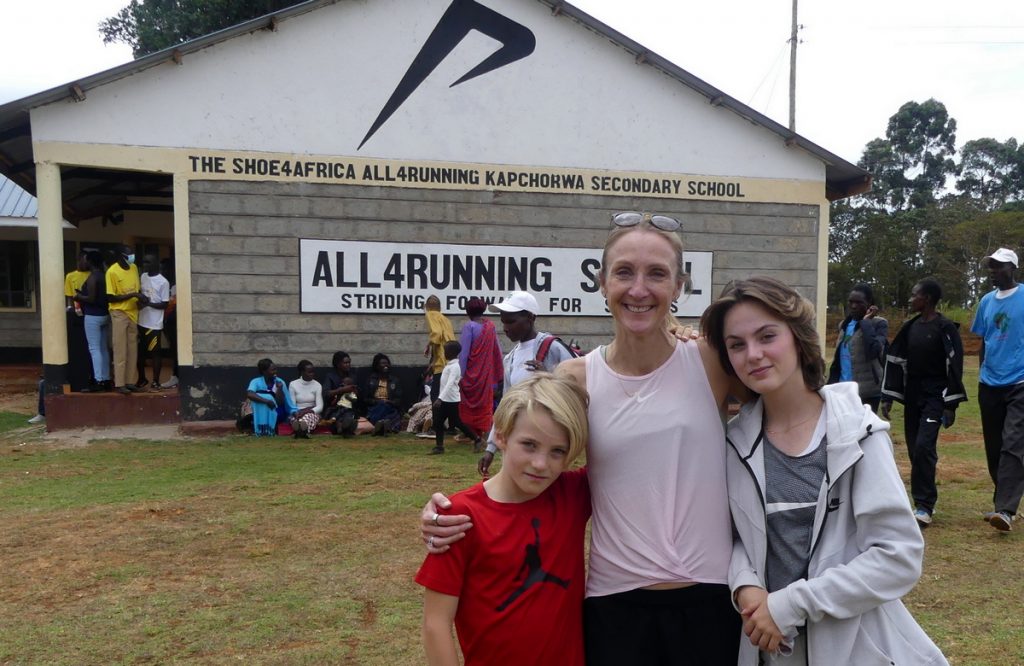 On December 25th, Paula Radcliffe brought her Families on Track program to our All4Running School. She mobilized the community and we had families and kids running, exercising and playing games. She even won second place at a musical chairs game!
NOV 21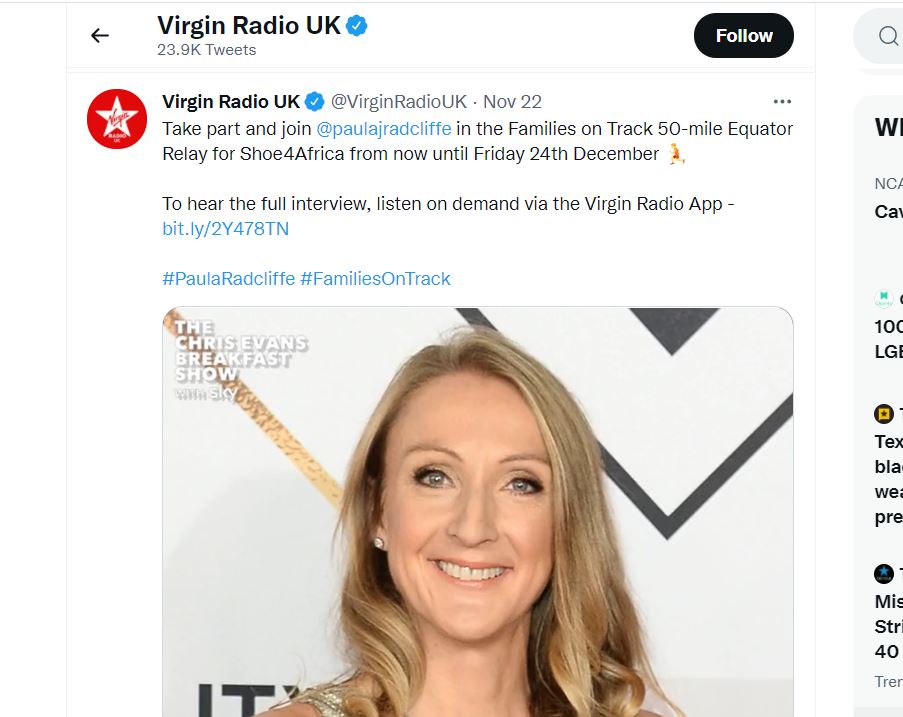 On November, 20th, World Children's Day, Paula Radcliffe launches her support of Shoe4Africa, joining the Great Equator Relay to run to the site of the new proposed Shoe4Africa cancer hospital. An interview on Virgin radio goes nationwide to describe how Paula's daughter, Isla—a cancer survivor, upon reaching the construction site, will break ground with a Kenyan girl to begin this landmark project.
***********************************************************************************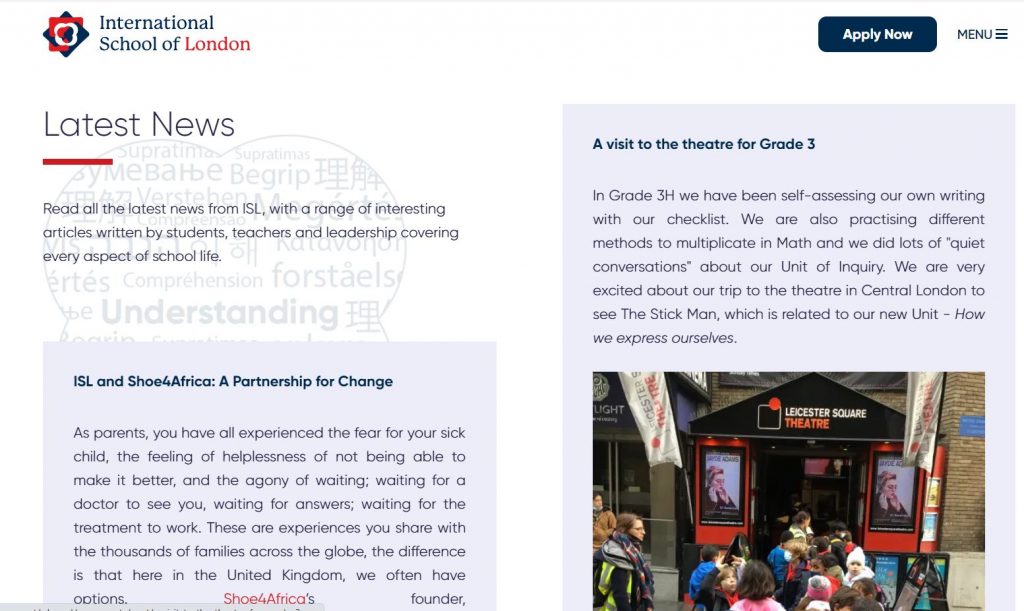 The International School of London announces a partnership with SHOE4AFRICA! All about nutrition, job creation, environment and re-forestation, and more! Exciting stuff. More details and field trips to follow!
*****************************************************
Thank you to our wonderful team of runners who ran the New York Marathon! Above one of our many stars who ran for Shoe4Africa. This one is an Olympic Gold Medalist!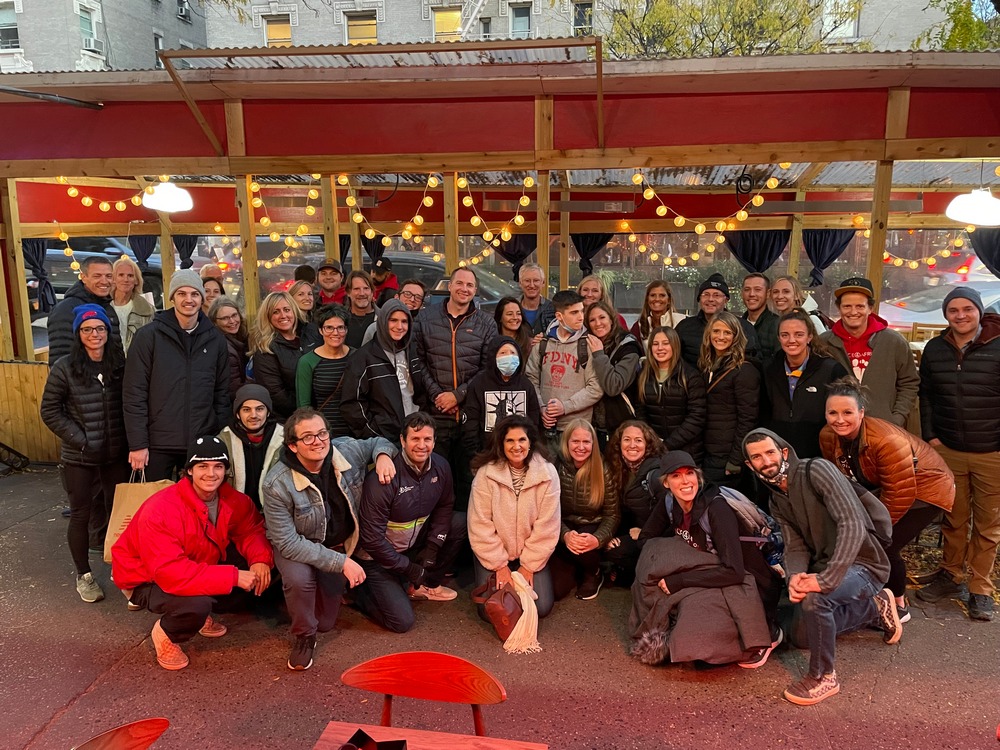 Some of our great team members at the Pasta party.
OCT 21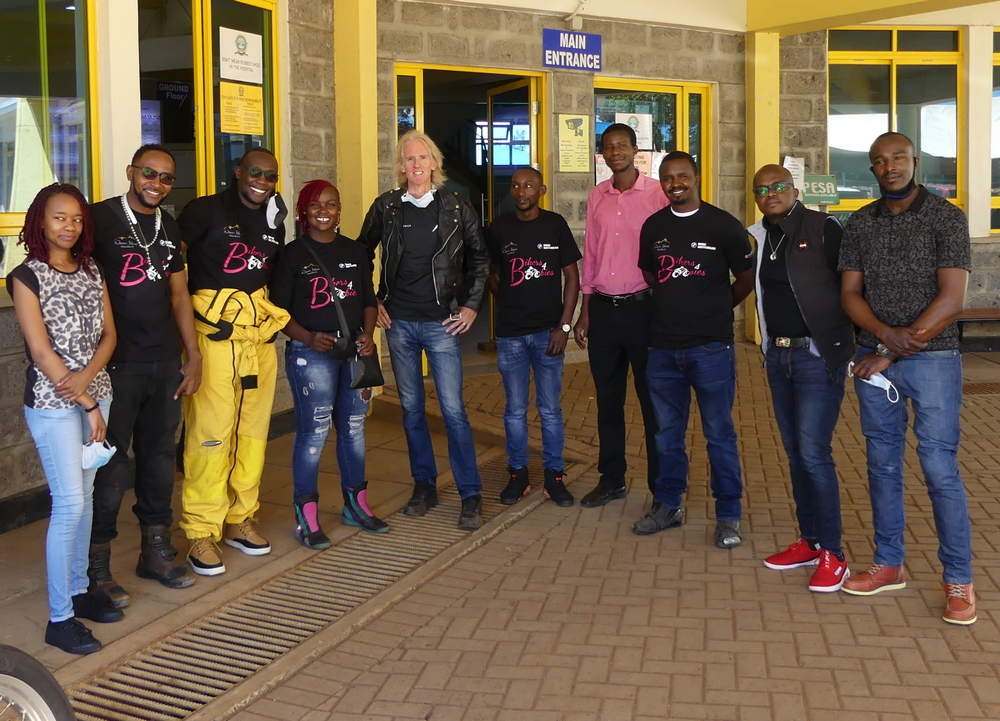 Thanks so much to the BIKERS 4 B00BIES who rode for Breast Cancer Awareness. They paraded around Eldoret Town on their super bikes adorned with Pink Ribbons. Then, they came to our wards and handed out over 280-gifts to the hospitalized kids! I want to say thank you to my neighbors Mediva, Njoroge, and Charles (the three to my right at the first pic) for pulling this event together at VERY short notice!! You guys rock!
*********************************************
A huge thanks to Brent & Christa Sheffield! They went above all expectations when selling pumpkins. Kim tells us, "They bought 1000 pumpkins and sold almost all of them! I'm not sure exactly how much they made but I think it was over $4,000! I'll try to get pictures to you. I know I baked over 30 loaves of pumpkin bread, her sister in law sold eggs and vegetables. It was well attended and tons of fun for everyone."
Thank you so much, that is a tremendous help… PLUS, both of them had already fundraised for us, and are running the 5oth anniversary of the NYC marathon this Sunday!
*******************************************************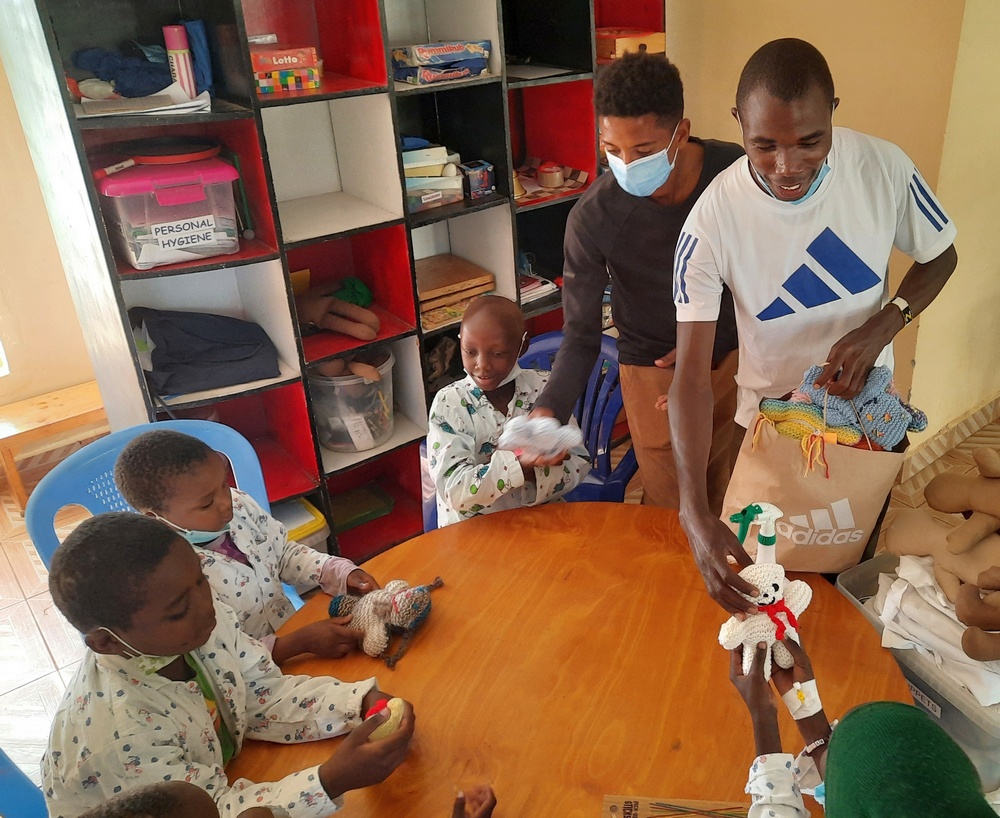 Benson Kipruto wins the Boston 125th marathon. One week later, he comes to our hospital to hand out toys and make a cash donation to the new children's cancer hospital! We are so proud to call him a hospital ambassador, here with the Italian marathon record holder, Eyob Faniel.
SEPT 21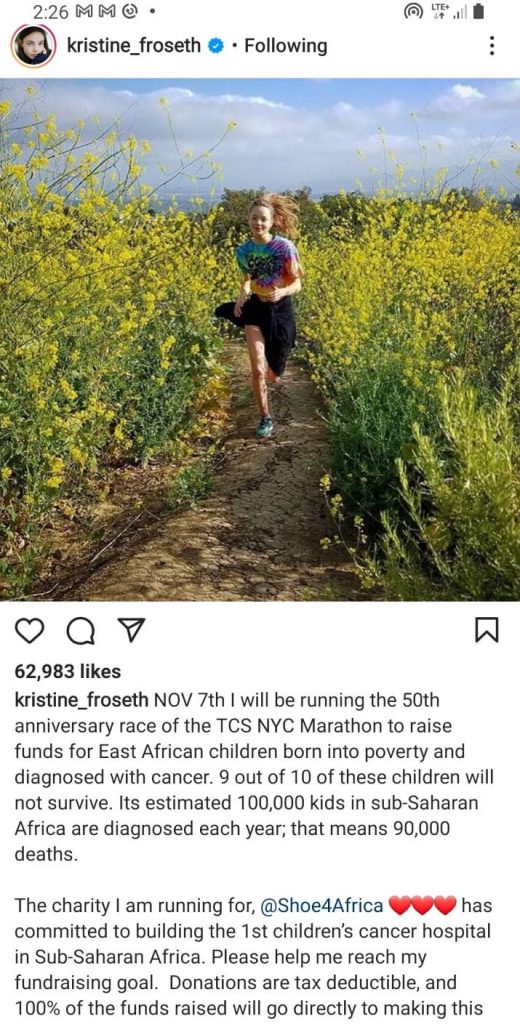 Uber honored that the highly talented actress, Kristine Froseth, who starred in a recent Netflix drama Birds of Paradise, and is known for playing Kelly Aldrich in The Society and Alaska Young in Looking for Alaska, came and starred on our Marathon team…and raised money for our cancer hospital!! Thx Kristine!
Furthermore another star, Ben Ahlers, When the Streetlights Go On (Quibi), The Village (NBC), Instinct (CBS), Walk Off (Runyonland Productions), also kindly joined our team for the upcoming Nov 7th's NYC marathon. Thx Ben!
****************************************************************

Dorms with a View! Now complete, the 'Disco-Dorms' are ready for the young ladies as they attend the new term in October. The school patron, Mary Keitany, has pledged she will spend the first night sleeping with the girls; which will be a huge thrill to have one of the world's best ever athletes come to have a sleepover!
****************************************************
Thanks to the Moreno Valley Road Runners who held their 4th annual Shoe4Africa fun run this September!
AUG 2021
Despite not yet "officially" open till October, we have indeed started enrolling kids and teaching… and in the first week actually doubled our goal. As a secondary school, the new All4Running School will have four classes of forty students (160). Already, in seven days, we have 81 students for Form One! Our first headmaster is called Philip Mutai, and we have four teachers already signed up.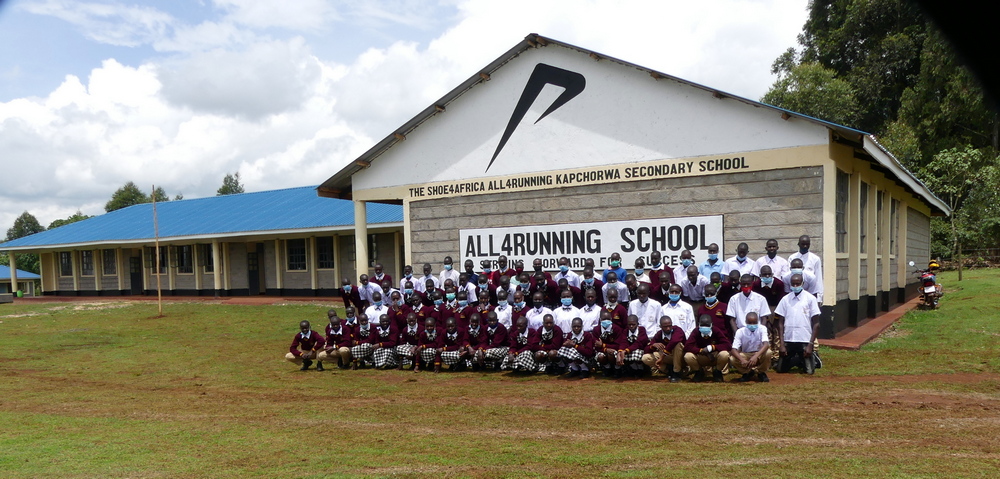 JULY 2021
Thanks to a kind donation from Disco, and after waiting for COVID regulations to loosen up, we continued the building of the Disco Dorms at the Shoe4Africa Mary Keitany Secondary School in Baringo County, Kenya. These Dorms which will be used by the elder girls, will have a 'room with a stunning' view. Also allowing the girls to be safe, and not have to run long distances back and forth to get to school.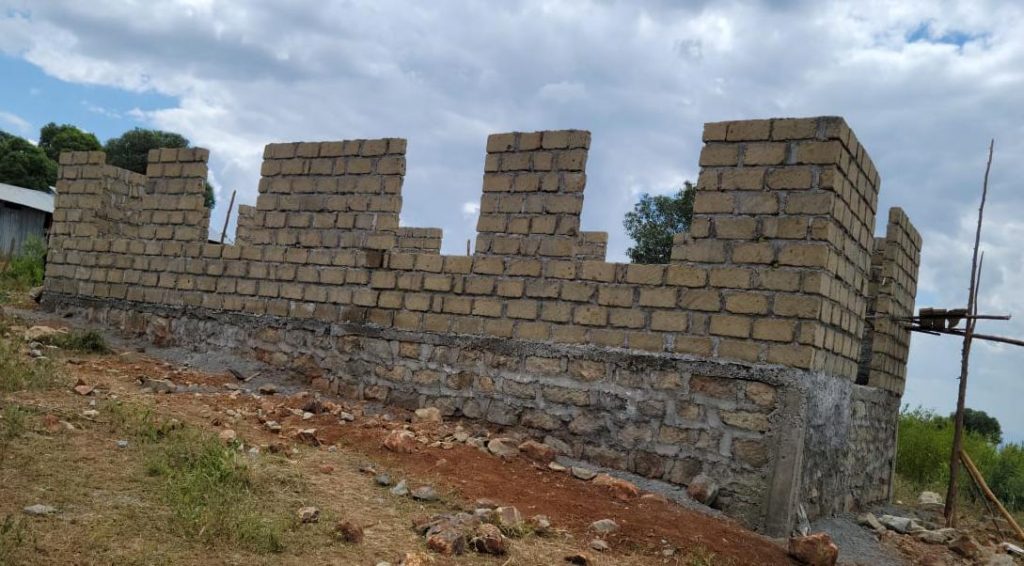 JUNE 2021
Runner's are now getting back into action to help us raise funds for our upcoming huge goal of creating sub-Saharan Africa's 1st Children's Cancer Hospital and June saw Doug run 63 miles (100km), his daughter Shauna run 100 miles in an ultra, and another member Larry run a mountain marathon with big elevation (Mohican), as the races and events again start to open up. We also announced that we will have a team of about 100 runners running in the fall's TCS New York City Marathon this year, which should be our biggest squad ever! And meanwhile down in Florida, Carey Thomas holds a fundraising party for us as she and her group of friends get ready to run NYC! We also welcome back the wonderful Melina who has run on our team for many, many years helping us tremendously!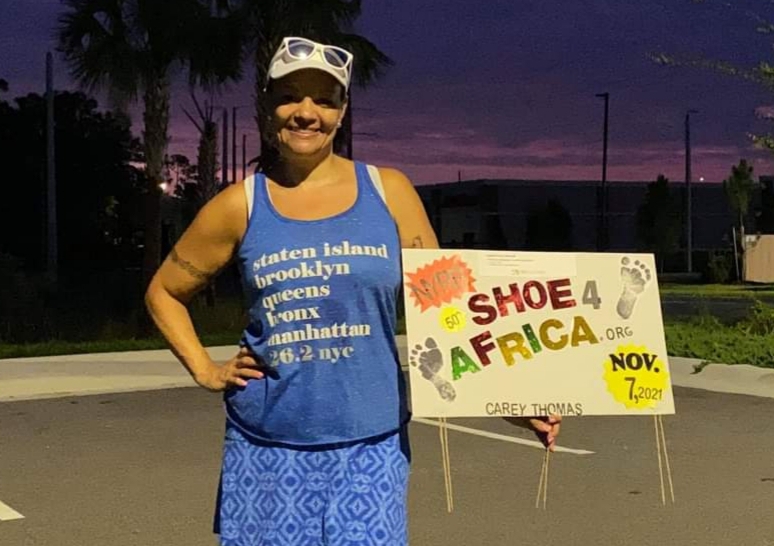 MAY 2021

The All4Running School (our sixth) is near completion; constructed through the Covid 19 period! It is a mixed public school with free tuition and is government accredited!
APRIL 2021
It is Happy World Earth Day. The ladies on our women's empowerment project are busy planting one of the earth's (many) wonder plants…and this one is the fastest growing; Giant Bamboo. This bamboo produces 30% more oxygen than other trees, so as we work on planting more trees and saving the environment the community wins; that is the Shoe4Africa way. Below the giant bamboo stalks are being placed in the natural forest. Little Clip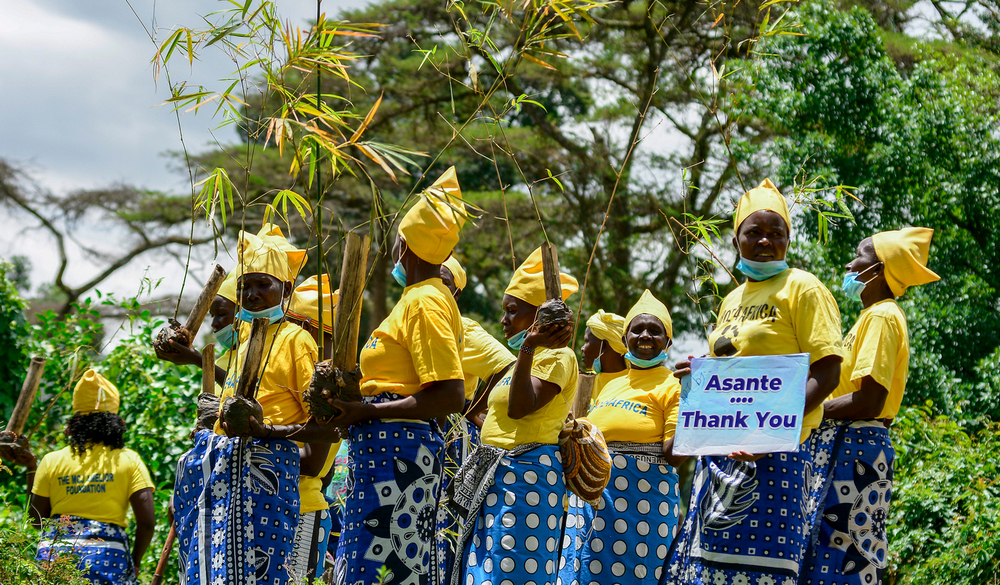 MARCH
Thanks to the Kirkland Rotary grant, we began a new section of avocado's providing both employment and nourishment for the group. The lady holding the avocado tree is singing a blessing saying this tree will bear the fruits to support her family.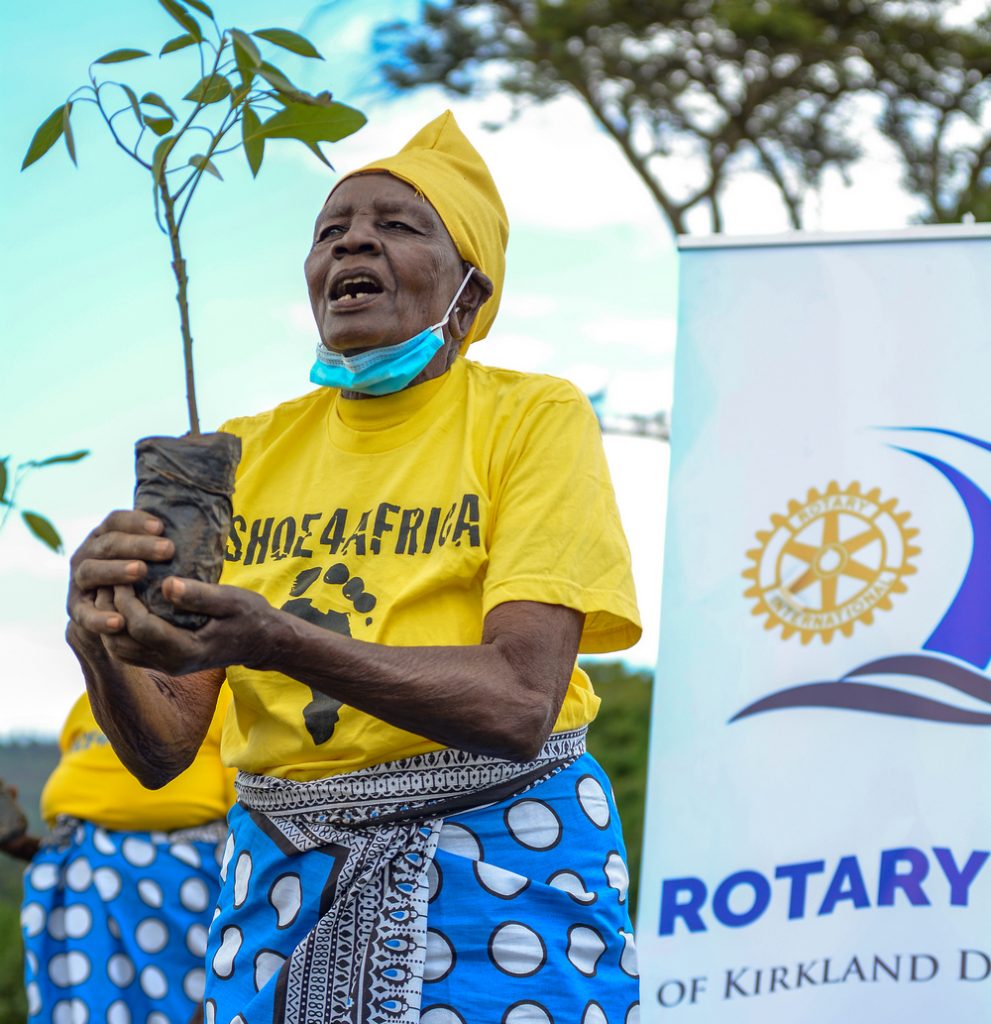 ***************************************************************************
Thanks to Brigid Turner, who organized a Women's Day Run NYC in her home boro of Brooklyn and had a team do a 'virtual race' for Shoe4Africa.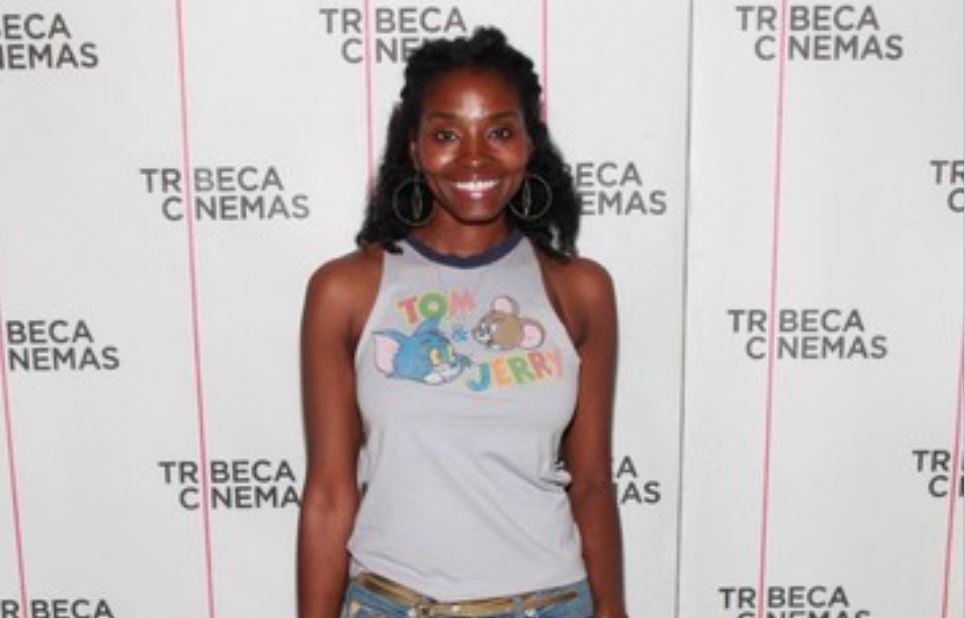 FEBRUARY 2021
A ten thousand liter water tank, and a cash donation towards a science lab were handed over by MP Moses Lessonet, Baringo, to improve the Shoe4Africa Mary Keitany school – thank you! We held a small event, with masks, to celebrate at our latest school.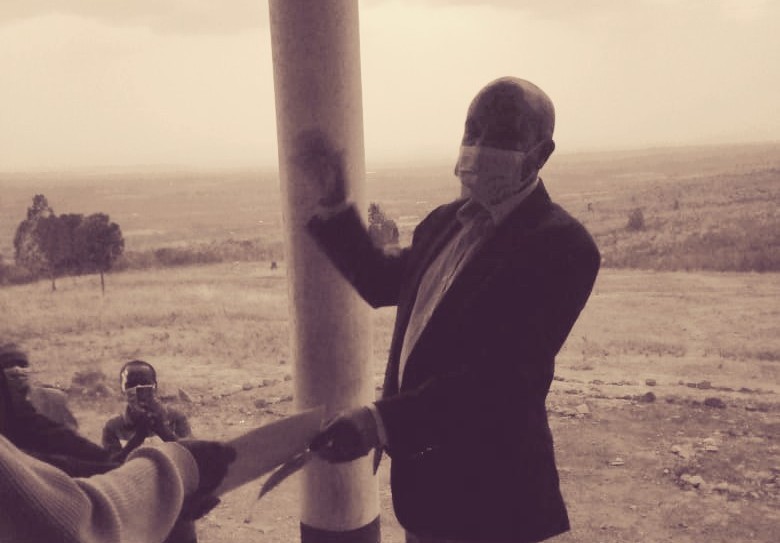 JANUARY 2021
Nothing makes us more happy than getting updates from our patients (who become family). Beryl, who was with us from June 2018 to January 2019 receiving treatment for cancer.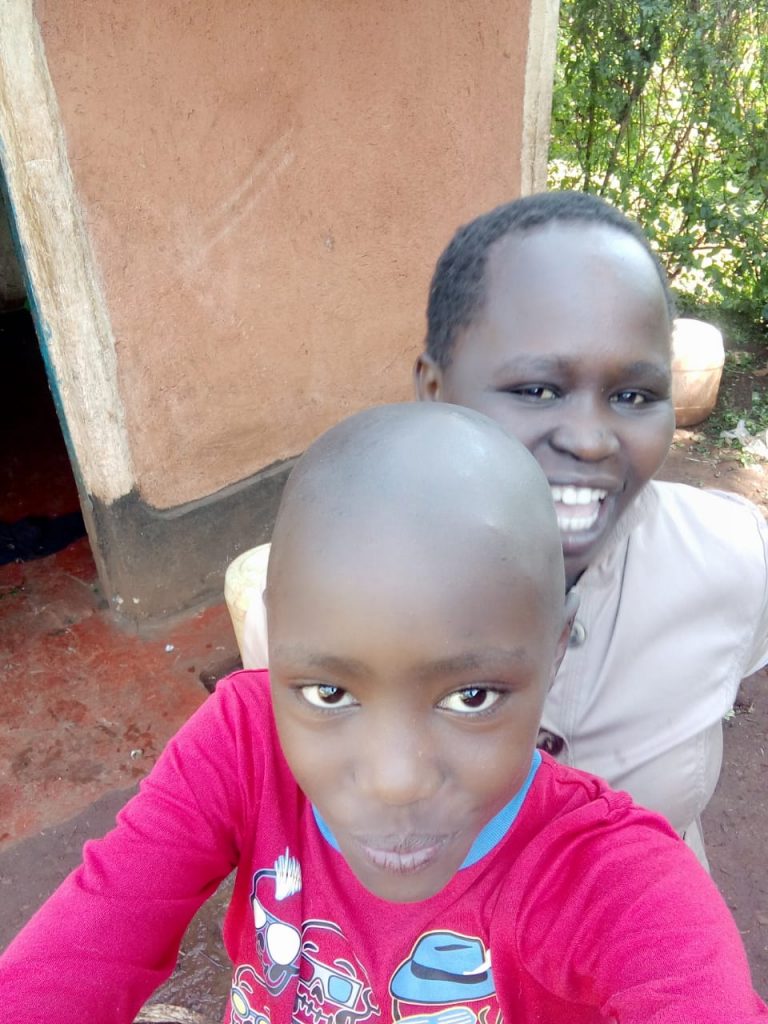 Here's Beryl & her mom Beatrice.
DECEMBER
Our 6th annual Shoe4Africa Children's Hospital was a wonderful success! The staff pulled together to make a special day.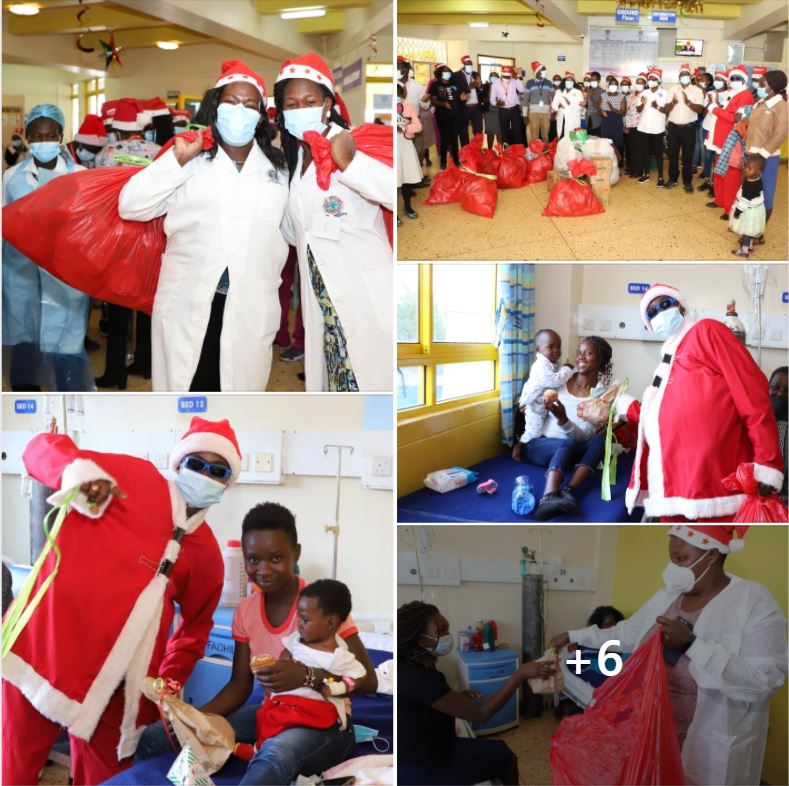 NOVEMBER
Thank you and congratulations to out top fundraiser for a Virtual NYC marathon – Marvelous Melina of Next Level Coaching! We have a Melina room at our hospital for all the great work she has done for us, we are so proud of her. Thank you Melina! (Below)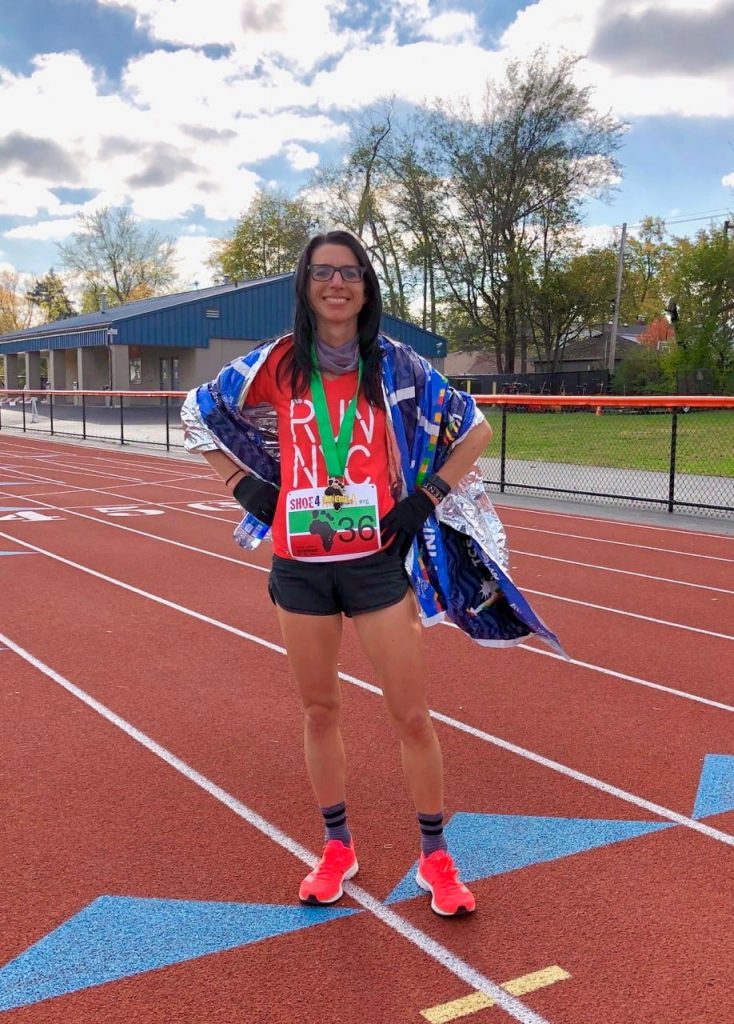 Recovered from Covid – one of our few patients with Covid, now Covid free..! Well done Violet!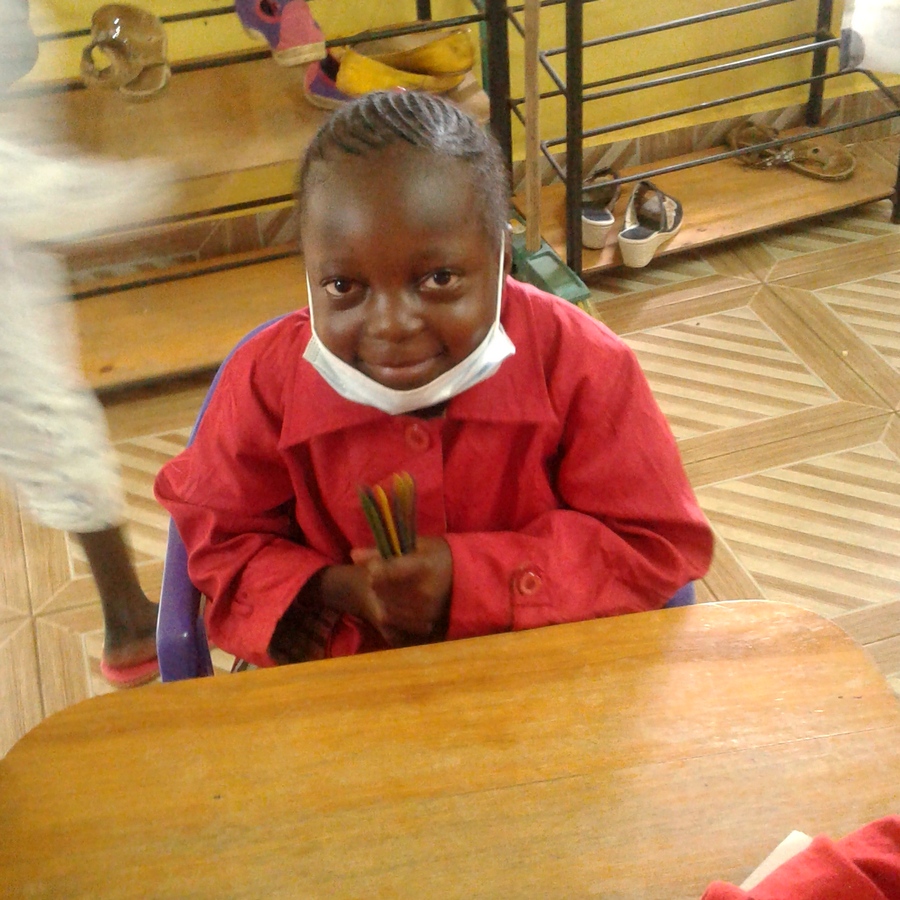 OCTOBER
The 1st Annual Shoe4Africa Denver Run!!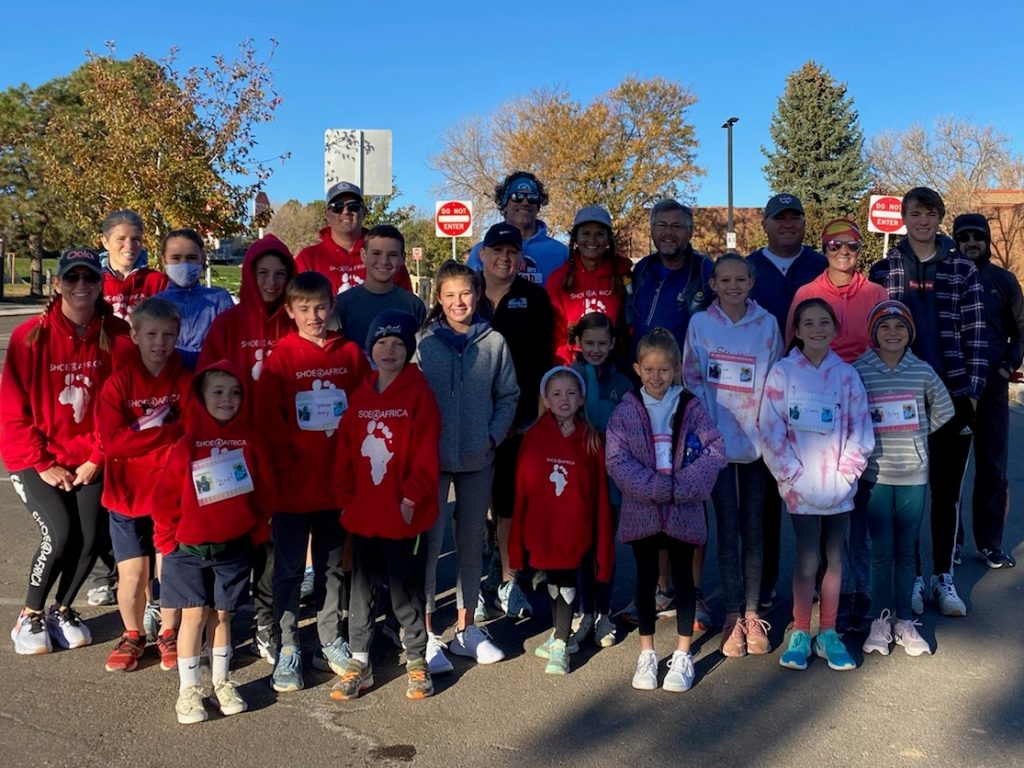 Roof is going on is an exciting time always… here is our 6th school slated to open in 2021; ALL4Running school. One of the world's best running coaches (coached Olympic champions Sammy Wanjiru, and Nancy Lagat, 4x Boston winner Robert Cheruiyot, World champs Martin lel, Janeth Jepkosgei, Eunice Sum, Alfred Kirwa Yego… among many others, Claudio Berardelli will be the official school running coach!! What a golden opportunity for the kids!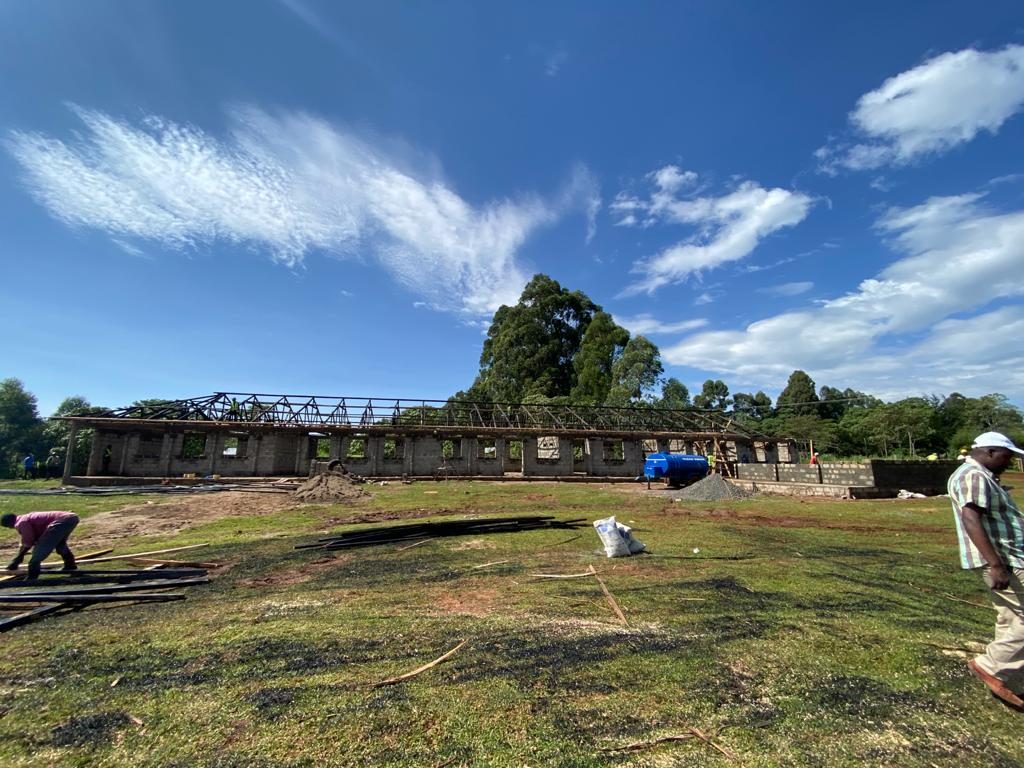 SEPTEMBER
With various virtual runs, we were delighted to see the Moreno Valley Road Runners hold a virtual run for us with team leader Henry – he sends us a pic of the kids running for Shoe4Africa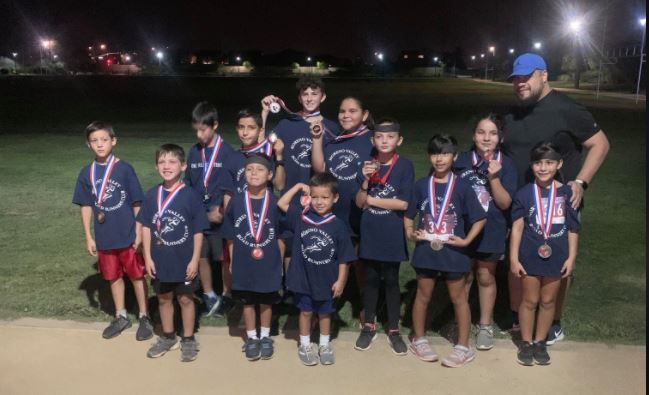 AUGUST
Groundbreaking has been possible, call if COVID construction, yes we did… we began construction of our sixth school in August, in Nandi County. Below, Amos Kipruto, medalist at the World Champs 2019, and Kenyan Olympian 2020, lays the foundation stone for our All4Running secondary school at Kapchorwa, Kilibwoni ward. All our schools are free to attend, public institutions.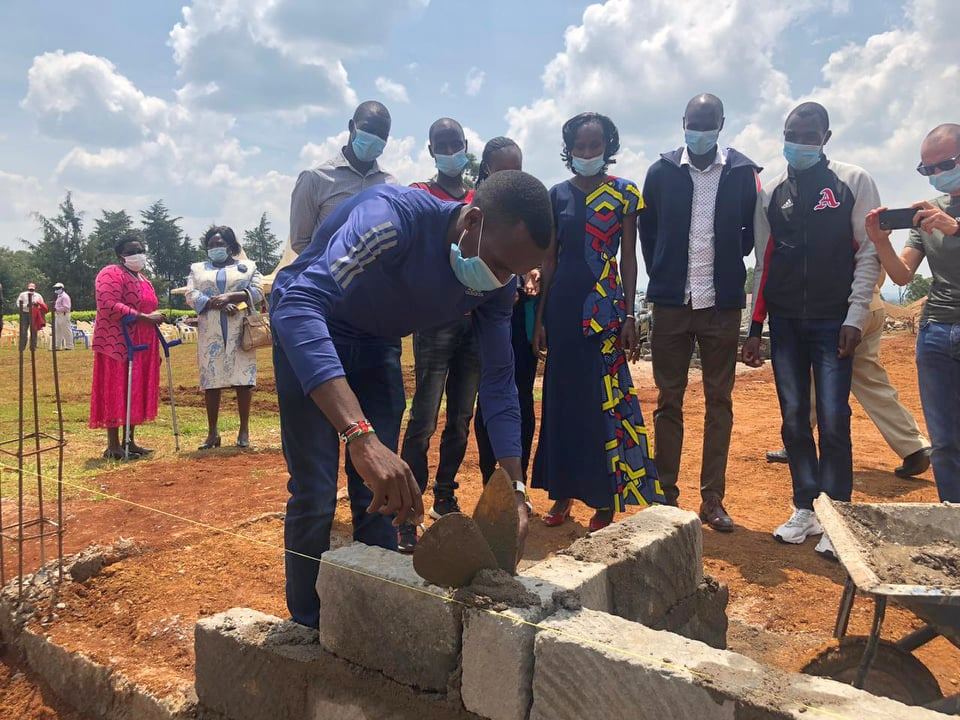 JUNE
Podcast with Shoe4Africa founder (link)
MAY
Valter Ballantini kindly writes a book in Italian (now two!) and donates the money to Shoe4Africa – we are honored!

We get a new principal for our 5th school, Shoe4Africa Mary Keitany School. Ready for opening, she will be guiding the school through learning-out-of the classrooms in COVID. All kids are Covid free in our schools so far!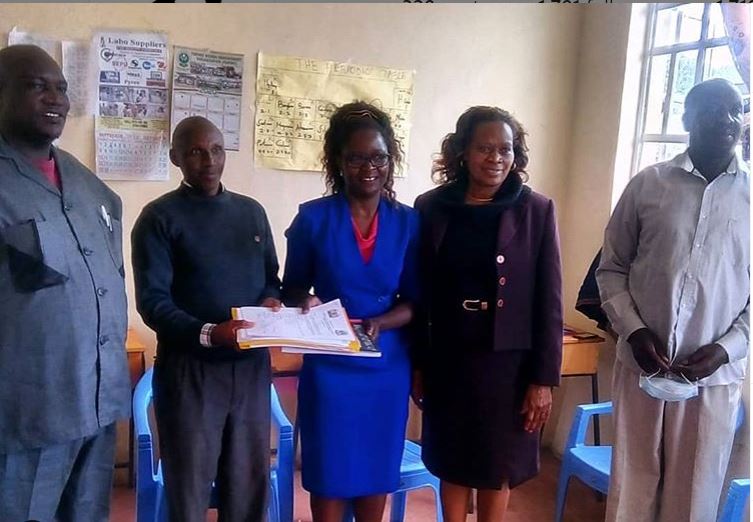 VIRUS MEASURES
With the COVID 19 virus, Shoe4Africa was active beyond the gun. Already prepared for airborne diseases, our hospital began aggressive testing, social distancing, strict admittance and has, to date, sent home every positive patient cured and healthy!
Education to our communities, how to social distance. Group meetings right up to northern Kenya. Free sanitizer, mask hand-outs to all involved.
Our schools closed, straightaway– taking no chances we are working with students to make sure local opportunities are there to continue safe learning. E-lessons sent to those able to receive.
Food, our farm has been belting out at full speed, trying to get food to the people we support. Free mask hand-outs to all involved.
Transport, living costs. We handed out small stipendiums to families affect and unable to work/travel.
FEBRUARY
Planning has begun for the next Shoe4Africa School. We've got the site… and here is the organizing committee. Locals– as always!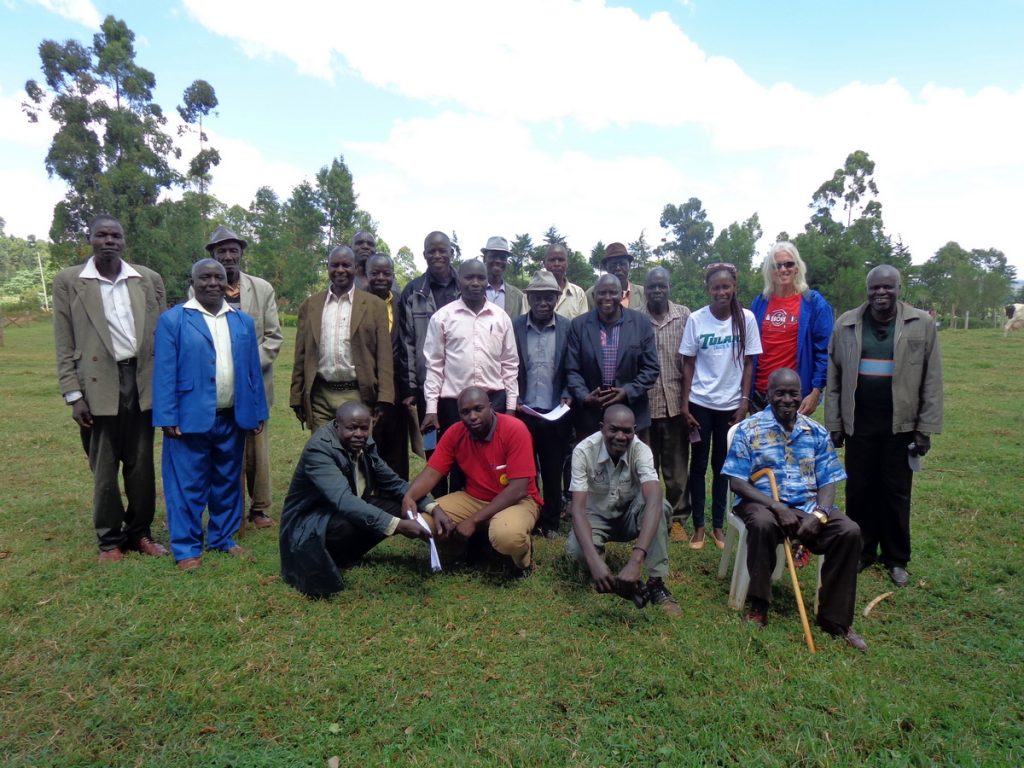 JANUARY 2020
Our list of supported children will scholarships is growing and although many have graduated and moved on to an adult life we still have a long list of students who are attending schools. Our latest student to join the list is Faith Chelimo, from Nandi, and this month she has now started attending a private secondary school, and is being mentored by Janeth Jepkosgei. Her 'whirlwind' lifestyle change happened when we sent her to Janeth's training camp in December.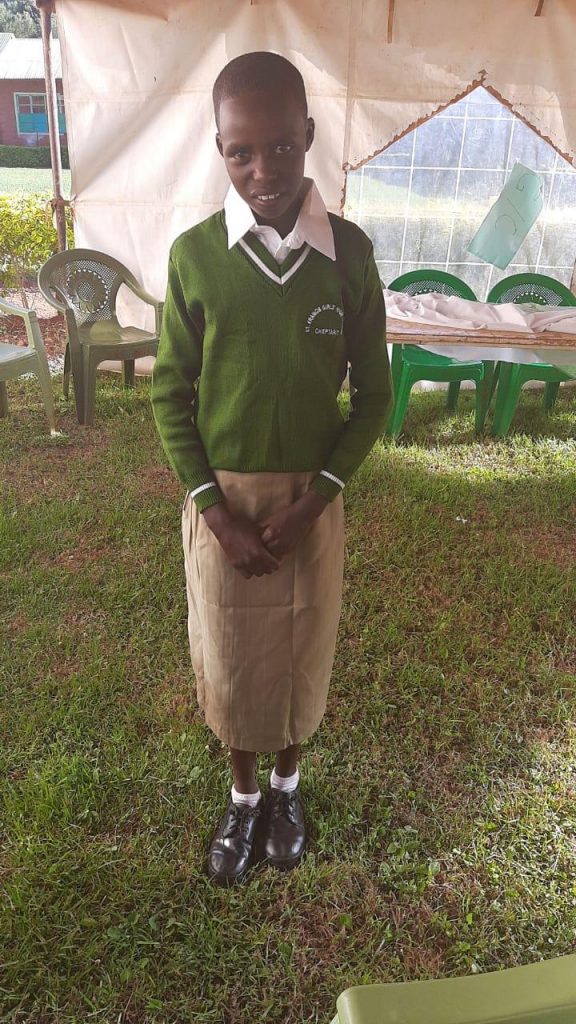 DECEMBER
We had a great Christmas party at the Hospital on Dec 24th as usual… and got a great surprise as Louis Brownstone brought 17,000 books! We'll donate 10k to the hospital and the rest to our schools! World record holder Mary Keitany, World 800m champ Janeth Jepkosgei were joined by Olympic Silver medalist Paul Chelimo, Haron Lagat, and elite runners Shadrack Kipchirchir, plus some European athletes (including two world class French pentathletes Valentin and Elodie). Watch on youtube link.
Thanks also to Mrs. Shah's family and and also to Daresh, who both brought alot of food supplies.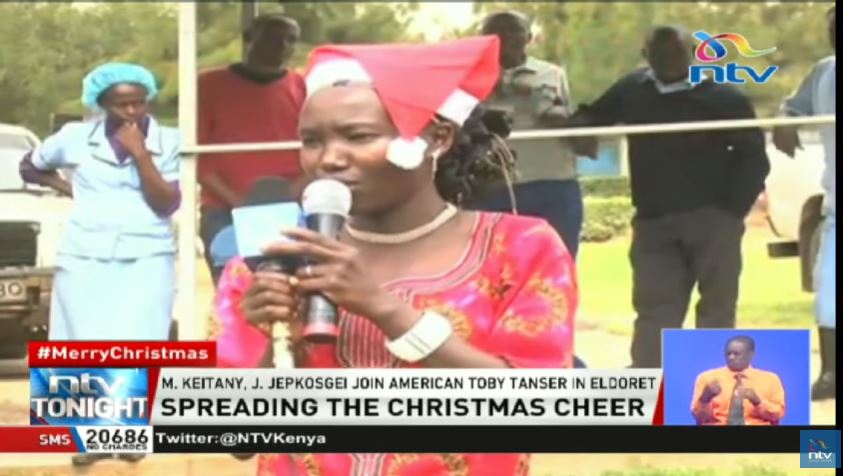 NOVEMBER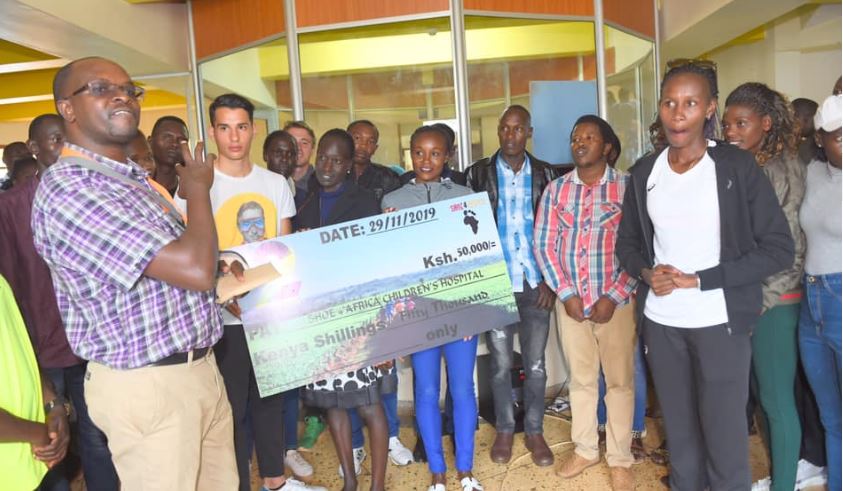 Many thanks to the 2 Running Club. Beyond bringing books and gifts for the kids this is the launch of the special 2 Running Club jogging trail that will loop round the hospital complex and encourage our nurses to jog with the recovering patients. Another dynamic development for Africa's most exciting Children's Hospital – Shoe4Africa! Our Chief Pediatrician, Dr. Mandi, accepts the cheque.
OCTOBER
Truly exciting, we now draw up the plans for Africa's 1st Children's Cancer Hospital; history is being made. When this hospital is built, with the adjoining S4A Children's, and the new Burns unit there will be no place on the continent of Africa treating more children!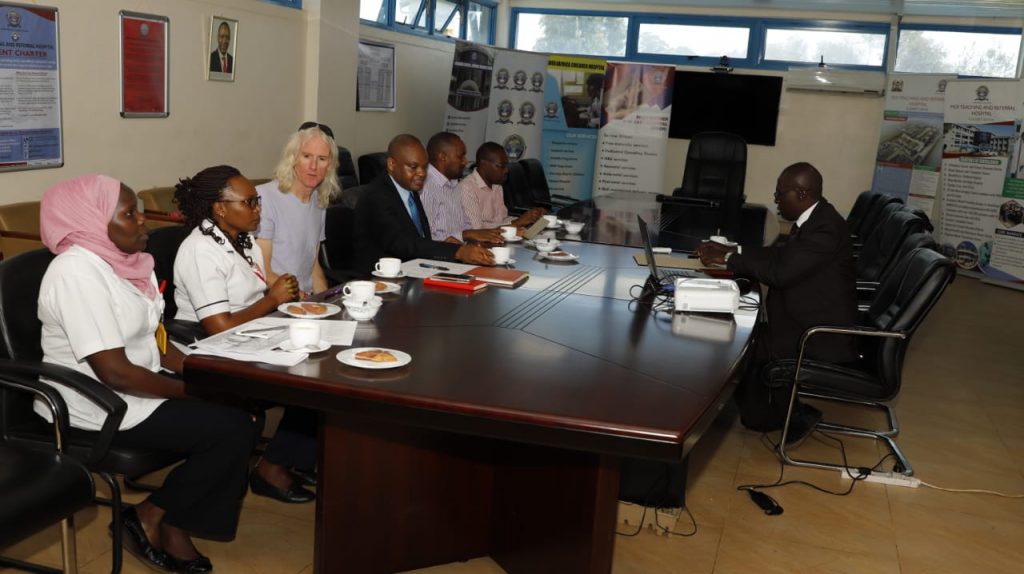 At the meeting, the users, represented by Nurse Manager Sarah, and Jane, Toby, Dr. Aruasa, Architect Njihia, Pediatric Oncologist Festus Njuguna, and the right side of the table, Engineer Atogo. Toby, Dr. Aruasa, & Engineer Atogo representing the Shoe4Africa Hospital board.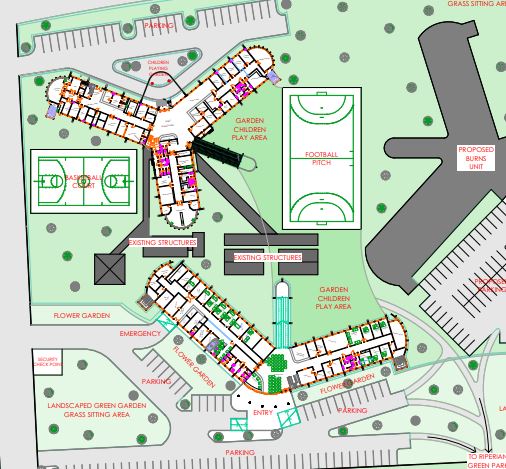 The plans of Africa Children's complex
We were thrilled on Oct 12th, 2019, when Eliud Kipchoge, who is an ambassador to our hospital (since the hospital opened in 2015) and kindly visits our sick children, became the first human to break Two Hours for the full marathon distance.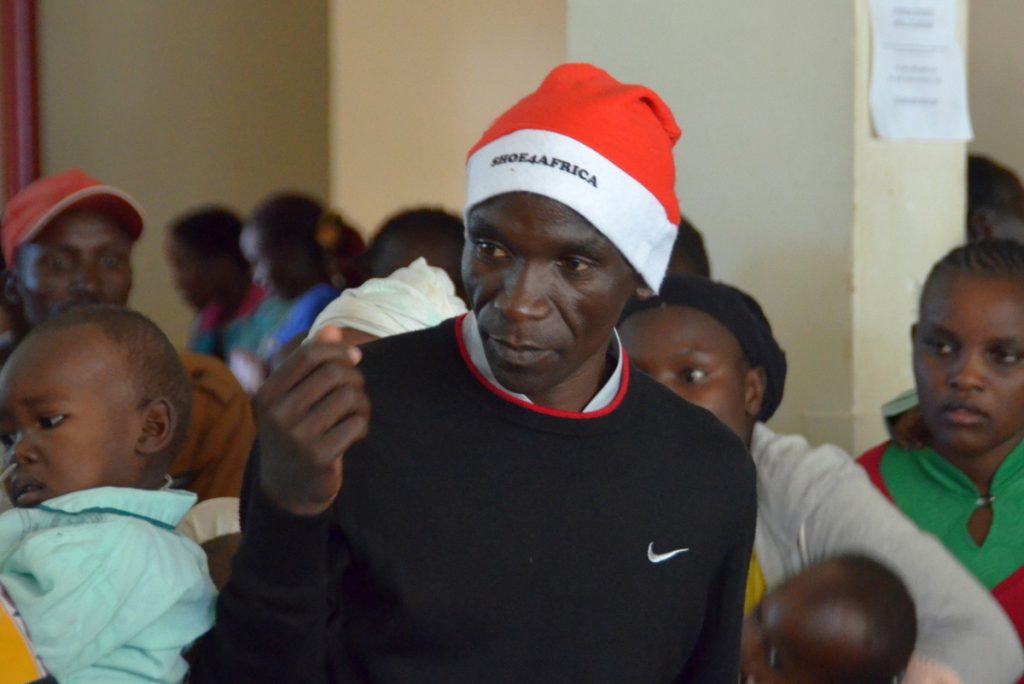 SEPTEMBER
Thanks to Henry for hosting the 2nd annual Shoe4Africa race hosted by the Monroe Valley Road Runners Club race, over on the West Coast!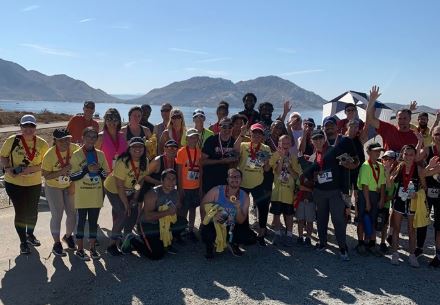 AUGUST 2019
Sea Star Beachwear's Cinderella day; thank you Libby Fitzgerald. With a kind donation of the amazing flashy espadrilles twenty kids got thrills when brand new shoes were handed out to the hospital patients… If the shoe fits…. these happy children are now running around great quality shoes thanks to Libby! Check out– website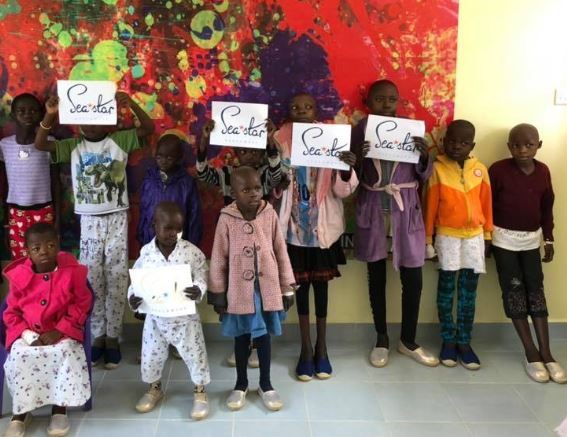 Some of the lucky kids in their Sea Stars Beachwear espadrilles
MTRH CEO Commissions Shoe4Africa Classrooms, Kuunga Mkono
Moi Teaching and Referral Hospital (MTRH) CEO, Dr. Wilson K. Aruasa, on Wednesday 31st July, 2019 in the presence of Toby Tanser, CEO, Shoe4Africa Foundation commissioned the newly opened classrooms; Kuunga Mkono at Shoe4Africa Children Hospital.
The newly opened classrooms will offer a variety of education programs including the newly implemented COMPETENCY BASED CURRICULUM (CBC), which is a new system of education designed by the Kenya Institute of Curriculum Development (KICD) team and launched by the Ministry of Education in 2017. The CBC is designed to emphasize the significance of developing skills and knowledge and also applying those competencies to real life situations.
Speaking during the commissioning, Dr. Aruasa said that the construction of the classrooms will provide a conducive environment for children to be able to learn effectively and called upon corporates to come on board and partner with MTRH in realization of the Hospital's vision and mission.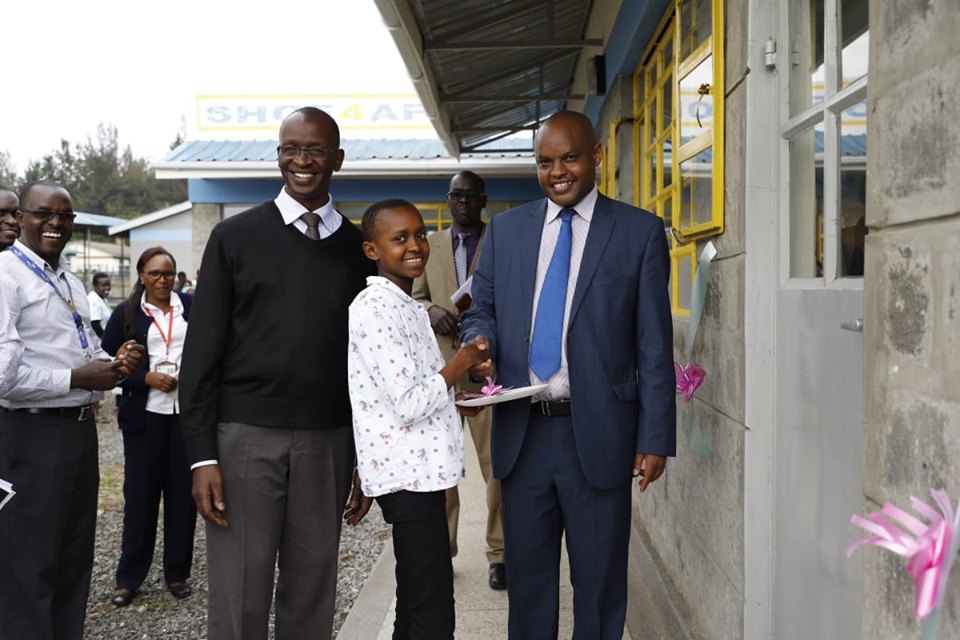 Dr. Aruasa, CEO MTRH, Shoe4Africa Board member, and Dr. Mandi Chief Pediatric Dr at the Shoe4Africa Hospital (left), with one of our smiling patients, open the classrooms.
Dr. Aruasa lauded the Project for the great achievement and the impact it would create in the children's lives. MTRH is the only public Hospital in Africa with classes for children.
In his closing remarks, the CEO emphasized on children's education as an important value to be instilled and asked MTRH staff to be able to deliver on their mandate. (Full story facebook)
JULY 2019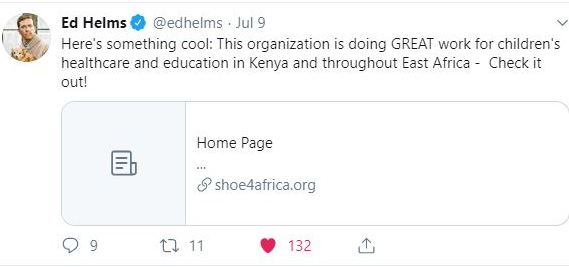 Thanks to Ed Helm for the shout out and the kind generous donation – kind man! @edhelms
Now the hospital is running so nicely we are welcoming visitors more and more. In the last few days we have had the One Heart Foundation from Australia and the Strive group from New York City. This is a win-win situation as our kids love the visitors and the visitors love spend time with the kids. So we officially kick off our 'Come Play' program and welcome more visitors!
We get a sponsor for the marathon team with Athletic Brewing Co. Non-alcoholic beers!! They will be paying for our shirts at the TCS New York City Marathon. Our team of 60+ runners will race this year to raise funds for the hospital.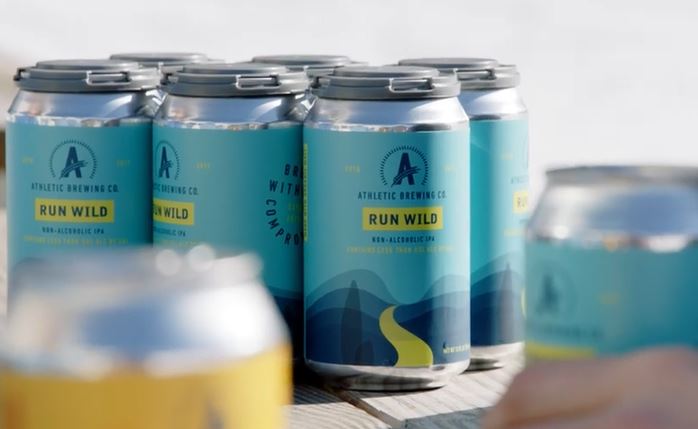 JUNE 2019
Shoe4Africa Germany held their 5th Shoe4Africa Charity Run (6.3km) and the 4th children's run (700m) around the beautiful Blutenburg Castle in Munich, June 30th.
This was sometime… last year (ish). Alex Boye, with more than a billion views, who did the Pirates of Somali song, did a fund raiser in Denver for Shoe4Africa at Doug & Kim's house basement concert. We appreciate it and wish we had been there to listen in!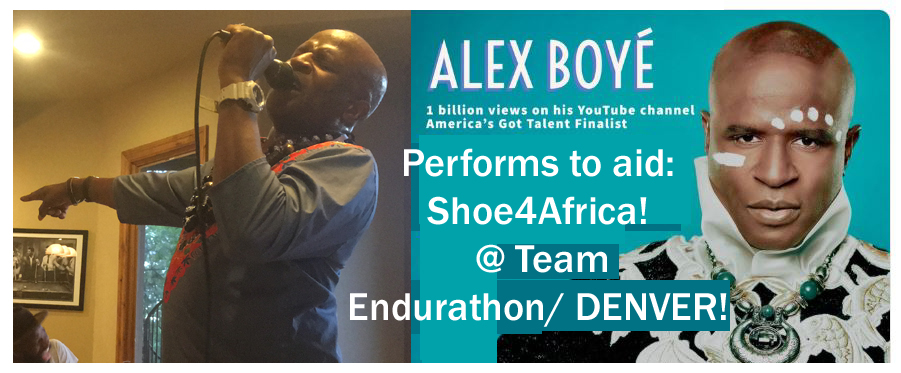 MAY 2019
We opened our new soccer pitch! World record holder, Olympic Champion Eliud Kipchoge came to play with our oncology patients. A stunning new astro turf for the hospital; a five-a-side pitch.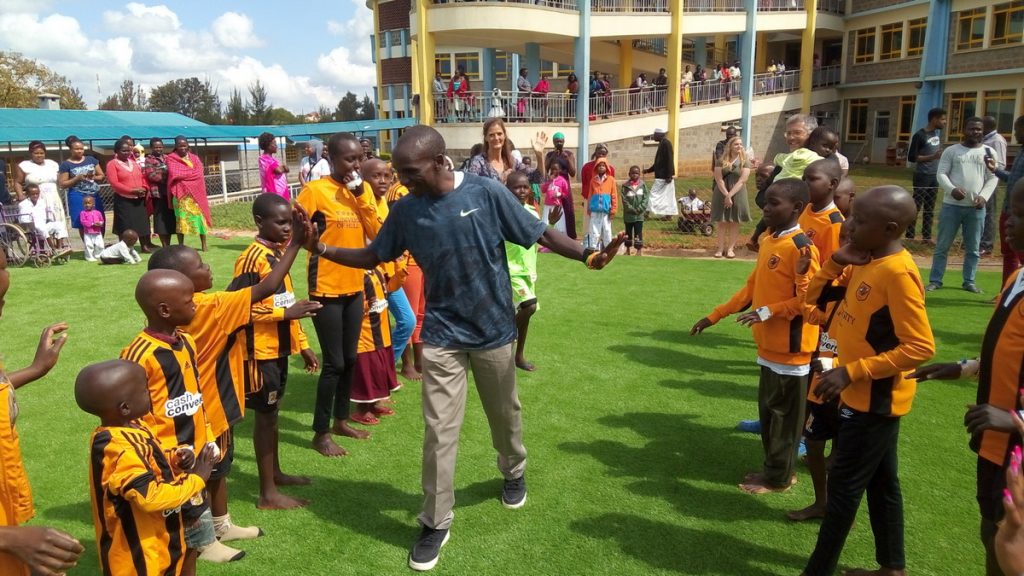 We broke ground on our SIXTH government accredited FREE school, a Girls Secondary School! The school will be in Kibuswa, rural Kenya in an area we have monitored where girls drop out of school after the primary age usually to be married off, or to work in the fields… well, now we are bringing change!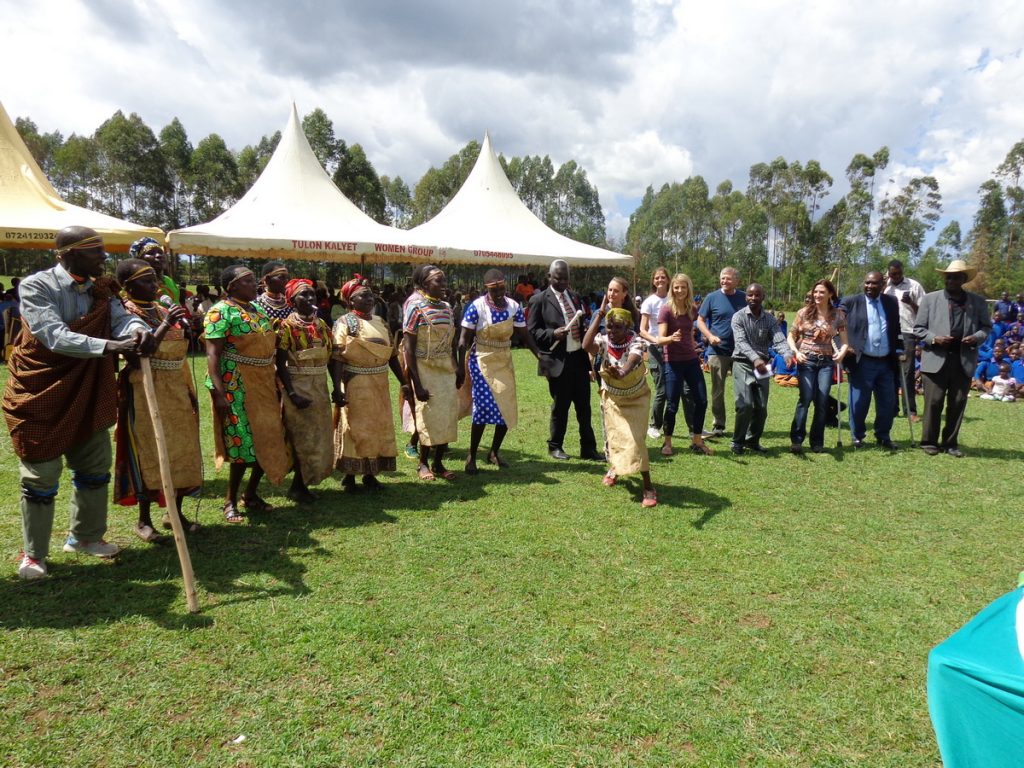 Now in its fourth year the Shoe4Africa ACES for AFRICA was held on May 7th.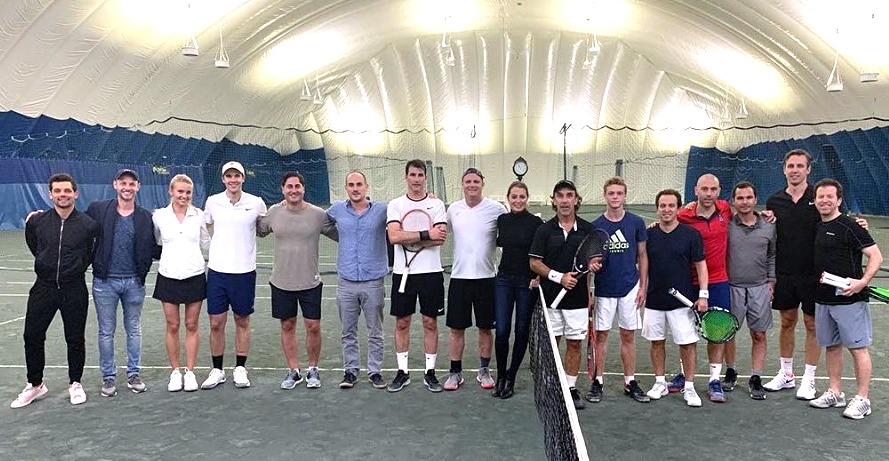 Daniel Montes de Oca partnered with Oliver Worth, to defeat Peter Worth and Juan Carlos Parker, in what could be the best Tennis Charity Tournament in NYC. The players rallied behind our cause of bringing a Kids Cancer hospital to East Africa. Special thanks to Ivan Zinn of Atalaya Capital Management who brought in a great boost for our drive. Our board director Zeynep outdid herself with a series of amazing matches.

A new art project! Film Director, Artist, Innovator Martin Lima de faria and Maud Karlsson ,a Swedish Artist who used to live in NYC went to the hospital with Markus F. of Shoe4Africa Sweden branch and filmed a wonderful 'Shoe' footprint story that we hope to share in our next newsletter. The story of how far a shoe can travel!
April 2019
Many thanks to Larry Williams and team who are committing to raise funds for Faith Chelimo, for a four year scholarship. Faith a young student from Nandi County is a star runner with a great attitude and a yearning for learning. It touched us that she 'borrowed' a pair of shoes to come and visit us at the hospital. The family lives in poverty in rural Kenya.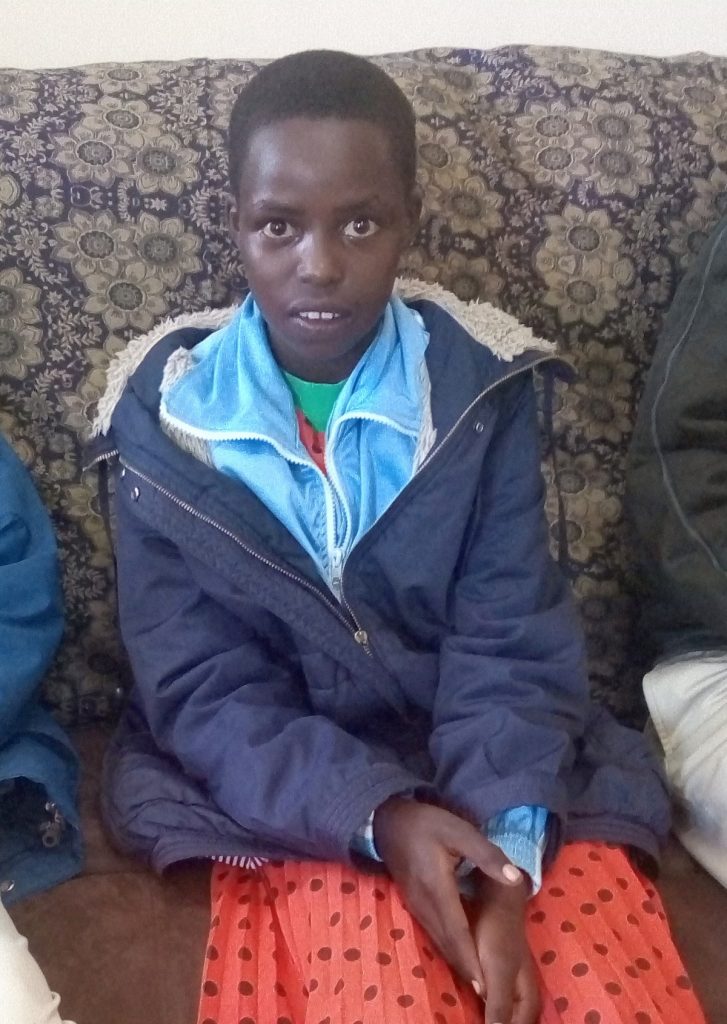 Ground cleaning is being done for the new Cancer Hospital, Astro turf is being laid for the new soccer field, and much more going on!
MARCH 2019
Thank you to our team of 23 Half Marathoners who ran to raise funds for Shoe4Africa in the United NYC Half. We had runners from all over the world come and join us and run the streets of NYC.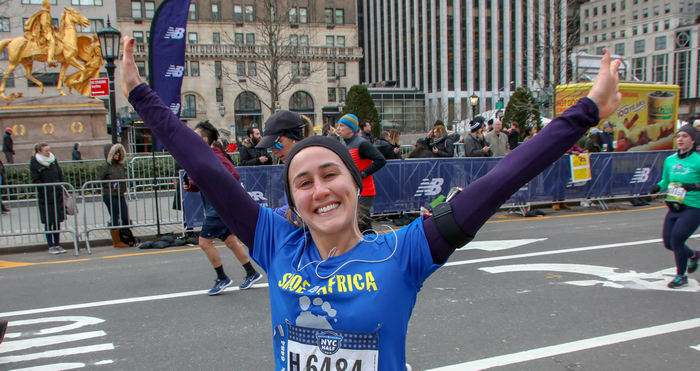 FEBRUARY
We committed to building a new hospital for Kids with Cancer. It will be the first of its kind in Sub Saharan Africa! It will directly affront the 9/10 kids who are dying when diagnosed with cancers in East Africa.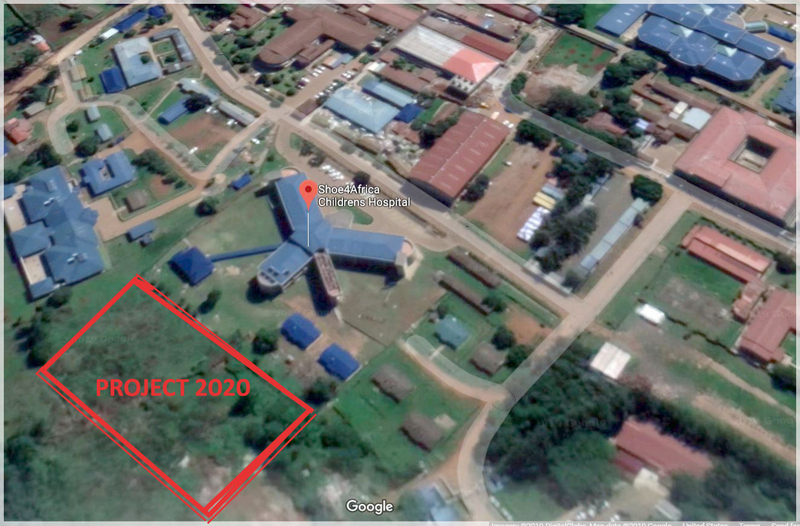 JANUARY 2019
To start work in January 2019… a brand new Astroturf 5-a-side football pitch will be built! Read more…. link The event coincided with the year end's feeding fest!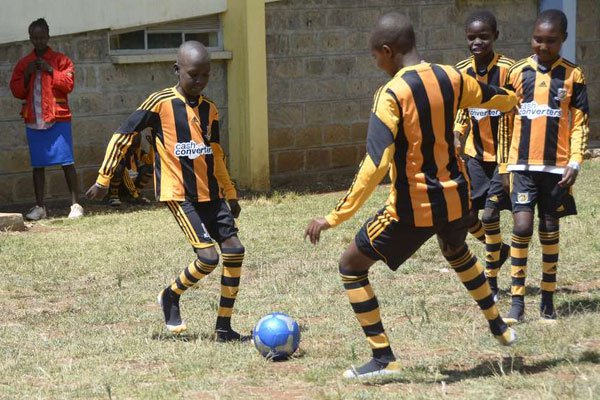 Our 'football team' all arrived at the hospital in an ambulance, and are cancer patients
Starting new four year Scholarships, welcoming new names to our program; Lydia Akaran starting a four year secondary school. Ditto Josephat Kirui… Ditto Sheila Jelagat…. and also Fatuma Abdullah. Thanks to Caroline & Jason, Larry & Ingrid, Claudio, and Michelle & Mark — you are making dreams come true!
DECEMBER 2018
Christmas Eve Party and the basketball Court opening! Elite athletes Moses Tanui, Martin Lel, Mary Keitany, and Matthew Birir came to greet athletes and hand out gifts! Within two days (24&25) three huge Christmas cakes and 490 gifts were given out! Video report – national television link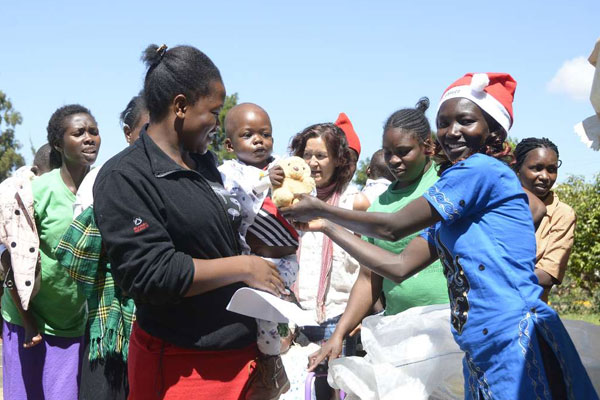 World record holder Mary Keitany gives out gifts at the Shoe4Africa Hospital
The 2 Running Club, led by directors Claudio Berradelli & Janeth Jepkosgei, brought 230 gifts, a flat screen TV, a decoder and many athletes from the team to come and greet the children and hand out gifts! Thank you!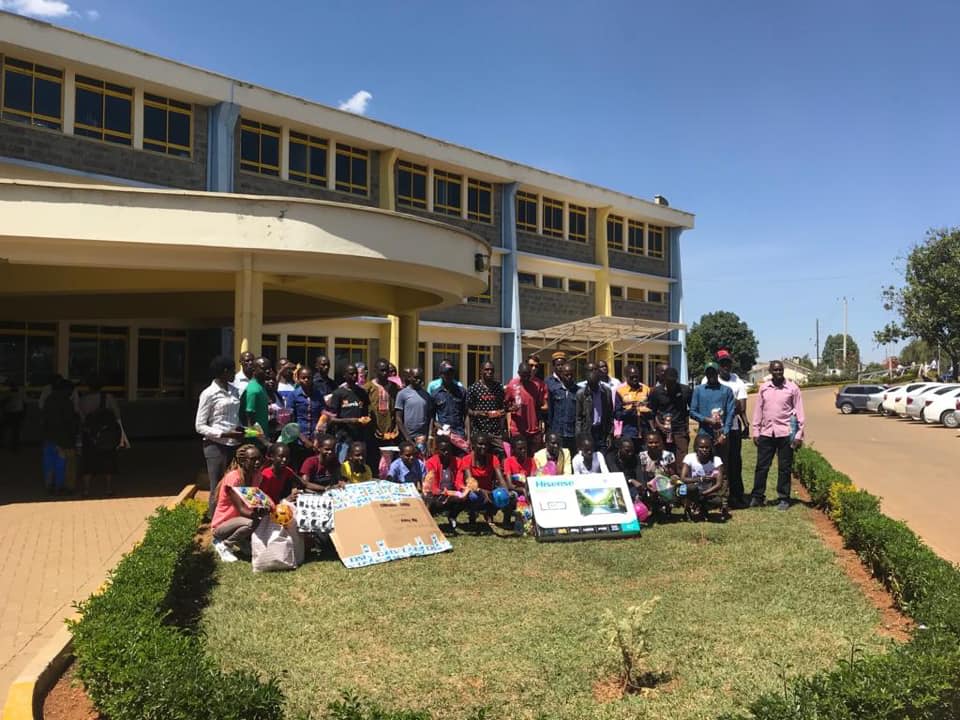 NOVEMBER
Thank you to our ace marathoners who came together and ran the TCS New York City Marathon. Some of our team members at the Wooly Public pasta party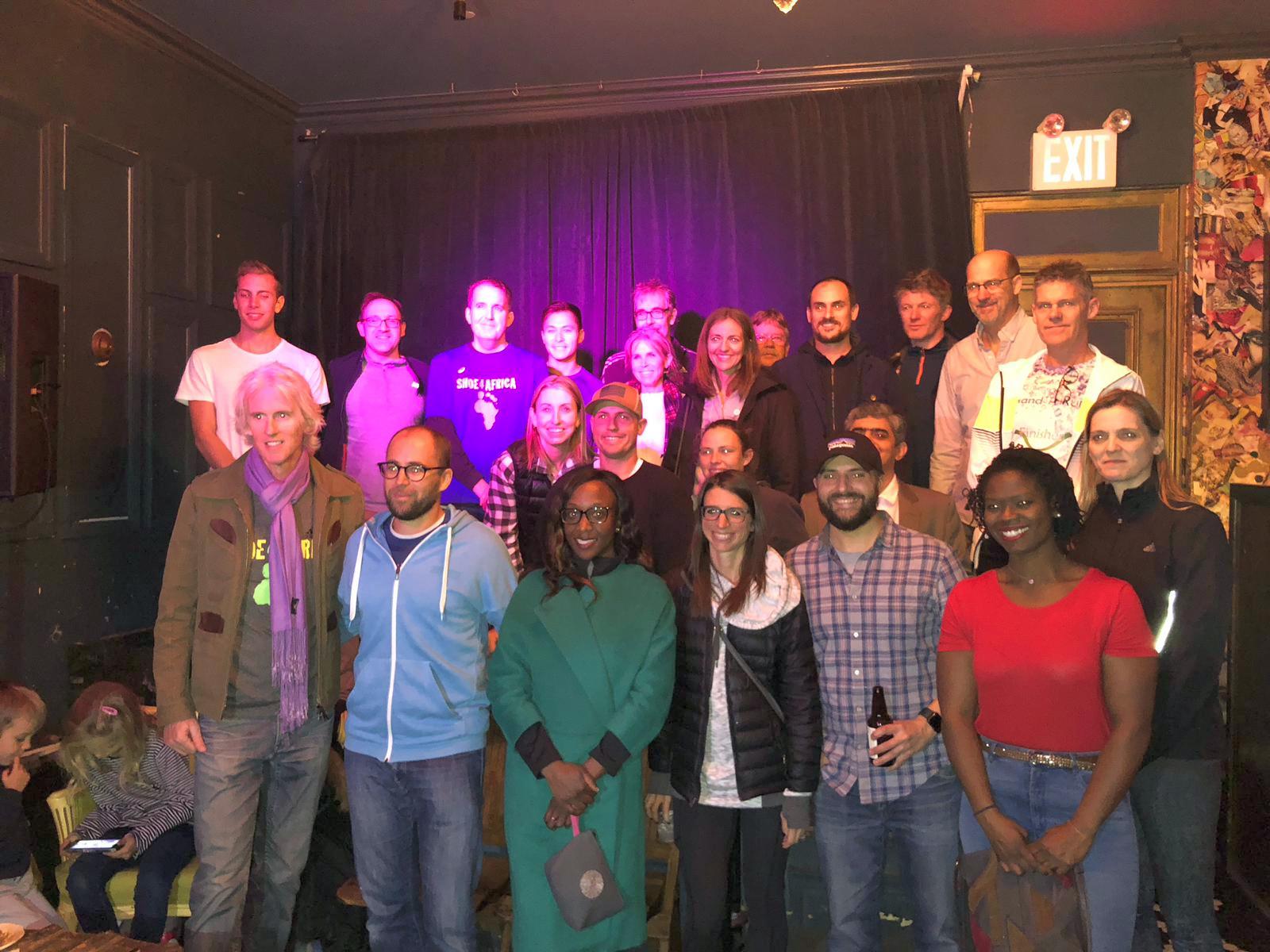 OCTOBER

Drainage going down on our Basketball court this month. Very exciting to see this happen knowing the fun, joy and community it will bring to our hospital!
Thanks to Dr. Sood and his visiting team who worked arduously in the Operating Theaters coming all the way from America to perform a long series of operations.
SEPTEMBER
We had a fun Shoe4Africa 5k in Manhattan, NYC, on Sept 6th, and the following week Henry Melly organized another Shoe4Africa 5k in Moreno, California. Great awareness events passing on the message of health and fitness; the same message we pass on in Kenya as a healthy community is a thriving community.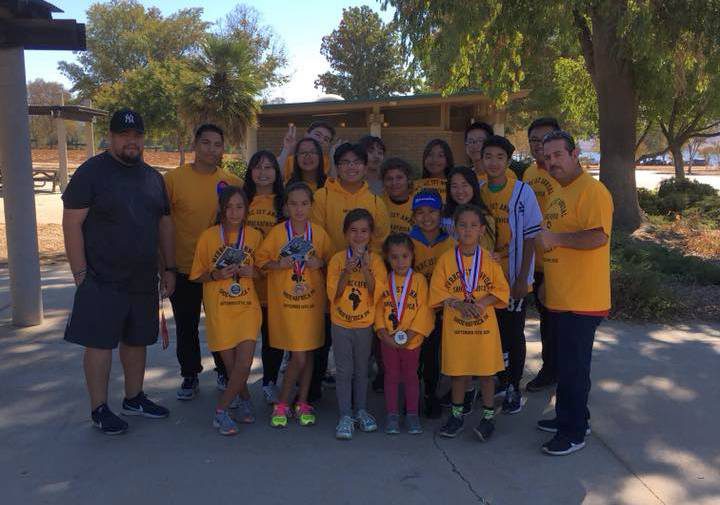 (above) California team ready, and down in NYC (below)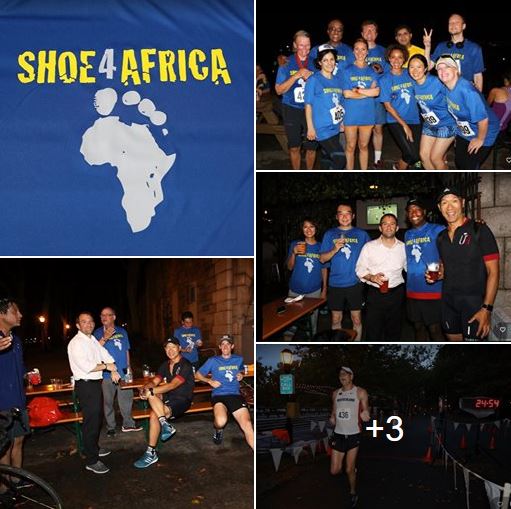 AUGUST 2018
We opened our 5th public school on Aug 10th to honor Mary Keitany, the women's world record holder in the marathon distance. It is a much needed sec. school in an area where primary schools out number secondary 7:1. The occasion was graced by some of Kenya's finest runners…. Read More.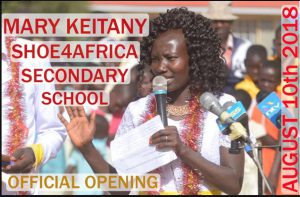 JULY 2018
The 7th Annual Melina Buck Buffalo pub run! It is now an 'institution' event in Buffalo and Melina has been helping Shoe4Africa for years. In November she will run her 8th marathon for us in NYC, after racing Berlin in September (she is super speedy.. like a Kenyan!) We are ever grateful for the work she puts in and efforts.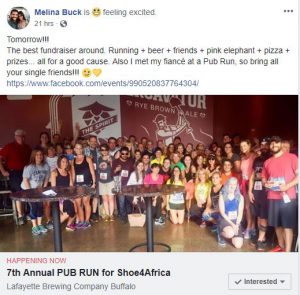 JUNE 2018
It was a Flip for Education and Shoe4Africa were recipients thanks to Team Endurathon. these great people did a complete renovation of a house in Denver to raise funds for four charities. We worked for 72-hrs, from 7 am till 6:30 pm for three straight days. We got covered in paint, dust, and dirt. A big bunch of people with skills and some of us (!) with none. And we got it done. Amazing – thanks to Doug Perry for leading the charge on this one with the Incredibles.. The Buy-Out Company of Denver!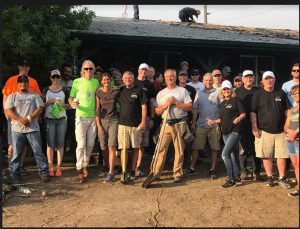 Doug Perry, black T-shirt in the center, of the Buy-Out Company
Shoe4Africa Germany held its 4th annual race in Munich on June 10th to raise vital funds for our projects. Last year's race raised funds for a water fountain. Thanks to their team, and all runners who took part at the Castle!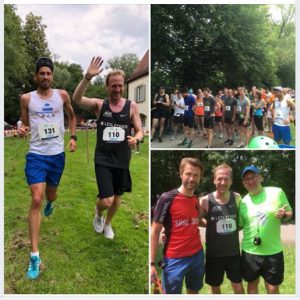 A marvelous achievement was seen on June 10th as the 'Marathon Granny', 64-yr old Joyce Nduku, completed the grueling 89-km (55.6-miles) Comrades run in South Africa to raise funds for the hospital. She was ably helped by a great team in Kenya, we are both humbled and inspired by this wonderful performance. She raised $3,500!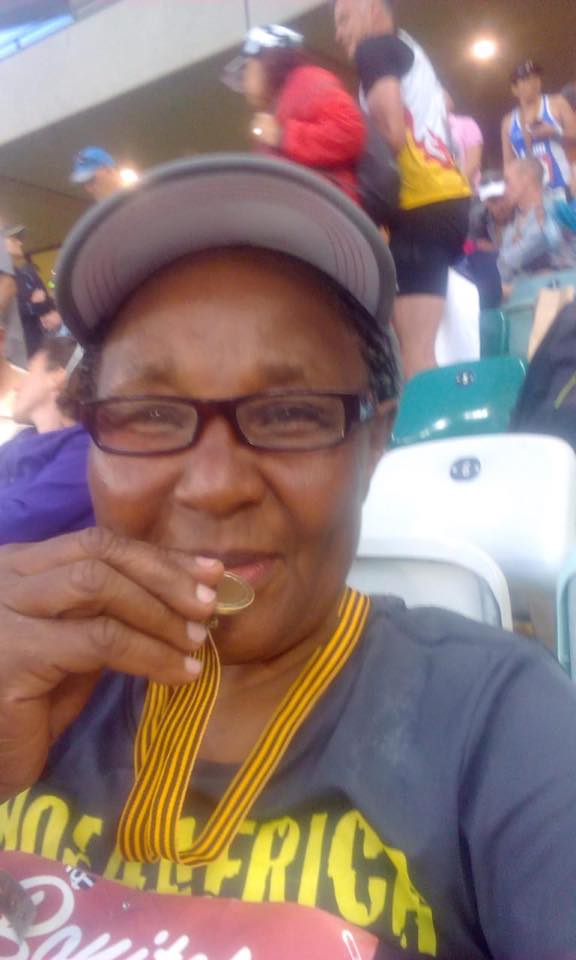 The Marathon Granny finishes the Comrades (Ultra) Marathon.
MAY 2018
'Pitch In' for Eldoret – thanks to Harrison Pire, Vincent Gioannini and Camillo Guarducci for launching the fund to bring a 5-a-side soccer pitch to the Shoe4Africa Hospital. This will be a great asset to the community and help get the sick kids more active to aid recovery. These kids attend the Lycée Français de New York school's whose mission is: 'To prepare students of many origins to be thinkers, innovators and leaders, at home in the world.' Talk about Just Doing it!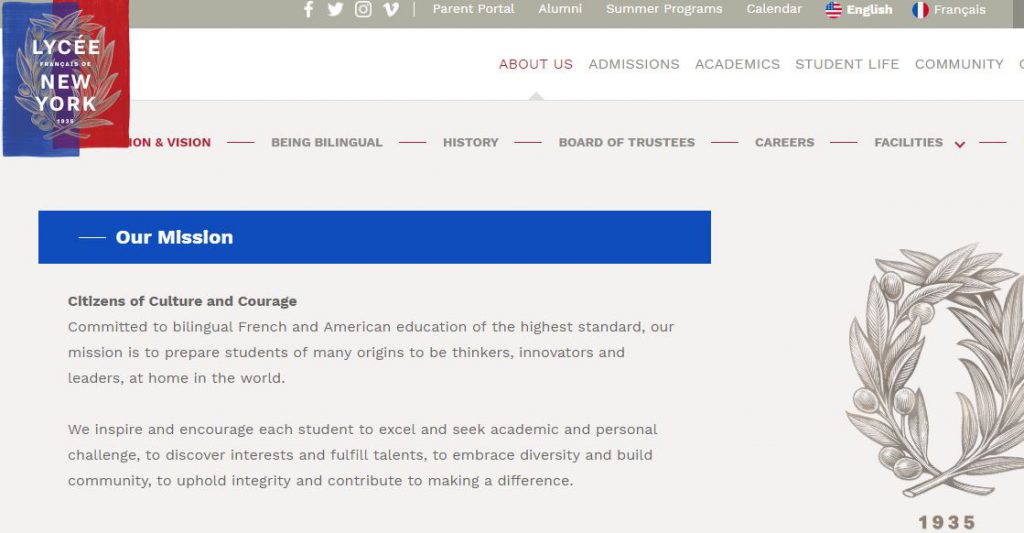 May 1st saw Joyce Nduku's charity run in Nairobi. Hon. Esther Passaris, Nairobi County women representative flagged off the race with the former marathon world record holder, Patrick Makau. The Hon. Anthony Kiai, MP for Mukurweini, Nyeri County, also attended the run. Over 100,000 KSH was raised for the run with a sponsorship from Weetabix. This was the first event for the new 'Shoe4Africa Nairobi' chapter.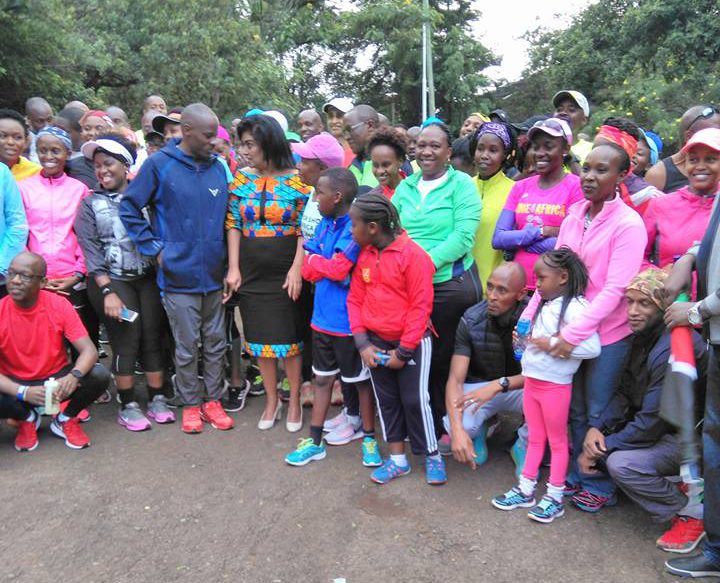 APRIL 2018
We were delighted that Evans Chebet, one of the world's best marathoners, chose to run for Shoe4Africa at the 2018 Boston Marathon. Evans, of Kapsabet, Kenya, has a heart to help. He was at our hospital last December handing out gifts to the Kenyan Kids.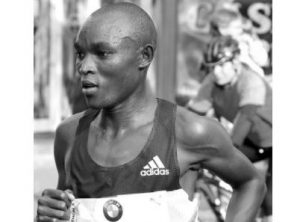 Evans in action!
Our Third Annual Aces for Africa event. April 24th. Congratulations to Peter Worth and Juan Carlos Parker (PER) who defeated Lee Rubenstein and Fredrik Jonsson (SWE) in an amazing final. Thanks to board members Zeynep & Dave for organizing such a great event, and CityView NYC for hosting in their wonderful facility. Read our press release.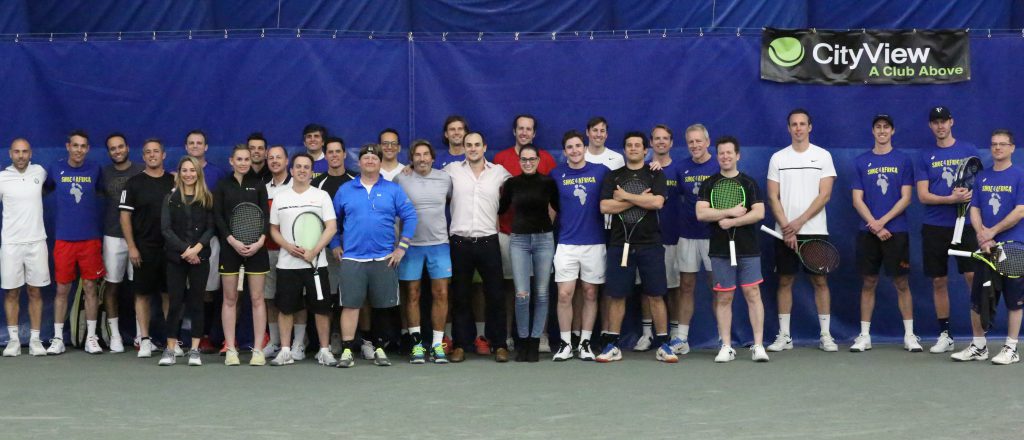 MARCH 2018
Classrooms for the Hospitalized kids. In Israel it is becoming a norm that all kids hospitals must have learning school rooms. We believe we will be the first in Africa! We were delighted to break ground on March 9th on a brand new project. Partnering with the Harbour School we are building an amazing facility in the hospital grounds. Two classrooms for the sick kids that will help ensure they don't fall behind with education when they are hospitalized. Some of our patients stay for months. As we are strong advocates for Health And Education we are so happy that Ashley, Christine, Dan, and Tisha visited the site to make this happen last summer. The dream has started with their support! And these are not just plain classrooms – watch out for an incredible center. Thanks to Shoe4Africa Belgium for providing donations of kids running shoes for the occasion!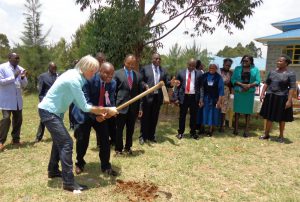 Groundbreaking for the new classrooms
We had 28-runners in the #UnitedHalfNYC on March 18th. 28-heroes running for change in African health & education. Check out our /shoe4africa facebook albums for all photos, but here is one of our champs, Steve Caddle at Mile ten!
We had a great visit from Bérengère et Patrick Motyl and the French School of Dubai. An amazing group of young kids who came with a great attitude, ran with the Kenyans, visited the Hospital and the Janeth Jepkosgei Shoe4Africa School bringing about twenty suitcases of supplies! These young superstars are tomorrow's changemakers. Nothing fazed them, Kenyan food, gettign stuck in the mud, spending time with the sick kids and also the school kids. Kudos to Patrick for pulling this together.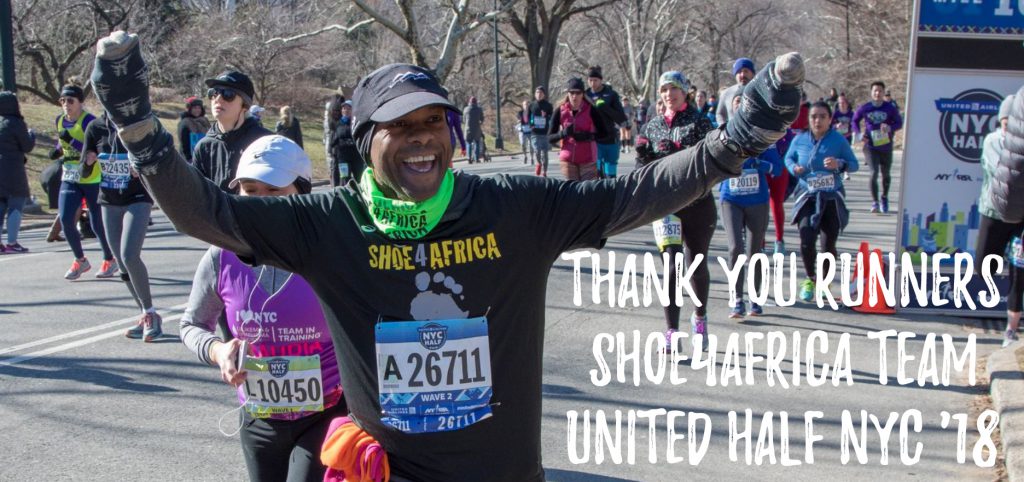 FEBRUARY 2018
Africa Outreach Burundi! Due to the fact that we are the only Public Children's Hospital in East & Central Africa means that we get patients from a huge catchment area. Those kids who do not wish (in their own countries) to go to hospitals that mix Adults & Kids (which can be incredibly emotionally damaging) are coming to us from afar. We already had kids from Southern Sudan, Tanzania, and Uganda, but please meet Mercy Ingarvenesa from Burundi!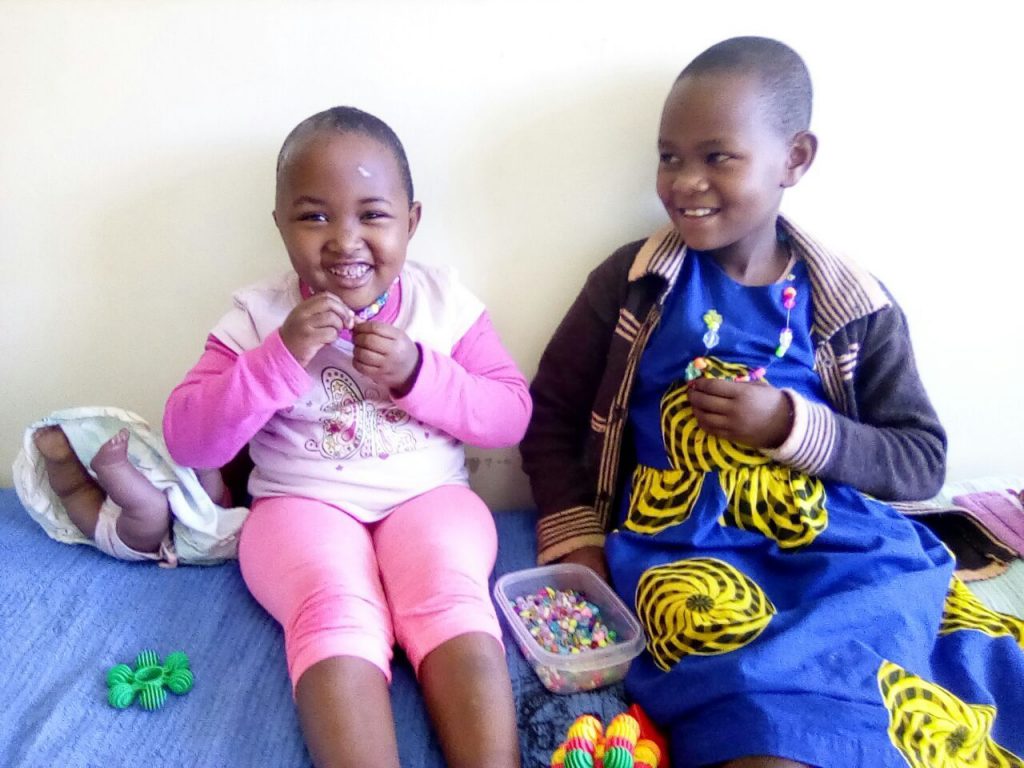 Mercy Ingarvenesa, our first patient who traveled to us from Burundi.
Thanks to Manuela Soccol and Frank Bollen, two super fast runners, we are seeing a Shoe4Africa Run in Belgium on Feb 7th, they are collecting shoes and raising funds too!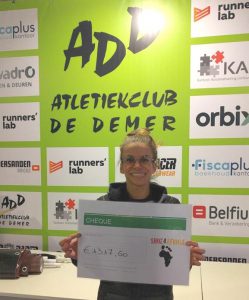 Event organizer, and 2016 Olympian Manuela Soccol
Calvin Jepkogei had a tough month, losing her father, but she was uplifted when the day later she found out she got a four year scholarship to enroll in a secondary school in the district after she has now graduated from her junior years at our (free) school. Thanks to Claudio Berardelli and his Italian team, and our ambassador Janeth Jepkosgei of the Janeth Jepkosgei Shoe4Africa School for helping her on her journey into the future.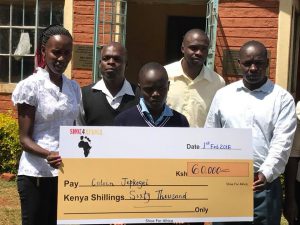 Janeth, far left, outside the school, with Miss Jepkoegi after she graduates from our school.
JANUARY 2018
We started building the SHOE4AFRICA Mary Keitany Secondary School! We are building this to honor one of our ambassadors and a good friend for a decade, Mary Keitany. Since running a Shoe4Africa race back in 2006, her first senior event, she has gone on to win three London Marathons and three New York's too… of course the odd world championships too! Let the school begin.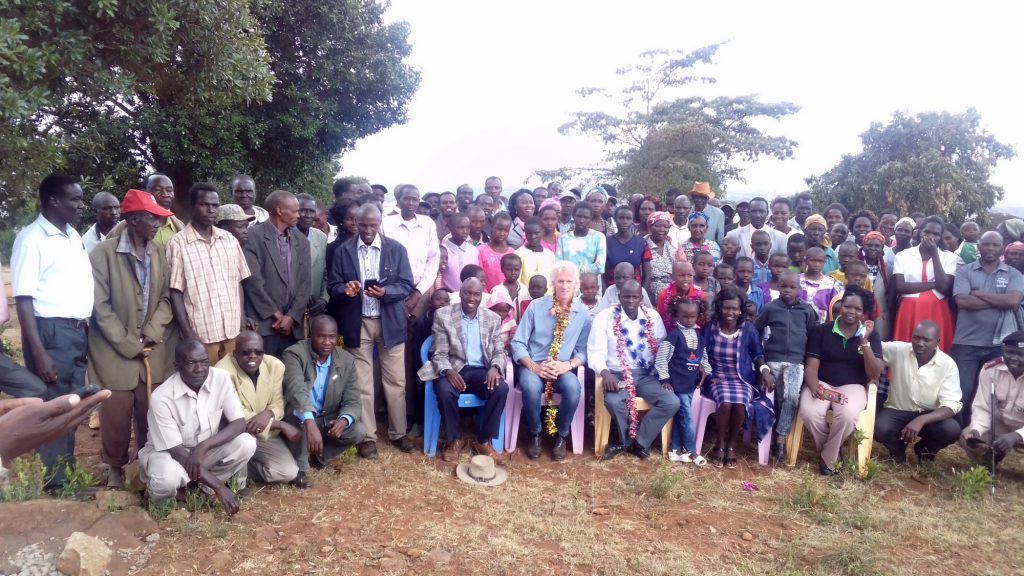 Celebrating laying the foundation stones in Baringo county for the Shoe4Africa Mary Keitany School. Mary and Charles, front row, purple dress seated.
We are really happy that Alyssa O'Connor has launched a Ruby in the Rift project at the Shoe4Africa Martin Lel secondary school – read about it here on her blog LINK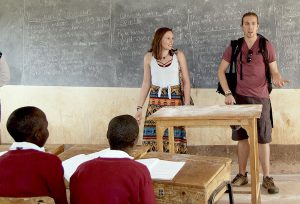 Alyssa and her boyfriend, Andrew Arnold, talk to the form four students at the Shoe4Africa Martin Lel School.
DECEMBER
Shocking that we missed it. Alex Boye, the renowned singer who is Africanizing Pop did a fund raiser for Team Perry Shoe4Africa earlier in this year!! Wow…. and again wow!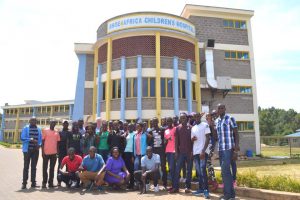 Almost thirty world class athletes, including world champions, come to the hospital to meet the children and give gifts to our patients. (see full list of names here). On this day we had a staggering 281-patients. The visits continued as we had a Brass band from One Heart Foundation, Santa Claus from ChildLife, carols, and days of gift giving.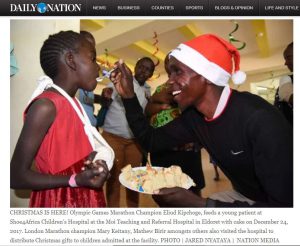 On December the 24th we had our 3rd annual Christmas Party with Hospital Ambassadors Eliud Kipchoge and Mary Keitany. We were joined by Olympic Gold medalist Matthew Birir, Olympic medalist Sally Kipyego, and elite runner Charles Koech giving out over 400 gifts!
NOVEMBER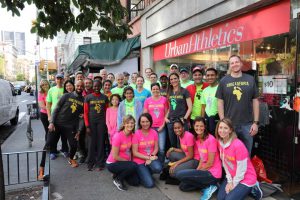 Almost 60 Shoe4Africa heroes took the roads to run the TCS NYC marathon on the traditional first Sunday in November. We had some great events – team breakfast run, we had at Pasta Party at the Wooly (in the Woolworth Tower Building), and a post race party at Michael's fab Prince St apartment. Thanks to World Record holder and 4x world champ Lornah Kiplagat for coming along to inspire our team.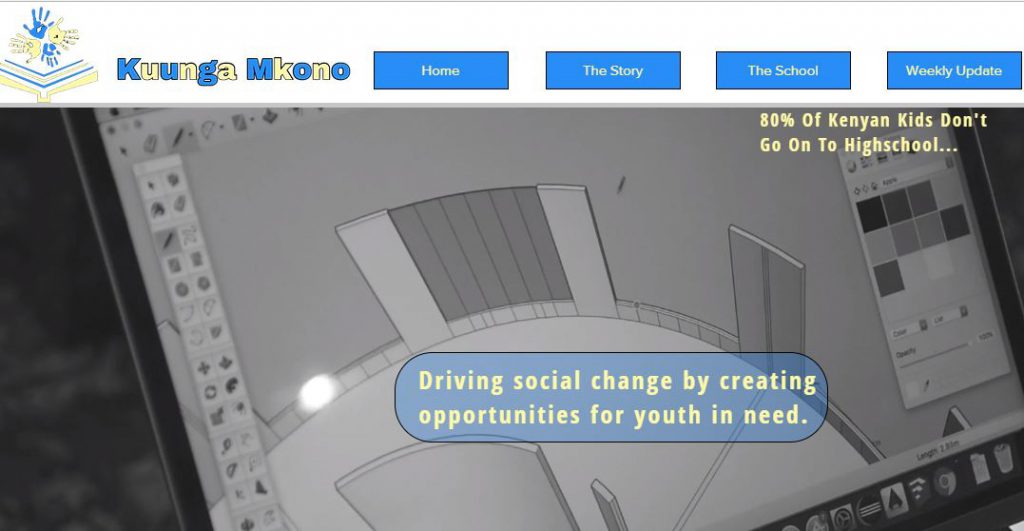 In November our partnership with the Hong Kong Harbour school kicked off thanks to Ashley, Christine, Dan, and Tasha who came to Kenya this past summer to plan the project. The idea is to build a learning center at the rear of the hospital. So that hospitalized kids don't fall further behind.
Kenya, NYRR, The NYC marathon… and Shoe4Africa
An interesting note about the New York City Marathon: We had posted on the Internet about how three of the four elite invited Kenyans had a "Shoe4Africa connection – this Mary Keitany, the defending NYC champ, who had started out her senior running at a Shoe4Africa race, Edna Kiplagat who had run Shoe4Africa races for many years, Betsy Saina who had volunteered to help at Shoe4Africa races. However we did not know Aliphine Tuliamuk (who had recently gained a US citizenship)…. and yes, she too, back in 2006 ran in one of our Shoe4Africa races to Give girls/women a chance to run!
(PS on the subject we should note that Wilson Kipsang, who was in the men's field has also volunteered helping at our events, and his wife has run the women's only races).
OCTOBER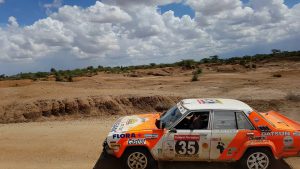 Harpal Sudle's rally car, supporting Team Shoe4Africa, on its way to the Safari Rally! Being shipped from England to Mombasa! See our logo on the back door (Smiles)…. they would finish in a fantastic 15th place.
SEPTEMBER
The New York 5k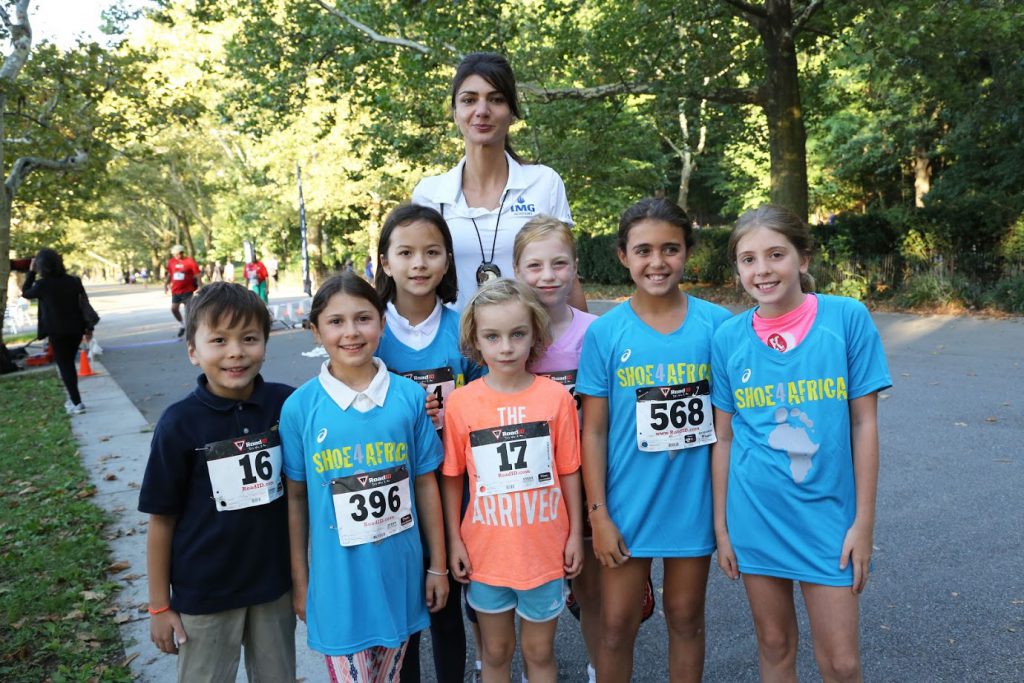 Some of the kids at the Shoe4Africa Kids mile at our 5th annual 5km in Manhattan on Sept. 7th.
AUGUST
We began the avocado stage one project for the women's empowerment group with Wendy & Ben M.! Also thanks to Kurt D. we got a fresh water machine to be sitting in the lobby of the children's hospital. We are asking all mothers/parents to please bring a cup so we don't waste plastic*, then you will get free clean fresh drinking water! Thanks also to the Raquel Landin group from Spain who came bearing gifts of toys and $$ for support! (On Aug 28th plastic bags are now banned in Kenya! Cups next!)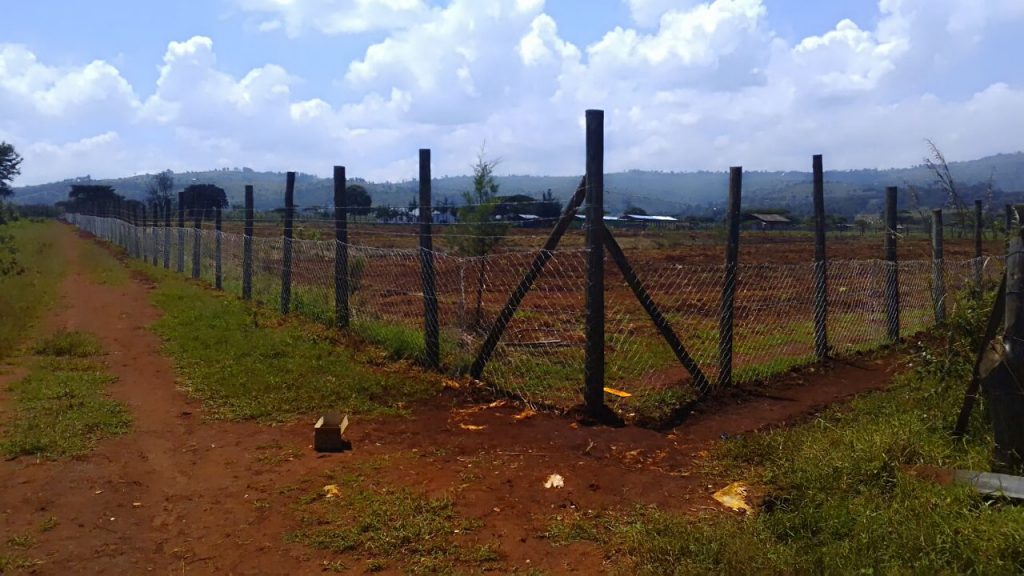 JULY 2017
We had a great month opening more buildings (two) in the Hospital campus, getting some drone footage of the hospital (yeah), accepting a donation of new wheelchairs for the hospital, and furthermore starting a new project with our ace ambassador Mary Keitany!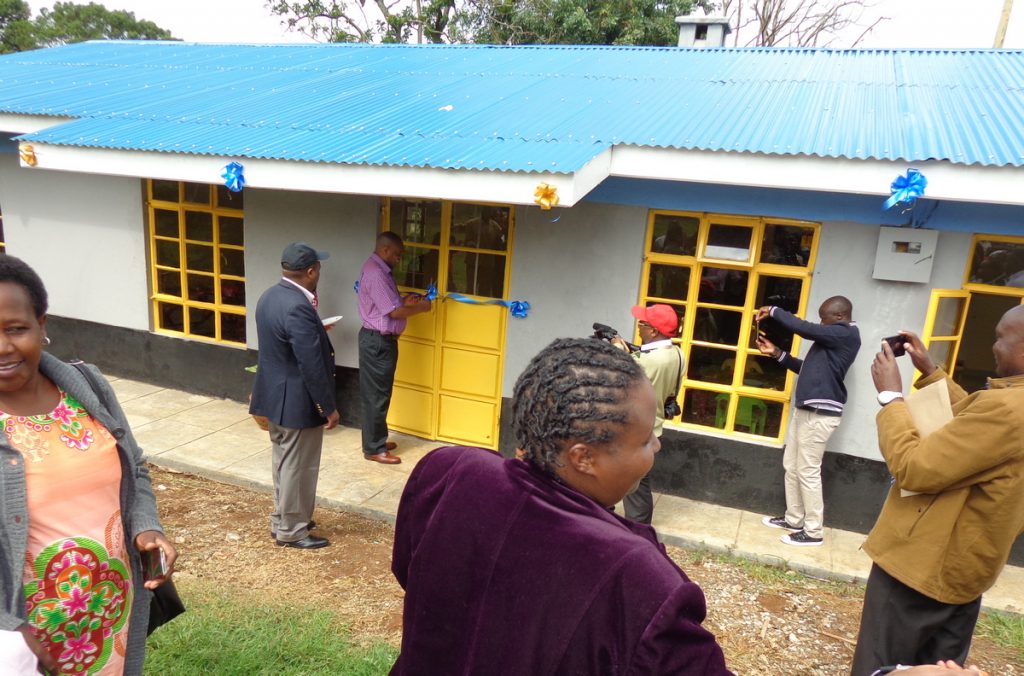 Dr Wilson Aruasa, board member of Shoe4Africa and CEO of MTRH, with Deputy Governor Chemno, open one of the two buildings in the grounds of Shoe4Africa.
Check out the amazing DRONE camera footage showing the hospital filmed by John Elliott.
JUNE 2017
Thanks to our German chapter who held their third edition awareness race in Munich on June 25th. For those of you who can read Gwerman; Shoe4Africa 6.3 km Spendenlauf und 700m Juniorlauf- Start/Ziel Schloss Blutenburg, München
Durch die Teilnahme finanzieren werden wichtige Hilfs-Projekte, die den Kindern des Shoe4Africa Krankenhauses zu Gute kommen und somit beiträgt, die Kindersterblichkeit in der Region nachhaltig zu reduzieren.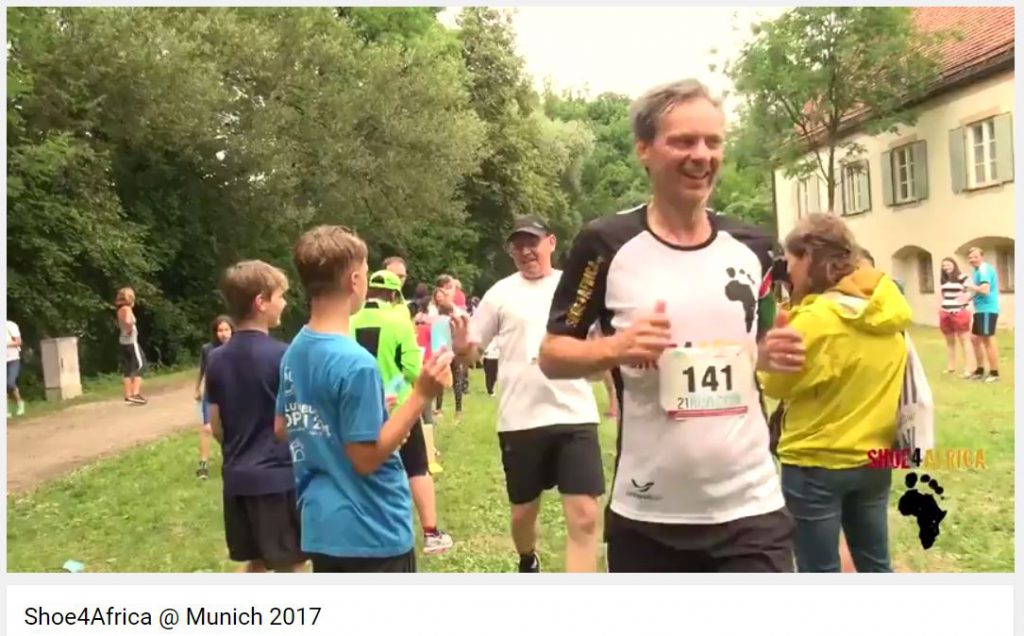 We are proud to welcome a new partner – FEETYWEETY as they launch an exciting web-store onto the market that, we believe, will become the #1 place for everything about the feet. So it is fitting that we align and when you make a purchase (as I hope you will) you will be supporting the kids of East Africa and putting a smile on the faces of the little kids. Do check them out on the link here. thank you FEETWEETY for caring!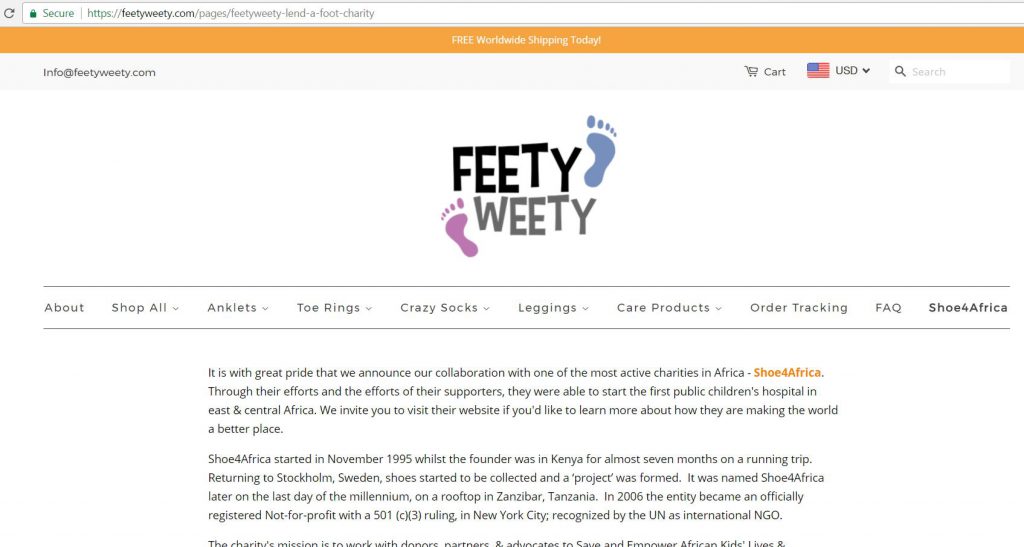 MAY 2017
The Second Annual Aces for Africa was a super success. At the Second Annual Shoe4Africa ACES for AFRICA: Ron Sussman and Jonas Mouly, a former pro player from France took revenge winning the title after being he 2016 runners up, beating Steve Sussman and Robert Jendelund[3], a former pro player from Sweden.
The event, the brainchild of Zeynep Inanli and Dave Siegel, was held at the City View Courts in NYC. Billie Jean King, a long time supporter of Shoe4Africa, again donated the Player of the Match awards; this year to Ron Sussman. Last year's player of the match, Whitney Tilson, was knocked out in a tight semi-final as he and Harel Srugo, an Israeli Davis Cup team member, were defeated by the champions Sussman and Mouly. Global Brands Group CEO, former Davis Cup player, Bruce Rockowitz, came to spectate and hopes to play in the 2018 edition of Aces for Africa.
Swedish former pros Robert Jendelund, Fredrik Jonsson, and French former pro's Julien Morel, and Mouly, along with Alex Lacroix, Dennis Druzhinsky were some of the top ranked players.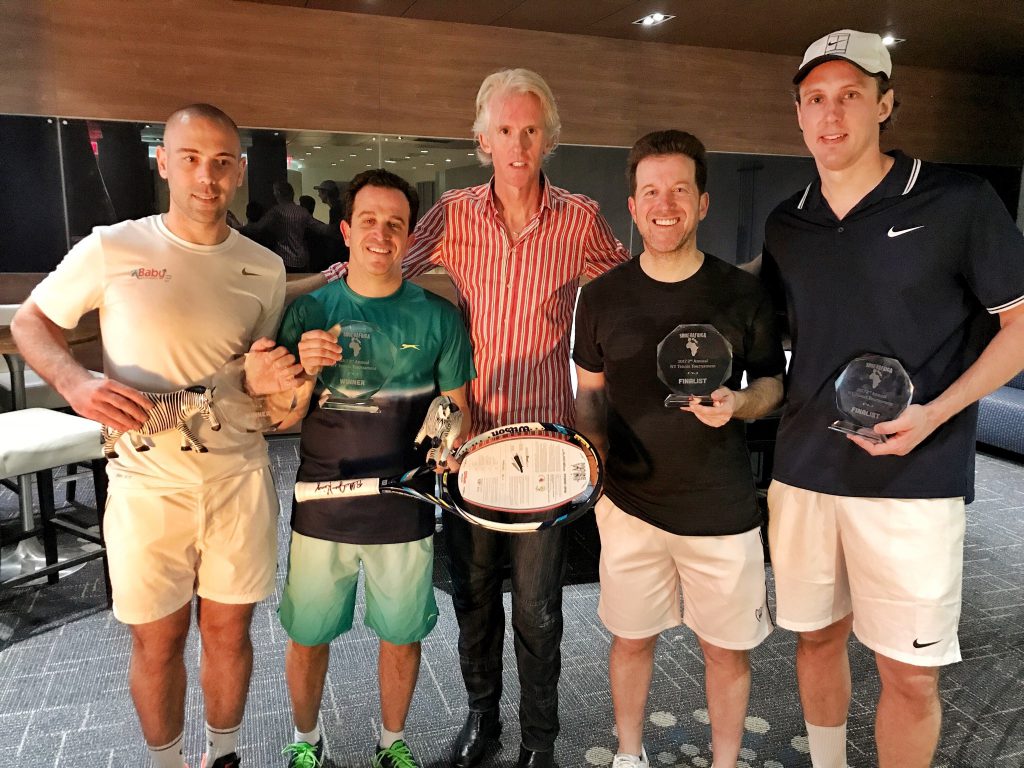 Jonas Mouly, Ron Sussman, winners with Steve Sussman and Robert Jendelund, runners-up
Thanks to Kevin 'Bling' Thompson the Kids of the Shoe4Africa Children's Hospital enjoyed a Photo day that we hope will turn into an annual event. Kevin, a regular visitor to Kenya, brought a snappy camera and a laminating machine to take pictures of all kids to give them and parents a lifetime memory.. and the kids loved it! Thanks Kev!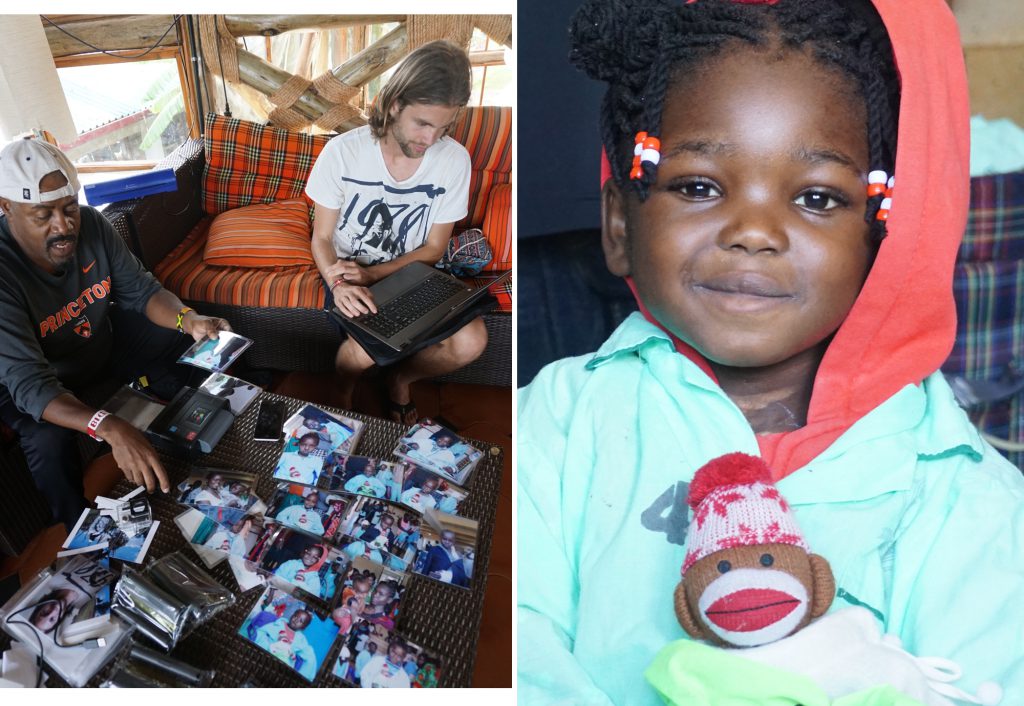 Kevin Thomson, left, laminates all the kids pictures with Pierrick Pints.
APRIL 2017
Like father, like son. Carter Nevill helped fund raise for Shoe4Africa and now his son… Dear Toby, "My name is Hugh. For school i had to do a service project. Because my dad ran for you, i decided to raise money for the Shoe4Africa Children's Hospital. My friend and i put on a family fun night at our school. We had a whiffle ball and a four square tournament and sold pizza and hot dogs. I raised $350 that i hope you can use for the musical instruments for the kids. My dad will mail you the check this week. What address should we mail it to? Sincerely, Hugh
Hugh Nevill
Creating Opportunities: We were happy we were able to facilitate in a great opportunity for young Dorothy Kiplagat. Jenn & Wayne's daughter Fleur has a new friend – check out the video!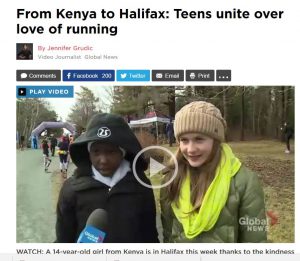 http://globalnews.ca/news/3398406/from-kenya-to-halifax-teens-unite-over-love-of-running/
MILESTONE — we are now averaging treating over 300 patients a day at our hospital!
MARCH 2017
23 runners toed the line at the United NYC half to raise funds for Shoe4Africa- Claire, Clif, Tehilah, Susan, Alex, Debra, Arvind, Yumiko, Vicky, Lisa, Alexis, Coach Jon, Ambassador Lou of the Wooly, Dina, Valerie, Fernanda, Britney, David, Susan, Jessica and Sue – you are our heroes!!
Shoe4Africa had a celebration day at the hospital when the kids got a big surprise as our friends and long time supporters Frank Bollen and Manuela Soccol brought over a big bag of shoes for most of our little patients! Teddy Bears came from Loredana, and Nasser Moosawi helped four families out with hardship grants! Dr. Neasa Coll also came to help, contribute and play with the kids! We had a great day.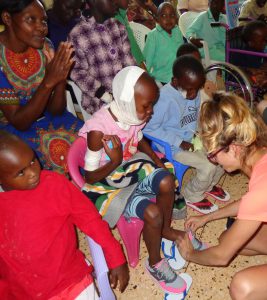 Manuela helps fit a little patient with shoes she and Frank brought from Belgium.
FEBRUARY 2017
Another scholarship procured for a student from the Shoe4Africa Janeth Jepkosgei School – meet Nebby Chepchumba, and thank you to Claudio Berardelli who continues to bring in funds for the scholarship ever since the school was first built in 2011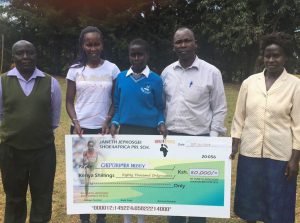 Our ambassador, and the lady the school is named for, Janeth Jepkosgei, presents the cheque to Nebby
JANUARY 2017
A new road is lain outside the hospital. Now both exits are tarmacked, instead of only the main one. Plus we have speed bumps!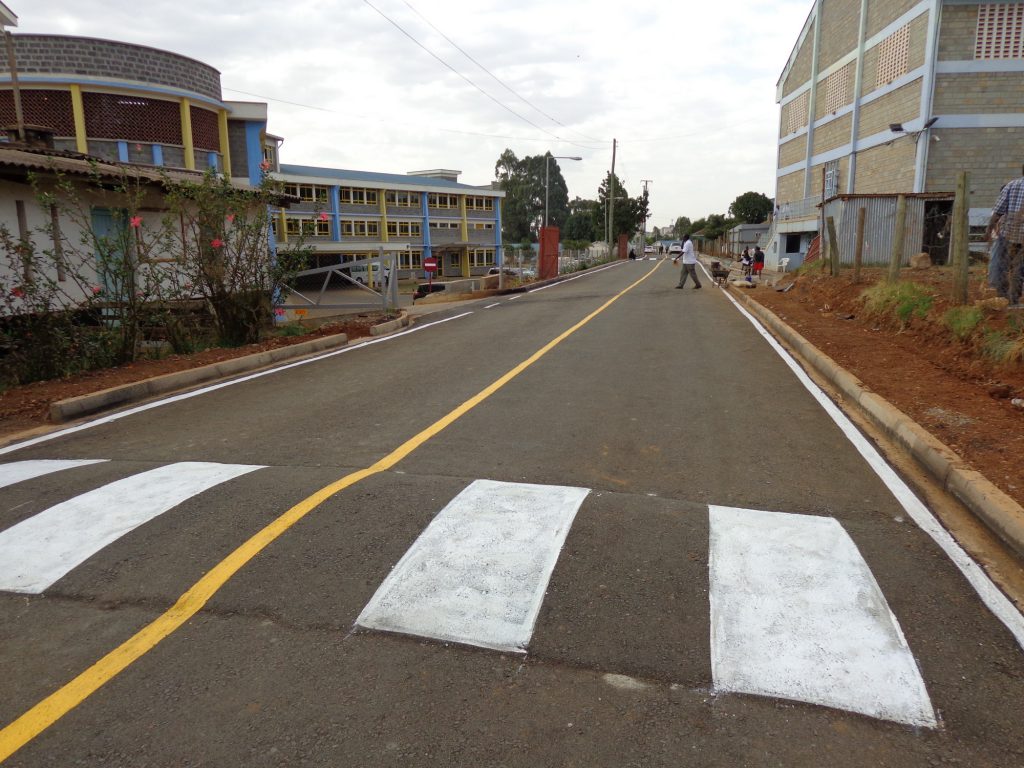 10th – The Shoe4Africa Kamariny Secondary School ground breaking consisted of dancing, spears, tribal rituals and lots of fun. The fast growing town of Iten currently has one public mixed secondary school and it is way too over-crowded. Right beside the world famous Kamariny Stadium we are building what we are sure will be the best school in the district!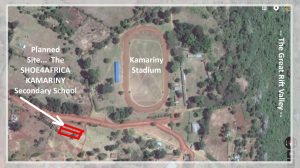 7th -Shoe4Africa Playrooms ground breaking
Here we are about to smash and knock down some old buildings… and from the dust we will build up, with the great support of Shoe4Africa Sweden, the Musical Therapy House. Plus we are entertaining the idea of doing the other building too for the Shoe4Africa Kids Playcenter!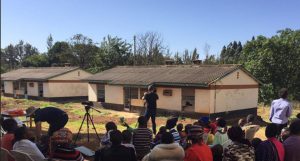 At the Shoe4Africa Janeth Jepkosgei we continued our trend of giving out books to the kids… especially as they have recently become the best public school in the area. Next up the school is building a computer room!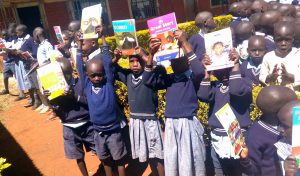 DECEMBER
Happy New Year and a huge thank you to everyone who supported us in 2016.
We ended the year opening 'Sig's Walkway'. At Christmas of 2013 Siegfried Kohl came to Kenya. The following year he was diagnosed with Cancer. He passed in April of 2016 and wanted to leave something for the Shoe4Africa Children's Hospital so we built this walkway, between the main hospital and the eat + run kitchens. Sig would have been smiling as all the patients and parents came out to end the year with a hearty meal kindly sponsored by Harish Menon who represented us in the TCS New York City Marathon this year.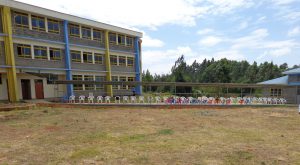 We held our second annual Christmas Party, again 'starring' our ambassador Eliud Kipchoge, the Olympic Gold Marathon Medalist, who was joined by World Champions Janeth Jepkosgei, Ben Limo,and Olympian Charlie Grice as over 150 gifts, toys, food, drinks, cakes and more were given out at our hospital on Christmas Eve!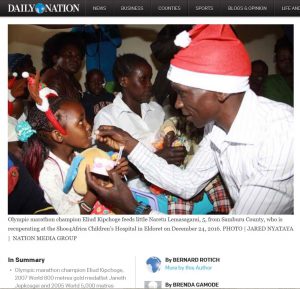 NOVEMBER 2016
So grateful for our team at the TCS New York City Marathon who laced up their shoes to run to make change over in Kenya. We had over 50-runners, wonderful stories… it has been an honor getting to know these fine people, meeting at our Breakfast Run (thanks Urban Athletics), at our Pasta Party (thanks Woolworth Tower Kitchen), on the race day, and at our Post race party (thanks Spiked Seltzer). Check out our album of heroes on facebook!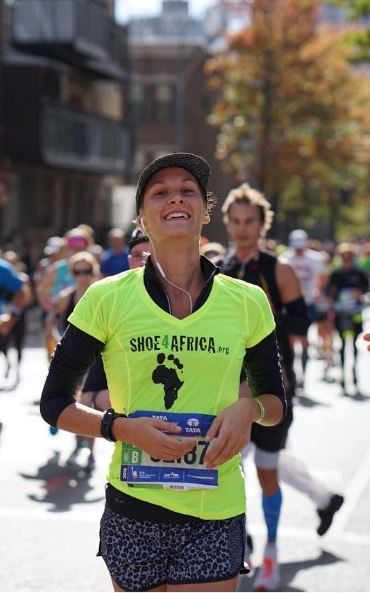 One of our heroes – Emma Edis of Team Shoe4Africa
A brand new Ambulance arrives at the hospital! A fully loaded vehicle that now stays 24/7 at our hospital (unless out on call!)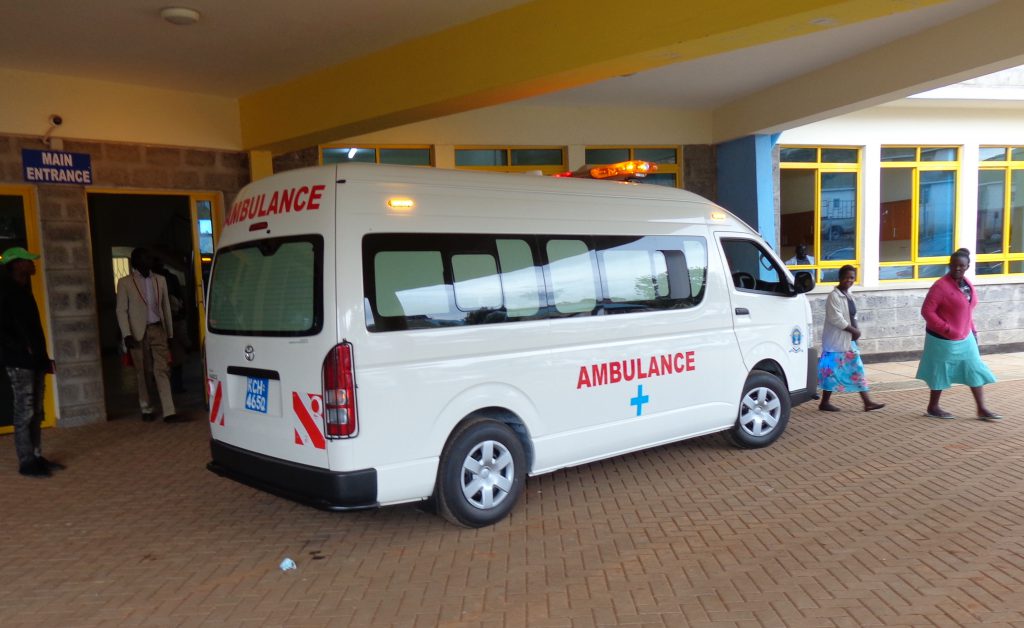 OCTOBER 2016
Construction started on the Sig Kohl walkway. Sig visited Kenya at the end of 2013 and by 2014 discovered he was suffering from cancer. In his last months he called on the phone and said he wanted to help the hospital and the kids ("That was what mattered most"). With his donation we're constructing a walkway that will be used to transport all the foodstuff from the Kitchens to the main hospital. Thanks Sig. Construction started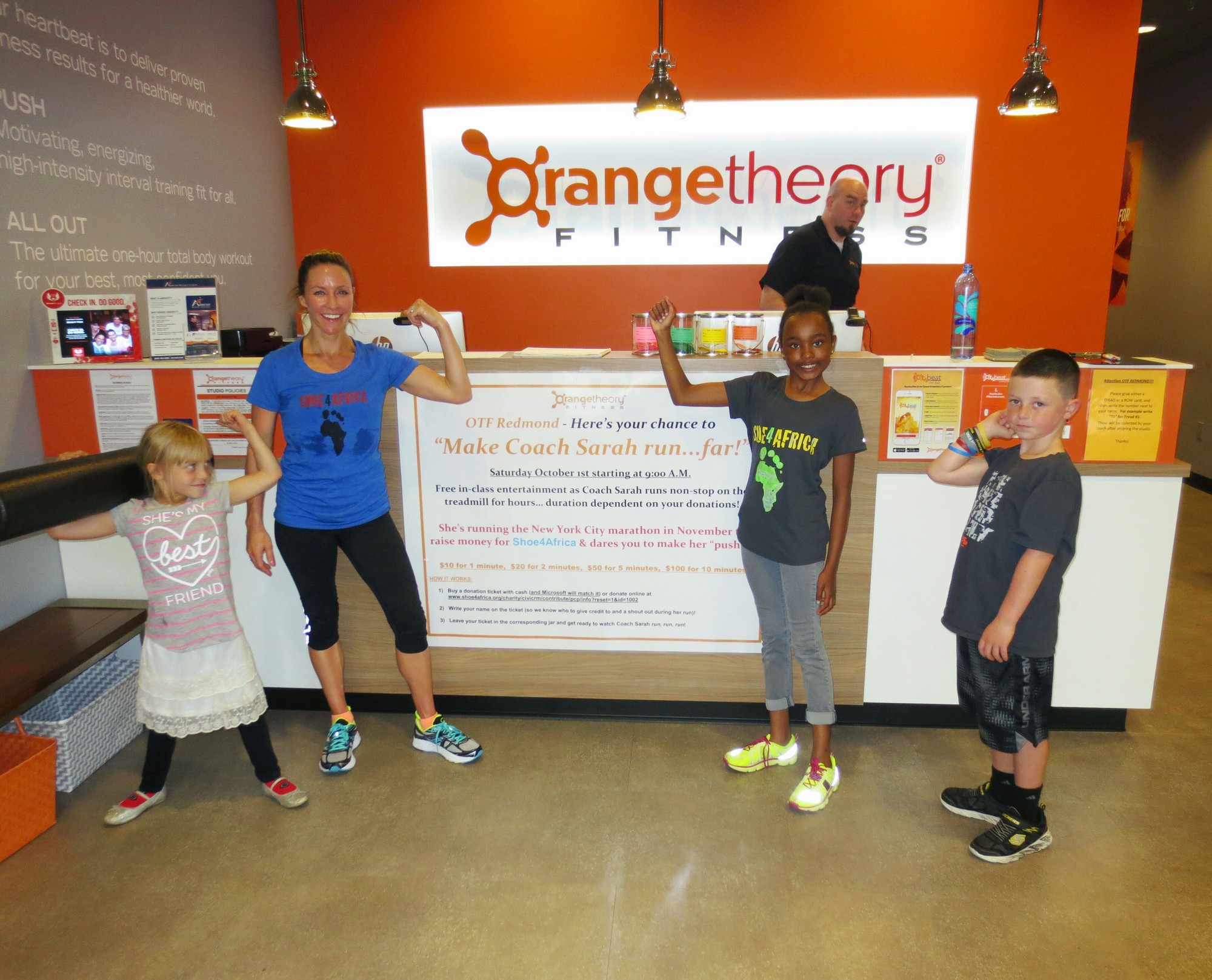 On Oct. 21st and we hired another female contractor to support the gender equality drive in Kenya. Pictured right: Sig Kohl. RIP 2016. We have awarded the contract to start building the walkway that will run from the Shoe4Africa eat & run Kitchens to the main hospital. In line with our women's empowerment program the contractor is a lady, plus the head administrator of the new kitchens is a lady too – we are always happy to be adding jobs to the community.
Thanks to Sarah Weil (Blue) of OrangeTheory Fitness for holding a great fund raiser in her gym and drumming up around $4,000 for us… she got on the treadmill over in Seattle, got her friends, clients and supporters to back her and she rocked it – doing her alst long run in the gym! Good luck in the NYC marathon. (update: Sarah rocked it, $5k and a fast 3:26 marathon!)
SEPTEMBER 2016
On the 8th we held the New York City Shoe4Africa 5k in Riverside Park.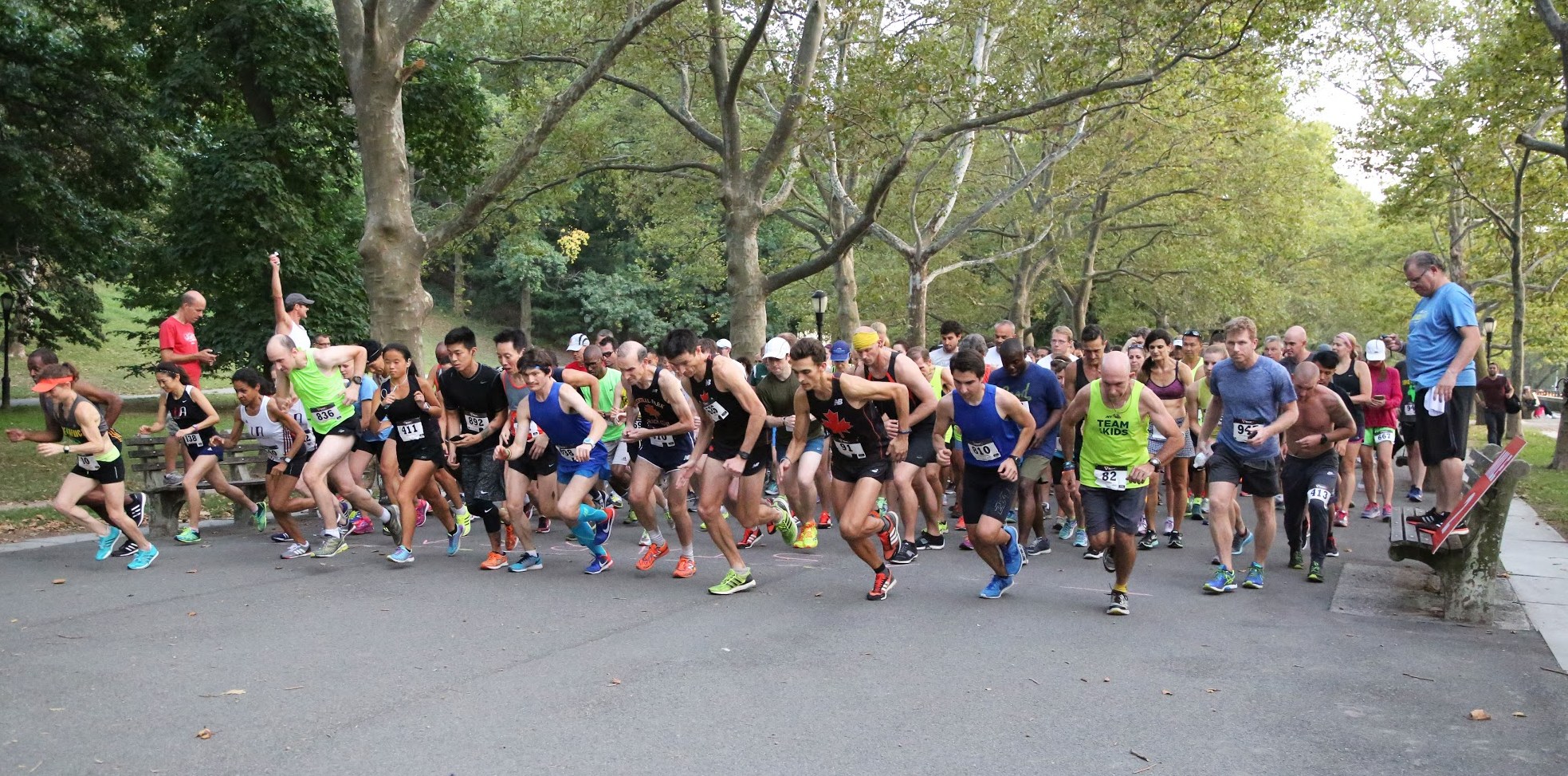 AUGUST 2016
We kicked off our Women's Empowerment Dairy/Farm project on August 03rd, 2016. Many thanks to Michael Chambers and MCJ Amelior for their major (kind) support, and also to Don Favre.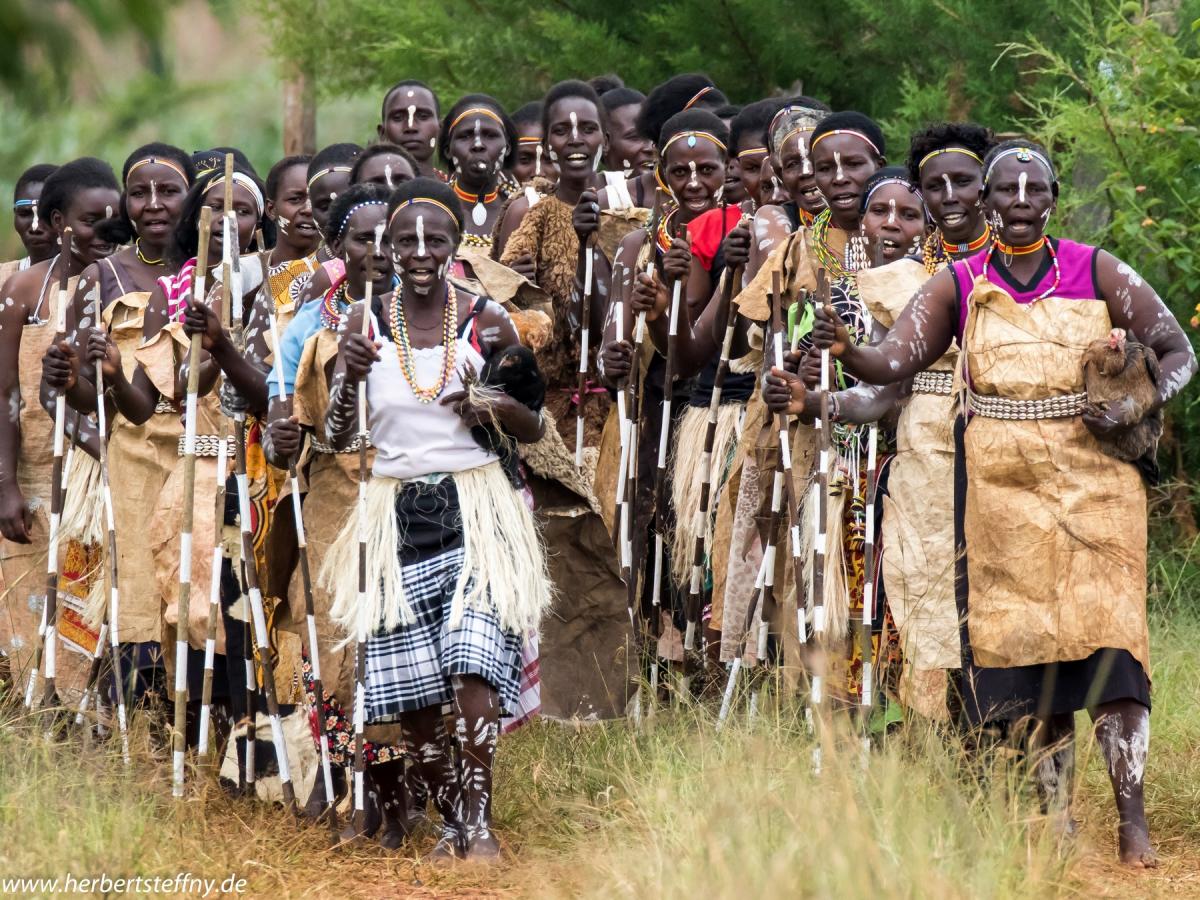 We still have a way to go with the Dairy part but you can see that the "Chicken project" (women here bringing a chicken to the event!) is well on the way. Our VIP guest was Mr. Masika, who has had a long life as a cook, today he enjoys a life of retirement, and was surprised to find himself catapulted into the limelight as the day's star.(photo album)
Thanks to the super organizer Chelimo who pulled together the 45-strong women's group, and also to our visiting group of Germans led by Oliver 'Marakwet' Hoffman and Herbert Steffny (who took the professional looking photos here and was also a world class runner).
Thanks to Mike Wilesmith, who has fund raised for us in the past, for lining up to run the Guernsey Marathon! He's already at the GBR 1200 mark. And he WON the race!
JULY 2016
Welcoming the Shoe4Africa eat+run kitchens (opened July 21st 2016) at the Shoe4Africa Children's Hospital in Eldoret with many thanks to GrandlSchule for helping making this happen. 35% of the Kids admitted to our hospital are coming afflicted with malnutrition problems. If we can address nutrition and give these kids a boost we are really helping them to heal. When a child is weak the medicines have a lesser effect. Michael Kugler came and ran for Shoe4Africa in 2013 and opened his heart to the cause, he started a German chapter. Along with his wife and Urban Bettag they powered along and partnered with a school from Munich, the Grandl, and held an event that saw the kids run to make change in Africa – Dankeshon.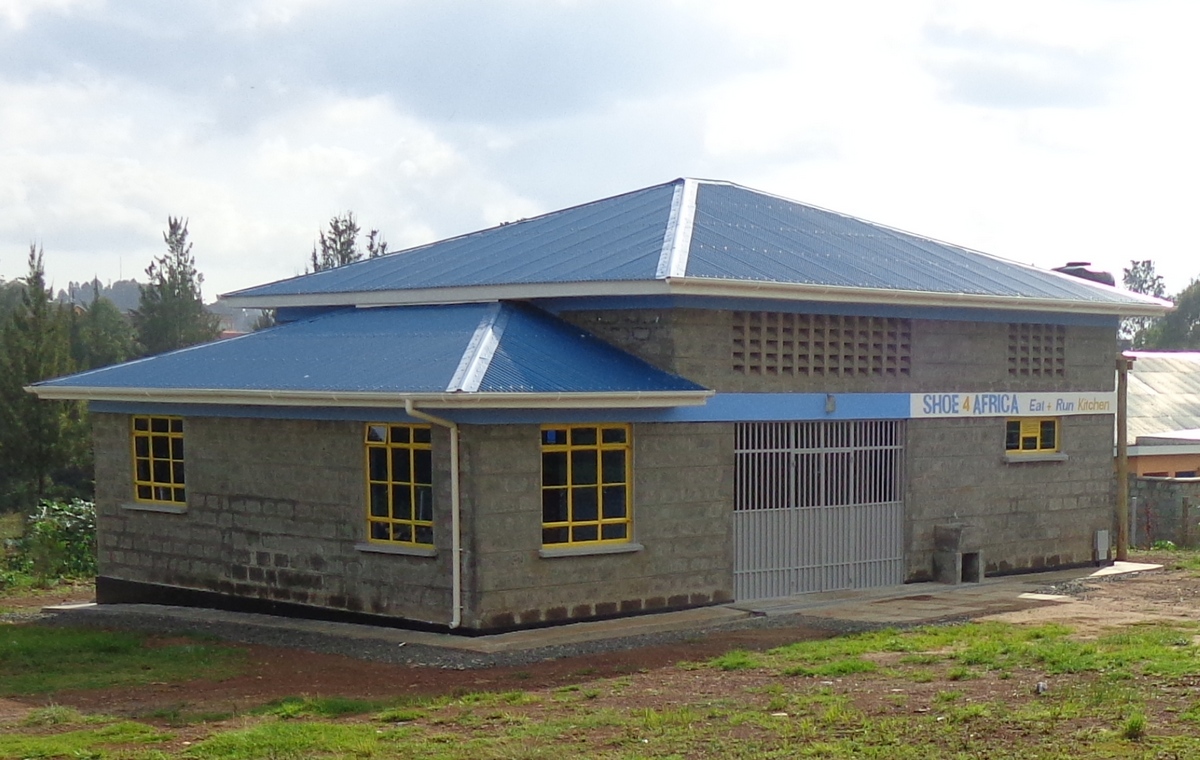 The superb new kitchens, you see here, are a great step forward for Kenya (which other hospital has showers and changing rooms for the staff members?). So we will see the change and we hope to start making a great positive change to the diets of the kids. Thanks to the CEO of the MTRH, Dr. Wilson Aruasa, and World Champion Ben Limo, for opening the building. We had a nice party with the kids from the Hospital who were our VIP's.
Noreen Ryckman, a 2nd grade teacher at Parkside Elementary, Tenino, WA does a Shoe4Africa -Kenya school project to teach the kids about the healthcare situation, Shoe4Africa, and Kenya. We asked her to work this into a package we can offer up to other schools to teach the 'next' generation.
Alexander Sweeney holds a basketball fundraiser at Pacific Palisades district of Los Angeles to raise awareness and funds for us. "Everyone had a good feeling inside as we were doing something to help others." Sixty people came to the event and they raised $1,200 from school friends, the basket ball club, and parents.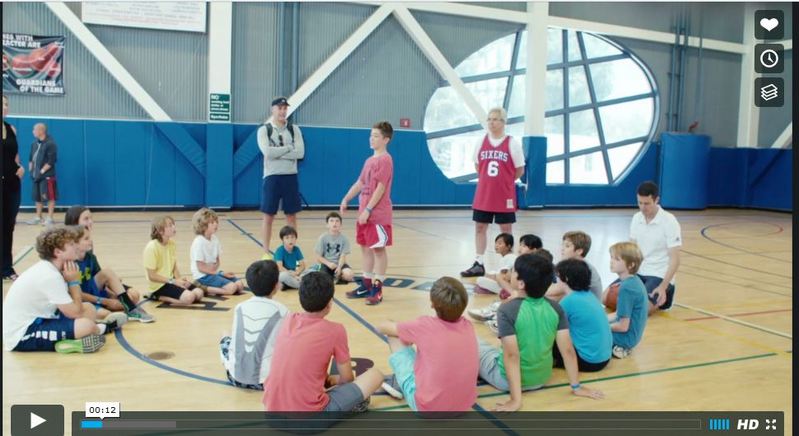 JUNE 2016
Our first 'virtual' race will be on June 19th! You choose the distance, you chose your start time, you choose your pace – we send you your race kit, Shoe4Africa T shirt, and your medal. This race is hosted by www.runningonthewall.com Check them out, and enter to make a difference in Africa.
Thanks to Shoe4Africa Germany for hosting the 2nd Shoe4Africa Germany 5k in Munich. The race was won by Lornah Kiplagat who has been very involved in Shoe4Africa for many, many years. Full report coming soon.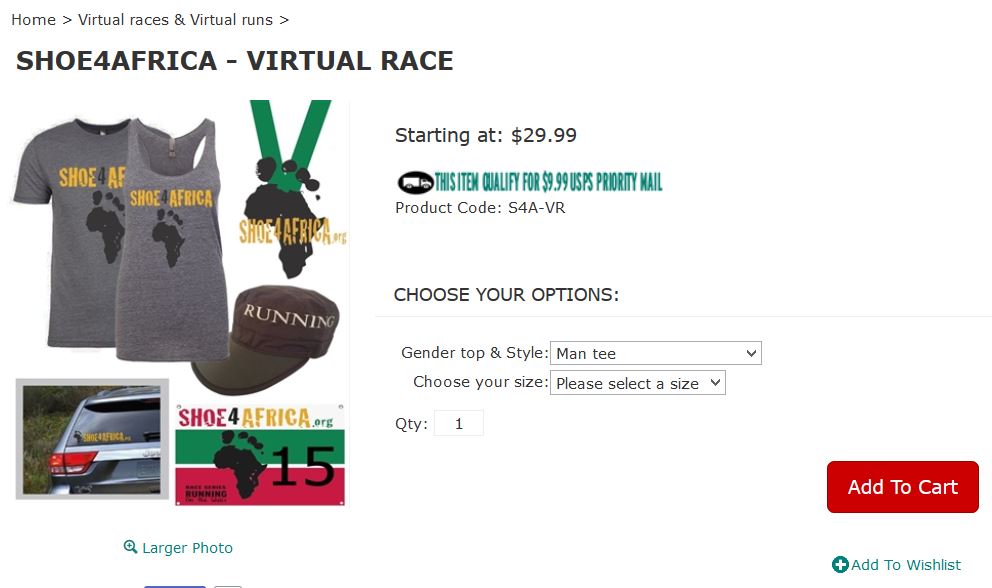 Thanks to Shoe4Africa Germany for hosting the 2nd Shoe4Africa Germany 5k in Munich. The race was won by World Champion Lornah Kiplagat who has been very involved in Shoe4Africa for many, many years. Full report coming soon.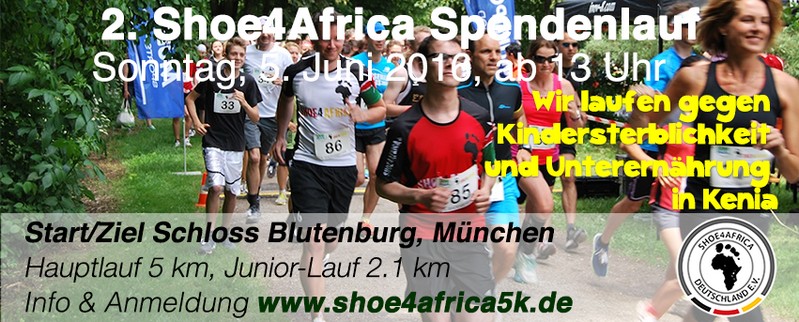 MAY 2016
Aces for Africa was our first journey into the Tennis world. An indoor (sold out) tournament at CityView, NYC Tennis hall was the venue for this electric event. It was a nail bitter as Whitney Tilson & Harel Srugo defeated Ron Sussman & Jonas Mouly in a hard fought final. The standard of tennis, throughout the rounds, was unbelievable with many quality matches.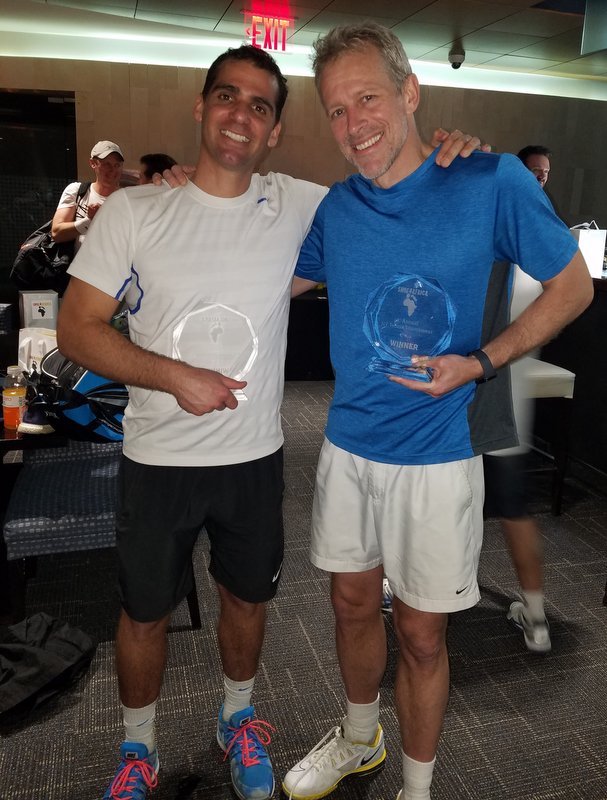 Winners Harel Srugo, who has been on the Israeli Davis Cup team, and Whitney Tilson (who once trained three days before running his first marathon & attacks mud runs on a weekly basis) who upped their games to take the title. Billie Jean King was kind enough to donate some of the first place prizes.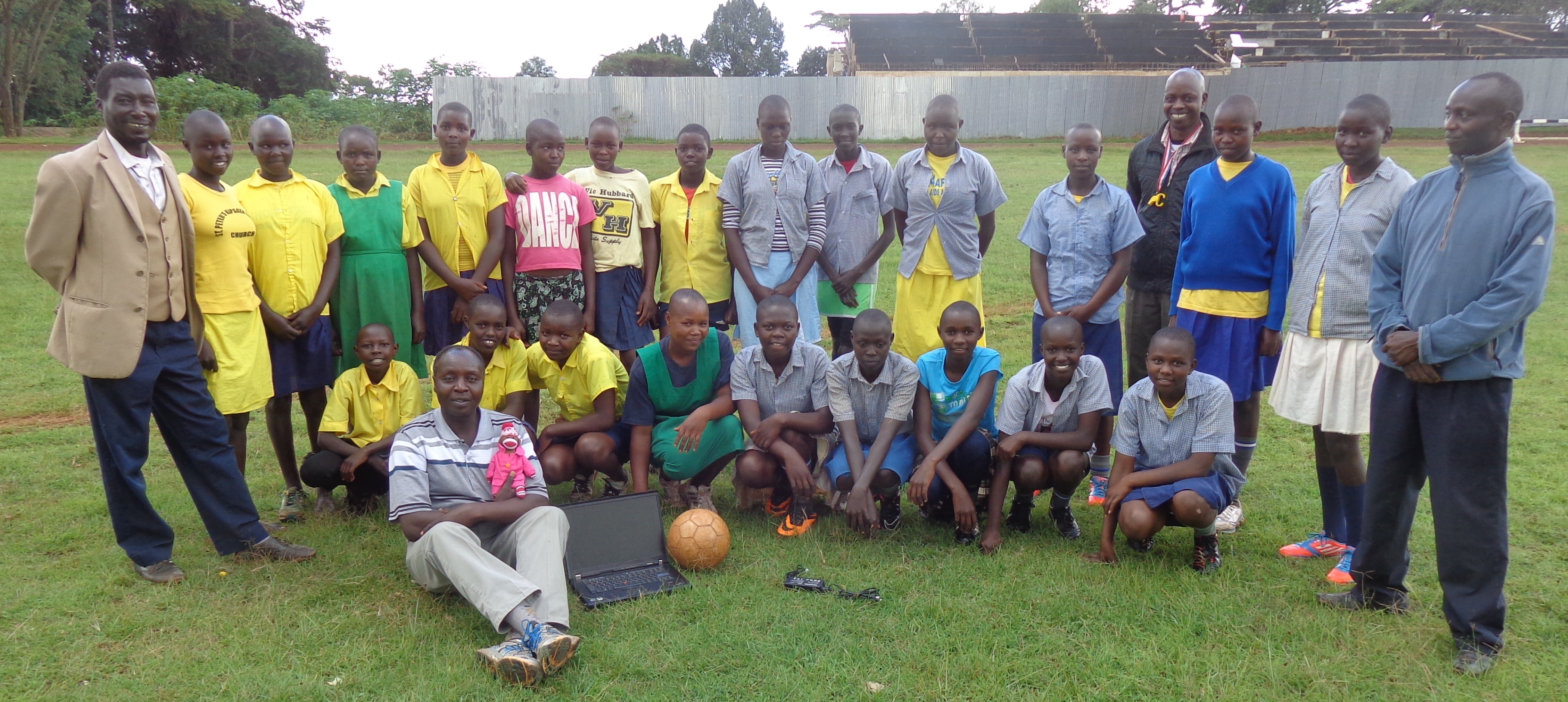 The Shoe4Africa Cup was played at Kamariny Stadium in May; here Kamariny Primary and Kiptingo Primary fight in the finals, with Kiptabus ready to face the winners
It was Shoe4Africa Albino day as we were able to bring more pairs of quality eyewear to help these kids whose eyes really suffer under the scorching of the too hot Equatorial sun. Ambassador World Champion Moses Kiptanui came along to encourage the kids as we came back to the Albino Eldoret School at Illula.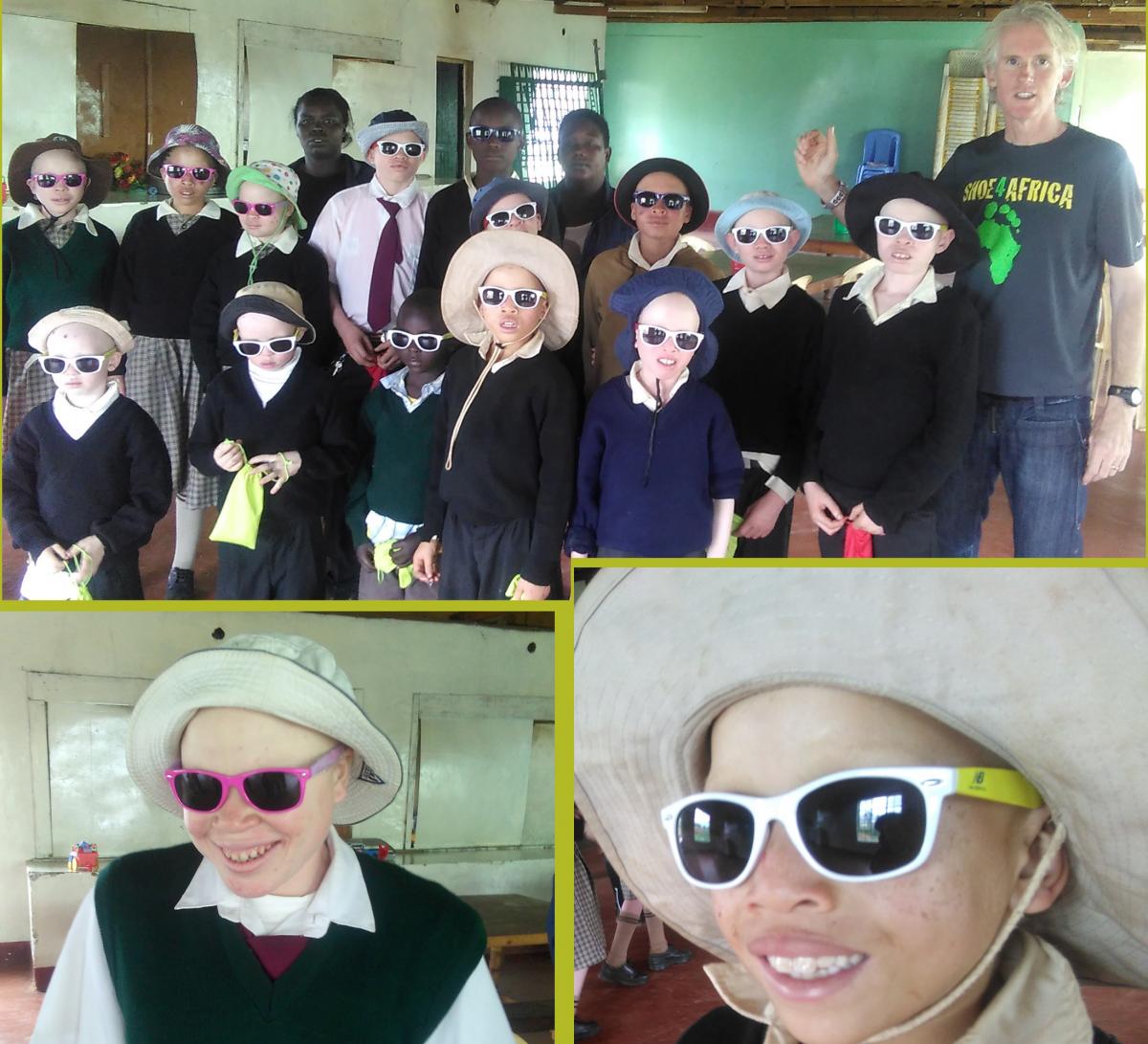 APRIL 2016
We form a partnership with Running on the Wall – an online running store out West in Arizona trying to reach a broader audience. Alex & Melianna used to run in NYC and the friendship has been long. They will host their first virtual race to support Shoe4Africa on Mother's day.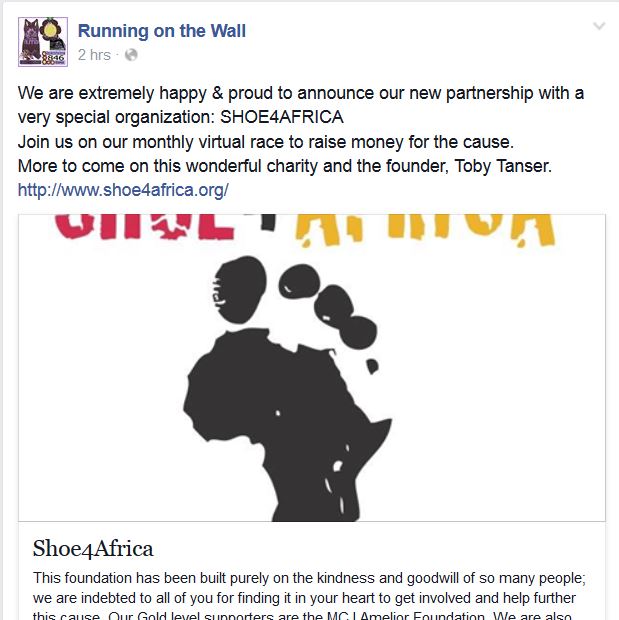 MARCH 2016
Alex Green, one of 23- Shoe4Africa Runners who raised funds for us running the United NYC half team on March 20th!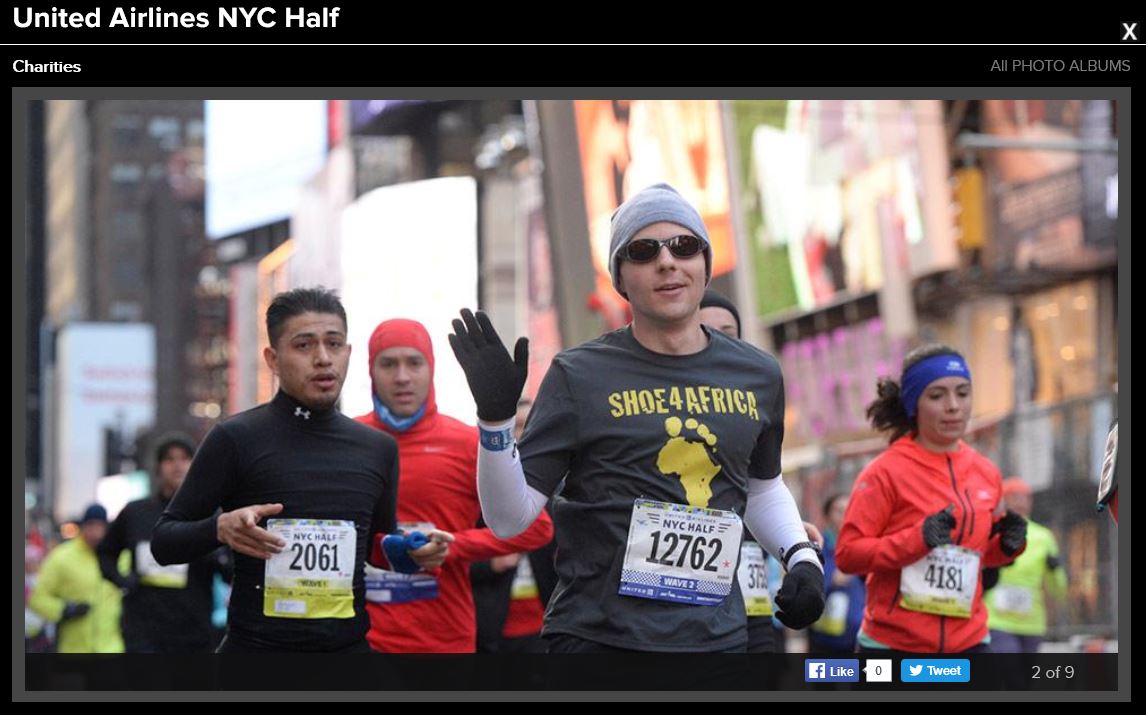 It was a Shoe-healing day at our hospital as Frank, Manuela, Dorien, and Ruben from Belgium brought loads of brand new shoes to gift to our patients. They say Happiness Heals (heels?) and from the looks on the faces of the delighted kids it is true.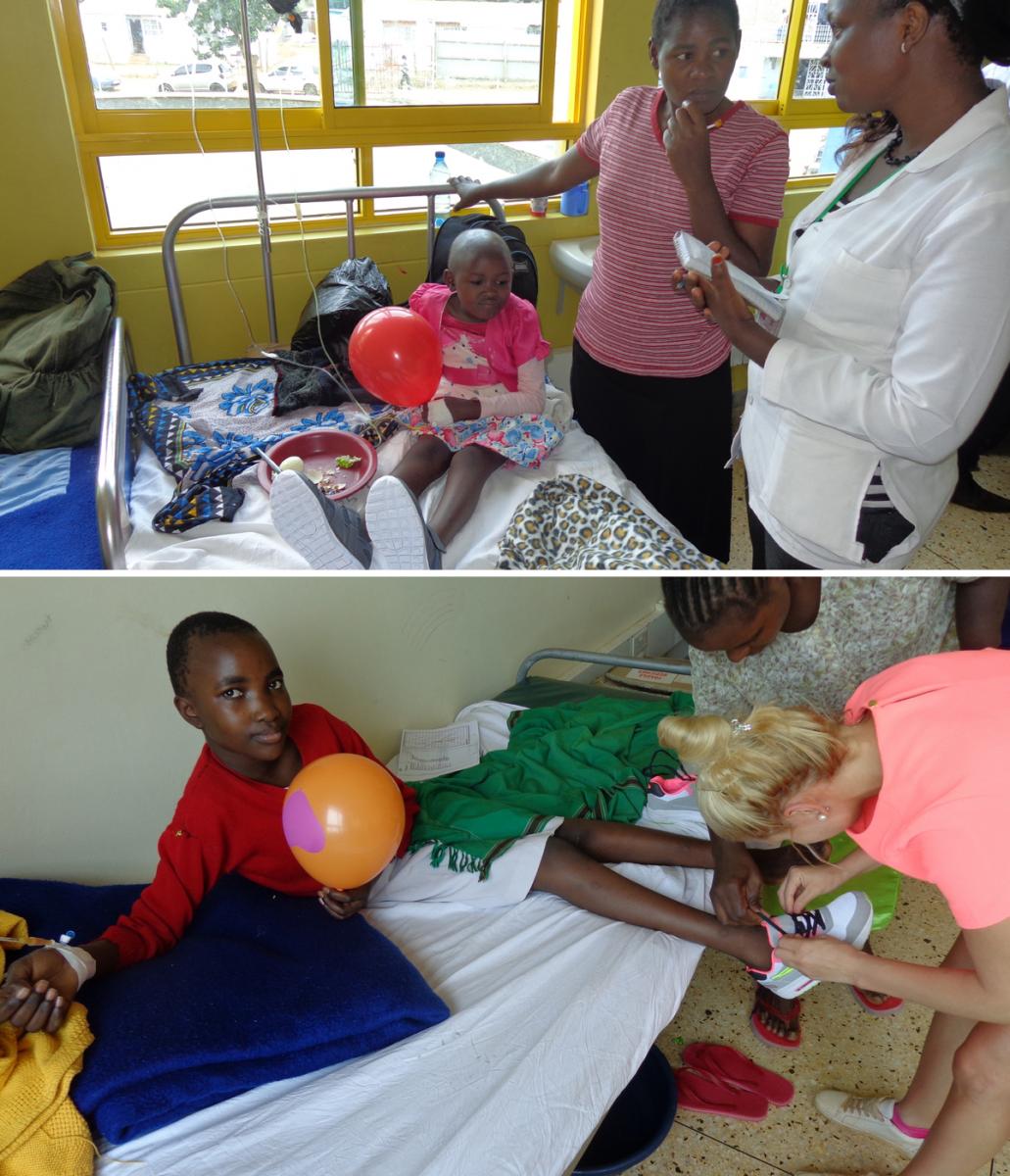 Another Shoe4Africa Scholarship athlete, graduating the Shoe4Africa School and off to high school – Good luck Roda! (below)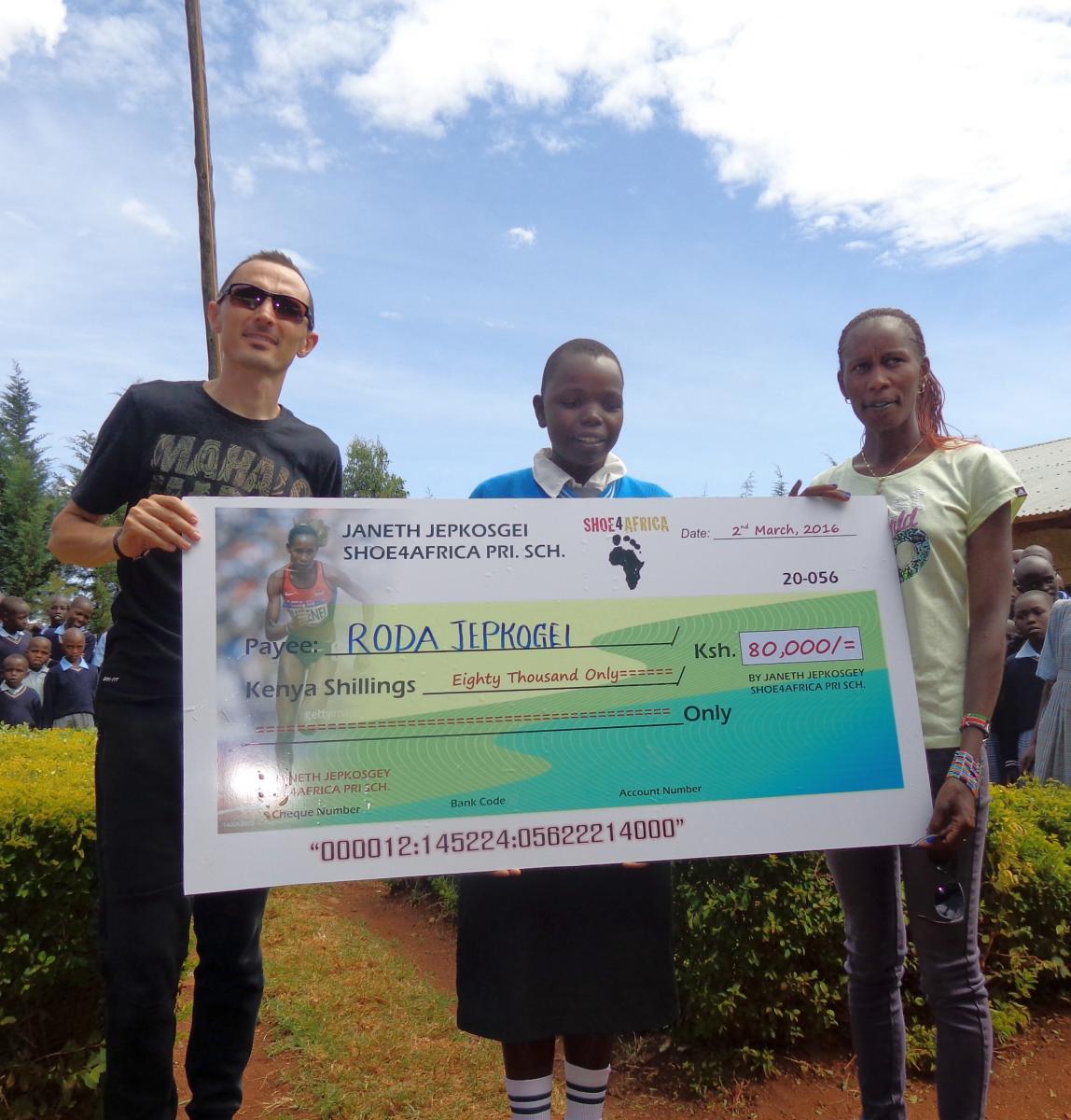 FEBRUARY 2016
Our Italiano 'diretore' Claudio Berardelli continues to do something to help the kids at the Shoe4Africa Janeth Jepkosgei school. Bringing books and scholarships from him and his team of Italians that come and train in Kenya. A big thank you for your continued support on the ground.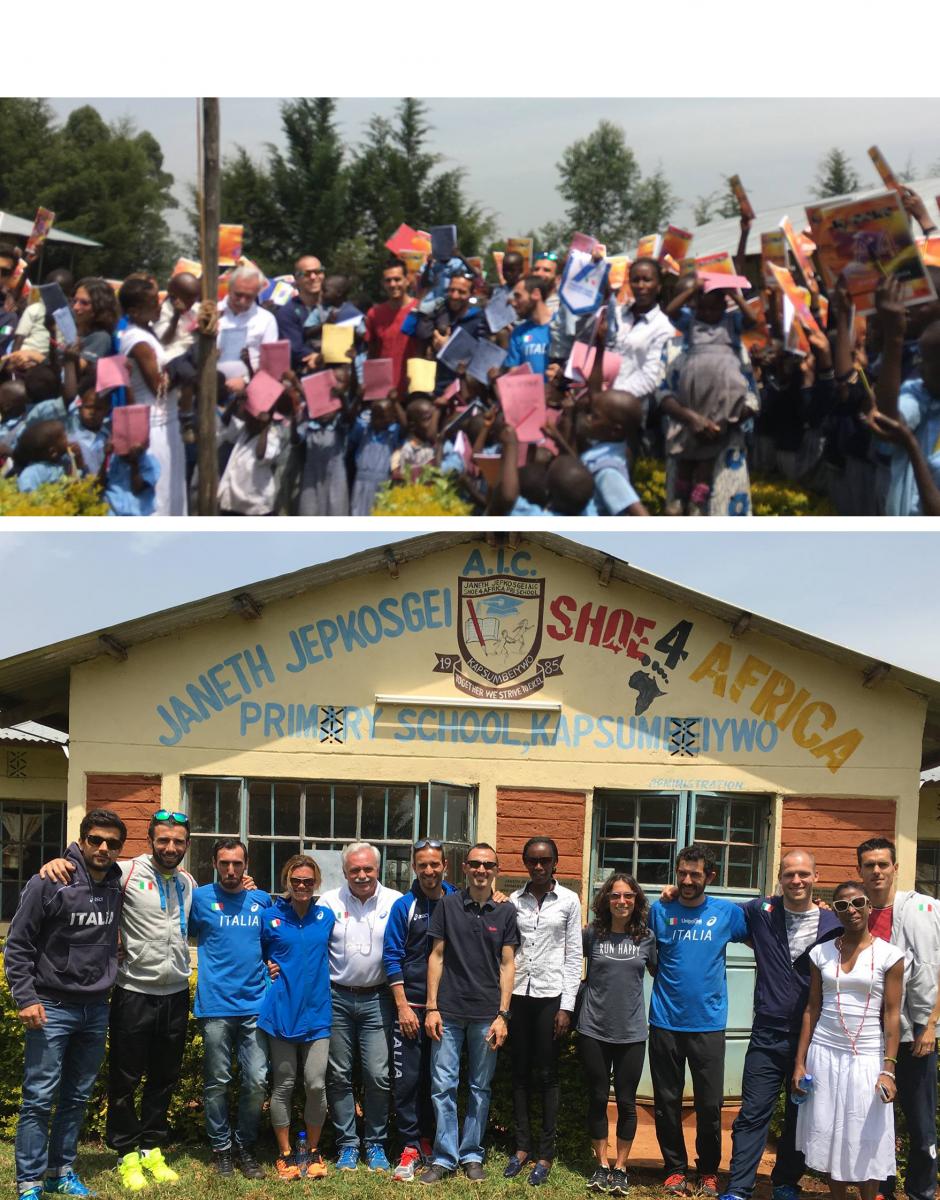 JANUARY 2016
Our year kicked off on a high note with ground breaking on January 7th with the Shoe4Africa Eat & Run Kitchens. Many thanks for the great fund raising efforts of Shoe4Africa Germany who are making this come to… fruition! These kitchens will replace the kitchens that we are currently sharing by using the MTRH kitchens. Approximately 30% of our patients are admitted with malnutritional issues according to the acting director Dr. Wilson Aruasa who spoke at the ground breaking ceremony. The kitchens are 20-meters behind the Shoe4Africa Kids hospital.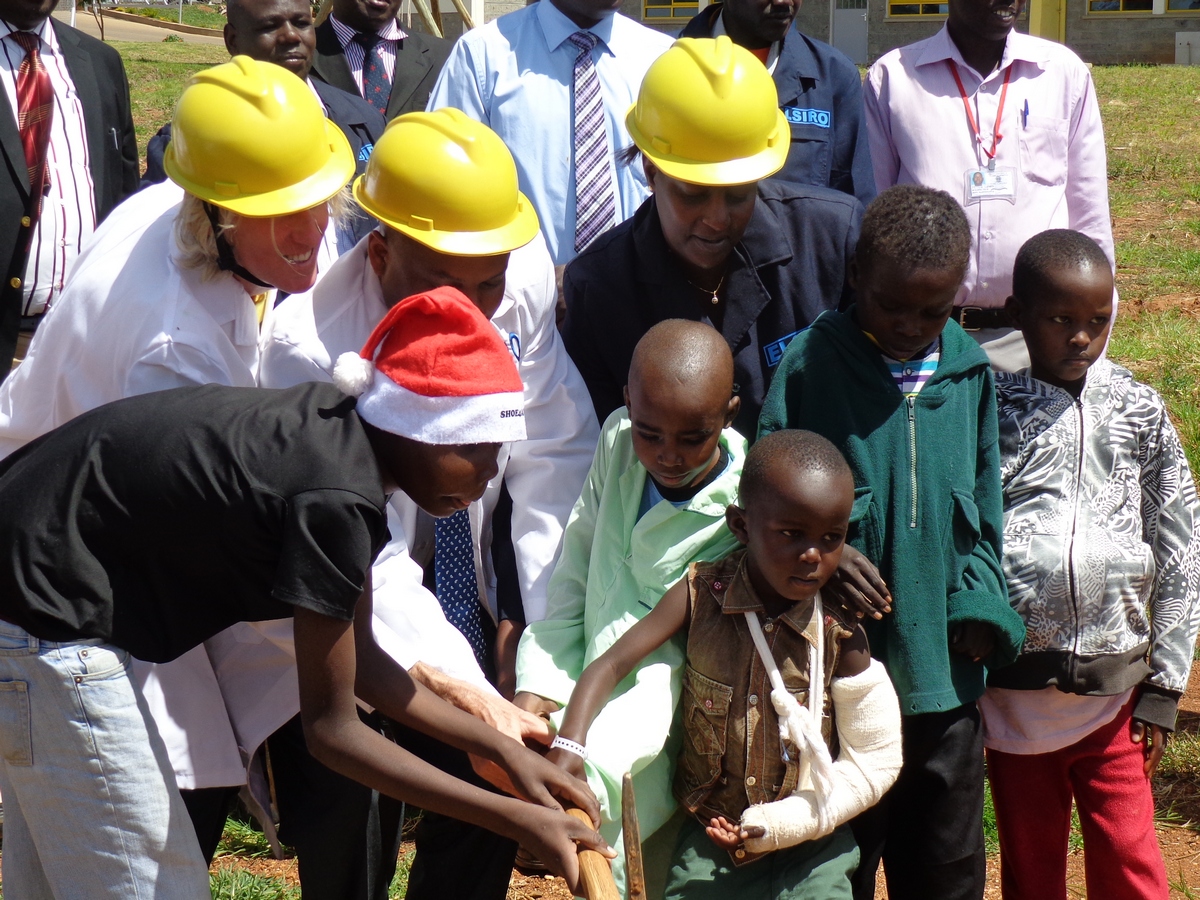 Here are the designs of the said kitchens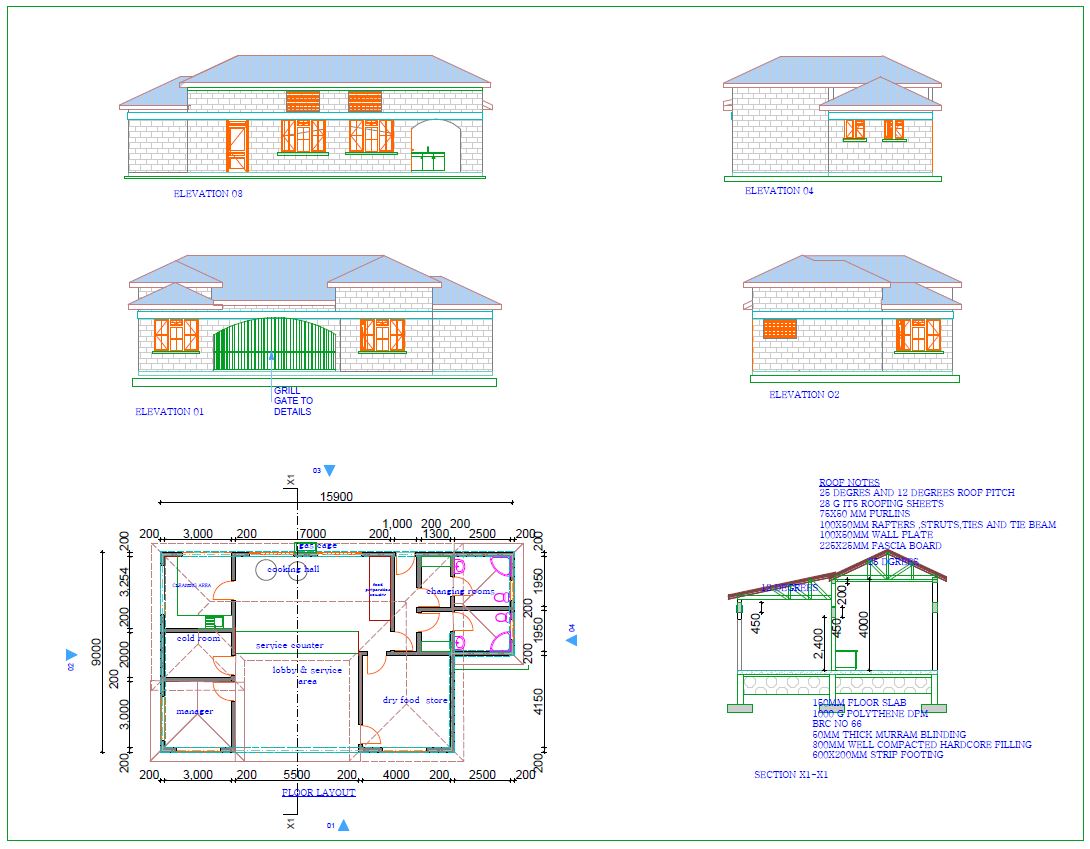 Older history can be found here – link