For news for 2016-2018 click here
DECEMBER 2015
Our first year of having an operating hospital we decided to hold a Christmas Gift/Card drive.  On Christmas day Eliud Kipchoge, the world's top marathoner of 2015, was joined by two time world champion Abel Kirui, former Boston Marathon winner Wesley Korir, 2:04 marathoner Jonathan Maiyo, and a host of enthusiastic foreigners as we toured the Shoe4Africa Hospital with the new MTRH Dr. Wilson Aruasa giving out gifts to the kids. Almost 70 gifts (like the Fire engine below), cake, cards, fruits, milk, tea, sugar, teddy bears and more were given out to some happy kids – Happiness heals! VIDEO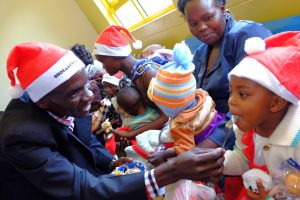 World Champion, and Shoe4Africa Ambassador Eliud Kipchoge starts a Christmas gift giving tradition
The 10th annual Shoe4Africa 5km in Iten on December 24th was a great success. Hundreds of ladies running in a free community fun run. Eunice Chebichii was the first to the line in 16:24 winning 50,000ksh.  After the race hundreds of free shoes were given out to the ladies. World Elite athletes Mary Keitany & Sylvia Kibet were on hand to give out the shoes to the worthy runners.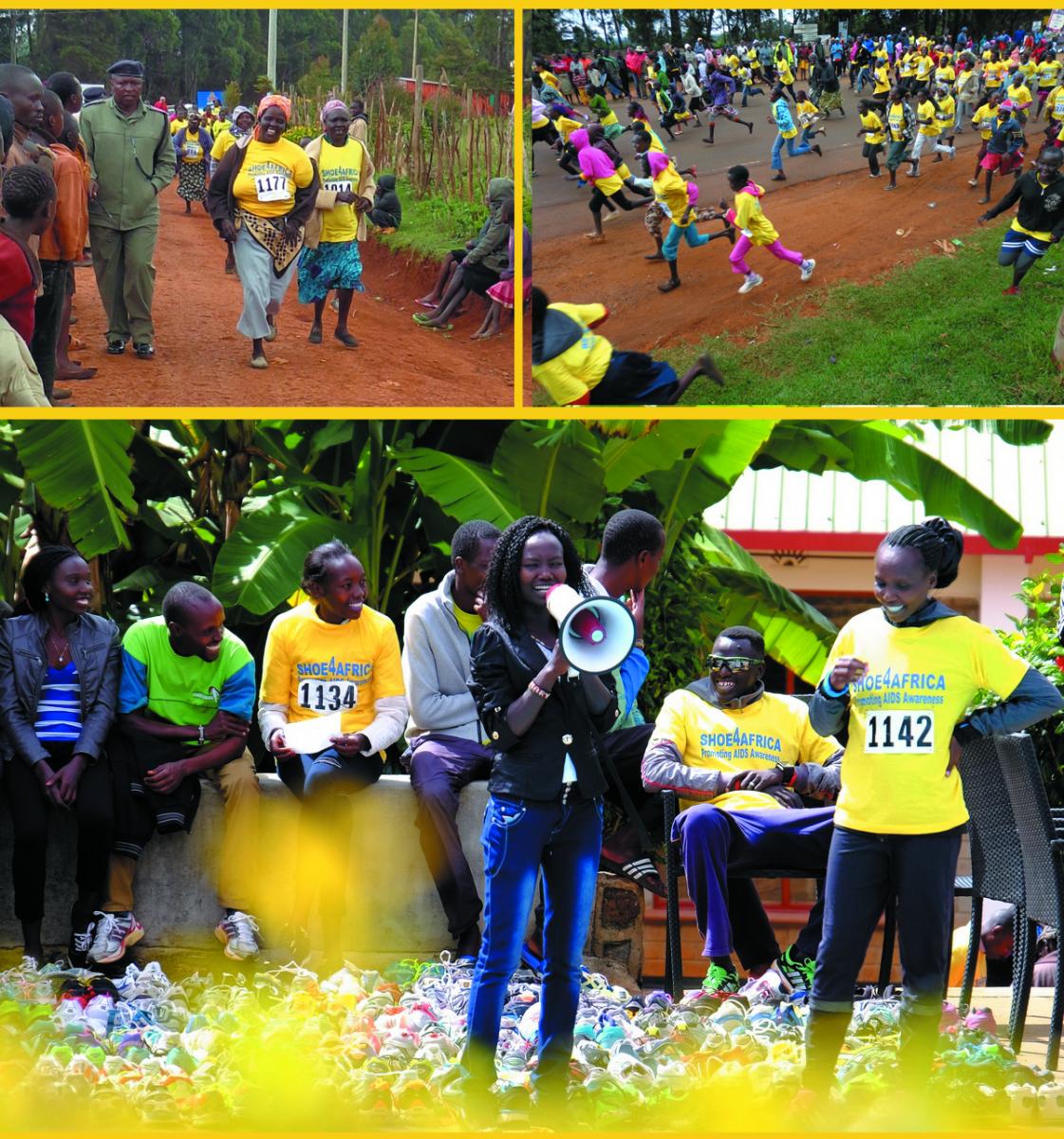 NYC Marathon Champion 2015 Mary Keitany stands in a sea of shoes before handing them out to the community runners.  Sylvia Kibet to her left.
On December 28th we held our Maruge Peace Run close to the village of Burnt Forest.  We had over hundred competitors of local villagers come out for a 2km fun run.  The divisions were highlighted by a Senior's Run to honor the memory of Kimani Maruge.  Recent European Cross Country Champion, Ali Kaya, who was born close by was on hand to inspire the young runners.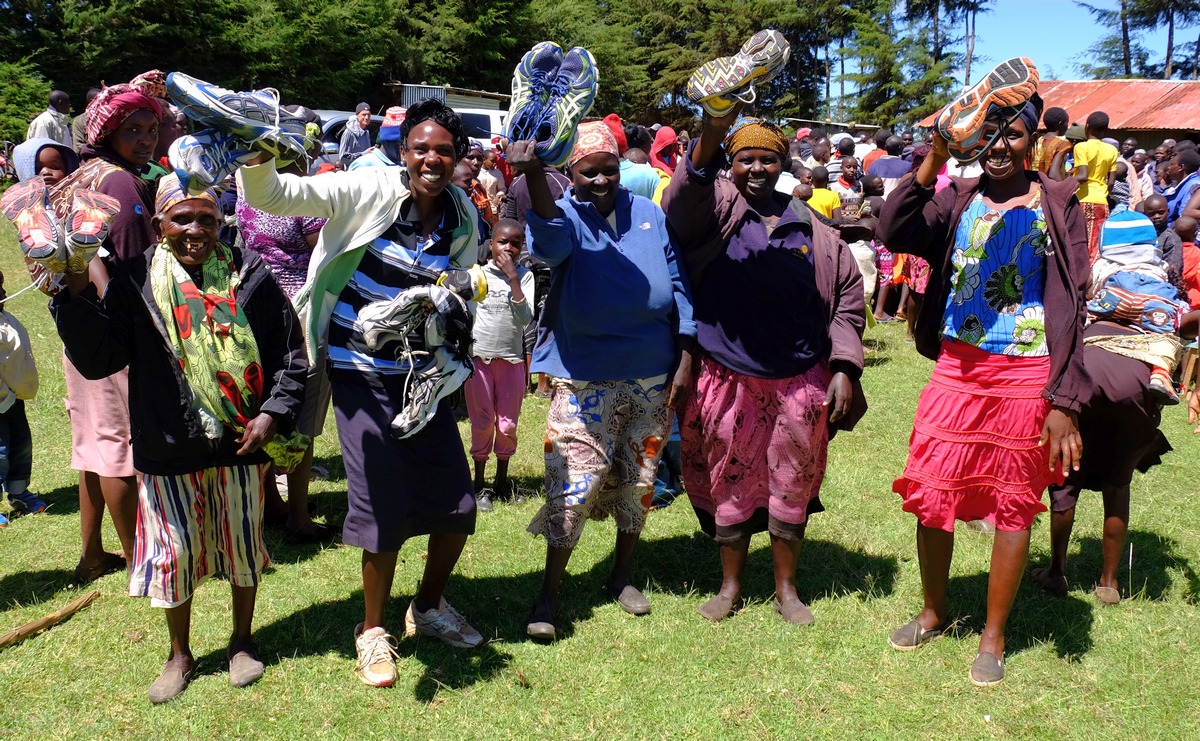 Happy Women, got some shoes at the end of the event.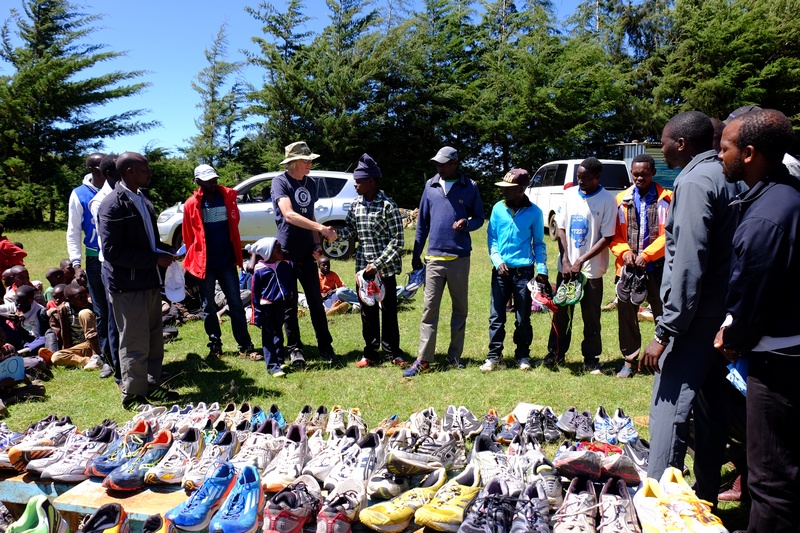 The men's winners, and the entire field received shoes.  This is motivation for the 'new' generation as this area is running rich… but few facilities.
NOVEMBER 2015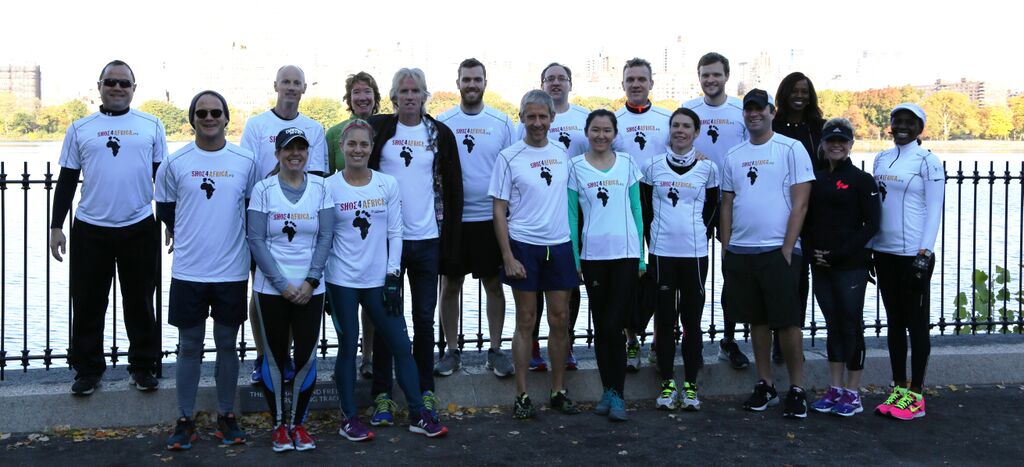 The Shoe4Africa Children's Running Team.
Over Fifty runners ran the TCS NYC Marathon for Team PEPSI LIPTON Shoe4Africa on a beautiful November morning.  Thanks also to Urban Athletics for providing the team breakfast and Woolworth Tower Kitchens for hosting our Run Faster Eat Pasta dinner.
OCTOBER 2015
We got our playground into operation at the hospital.  This 'joy 4 kids' climbing/swinging apparatus was was constructed 'at cost' by Dave Munsie & Linda Rodmanand their team.  It is great that there will be healthy fun activities for the first time for the kids who are well enough to get out there, in our compound at the Hospital, and play!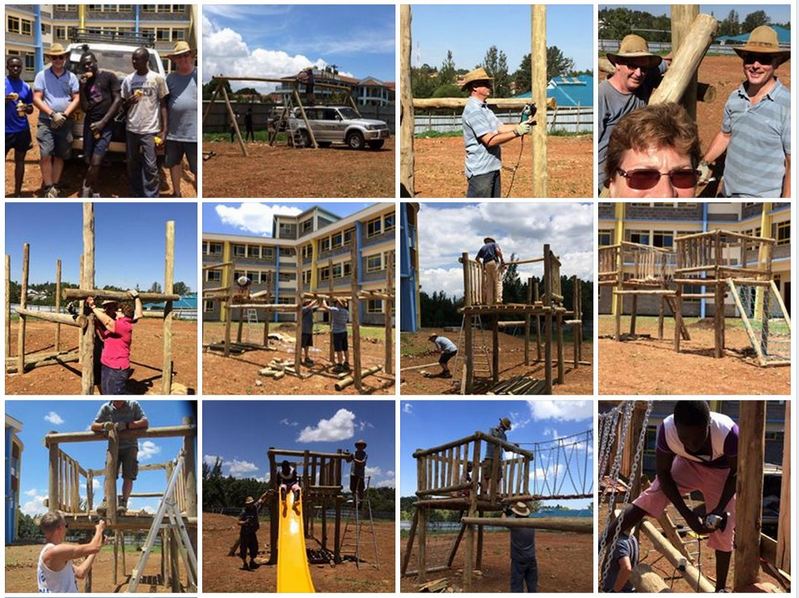 It was our first ever JAZZ 4 Africa – brought to us by Thomas & Micha over in Antwerp, Belgium!  We are honored and love to have music projects helping raise funds for Africa.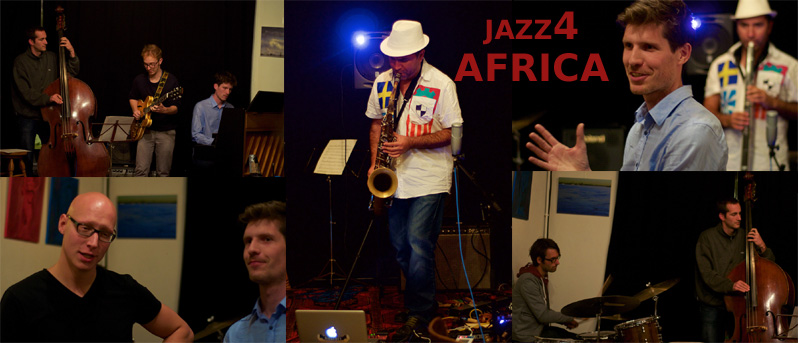 SEPTEMBER 2015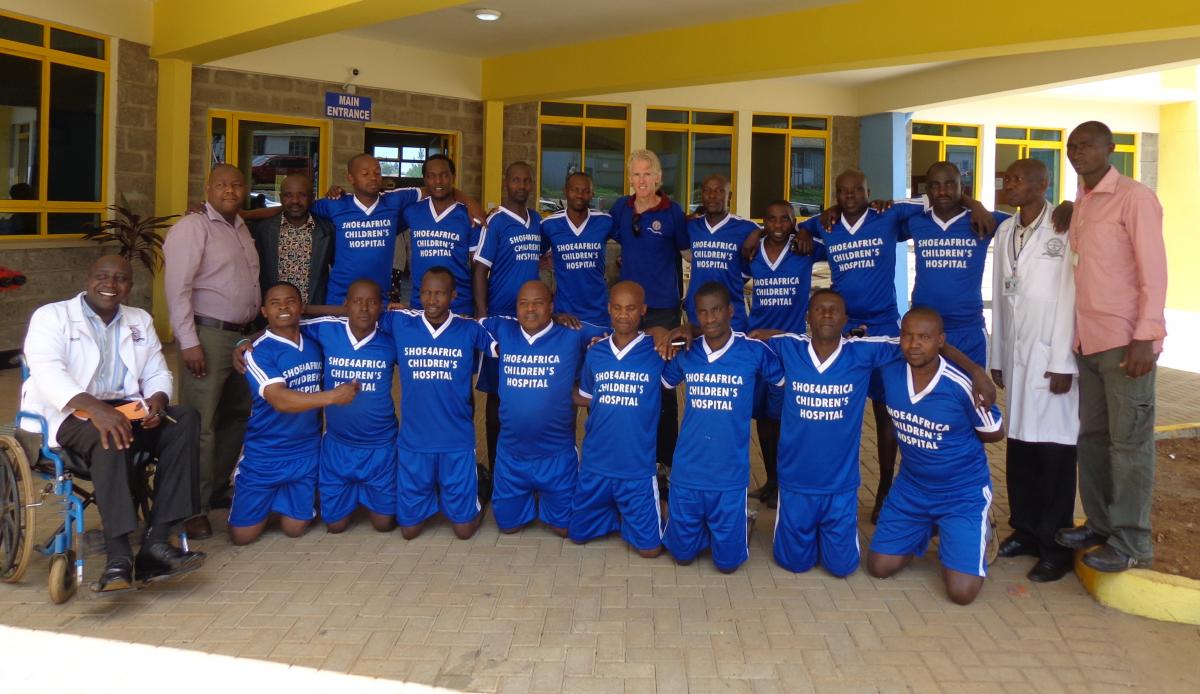 The Shoe4Africa Children's Hospital Team.
With the hospital now open we continue to look for more funds to improve the hospital, add more equipment, add signs (no signage yet), build the playground and a million other things… and promote sports hence meet the Shoe4Africa football team.  And yes, we need boots!
AUGUST 2015
On August the 12th we opened East & Central Africa's first ever public children's hospital.  A 105-bed capacity building that will function as a teaching hospital partnering with Moi University.  The 'dream' project began on March 17th 2008 in a planning stage. With no staff the fund raising, learning, studying, planning, team building took quite some time.  On December 31st, 2012 we signed the documents with the Kenyan Government, and on July 7th, 2013, the construction started.  The foundation stone was lain on August 21st, 2013, and the building was completed on July 6th, 2015.  On August the 12th we started treating patients.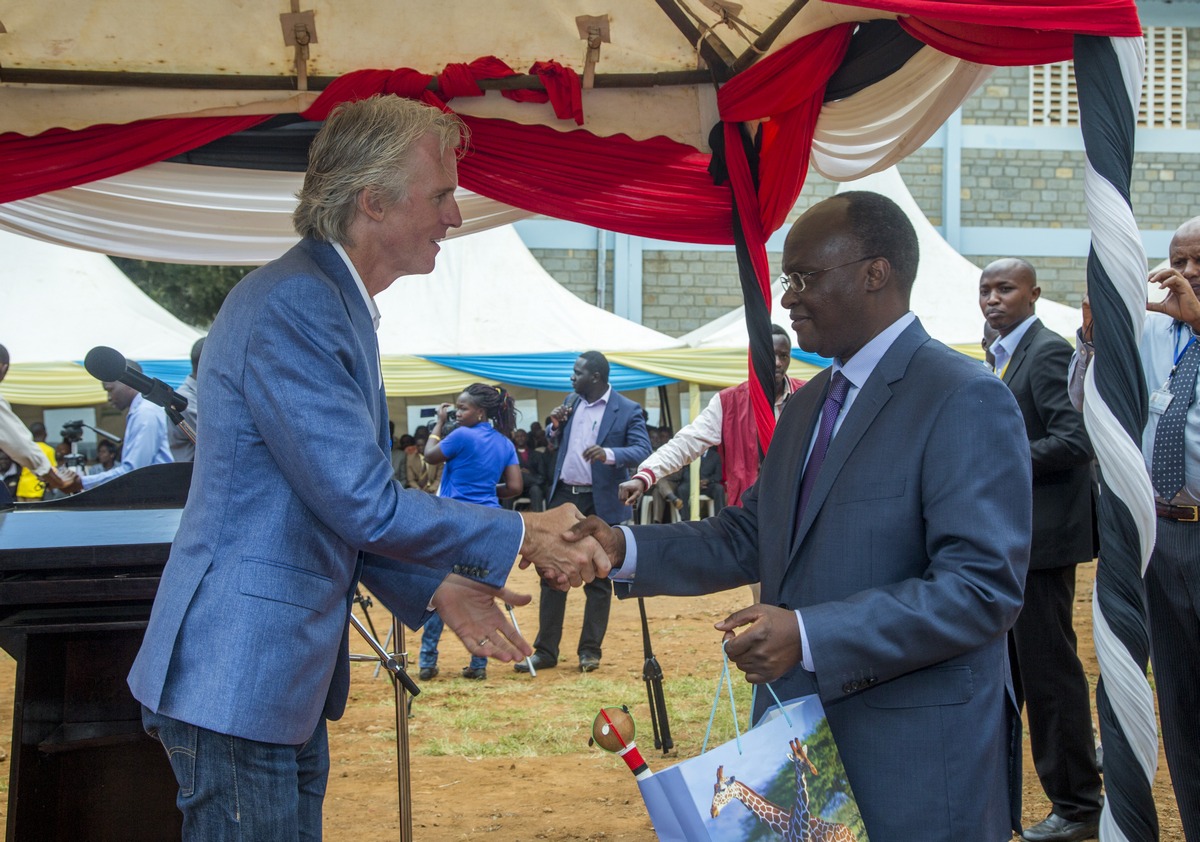 Toby Tanser hands over the building to Kenya. The Hon. James Macharia, Kenya's Minister of Health at the official handover.
JULY 2015
Very happy to announce our sponsor for the marathon team this year!  Their motto is 'Be More Tea' and I want to thank PepsiLipton for stepping up.  We are proud to represent such a great global brand.  Coincidentally a major tea farm for this company is just two hours drive away from the Shoe4Africa Children's Hospital.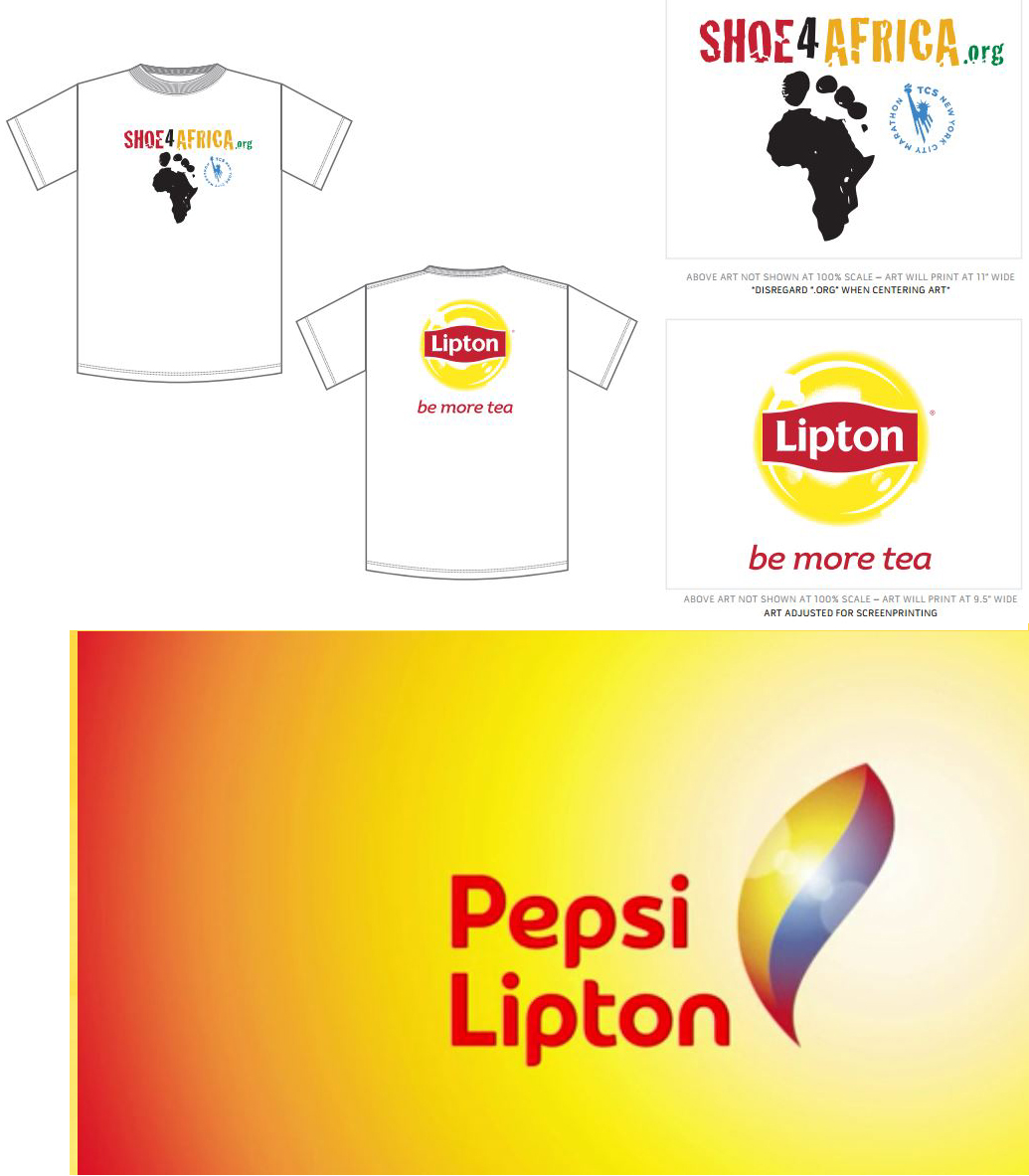 JUNE 2015
Possibly our biggest month in terms with the newly founded Shoe4Africa Children's Hospital being officially written into the Kenyan Government's budget to help with equipping!  Outstanding and the result of years work.
Further we were delighted under the direction of Shoe4Africa Germany that on the 14th of June there was a Shoe4Africa 5k at Blutenberg castle, Munich.  Many thanks to race directors Michael Kugler & Urban Bettag.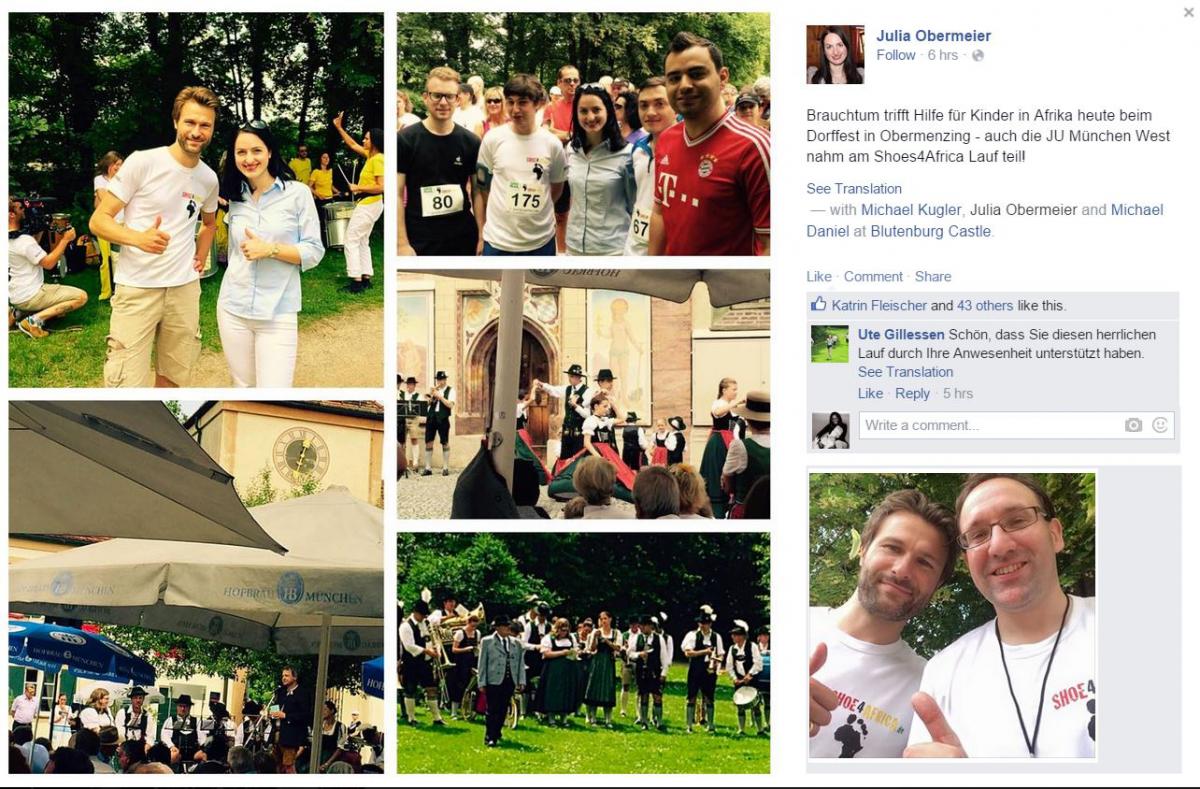 MAY 2015
Hiring begins and I get this great message;  Hi Toby! Hope you are okay. I have successfully completed my internship at Moi Teaching and Referral Hospital. Guess what, ….I was deployed to the sick child clinic. I will be privileged to be among the pioneering health workers in the shoe for Africa children's hospital. I look forward to it my friend with abated breath. Thanks again for this well thought gift.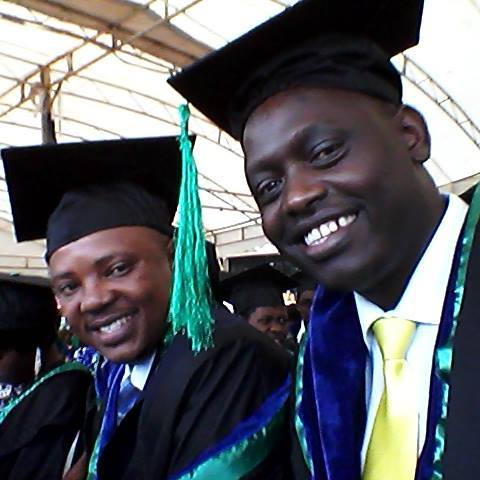 Inspired by others?  One morning I received a phone call from Assistant Army Instructor Stormey Gillens who teaches at the Hannah-Pamplico HS serving many disadvantaged kids from a socially economic standpoint… BUT, they wanted to help!  "We may not be able to raise a ton of money but we want to make a difference!"  Wow, I was inspired.  And here is part one of the help – uniforms to kids in Kamariny primary school… more to come!  Thanks Stormey, Toby Roy of the JROTCprogram, Ms. Arelene Graham, Coach Solomon Williamson of FBLA, and Mr. Douglas Walker to making this happen.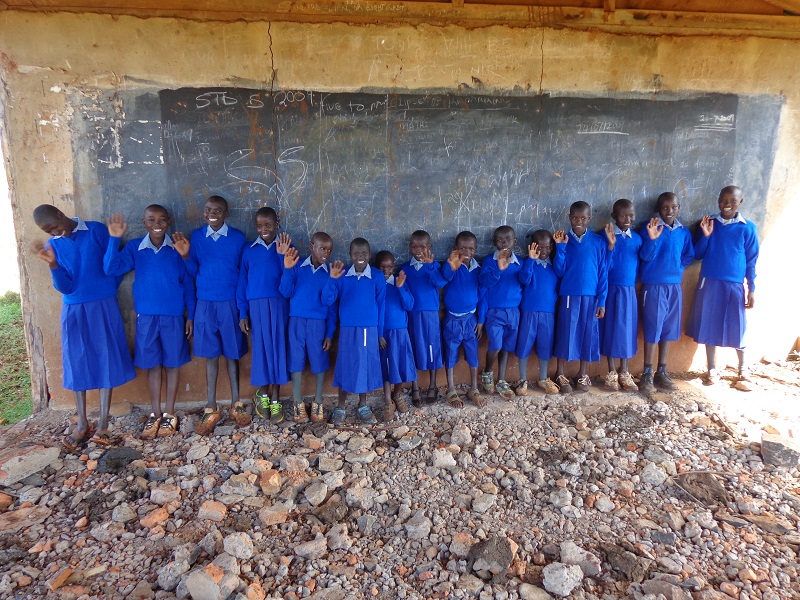 The kids of Kamariny primary kitted out in brand new school uniforms
APRIL 2015
Those awesome TEAM U runners were out again, at the Princeton Unite Half in April.  Team U boss, Joe B., told me there were 55-60 runners out there running to raise funds for Shoe4Africa bringing in a much appreciated $1670 – thanks so much!  Great long time support from a bunch of great people.  Thanks to team captain Ashley Wang.
MARCH 2015
At the NYC Half marathon we had a nice team fund raising for us – thanks so much!  On a blustery not-quite spring day there was nothing but smiles as we caught our hero's zipping by.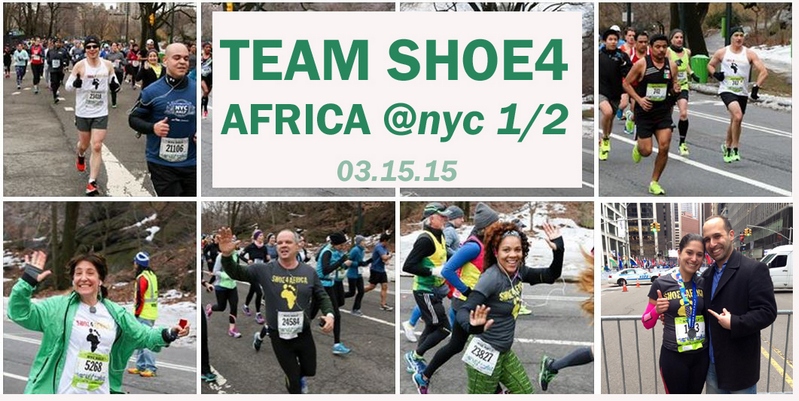 Meanwhile, over in Kenya, our sponsor girls – Edina & Sharline both run their County Championships – Edina wins in Nandi, and Sharline wins in Baringo!
FEBRUARY 2015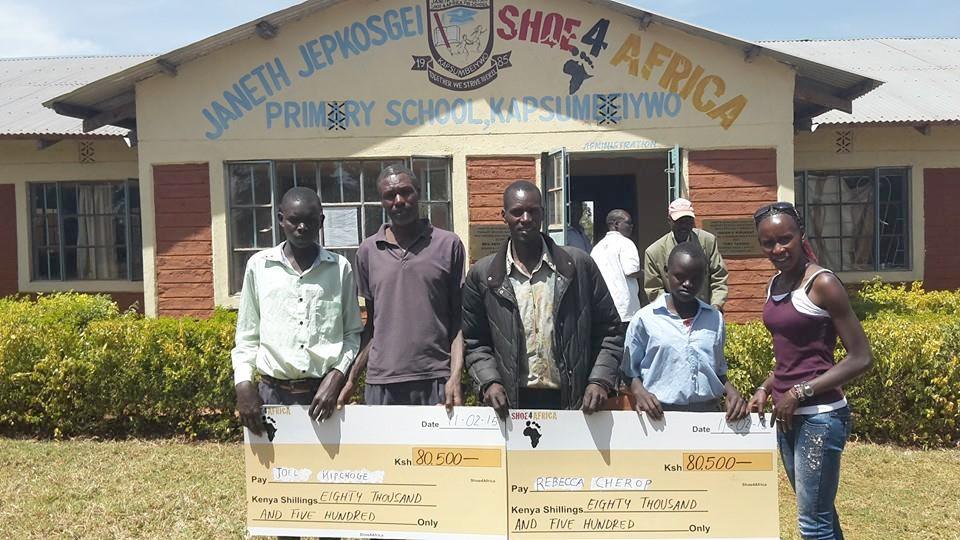 Meet Joel Kipchoge and Rebecca Cherop, they are graduating from the Janeth Jepkosgei Shoe4Africa primary school and needed a way to get to secondary school.  Enter Claudio Berardelli, a good Italian friend – he coaches 24/7 in Kenya, yet when he goes home to Italy over Christmas he bugs his friends and raises money to help… Joel & Rebecca.  World Champion Janeth stands to our right.  And… another girl, Melvine Katonde joins our stable as the latest sponsor child.
Meanwhile in NYC a team of Runners from YALE university team U run the Central Park Half for us!  Thanks guys.
JANUARY 2015
Welcoming Sharline Kosgei who joins Shoe4Africa for a four year scholarship as of this month.  Sharline, like Edina and Mercy Kiprop, are all on the Brother Colmtraining camp having shown excellence in athletics and a commitment to learn and study.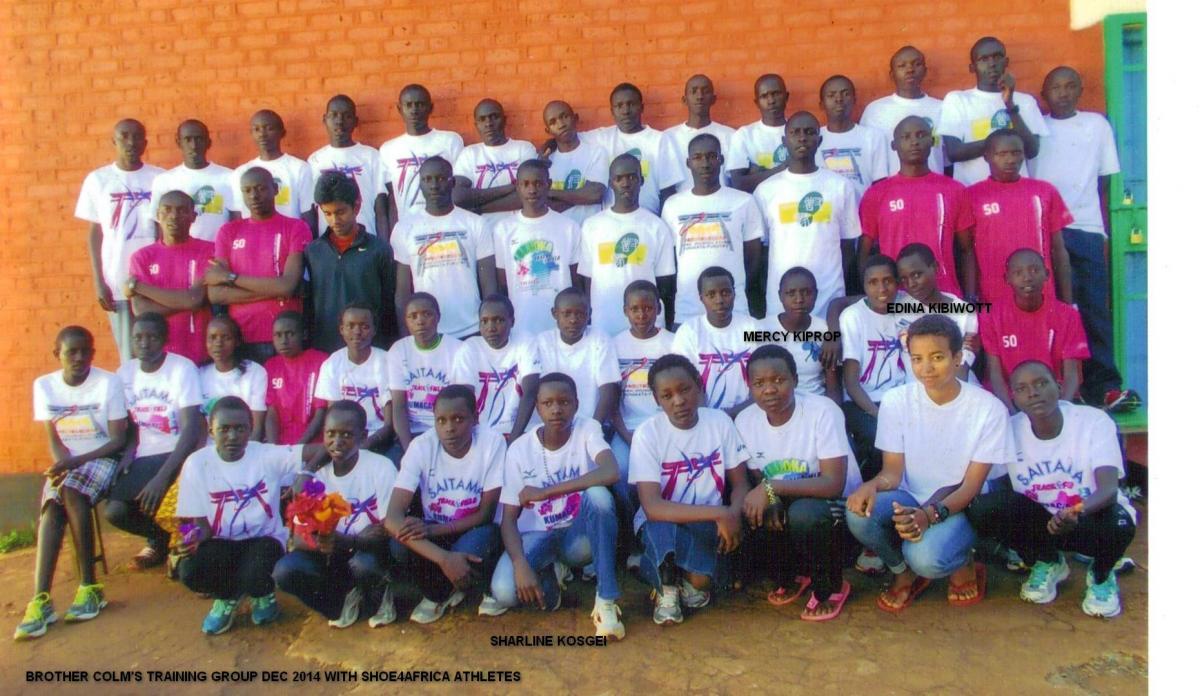 DECEMBER 2014
On the 16th of this month we officially opened the Shoe4Africa Sally Kipyego school in Kaptiony.  To celebrate we held two races for the Old Age Pensioners of the village – in the over 60's categories we had 29 ladies and 40 men finishers.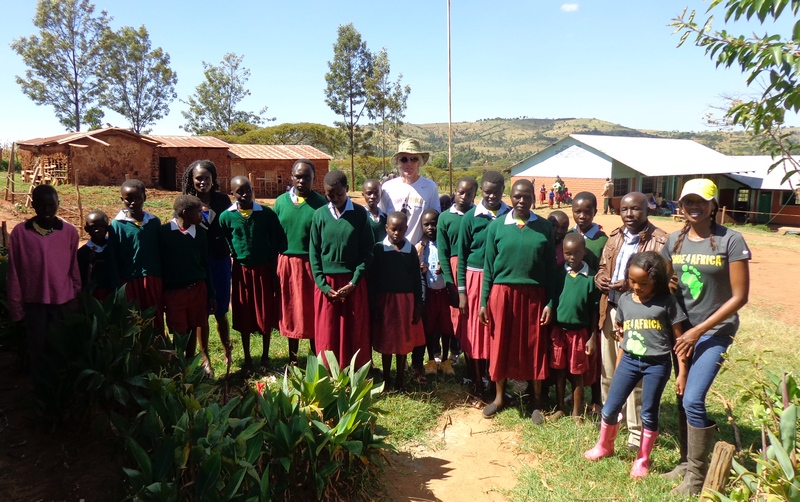 To the left you see the old school – to the RIGHT you see the new one!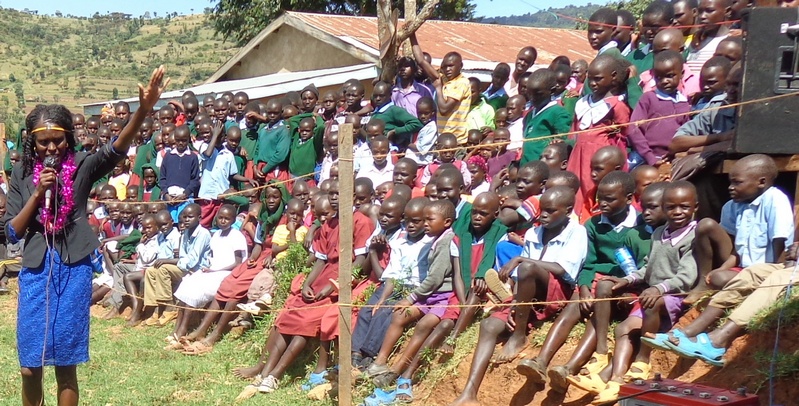 Sally talks to the kids to inspire them to study hard and partake in sports.
Shoe4Africa also took on two new students, Lydia Akaran and Edna Kibiwott for scholarships.  The latter we met at Brother Colm's camp.  This year we supported the camp with a donation of 50 shoes.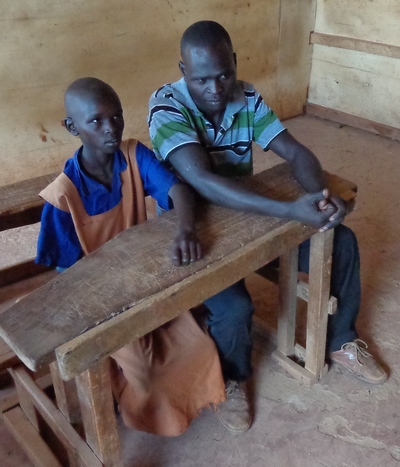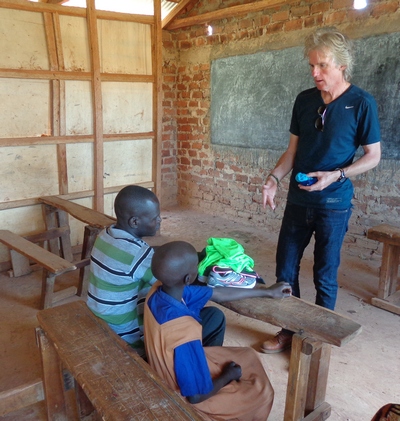 Lydia and her father listen to the news that she will be getting support athletically and academically.
Next up was the 9th Shoe4Africa Women's race where we gave out another 800 pairs of shoes with over 900 finishers.  Selah Jepleting was the quickest to the line in 16:43 on this tough hilly cross country run.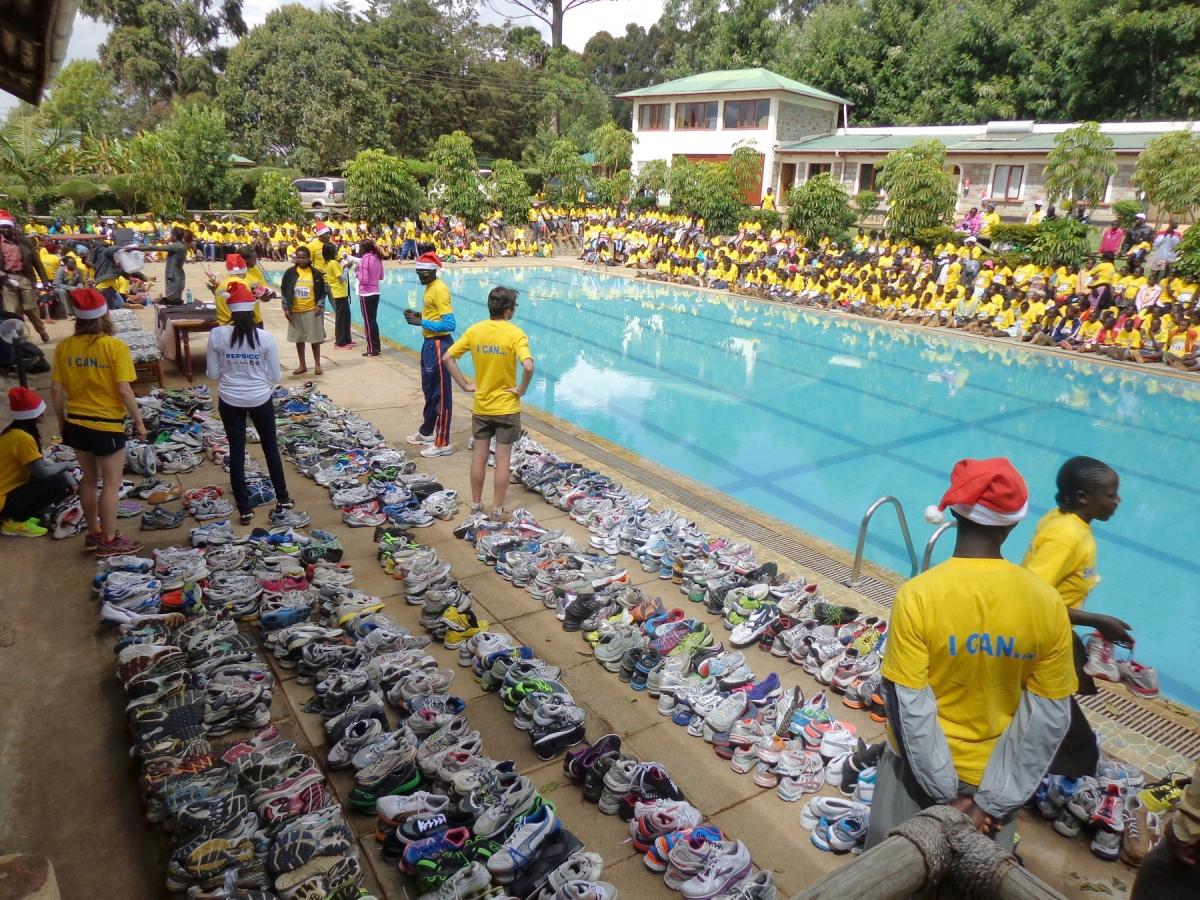 NOVEMBER 2014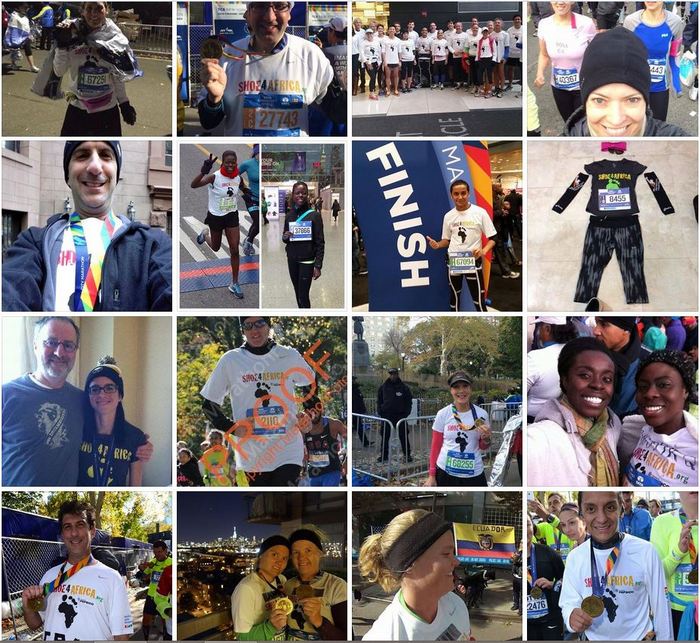 This year we had 64-runners, incidentally that was Eldoret's original name by the British "64", for the TCS NYC marathon.  Our biggest ever team with people from all over the world – we had a great team breakfast at the Landmarc restaurant & dinner together at the Woolworth building tower before we ran the next day – our runners did us proud.  Thanks team '14
OCTOBER 2014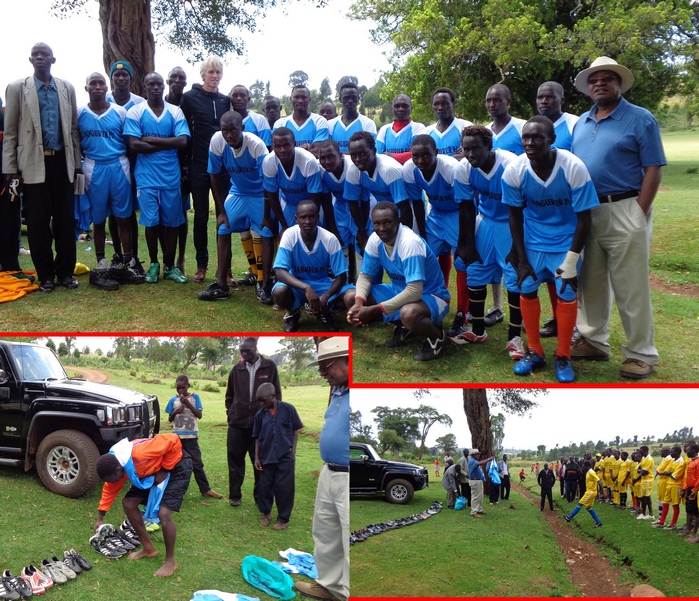 Supporting Sangurur Football Club – we donated football boots to all team members, and Dr. Kibosia donated the uniforms.  Dr. Kibosia is the director of the MoiReferral Teaching Hospital and will of course also be the Director of the new S4A Children's hospital.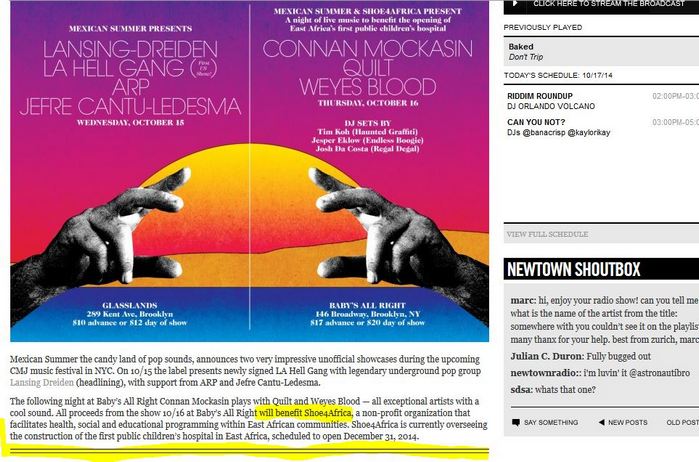 Thanks to Mexican Summer for hosting a benefit rock concert over in Brooklyn, NYC for Shoe4Africa.  Keith Abrahamsson helped pull this together and he ran for our marathon team last year.  His year his wife Kate is on our team.
SEPTEMBER

Many thanks to Pepsico for again supporting Shoe4Africa, now three years sponsorship.  We are honored!  This year our team is 63 runners strong.
AUGUST 2014
The roof is on! One year after ground breaking… okay, a bad picture to 'show' the roof, but it is there.  Amazing progress in a short time.

We hold an event in Eldoret, at Bomas Hotel. $70,000 dollars is raised in pledges.  Although over a month later only $24,000 has been collected. Rather disappointing.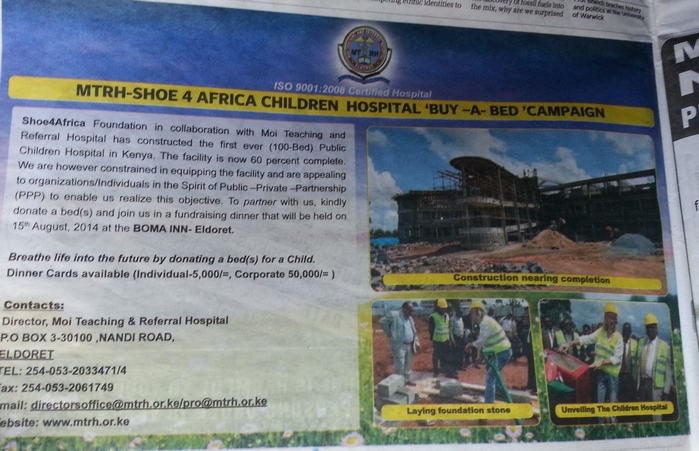 JULY 2014
There might be stars in Germany!  A rock concert with Shoe4Africa as the beneficiary.  Thanks to Katrin Fleischer for making this happen.

JUNE 2014
It's about giving opportunity.  Think of a small farming village, very little opportunity, day in/day out routine.  The gift of running is precious.  The eyes of these old men (all 65+ years) came alive and each entrant was rewarded with running shoes.  The smiles of the children, and the spouses, was priceless.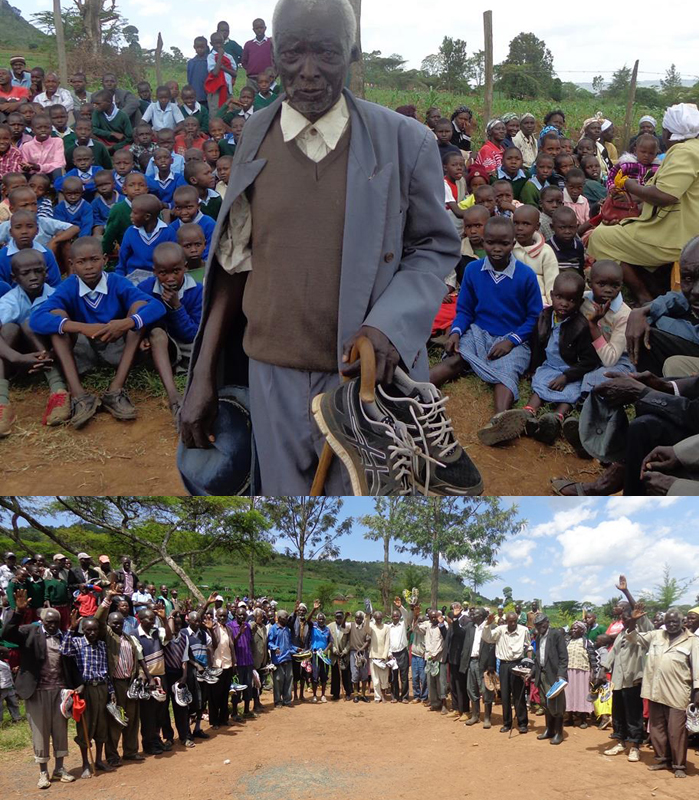 MAY 2014
Sports remains a driving force for us and we held a running race to identify talent at Kibuswa, Trans-Nzoi.  We are starting a small running club at a site that will possibly host our next public school building project.  Lydia Akaran won the girls race, and James Losuru won the boys race.  All the runners in the top twenty will be invited to take part in a special running camp in December to help bring families out of poverty.  The athletes will also take part in education classes.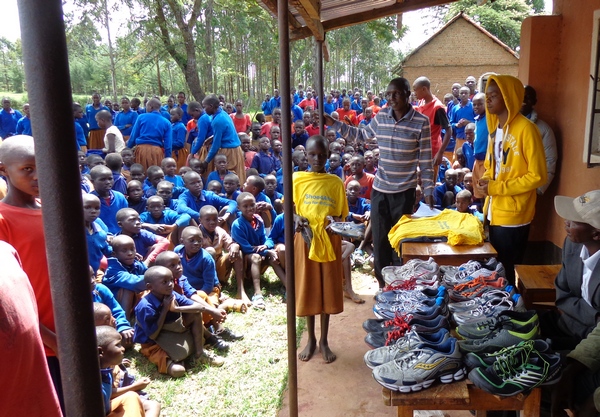 APRIL 2014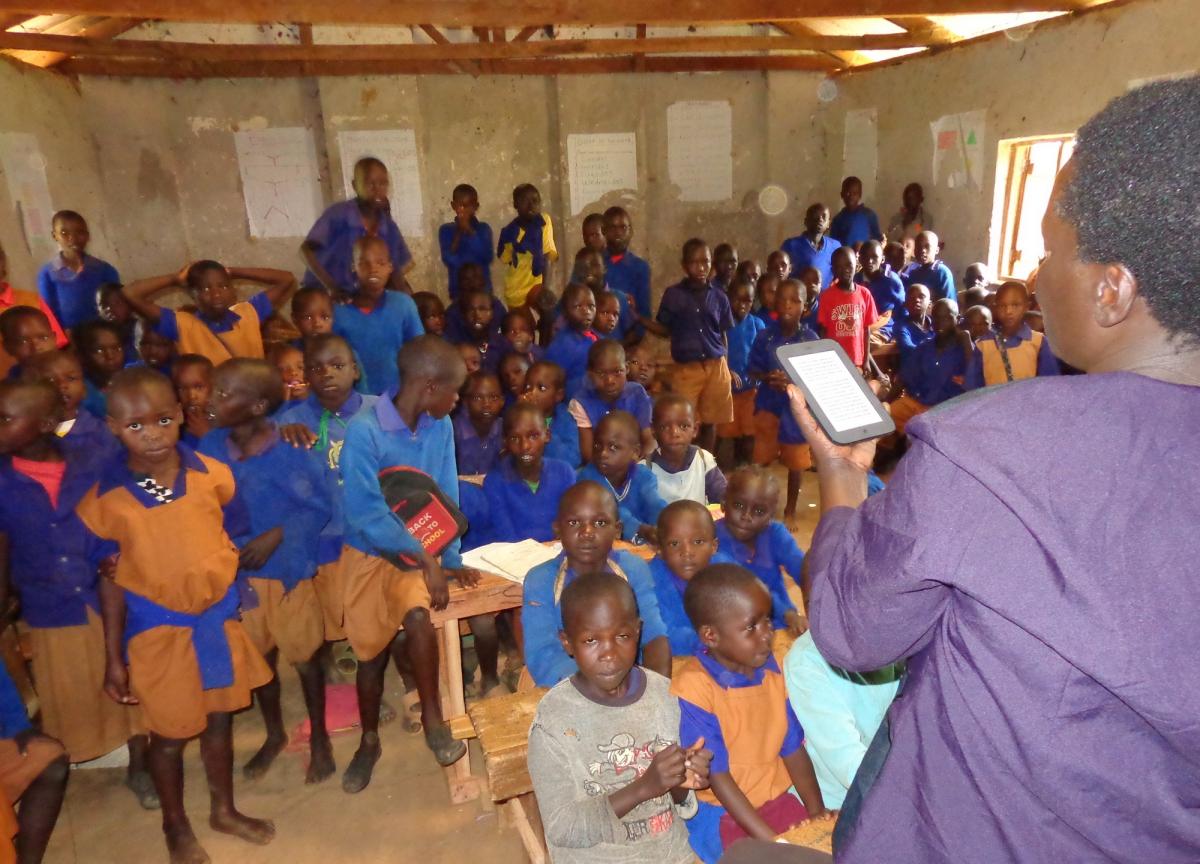 The NOOK program initially started by Peter & Victoria Farago last year continued as we were given another few NOOK's to give out to Kenyan Kids to better their reading programs.  St. Mary's at Kibuswa. Class One listen carefully to their first Charles Dickens novel.
MARCH 2014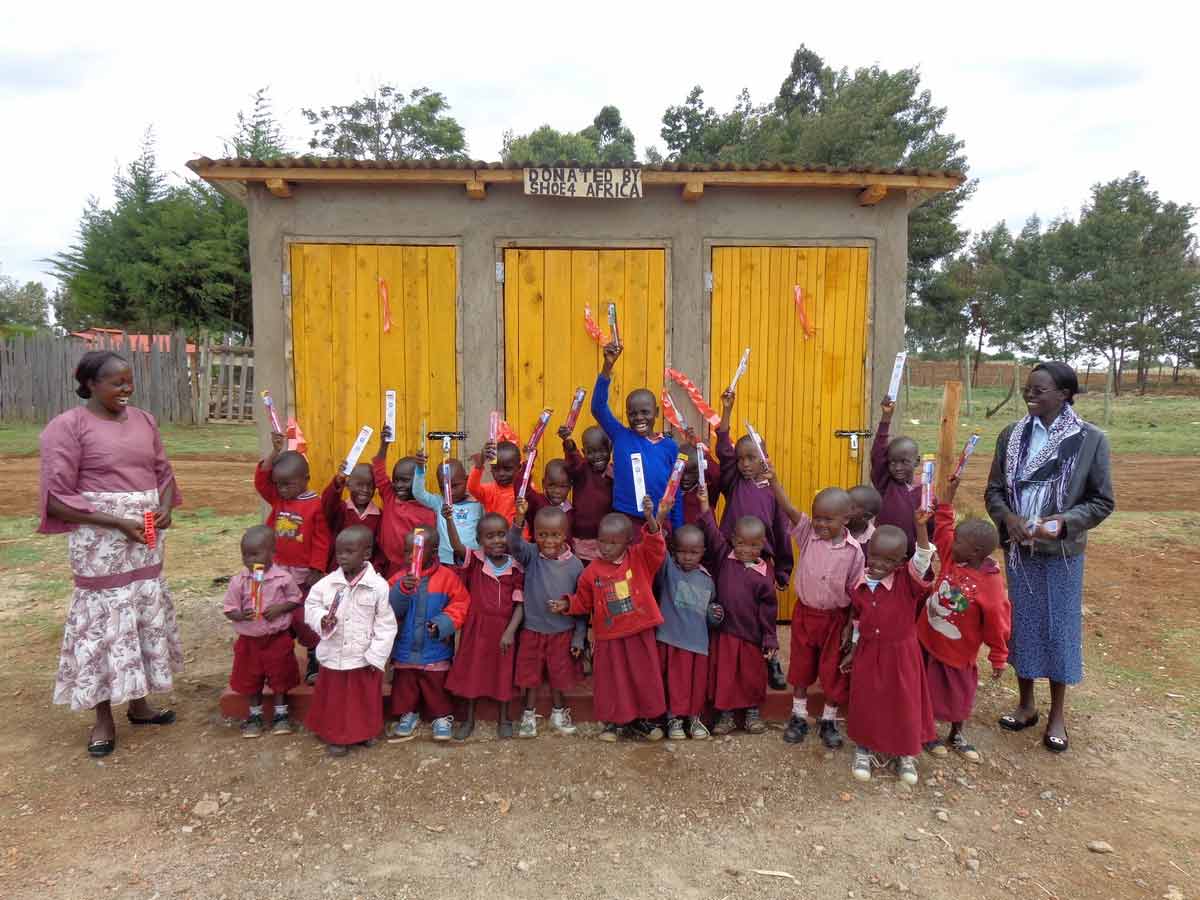 Our toilets project – really happy for this.  Now functional, we opened them on March 29th.  See below for the story.  The school is at Cheseret, Lotonyok Sub Location, just outside of Eldoret.  The kids are waving toothbrushes – I brought them all candies and had to do something so as not to feel guilty for rotting any teeth!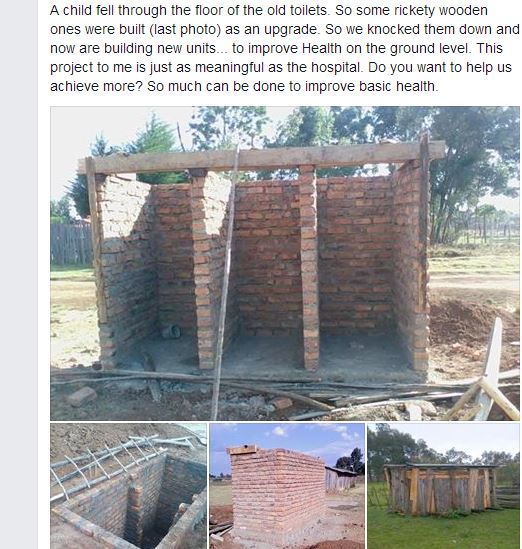 Meanwhile, just before in NYC we had a small select team run in the NYC Half Marathon.  Thanks to Pepsico for sponsoring the team who ran from CP, through, Broadway, to downtown – beaming all the way – here's team member Sydney Thatcher who did the Tri-factor:  NYC Marathon in Dec for S4A, then the S4A 5k in December, and now the Half Marathon.  She's committed to raising $10,000 for us by this feat – thanks Sydney.
FEBRUARY 2014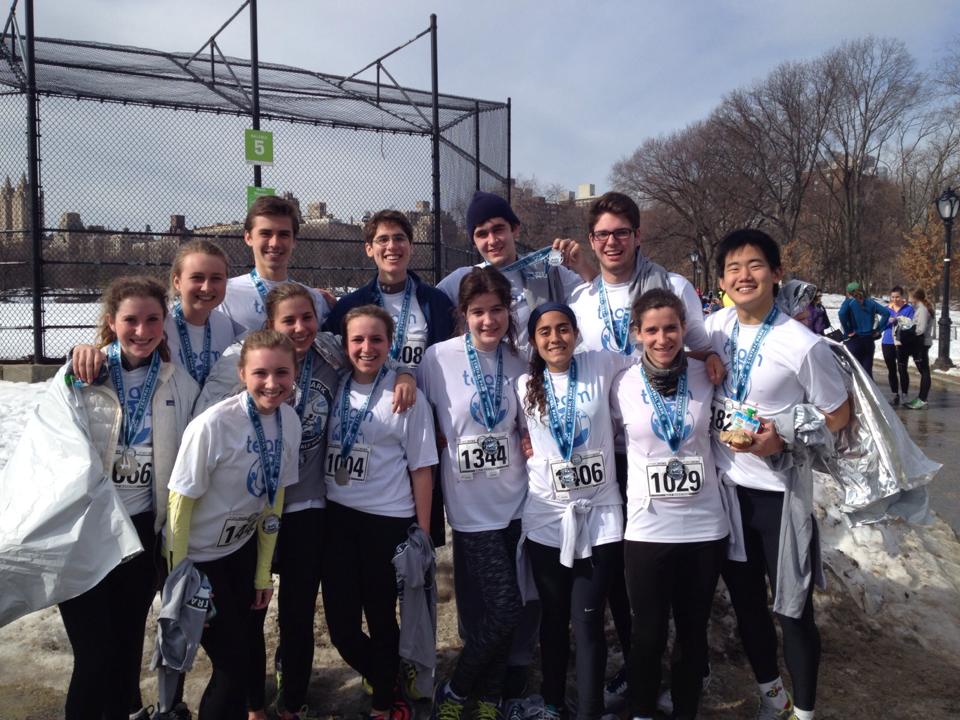 Hats off on a cold day to Yale's chapter of Team U who came out on a cold morning to run for Shoe4Africa raising $11,000!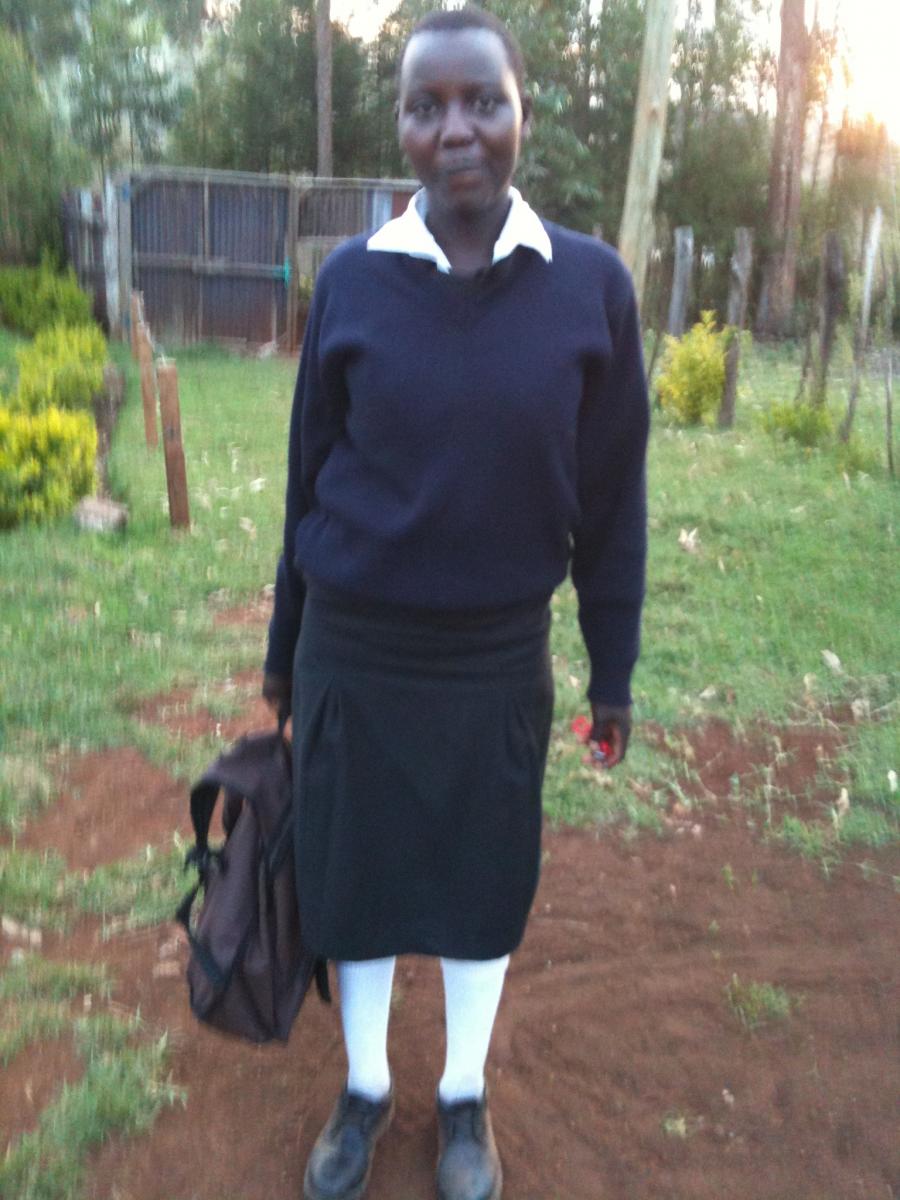 Thanks to Maria who is helping us support our latest student over in Kenya!  Meet Mercy Jepchirchir
JANUARY 2014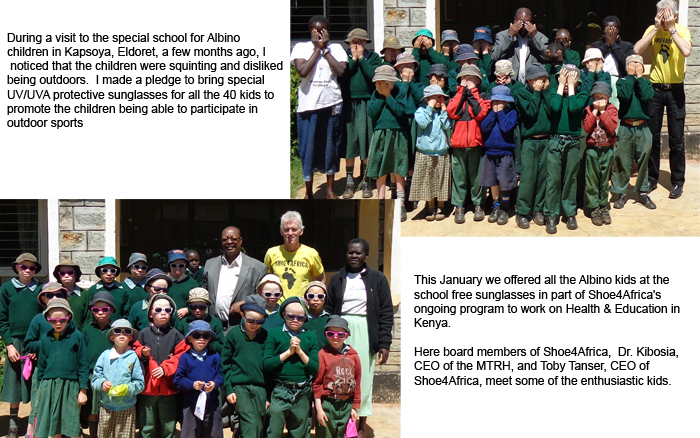 The Albino Project was a great highlight in January!  A follow up from the previous summer.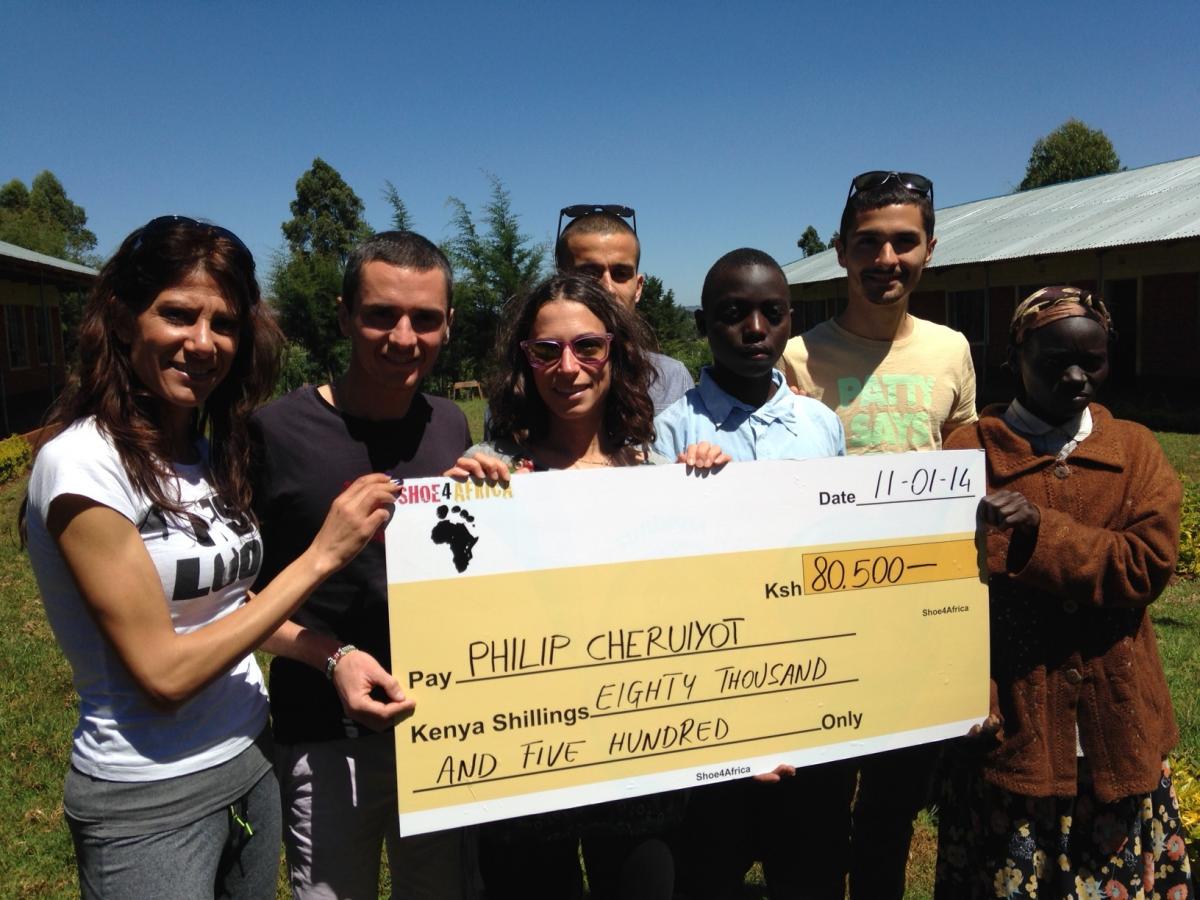 A huge thank you to some great Italians: Nadia, Luca, Simone (behind), then Student Philip, and Andrea with Philip's mom.  These folks have kindly fund raised to give a Shoe4Africa Scholarship for four years to Philip who has a life story and a half.  Furthermore the Italians added another, here with the help of Claudio Berardelli and Janeth Jepkosgei – Shoe4Africa Italy booms!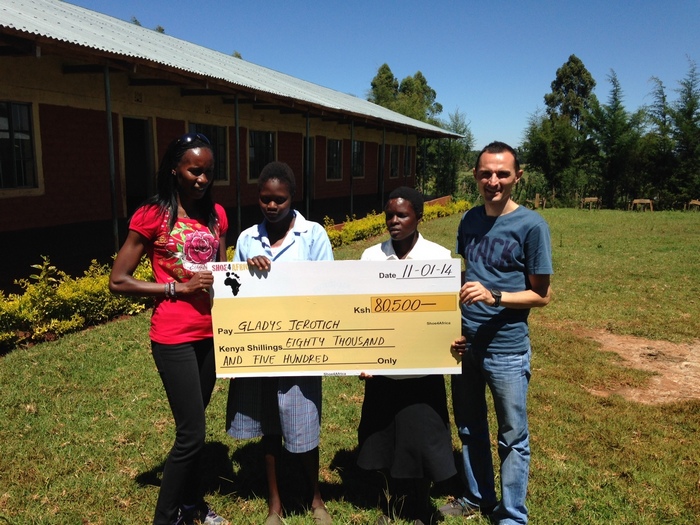 Janeth with Gladys Mom, and Gladys, and Claudio….
MEANWHILE… Over to our Belgian friends, read below, and meet Brian.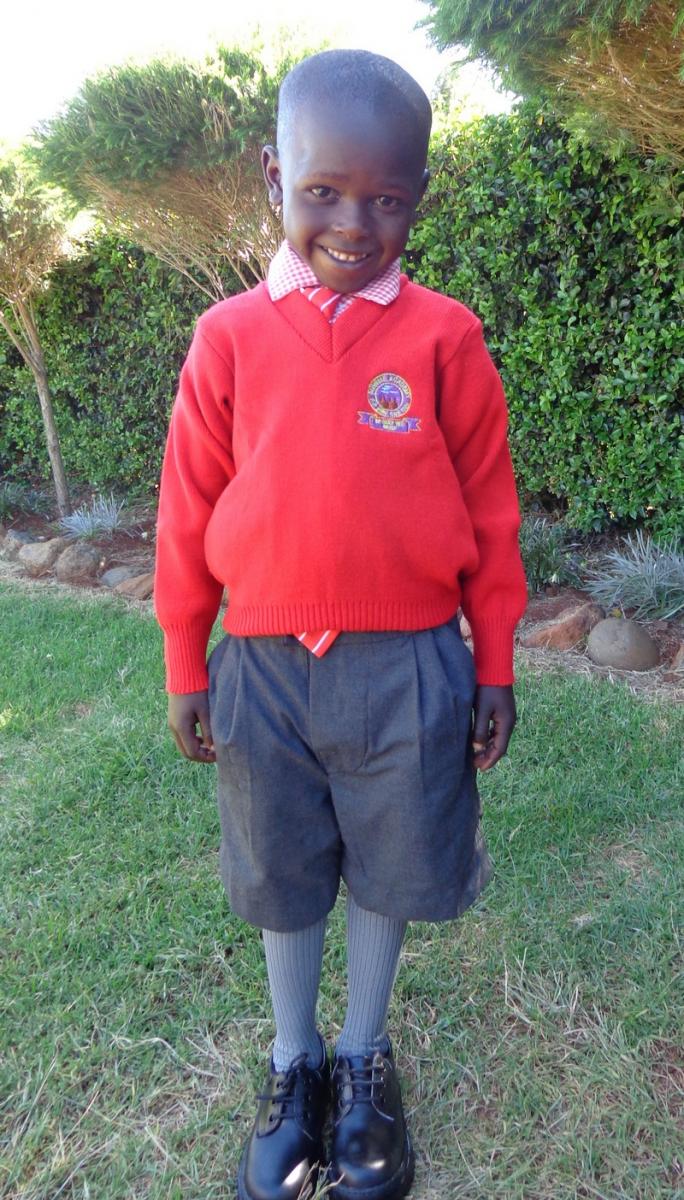 Brian Kibet, now a signed up student of Sunrise Academy
The year got off to a great start. On January the first 6-year old Brian Kibet, son of Eliud & Divinah, received news that all his primary and secondary school fees will be taken care of; from today till the end.  We are working with a Belgian Athletic club (thanks Frank S) to make this happen. For the last three weeks we have been silently assessing and looking for the best candidate to receive this scholarship.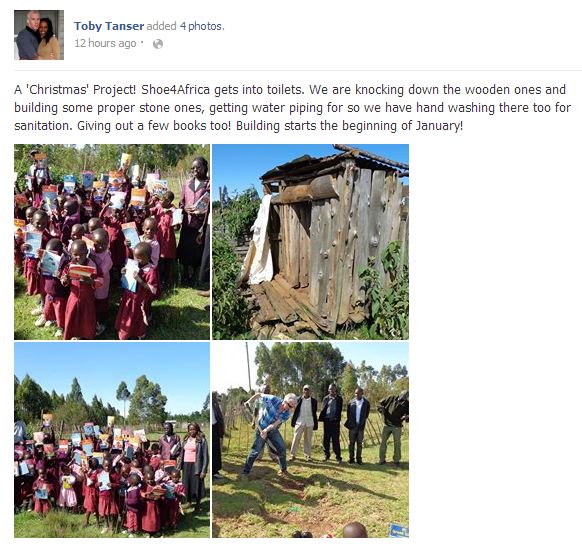 Ground breaking begins with a symbolic action
Work will begin to start our first toilet project in mid January.  Like in Slumdog millionaire the old wooden toilet (shed) broke with a kid falling in!  We have committed to building new stone toilets, then working with the community to run a water pipe line to the site, and build washing facilities so hands can be washed afterwards, according to Dr. J Kibosia, one of Kenya's leading public health brains, this little act will really make a big difference.
PLEASE FOLLOW THIS LINK TO READ MORE ABOUT OUR HISTORY –