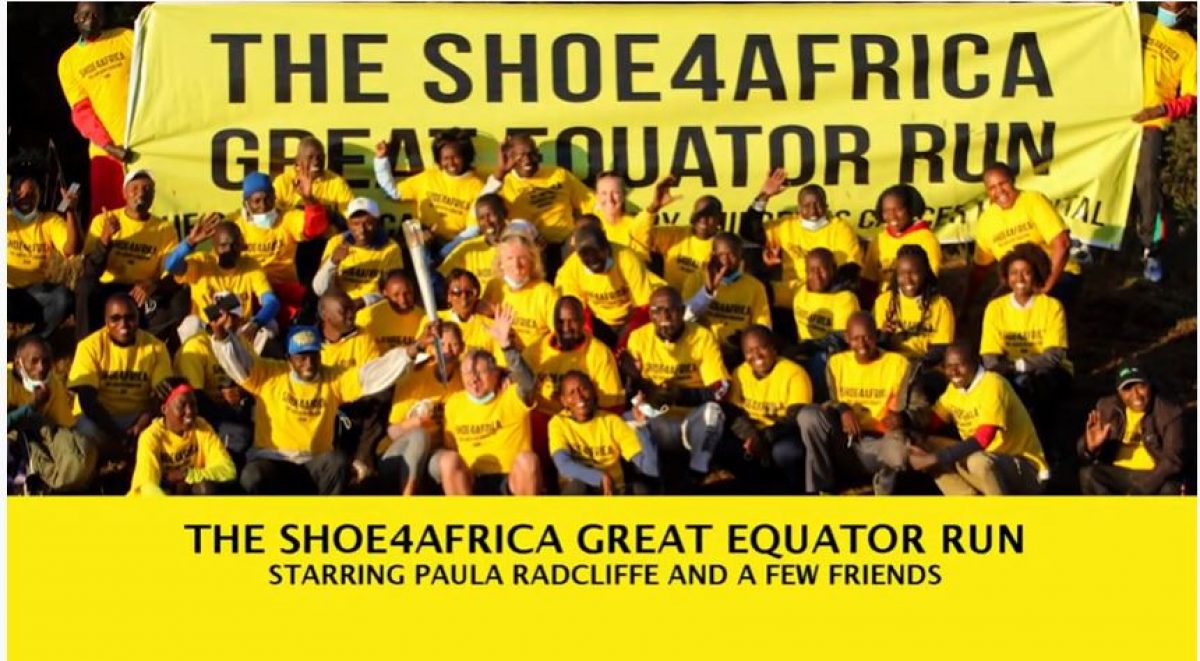 To launch the second hospital, sub-Saharan Africa's 1st children's cancer hospital, we needed something special. 9/10 kids were dying in this vast region when diagnosed with cancers and the news did not cause even a ripple of news. The exact opposite numbers were being celebrated in the west, kids with cancer were receiving the best odds in history, 90% survival. That is where the Equator (make equal) came in.
The concept was simple. Run from the equator to the spot where we would build a children's only 152-bed cancer hospital. History in the making. Paula Radcliffe offered to come and run, her daughter Isla had contracted cancer in 2019 and as a survivor would break ground along with a Kenyan child suffering from cancer.
Taking part: Haron Lagat-3:53 miler, Abel Kirui-two time world marathon champ, Paul Chelimo-Olympic Silver 2016 and Bronze 2021, 5000m, John Kelai-2010 Commonwealth Games Marathon Champion, Paula Radcliffe-seven times world champion & 16-years world record marathon, 3x London & NYC marathon champion, Sally Barsosio-1997 world 10,000m champion, Alfred Kirwa-World Champion 800m and Olympic Bronze, Jerry Maritim-marathoner, Lydia Cheromei-World Junior XC Champ and Amsterdam Marathon Champ, Janeth Jepkosgei-World Champion 800m 2007 and Olympic Silver 2008, Moses Kiptanui-3x World Champion, former world record holder multi events, and Olympic Silver, Ben Limo-World Champion 5000m 2005, Daniel Komen-World Champion, current world record holder 3000m outdoors and indoors, and the only man in history to run two miles under eight minutes, and Matthew Birir-the Olympic 1992 Steeplechase Gold medalist, Coaches Nashon & John Ewoi, and Jonah Birir-Kenyan Olympian. Charles Koech-61:27-min ½ marathoner. Ultrarunner champ Doug Perry–formerly married to Juli Ann Perry namesake of the cancer hospital, Toby Tanser-63:04 ½ marathoner, founder of Shoe4Africa, William Tanui-the Olympic Champion 800m 1992, and Sammy Korir-2:04:57 marathoner and first man to run ten sub 2:09 marathons, Luke Kipkosgei-Commonwealth Games Silver 5000m, Emmanuel Mutai-2:03:13 marathoner, London Marathon Champion, and former 30km world record holder, and Francis Bowen Valencia Marathon Champ, Simon Biwott-Paris/Berlin/Rotterdam champ and World Championships Marathon Silver medalist, Joseph Atogo-Shoe4Africa Hospital Engineer, Mary Keitany-current World Women's only marathon record holder, world champion 1/2M, and 4x NYC and 3x London marathon Champ, Samson Yego Kenyan Olympian, Raphael Lough and Gary Lough-World Champs finalist 1500m & the Coach of 1/3rd of the Olympic marathon medalists in 2021, Chelimo Saina-my wife, masters running star, and Kenyan National Hockey Champion, Isla Lough-our official ground breaker (Paula & Gary's daughter), then also Dr. Wilson Aruasa-the CEO of M.T.R. Hospital, Jared & Samantha Koech (Mary& Charles 's kids), Kim Perry-Doug's wife, Kenyan patient-Sharon Chelagat with Liz Kabuthi, who finally handed the baton with Isla Lough over to the 'father' of Kenyan running, Kipchoge Keino-a double Olympic Gold and double Olympic silver, former world record holder. Lastly, meeting us at the groundbreaking site was Susan Sirma-World Championships bronze medal 3000m, 1991, Luke Kibet-World Marathon Champion 2007, Patrick Sang-Olympic Silver Steeplechase, double World Championships silver and my brother-in-law, Wilson Boit Kipketer-former World record Steeplechase, World Champion 1997, and Olympic Silver 2000, Robert (Bob) Keino-3:53 miler, Martin Keino-3:52 miler, and sadly missing because of malaria was Sally Kipyego-2012 Olympic Silver 10,000m, Japheth Kimutai- Commonwealth Games 800m champion, Moses Tanui-World Champion 10,000 and ½ marathon, first man under 60-mins for the half, sickness/flu took out Benson Kipruto, Amos Kipruto, and Vincent Kipchumba…and Catherine Ndereba-double World Marathon Champion, former world marathon record, and Olympic Silver recalled at the last minute for work duties. Big thanks to Elias Makori, and the Daily Nation team!!