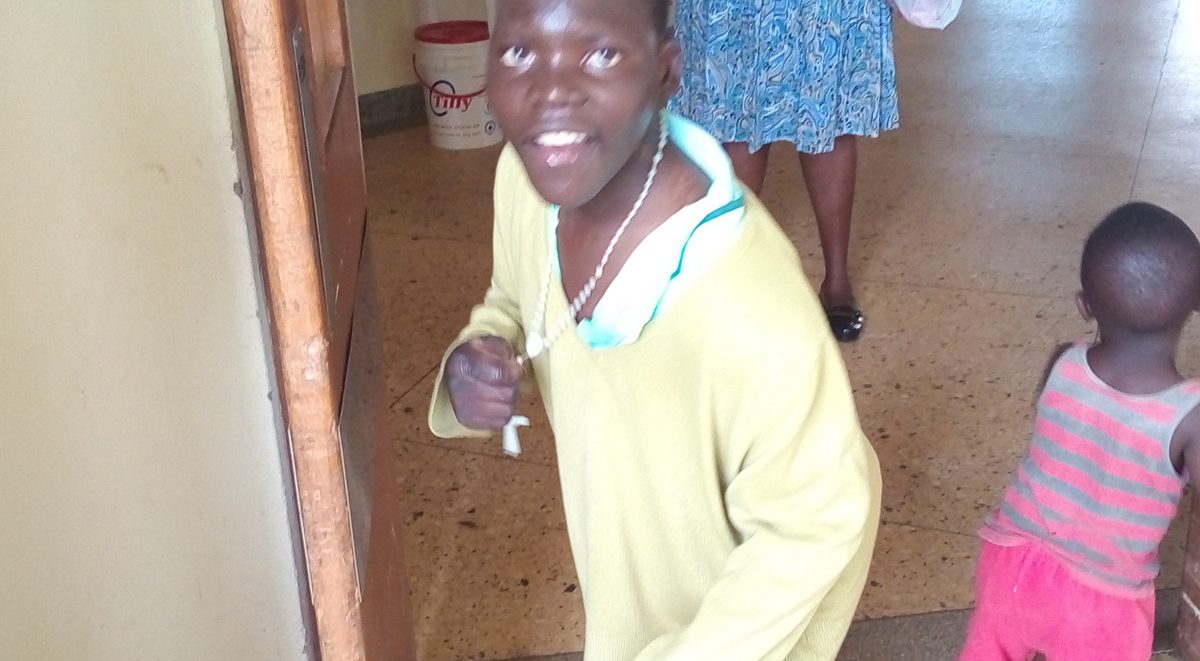 This story broke our hearts, an abandoned deaf and dumb child, dumped on his grandma's doorstep. Then almost killed in a hut fire, he came to our Shoe4Africa Hospital about two years ago. But there is a happy ending! About two years ago we got a patient we call Alex Collins.
From the slums of Kakamega, about 3-hours from the Shoe4Africa Children's hospital, the same sad stories are found; no different than the slums around the world. Our hero is Grandma Jane who has four sons. All four took off to find a better life outside the slums. None of them ever returned to check on their mother Jane. As she tells the story, she says in a way she was happy for them. Assuming they had found a better life. Unfortunately, whatever life her sons had chosen, was not better than the life they left behind. Grandma Jane tears as she begins her story.
In 2014, a very weak sick baby was dropped off at her door step. Grandma Jane took one look at the baby boy and knew he was her grandson. While we looked at her wondering what she did next that day, she said two more children were brought to her hut by different women in the next coming years. All different ages and each woman fed up with her sons and their lack of child support. Thousands of women in Africa raise their own children in absence of their fathers, but when one is a prostitute (which these women were), motherhood gets in the way of the fast, dangerous lifestyle.
Feb, 2017 Luka (baby dropped off in 2014), died of HIV AIDS. Grandma Jane now had two grandchildren. Alex was dropped off at age 7. His mother could not take care of him anymore with his disabilities. Alex's only disability was being deaf and dumb. Eunice was 3-years, the other grandchild. Everyday as Grandma Jane went out to look for food for the day, she'd leave Eunice with a neighbor and tie Alex to door frame. The rope around his ankle was long enough that he was able to lie down on twin bed in the single room house. This was Grandma Jane's secret for almost two years.
She would also leave Alex a cup of water and some groundnuts. Two years of daily movement allowed Alex to finally snap the frayed rope. Grandma Jane had just stepped out and supper was on the open fire. No one knows what actually happened when the rope snapped. Perhaps he leaped with joy that he was now free. But jumping around in tiny space with an open fire can quickly become tragic.
Grandma Jane walked in to find Alex's body totally burnt except his head. Dr. John Chumba, one of Shoe4Africa's doctors, tells us it's a miracle he is alive. For two years he has been bed bound, or able to get about in a wheelchair unable to stand because of his burns. Grandma Jane lights up with a smile at the end of her story and says, 'Look, we are here at the hospital with beds, three very good meals and doctors to treat Alex'. What resilience in Grandma Jane. Without Shoe4Africa Public Children's Hospital, there would be so many tragic ends to sad stories like Alex and his family. The social workers in the hospital are working with Grandma Jane to make sure her situation changes now Alex is on the mend, and in August of this year, Alex Collins finally got up to make his first steps!