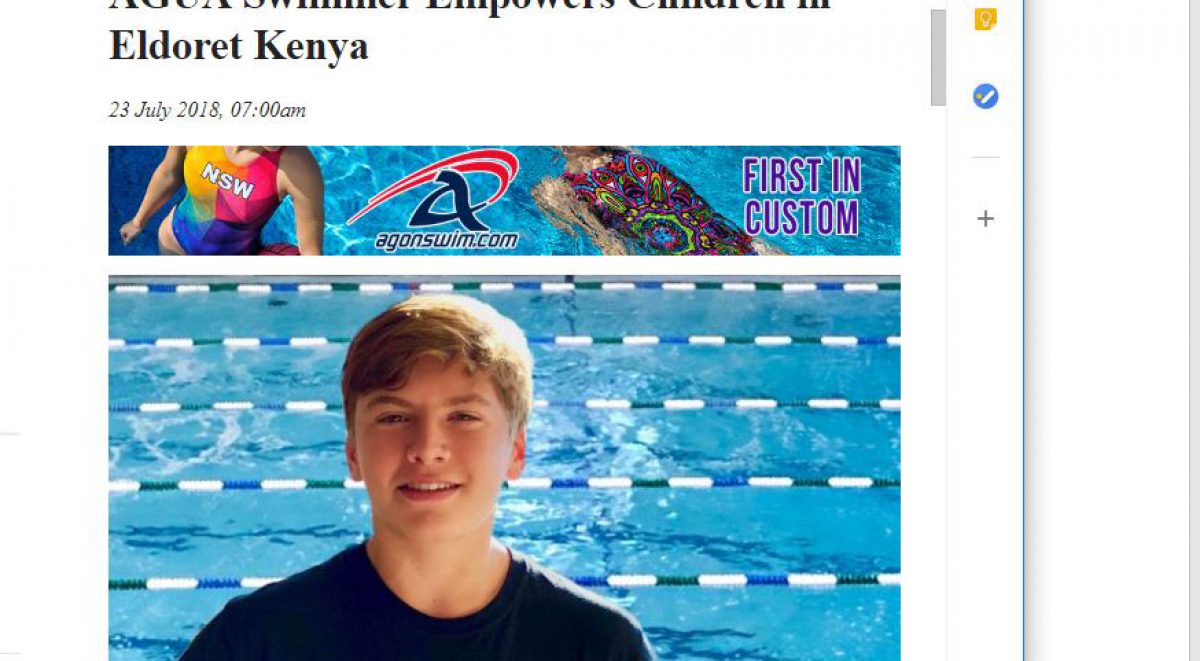 By Brie Harnden, Swimming World College Intern.
Many swimmers spend their high school careers focused solely on school and swimming. For rising senior Harrison Pire, member of Asphalt Green Unified Aquatics (AGUA), that lifestyle was simply too mundane. He wanted to do something significant to help other people. With a few friends at his school, Lycée Français de New York, Pire co-founded Friends of Eldoret Kenya with the mission to provide less fortunate children a safe place to play sports and develop critical skills in a safe location. The group hopes to continue raising money to build a soccer complex and swimming pool.
Recognizing a Need in Eldoret Kenya
Helping others in need has been a value instilled in Pire's life for as long as he can remember. His mother is a lawyer who had been involved in pro bono work for children in need, and she was an active example of making a difference in others' lives. A good student and avid athlete, Pire knew he could use his abilities to make a difference of his own, and Friends of Eldoret Kenya was born.
Eldoret Kenya is the fastest growing town in the country, and with this growth comes a greater need for resources. Friends of Eldoret Kenya's first act was small but significant. Using the first sum of money raised, they "adopted" a large plot of land adjacent to the Shoe4Africa Children's Hospital. Shoe4Africa is a nonprofit organization founded and directed by Toby Tanser, a professional runner who moved to Kenya and is fueled with the same passion that Pire has – to help others. Tanser initiated the building of Shoe4Africa Children's Hospital – the first and only public hospital available for Kenyan children – and acts as the primary communication between the Friends in New York and Eldoret.
When the plot of land officially became theirs, the Friends in New York sent some soccer equipment to Tanser to provide the kids, representing a simple gesture of unity and generosity. By promoting the fun and usage of the field for soccer and other activities, Friends of Eldoret and Shoe4Africa hope it will encourage more attraction around the hospital, thus reaching their overarching goal of improving Kenyan public health care.
Upon receiving the equipment, the community in Kenya sent excited thank-yous through Tanser back to Pire, which he describes as a "very humbling" experience that motivated them to help even more. This is when the group shifted their goal to build an entire soccer stadium. Pire's personal end goal is to eventually build a swimming pool in the same area.
Providing Opportunities Beyond Athletics
Through Pire's personal research, he has learned the true impact that sports and recreation can have on children – especially in developing countries such as Kenya. They provide "a reprieve from the pressures of their daily lives" in a safe area, and studies have shown that access to these activities reduces violence in schools.
Pire also hopes to unite his new Friends in Kenya not only with each other but also the rest of the world through sports. He compares this unity to that of fans of the FIFA Soccer World Cup and FINA World Championships of swimming to demonstrate the "opportunities for interaction, cooperation, and sense of pride among athletes."
Teamwork, goal-setting, and perseverance are vital lessons that children should be exposed to and deserve the opportunity to develop these skills for themselves. Athletics have played such a major role in Pire's life, and he hopes to ensure that children anywhere – no matter the circumstance – can experience the same impact and thrill that accompanies friendly competition.
Future Goals to Grow Their Partnership
The next step for Friends of Eldoret Kenya is more fundraising. They hope to do both a walk-a-thon and swim-a-thon. Pire is especially enthused about the idea of a walk-a-thon due to the heavy foot traffic every day in New York. He is also excited to bring AGUA – which has both swimming and soccer programs – together for a swim-a-thon, where donors can pay a flat rate or a small amount for every lap swum.
They are on their way to meeting their goal of $10,000, which will provide Eldoret Kenya a soccer stadium complete with AstroTurf and a scoreboard. Additionally, the group is planning to take a trip to Kenya during one of their breaks in the upcoming school year.
Pire stresses that helping others can be easy and is always worth it, even if the impact is small-scale. "It's a really good feeling to know that I have the ability to help others and that their lives might be improved in some way by me," he says.
Soccer and swimming may seem like an unusual combination; however, their message is so much greater than the sports themselves. Friends of Eldoret Kenya sets an example for others to follow: You are never too young or old to help someone else, and no act of kindness is too small. The group has already impacted a large group of children, and they're just getting started.
For more information about Friends of Eldoret Kenya, and the opportunity to contribute to their fundraiser, click here.
Shari Piré