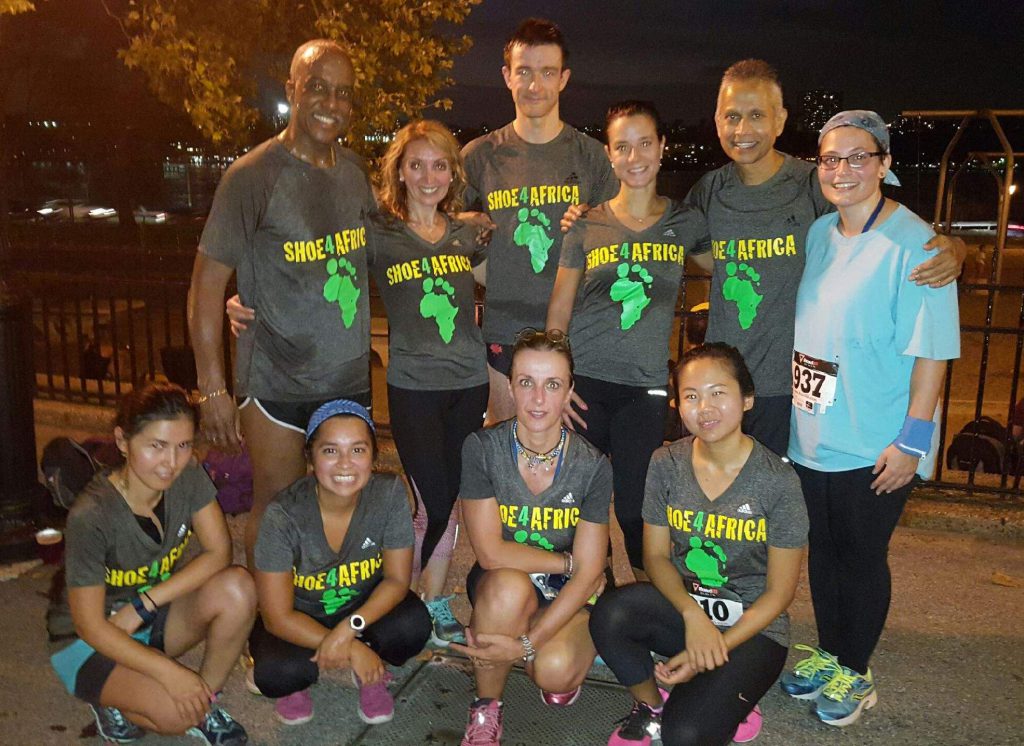 At last year's event; the UN team
September 7th, 2017 Kids Africa Mile at 6:40 pm, and the Kenyan 5 Km at 7:00 pm sharp!
The 5th annual Shoe4Africa 5k takes place on a scenic, point-to-point course in Riverside Park (read fast course). It starts near the Ellington cafe inside the park and is a loop course finishing at the same area.  The kids mile event starts at the same spot and is an out and back course, completely flat.
The Shoe4Africa 2016 event completely sold out early so please sign up quickly.   Why?  We have 100+ raffle prizes with sports gear from FEETURES , TRIGGER POINT, TIMEX, ADIDAS, UCAN, SPI-BELT.  The overall winners and two raffle prizes win awesome $1,000 value Teeth Bleaching prizes from NYC Smile Design, plus all participants receive a whopping 40% off weeklong discount card (valid for 6-days following the event) at Urban Athletics running store — do the math; this race pays for itself!  PLUS a free beer for every entrant over the age of 21 at the Ellington Cafe.
Number pick up is 'on the day' from 5 pm till 6:50 pm
Course will be clearly marked with mile markers and race splits called, and a lead bike leads the way.
Please come early, we advise on the Subway #1 line as there is limited NYC street parking.
Please make sure you complete the waiver.
There will be a bag check open from 5 pm.  Please do not leave valuables, cash, or jewelry in your gear bag. The event is not responsible for any lost items. Gear bags must be claimed before close of the Finish Festival on race day.
Water will be provided on the course and at the finish area.
Race results will be posted on the active site shortly after the event finishes