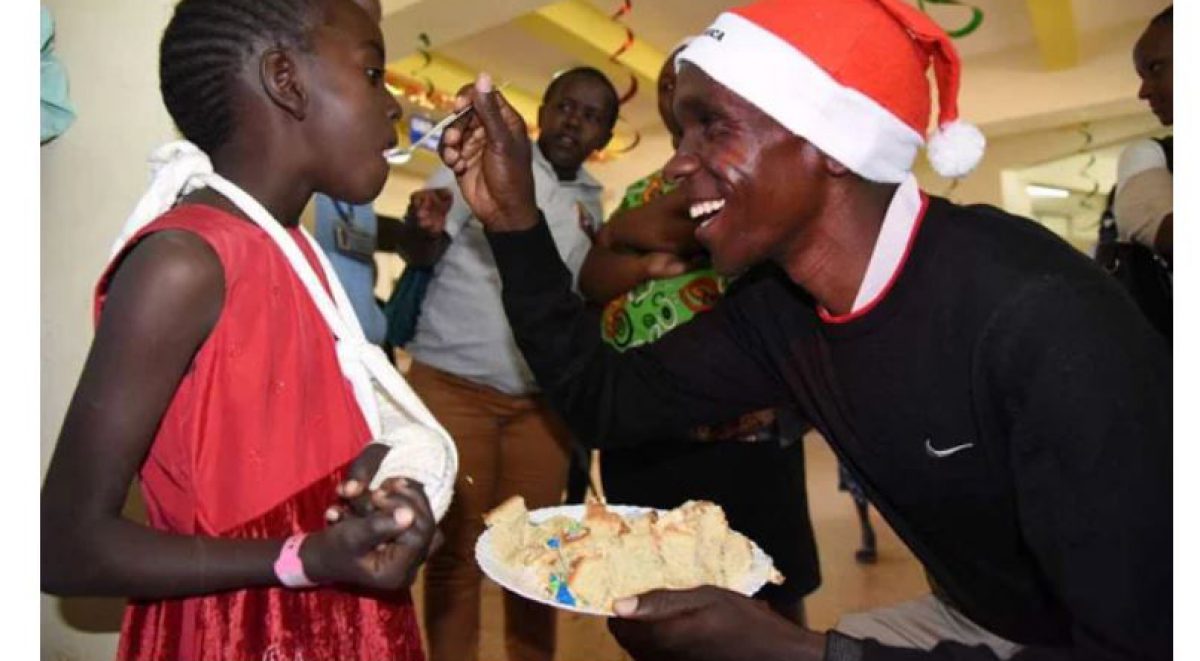 "Several renown Olympics and world champions on Sunday joined Toby Tanser, the Shoe4Africa Foundation director, and the Moi Teaching and Referral Hospital (MTRH) management in offering Christmas gifts to the children at the facility.
The more than 400 types of gifts were distributed to the more than 170 children who are admitted at the Shoe4Africa Foundation hospital within the medical referral facility.
Among those who distributed the gifts was Olympics marathon champion Eliud Kipchoge, former 3,000 steeplechase Olympian Mathew Birir, women's marathon queen Mary Keitany and US-based Sally Kipyego who is also the 2012 Olympics 10,000 silver medallist.
Tanser said that they wanted to touch the children in a warm way during the festive season.
"We were able to fund raise and bought the gifts for the kids in a bid to cheer them up as a way of celebrating Christmas. Many of the children here have never received a gift and it was a good idea to make them feel happy during this season," said Tanser.
The celebrated Kipchoge said that it was always good to lift the children's spirit and help them back to good health.
He asked parents and children to always participate in sports as a healthy way of living.
"I will always ask parents to allow their children to participate in various sports because keeping fit will keep away diseases leaving one in good health," said the champion.
Kipchoge lauded the Foundation's director for coming up with the hospital.
"I want to really thank Tanser and his team for coming up with a brilliant idea which is the only kid's public hospital in East and Central Africa. It's a plus for the community since it helps the less fortunate," said the Kaptagat-based athlete.
Kipchoge also said that his season ended well and he was now focusing his energies to London Marathon next year.
"I want to run in London better than the year before," he said.
Keitany said that it was good to always share with those who are sick and cannot be able to go home and celebrate Christmas with their loved ones.
"Children are a gift from God and it's always good to share with them during the festive season. They are not able to go home because they are sick and giving them gifts will lift their spirits," said the London Marathon champion.
"We have 171 admitted children from different regions in the country," said MTRH's managing director Wilson Aruasa.
The Shoe4Africa Foundation has also constructed four schools in the North Rift region."