Our Mission
Working with donors, partners, & advocates to Save and Empower African Kids Lives & Empowering Women through highly cost effective, scaleable proven methods.

Our Vision
That no child is denied basic healthcare or quality education.  That the sick be tended to and the uneducated be taught.  That there will be a world united that is inspired to wipe out poverty.
Accomplishments –
Some of our highlights…..
December 1995 – the project starts in Kenya, giving shoes to athletes to help them 'help themselves'.  Runners such as Mark Yatich and Simon Biwott soon distinguish themselves internationally.  Soon boxes of shoes are being sent.
Spring 1996 – Seeing a need to address Hookworm, a health component is added to the program.  The handouts expand to Tanzania.
Jan 2000 – After a harrowing attack on the founder, where he loses a shoe, whilst battling to save his life the project gets a name; Shoe4Africa
Jan 2001 – Shoes are sent to an unknown schoolboy in Tanzania, who a few years later becomes a world champion.  Three future commonwealth games champions are also receiving shoes.
Dec 2005 – Shoe4Africa starts, instead of just sponsoring shoe drops, holding races to support AIDS awareness.  Many athletes use these races to become 'discovered' like an unknown girl called Mary Keitany, who would become a world champion and the women's marathon record holder.
Jan 2006 – Shoe4Africa becomes a registered 501 C3 US charity.  Fashion designer Narcisco Rodriguez attends our opening party. We hold Shoe4Africa women's only races in Kenya, Tanzania, and Morocco promoting AIDS awareness and women's empowerment.  Shoes are sent around the world.  A school scholarship fund is started, supporting needy children.  Wrote and published the first ever AIDS awareness brochures in the local rift valley Kalenjin language.  Had 925-ladies at our our AIDS testing clinic, in an area where Western Agencies had failed to reach numbers in double digits.
2007 – Cristiano Ronaldo becomes an ambassador, as does Sammy Wanjiru who would become the Olympic men's marathon champion the following year.  Anthony 'Goose' Edwards becomes the charity's chairman.  Races around Africa continue,focusing on AIDS awareness.
2008 – Shoe4Africa announces that it will build East & Central Africa's 1st Public Children's Hospital.  At this time there is only one public children's hospital in Sub Saharan Africa, in Cape Town.  Nelson Mandela has also announced he wished for his legacy to have a Children's Hospital, in Johannesburg. The organization galvanizes hundreds of Kenyan superstar athletes and holds a series of high profiled peace races, featured on CNN, the largest being a 5,000 women-strong run inside the Kibera Slums.  The press calls this the largest gathering of ladies only in the history of the slums. Natalie Portman becomes an ambassador and the charity, after posting Natalie in her Shoe4Africa T-shirt, gets its first website crash!  Ronaldo donates his prize money for winning the World's best football player.  Started a women's football team made up of Kibera slum dwellers in Nairobi.
2009 – Shoe4Africa announces it will build public schools to address a struggling educational system in Kenya. Hundreds of Flipcams handed to ladies in the slums allowing theme to tell their side of the story.
2010 – With no staff, paid or otherwise, and all donations going 100% to the hospital fund the charge to raise the necessary money is a worry; a fundraising run, from the African Coast to the top of Kilimanjaro, quickly injects a good amount of capital! The first Shoe4Africa school is opened.
2011 – Hugh Jackman runs his first half marathon for Shoe4Africa, and endorses the charity.  Actors Tom Cavanaugh, James Legros, and Anthony Edwards also run. The second Shoe4Africa school is opened.
2012 – Shoe4Africa is featured again on CNN, this time with Sanjay Gupta.  In our third year of Make-up Make-overs, where we give make up kits, teach beauty lessons inside the Kibera slums, Victoria Secrets Model Ajuma joins us, and IMAN cosmetics donates the merchandise.  T-Mobile sponsors our NYC 5km and our board member, John Legere, CEO of T-Mobile, almost wins the race.  Pepsico announce a three year sponsorship of Shoe4Africa.
2013 – Groundbreaking takes place and the first foundation stone is lain on August 21st.  The third school is opened.  As with our earlier schools we hand out donated laptops from the Soros team in New York.  Shoe4Africa also builds classrooms and toilets at non-Shoe4Africa schools.  We run albino programs supplying critical UV/UVA eye care and UV clothing to an Albino school in Kenya.
2014 –  The fourth Shoe4Africa school is opened.  Whilst the hospital takes precedence the charity runs ancillary programs, like its annual Maruge peace days honoring the world's oldest schoolboy, Kimani Maruge.  Our avocado and beans agri-program is launched, supported economically disadvantaged single mothers.  We do a massive free e-reader program, handing out Nooks to kids who have never owned a book.  Each Nook is loaded with 300 books! Our first students have now begun to graduate universities, for example, Boniface Kipkosgei, graduating as a A- student was our first, with a degree in Aerospace engineering.
2015 – East & Central Africa's 1st public children's hospital is opened on August 12th, and gifted to the Kenyan people.  Immediately, 60 patients move in!  It is the tenth anniversary of the women's empowerment free races where thousands of running shoes, T shirts, prize money and AIDS awareness help has been given out to thousands of ladies.  It's our 20th anniversary, hundreds of jobs have been created for locals, after 19-years, Shoe4Africa hires its first ever employee to run the foundation.  To this day the foundation staff remains at one person.
2016 – The Eat & Run Kitchens open to feed the hospital.  Very soon making 1,650 meals each day, over 600,000 per year! Our new dairy college empowerment center in Cherangani opens to empower ladies, who have been subjected to domestic violence. At the New York City Marathon the four invited Kenyan female elite athletes state that they all ran in Shoe4Africa development races as youngsters. Moi University Medical school now have over 30-students studying at our hospital to become East Africa's next medics.  our hospital gets a brand new, state of the art, fully fitted ambulance.
2017 – Two outdoor playrooms are added to ease congestion.  We open two operating theaters inside the hospital.  We celebrate hundreds, if not thousands of jobs have been created for Africans by Shoe4Africa – one non-African employee runs Shoe4Africa!
2018 – The fifth Shoe4Africa school is opened.  Each school honors a local hero; this one for the world record holder, Mary Keitany.  Later in the year Mary opens the basketball court at the hospital. By the end of the year, 283,000 in and out patients have been treated at this facility, and over 1,600 kids daily go to Shoe4Africa schools.
2019 – Eliud Kipchoge opens the new astro-turf soccer pitch at the hospital for all weather sports rehab. The superstar has visited the hospital each year, since opening, as our Hospital Ambassador.  The 300,000th patient milestone is passed in February.  The Kuunga Mkono classrooms, two, are opened at the hospital for long stay patients.  Patients from as far as Burundi, Tanzania, Uganda, Southern Sudan, Rwanda, and Uganda have visited the hospital.  Although the hospital has 157-beds there are always more than 200-in patients each day.  Our kitchens go over 1.5 million meals!
2020 – Shoe4Africa plans to ground break on the new Shoe4Africa Juli Anne Perry Children's Cancer Hospital to address the travesty that 9/10 kids diagnosed with cancers are dying in East & Central Africa.  The Sidekick foundation pledges to build a Children's 50-bed burns unit on site.  This promises to make the Shoe4Africa campus the biggest center in Africa for treating the sick child.
2021 – over 750,000 kids have been treated since opening in 2015.  Our wards are full.  The new cancer hospital is truly needed.  December 24th is the date set for the groundbreaking.  Our 6th school opens.

The first school we built; The Shoe4Africa Martin Lel Secondary School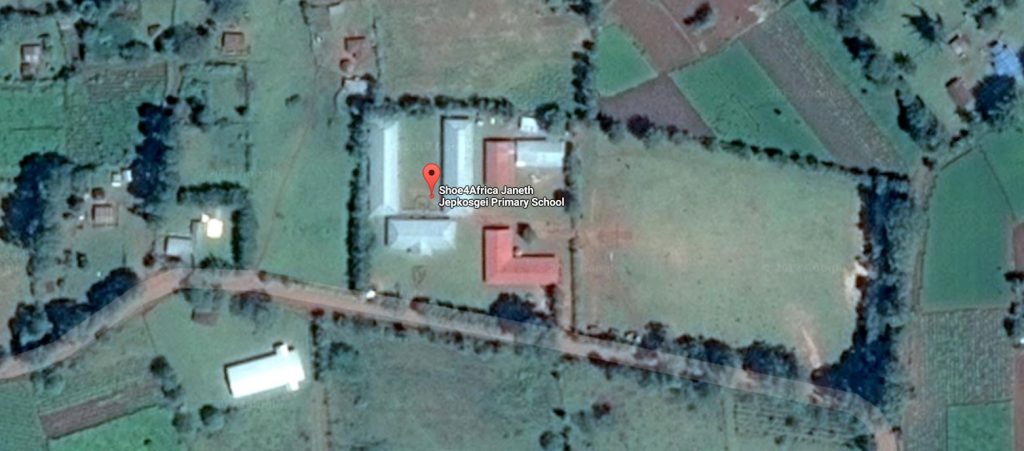 An aerial view of the Shoe4Africa Janeth Jepkosgei School.