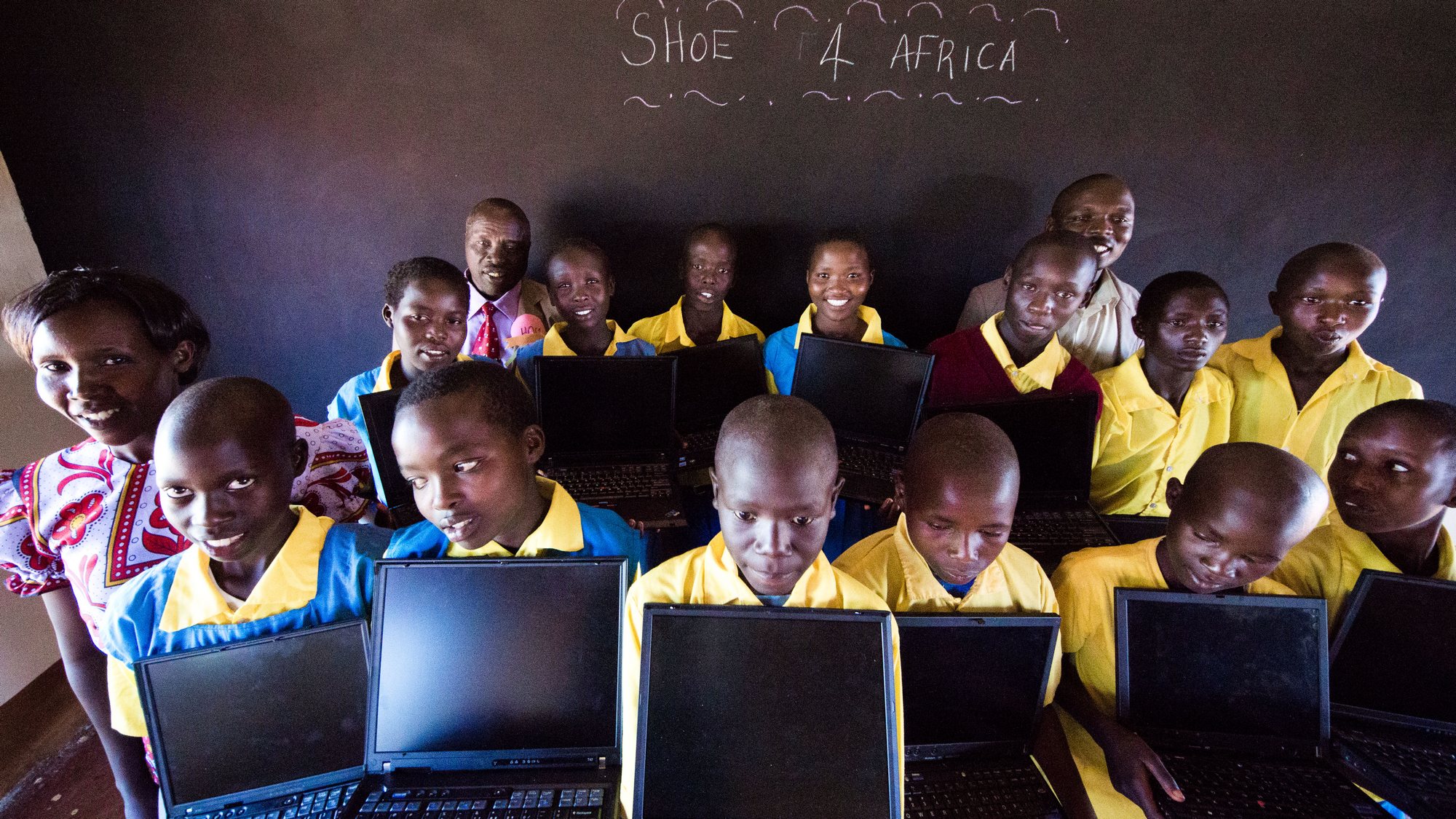 Hospitals: We're bringing life-saving medical care to a catchment area of over 10- million children in East Africa.
Built public children's hospital (only 2nd in Sub-Saharan Africa) – today running at full capacity.
An accredited Teaching Hospital, with ISO 9001:2008 certification.
Now planning to build the first public children's cancer hospital in Sub Saharan Africa
Our first hospital budget was slated at $6m+ and took seven years of planning, endless fund raising, and total commitment.  We opened its doors on August 12th 2015.  We started with nothing but a couple of donations that surmounted to less than $220 in the bank for the project in March of 2008, and had absolutely no employees but through sheer determination and will, we overcame tremendous odds, stayed the course, and built this new top-notch hospital and staffed it with a great medical team so that an immense area of covering millions could receive the healthcare they need.
Next project:  We're initiating an exciting project to build a public Children's Cancer hospital; this critical project needs to happen. 9/10-kids diagnosed with Cancer in Kenya are tragically dying.  This is a travesty that needs to be addressed.  The total cost is expected to be $3m+
Future:  Upon completion we intend to build the 2nd  public kids hospital in East Africa by 2022 so that we can serve another 6-8 million Africans.  Design work is just beginning; donations will be sought after we've completed fund-raising for the cancer hospital..
Schools: We're educating the future leaders of Africa, helping them thrive in new schools
Built 4 new Government accredited public schools, with the next 3 in planning stages
Providing top-tier teachers, books, and materials needed to learn
Helping children develop a global perspective with computers and internet
Shoe4Africa's humble beginning's started with the belief that anyone is capable of anything if they have the opportunity.  It started with the idea that shoes were a basic necessity to avoid disease and to walk to school.  The problem we found was that schools were either dilapidated or non-existent so we began to right this wrong too.  In 2010 we opened our first school and we now have around 1,500 kids getting free quality education in our Shoe4Africa schools. Each school is brand new, staffed with great teachers, and is hooked with a local world class mentor.  We also introduce laptops and e-readers so these beautiful children learn in a traditional sense as well as keep pace with the developing world.
Next project: We have 2 more schools slated; funding for the first (number five overall) is completed but funds are still needed for the 6th.  Donate here to this cause (DONATE button)
Future: We are focusing on building schools within the hospital catchment area so that our brothers and sisters can take the Big Steps Forward to a healthier, more educated, and self-sustaining community.  Dr.Kibosia, who helped revolutionize public health in Kenya, states that early education is critical and the basics of health education can be immense in saving lives; we listened and want to bring all our students to the Hospital for early training!
We expect to build 10 additional schools between now and 2025.  Donations, from small to a (complete) school, will make this dream happen.
We invest the money we raise into projects that we ourselves oversee and direct- we never pay another "team" of partners on the ground (that doubles the costs). Our team thus makes sure, firsthand, that every dollar is accounted for and we audit, and are audited, every step of the way.
The Needs – Our Focus:
Healthcare: In 2013, an estimated 6.3 million children under five died, 2.9 million of them in the WHO African Region. This is equivalent to five children under 5 years of age dying every minute. Two thirds of these deaths can be attributed to preventable causes. (world health 2013)
Education: Half of the youth in Sub Saharan Africa are out of school (worldbank 2015). And an estimated 31 million girls of primary school age and 32 million girls of lower secondary school age were out of school in 2013 according to UNICEF 2013.  Clearly education is the foundation of progress and it is sorely needed.
Empowerment: Most of the billion+ people in Africa have never seen the outside world nor been influenced by its progress. We focus on creating new knowledge AND belief in one's ability through programs that empower Africans to learn and take greater control of their lives to make a better future for them, their families, their community, and the world.
Our Project Makers Are Our Heroes – Thank You!
There are tons of ways you can get involved with our projects, from holding a lemonade stand (thanks Miss Sharp), to a basketball tourney (thanks Alex Sweeney), to running with us (thanks Team Shoe4Africa!), to playing tennis with us (thanks Zee), to a simple $10 donation (that's three school books!), to knitting teddy bears for patients (thanks Loredana)… and the more  You, the kind donors, have made Shoe4Africa happen… and with you we can make miracles happen.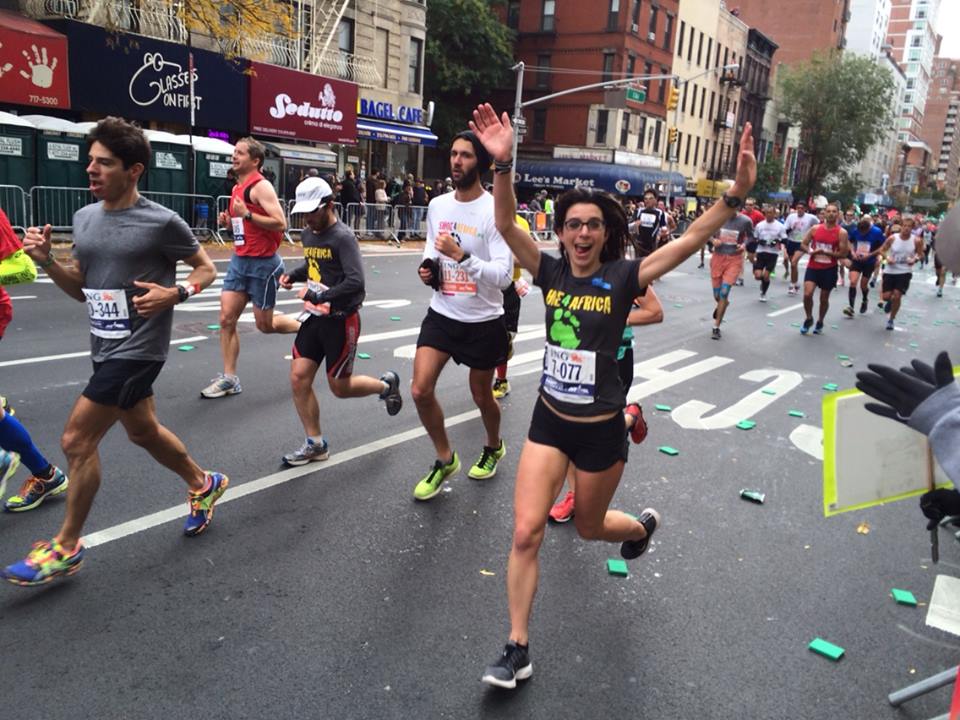 Melina Buck who has ran for Shoe4Africa six times in the NYC marathon; thank you!
Check out our wall of donors; linked here